When Nossa!, the young French startup specialized in açaí based products, has reached me to propose me to try their products, I was so happy but also a bit confuse: what the hell am I going to do with all this açaí ?  And how am I going to surprise them with original and stunning recipes every month ? The fact is that the little purple berry has encountered a phenomenal success recently thanks to the açaí bowl. It is one of the most trendy and Instagramable dish currently, but I have serious doubts about how many people have already eaten pure açaí pulp, I mean not mixed with that sweet ripe banana or this creamy coconut milk. Actually, I was exactly part of these people. At this moment, I had never encountered açaí in anything other than bowls and I was very excited to start experimenting.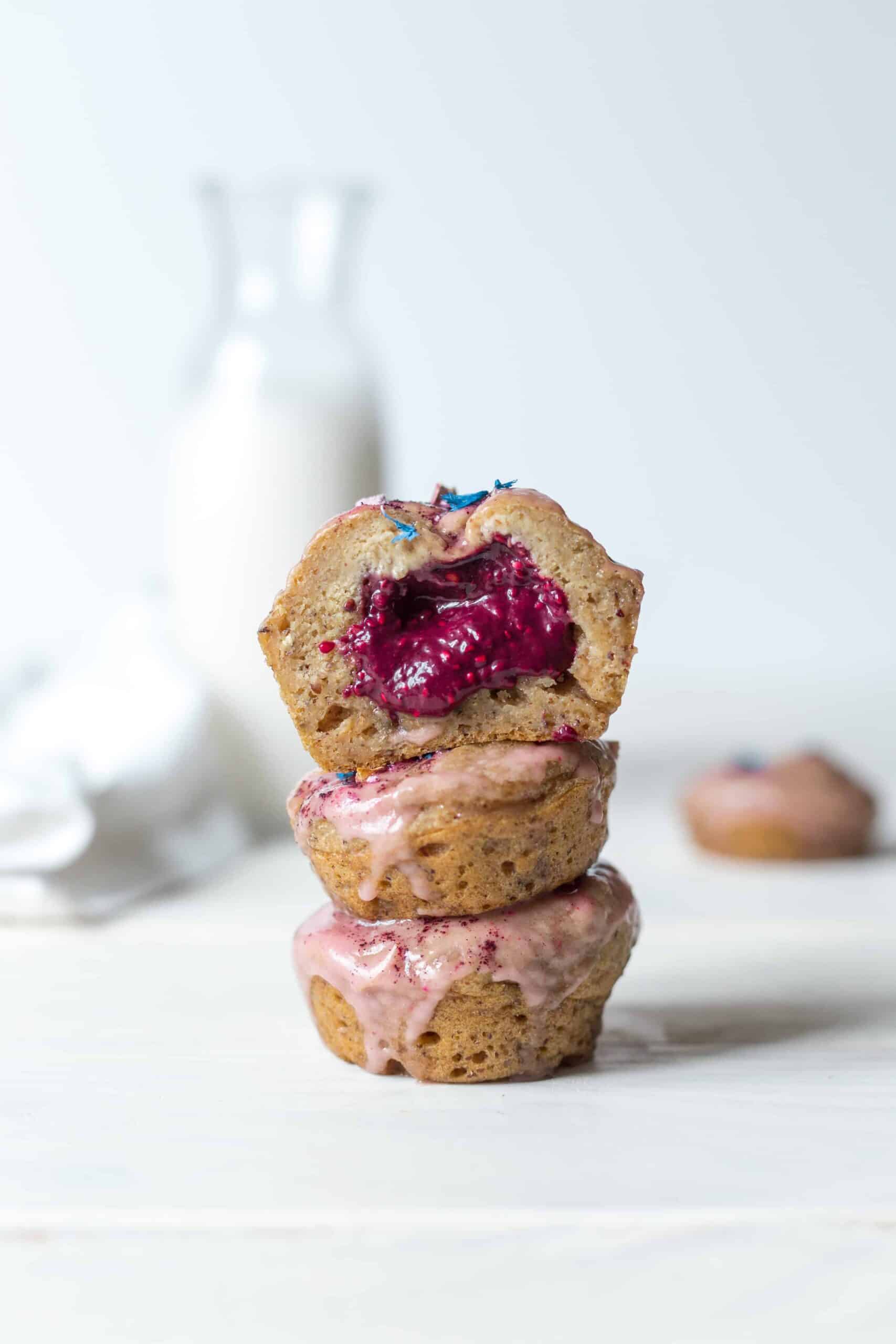 Obviously, it started with açaí bowls, classic then a little more stylish, then some smoothies and lattes, then cheesecakes and jam, macaroons and finally these all girly muffins. I wanted to make something very special and unexpected for açaí, and I though muffins were perfect for that: all the opposite of frozen açaí bowls! In addition to taste and benefits, I love to use açaí for its vibrant color. Adapting the dosing and associations, it can range from dark purple to lovely pink and is finally very versatile. Basically, you can use açaí pulp as substitution for any berry.
In this recipe, I used frozen açaí pulp that I have heated and mix with chia seeds to make a simple but very tasty jam. I have replaced the regular lemon juice by açaí juice to make a pink glaze for my muffins. What I try to say is that food is limitless, there are infinite numbers of flavors combinations, possibilities and technics, and all the true magic of cooking comes when you go beyond your limits and experiment things you would have never though about.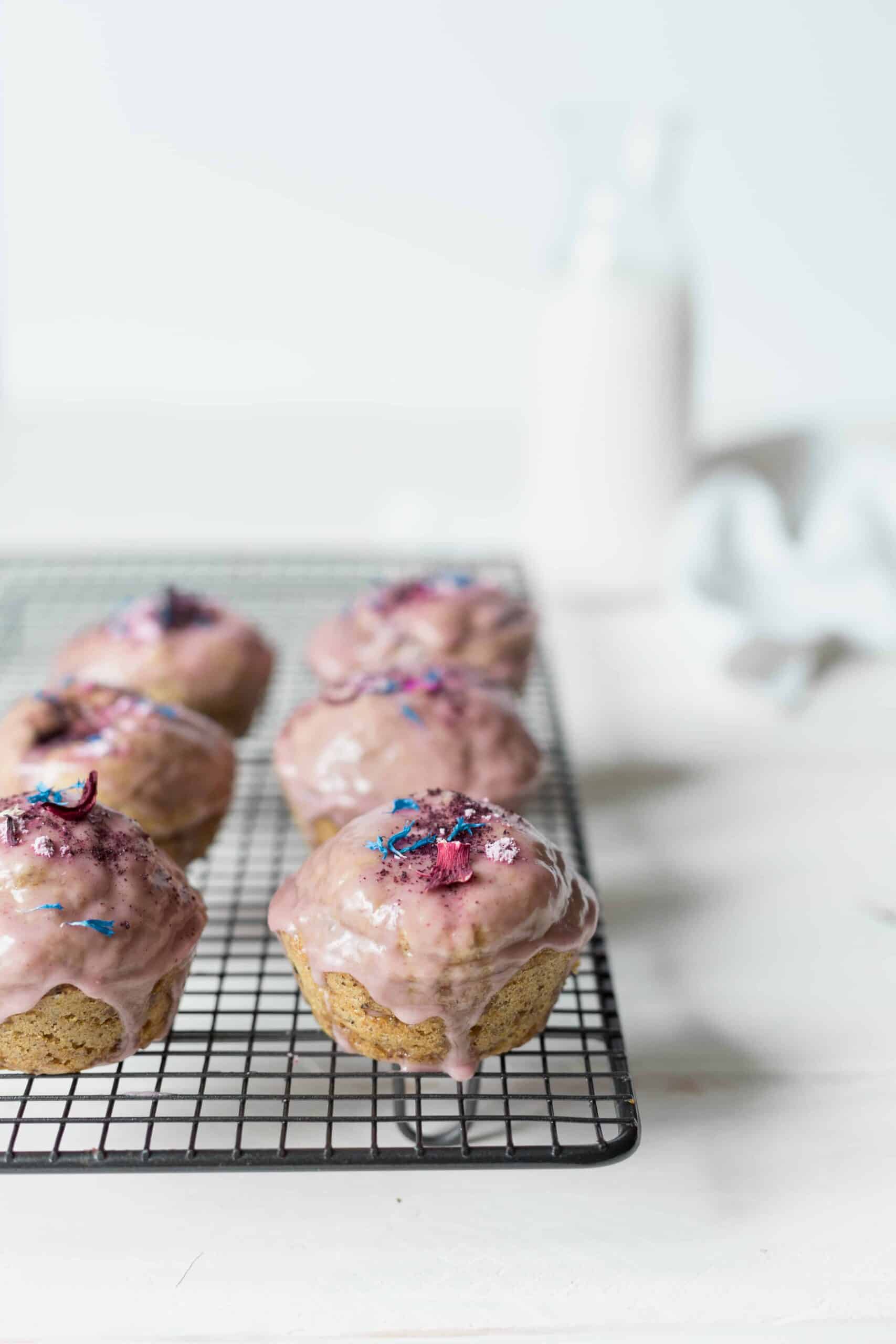 So lets get creative with this açaí boy, he deserves much more than a bowl! Do not hesitate to share your experiences cooking with açaí in comments. What is your favorite açaí recipe?
Purple kisses.
Alice.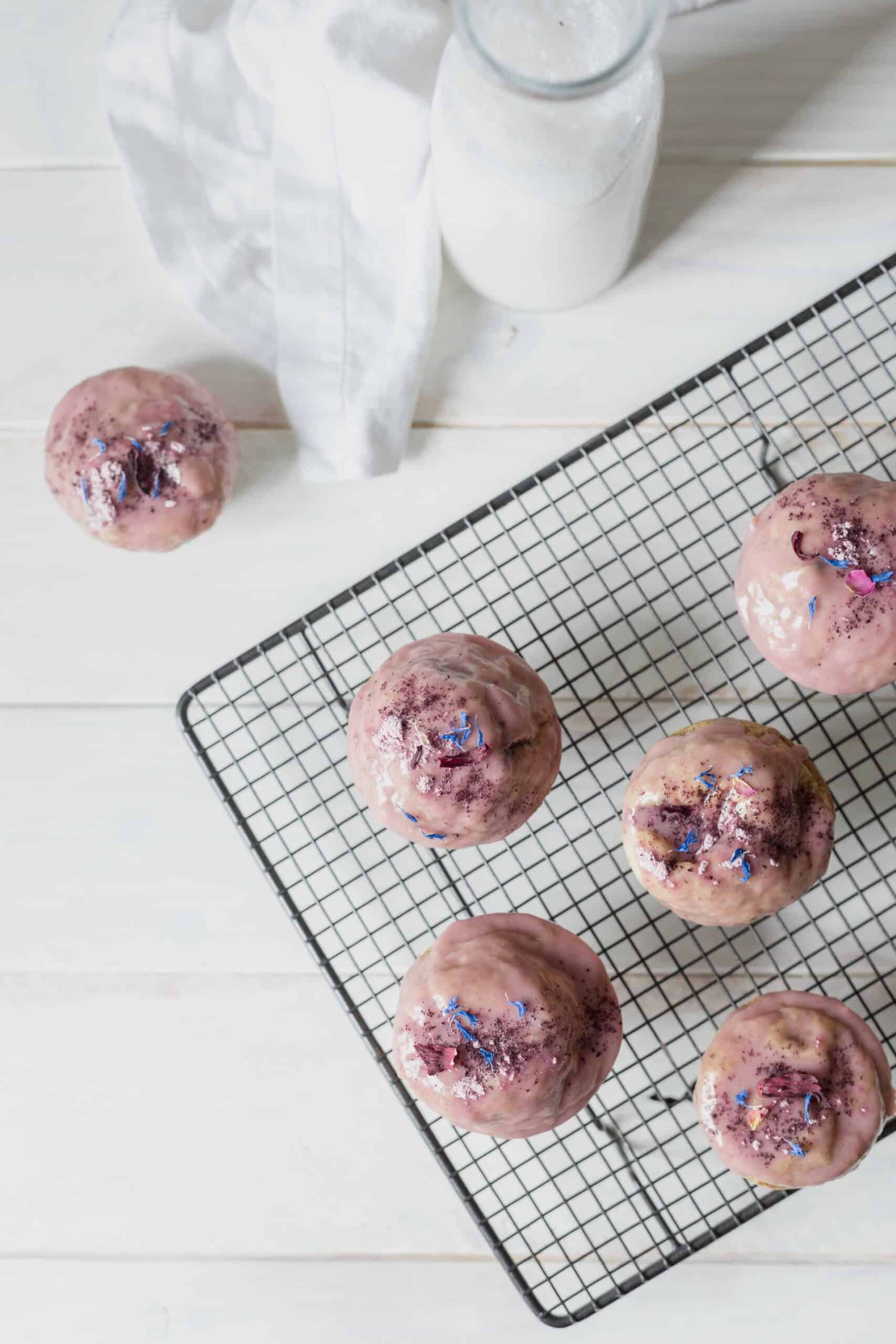 ---
STUFFED ACAI MUFFINS
Prep time: 20 minutes
Baking time: 20 minutes
Serves: about 12 muffins
INGREDIENTS:
For the Acai Chia Jam:
– 100g Nossafruits frozen acai (one pack)
– 1 cup frozen raspberries
– 2 tbsp maple syrup
– 4 tsp white chia seeds
For the Muffins:
– 3 tbsp psyllium
– 2 tbsp ground flaxseeds
– 9 tbsp water
– 2 tbsp apple sauce
– 3 tbsp coconut sugar
– 1/3 cup coconut oil
– 2 cups almond milk
– 1 tbsp apple vinegar
– 1 cup gluten free flour
– 1 tsp baking powder
– Pinch of salt
For the Glaze:
– 350g icing sugar
– 3 tbsp acai juice
INSTRUCTIONS:
Prepare the Acai chia jam
Melt the frozen acai and raspberries in a saucepan on low heat.
When defrosted add the maple syrup and chia seeds and allow to cook for 3 minutes, stirring often to prevent clumps to form.
Remove from heat and allow to cool for about 10 minutes.
Blend the mixture to obtain a smooth sauce.
Prepare the Muffins
Preheat oven at 180°C (350°F).
Combine the psyllium and flaxseeds in a large bowl, add the water and stir. Allow to sit for about 5 minutes.
In a small bowl, combine the almond milk with the apple vinegar and set aside.
Add the apple sauce, coconut sugar and melted coconut oil in the psyllium and flexed mixture. Mix well to combine using a whisk.
Add the almond milk and whisk again.
In a bowl, combine the flour with the salt and baking powder and mix well to spread evenly the baking powder. Add the flour to the wet ingredients large bowl and mix well using a spatula until you reach a smooth texture.
Line 12 muffin trays with paper muffin cases. Fill muffin cases one-thirds full with the muffin batter. Then add one tablespoon of the chia jam in the center and cover with more muffin batter, to the two-thirds of the case.
Bake for 15-20 mins, until risen and firm to touch.
Leave the muffins in the tin to cool for a few minutes and transfer to a wire rack to cool completely.
Prepare the Glaze
In a bowl, mix the icing sugar with the acai juice. Stir using a fork until you reach an homogeneous frosty mixture.
Assembly
When the muffins have completely cooled down, dip them in the glaze preparation to cover the top. Allow the glaze to firm for about 2 minutes.
Sprinkle some acai powder, dry fruits and flower on top of your muffins.