Hello sunshines! OK, agree, you might be wondering what the hell is she posting a recipe of a tropical smoothie that glows of sun, tropical vibes, coconuts and white sand beach while it is currently winter in the northern part of this planet and we are all struggling with cold and snow… if it can reassure you, I am also fighting this weather, it was 19F with snow yesterday, I have to spend 10 minutes scratching my car windshield every morning and basically finish each day with my fingers totally frozen. BUT, as I am writing, I am also packing my things – I mean, 3 swimsuits and a pair of glasses, cause I am flying to Bali tomorrow morning!!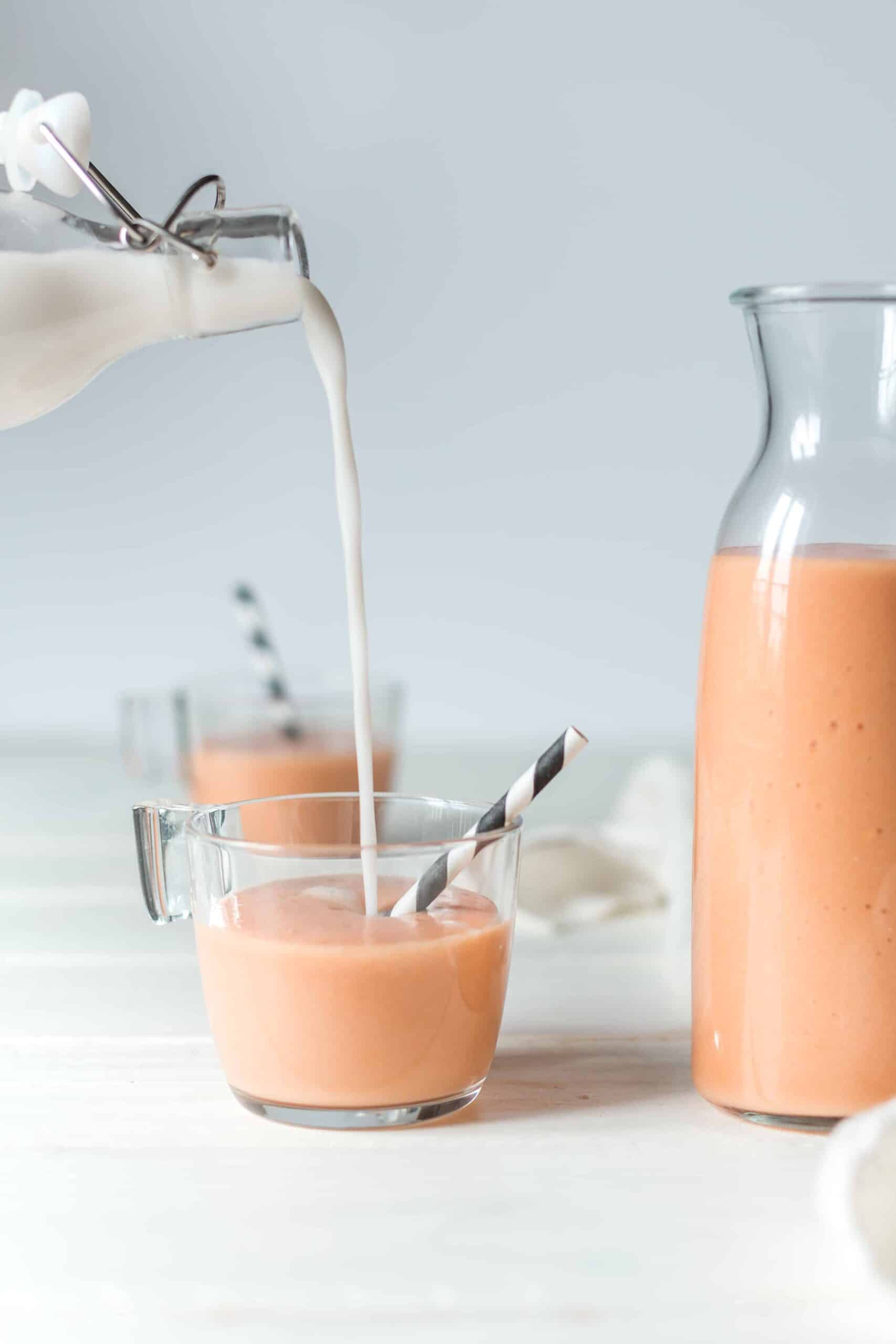 Yaaaasss, I am finally in holidays for two weeks that I will spend on this paradise island. It will be my first time there, but I have heard so many incredible travel stories from family and friends about this place that I know it gonna be amazing vacations! I already feel the fine sand under my feet, the delicate caress of the sun on my skin … and all this amazing food in my belly haha! Yes, cause, you know, my travels lately have turned more in kind of food tours. I love to discover local traditional food when I travel, it is always a priceless source of inspiration and a very nice way to discover a culture and meet people. That, combined with lush nature, beautiful hikes and endless range of activities, and I know this place will make me happy. As always, I have perfectly planed my stay and prepared a list of restaurants and coffees to visit long as you arm… as long as I am convince I will have to come back to try everything! But anyway, I am already speaking about coming back while I haven't been there yet, that's all me! So my mantra for these vacations is "Enjoy the moment", the really moment, relax and stop thinking too much about tomorrow and wanting to plan everything. Just follow the flow, have good time, self-care and have fun. I will get to that later, will probably make a post about Food in Bali and a list of my favorite adresses, but for now, lets talk about this smoothie.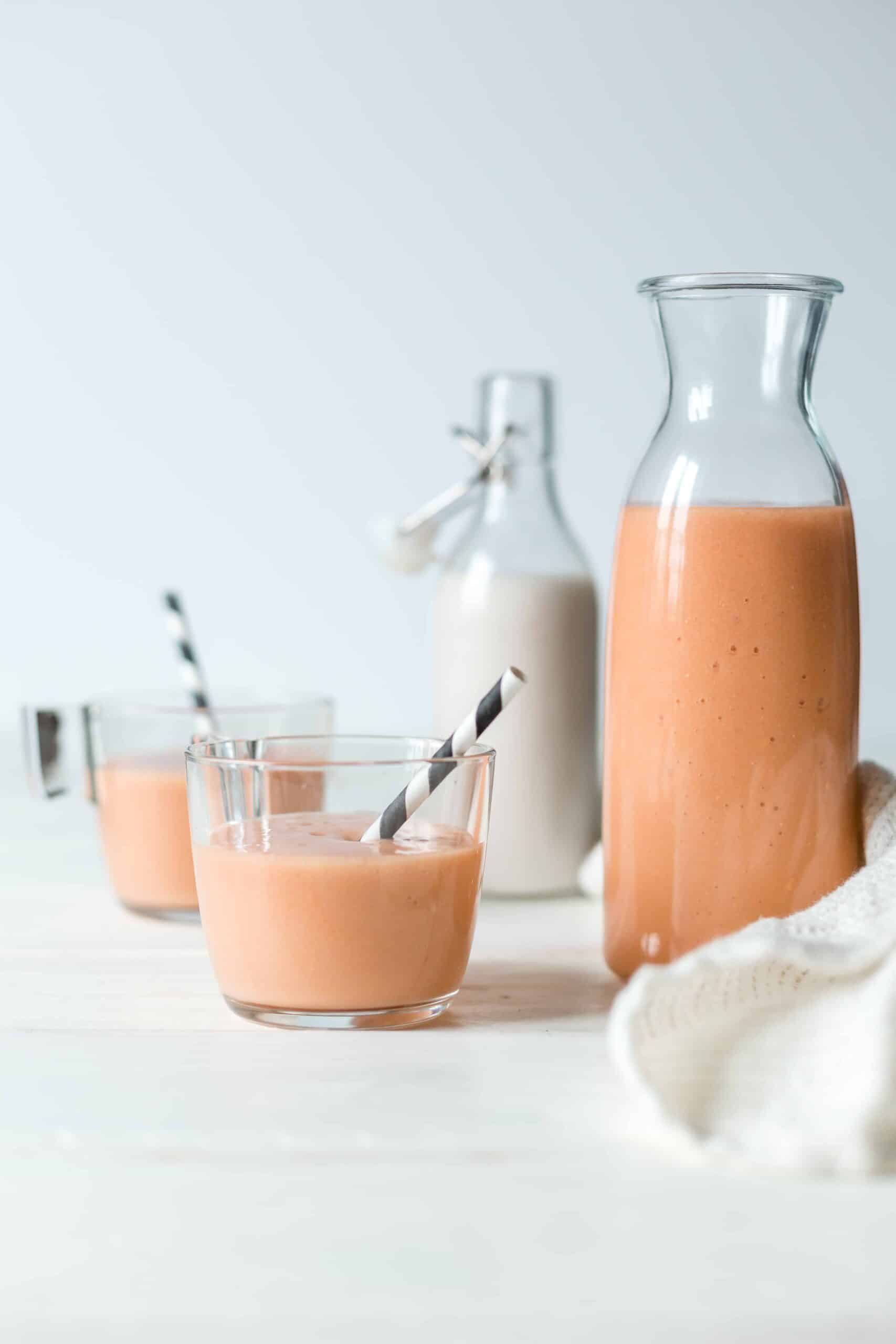 You might have already heard about Nossa, the French lovely company specialized in açaí products. I love their products and use them a lot in my cooking, always trying to get imaginative with – see my Acai Stuffed Muffins, they are bombs. It is a young but very dynamic brand which is always developing and proposing new products to discover, and how exciting I was when they propose me to test their new frozen acerola pulp! I think it was my first time using acerola, and let me tell you that it is so good! For a first try, I wanted to stay very simple and create a simple recipe everybody can do if have a blender at home. I combined with tropical sweet fruits to counterbalance the acidity of acerola and add coconut cream to bring some smoothness. The result is a delicious tropical cocktail you can taste the sun in! And during this harsh winter period, it will give you a good intake of vitamins to boost your body.
I hope this smoothie will transport you in your dreamy island. Now, I have to finish to set up my suitcase, prepare a snack for the journey (12 hours stopover in China …) and think about forgetting nothing.
Love and light.
Alice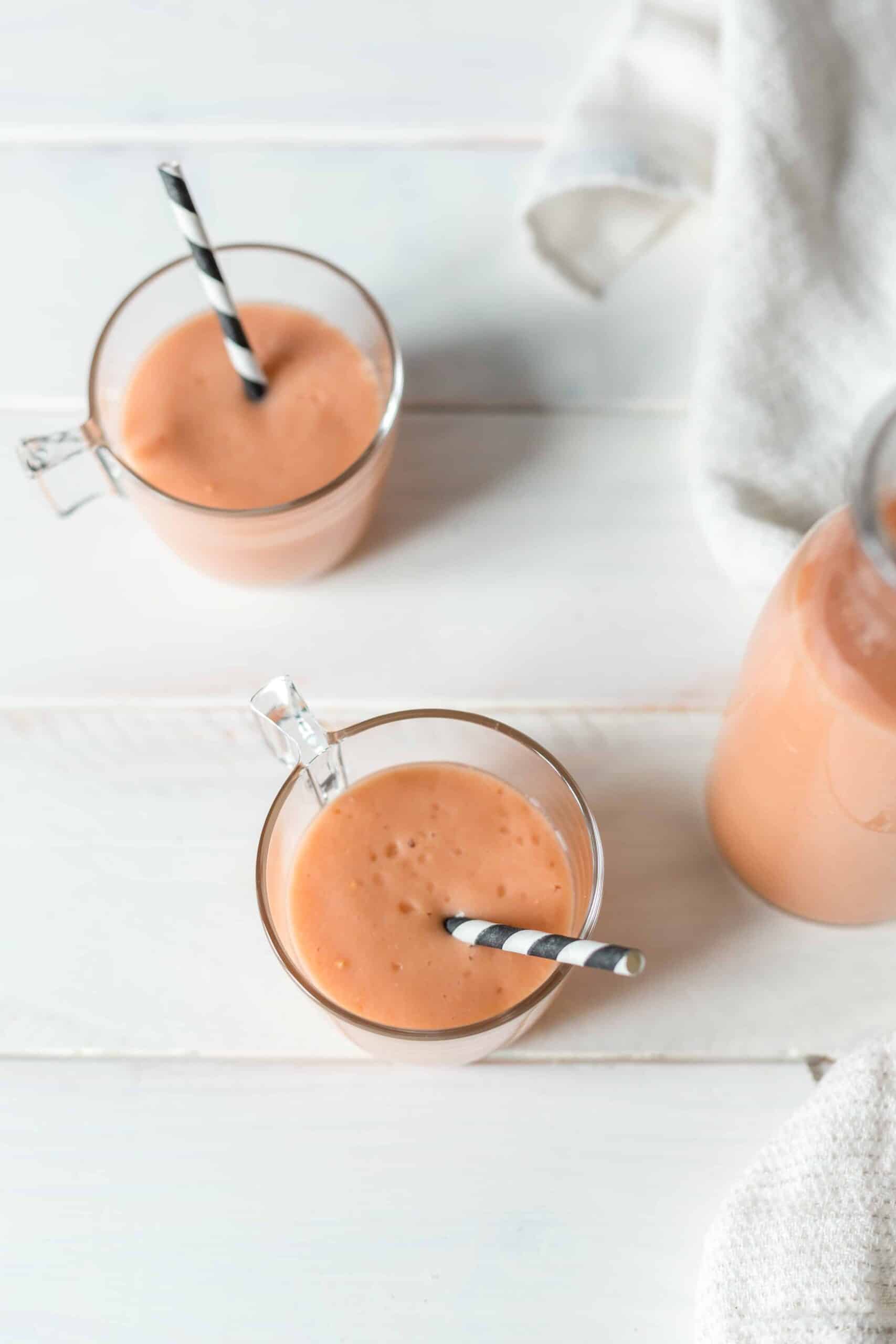 ---
ACEROLA VITAMIN SMOOTHIE
Prep time: 5 minutes
Serves: 2 tall glasses
INGREDIENTS:
– 1 pack Nossafruits Frozen Acerola pulp
– 1  papaya
– 1 guava
– 2 tbsp coconut cream
– 1 cup almond milk
– 1 tsp lime juice
INSTRUCTIONS:
1. Blend all the ingredients in a high speed blender until you reach a smooth texture. Serve fresh with an extra dash of almond or coconut milk.