I am so happy to have you back here for the second recipe of my Bali Inspired series! Maybe you have already seen the first one, my Orange & Raisins Blondies, and maybe you though this was not the most balinese kind of food… And you're partly right! When you think Bali, you think sun, beach, greenness, rice terraces, tropical fruits, paradise and colors. So, what better way to reflect all that than a smoothie? A very vibrant colorful smoothie! And the Balinese have well understood that. During my trip, I was so amazed and happy to see how they are conscious of their wealth and how they take advantage of it. They have wonderful fruits and vegetables they grow on the island, unlimited ressource of coconut and they know  the right way to get the most out them. Take the coconut for instance -my king fruit, you can drink directly the fresh water which is full of benefits, use the coconut flesh either young for smoothies or many other amazing preparations -wraps, ice-creams…, or dry as a topping or to make coconut milk or oil for cooking or for skin and hair, the shell can be used to make the famous and very instagramable coconut bowls or objects …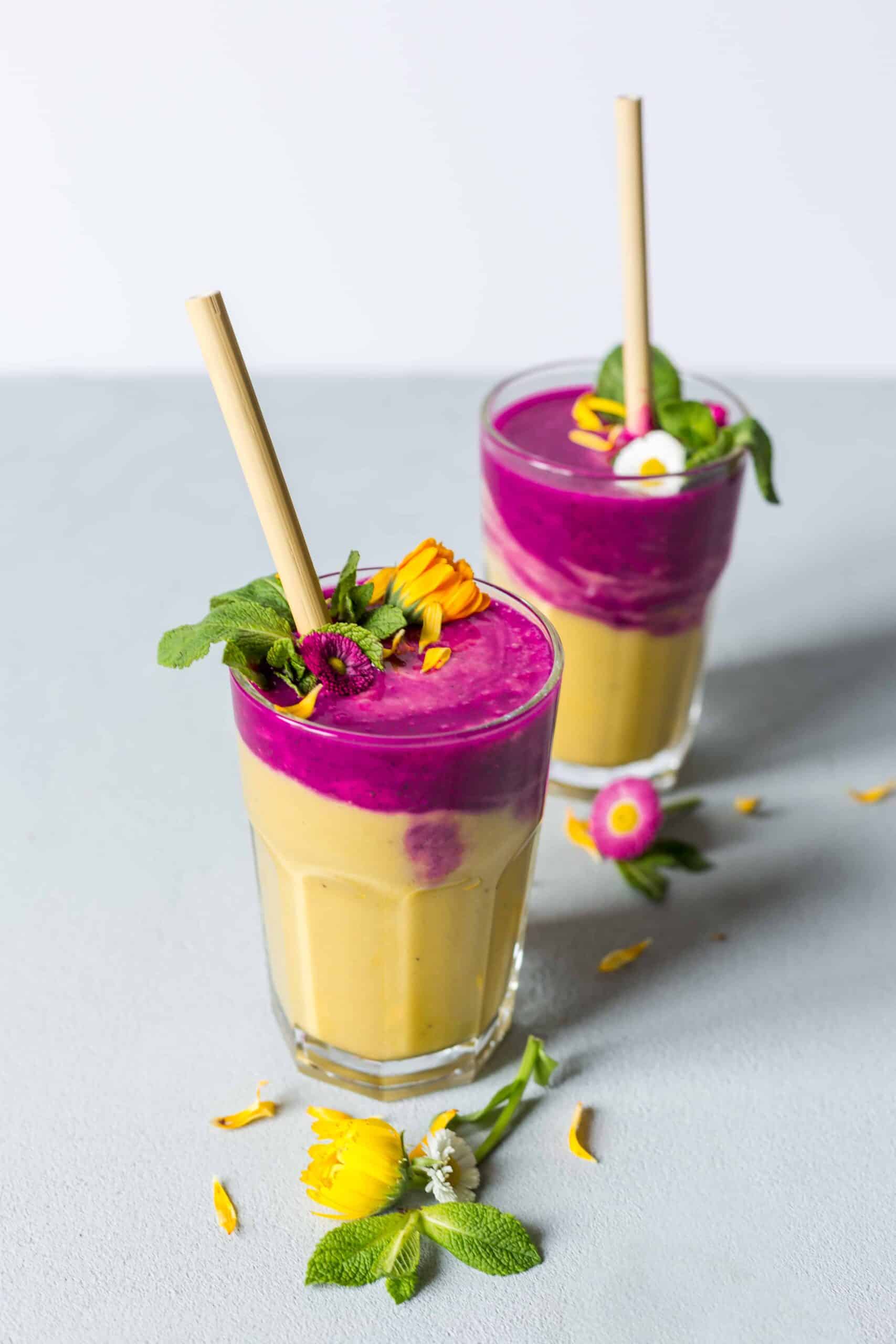 I have made so much travels in countries with amazing natural ressources that people do not exploit because they have been totally denatured by tourism. Many people when they travel do not take the time to discover the culture of the country, to force themselves to plunge into the local life and to experiment the local specialities. How many times have I seen tourists in exotic wonderful destinations drinking their coke while eating a chicken nuggets box while they could have experiment the best food in the world? Well, that was not the case in Bali and I was so happy about that.
So, come back to this smoothie. Every restaurant, café, warung, health shop, hut, hotel, yoga studio, has at least one smoothie on its menu. And you can be sure that it will be better than anything you could find at home. The key is simple: once you have the best quality fresh raw ingredients, you can do whatever you want, the result will be good. You have bananas, coconut and dragon fruits? Just blend them together and you obtain a mixture as tasty as beautiful. Obviously, some cafés specialized in healthy and whole foods have upgraded the concept of smoothies, serving outstanding smoothie bowls with unicorn colors and dreamy toppings – if you are a smoothie bowl lover, you HAVE to try their killer Blue Island Bowl with dolphins and palm trees toppings.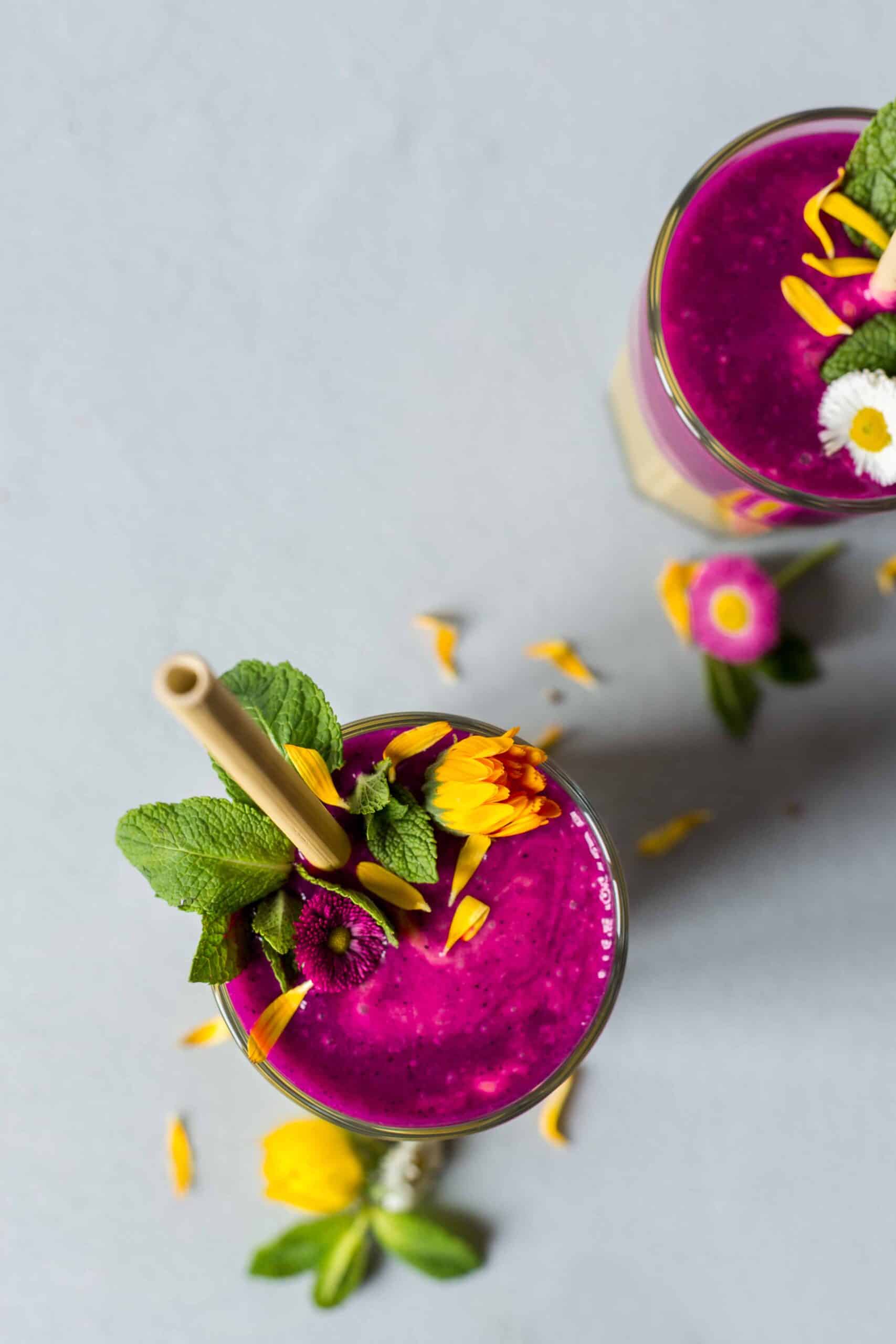 While in Bali, I took the habit to drink lot of smoothies, I mean automatically at each meal because everywhere there was a new combination that I just cannot miss. However, it was not really my thing at home: I really enjoy a smoothie for breakfast but never
make one for snack or to replace a whole meal, because I need to take the time to shew and eat solid aliments to feel full. So back in France, I came back to my routine but really want to take up experimenting with smoothies, and that is how I have created this  one for you. I simply though about the most Bali ingredients, what I have preferred in their smoothies, and put everything in a single delicious one! Obviously, I used coconut in milk and water, banana and mango because I love their smoothness and sweetness that make you feel like in paradise. And to balance the sweetness of that layer, I made a fresh pink lime and mint preparation. Dragon fruit is also very widely used in Bali, in smoothies or any other preparation, mainly to bring color. And wow, what a powerful combination than these yellow and pink layers meeting up to lead to the best smoothie I have ever done.
May this day be wonderful. And do not forget to let me know in the comments if you try it! I would be so happy to read about you and your feedbacks! xx
Alice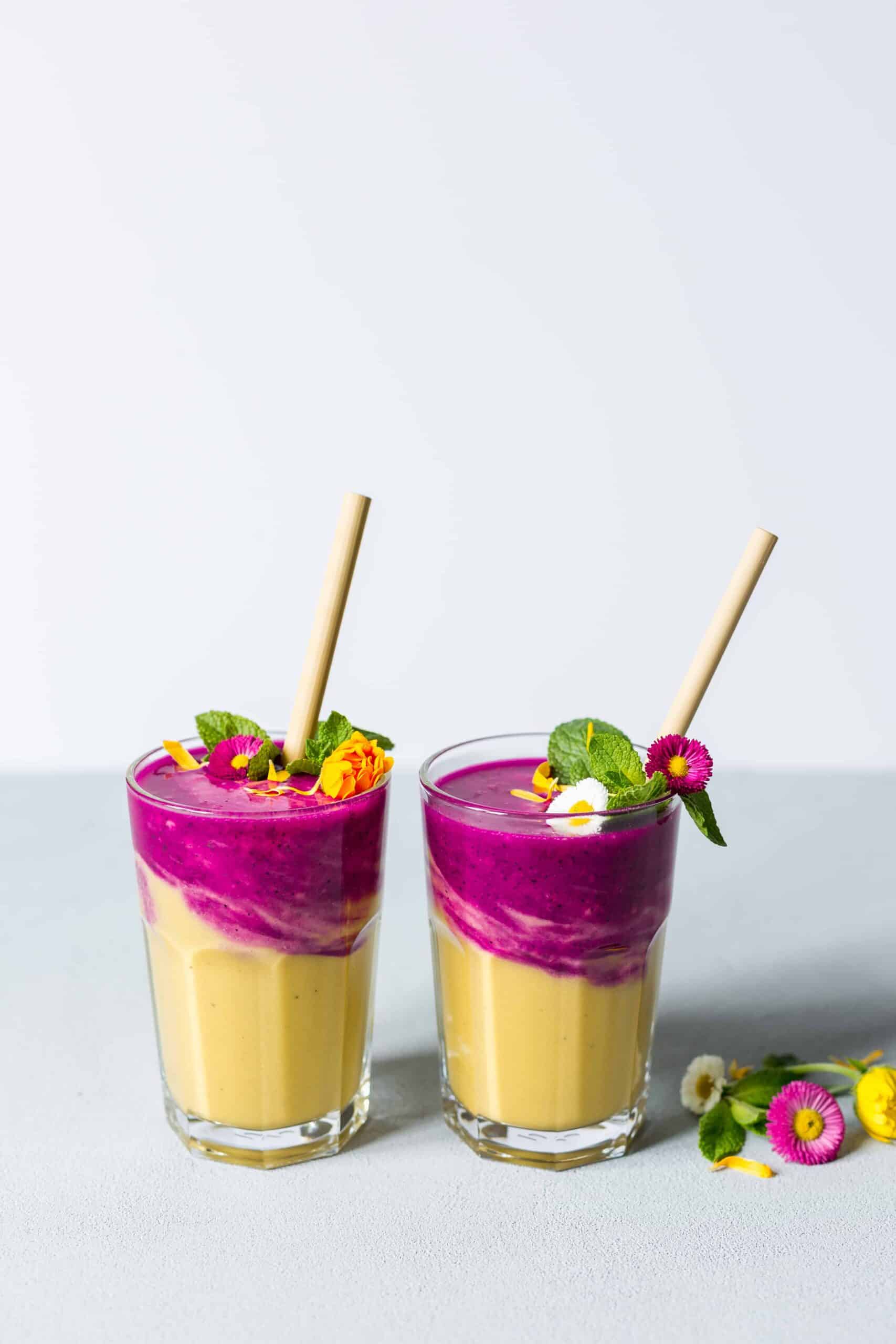 ---
BALI SMOOTHIE
Prep time: 10 minutes
Serves: 2 tall glasses
INGREDIENTS:
Yellow layer :
– 1/2 mango
– 2 bananas
– 1 cup fresh coconut milk
– 1/2 cup coconut water
Pink layer :
– 1 cup of dragon fruit
– Juice of one lime
– 5 mint leaves
– 1/4 cup coconut water
INSTRUCTIONS:
1. Blend the bananas with the coconut milk in a high speed blender until completely smooth.
2. Add the mango and coconut water, and blend again to combine. At this point, you should have a thick and perfectly smooth texture. Set the yellow mixture aside.
3. Prepare the pink layer by blending all the pink layer ingredients together at high speed until well combined. 
4. Assemble your smoothie: pour the yellow mixture in two glasses up to three-quarters. Complete with the pink mixture to the top. Using a spoon, gently stir the pink layer to create swirls. Top with edible flowers, fresh mint leaves or coconut flakes.
---
BALI SMOOTHIE (français)
Temps de préparation: 10 minutes
Quantité: 2 grands verres
INGREDIENTS:
Smoothie Jaune :
– 1/2 mangue
– 2 bananes
– 1 cup (250ml) lait de coco
– 1/2 cup (125ml) eau de coco
 Smoothie Rose:
– 1 cup fruit du dragon (pitaya rouge)
– Le jus d'un citron vert
– 5 feuilles de menthe fraiche
– 1/4 cup (65ml) eau de coco
INSTRUCTIONS:
1. Mixer les bananes et le lait de coco à l'aide d'un blender ou mixeur jusqu'à l'obtention d'un mélange totalement lisse et homogène.
2. Ajouter la mangue grossièrement coupée et l'eau de coco et mixer de nouveau jusqu'à incorporation. A ce stade vous devez obtenir un smoothie assez épais et parfaitement lisse. Réservez au frais pendant la préparation du mélange rose.
3. Pour le smoothie rose, mixer simplement tous les ingrédients ensemble à l'aide d'un blender ou d'un mixeur.
4. Passez à l'assemblage du smoothie: commencez par verser la préparation jaune au font d'un verre jusqu'aux 2/3 environ. Finir de remplir avec la préparation rose en versant délicatement pour ne pas que les deux couches se mélangent. A l'aide du manche d'une cuillère ou d'un pic, mélanger légèrement afin de combiner les deux couches et de créer de subtils tourbillons. Pour finir, décorer de fleurs, feuilles de menthe ou chips de coco. Servir frais, de préférence sur une terrace ensoleillée!