Hey, seems that this blog suffers from a sever lack of savory dishes!
I have just realized while scrolling my Instagram that my feed is nearly exclusively made of sweet treats, ice-cream, cakes and cookies, and that it seems to be no place left for savory food, which is totally not me!  Indeed, even if I always claim that there is nothing I love more than my weekend granola, savory food is my real all the time favorite, and I much prefer a good lunch than a sweet snack. Actually, it is all about balancing: I cannot imagine a lunch or dinner without savory main, but I really appreciate a sweet touch at the end of my meal. I can remember when I was a child, I simply didn't like sugar: cakes and other sweets were definitely not my things and I never had desserts. For snack after school, I preferred to have bread with savory vegetable spreads than a chocolate toast. I think the reason why I share so little savory recipes is that I find sweet recipes are easier to write down, require less ingredients and are more photogenic, what is finally totally wrong. The fact is that I used to putting lots of ingredients when I prepare a meal and love to be creative and improvise, resulting in pretty messy recipes. But I do love to make them and have million of ideas in mind that I want to give a try and share with you, so I have decided to go outside my confort zone and focus on developing easy savory recipes which involve few ingredients.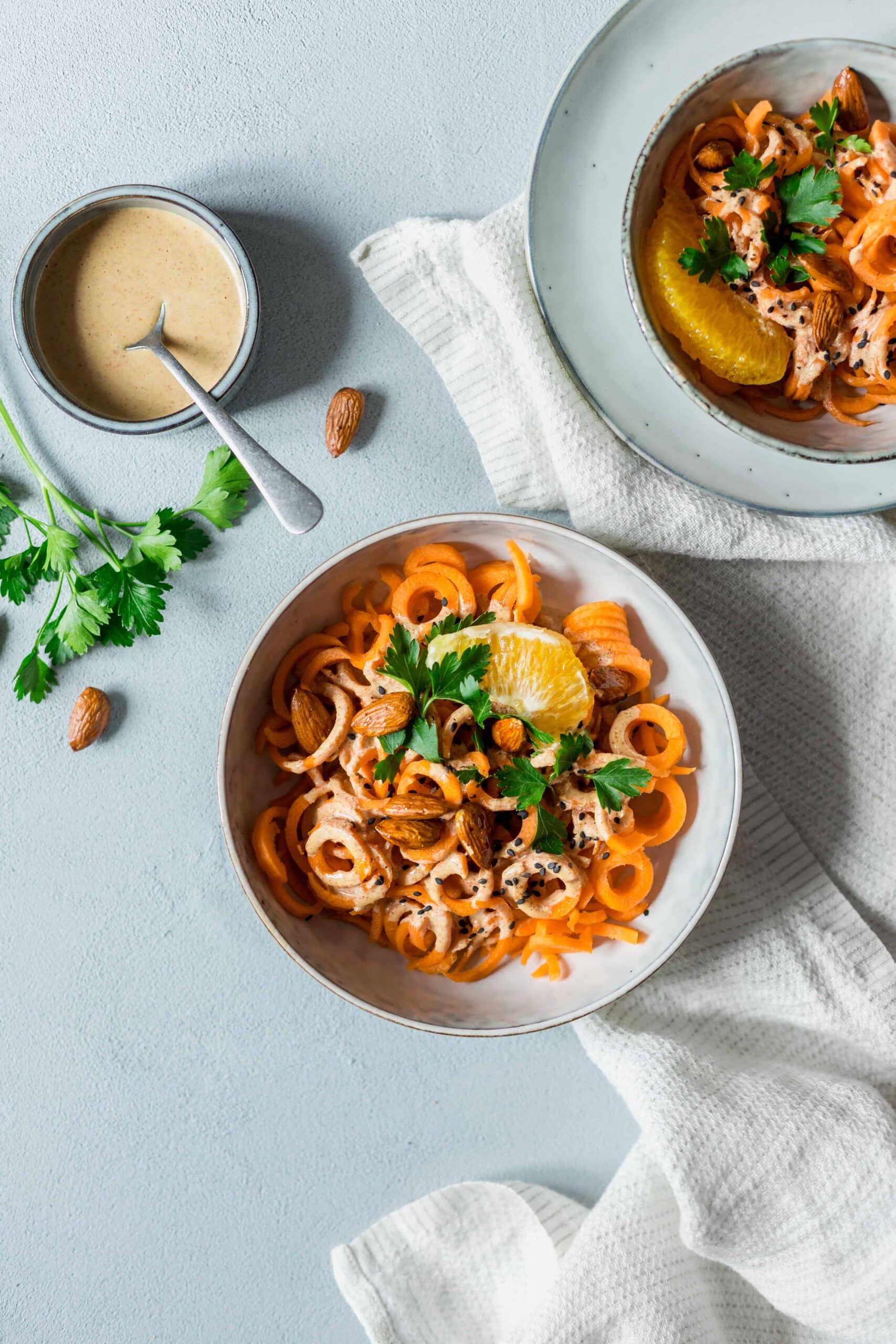 The first one I really wanted to share with you is that carrot noodle salad with a sweet and spicy almond sauce. It is one of my favorite on the go lunch, healthy, quick and easy to prepare and so good! It is a concrete example of a dish in which the sauce is the main element that enhances a very simple ingredient. Sauces can be very complex and difficult to balance, but I think that a good sauce can definitely make the difference in a dish.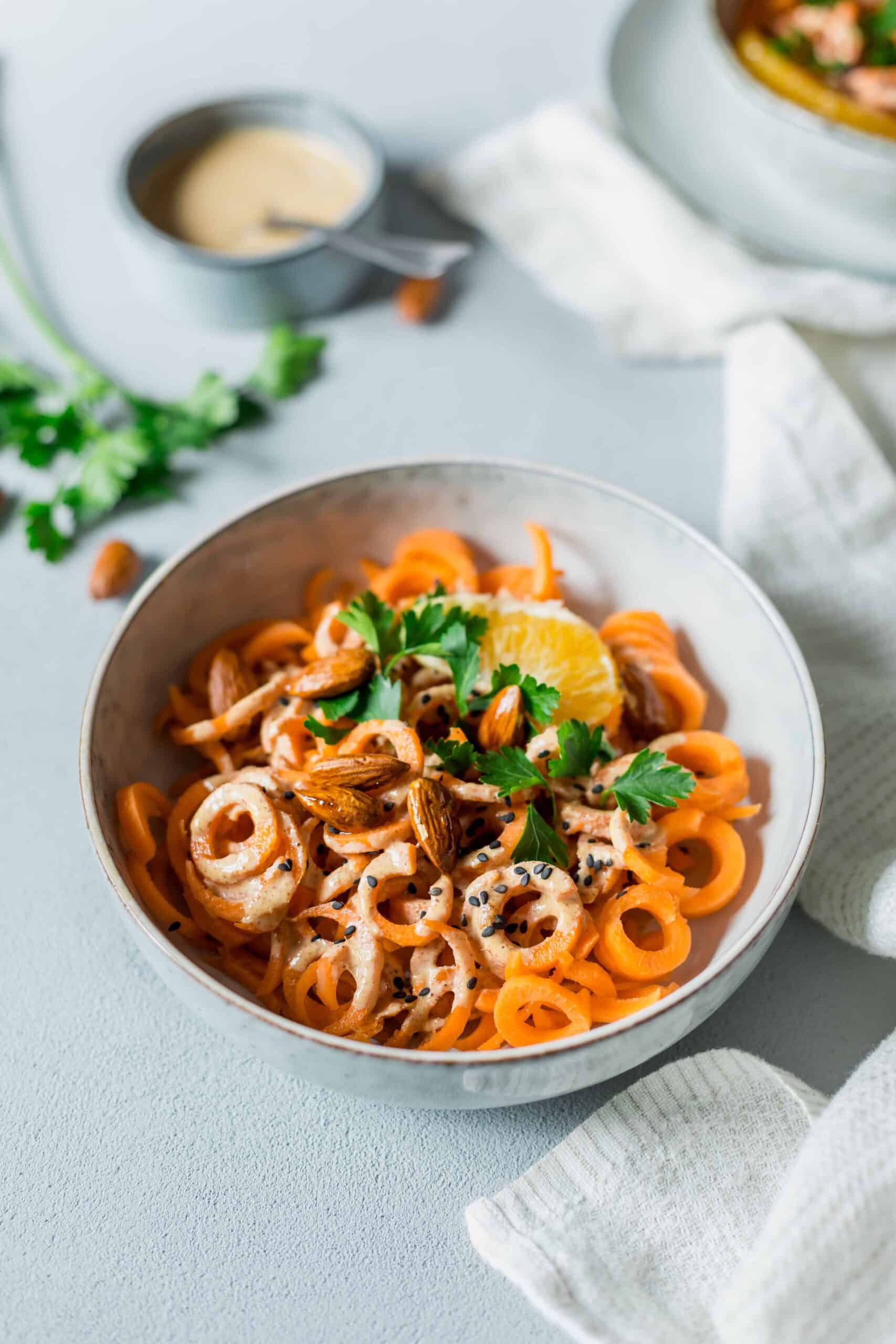 I love spices, I put them everywhere and often in indecent quantities! Spices are awesome and can totally change the power of a dish. When well balancing, they permit to highlight some flavors and to reveal others. I also love savory/sweet associations which create an interesting contrast. For this recipe, I wanted to make a sweet sauce with asiatic flavors to partner the raw carrot noodles. I used to using nut butter in my sauces, they give a smooth, thick and creamy texture and their taste is simply amazing. My favorite one is chili lemongrass peanut butter sauce, I will share this one later, but for now I have chosen to use almond butter which perfectly pairs with the carrots. I used my Go Nuts almond butter which is already lightly sweetened, so no need to add a lot more sweetener. The orange juice permits to add acidity which balances the sweetness of the sauce and its flavor perfectly pair with the carrot and almond.  The ginger and tamari sauce bring this asiatic and fresh touch while the chili flakes add some power to the sauce.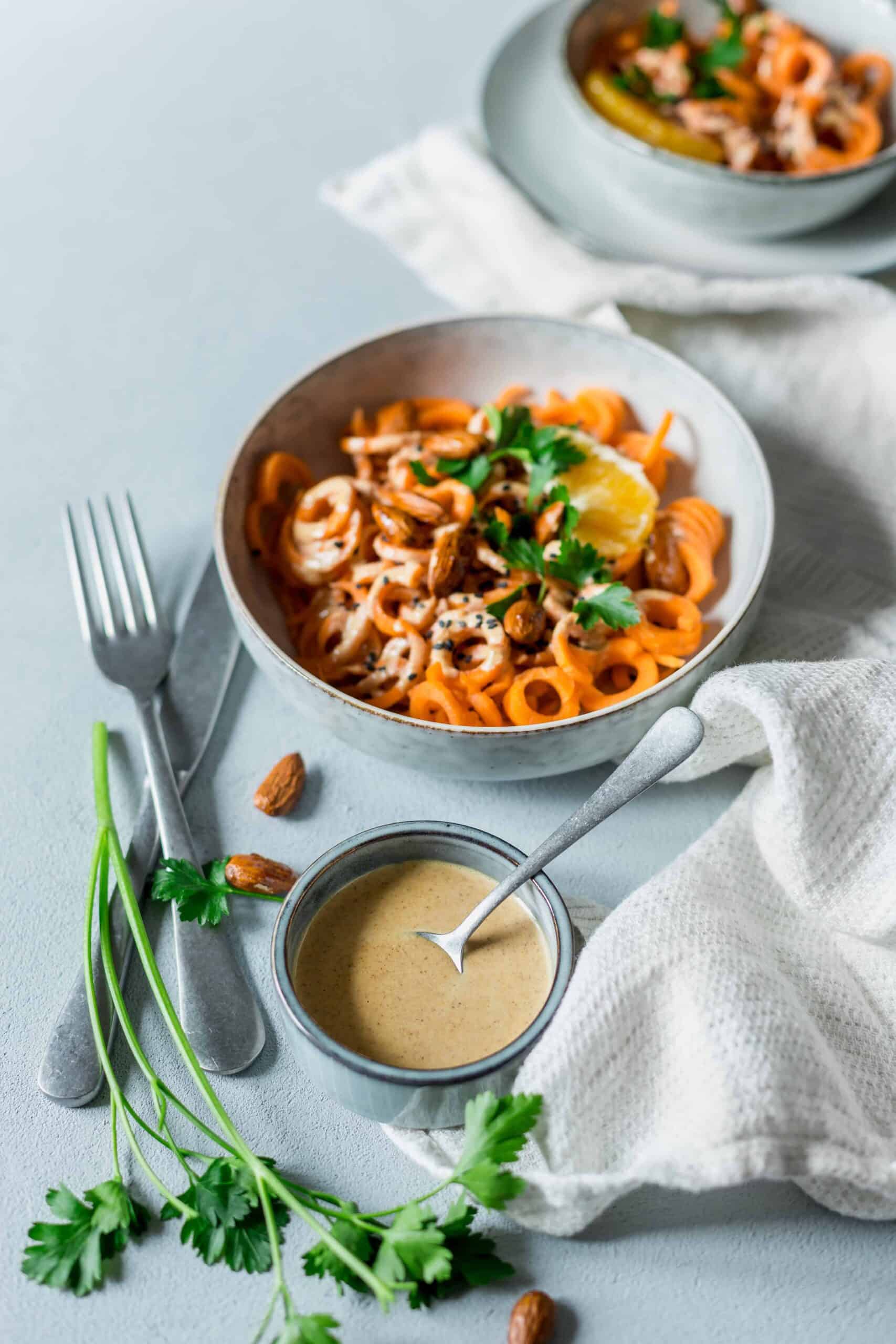 This sauce is so easy to prepare and will definitely upgrade in no time all your salads. It is also a good dipping sauce for vegetables, tempura or spring rolls for instance. I have try to balance the recipe at best, but feel free to adapt the quantities at your taste if you want it more sweet or less spicy.
Have a beautiful week!
Alice
---
CARROT NOODLES w/ SPICY ORANGE ALMOND SAUCE
Prep time: 10 minutes
Serves: 2 bowls
INGREDIENTS:
For the Sauce:
– 1/4 cup Go Nuts almond butter
– 2 tbsp orange juice
– 1/2 tsp lime juice
– 1 tbsp tamari sauce
– 1/2 tsp fresh ginger
– 1 tsp agave
– 1/4 tsp chili flakes
For the Carrots:
– 4 carrots
– 1 tbsp lemon juice
– 1/4 cup tamari almonds
– 2 orange supremes
– 1 tbsp black sesame seeds
– A bunch of coriander
INSTRUCTIONS:
1. Prepare the carrot noodles: peel the carrots and spiraling them using a manual spiralizer or a food processor. Place the carrot noodles in a big bowl and add the lemon juice. Toss and set aside while you prepare the sauce (the lemon juice will help to prevent from oxydation).
2. Prepare the sauce: blend all the sauce ingredients in a high speed blender until completely smooth and lightly emulsified.
3. Assembly: divide the carrot noodles into two parts and place in two bowls. Spread the almond sauce over the carrots. Add the orange supremes, sprinkle the tamari almonds and black sesame seeds, top with fresh coriander leaves.