Lately I do not have much time to bake for myself and I have to admit I am missing it. Indeed I have basically only time to bake during the weekend as I am working the rest of the week, and it is often dedicated to collaborations first and some extras if I have any time left … that means, never.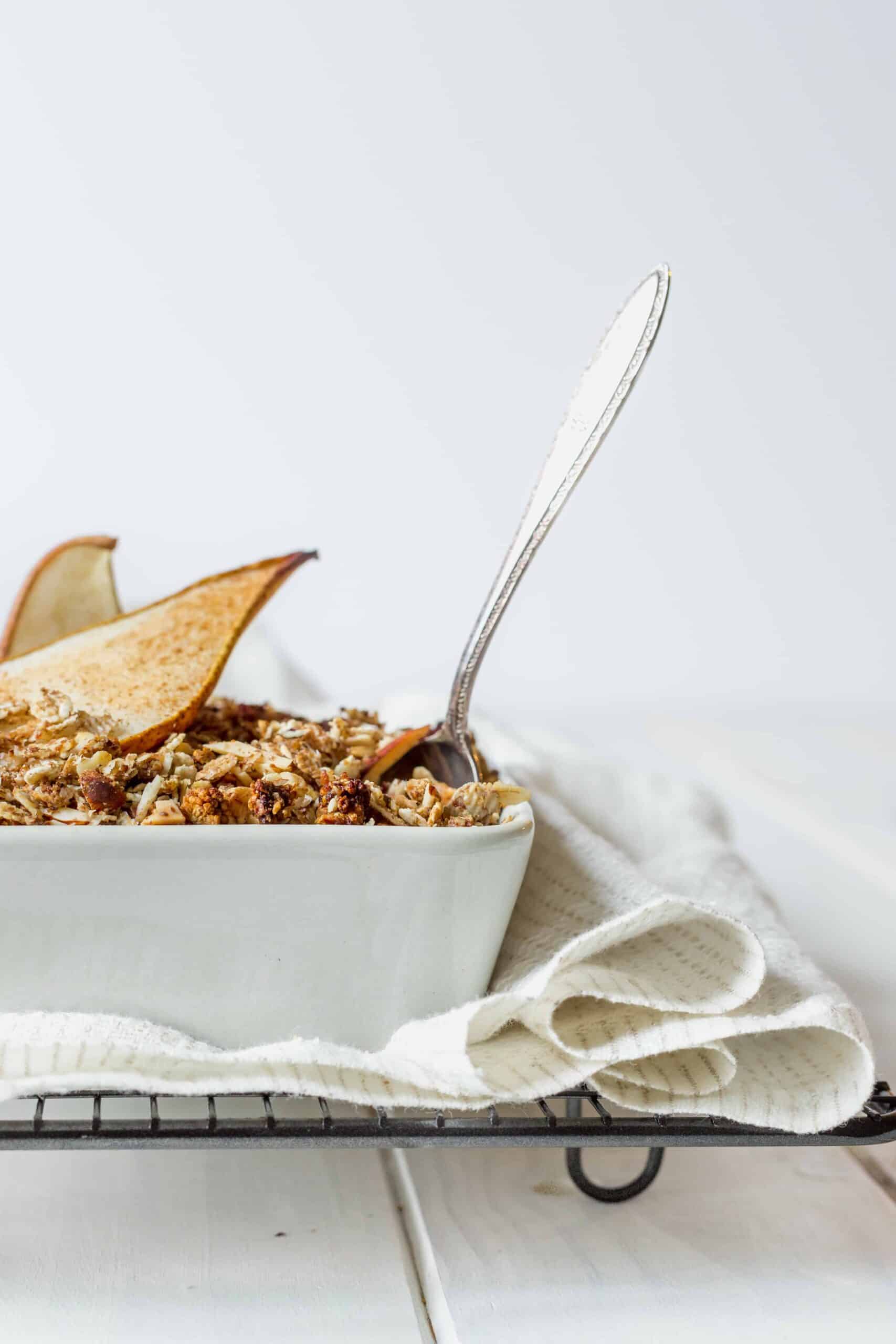 So on this rainy Sunday afternoon, this crumble was more an excuse for me practicing photography and putting into application all the live changing tips and techniques I have learnt during my last photography course. But it happened that this pear crumble turned into a true bomb when enjoyed right out the oven, under your blanket with a tall cup of hot tea. So I took a piece of paper and quickly scribbled the recipe cause I believe this little guy really deserves it.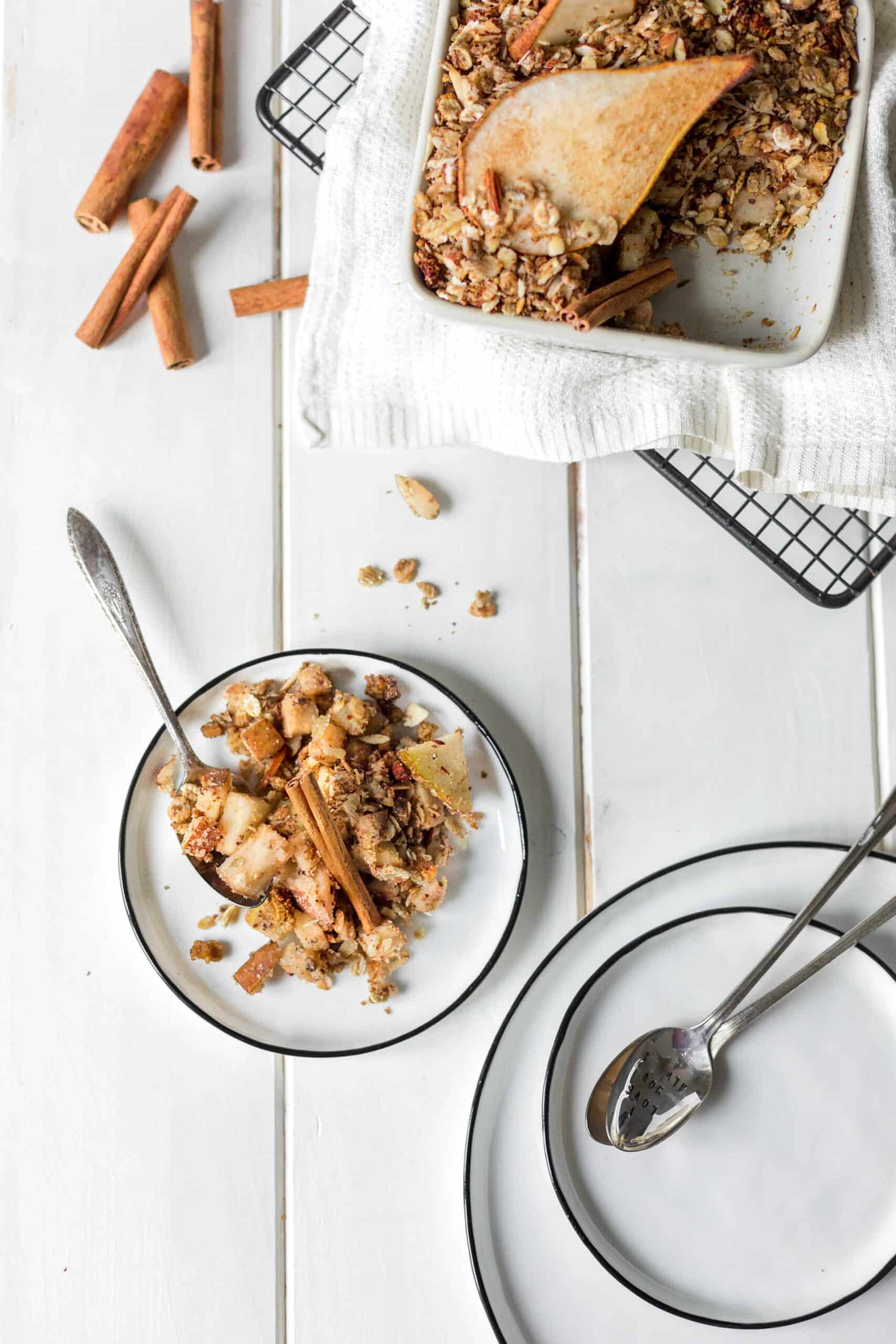 The good thing with that one is that it is gluten free, refined sugar free and very low in fat but just does not taste like. If you are like me, just add a ton of spices: cinnamon, cardamom, ginger, nutmeg, or any of your favorites and you are up for the coziest laziest Sunday!
Hope you all had a wonderful weekend and lets that new week be amazing (right, except Monday …).
Alice.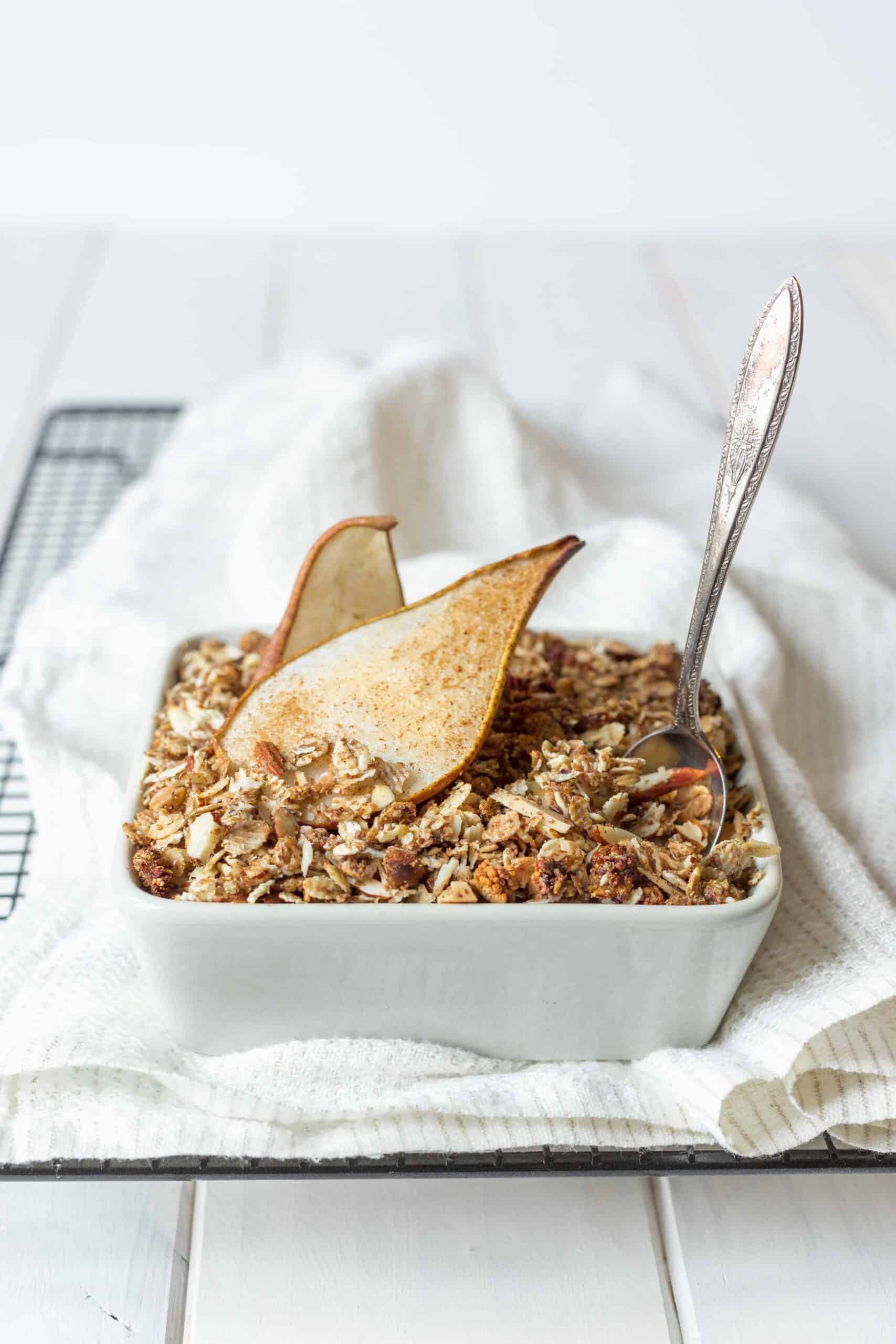 ---
CHAI PEAR CRUMBLE
Prep time: 10 minutes
Cook time: 20 minutes
Serves: 2-4 serves
INGREDIENTS:
For the filling:
– 1 pear
– 2 tsp maple syrup
– 1/2 tsp coconut flour
– 1/2 tsp chai spices
– 1/6 tsp cardamom
– 1/2 tsp vanilla extract
For the crumble:
– 1/2 cup oats
– 1 tbsp ground flaxseeds
– 1/4 cup chopped almonds
– 1 tbsp mulberries
– 1 tbsp melted coconut oil
– 1 tbsp maple syrup
– 1/6 tsp cardamom
INSTRUCTIONS:
Preheat oven at 350F.
Prepare the filling. Wash then cut the pear into medium dices (no need to peel the pear).
Mix the diced pear in a bowl with the maple syrup, coconut flour and spices and toss to well coat.
Spread the filling in an oven proof dish. Set aside while you prepare the crumble.
In a large bowl, combine the oats, flaxseeds, chopped almonds and mulberries. (Note: you can do your own flax meal by simply blending whole flaxseeds in a high speed blender).
Add the melted coconut oil, maple syrup and cardamom and mix using a spatula until well coated.
Sprinkle the granola mixture on top of the pear using your hands, allowing big chunks to remain.
Bake for 20 minutes. The crumble should be golden but not burnt.
Once baked, removed from the oven and all to cool down 10 minutes before serving.