These Healthy Mendiant Krispie Treats are a light and gooey twist on a two classic desserts: French mendiants and Scotcheroos. Made with only 8 simple ingredients and very easy to prepare, they are naturally vegan, gluten-free and refined sugar free! They are packed with nutritious nuts, seeds and berries that make you want to eat the entire batch!
This post is sponsored by KORO, a European online shop that promotes healthy, high quality and sustainable products. For more information about the brand and its values, visit their website and enjoy 5% OFF everything on the FRENCH store using the code ALICE5.
Cette recette est sponsorisée par KORO, une boutique en ligne qui propose un large choix de produits sains, responsables et de haute qualité à prix juste. Pour découvrir la marque et ses merveilleux produits, rendez-vous sur leur boutique et profitez de 5% DE REDUCTION avec le code ALICE5.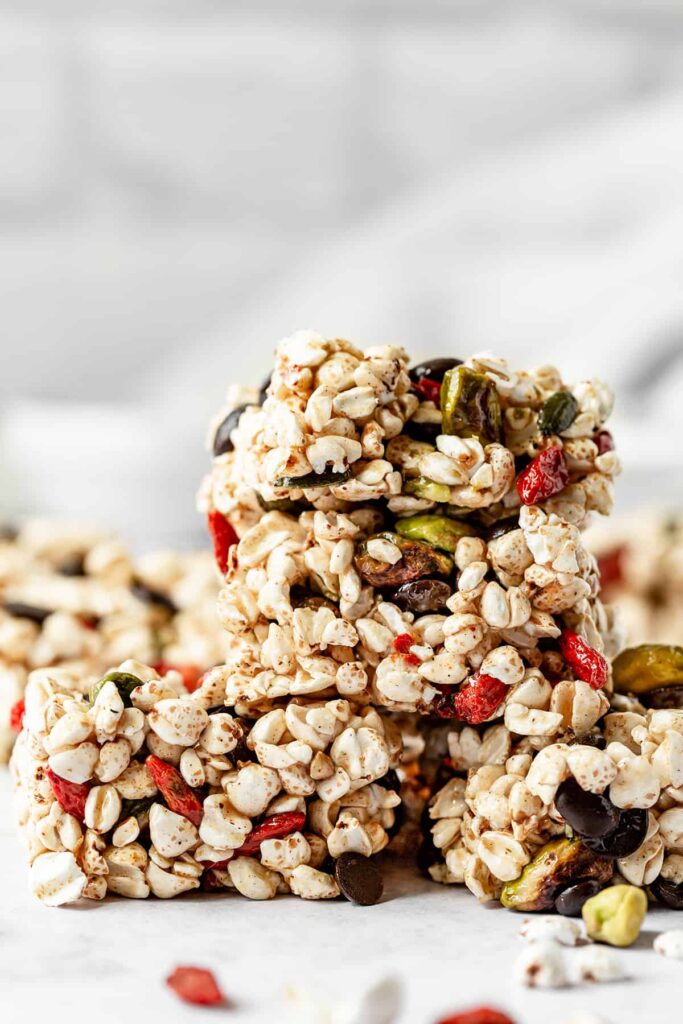 A healthy treat that's easy to make
If you don't want to deal with lots of ingredients, long cooking times and dishes to get a delicious snack then this recipe is for you! These Mendiant Krispie Treats are the perfect healthy treat for any time! They are light, gooey, packed with chocolate and nutty flavors and seriously addictive. The kind of treat you want to always have in your fridge to satisfy your sweet tooth.
A recipe inspired by two classic desserts
First let's come back to the origins of this recipe. Scotcheroos are a classic American dessert originally made with Rice Krispies cereals fold in peanut butter and topped with a layer of chocolate and butterscotch. It's a very simple recipe that became very popular. Now you can find many variations, with marshmallow, chocolate chips and more.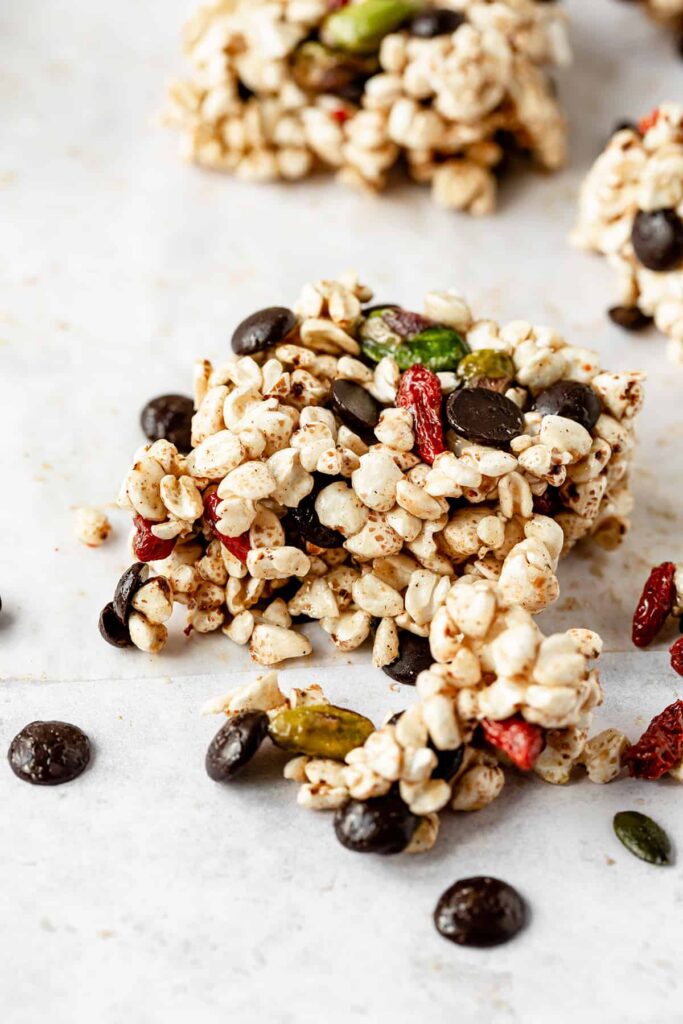 On the other hand, a mendiant is a traditional French confection composed of a bite-sized puddles of melted chocolate studded with nuts and dried fruits. They are typically served around Christmas time. Historically, mendiants have only four traditional toppings: almonds, hazelnut, raisins and dried figs. But this delicious treat have been reinvented with always more creative combinations.
These Mendiant Krispie Treats are a healthier adaptation of these two classic recipes. Scotcheroos are traditionally made with corn syrup, which is for many reasons not the best option when it comes to your health. For this recipe, we are swapping all the processed ingredients for only natural and nourishing ones. And we are folding in nuts, seeds and berry for extra flavors and nutrients! No additives, no preservatives, only good things in these naturally vegan, gluten free, refined sugar free and oil free treats. And not only they are healthier, but I promise they are also way tastier!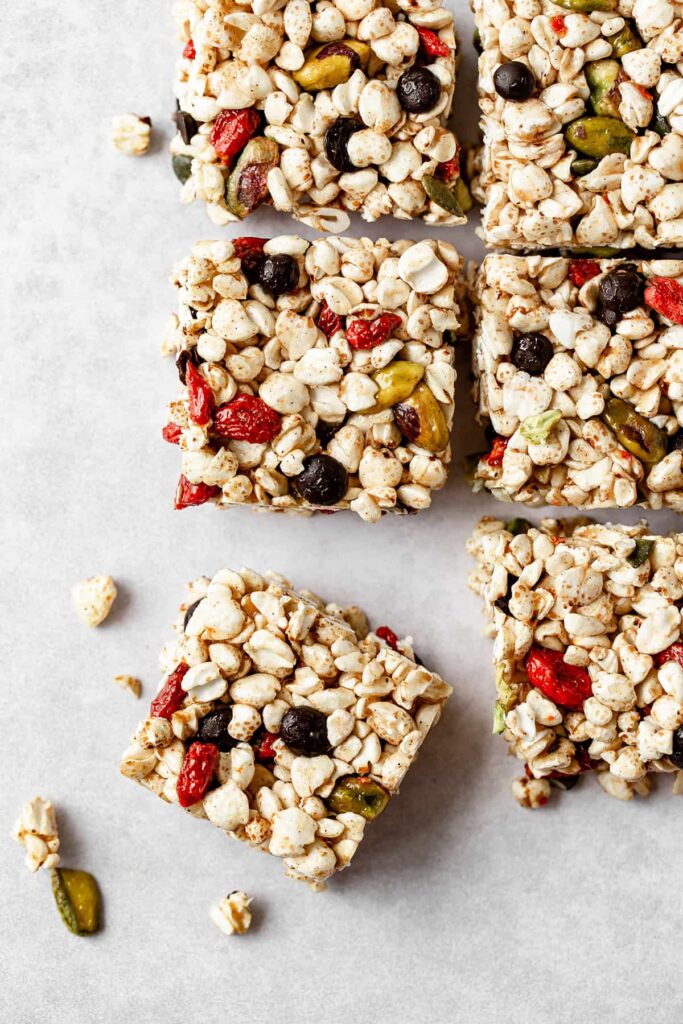 8 simple ingredients in these Mendiant Krispie Treats
Almond butter, acts like a binder to hold everything together. It brings a delicious nutty flavor and gives to these Mendiant Krispie Treats their extra gooey consistency. I recommend to use natural almond butter made with only almonds – no oil or salt added.
Maple syrup, replaces the corn syrup in this recipe. Maple syrup is a great sticky sweetener option, that adds both texture and an extra layer of flavor that corn syrup doesn't have.
Vanilla extract, is an easy addition that turns a good rice krispie treat into an amazing rice krispie treat.
Cinnamon, is optional in this recipe but I love this extra warm and sweet touch that goes perfectly with the Mendiant flavors.
Salt, is another simple addition I'm adding in most of my sweet treats and desserts. Salt is a super convenient ingredient and you don't need much of it. Just a pinch adds a depth of flavor and intensify the sweetness.
Puffed buckwheat, replaces the Rice Krispies cereals used in the traditional recipe. Unlike Rice Krispies cereals that are crispy, puffed buckwheat is airy and soft, like pop corn.
Dark chocolate chips, because we always love yummy chocolate drops, right? If vegan, make sure to use dairy free chocolate chips.
Pistachio nuts, not only they are super tasty but also super healthy. Pistachios contain healthy fats and are a good source of protein, fiber, and antioxidants.
Pumpkin seeds, just like pistachios, pumpkin seeds are tasty and packed full of valuable nutrients, including healthy fats, magnesium and zinc. They also add a crunchy touch to the bars.
Dried goji berries, are delicious red berries with a sweet, slightly sour taste. Goji berries are packed with vitamins and minerals, including vitamins C, A and antioxidants.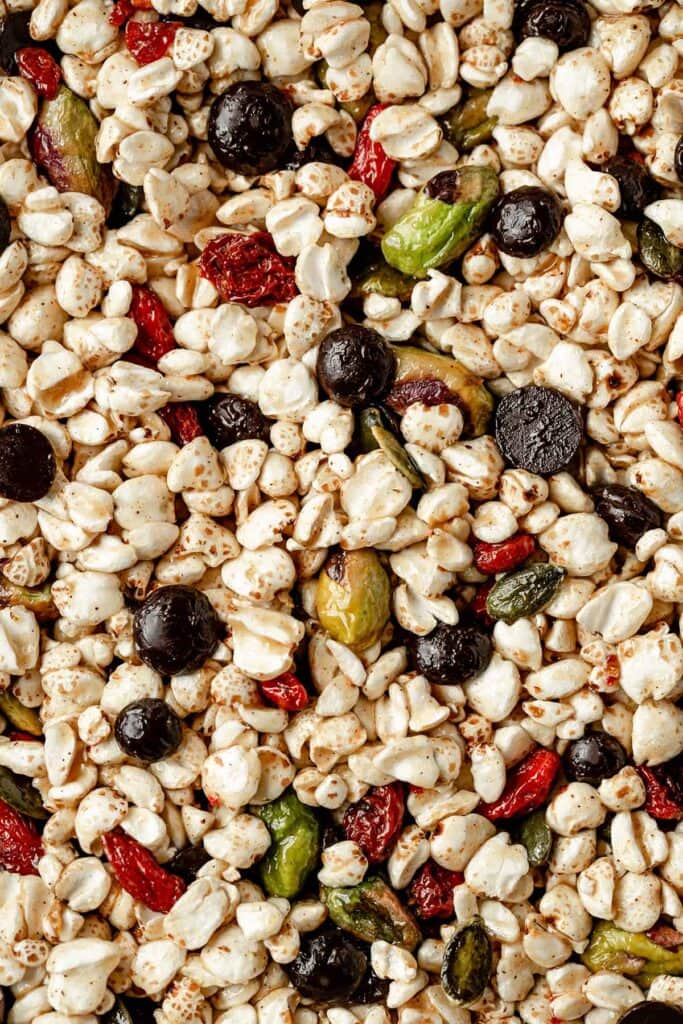 How to make mendiant Krispie treats
One of the reasons why you'll absolutely LOVE these gooey mendiant Krispie Treats is that they are SO easy to prepare! Not only you only need 8 ingredients to make these, but they also come together in less than 15 minutes, no bake, no fancy equipment, no difficult steps. Just follow these simple steps:
Start by mixing almond butter, maple syrup, vanilla extract, cinnamon and salt together in a bowl, and stir until everything is perfectly combined. The almond butter I'm using is super smooth and runny, so I can directly mix it with the other ingredients and get a perfectly creamy and homogeneous mixture. However, if your almond butter is a thicker and don't mix very well, simply melt the mixture in a small pot on medium heat or in the microwave.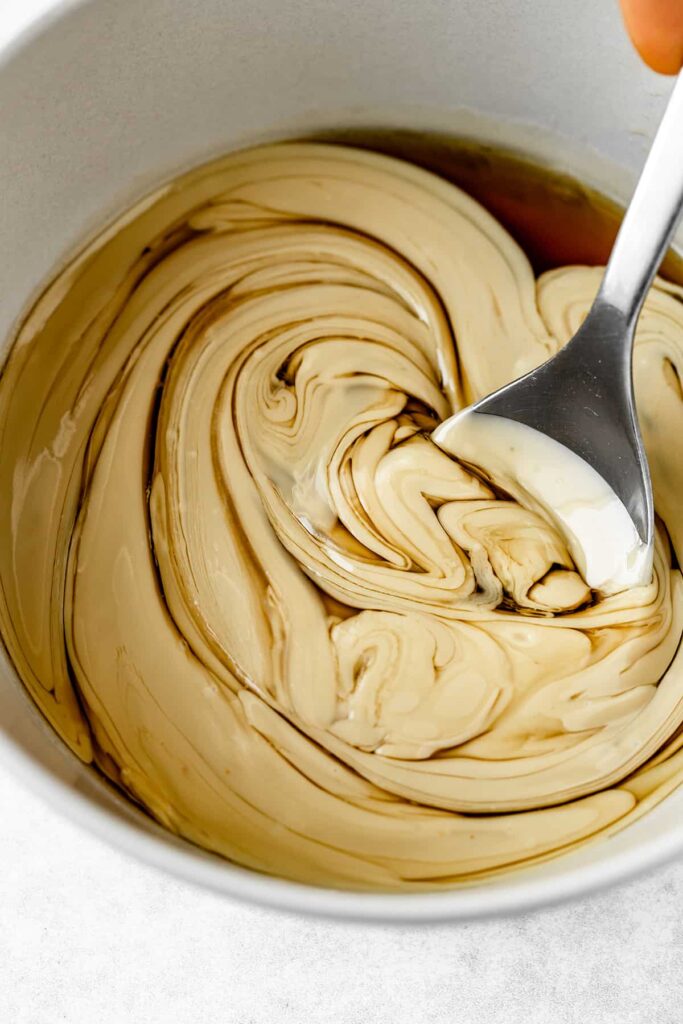 Then mix the puffed buckwheat, chocolate chips, pistachios, goji berries and pumpkin seeds in a large bowl and pour the mixture. You can also fold the dry ingredients into the wet mixture, it's up to you. Stir until everything is well coated and evenly combined.
Press the mixture into an about 8×8 pan lined with parchment paper. Make sure to let the parchment paper hang over the sides to get the bars out later. Press down firmly to form a compact and even layer.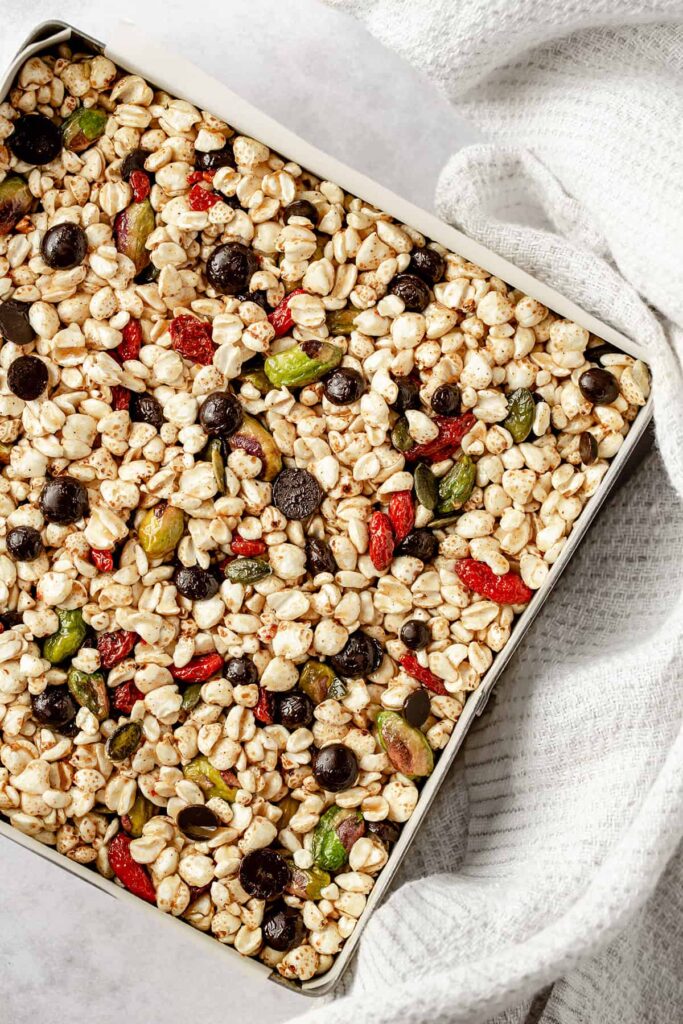 Place in the fridge for 2 hours to set. The mixture will harden a little but will stay gooey, don't expect a hard bar consistency.
Before serving, remove from the pan and slice into squares. Enjoy immediately! That's it!
Store any leftovers in the fridge in an airtight container for up to 3 days.
Recipe variations
One of my favorite thing about this recipe is that just like a mendiant, there are endless variations you can make. Just let your creativity run free, play with what you have in your kitchen cupboards and your favorite ingredients.
You don't have almond butter? No problem, you can easily substitute almond butter with any other nut or seed butter. Try peanut butter, cashew butter, hazelnut butter or even sunflower butter! I like almond butter because it's pretty soft in flavor and doesn't mask the other flavors.
You can't find puffed buckwheat? Use puffed rice, puffed quinoa or amaranth instead! Puffed cereals lead up to soft and gooey bars. If you like a crispier treat, you can also use crispy rice cereals.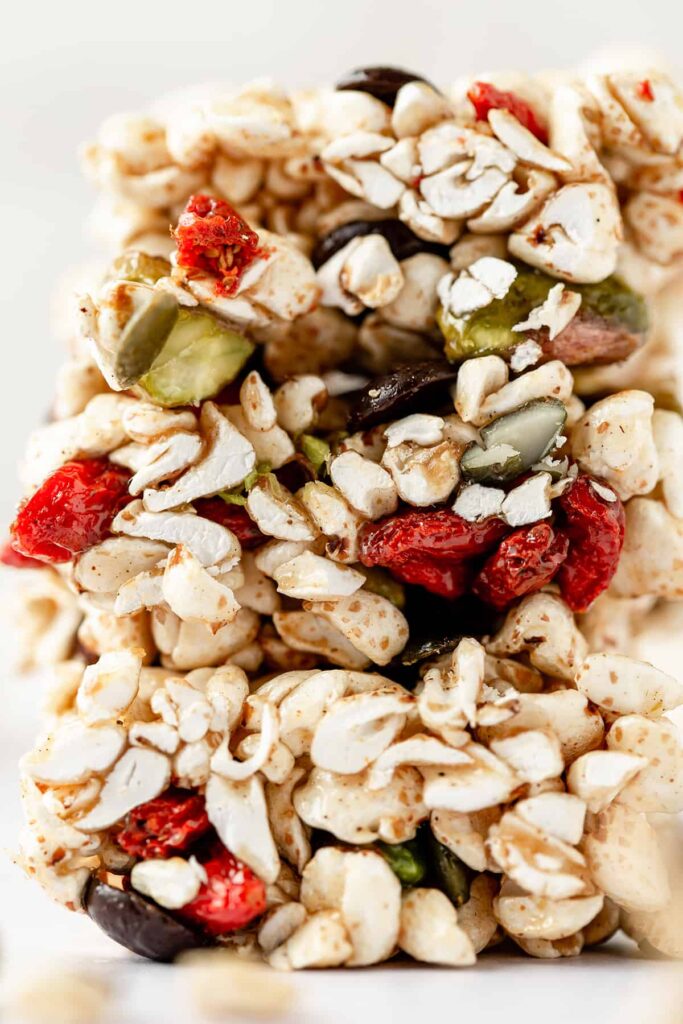 If you're feeling creative and want to try new flavors, you can also add any mix-ins to your Krispie Treats. I recommend substituting pistachios, chocolate chips, goji berries or pumpkin seeds rather than adding more ingredients. As a general rule, I'd stick to about a maximum of 1 cup of mix-ins to keep the good wet to dry ratio. You can basically add any dry ingredient! Some of my favorite mix-in options for this recipe include: almonds, hazelnuts, cacao nibs, raisins, cranberries, shredded coconut to name a few.
And last but not least, you can bring this recipe to the next level by adding a layer of melted chocolate on top – cause it's never too much chocolate! To do so, simply melt dark chocolate, pour on top of the pan and simply tilt it gently in every direction to get an even layer of chocolate on top of the bars. Place the pan in fridge to set. So good!
Want to see more easy and healthy treats? Check out these recipes:
I love to see your creations! Don't forget to tag me @alicepages on your photos on Instagram and give your feedback in the comments below if you make this recipe at home! Your opinion is my best reward.
Print Healthy Mendiant Krispie Treats
Author:

Prep Time:

15 minutes

Cook Time:

0 minutes

Total Time:

15 minutes

Yield:

16

bars

1

x

Category:

dessert

Method:

no bake

Cuisine:

American

Diet:

Vegan
---
Description
These healthy mendiant Krispie treats are a light and nourishing take on the classic dessert. Made with simple natural ingredients, these are gluten free, refined sugar free, and oil free. They are extra gooey and loaded with chocolate and nutty flavors.
---
---
Instructions
Line a 8×8 inch baking pan with parchment paper and set aside. Let the parchment paper hang over the sides to get the bars out later.
In a large bowl, mix almond butter, maple syrup, vanilla extract, cinnamon and salt together until combined and smooth. If the almond butter is too hard, melt on low heat or in the microwave.
Fold in the puffed buckwheat, chocolate chips, pistachios, goji berries and pumpkin seeds and mix until everything is well coated and evenly combined. 
Pour the mixture into the prepared pan then press down firmly to form a compact and even layer.
Place in the fridge for two hours to set, then slice into even squares and enjoy! 
---
Notes
Substitute almond butter with any type of nut butter, like peanut, cajou or even sunflower butter.
Substitute puffed buckwheat with puffed rice, puffed quinoa or even rice crisps for a very crispy treat. 
Keywords: dessert, sweets, treats, mendiant, Krispie treats, vegan, gluten free
Recette version française
Print Carrés de Sarrasin Soufflée façon Mendiant
Author:

Prep Time:

15 minutes

Cook Time:

0 minutes

Total Time:

15 minutes

Yield:

16

carrés

1

x

Category:

snack

Method:

sans cuisson

Cuisine:

Américaine

Diet:

Vegan
---
Description
Ces carrés de sarrasin soufflé façon mendiant sont une version saine mais ultra gourmande du classique dessert Américain! Préparé à partir d'ingrédients simples et très facile à réaliser, il sera parfait comme encas ou pour un dessert léger et riche en saveurs. Un plaisir à déguster sans fin!
---
---
Instructions
Chemiser un plat carré de dimensions environ 20×20 cm avec du papier cuisson. Faire dépasser le papier cuisson des bords du plat pour faciliter le démoulage à la fin.
Dans un grand saladier, mélanger le beurre d'amande, le sirop d'érable, la vanille, la cannelle et le sel jusqu'à obtenir un mélanger parfaitement fluide, lisse et homogène. Si le beurre d'amande est trop dur et ne se mélange pas facilement aux autres ingrédients, faire chauffer l'ensemble dans une petite casserole à feu moyen ou au micro-onde par tranches de 20 secondes.
Ajouter le sarrasin soufflé, les pépites de chocolat, les pistaches, les baies de goji et les graines de courge directement dans le sirop crémeux obtenu et mélanger afin de bien enrober tous les ingrédients et de les répartir uniformément dans la préparation.
Verser la préparation dans le plat chemisé et à l'aide d'une spatule presser fermement pour former une couche compacte et uniforme. 
Placer le plat au réfrigérateur pendant 2 heures afin que la préparation se raffermisse. Avant de servir, retirer du moule et découper en carrés.
---
Notes
Vous pouvez remplacer le beurre d'amande par n'importe quel autre beurre d'oléagineux, comme le beurre de cacahuète, de cajou, de noisette ou même du beurre de graine de tournesol.
Vous pouvez remplacer le sarrasin soufflé par n'importe quelle autre céréale soufflée, comme le riz, le quinoa ou l'amarante. Pour une version ultra croustillante, utilisez des céréales de riz soufflé croustillant.
Keywords: barres, dessert, snack, goûter, mendiant, Rice Krispies, sans gluten