These Vegan arancini are balls of creamy risotto filled with a savory truffle mushroom stuffing and coated in breadcrumbs. The result is indulgent golden balls of goodness, crispy on the outside and perfectly creamy on the inside. A simple traditional Italian dish that takes leftover risotto to a whole new level. Serve with a side of homemade sweet and savory Hoisin Sauce for the best experience at every bite.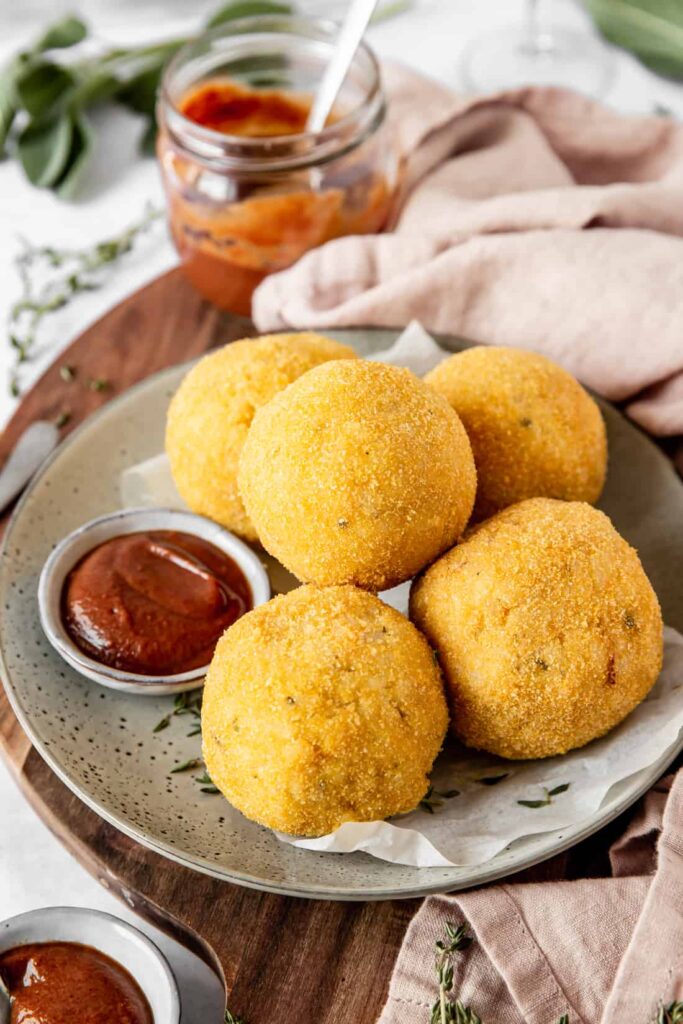 Want more easy and savory plant-based meals? Check out my new ebook!
Creamy vegan arancini
What are arancini?
Before to start with the recipe, I'm sure many of you are probably thinking, "wait girl, what is arancini?" And don't be shy about it, I myself took my first bite into one of these scrumptious crispy balls only a couple months ago in a restaurant in Paris. It was such an amazing experience, of flavors, textures and emotions that I knew I had to share a recipe with you.
Arancini means "orange" and refers to the shape and beautiful golden color of these balls once fried. Basically, arancini is a popular dish from the south of Italy (Sicily to name it) consisting of risotto rice balls stuffed with cheese, coated in breadcrumbs and deep fried. The result is savory balls of goodness, perfectly crispy on the outside and soft and creamy on the inside, you just want to bite into. A must try!
Just like traditional risotto, arancini are often not vegan and not the healthiest option. They often contain dairy from the cheese and eggs for the coating, as well as gluten from the breadcrumbs. For these reasons, it's still pretty hard to find vegan arancini in a restaurant. But the good news is that these balls of goodness can be easily veganized and are surprisingly simple to make at home.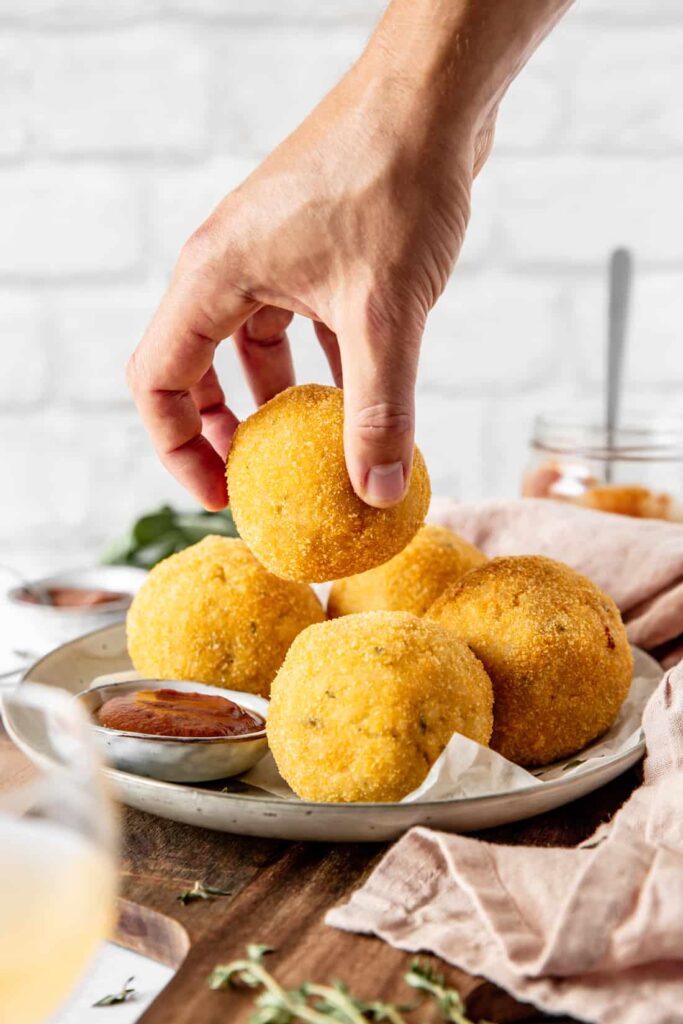 The best use for leftover risotto
The main ingredient for the best vegan arancini is the rice. To make arancini you need a good rich and creamy chilled risotto. Traditionally, arancini are made with risotto leftovers. This recipe is a very good way to use your leftovers and make something totally different in a few simple steps.
To make these mushroom arancini, I've used leftovers from my creamy vegan risotto. I don't cook risotto everyday, so when I do it I like to make a big batch and use it in different preparations. This risotto is very simple and a good basic recipe.
It's very important that the risotto is dense and sticky enough to form balls and hold the shape. Else the rice will crumble and shaping the arancini can become a nightmare. The best is to allow the risotto to chill in the fridge overnight or at least for 5 hours. That's not to say that you can't make fresh risotto to make arancini! But make sure it has completely cooled down before starting the preparation.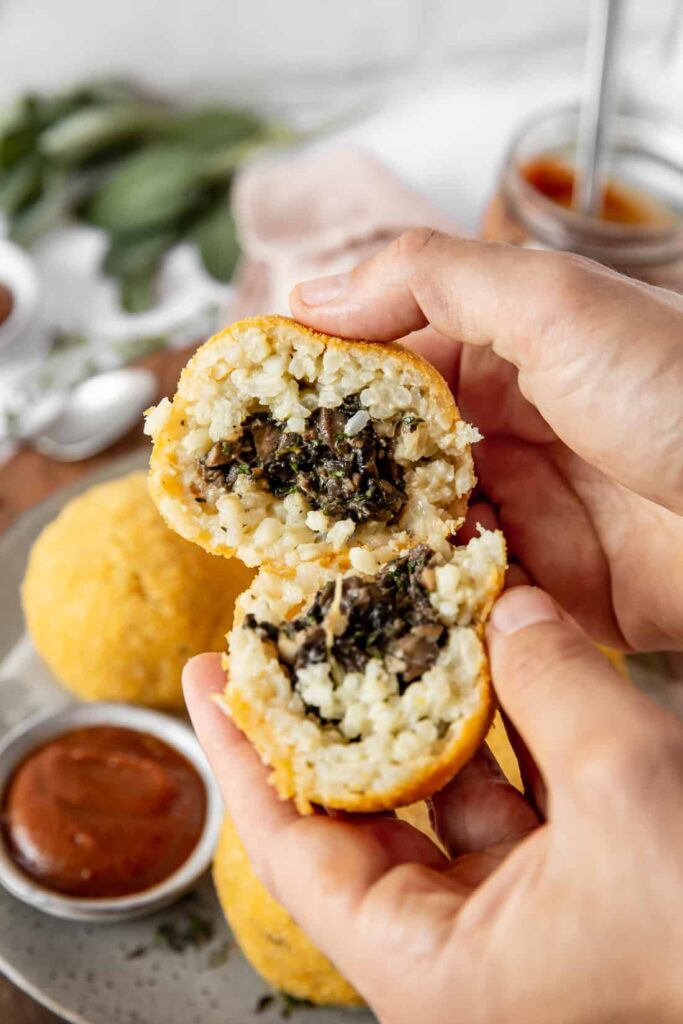 Express Hoisin sauce for dipping
If you have never tried hoisin sauce, then you're really missing something! This sweet and savory sauce is in some ways the Chinese version of the barbecue sauce. It is thick, rich, spicy, salty and deliciously sweet, what makes it simply irresistible.
Hoisin sauce can be used to glaze food like tofu or tempeh, or as an amazing dipping sauce for wedges, veggies or these vegan mushroom arancini. I also love to drizzle a spoon of hoisin sauce over white rice or pasta, to bring a simple dish to the next level.
Most of the sauces you can find at the store are loaded with refined sugar and preservatives. Making your own hoisin sauce at home is very quick and easy to prepare but also much better! All you need is to mix all the ingredients in a food processor or a blender until smooth. I recommend to start with a little of water then gradually add more to reach the desired consistency.
You can prepare a big quantity of hoisin sauce and store in a clean glass jar. Hoisin sauce will keep for up to 1 month in the refrigerator if well stored!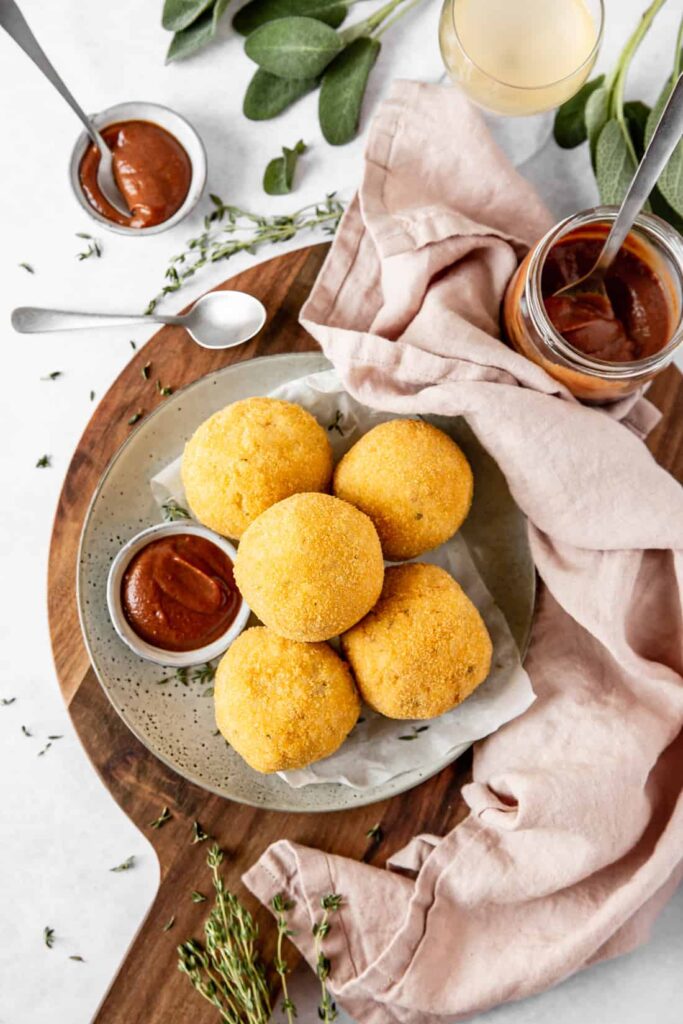 Tips to make the best vegan arancini
Making vegan mushroom arancini is nothing complicated but requires a little technique. If it's your first time making arancini, just take your time and pay attention to the following tips that could help you a lot!
The texture of the mushroom stuffing must be thick, dense and wet enough to hold in the center of the arancini. If the stuffing is too dry, it will crumble and make the shaping of the arancini complicated. To this end, make sure to dice the mushrooms very finely and cook them long enough. At the end, you should obtain a kind of a paste. If the mixture is still too dry, add a little more starch and mix.
It's very important that you use fully cooled and chilled risotto to make the arancini. The rice must be dense enough to be shaped without crumbling. The best is to allow the risotto to chill in the fridge overnight or at least 5 hours. To check the consistency, squeeze a spoon of rice in your hand and see if it holds the shape.
The shaping step is the trickiest one of this recipe. To avoid the rice to sticky to your hands, you can either slightly wet your hands with water or place a piece of cling film in your palm.
Make sure you add enough vegetable oil in the saucepan to fully cover the arancini without they touch the bottom. Also don't overcrowd the saucepan and fry the arancini one by one or two by two, depending of the size of your saucepan.
For perfectly golden and crispy arancini, the vegetable oil must be at the right temperature, which is around 170°C / 340 degrees F. Use a candy thermometer or a probe to check the temperature. The arancini should bubble and start browning immediately when plunge in the oil. If not, it means the oil is too cold.
Once cooked, remove the arancini from oil and place immediately on a couple of sheets of kitchen towel. This drains the excess of oil and helps to keep the arancini crispy.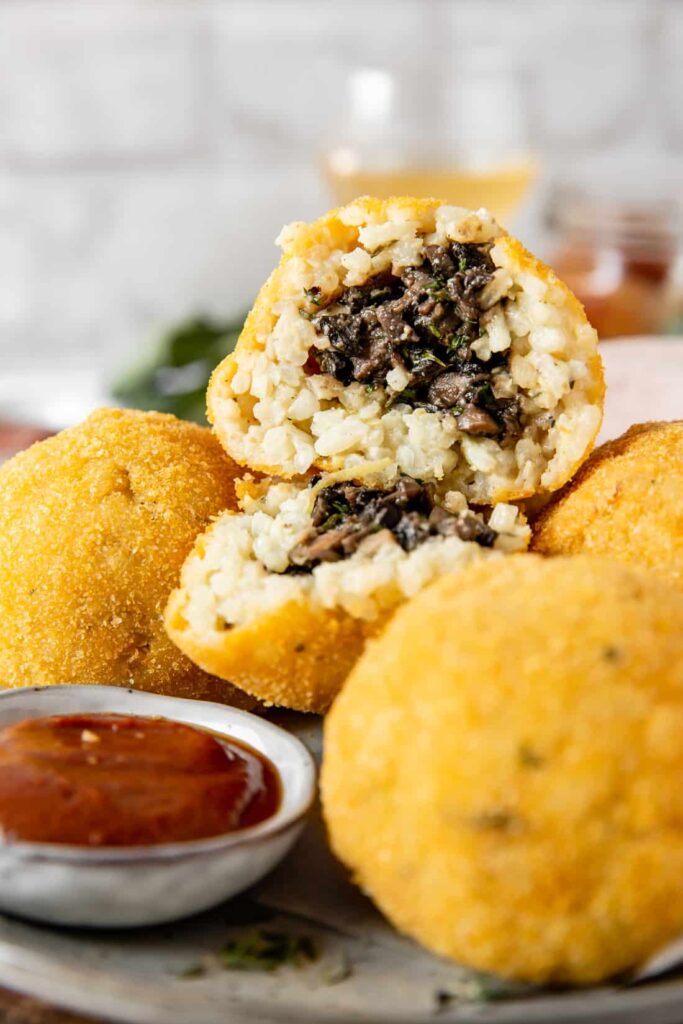 For more savory dishes, check out these recipes:
even more exclusive plant-based meals for everyday in my ebook! click below!
I love to see your creations! Don't forget to tag me @alicepages on your photos on Instagram and give your feedback in the comments below if you make this recipe at home! Your opinion is my best reward.
Print Mushroom arancini with hoisin sauce
Author:

Prep Time:

30 minutes

Cook Time:

20 minutes

Total Time:

50 minutes

Yield:

6

big arancini

1

x

Category:

Appetizer, main

Method:

Fry

Cuisine:

Italian

Diet:

Vegan
---
Description
Vegan arancini are crispy balls of baked risotto filled with a savory mushroom stuffing and coated in breadcrumbs. Perfect dipped in sweet and salty hoisin sauce. A simple and irresistible way to use leftover risotto.
---
Mushroom stuffing
250 g

button mushrooms

1

garlic clove

1 tbsp

olive oil

3 tbsp

plant cream

1 tbsp

soy sauce

1 tsp

truffle cream, oil or grated fresh truffle (optional)

6

sprigs of fresh parsley

20 g

roasted hazelnuts

1 tbsp

starch 
Arancinis
700 g

of cold risotto chilled for at least 5 hours or overnight 
Zest from

half a

lemon

3 tbsp

nutritional yeast

50 g

chickpea flour (or all-purpose flour)

70

ml plant milk

50 g

breadcrumbs (use glu

ten

free if needed)
Vegetable oil (for frying)
Hoisin sauce
120 g

tomato paste

40 g

de pitted dates

1

garlic clove

1 tbsp

soy sauce

1 tbsp

rice vinegar

1 tsp

sesame oil

1/2 tsp

ground cumin

1/2 tsp

ground cinnamon

1/4 tsp

ground star anise 
---
Instructions
Mushroom stuffing
Carefully wash the mushrooms, cut and discard the ends, and gently dry them. Peel and chop the garlic. Wash and chop the parsley.
Heat the olive oil in a pan, add the mushrooms and garlic and sauté for 5 minutes to release all the excess water. Add the cream, soy sauce and truffle, and cook on low heat for another 2 minutes stirring frequently.
Remove from the heat and add the chopped parsley, crushed hazelnuts, starch and season with salt and pepper. Stir to combine all the ingredients and form a thick and compact stuffing.
Arancinis
Add the chilled risotto, lemon zest and nutritional yeast to a large mixing bowl. The risotto must be cold and firm enough to be shaped without crumbling. 
In one medium bowl whisk together the flour and plant milk. Place the breadcrumbs in a flat plate.
Take a large spoon of the rice preparation and spread out into a disc in the palm of your hand. Gently cup your hand and form a well in the centre of the rice. Place a teaspoon of the mushroom filling into the well and top with some more rice. Gently close your hand to seal the arancini and squeeze to between your two hands to form a dense tight ball. Use more rice to seal up the gaps.
Dip the rice ball in the flour-milk mixture, then roll in the breadcrumbs to fully coat. Set aside on a baking tray or in a plate. Repeat this process until you've used up all the rice.
In a medium sauce pan, heat enough vegetable oil to fully cover an arancini. When the oil is hot (about 170°C / 340 degrees F), reduce the heat to low and plunge one arancini into the oil using a spider or a slotted spoon. Let fry for 2 to 3 minutes, until the arancini is golden brown and crispy. Remove the arancini and place on sheets of kitchen towel to drain the excess of oil. Repeat with all the arancini.
Hoisin sauce
Pit and roughly chop the dates. Place all the ingredients in blender and mix until you get a smooth sauce. Then gradually add about 3 tablespoons of water and keep mixing until you reach the desired consistency : smooth but thick enough to dip the arancini.
Serve the arancini warm with the hoisin sauce for dipping.  
---
Notes
The arancini are best consumed the same day, right after frying. Once cool, they can be kept in an airtight container in fridge for up to 2-3 days but they'll soften and loose their crispy crust.
Store the hoisin sauce in a clean glass jar in the refrigerator for up to 1 month.
Keywords: arancini, vegan arancini, cheesy arancini, mushroom arancini, rice balls, risotto, hoisin sauce
Recette version française
Print Arancinis aux champignons et sauce hoisin
Author:

Prep Time:

30 minutes

Cook Time:

20 minutes

Total Time:

50 minutes

Yield:

6

gros arancinis

1

x

Category:

plat, accompagnement

Method:

Friture

Cuisine:

Italienne

Diet:

Vegan
---
Description
Ces délicieuses boules de risotto crémeux sont farcies de champignons et enrobées de chapelure pour un résultat ultra-croustillant. Elles se dégustent trempées dans une sauce hoisin maison et sont un excellent moyen de transformer les restes de riz en un plat très savoureux! 
---
Farce aux champignons
250 g

de champignons bruns ou de Paris

1

gousse d'ail

1

c. à s d'huile d'olive

3

 c. à s. de crème végétale

1

 c. à s. de sauce soja salée

1

 c. à c. de sauce à la truffe (ou truffe fraiche râpée)

6

brins de persil frais

20 g

de noisettes torréfiées concassées

1

 c. à s. de fécule
Arancinis
700 g

de risotto crémeux complètement refroidi (au mieux toute une nuit au réfrigérateur)
Le zest d'un demi citron

3

 c. à s. de levure nutritionnelle (optionnel)

50 g

de farine de pois chiche (ou de farine de blé)

70

ml de lait végétal

50 g

de chapelure
Huile végétale pour la friture
Sauce hoisin
120 g

de concentré de tomate

40 g

de dattes dénoyautées

1

gousse d'ail

1

 c. à s. de sauce soja

1

 c. à s. de vinaigre de riz

1

 c. à c. d'huile de sésame 

1/2

 c. à c. de cumin en poudre

1/2

 c. à c. de cannelle moulue

1/4

 c. à c. d'anis en poudre
---
Instructions
Farce aux champignons
Nettoyer les champignons, retirer le pied terreux et les couper en très petits dés. Eplucher et émincer finement l'ail. Laver et ciseler le persil.
Faire revenir l'ail et les champignons avec l'huile dans une poêle pendant 5 minutes afin qu'ils rendent toute leur eau. Puis ajouter la crème végétale, la sauce soja et la sauce à la truffe, mélanger et cuire à feu doux pendant 2 minutes. 
Retirer du feu et ajouter le persil ciselé, les noisettes concassées et la fécule. Mélanger pour bien incorporer tous les ingrédients à la préparation et obtenir une farce épaisse et compacte. 
Arancinis
Dans un grand saladier, mélanger le risotto froid avec le zest de citron et la levure nutritionnelle. Le risotto doit être suffisamment ferme pour pouvoir être travaillé sans s'effriter.
Dans un saladier, mélanger la farine de pois chiche avec le lait végétal pour obtenir une pâte fluide. Verser la chapelure dans une assiette plate.
Prélever une grosse cuillère de risotto et l'étaler en un disque dans le creux de la main. Former un puit au centre et déposer un peu de farce aux champignons. Refermer délicatement le riz au dessus de la farce de façon à la recouvrir complètement. Bien serrer et compacter le riz avec les mains pour former une boule régulière. S'assurer que la farce ne dépasse pas. Utiliser un peu de risotto pour colmater les trous.
Tremper la boule de riz dans la préparation farine lait, puis rouler dans la chapelure afin de l'enrober complètement. Déposer l'arancini sur une plaque ou dans une assiette. Procéder de même avec le second arancini, et ainsi de suite jusqu'à épuisement de la préparation.
Faire chauffer une grande quantité d'huile dans une friteuse ou dans une grade casserole. Le niveau d'huile doit être suffisant pour immerger un arancini sans qu'il ne touche le fond. Quand la température de l'huile a atteint 170°C, réduire le feu et plonger un arancini dans l'huile. Faire frire pendant 2 à 3 minutes, jusqu'à ce qu'il soit bien doré et croustillant à l'extérieur. Egoutter l'arancini avec un écumoire et le déposer sur du papier absorbant pour retirer l'excédent d'huile. Répéter l'opération avec les autres arancini.
Sauce hoisin
Dénoyauter et hacher grossièrement les dattes. Placer tous les ingrédients dans un blender et mixer pour obtenir une sauce lisse et sans morceaux. Puis ajouter progressivement environ trois cuillères à soupe d'eau tout en continuant à mixer jusqu'à obtenir une consistence fluide mais enrobante.
Servir les arancinis encore chauds ou tièdes accompagnés de la sauce hoisin.
---
Notes
Les arancinis sont meilleures consommées le jour même, juste après la cuisson. Une fois refroidies, elles peuvent être conservées dans un récipient hermétique au frais pendant 2 à 3 jours, mais auront tendance à se ramollir.
La sauce hoisin se conserve jusqu'à 1 mois dans un bocal en verre au réfrigérateur.
Keywords: arancini, risotto, risotto vegan, boules de riz