All the flavors of a spicy traditional carrot cake combined in a delicious and healthy raw dessert. These chewy raw carrot cake slices are packed with amazing spicy flavors, fresh grated carrot, and are topped with a super creamy cashew and coconut frosting. They are perfect for a light and healthy Easter treat.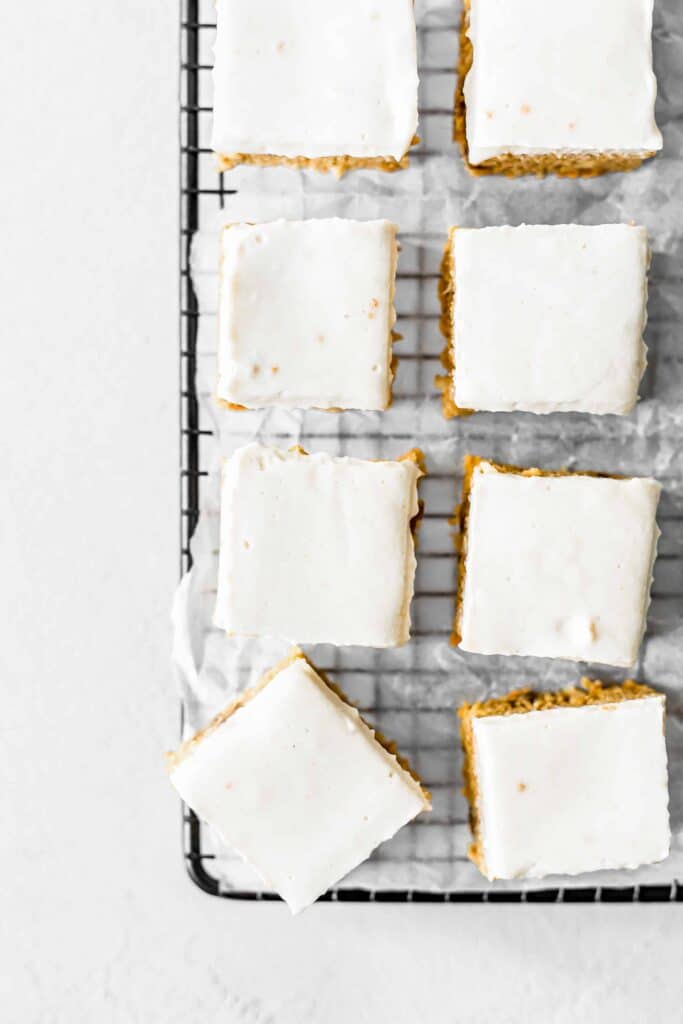 One week till Easter guys! And as the food lover I am, I cannot miss that occasion to share some delicious and healthy inspiration with you! I mean … in fact, I have missed the occasion too much time before not to force myself to be on time this year! Each year, I am so exciting before Easter with tons of ideas in mind, but systematically turn very busy just before and finally find myself empty-handed, with nothing to feast on but some boring chocolate eggs. So this time, I have planed my Easter recipes long time ago to be sure to be able to share them with you, prior Easter!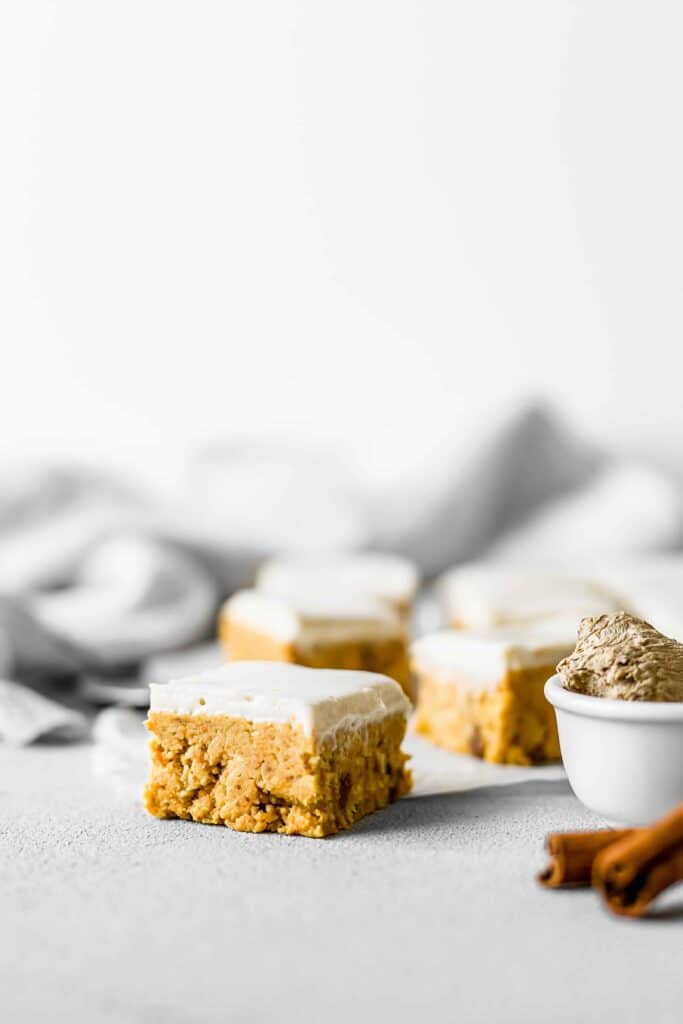 For a long time I have loved Easter because it was the occasion to binge on chocolate without having to feel guilty, cause everybody do that, right? But overtime I have changed and so my food habits. I still do love some chocolate, actually I am a big chocolate lover, but I prefer some lighter, healthier and more elaborate treats. Not to mention that there is nothing worse for me than forming chocolate eggs: how the hell do you do for the chocolate to firm, unstick your first price mold and result in a perfectly smooth and shiny surface?! This is still a mystery for me that I have to work on … Anyway, to bypass this issue, I have created a delicious and seasonal recipe that is faaaar from your regular Easter eggs.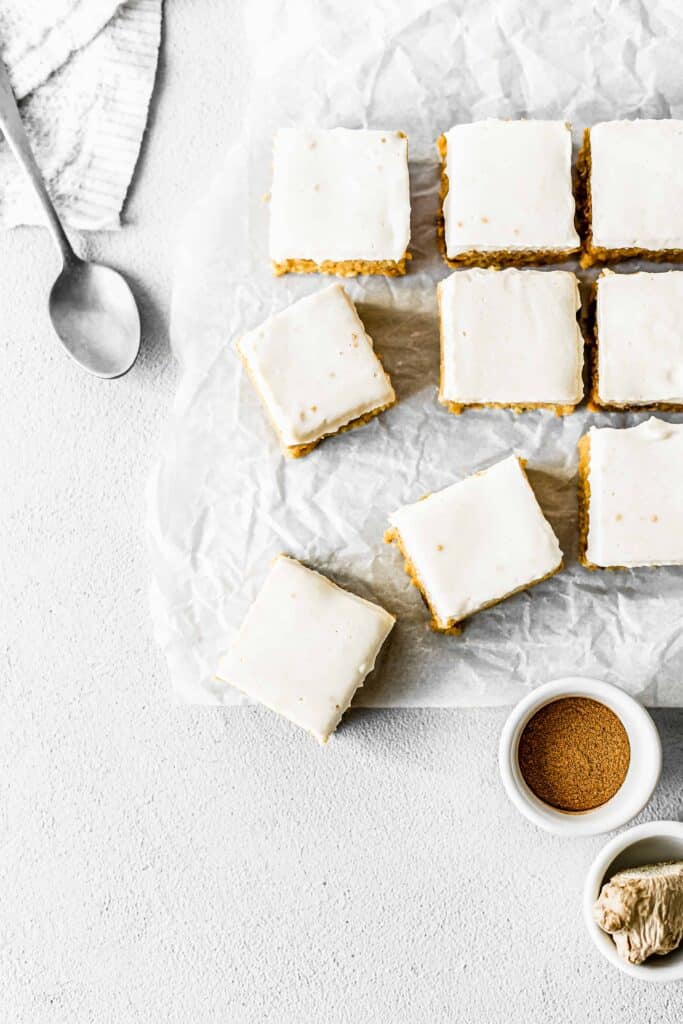 I have made some raw carrot cake slices, because for me carrot cake is the second treat that is very emblematic of Easter, and I love them! I love their moist texture, their slightly spicy taste with cinnamon, ginger, and so on. For this version of carrot cake, I wanted to make raw slices because I generally love raw treats. They are easy to prepare, does not need sophisticated equipments and often healthier and easier to digest as you do not need baking powder and sometimes flour. To make these one totally healthy so that you can continue to feast on, even after you have eaten all your chocolate, I ensure to make them gluten free and refined sugar free!
I am so happy of the result, you definitely should try them! The recipe is very easy, you only need a food processor or blender, 20 minutes of preparation and you are sure to oblige all your loved ones – and you. I am particularly happy of the frosting: I always struggle to make a frosting that is thick enough to firm but not too heavy, tasty but not too sweet. This one is pretty rich with the cashews and coconut cream, but the result stay light in mouth and add the sweet touch to the slices. Perfect harmony between these two!
I hope you will give this delicious recipe a try, do not hesitate to comment or tag me on social media if you make it. And I wish you a very good pre-Easter week!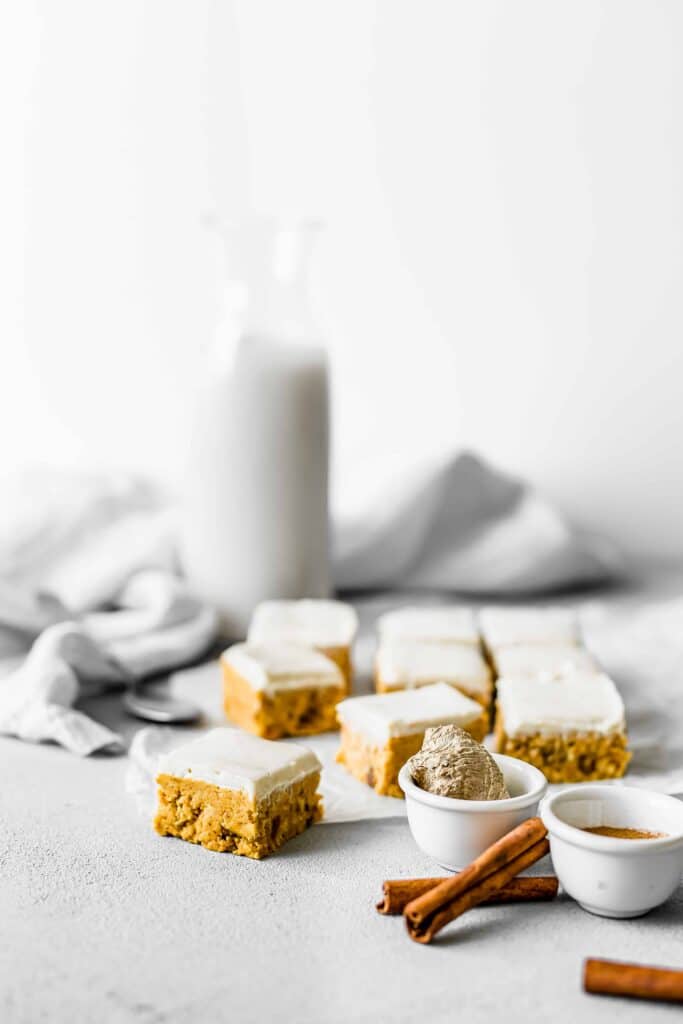 I love to see your creations! Don't forget to tag me @alicepages on your photos on Instagram and give your feedback in the comments below if you make this recipe at home! Your opinion is my best reward.
[cooked-recipe id="11402″]