This delicious vegan Cherry Amaretto ice cream is no churn and super easy to make without an ice cream machine! Made from scratch with very few ingredients, light, healthy and packed with amazing flavors, it's the perfect refreshing summertime dessert. It combines an intense sweet Amaretto cherry sauce and crispy almond biscuits in a soft banana ice cream.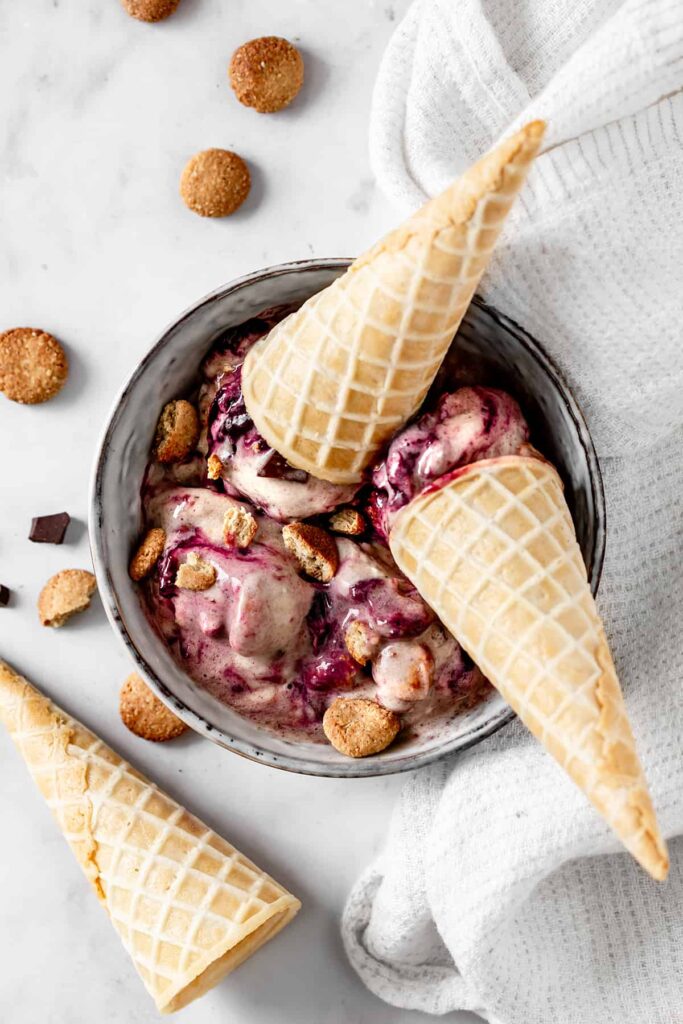 Easy 3 ingredients no churn vegan ice cream
If you follow me for a while now, you should have noticed I've been experimenting a lot with vegan ice cream recipes lately. Making ice cream at home can seems very complicated, tricky and time consuming. I've tried many recipes involving with cashews, nuts, natural texturing agents and to be honest I've never been fully satisfied of the result. Sometimes they were too watery and crystallized, sometimes too heavy, and sometimes just too … boring! Until I found this amazing alternative!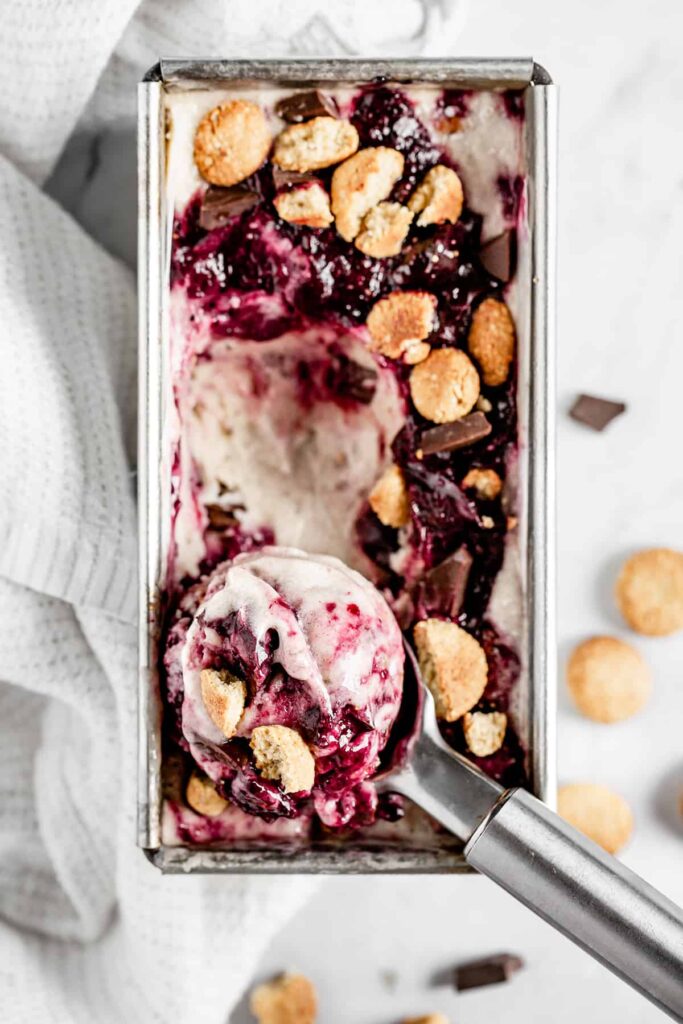 No cashews, no additive, no churn, only 2 super simple ingredients and you are rewarded with a creamy, light and delicious ice cream! This banana based ice cream has instantly became my go to recipe for a quick ice cream. It only requires frozen bananas and a little coconut cream and is ready under 3 hours. I always make sure to have some bananas in my freezer and a can of coconut cream in fridge, so I can prepare the ice cream on the morning to enjoy in the afternoon! That's definitely what we can call an express ice cream.
Since I've found this magic recipe, I've made many different versions, each more decadent than the other. If you check my Peanut Butter and Cookie ice cream, my Snickers ice cream or my Coconut Strawberry Basil ice cream you'll notice they're all using a similar banana base. The same we're using in this vegan cherry ice cream. It's an amazing neutral base you can use to create your own ice cream flavor. Add cocoa powder for a delicious chocolate ice cream or mix your favorite frozen fruits for a fresh fruity version. Again there is no limit with food, just let your imagination run wild!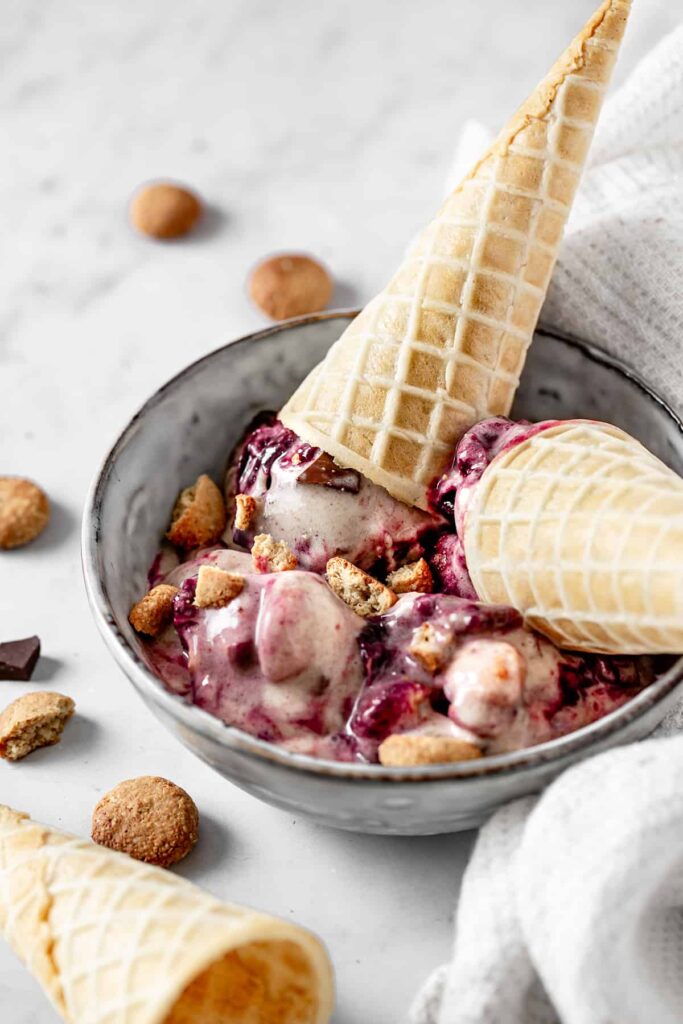 Tips to make the perfect creamy ice cream
Back to this easy no churn banana ice cream. While it's very simple to make, here are a few tips to make a perfectly thick and creamy ice cream. For even more details, check this blog post!
How to freeze bananas – Peel the banana and slice into small pieces. It doesn't really matter what shape or size the pieces are in, as long as they are evenly sized and not too thick. Then place in a freezer-safe container in a single layer, to make sure they will freeze evenly and quickly. Place in the freezer until completely solid, at least 6 hours or ideally overnight. It's very important that the bananas are really hard for a super creamy ice cream texture. Freezing bananas is the longer step of this recipe; make sure to keep a bag of sliced bananas in your freezer ready to use!
Food processor vs. blender – To make this ice cream you can either use a high speed blender or a food processor. A powerful high-end blender would work perfectly to make a creamy ice cream in only a few minutes. However, frozen bananas are very hard and can be demanding for your blender. So if you don't have a heavy-duty powerful blender, I recommend to use a food processor.
Blending the bananas – Transfer the frozen banana into the food processor or blender and add coconut cream. If available, use the "pulse" mode of your equipment to break up the banana pieces with more control and without creating too much heat. At first the mixture will look crumbly, and not creamy at all. It's normal, this process takes time. Scrape down the sides of the bowl and keep pulsing. When the mixture starts to look gooey, switch to blending. It will get a little smoother. Keep blending until the magic happens and the banana mixture shift toward a perfectly thick and cream texture. This can take up to 3 – 4 minutes, so be patient!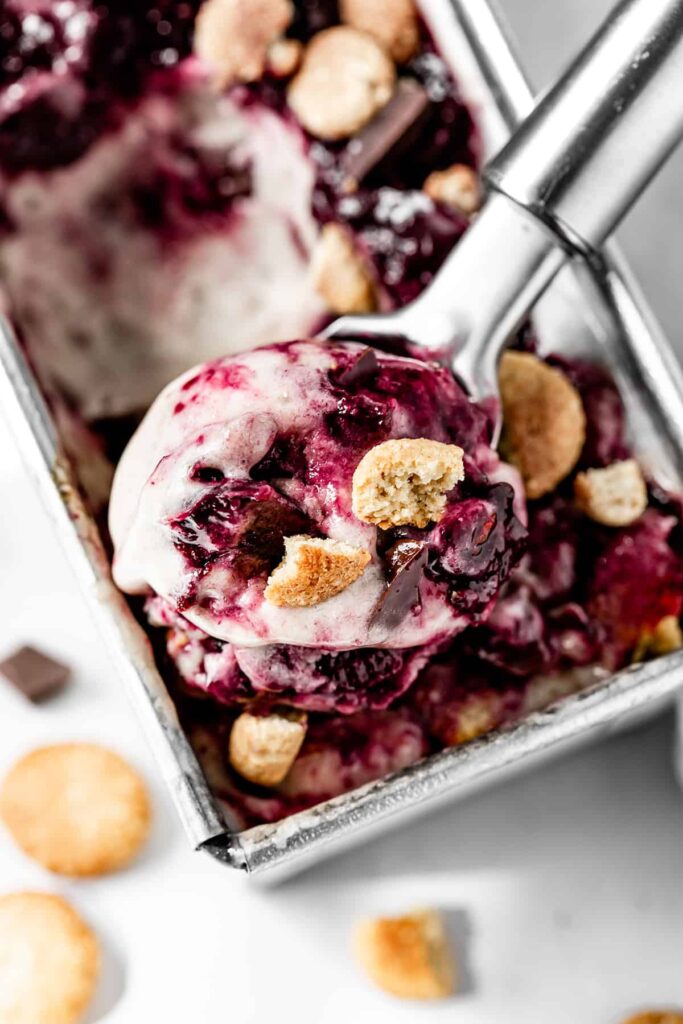 Gluten free Amaretti cookies with an oil free version
To bring texture, flavor and an extra deliciousness to this vegan cherry amaretto ice cream, I've added little crispy Amaretti cookies inside! They are the little detail that can turn a simple ice cream into a super decadent dessert!
Amaretti croccanti are traditional Italian almond flavored biscuits made of almond flour, sugar and egg white for a soft and crispy texture. I've discovered Amaretti years ago during a trip in Italy and I instantly fell in love with these delicious treats! They are so simple but with a very intense almond flavor.
These mini Amaretti cookies are inspired from my favorite 5-ingredient Almond Cookies recipe. They are naturally gluten free and sweetened by a little maple syrup. I've used a mix of oat flour and almond meal. This is my favorite gluten free flour blend to make cakes and cookies. Oat flour and almond meal can be found easily at the grocery store, but are also very simple to make at home.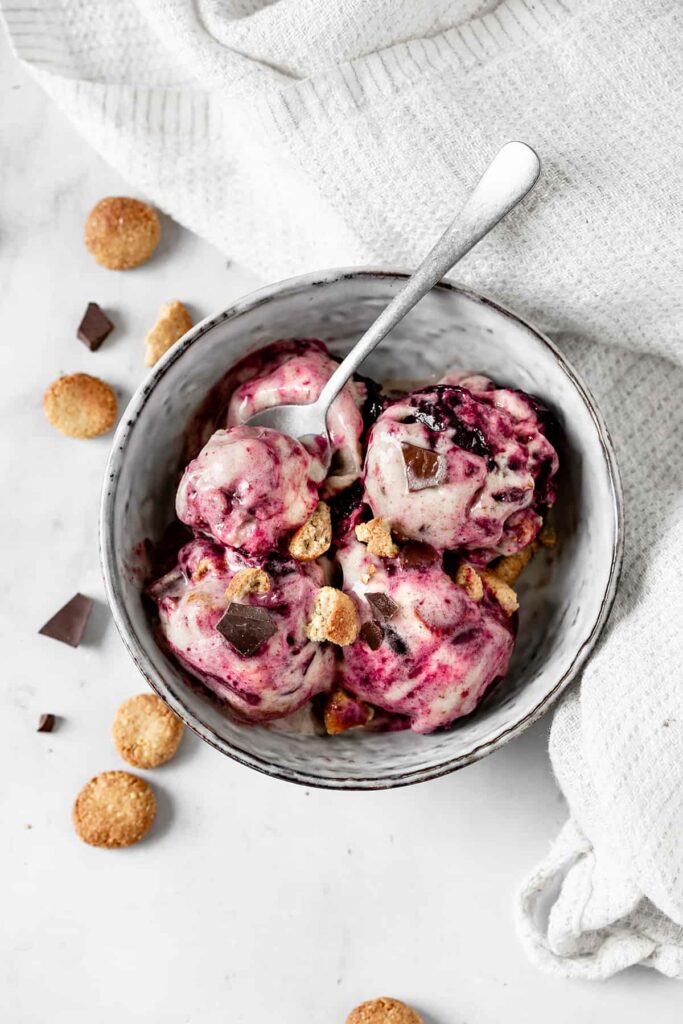 Make these cookies oil free
This Amaretti cookies recipe call for coconut oil. But for a completely oil free version, you can substitute coconut oil for liquid aquafaba. Aquafaba is the liquid leftover from cooked chickpeas. It's 100% natural and it's an amazing egg replacer for many recipes. The easiest way to get aquafaba is directly from a can of chickpeas. You can use the liquid straight from the can and add directly to the cookie dough.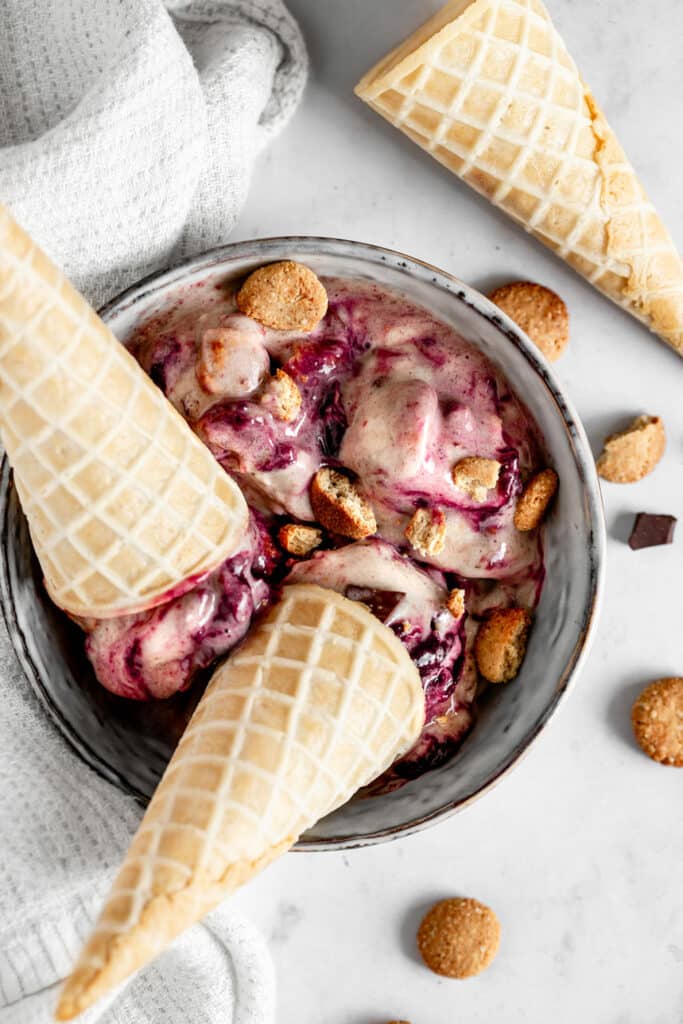 How can I make an express version of this no churn cherry amaretto ice cream?
OK, now you know how to perfectly make this super delicious vegan cherry amaretto ice cream from scratch! It's so simple to do that I can only recommend to try at least once to make your own ice cream! You'll be amazed to see how delicious it is.
However, if you're really in a hurry and don't have time to bake cookies or prepare a sauce, you absolutely can use store bough products.
Replace the Amaretti cookies by crispy Italian almond biscuits or any kind of digestive cookies. Just make sure they are dry, hard and crispy to avoid the biscuits becoming soggy when folded into the ice cream.
To make the cherry sauce, you can either use fresh or frozen cherries. Frozen cherries are a great solution to keep using cherry even outside the season. You can also use a store bough cherry sauce but make sure to carefully check the ingredients list. Store bough fruit sauces are often packed with sugars, colorings and preservatives.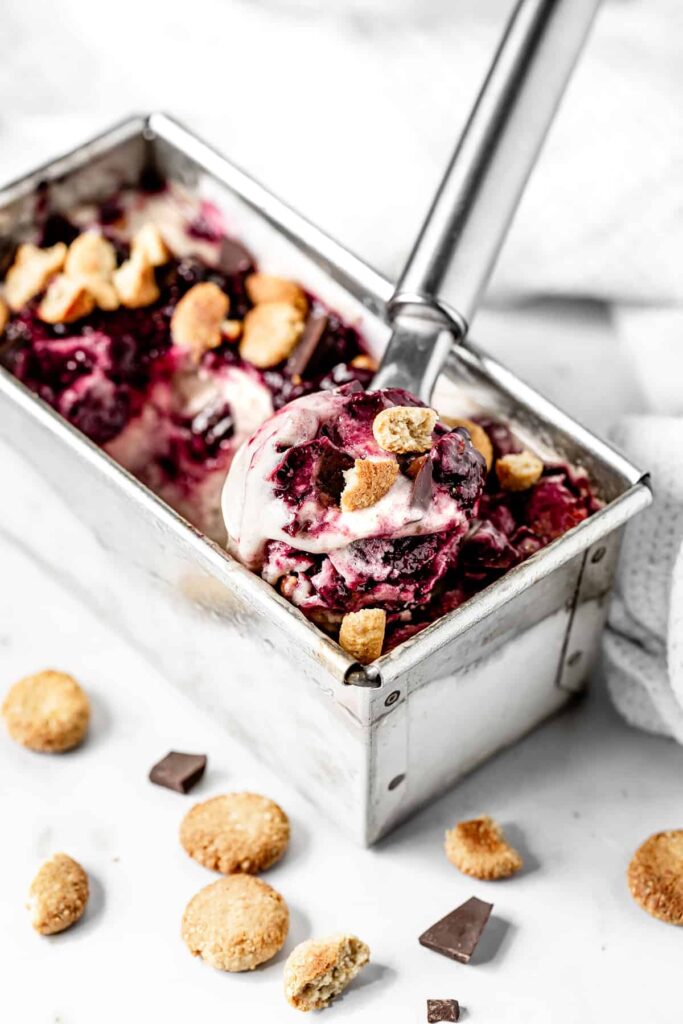 Want to see more no churn vegan ice creams? Make sure to check these recipes:
I love to see your creations! Don't forget to tag me @alicepages on your photos on Instagram and give your feedback in the comments below if you make this recipe at home! Your opinion is my best reward.
Print No churn Cherry Amaretto Ice Cream
Author:

Prep Time:

3 hours

Cook Time:

15 minutes

Total Time:

3 hours 10 minutes

Yield:

8

servings

1

x

Category:

dessert

Method:

freezer

Diet:

Vegan
---
Description
This no churn vegan cherry amaretto ice cream is the perfect summertime dessert. It is very easy to make and doesn't require an ice cream machine. It combines the deep flavor of cherries with crunchy gluten free amaretti cookies and a soft banana ice cream. 
---
Ice cream
3

frozen bananas

1/4 cup

full-fat coconut cream

1/4 tsp

almond extract
Amaretti cookies
1/3 cup

oat flour (see notes)

1/3 cup

almond meal

1 tbsp

maple syrup

1 tbsp

melted coconut oil (or aquafaba for an oil-free version)

1/2 tsp

almond extract

1

pinch of salt
Cherry sauce
220 g

pitted dark cherries

1 tbsp

maple syrup 

1 tbsp

Amaretto liqueur (optional)

1 tsp

cornstarch 
Garnishes
1/4 cup

dark chocolate chunks
---
Instructions
Ice cream
Peel the bananas and chop into small pieces. Place the banana pieces in a freezer-safe container or a freezer bag. Freeze until solid, for at least 6 hours or ideally overnight.
Place the frozen banana pieces with coconut cream into a small food processor or a high-speed blender and pulse to break up. At first the mixture will look crumbly, but keep pulsing until you get a perfectly smooth and creamy ice cream texture, with no chunks. This process can take a few minutes. Scrape down the food processor as often as necessary. If you have difficulties to blend the bananas, add a little more coconut cream to help the process.
Transfer the ice cream to a freezer-safe container and place in freezer while you prepare the rest of the ice cream components.
Amaretti cookies
Preheat the oven to 350 degrees F and line a baking sheet with baking paper.
Mix the oat flour, almond meal and salt in a large mixing bowl. 
Add the maple syrup, melted coconut oil and almond extract, and mix to combine until a dough forms. The dough should be thick and firm, a little wet but not too sticky to be shaped. If the dough is too dry, as a little more maple syrup. If too sticky, add a little oat flour.
Using your hands, divide the dough in small bite-size pieces and roll between your hands to form balls. Arrange the balls of dough on the lined baking sheet, and with the palm of your hand gently press on top to flatten and shape little round cookies. Bake for 10 minutes.
Remove from the oven and transfer the cookies to a cooling rack. Allow to completely cool down. The cookies will dry and become very hard while cooling down.
Cherry sauce
Rinse and stone the cherries. Place all the ingredients in a small pan, mix to combine and bring to a simmer. Mash the cherries with a fork to release their juice. Then reduce to low-medium heat and allow to simmer for 15 minutes, stirring occasionally, until the cherries are soft and break apart.
Transfer the sauce to a bowl and place in fridge to chill and firm.
Assembly
Once the Amaretti cookies are dry and the cherry sauce has firmed a little, it's time to assemble the ice cream. Roughly crush half of the cookies into small pieces and keep the remaining ones whole. 
Remove the chilled ice cream from the freezer and give it a good whisk. 
Transfer one third of the ice cream into a serving container or an ice cream tray or a loaf pan. Pour cherry sauce on top and sprinkle with crushed and whole cookies, and dark chocolate chunks. Repeat these steps until all the ice cream is used. Finish with a generous drizzle of cherry sauce, chocolate and cookies.
Place in the freezer for at least 2 hours to firm up before serving. Once the ice cream is fully frozen it will be quite firm. Set out for 10 minutes before serving to soften.
---
Notes
Make your own oat flour by mixing whole oats in a blender or food processor until finely ground.
Make your own almond meal by mixing whole blanched almonds in a blender or food processor until finely ground.
To make the Amaretti cookies, you can use either coconut oil or aquafaba in the same quantities. The aquafaba or chickpea brine is the liquid leftover from cooked chickpeas. The easiest way to get aquafaba is directly from a can of chickpeas.
For an express version, you can replace homemade Amaretti cookies by store bought almond cookies.
Keywords: ice cream, no churn ice cream, banana ice cream, nice cream, amaretto, amaretti, cherry, almond cookies, dairy free, gluten free
Recette version française
Print Glace vegan facile et rapide aux cerises, Amaretto et biscuits aux amande
Author:

Prep Time:

3 heures

Cook Time:

15 minutes

Total Time:

13 minute

Yield:

8

personnes

1

x

Category:

dessert

Method:

congélateur

Diet:

Vegan
---
Description
Cette glace végétale aux cerises et à l'amande est le dessert léger et gourmand parfait pour vos soirées d'été. Elle est très simple à réaliser à la main et ne nécessite pas de machine ou sorbetière! Elle se compose d'une glace onctueuse, d'un coulis de cerises à l'Amaretto et de brisures de biscuits aux amandes.
---
crème glacée
 3 bananes mûres, tranchées et congelées

60 g

de crème de coco entière

1/2

c. à c. d'extrait d'amande amère
Biscuits Amaretti
30 g

de flocons d'avoine en poudre (voir notes)

30 g

de d'amande en poudre

15 g

de sirop d'érable 

17 g

d'huile de coco (ou d'aquafaba pour une version sans huile)

1/2

c. à c. d'extrait d'amande amère

1

pincée de sel
Coulis cerise 
220 g

de cerises noires dénoyautées

15 g

de sirop d'érable

1

c. à s. de liqueur d'amande Amaretto (optionnel)

5 g

de fécule de maïs
Garniture
---
Instructions
crème glacée
Eplucher les bananes et les découper en petits morceaux. Disposer les bouts de banane à plat dans un récipient allant au congélateur ou un sac congélation. Placer au congélateur pendant au moins 6 heures ou idéalement toute une nuit, jusqu'à ce qu'ils soient bien durs.
Placer les bananes congelées avec la crème de coco dans un petit mixeur ou un blender et pulser afin de les casser en très petits morceaux. Racler les bords du bol à l'aide d'une maryse et continuer à mixer jusqu'à obtenir une texture parfaitement lisse et onctueuse, sans morceaux. Cela peut prendre plusieurs minutes. Puis ajouter l'extrait d'amande amère et mixer. Si vous rencontrez des difficultés à obtenir une texture crémeuse, ajoutez un peu plus de crème de coco pour faciliter le mixage.
Verser la crème glacée dans un récipient ou un bac à glace et placer au congélateur pendant une heure, le temps de la préparation du reste des composants.
Biscuits Amaretti
Préchauffer le four à 180°C et chemiser une plaque de papier cuisson.
Dans un saladier, mélanger la farine de flocons d'avoine, la poudre d'amande et le sel.
Ajouter le sirop d'érable, l'huile de coco fondue et l'extrait d'amande amère et remuer à l'aide d'une spatule jusqu'à obtenir une pâte. La pâte doit être compacte, légèrement humide mais pas trop collante pour pouvoir être facilement modelée avec les mains. Si la pâte est trop humide, ajouter un peu de farine de flocons d'avoine. Si elle est trop sèche et s'effrite, ajouter un peu d'huile de coco.
Former des petites boules de pâte de la taille d'une noisette. Disposer les boules de pâte sur la plaque de cuisson et les aplatir délicatement avec la paume de la main afin de former des petits biscuits ronds. Enfourner pour 10 minutes.
Retirer les biscuits du four et laisser complètement refroidir sur une grille. Ils vont continuer à sécher et durcir tout en refroidissant.
Coulis cerise 
Rincer et dénoyauter les cerises. Placer tous les ingrédients dans une petite casserole, mélanger et porter à ébullition. Ecraser les cerises à l'aide d'une fourchette afin de libérer leur jus. Quand le mélange commence à frémir, réduire à feu moyen-doux et laisser mijoter pendant 15 minutes en remuant de temps en temps, jusqu'à ce que les cerises soient bien tendres.
Verser le coulis dans un petit bol et placer au réfrigérateur 10 minutes pour qu'il se raffermisse.
Assemblage
Une fois que les biscuits Amaretto sont bien secs et durs et que le coulis s'est épaissi, passer à l'assemblage de la glace. Briser la moitié des biscuits en petits morceaux et conserver le reste entier ou en gros morceaux.
Quand la glace s'est bien raffermie, la retirer du congélateur et la remuer pour lui rendre une texture plus fluide et onctueuse.
Placer environ un tiers de la crème glacée dans un bac à glace ou un moule à cake métallique. Verser du coulis de cerise par dessus et parsemer de brisures de biscuits, de biscuits entiers et de morceaux de chocolat. Puis recouvrir complètement de crème glacée et répéter l'opération. Procéder ainsi jusqu'à épuisement des ingrédients. Terminer avec une couche de coulis cerise, de chocolat et de biscuits.
Placer la glace au congélateur pour au mois 2 heures, jusqu'à ce qu'elle soit bien ferme. Sortir la glace du congélateur 10 minutes avant de servir. 
---
Notes
Réalisez facilement votre farine de flocons d'avoine en mixant simplement des flocons d'avoine entiers dans un blender jusqu'à obtenir une poudre fine.
De même, réalisez votre propre poudre d'amande en mixant des amandes entières émondées.
Pour des biscuits sans huile, remplacez l'huile de coco par de l'aquafaba dans la même quantité. L'aquafaba est l'eau de cuisson ou de conservation des pois-chiches. Vous pouvez l'obtenir directement en ouvrant une boite de conserve de pois-chiches.
Pour une version express, remplacée les biscuits Amaretti maison par des biscuits aux amandes du commerce.
 
Keywords: glace, crème glacée, glace vegan, nice cream, glace cerise, biscuits aux amandes, sans gluten, sans lactose