Sometimes you just need a big comforting breakfast to help you face that cold and rainy day Right? And what better than a huge chocolate cookie for that? A cookie cake with a generous scoop of melting vanilla ice cream and a big batch of hot chocolate sauce! And what if I tell you that this version of the traditional cookie is vegan, refined sugar free and gluten free – in other words nearly healthy? What a pleasure to enjoy it without (any) guilt. The regular white flour is substitute by a mix of GF sweet potato, buckwheat and coconut flours. I tried this mix but I think you can substitute each one by the flour of your choice. I have recently discovered sweet potato flour and I literally felt in love: it has a low glycemic index (contrary to white flour), is rich in vitamins & minerals, and has a high antioxydant power. And can you guess the mystery ingredient? Yes, aquafaba, or the sticky canned chickpeas water that you directly throw in your sink. It is a fabulous substitute to egg white and it is cheaper than the egg replacers you can hardly find in shops. Aquafaba can be use for many applications, like chocolate mousse (simply blend aquafaba with melted chocolate and sugar) or meringue.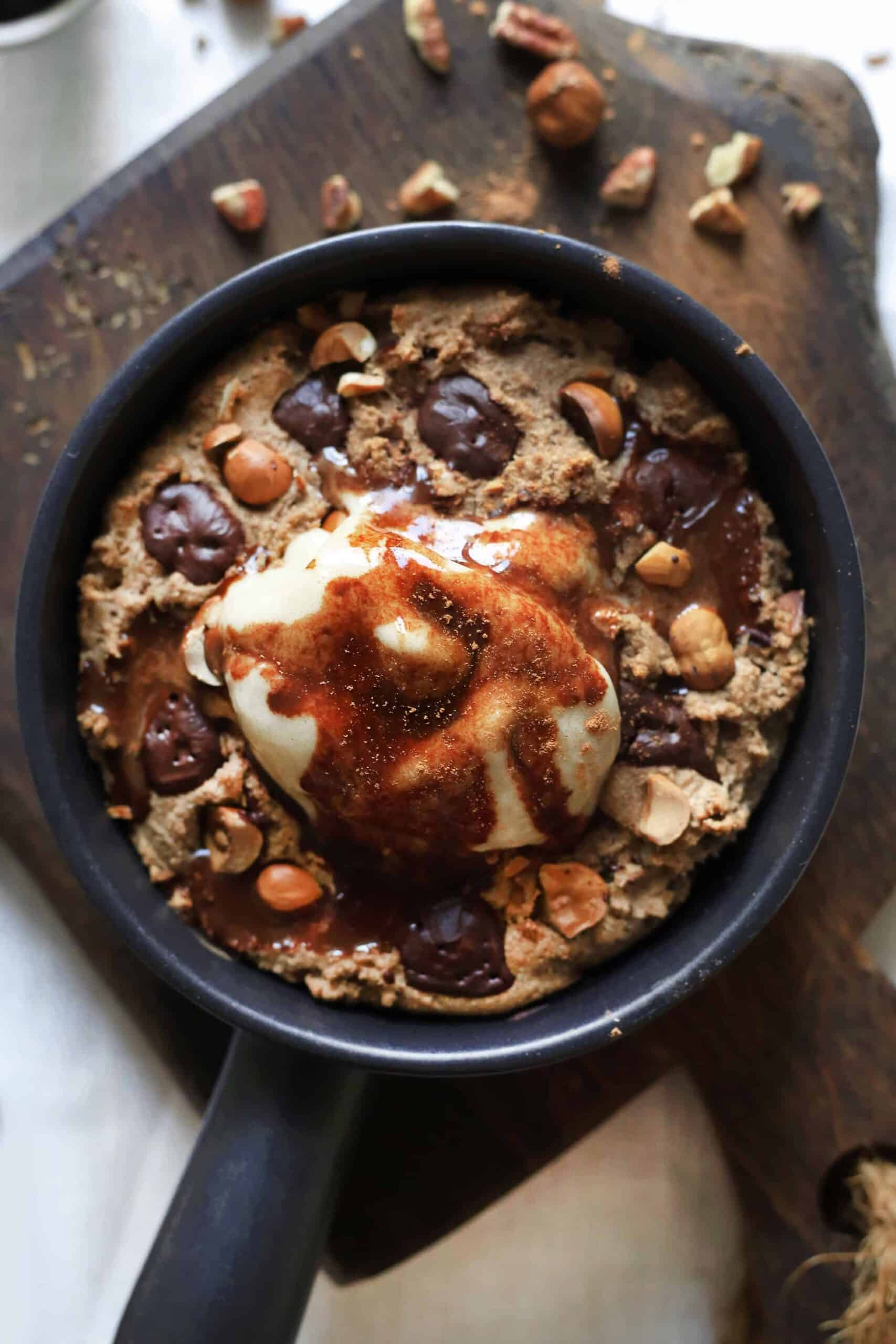 But come back to these cookies. I do love cookies, just as everybody I can imagine, but I can also be very exigent… I like them generous, chewy inside and a little crunchy outside, with big chocolate chunks and lot of crispy nuts! Cookie cake is the perfect solution for me as you can easily control the baking of the dough and keep a melting texture. In addition, it is quiet fun (I love the authentic visual appearance of the pan) and you can make a big one and share it in a very convivial way.
I think this recipe is a good traditional cookie basis, but you are free to be creative and try other combinations: I love macadamia – berries, or dried cranberries. 
Have a lovely chocolatey day!
Alice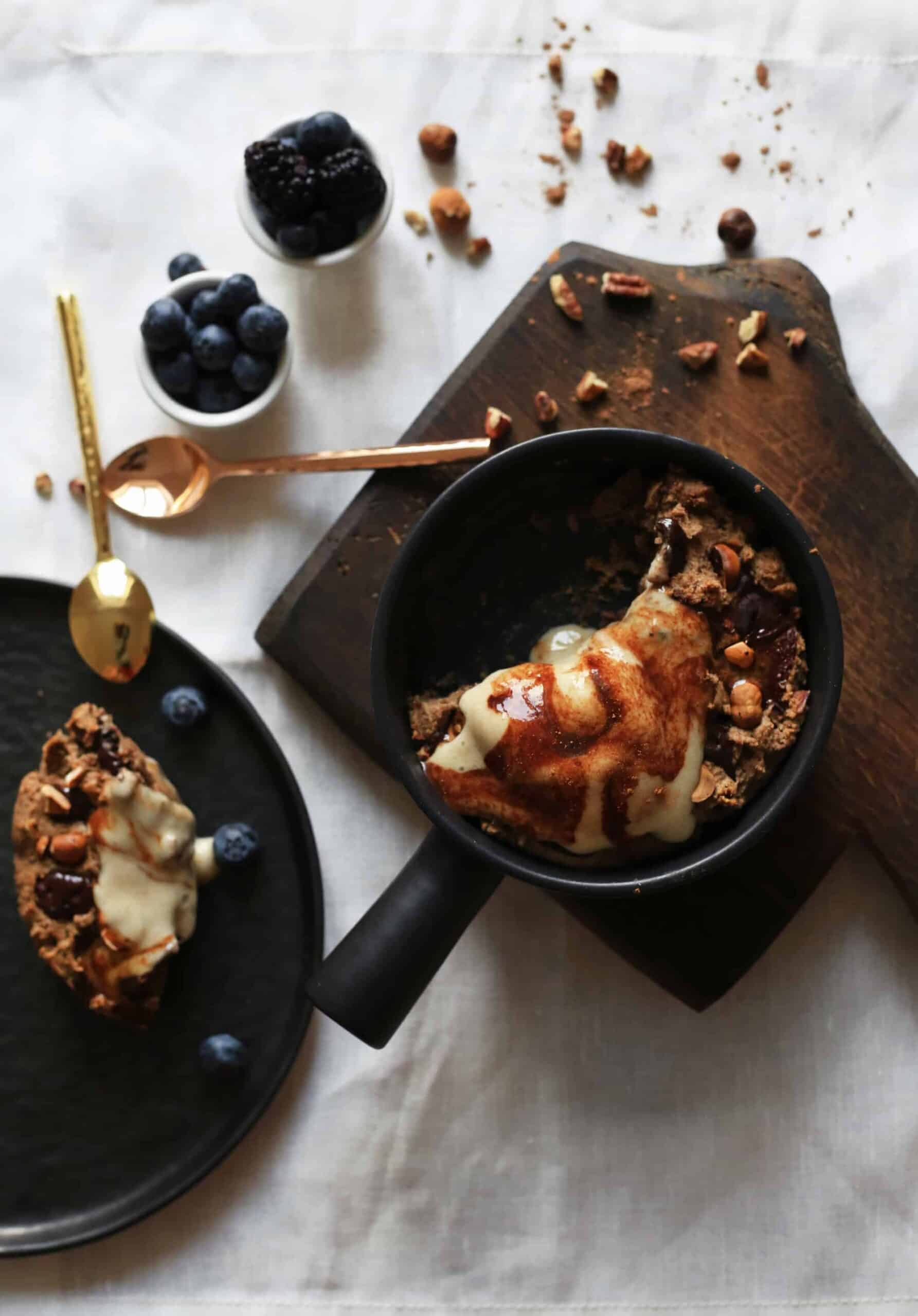 ---
COOKIE SKILLET W/ VANILLA ICECREAM AND CHOCOLATE SAUCE
Prep time: 40 minutes
Cook time: 30 minutes
Total time: 1h10 minutes
Serves: 1 medium pan / 2 serves
INGREDIENTS:
For the Cookie dough:
– 20g hazelnuts
– 10g chopped pecan
– 1/3 cup melted coconut oil
– 1/4 cup coconut sugar (more if you like it sweeter)
– 4 tbsp aquafaba (chickpea water)
– 1/2 cup sweet potato flour
– 1/2 cup buckwheat flour
– 3 tbsp coconut flour
– 1/2 tsp baking powder
– 1 tbsp cocoa powder
– 1 tsp vanilla extract
– 1/4 tsp salt
– 10g extra dark chocolate 
For the Vanilla Nicecream:
– 2 frozen ripe bananas
– 3 tbsp unsweetened almond milk
– 1 tsp vanilla extract
– a pinch of vanilla powder
For the Chocolate sauce:
– 5g carob powder (or raw cocoa powder)
– 3 tbsp water
INSTRUCTIONS:
Preheat your oven at 350F (180°C).
Place the hazelnuts in the oven and let them roast for 10 minutes until golden. Carefully control the baking process in order not to burn the hazelnuts.
Meanwhile, prepare the cookie dough: in a bowl, combine the melted coconut oil, aquafaba, coconut sugar, baking powder, salt, and vanilla extract. Mix well until it starts to lather.
Add the remaining ingredients in the bowl (flours, cocoa powder, pecan). At this step, you might obtain a compact cookie dough. Add some water if too dry.
Press the dough in a oven resistant pan.
Topped with the roasted hazelnuts cut in halves (skin removed) and big chocolate chunks.
Place the pan directly in the oven and bake for about 17 minutes for a chewy texture inside.
Meanwhile, prepare the nicecream: in a high speed blender, blend all the ingredients until smooth. Let refrigerate to solidify.
For the chocolate sauce, simply combine the carob powder with hot water.
For serving, remove the pan from the oven and let cool down few minutes. Top with a big nicecream scoop, glazed with chocolate sauce and sprinkle with some more pecan chunks and cinnamon. Enjoy!