It is not always easy to be vegan, especially in France, where the culinary tradition is very strong and is mostly based on cheese, meat plate and buttery pastry. Here, veganism is progressively expending but vegan alternatives remain quiet unpopular compare with other countries. I cannot stop dreaming when I see the limitless shelves of specialized Vegan & health shops where you can find everything, from vegan cheese to raw bars by way of superfood powders. Unfortunately, I do not have all that choice, and maybe it is all for the best as it forces me to find and make my own alternatives with raw products and not fall into the trap of ready to eat preparations (and not be tempted by all these insane bars, treats and chocolates I could eat and eat).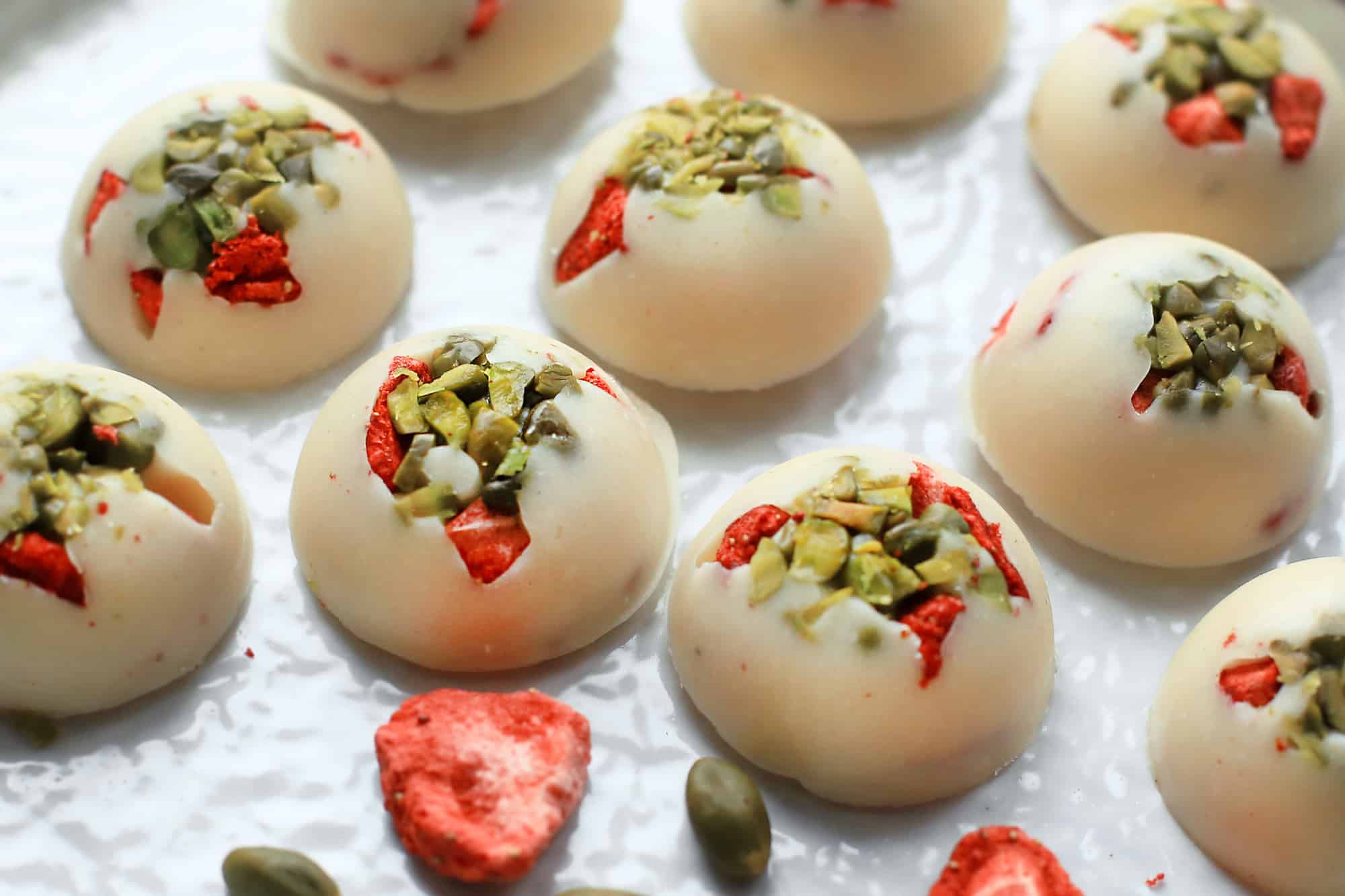 White chocolate is one of these products I am totally crazy about and cannot imagine my life without. I remember of the Galak white chocolate I used to eat when I was a child, and it reminds me so many good memories, especially the gift animals sticker haha. So it is a long time that I was looking for an healthy vegan alternative for white chocolate which tastes as close as possible. I finally found it while making raw wagon wheels, following a recipe found in an issue of Vegan Food & Living. The base biscuit was made of raw macadamia butter and coconut oil, and I understood that this mixture would be THE solution. It is very simple to prepare, does not need any particular facilities or skill, is ready in less than 30 minutes, and the texture and taste are pretty close to white chocolate for me! So I have immediately adopted this recipe and use it in various preparations (cookies, chocolates, glaze…).
I have made these strawberry & pistachio white chocolates for Easter. They are very easy to do and make a perfect gift as they look pretty fancy and elegant. I love the combination of the tastes and textures of white chocolate and dried strawberries but this recipe is very versatile and you can change it as you like. Simply use the macadamia and coconut base and then feel free to add any flavor and elements you want, like puffed quinoa, chocolate, coconut chips or nuts …
---
RAW STRAWBERRY & WHITE CHOCOLATE GEMS
Prep time: 10 minutes
Freeze time: 30 minutes
Total time: 40 minutes
Serves: 12 chocolates
INGREDIENTS:
– 200g raw macadamia nuts
– 5g dry strawberries
– 10g chopped green pistachios
– 15g shredded coconut
– 1 tbsp melted coconut oil
– 1 tsp vanilla extract
INSTRUCTIONS:
A little before, place your empty chocolate mould in freezer. I used a regular half sphere silicone mould.
Prepare the toppings by finely chopping the green pistachios and the dry strawberries. Place a pinch of both chopped pistachios and strawberries in the center of each chocolate mould.
In a high speed blender, blend the macadamia nuts with the shredded coconut, melted coconut oil and vanilla extract until you get a smooth creamy homogenous texture.
Using a teaspoon, gently fill the moulds with the macadamia mixture up to half way. Sprinkle some more strawberry chunks and finish to fill the mould.
Set the mould flat in your freezer for about 30 minutes, allowing the chocolate to solidify.
Store in freezer until serving (the chocolates quickly start to melt when out of the oven). You can keep them for weeks stored in a freezer.