Breaking news: the BEST almond cookies also happened to be vegan, naturally gluten free and ridiculously easy to prepare. They only require 5 simple ingredients you probably already have in your kitchen and after ten minutes of baking, you're rewarded with delicious chewy on the inside and crisp on the edges cookies.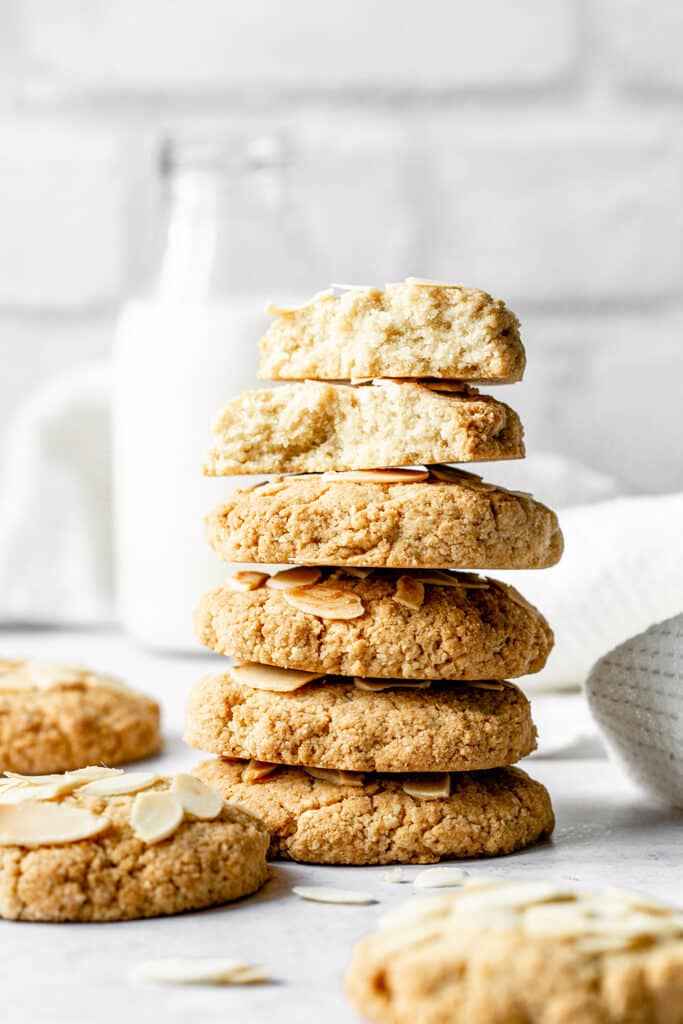 Why they are the best
These gluten free almond cookies are the BEST! They are definitely my favorite soft cookies recipe and everybody love them in the house. Honestly, they are so good that I could not stop eating these and they never last for a long time on the counter top.
I know there are plenty of different styles of cookies, and as many food preferences. If you are in the "soft and chewy" team, so these almond cookies are made for you! They are rich and super soft inside, like little fluffy pillows, and dry and crispy outside. The toasted silvered almonds on top add the right amount of crunchiness and texture for a perfect experience.
The best part with these almond cookies is that they are ridiculously easy and quick to make. They require only 5 simple ingredients and all you need to do is to mix all the ingredients, scoop and bake. No refrigerate time or fancy trick. And after about ten minutes of baking, you're rewarded with delicious cookies, that are crisp on the edges and chewy in the center. The perfect recipe for an unexpected visit or simply to satisfy a serious sweet-tooth.
Last but not least, these cookies happens to be suitable for many people with food allergies or simply following special diets. They are naturally gluten free, vegan and paleo.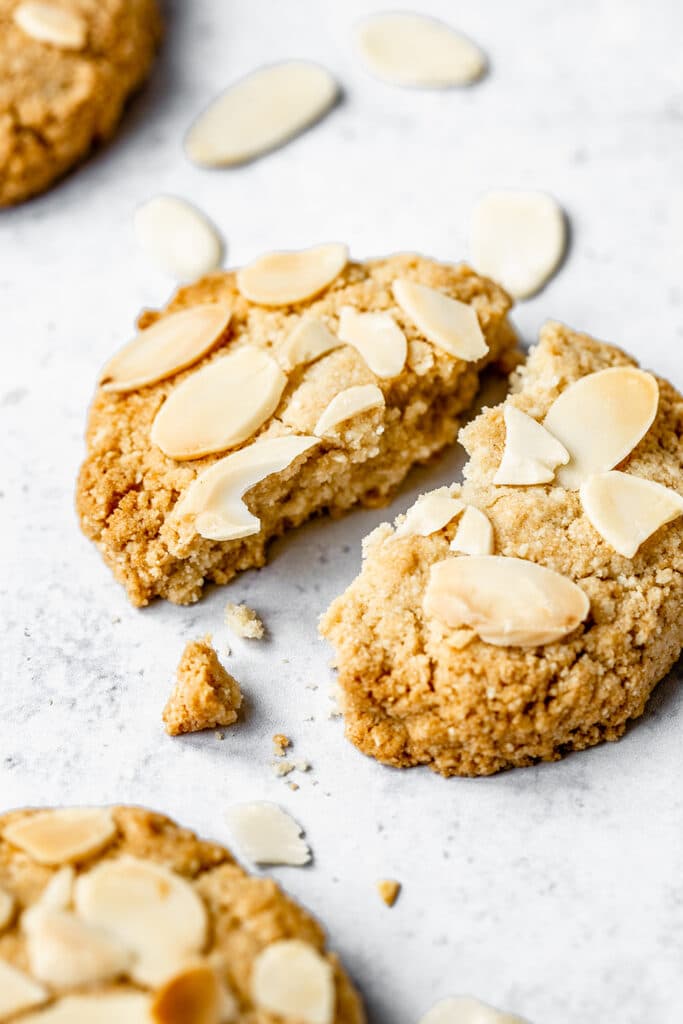 Simple almond cookies
When I though about this almond cookies recipe, my first desire was to keep it as simple as possible. The idea is to propose a recipe accessible to all, and that everybody can make at home without fancy equipment and ingredients.
I'm of these people who are afraid by multiple pages recipes and endless ingredient lists, so I directly decided to put a limitation of 5 ingredients for this almond cookies recipe. And I choose simple ingredients that you probably already have in your kitchen or you can easily find in the grocery store, wherever you live in the world.
The 5 ingredients
Almond meal is a very common ingredient used in many baking recipes. It is made of finely ground almonds and has a delicious almond flavor. Almond meal is rich in healthy fats and adds softness and fluffiness to your recipes.
White rice flour is a very fine and light flour made of ground white rice. White rice flour is naturally gluten-free, rich in carbohydrates and low in fat. It is lighter, milder and easier to digest than wheat flour.
Baking powder If you follow a grain-free diet, be careful as most commercial baking powders contain a grain-based starch, like cornstarch. You can make your own or find a grain-free certified version. Else you can use whatever baking powder you have on hand.
Maple syrup is a brown syrup usually made from the sap of maple trees. It has a beautiful brown to red color and delicious flavor. Maple syrup can be used in recipes to add sweetness, moisture and act like a bidding ingredient. There are numerous varieties of maple syrup, but always make sure to use a good quality, Grade A labeled product.
Coconut oil is extracted from the kernel or meat of mature coconuts and is a very versatile product. It can be used in many recipes to substitute other oils. Coconut oil is solid in fridge, soft at room temperature and liquid when heated. Raw coconut oil has a subtle and pleasant coconut flavor but you can also find deodorized if. you don't want the coconut flavor.
Optional : almond extract These cookies already taste like almonds thanks to the almond meal, but for an extra flavor you can add a drop of almond extract.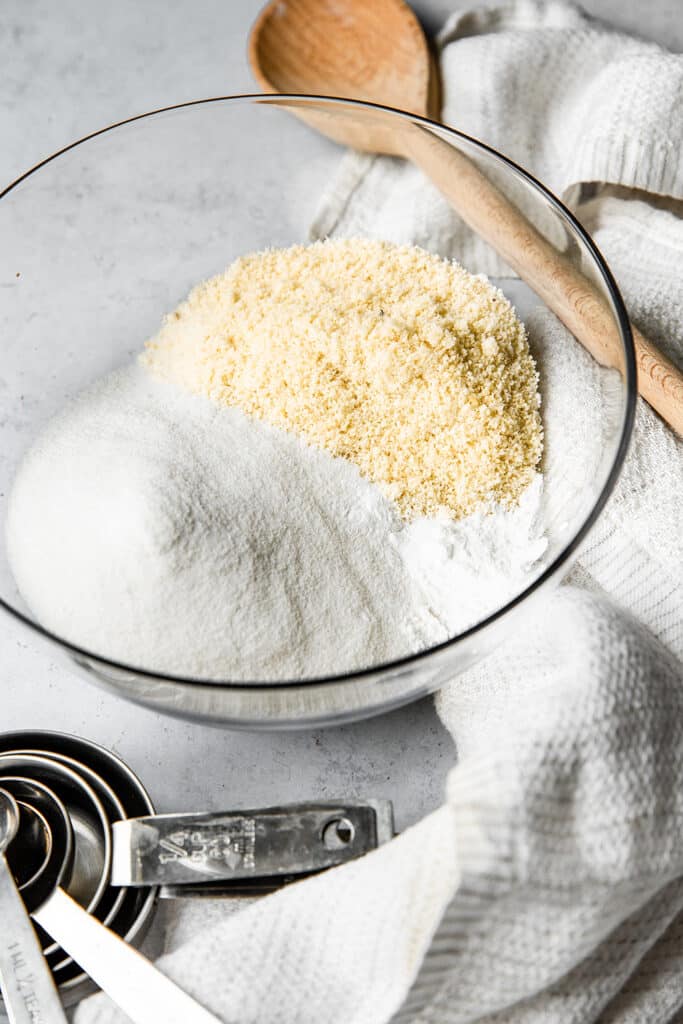 Almond meal vs. Almond flour
Almond flour and meal are popular and ancient gluten-free ingredients used in many recipes all over the worlds. Although they look similar, they are different by flavor, appearance and taste, and can significantly change a same recipe.
Both are made from ground almonds. The difference is in the process : almond meal is made from ground whole almonds with their skins on, while almond flour is typically made from blanched almonds which have had the skins removed and is ground more finely than almond meal.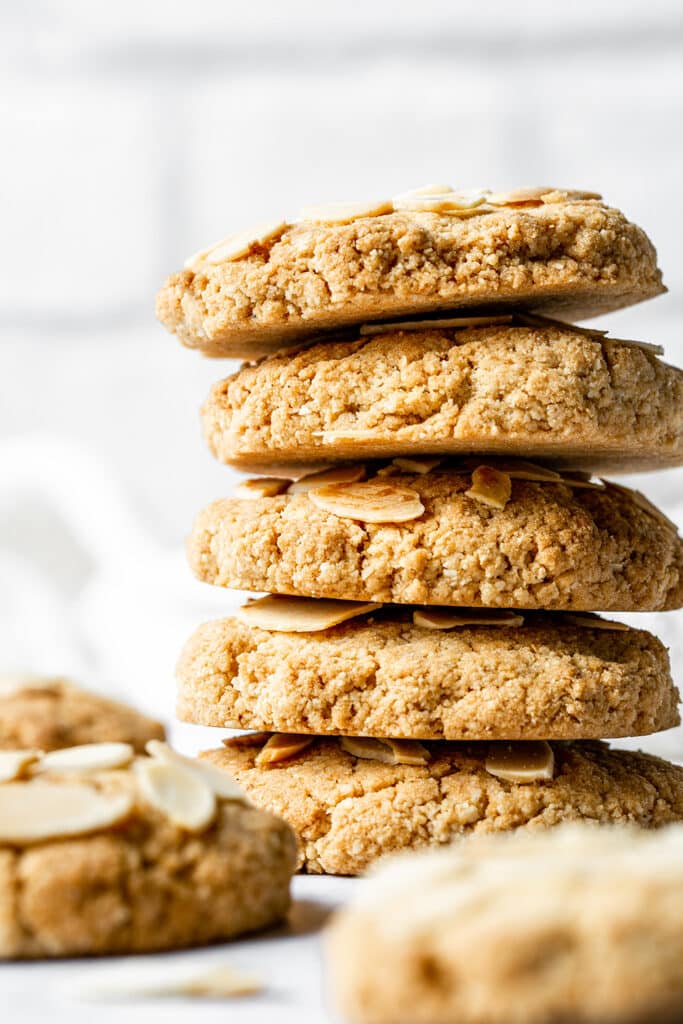 Flavor
In terms of flavors, I find almond meal to have a stronger almond flavor than almond flour, which is very soft and light in flavor. Incorporated in a whole recipe, it won't make a big difference on the overall taste.
Texture
Texture-wise, almond meal and almond flour are very different. Almond meal is a coarser grain, whereas almond flour is finer and lighter. Coarser grain flours are heavier and can weight down the ingredients in a recipe. That's why almond meal is commonly used for baked goods like cookies and quick breads that doesn't need to rise a lot or to substitute for breadcrumbs for coatings.
Using almond meal rather than flour in this cookie recipe will result in a soft and cake-like texture, while blanched almond flour will result in a crispier and more buttery cookie, similar to shortbread.
Make your own
You can easily make your own almond meal at home using a high speed blender. If you're curious, have a look at Minimalist Baker D.I.Y. almond meal guide.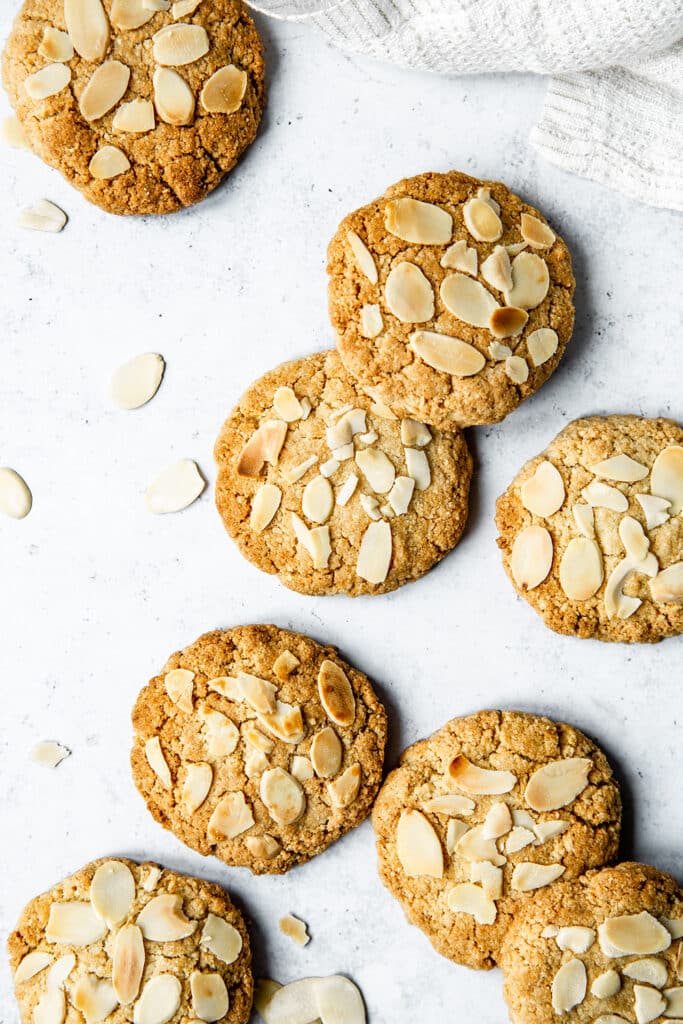 How to store and freeze your cookies
These almond cookies are so delicious that I can bet they won't last for a long time. But if you want to prepare them ahead or save a few for the next days, they will keep well for up to 3 days stored in an airtight container. I found them to be even better the day after.
Make sure the cookies have completely cooled before to put them in the container to avoid moisture. You can store them either at room temperature for soft cookies or in fridge if you want them to stay crispy outside.
You can also freeze both baked cookies and raw cookie dough to bake it later. To freeze raw cookie dough, form balls the size of a golf-ball and allow to chill in fridge for 30 minutes before to store in ziplock bag and freeze. This will keep for up to 6 weeks.
When you're ready to bake, place the frozen dough balls on a baking tray and let thaw at room temperature for about 30 minutes before baking. You will need to bake your cookies for an extra 3-4 minutes since the dough will be extra cold.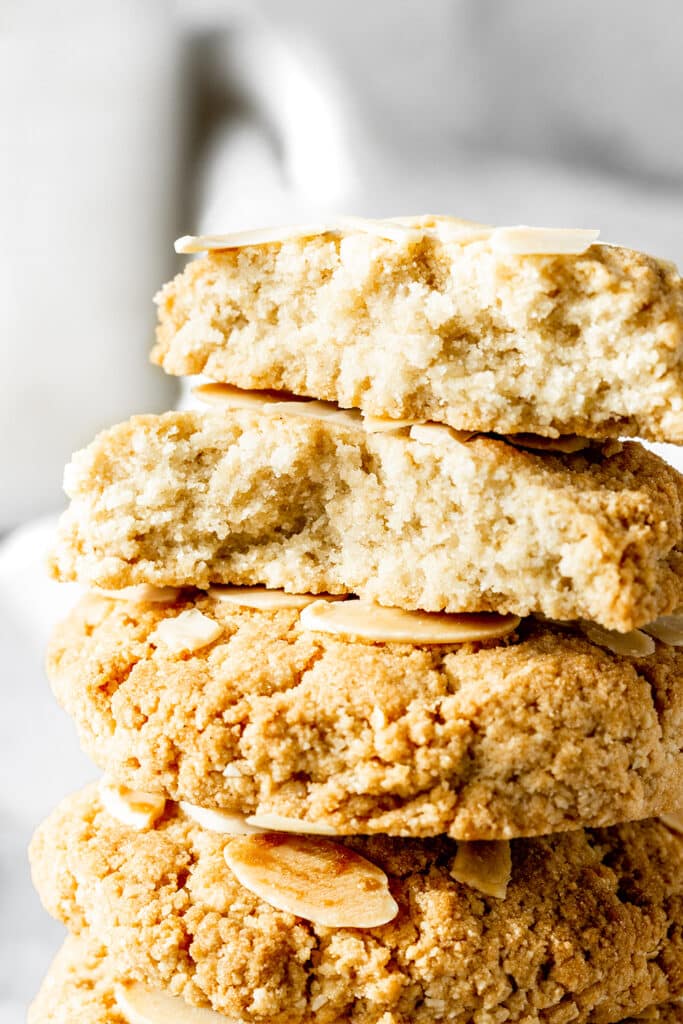 For more easy & gluten free bakings, check out these recipes :
I love to see your creations! Don't forget to tag me @alicepages on your photos on Instagram and give your feedback in the comments below if you make this recipe at home! Your opinion is my best reward.
Print 5-ingredient almond cookies gluten free
Author:

Prep Time:

10 minutes

Cook Time:

13 minutes

Total Time:

23 minutes

Yield:

8

cookies

1

x

Category:

baking
---
Description
The BEST and easiest vegan gluten free almond cookies. They are extra soft and chewy,  only require 5 simple ingredients and ready in 15 minutes.
---
1 cup

almond meal

1 cup

white rice flour

1/2 tsp

baking powder

1/3 cup

maple syrup

3 tbsp

melted coconut oil
A pinch of salt
Optional : 1 tsp almond extract
Silvered almonds for topping
---
Instructions
Preheat the oven to 350F and line a baking tray with baking paper.
In a large mixing bowl, combine almond meal, rice flour, baking powder and salt.
Add maple syrup and melted coconut oil and stir to combine. You can use a wooden spatula or your hands to massage the dough and incorporate all the ingredients. The dough should be dry and crumbly, but should hold when it is pressed between two fingers. 
Scoop out a spoonful of dough about the size of a golf-ball, roll into a ball and drop onto the prepared baking sheet, about one inch apart. Press down the top of the balls with your hand or the flat bottom of a measuring cup or glass to flatten and shape your cookies. They won't spread a lot during the baking. Repeat the process until there is no dough left. Place and gently pressed silvered almonds on top.
Bake for 12-14 minutes or until the edges are just slightly golden brown and the tops appear dry.
Then remove from the oven and allow to cool for 10 minutes on the baking sheet. Transfer cookies to a cooling rack to cool completely before serving.
---
Notes
These cookies can be stored in an airtight container at room temperature or in fridge for up to 3 days. Both raw cookie dough batter and baked cookies can be freezed for up to 6 weeks.
These almond cookies are basically soft and chewy. If you want more crispy cookies, bake a few minutes more.
Keywords: cookies, almond cookies, gluten free, baking goods, treats, almond,
Recette version française
Print Cookies aux amandes sans gluten
Author:

Prep Time:

10 minutes

Cook Time:

13 minutes

Total Time:

23 minutes

Yield:

8

cookies

1

x

Category:

biscuits
---
Description
Ces cookies moelleux aux amandes sans gluten sont extrêmement simples et rapides à réaliser et feront le bonheur de tous.
---
90 g

de poudre d'amande

140 g

de farine de riz blanche

4 g

de levure chimique

90 g

de sirop d'érable

40 g

d'huile de coco fondue
Une pincée de sel
Optionnel: 1 c.à c. d'arôme d'amande amère
Une poignée d'amandes effilées 
---
Instructions
Préchauffer le four à 175°C et chemiser une plaque de cuisson de papier sulfurisé.
Dans un grand saladier, mélanger la poudre d'amande, la farine de riz blanche, la levure chimique et le sel.
Ajouter le sirop d'érable, l'huile de coco fondue et l'amande amère (optionnel) et mélanger à l'aide d'une spatule ou des mains, afin de bien incorporer tous les ingrédients. La pâte doit être sèche et effritable, mais doit se tenir quand on la press entre les doigts.
Former 8 boules de pâte égales et les placer sur la plaque de cuisson en les espaçant de 2-3 cm. Avec la paume de la main ou le dessous plat d'un verre, aplatir délicatement les boules. Les cookies ne vont pas. beaucoup s'étaler durant la cuisson. Décorer d'amandes effilées.
Enfourner pour 12 à 14 minutes, ou jusqu'à ce que les bords soient légèrement dorés et que le dessus des cookies paraisse cuit et sec.
Retirer du four et laisser les cookies refroidir 10 minutes sur la plaque, avant de les transférer sur une grille et de les laisser complètement refroidir avant de déguster. 
---
Notes
Les cookies peuvent être conservés jusqu'à 3 jours dans un récipient hermétique, à température ambiante ou au frais. La pâte à cookie crue ou les cookies cuits peuvent également être congelés et conservés jusqu'à 6 semaines.
Ces cookies aux amandes sont tendres et moelleux. Pour des cookies plus durs et craquants, prolonger le temps de cuisson de quelques minutes.
Keywords: biscuits, cookies, cookies aux amandes, sans gluten, goûter