This vegan banana tarte tatin is a delicious twist on the traditional French dessert. Bananas are coating in homemade coconut caramel sauce before being covered with a gluten free shortcrust pastry and baked until perfectly smooth. The result is dreamy soft caramelized bananas with a delicious crispy pastry. Serve it warm with a scoop of ice cream and you have the dreamy comforting family dessert.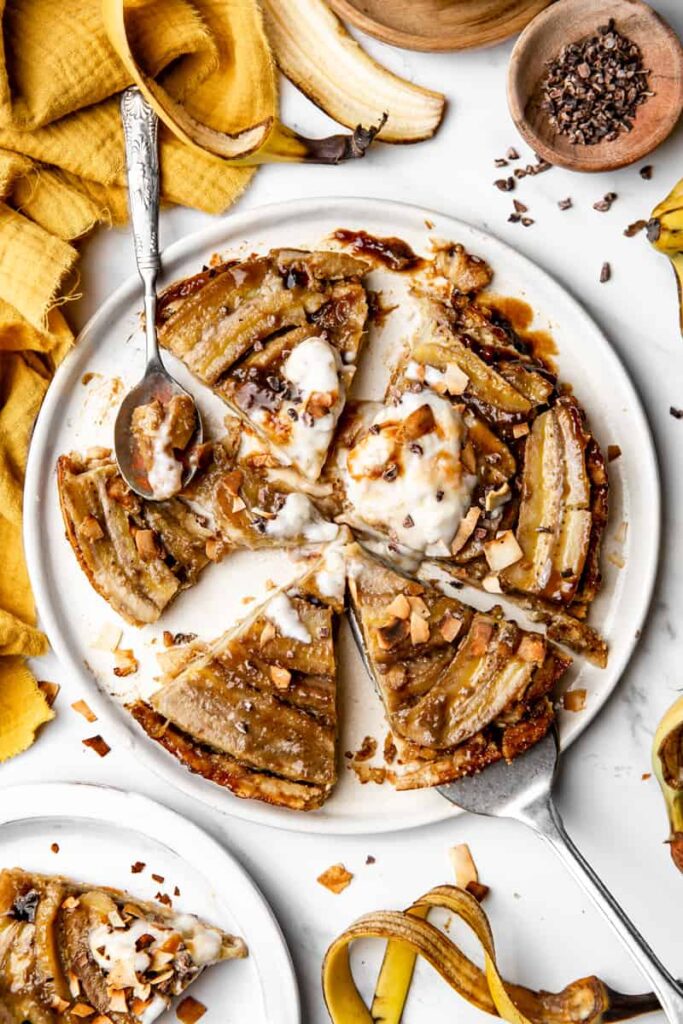 Banana Tarte tatin
What is tarte tatin?
You guys asked for more traditional French recipes, you guys are served! The tarte tatin is a very tipycal French dish that is traditionally made at home for an easy, delicious and very comforting family dessert.
For the anecdote, the tarte tatin has been accidentally created in the 1880s, at the Hôtel Tatin owned by the two Tatin sisters, in Loir-et-Cher. The most common version of the story says that one busy day, Stéphanie Tatin was making a traditional apple pie but left the apples cooking in butter and sugar for too long. Under the pressure of the clients waiting for their dessert, she tried to rescue the dish and put the pastry dough on top of the pan of apples, and put the pan in the oven. She turned out the apple tart and served it to the hôtel clients anyways. And surprise, the hotel guests absolutely loved it and the tart became a signature dish to the hôtel!
This true little story is the living proof that some of the best things in the cooking world came from experimentations and mistakes. So when it comes down to cooking and baking, don't be afraid to try new things, you could be pleasantly surprised!
Okay now let's go back to our tart! The traditional tarte tatin is a French pastry made of apples caramelized in a mixture of butter and sugar, and baked with a pastry dough on top. Don't let be fooled by the simplicity of this dessert cause it's absolutely divine! The combination of the extra soft and sweet caramelized apples with the rich buttery puff pastry is absolute delight! Top with a scoop of vanilla ice cream, and you get the perfect comforting family dessert.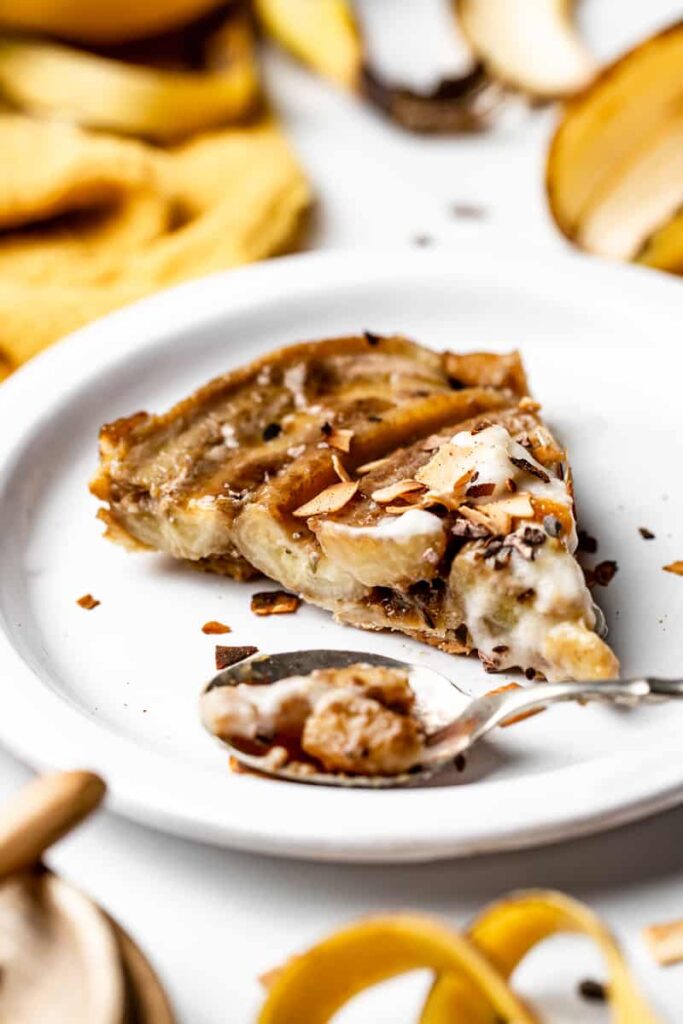 Vegan Banana tarte tatin
If you think traditional apple tarte tatin is already incredible, the you haven't try this even more delicious banana version! Baked bananas and caramel is a match made in heaven and this dessert is no exception. It's sweet, warm, creamy, rich in banana flavor and simply irresistible.
This recipe is a vegan and I healthier twist on the classic recipe. The traditional butter and sugar caramel is replaced by a caramel sauce made from coconut sugar and coconut milk. It's sweet, rich, enveloping, but still lighter than the sugar version. For the pastry, I've made a gluten free shortcut pastry with almond flour and white rice flour. It's very easy to make and work with!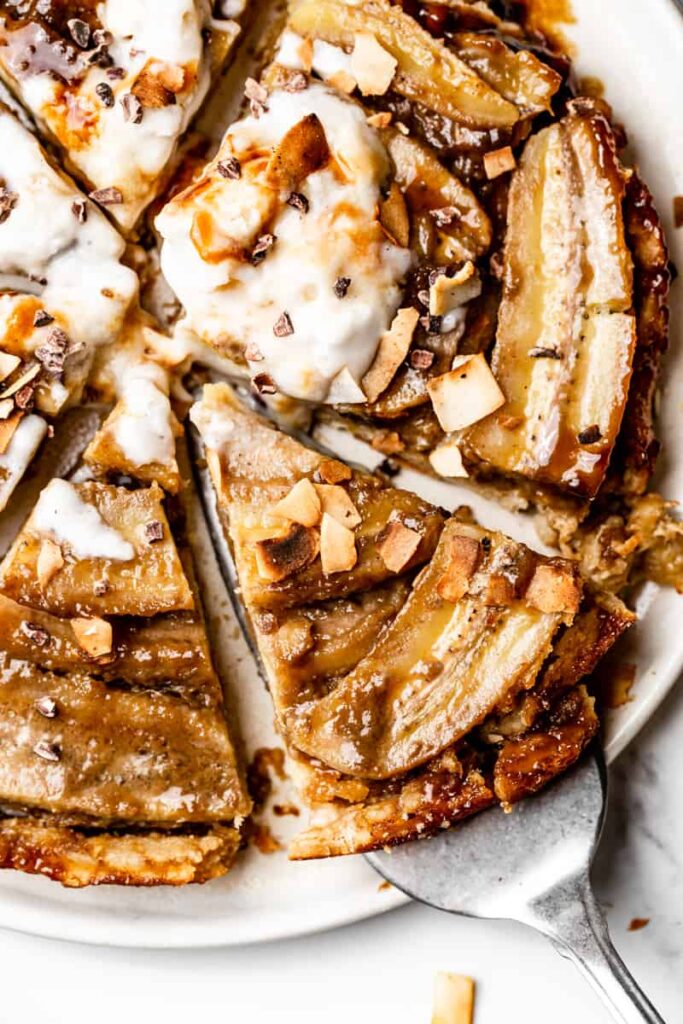 Tips for making the best shortcrust pastry
While this pie crust is very easy to make, here are a few important tips to help you get the perfect one!
Don't substitute the almond flour.
I know almond flour can be confusing sometimes and you might mistake it for almond meal. But these two products are radically different! Almond flour is made of blanched degreased almonds and so is lighter and much finer than almond meal. You can now find almond flour in supermarkets and specialized grocery stores, or online. I bought mine online on KoRo and I love it.
Use cold water.
When making the pastry, you will notice that in its first stage the dough is pretty dry and crumbly. This is normal as we are mixing dry ingredients and oil. The water is the only element that will bring moisture and hydrate the dough. The dough will immediately start to come together and become firmer. When using cold water, the result is even better! In fact, cold water will cool the whole mixture and the coconut oil harden.
Chill the dough.
It's very important to chill the dough for at least 20 minutes before further processing. While chilling, the dough will solidify and become easier to work with later. To do so, simply roll the dough into a ball, wrap in plastic foil and leave to rest for 20 minutes or more at room temperature.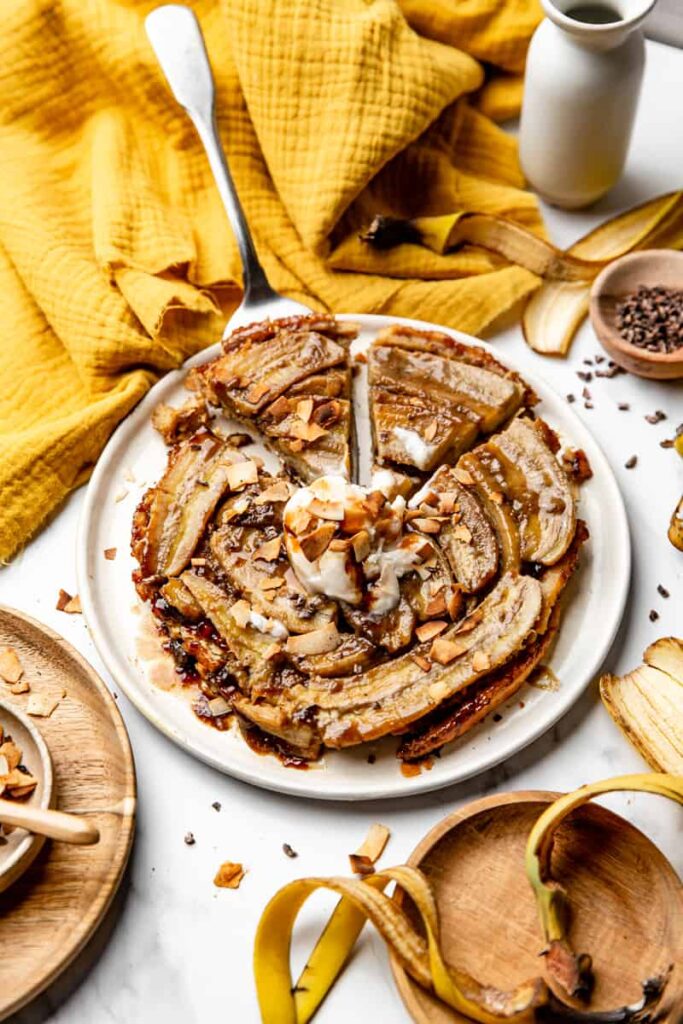 Make the coconut caramel
While the dough is resting, you can move on and prepare the caramel sauce. A tarte Tatin without caramel is not a tarte Tatin, and this element is very important to make a good pie. The caramel sauce is the only element in the recipe that binds everything together. As the tart bakes, the caramel sauce wraps up the bananas and make them become extra sweet, soft and deliciously caramelized.
This caramel sauce is very easy to make and just requires a little time to bake and come together. You only need 5 ingredients: coconut sugar, coconut milk, salt, coconut oil and vanilla extract.
First add coconut sugar, coconut milk and salt to a saucepan and bring to a boil. Then reduce the heat to low and let simmer slowly for about 20-25 minutes, whisking often. We want the caramel sauce to reduce to become thick and creamy. This step takes a little time as we don't want to rush it. Make sure to whisk often the caramel to avoid it to stick to the bottom of the saucepan and burn.
When you get a thick and dark brown caramel, remove from the pan from the heat and immediately add the coconut oil and vanilla. The coconut oil adds extra smoothness to the caramel.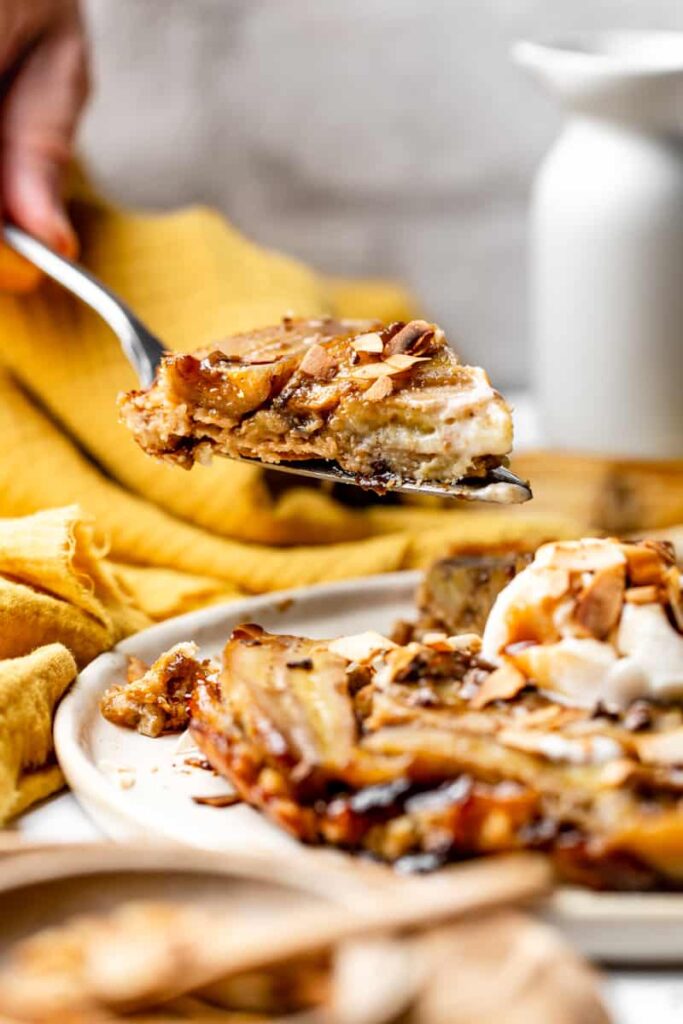 For more homemade desserts to share, check out these recipes:
I love to see your creations! Don't forget to tag me @alicepages on your photos on Instagram and give your feedback in the comments below if you make this recipe at home! Your opinion is my best reward.
Print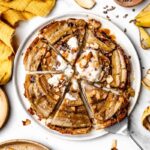 Vegan Banana Tarte Tatin
Author:

Prep Time:

30 minutes

Cook Time:

50 minutes

Total Time:

1 hour 20 minutes

Yield:

6

servings

1

x

Category:

Dessert

Method:

Oven

Cuisine:

French

Diet:

Vegan
---
Description
This banana tarte tatin is baked with caramelized bananas and a gluten free shortcrust pastry. It's warm, sweet, extra smooth and so easy to make! The perfect comforting family dessert or Holiday baking. 
---
Shortcrust pastry
100

g

blanched almond flour

50

g

white rice flour

40

g

corn starch

15

g

coconut sugar (or canne sugar)

1/4 tsp

salt

25

g

coconut oil, melted

60

to

75

ml

cold water
Caramel sauce
50

g

coconut sugar

200

g

coconut milk

1/4 tsp

sea salt

1 tsp

coconut oil

1/2 tsp

vanilla extract
Banana filling
4

small bananas

1/4 tsp

ground cardamom

1/4 tsp

ground ginger
Zest from

1/2

lemon
---
Instructions
Shortcrust pastry
In a large mixing bowl, whisk together almond flour, rice flour, corn starch, coconut sugar and salt.
Add the melted coconut oil and mix with a spatula to incorporate it into the dry ingredients, until you get a dry and crumbly mixture.
Gradually add the cold water, one tablespoon at a time, and knead with your hands until the dough starts coming together. Then transfer the dough to a floured working surface and continue kneading until a smooth doughs forms.
Roll the dough into a ball, wrap in plastic foil and leave to rest for 20 minutes at room temperature.

The amount of water in the recipe should be sufficient to bring the dough together. Add water until you just get the right consistency and don't exceed the 75 ml. If the dough remain too dry after all, add a little more water.
Caramel sauce
Meanwhile, prepare the caramel. Add coconut sugar, coconut milk and salt to a saucepan and bring to a boil. Then reduce the heat to low and let simmer for about 20-25 minutes, stirring often with a whisk, until the sauce reduces.
When you get a thick and dark brown caramel, remove the pan from the heat and add the coconut oil and vanilla. Mix to melt and incorporate the coconut oil.
Assembly
Preheat the oven to 350°F (180°C) and grease a 20-cm (8-inch) loose bottom tart pan with oil.
Pour about two thirds of the caramel sauce into the greased tart pan.
Peel and cut the bananas lengthwise. Arrange the bananas in the pan in a concentric pattern, then pour the remaining caramel sauce on top to cover the bananas. Sprinkle with ground cardamom, ginger and lemon zest.
After the chill time, roll out the pastry dough on a lightly floured working surface into a disc about 2 inch (5 cm) larger than the diameter of the tart pan. 
Carefully lay the rolled-out pastry dough on the pan over the bananas. Carefully tuck the edges of the dough around the bananas into the sides of the pan, to make sure they're well covered with no gaps. Prick the pastry all over with fork. 
Transfer to the oven and bake for about 25 to 30 minutes, or until the pastry is golden.
Remove the tart from the oven and allow to cool for a few minutes. Then run a knife along the edges of the pan to loosen the tart, place a plate over the pastry and flip the pan outside down. Be very careful when you handle the pan as it is still very hot! 
Cut the banana tarte Tatin in slices and serve with scoops of the ice cream or coconut yogurt.
---
Notes
You can make your own shortcut pastry as indicated in the recipe, or use a store-bought pastry dough (puffed pastry works well).  
Keywords: Banana tarte tatin, tarte tatin, dessert, pie, tart, gluten free, pastry, French pastry, banana, caramel
Recette version française
Print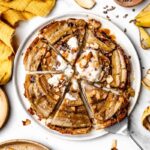 Tarte Tatin à la banane
Author:

Prep Time:

30 minutes

Cook Time:

50 minutes

Total Time:

1 hour 20 minutes

Yield:

6

parts

1

x

Category:

Dessert

Method:

Four

Cuisine:

Française

Diet:

Vegan
---
Description
Cette tarte Tatin à la banane revisite la recette traditionnelle avec des bananes cuites dans une sauce caramel maison allégée et une pâte à tarte sans gluten. Très simole à réaliser, ultra gourmande et réconfortante, c'est le dessert maison parfait!
---
Pâte sablée
100

g

de farine d'amande

50

g

de farine de riz blanc

40

g

de fécule de maïs

15

g

de sucre de coco (ou de sucre de canne)

1/2

cuillère à c. de sel

25

g

d'huile de coco fondue

60

–

75

ml

d'eau froide
Caramel
50

g

de sucre de coco

200

g

de lait de coco épais

1

pincée de sel

1

cuillère à s. d'huile de coco

1

cuillère à c. d'extrait de vanille
Garniture
4

petites bananes

1/2

cuillère à c. de cardamome en poudre

1/2

cuillère à c. de gingembre en poudre
Le zest d'un demi citron
---
Instructions
Pâte sablée
Dans un grand saladier, mélanger la farine d'amande, la farine de riz, la fécule, le sucre et le sel.
Ajouter l'huile de coco fondue et mélanger avec une spatule pour l'incorporer. A ce stade, le mélange doit être sec et sablonneux.
Ajouter progressivement l'eau froide tout en mélangeant pour l'incorporer et hydrater la pâte. Quand la pâte commence à se former et à coller, transférer sur un plan de travail fariné et pétrir la pâte avec les mains jusqu'à ce qu'elle soit lisse et qu'elle ne colle plus.
Former une boule de pâte, filmer et laisser reposer pendant 20 minutes à température ambiante.

La quantité d'eau indiquée dans la recette doit être suffisante pour former la pâte. Ajoutez l'eau petit à petit jusqu'à avoir la bonne texture et essayez de ne pas dépasser 75 ml. Si malgré tout la pâte reste trop sèche et friable, ajoutez un petit peu plus d'eau.
Caramel
Pendant ce temps, préparer le caramel. Placer le sucre de coco, le lait de coco et le sel dans une petite casserole et porter à ébullition. Puis réduire à feu doux et laisser mijoter à petits bouillons pendant 20-25 minutes en mélangeant régulièrement pour faire réduire le caramel. 
Quand le caramel devient épais, brun et sirupeux, retirer la casserole du feu et ajouter l'huile de coco et la vanille. Mélanger pour les incorporer.
Assemblage
Faire chauffer le four à 180°C et huiler généreusement un moule à tarte d'environ 20 cm de diamètre avec de l'huile de coco.
Verser les deux tiers du caramel dans le fond du moule et bien le repartir.
Eplucher les bananes et les couper dans la longueur. Disposer les tranches de bananes dans le moule en un motif concentrique. Verser le restant de caramel pour recouvrir les bananes. Saupoudrer de cardamome, de gingembre et de zests de citron.
Après repos, étaler la pâte sur un plan de travail légèrement fariné avec un rouleau à patisserie. Former un disque environ 4 cm plus large que le diamètre du moule (soit 24 cm pour un moule de diamètre 20 cm).
Déposer le disque de pâte sur le moule, au dessus des bananes. Rentrer les bords de la pâte à l'intérieur du moule, contre le rebord, de façon à bien envelopper les bananes. Piquer la pâte avec une fourchette sur toute sa surface.
Enfourner et cuire pendant 25 à 30 minutes jusqu'à ce que la pâte soit bien dorée.
Retirer la tarte du four et laisser refroidir quelques minutes. Puis faire passer délicatement un couteau tout autour de la tarte pour décoller les bords. Placer un plat au dessus de la tarte et retourner le moule pour démouler la tarte. Attention à ne pas vous bruler! 
Couper la tarte tatin en parts et servir tiède avec de la glace vanille ou du yaourt de coco.
---
Notes
Vous pouvez réaliser votre propre pâte à tarte en suivant la recette, ou utiliser une pâte déjà toute faite. 
La farine d'amande utilisée dans la préparation de la pâte est différente de la poudre d'amande et ne peut pas être substituée. La farine d'amande se trouve en épicerie bio et dans certains supermarchés. J'utilise cette farine d'amandes déshuilée KoRo.
Keywords: Tarte tatin, Tarte tatin banane, tarte, banane, caramel, dessert, sans gluten