This amazing vegan baked cheesecake with a crunchy hazelnut crust and a super creamy vanilla tonka filling tastes like the best classic New York cheesecake. It's perfectly smooth, sweet, rich, satisfying and insanely delicious. It's very easy to prepare with simple ingredients, gluten free and refined sugar free! Simply the perfect vegan baked cheesecake.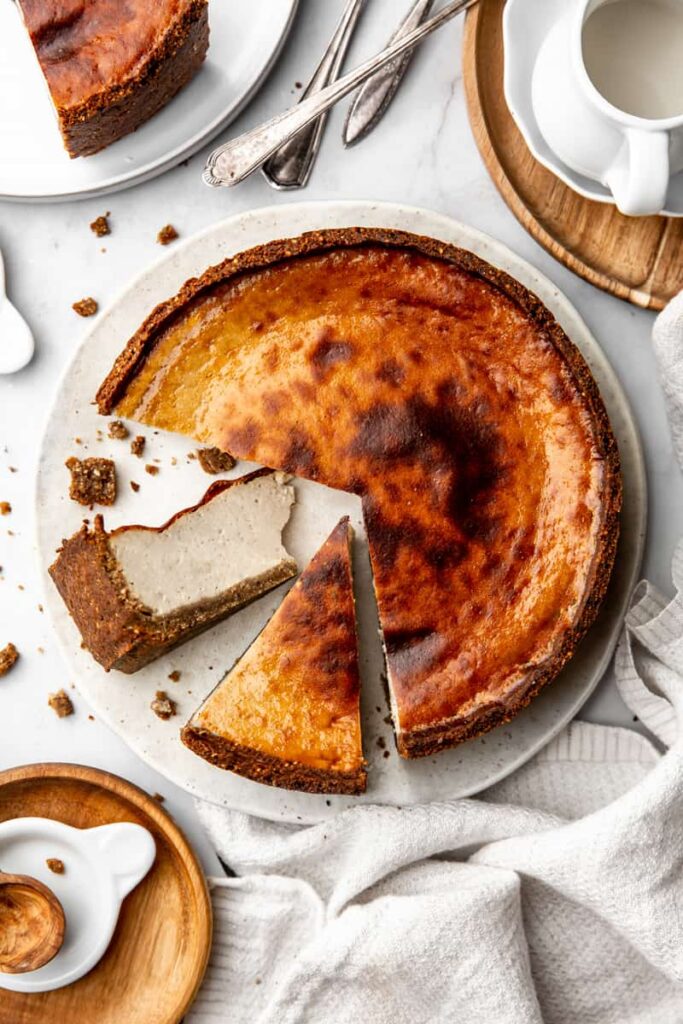 Vegan Tofu Baked cheesecake
It's here! Smooth, insanely creamy, rich vegan baked cheesecake! It's perfectly sweet, just a little tangy, loaded with with delicious vanilla and tonka flavors! And trust me, this one is as good as the real cheesecake!
A cheesecake love story
I've always been fascinated by cheesecakes. They are the very first plant based dessert I made and probably the recipe that initiated my passion for cooking. While I was still working as an engineer, I challenged myself to make a new cheesecake every Friday morning. And this was the best moment of my week. Making cheesecakes has something very relaxing and meditative. It takes patience, delicacy and I love to watch the smooth cream forming in the blender and pouring in the pan. Also it asked me some creativity to imagine a different version every week, and this artistic aspect of the job is for sure my favorite one!
But at this time, it was strictly raw no-bake cheesecake, mainly made of cashews and coconut cream. I made my first baked cheesecake one and a half year ago, my cookie dough and salted caramel baked cheesecake. And this was a revelation! So decadent, ultra creamy, with big pieces of real cookie dough and an insane salted caramel sauce. My tastebuds still remember it!
This cheesecake was absolutely delicious, but again the filling was made of cashews and I wanted to try something different. Then arrived this crazy trend of the baked cheesecakes and Basque burnt cakes. I was literally mouthwatering at the sight of these decadent cheesecake, with a perfectly creamy – nearly liquid texture, that melt when you cut a slice.
I really wanted to make my own version, vegan and this time, without cashews! The result is this amazing hazelnut and vanilla tofu baked cheesecake! It's not exactly what I had in mind because even if it's very creamy it's a little more firm than a Basque burnt cake, but it was so good I decided it earns its place on the blog!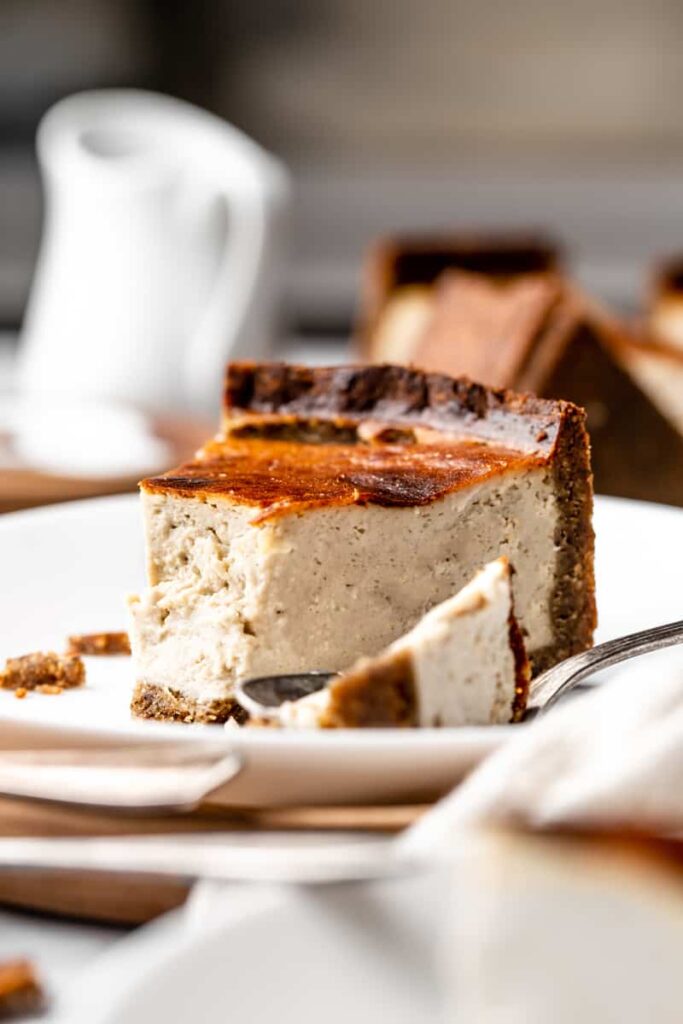 New York cheesecake
There are many different types of baked cheesecakes that all differ by their textures, flavors and baking methods. I certainly only know a tiny part of it, but I would say this one is a hybrid between a New York style cheesecake and a Basque burnt cake.
New York cheesecake basically consists of a buttery crust and a smooth, rich and a little dense plain filling. Just like this vegan baked cheesecake, with a crunchy buckwheat and hazelnut crust topped with a creamy vanilla and tonka flavored filling. But its smoothness and strong coloring remind me the one of burnt cheesecakes. While New York cheesecakes are just slightly golden, this one is brown nearly burnt on the surface.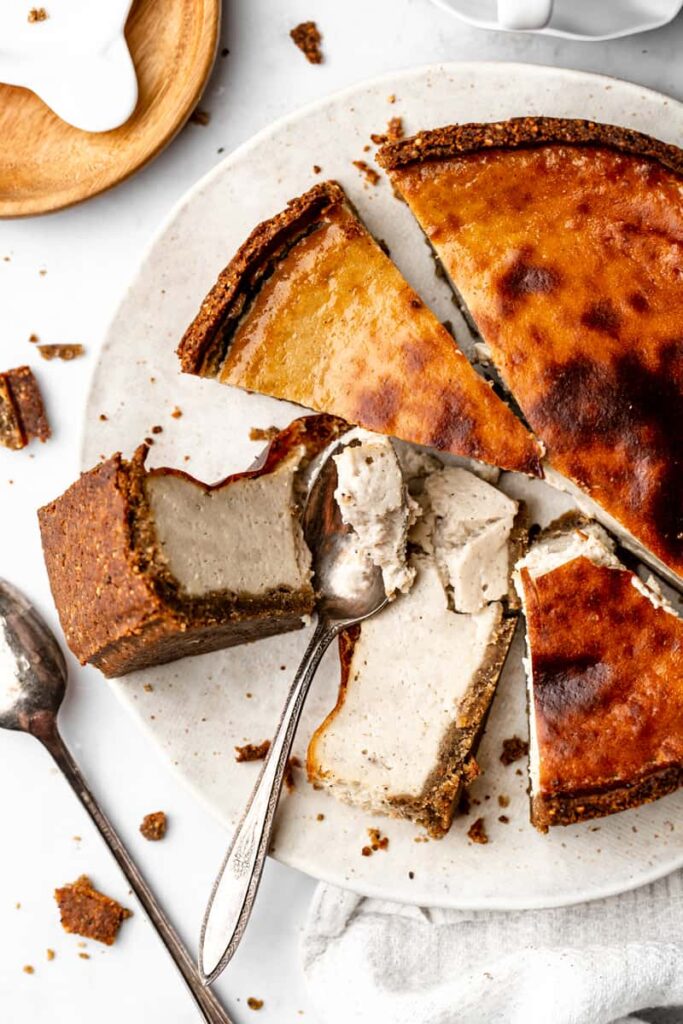 Vegan Tofu baked cheesecake
Traditional New York baked cheesecake is made with cream cheese and eggs, that give this amazing texture. To mimic the smooth, creamy and melt-in-the mouth filling, I used a clever but very simple combination of silken tofu, almond butter, agave, and THAT'S IT! No cashews, no yogurt, no milk, no starch, only these 3 ingredients plus a little flavoring.
Tofu is the secret ingredient that provides a smooth, creamy and light texture to the cheesecake filling. Make sure to use silken tofu (the fresh and soft one), and not firm tofu. I love using silken tofu in desserts, to make light and delicious ganaches, creams or mousses. And don't worry, I promise it doesn't taste tofu!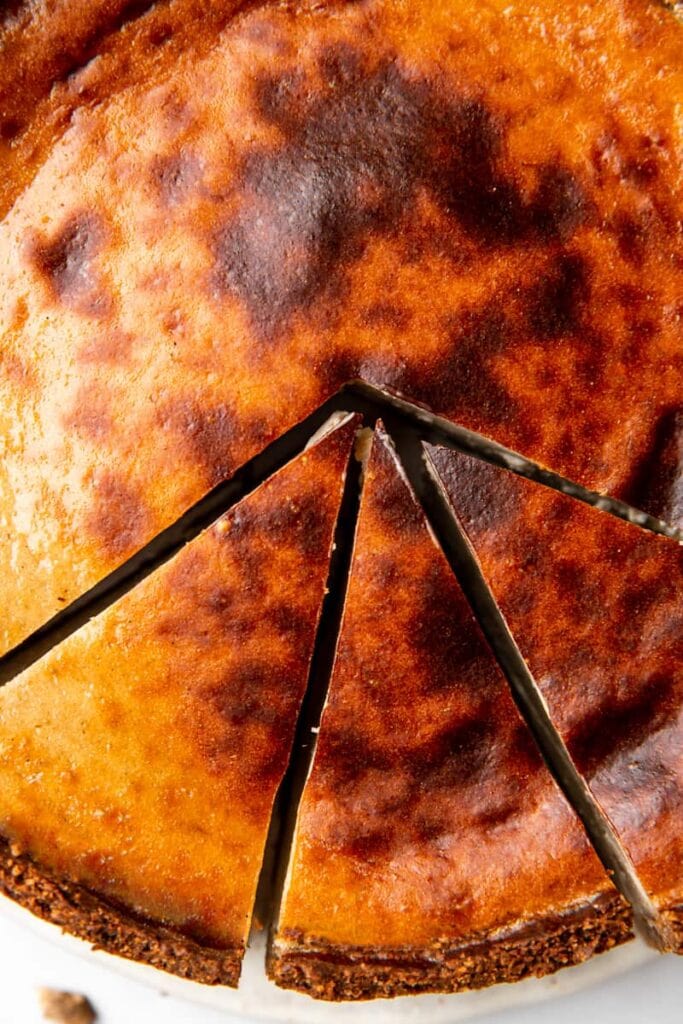 Variations on the baked cheesecake recipe
This tofu bakes cheesecake is the perfect embodiment of "less is more". It is easy and simple in flavors, but seriously delicious! However, here are a few ideas to twist your cheesecake.
Cheesecake flavor variations
The first option to twist this baked cheesecake is to change the flavors of the crust and/or the filling.
Chocolate crust: add one tablespoon of cocoa powder in the crust and if necessary add a little of almond milk until you reach the right consistency.
Peanut butter filling: replace the almond butter by smooth peanut butter and garnish your cheesecake with roasted peanuts.
Chocolate filling: replace half of the almond butter with melted dark chocolate.
Layered cheesecake: prepare two different fillings (one plain and one chocolate for instance) to create two separate layers.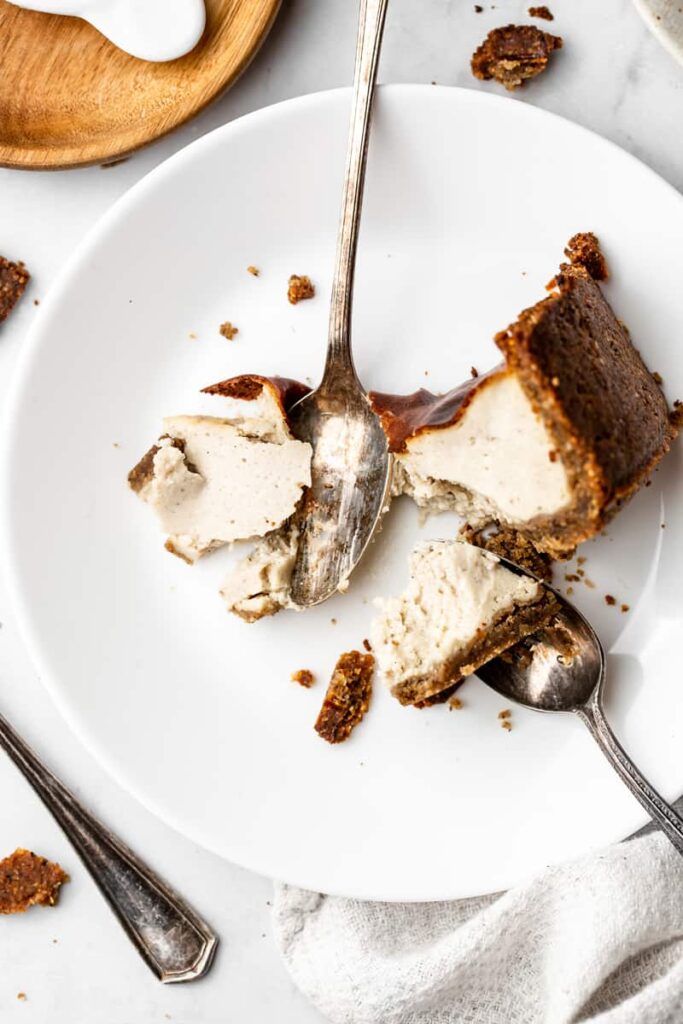 Serving suggestions
An other easy way to twist your cheesecake is to add toppings before to serve. One classic but super delicious option is to serve with fresh fruits like raspberries, blueberries and passion fruit. Or with fruit purées like strawberry, apricots or mango sauce.
For a very decadent dessert, drizzle the cheesecake with chocolate sauce, homemade date caramel and top with roasted hazelnuts and cocoa nibs. The possibilities are endless! You can also add coconut chips, peanuts, pecan, nut butter, … actually any of your favorite toppings!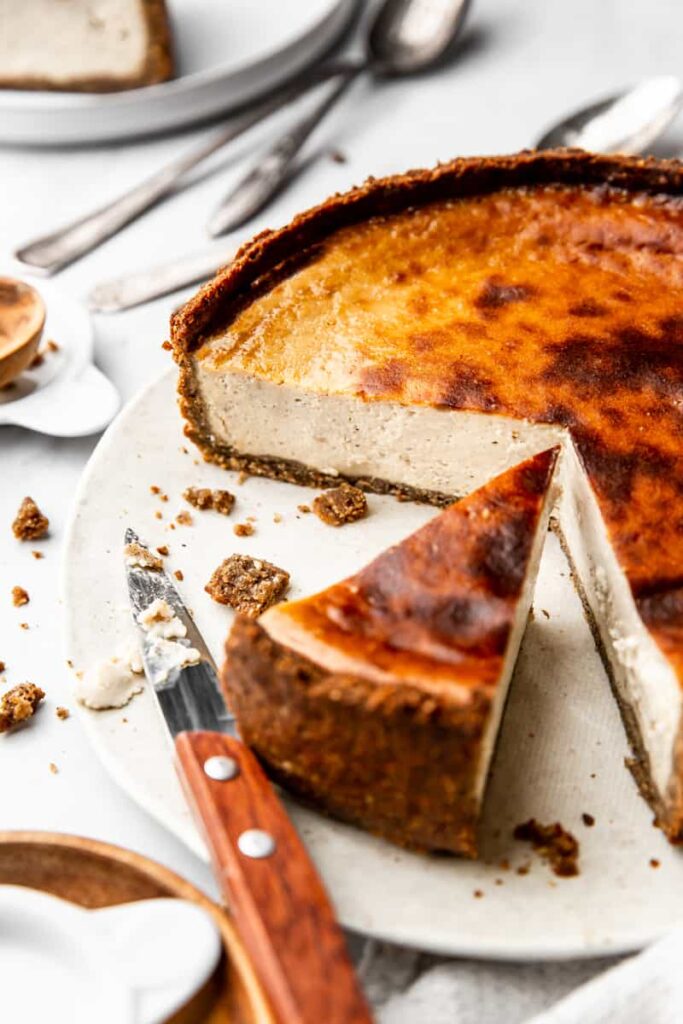 Ingredient substitutions
Hazelnut meal in the crust can be replaced by blanched or whole almond meal.
Buckwheat flour is naturally gluten free and brings a delicious nutty flavor that pairs very well with the hazelnut. However, if you can't find buckwheat flour, you might be able to substitute for oat flour or rice flour. I didn't make the test so I can't confirm it.
Coconut sugar in the crust can be replaced by brown sugar.
Almond milk in the crust can be replaced by any other plant based milk like soy, cashew or oats. Preferably use natural unsweetened milk without too much additives.
Almond butter in the filling can be replaced by any other nut butter like peanut, hazelnut or cashew. For a nut free version, you can use sunflower butter. Make sure to use smooth nut butter for a creamy texture.
You can use either agave or maple syrup in the filling.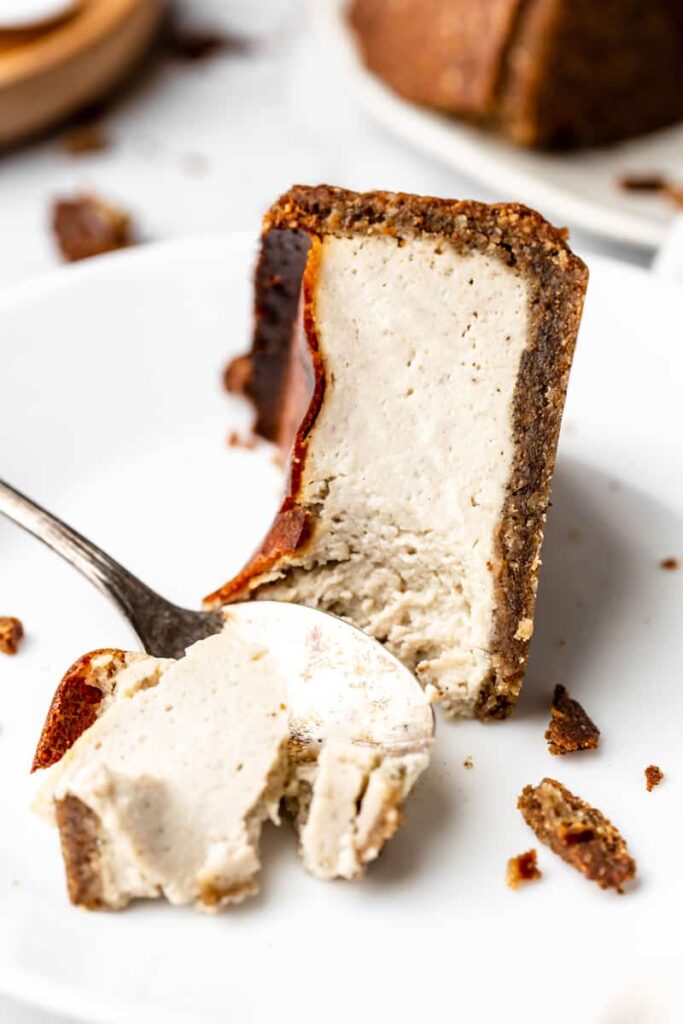 Tips for making baked cheesecake
Always taste the preparations and don't hesitate to adjust the seasoning. The cheesecake filling is intentionally low sweetened. If you prefer it a little more sweet, add more agave or maple syrup.
Pre bake the crust for 10 minutes and allow it to cool down before pouring the filling.
I recommend to use a springform pan with a clasp and removable bottom, which makes it much easier to remove the cheesecake from the pan.
Make sure to line the bottom and the sides of the springform pan with parchment paper to avoid the cheesecake to stick to the pan and make it easier to remove.
You'll want the cheesecake to be brown on top. Be careful that the top of the cheesecake doesn't burn too much during the cooking. Cover with a piece of aluminum foil after about 30 minutes and continue the baking.
Don't over bake the cheesecake! The cheesecake will still be jiggly in the middle when you remove it from the oven. That's ok, as it will firm up as It cools down.
All the cheesecake to cool down at room temperature before transferring to the fridge. Allow to chill in fridge for at least 5 hours before removing from the pan and slicing.
Don't cover the cheesecake as it chill in the fridge to avoid condensation.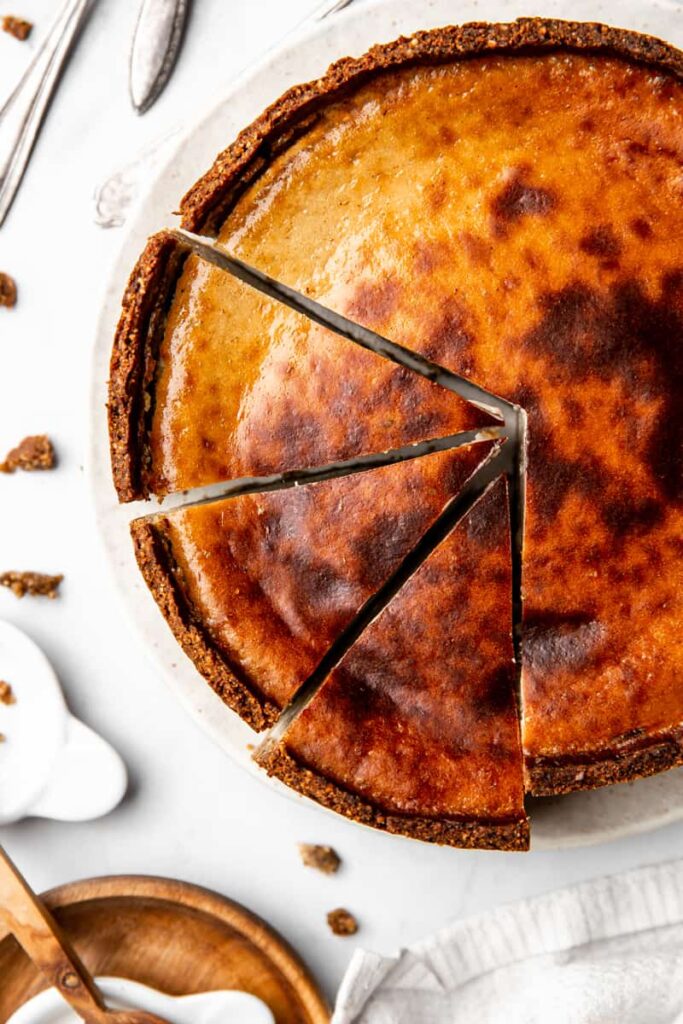 Do you love cheesecakes and creamy desserts? Check out these recipes.
I love to see your creations! Don't forget to tag me @alicepages on your photos on Instagram and give your feedback in the comments below if you make this recipe at home! Your opinion is my best reward.
Print Hazelnut Tofu Baked Cheesecake
Author:

Prep Time:

30 minutes

Chill Time:

5 hours

Cook Time:

55 minutes

Total Time:

6 hours 25 minutes

Yield:

8

servings

1

x

Category:

Dessert

Method:

Oven

Cuisine:

Vegan

Diet:

Gluten Free
---
Description
Vegan baked cheesecake with hazelnut crust and a creamy tofu vanilla filling. It's smooth, perfectly sweet, rich and insanely delicious. Easy to make, gluten free and refined sugar free.
---
Crust
125 g

buckwheat flour

125 g

hazelnut meal (see notes)

40 g

coconut sugar

50 g

melted coconut oil

50

ml almond milk unsweetened

1 tsp

vanilla extract

1/4 tsp

sea salt
Filling
500 g

silken tofu

180 g

natural almond butter

90 g

agave or maple syrup
Grains from

1

vanilla bean 

1/2

tonka bean, finely grated
A pinch of sea salt
---
Instructions
Preheat the oven to 350 degrees F (180°C) and line a 18 cm (7-inch) springform pan with parchment paper. 
Add buckwheat flour, hazelnut meal, coconut sugar and salt to a large mixing bowl. Pour melted coconut oil and stir to combine. Then add almond milk and vanilla extract and stir using a spatula until a dough forms. The dough should be a crumbly but stick together when pressed. If too dry, add a bit more milk. Alternatively, you can use a food processor to mix all the ingredients together.
Transfer the mixture to the lined springform pan and firmly press the crust into the bottom and about 3 cm (1 1/4 in) up the sides until evenly distributed and well packed. You can use a flat-bottomed object, like a drinking glass or a jar, to press down the dough.
Bake for 10 minutes or until the edges are slightly golden brown. Remove from the oven to cool while you prepare the filling.
Add all the ingredients for the filling in a high speed blender and blend until perfectly smooth and creamy. Taste and adjust the quantity of sweetener, vanilla and tonka to your taste.
Pour the filling oven the pre-baked crust and spread into an even layer. Gently tap the pan on the counter to remove any air bubbles and smooth the surface.
Bake for 30 minutes, then cover with a sheet of aluminum foil and bake for 15 to 20 minutes more. Check the cooking by very gently touching the top of the cheesecake with your finger. The cheesecake should be brown on top, slightly dry on the edges while the middle still appear a little jiggly but not liquid.
Remove the cheesecake from the oven and let rest for 15 minutes at room temperature to cool down. Once it has cooled slightly, transfer to the fridge to set completely, uncovered, for at least 5 hours or preferably overnight. The cheesecake will firm up as it chills and the flavors will intensify.
To serve, carefully lift the cheesecake out of pan and slice.
Store leftovers in the fridge for up to 3-4 days.
---
Notes
Instead of hazelnut meal, blitz whole hazelnuts in a food processor or a blender until a fine meal is achieved. 
Keywords: Cheesecake, baked cheesecake, vegan cheesecake, tofu, dessert
Recette version française
Print Flan Crémeux Vanille Noisette
Author:

Prep Time:

30 minutes

Chill Time:

5 heures

Cook Time:

55 minutes

Total Time:

38 minute

Yield:

8

parts

1

x

Category:

Dessert

Method:

Four traditionnel

Cuisine:

Vegan

Diet:

Gluten Free
---
Description
Cet irrésistible flan vegan se compose d'une pâte sans gluten à la noisette et au sarrasin, et d'un appareil ultra crémeux au tofu parfumé à la vanille. Il est très simple à réaliser, incroyablement gourmand et léger.
---
Croûte Noisette
125 g

de farine de sarrasin

125 g

de noisettes en poudre (voir notes)

40 g

de sucre de coco

50 g

d'huile de coco fondue

50

ml de lait d'amande non sucré

1

 cuillère à c. d'extrait de vanille

1/4

 cuillère à c. de sel
Appareil à cheesecake
500 g

de tofu soyeux 

180 g

de purée d'amande nature

90 g

de sirop d'agave ou de sirop d'érable

1

gousse de vanilla

1/2

fève tonka finement râpée

1

pincée de sel
---
Instructions
Préchauffer le four à 180°C et chemiser le fond et les bords d'un moule à fond amovible d'environ 18 cm de diamètre avec du papier cuisson.
Mélanger la farine de sarrasin, la poudre de noisette, le sucre et le sel dans un grand saladier. Verser l'huile de coco fondue et mélanger. Puis ajouter le lait d'amande et l'extrait de vanille, et mélanger avec une cuillère jusqu'à obtenir une pâte homogène. La pâte doit être légèrement friable mais se tenir quand on la presse entre les doigts. Si elle est trop sèche, ajouter un peu de lait végétal.
Autre option: mixer tous les ingrédients dans un robot ou un blender.
Déposer la pâte dans le moule chemisé et appuyer fermement avec les doigts ou en utilisant un objet à fond plat (verre, bocal …) pour bien la répartir dans tout le moule. Faire remonter la pâte sur les bords sur environ 3 cm de hauteur. 
Cuire la croûte à blanc pendant 10 minutes jusqu'à ce qu'elle soit légèrement colorée. Retirer du four et la laisser refroidir pendant la préparation de l'appareil à cheesecake.
Fendre et gratter la gousse de vanille pour récupérer les grains. Placer tous les ingrédients de l'appareil à cheesecake dans un blender et mixer jusqu'à obtenir une crème parfaitement lisse et onctueuse. Goûter et ajuster la quantité de sirop, de vanille et de tonka.
Verser l'appareil dans le moule, au dessus de la croûte, et répartir uniformément avec une spatule. Taper délicatement le moule sur le plan de travail pour faire remonter les bulles à la surface.
Cuire pendant 30 minutes, puis recouvrir d'une feuille de papier aluminium et prolonger la cuisson de 15 à 20 minutes. Vérifier la cuisson en tapotant très délicatement le dessus du cheesecake. Le cheesecake est cuit lorsqu'il est bien coloré en surface, légèrement sec sur les bords, et encore tremblotant (mais pas liquide) au centre.
Retirer le cheesecake du four et laisser refroidir 15 minutes à température ambiante. Une fois qu'il a un peu tiédi, placer au réfrigérateur sans le couvrir pendant au moins 5 heures ou dans l'idéal toute une nuit afin qu'il se raffermisse.
Avant de servir, retirer délicatement le cheesecake du moule et couper en parts.
Le cheesecake se conserve au réfrigérateur jusqu'à 2 à 3 jours.
---
Notes
A la place de la poudre de noisette, mixez des noisettes entières au robot cuisine ou au blender jusqu'à obtenir une poudre.
Keywords: Cheesecake, cheesecake vegan, tofu, dessert, gâteau Basque, flan, flan vegan