If you take a trip in Canggu, you'll be amazed of the number of incredible cafés and restaurants offering healthy, vegetarian or vegan options. The food scene in Canggu is one of the world's richest and most attractive. A real foodie's dreamland. It has been expending very fast over the past few years in response of a growing tourism, with high interests in food, fitness, wellness and sustainability.
Every month, new places are opening and it can be very hard to make a choice, especially if you're staying only for a few days. Besides, all the restaurants are not equal, and it is tricky to make the difference between a good place and a simply good looking insta-worthy place.
To avoid you disappointments and wast of time, I've listed for you my top 5 favorite spots to eat in Canggu area. Obviously most of these places are fully vegan, while some are not but offer many quality vegan options. They are all different by their concepts and atmospheres, but they all share a common dedication for good food.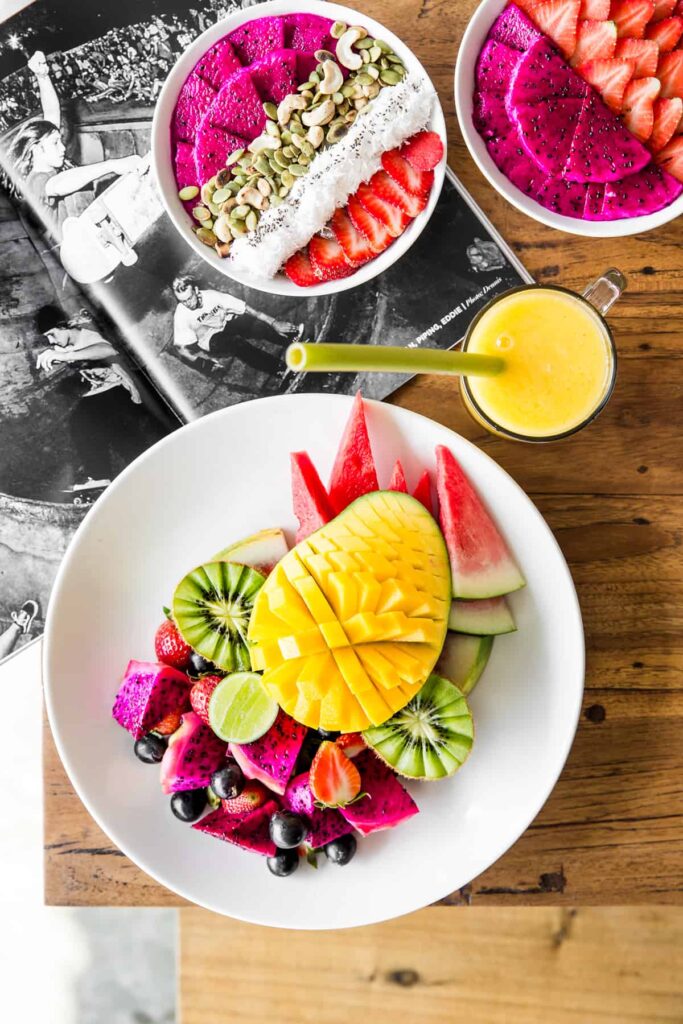 The 5 best spots to eat in Canggu
1. Crate : the best coffee and smoothie bowls
My ultimate favorite place, or I should say my big crush, my second home in Canggu. You can be sure to find me here every morning, working on my laptop on the big wooden table, with an almond latte in one hand and a smoothie bowl in the other. There are tons of reasons why this café is so popular in Canggu. First it opens at 6am every day making it the perfect place to enjoy an early breakfast. It is located on a quiet road and surrounded by beautiful rice fields (and if you've ever been in Canggu you know how rare that is today). The vibes are seriously high, with a perfect raw interior design and a good playlist. They have the best coffee, and that's a reason enough to come.
About the food, I would define it as delicious, nourishing and super generous. Basically the best value for money around. All their dishes are at the same price and you can be sure to be full. They mainly serve brekkie dishes that can be enjoy all day long. You'll find a large choice of toasts, burritos, huge salads and smoothies with many healthy and vegan options.
But if you come to Crate, try their smoothie bowls. They are my favorite. Once again, no crazy girly insta embellishments. Simple and efficient, just what you need to make a delicious smoothie bowl. My crush is for the Brekkie2gogo, a berry smoothie base topped with granola, muesli, seeds, fresh strawberries and dragon fruits. I could eat this one every single morning of my life.
Open everyday, 6am-7pm
Serve all day breakfast and lunch
Vegetarian, vegan and gluten-free options
My crushes : Brekkie2gogo & Why So Cereal smoothie bowls / almond latte
---
2. Shady Shake : the best salad bowls
The ultimate restaurant to eat healthy and delicious food in Canggu. Shady Shake is my canteen when I'm in Canggu, because they offer a very complete and varied menu with many vegan, refined-sugar free and gluten-free options. At Shady Shake you can be sure to find a dish to satisfy you for all occasions. Either you're looking for a healthy and light lunch or a yummy diner with friends, there is something for you.
For breakfast you will find a large variety of smoothies, juices, bowls, toasts, brekkie plates to name a few. For lunch and diner, they offer burgers, burritos, pasta plates, sharing dishes, salads and much much more. While it can be very hard to make your choice in front of such a long appetizing menu, the good thing is that you can't go wrong with Shady Shake. Absolutely everything I've tried was delicious and very tasty, with surprising flavors associations and perfect seasoning that makes all the difference.
While their vegan cheeseburger is a bomb, I went to Shady Shake mostly for their salad bowls. Again they offer a large variety of salads, all to die for. They are fresh, creative, very generous and focused on the macros. This is the perfect option for a healthy and well-balanced meal. My favorite one was the Cauli Rice Bowl with cauliflower rice, roasted carrots, charcoal tortilla chips and the best bahjis fritters. And for a lighter option, I always went to the Green Bowl with zucchini noodles, fresh greens, brocolis, toasted nuts and a killer peanut sauce.
And because every meal should finish with a good dessert, they have many delicious homemade baked or raw desserts. I can only recommend the carrot cake and the apple bundt cake, the best I've ever tried.
Open everyday, 7:30am-10:30pm
Serve all day breakfast, lunch, dinner
All Vegetarian with vegan, gluten-free & sugar-free options
My crushes : Cauli Rice Bowl / Go Green Bowl / Vegan Nachos / Carrot Cake
---
3. GIVE : the best Nasi Campur
You cannot come to Canggu without stopping by GIVE. Actually, if you're visiting Canggu for only a few days, this is THE place you have to try. While most of the cafés around offer delicious but westernized food, GIVE makes the difference by serving a full vegan Indonesian food. Indonesian food is very rich and super tasty, with lots of flavors and spices. And even if avocado toasts and smoothie bowls are always appetizing, it would be a shame to leave Bali without stopping to a Warung and try it.
GIVE offers a menu with options for breakfast, lunch and dinner at a very low price for Canggu area. For breakfast, you will find the super insta-worthy smoothie served in a coconut, pancakes, French toast and fruit salads. For lunch and dinner, you will find the classic burger and many Indonesian options like the traditional Nasi Goreng with rice, Vegan fried egg and "chicken" satay, or the delicious Balinese Laksa soup.
But beside this set menu, they have a buffet with many traditional Indonesian dishes where you can build your own Nasi Campur plate. This is definitely the best option to discover the Indonesian cuisine. Everything is absolutely delicious, but my favorite elements are the mushroom, the lawar salad with green beans and coconut, the fried tempeh mani and their amazing complimentary chips. Once you taste it, you just want to come back to try all the other dishes!
In addition to the delicious food, GIVE is a non-profit Warung. All the benefits are redistributed to local associations that help children, disabled, environment or street dogs. Another good reason to eat while doing something good for the people, the planet and the animals.
Open everyday, 7am-9pm
Serve all day breakfast, lunch, dinner
All vegan with oil & salt free options
My crushes : Nasi Campur buffet
---
4. I am Vegan Babe : the best baked goods
I would have laughed my heart out if someone told me I will find the best vegan bakings in Bali. It happened in this lovely 100% plant-based café in the heart of Canggu. This place is serves sweet and savory breakfasts as well as impressive fried chicken salads, burritos, burgers, tacos and more for lunch. But their biggest force is definitely their baked goods. Guys, honestly the best I've ever eaten in my life! All their pastries and breads are homemade, baked everyday in their kitchen, and I think this is a huge challenge to do in Bali with the hot weather conditions.
Among many other, they serve these amazing vegan cinnamon rolls with icing, that have absolutely nothing to envy to the best Scandinavian bakeries. But my big crush and probably the greatest discovery of that trip, is their homemade vegan brioche. Simply perfect. Smooth, chewy, buttery, delicious, it's a real dream served toasted with fresh fruits, coconut caramel sauce and a big scoop of vanilla ice-cream. You absolutely have to try this French toast in your life.
Otherwise, I am Vegan Babe is a good place to bring your skeptical non-vegan friends. There are options for everybody and the portions are generous. They also have many well done meat and egg substitutes, the illusion is perfect.
Open everyday, 7am-4:30pm
Serve all day breakfast & lunch
All vegan
My crushes : French toast / Smoothie Bowls
---
5. Peloton : the best burgers
Peloton Supershop is one of the most famous vegan restaurant in Canggu. And here is the reason why : all their food is delicious, creative, freshly prepared, nourishing and with options for every occasion. Basically, Peloton is a casual and welcome place where you can go either for a quick lunch, a family brunch or a dinner with friends. I come here often for a lunch between two appointments or to get a latte while doing some work on my laptop.
What I love about Peloton is their creativity. They have found a way to add their touch of originality to classic dishes to make them very personal. On their menu, you can find a very large spectrum of dishes with different cultural influences, ranging from hot dog, lasagna, Indonesian Nasi Campur and Quesadillas to Napolitana Penne Pasta. But everything is made surprisingly very consistent by using local produces, just like the delicious Rendang Burger made with traditional pulled jackfruit rendang. Grab it with a side of waffle fries and you're in heaven. Although less original, my favorite dish at Peloton is the Power House Bowl with roasted squash, marinated Tempe, brown rice, hummus, cashew and raw veggies. It is simply the perfect salad bowl, healthy, nourishing and well-balanced, with everything I could ask for.
Peloton is also a lovely and warming place where you feel good. Upstairs you can find a nice terrace to enjoy the bali atmosphere. Downstair, you can find some small tables to work or relax quietly as well as a long wooden table which is perfect for your feasts with friends.
Open everyday, 7:30am-10pm
Serve breakfast, lunch, dinner
All vegan with gluten free options
My crushes : Rendang burger / Power House Bowl / Nuts and Bolts smoothie
---
Looking for more adresses around Bali?
Make sure to check my comprehensive food guide to Bali and discover more delicious places around Canggu, Ubud, the Bukit and Gili Islands.