Here we are, my very first Food Guide! And what a better destination than Bali to begin with? It is something I am thinking about for a long time now, and I am so happy and excited to share with you all these amazing addresses I have discovered around the island! Every time I go on vacation abroad or visit a new place, be it a city or a whole country, food is always at the center of my plans. Because as a real food lover it's my duty – and what a heavy duty, to discover the local food. Not only food is often the reflect of cultures so it is a way like an other to learn more about the country, but it is also an amazing source of inspiration! As you might have noticed, I am not really into French traditional cooking, and I much prefer to mix influences from all over the world. But every time I spend like days to search for all the best vegan addresses, check their opening times and menus to schedule when to go, breakfast? lunch? both? And each time it is an impossible puzzle to include them all in our trip, and each time I ended disappointed not to have gone in this one rather than this one which was very poor compare to the advices I read about. In short, I have found Food Guide from other bloggers to be very helpful in such situations to help you select your restaurants and make it far easier. That's why I really wanted to make my own Food Guide my turn to help you guys for your next holidays! I loved doing it and I already plan to write more – among others Paris, Los Angeles, Glasgow…, but lets start with Bali.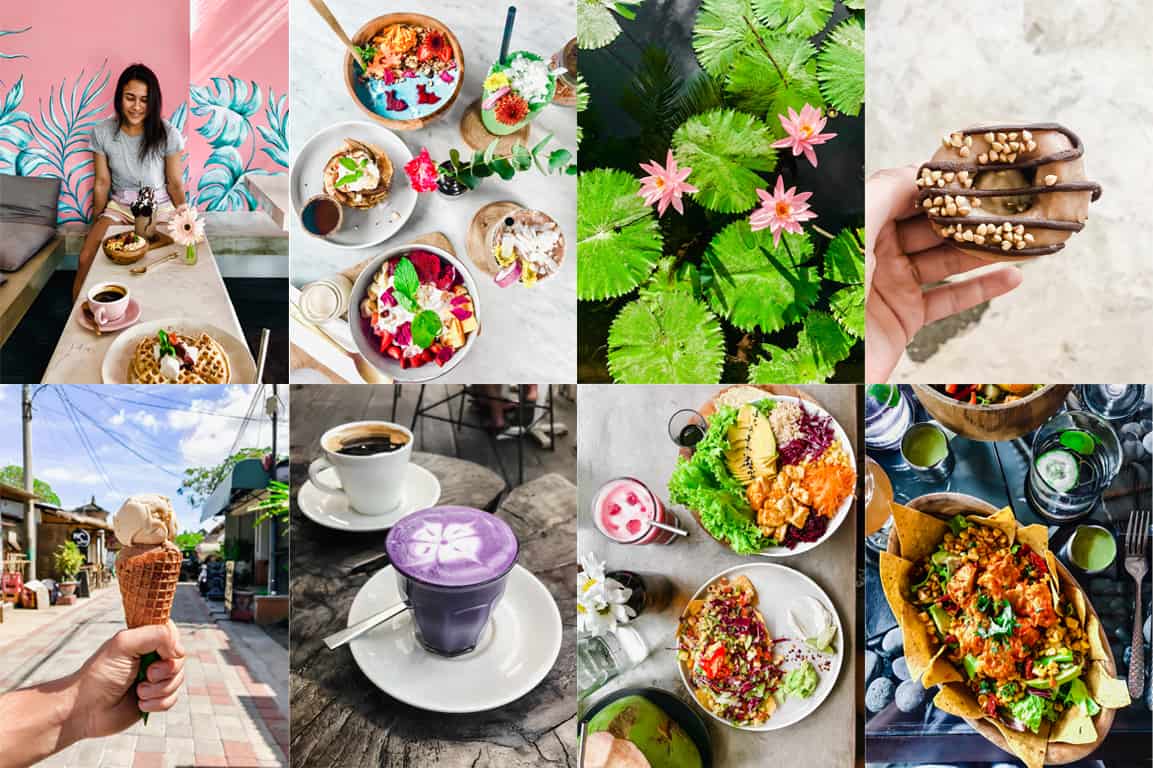 I went to Bali in March this year, and it was my first time there. I was very exciting about this trip because I have heard a lot about Bali, but impossible for me to make an opinion. Some people totally loved it while other found it too touristic and denatured. Well, the only thing I was sure about is that Bali is a plant based food paradise, so I think it was a reason enough to go. And I haven't been disappointed. I stayed for 2 weeks with my boyfriend and we planed a trip around the island. We went to Canggu, Ubud, Gili islands, the Bukit Peninsula. It was an awesome trip, we were amazed by the beauty of the nature, the kindness of people, the global atmosphere and the delicious food. And even if we loved the wildness and calmness of Ubud and the Gili, Canggu remained our favorite area. I loved the vibes here and this feeling to take part of the local life: slowly waking up in a peaceful place, riding my scooter to go to a yoga class, grabbing a coffee and enjoying life. This is my favorite way to live my holidays. The area of Canggu and Seminyak also shows a high concentration of the best restaurants and cafés in the island. You can be sure to find delicious plant based food at every corner of street. By their culture and religion, Balinese people are basically mainly vegetarian, so even in the smallest traditional warung you can be sure to find a vegan option. Also the traditional balinese cuisine is really good, fresh and full of flavors. Many restaurants that I have listed below have managed to mix this beautiful traditional cuisine with other influences from all over the world, leading in a unique, vibrant and luscious cuisine. Hence, it is not uncommon to find jack fruit tacos, banana coconut and PB smoothies, or squash mac and cheese. This modern balinese cuisine exactly matches my vision of food, that should be fresh, natural, health, vibrant, creative and above all tasty.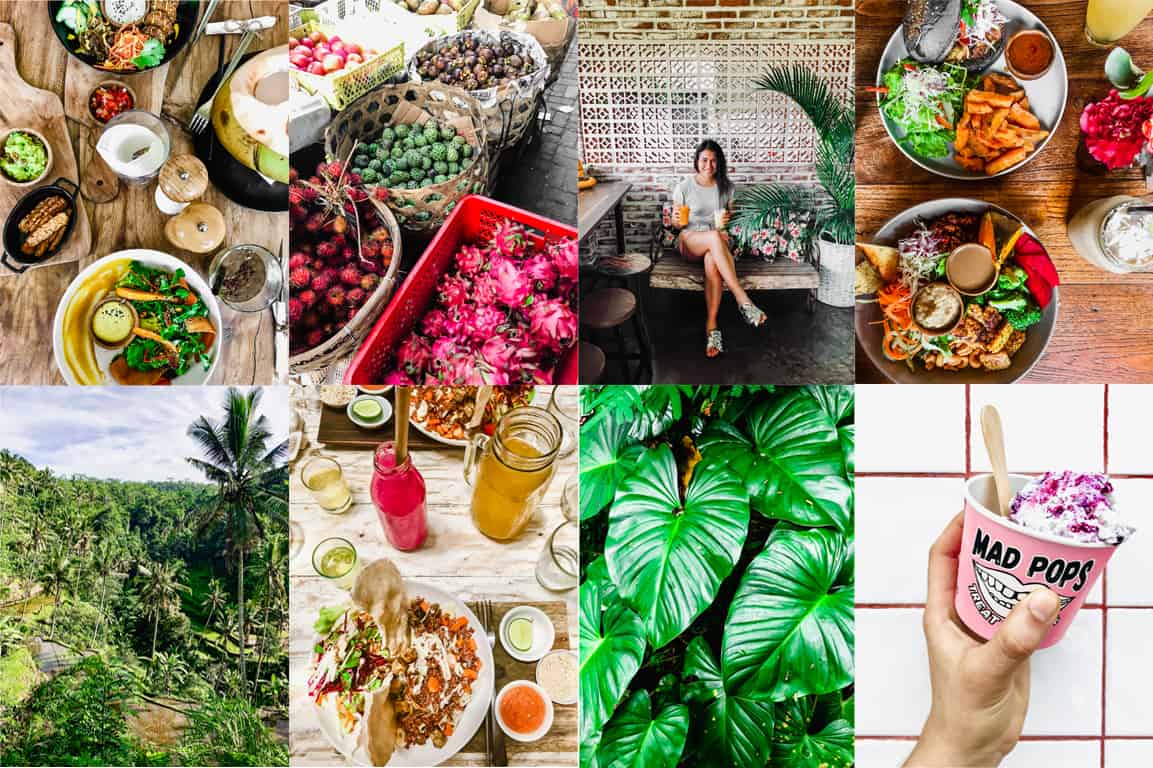 I have listed below all the addresses I had the occasion to test around Bali. However, it was a lot for only 2 weeks and 2 stomachs, so sometimes it was only for a smoothie or a piece of cake. However, I made sure to check the entire menu, the place and reviews from other sources before writing my own,  so that to promise you the best quality addresses. Also, there are plenty of very nice places we didn't have the time to test and so are not in the list, it doesn't mean they don't desserve it! Bali is definitely the kind of destination where you can find little hidden gems everywhere, so be adventurous and don't hesitate to try small and local restaurants.
I hope this Bali Food Guide will help you to plan your next trip to Bali. Please give me all your feedbacks about it in the comments below and let me know how I can improve it, or simply how was your trip!
Sun & Love.
PS: I'm so sorry I didn't take pictures to illustrate each restaurant. It was my last holidays for a long exhausting period of time so I really wanted to disconnect and let my camera at home.
PS2: I'm going back to Bali in less than a month, so I'll probably be able to complete the list with new addresses.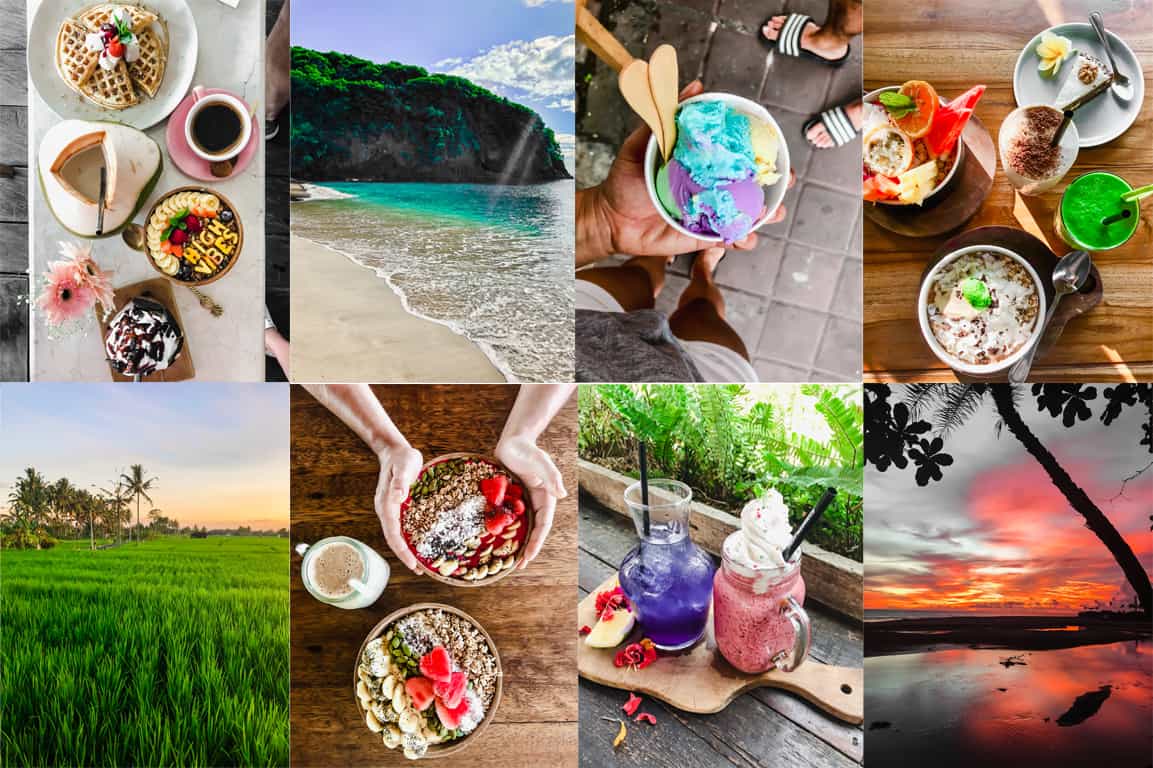 ---
Around Seminyak and Canggu
Peloton Supershop
Jl. Pantai Berawa No.46, Tibubeneng, Kuta Utara, Kabupaten Badung,
Opening hours: 7:30am-10pm, 7 days
Serve: Breakfast, Lunch, Snack, Dinner, Drinks
Well, I'm not going to write a long review about Peloton, because I could talk for hours about this café which has simply changed my perception of food and in some way, changed my life. Peloton do is my favorite place to eat in Bali, if not in the world. If you are looking for somewhere to eat fabulous vegan food then don't read more, you get it. Peloton is fully plant-based café, as well as a bicycle store and small shop where you can find Elsa's shirts, sustainable products and cosmetics. They are open all day, from breakfast to dinner, and to be honest I can't count the number of times we have been there. For me, they have found the perfect balance between healthy, nourishing, local, sophisticated and naughty. Their meals are vegan made classics with a Balinese twist, be it a sauce, spices or an element, that makes in memorable. Everything is homemade from the black charcoal burger buns to the cashew cheese, what makes every meal fresh and flavorful. I couldn't say what was my favorite, I really loved the Ms. Jackson jackfruit tacos and their awesome "Fuel Good" salad bowls which combines all the best ingredients you can dream of. They also have delicious smoothie bowls for breakfast, sharing plates, a large range of raw cakes and desserts, and hot and iced drinks. On top of that, the staff is very friendly and the vibes really high. This café strongly influenced my recipes when back in France and it would be a sufficient reason for me to come back in Bali.
Shady Shack
Jl. Tanah Barak No.57, Canggu, Kuta Utara, Kabupaten Badung, Bali 80351, Indonésie
Opening hours: 7:30am-10:30pm, 7 days
Serve: Breakfast, Lunch, Snack, Dinner, Drinks
The Shady Shack has everything to please: located in the heart of Canggu, the restaurant is a small hut in the middle of a gorgeous extensive lush garden, with jungle plants and canopy covered tables. You can sit in this little paradise, share one of the large tables, and enjoy one of the best meals in Canggu. The menu of the Shady Shack is probably the widest I have seen in Bali, and while this is often synonym of bad quality, Shady Sack is the exception. Obviously I haven't try all but everything we have eaten here was simply delicious. There is something for everyone, at every moment of the day, either you're looking for something healthy light meal or a naughty generous burger: from smoothies, breakfasts, salad bowls, burgers, toasts, wraps, to raw cakes, everything is made with the freshest local ingredients. I went once for breakfast and had a delicious smoothie bowl loaded with fresh fruits and good toppings, and once at lunch for my boyfriend birthday, I had a very good salad bowl and a selection of their cakes: special mention for the best raw carrot cake ever. The perfect place to have a break from the noisy city and relax. Make sure to arrive early because the place is very famous by the locals and often full at lunch time.
Two Trees Eatery
99, Jl. Pantai Berawa, Canggu, Bali 80361, Indonésie
Opening hours: Monday-Wednesday: 7am-10pm // Thursday-Sunday: 7am-12am
Serve: Breakfast, Lunch, Dinners, Smoothies, Drinks

If you're looking for a peaceful relaxing place to enjoy a delicious healthy lunch with friends or simply work with a refreshing smoothie, well Two Trees is the place you need. The café is located on a pretty calm road, hidden behind two tall trees (which have given its name to the establishment). It is an open space, tastefully decorated by the two lovely French girls, with a bright, clean and natural design, lot of plants, making the place very inspiring. The food they served is a reflection of the place, healthy and sophisticated with a subtle touch of naughty. They serve meat but have a ton of vegetarian and vegan options, clearly marked on their menu. I went for lunch, had the "Rooted salad" with roasted pumpkin, kale, grilled veggies, hummus and much more, delicious and beautifully plated, coconut cheddar cheese extra, along with a "Miso Active" smoothie and its badass dark look. They also have burgers, sandwiches and mains that all sound delicious. I didn't try the desserts and sweets, but their "Cacao Ceremony" with cacao cake and sweet potato ice-cream looks like nothing else. Also, the staff is lovely, welcoming and all smiling. Two other reasons to come back to Two Trees.
Café Organic
 Jl. Petitenget No.99 X, Kerobokan Kelod, Kuta Utara, Kabupaten Badung, Bali 80361, Indonésie
Opening hours: 7:00am-10:00pm, 7 days
Serve: Breakfast, Lunch, Salad, Bowls, Snacks, Smoothies, Coffee
Café Organic is a little oasis located in the heart of Seminyak, in a very vibrant area just on the roadside, basically the perfect stop to grab a coffee or an early breakfast before going to your yoga class. The place is really peaceful, with a fancy organic decoration made of plants, clear wooden furniture and hanging seats. Here, you can enjoy delicious food made of fresh and locally sourced ingredients. The menu is really large with something for any moment of the day, fully vegetarian with a lot of vegan options. We went twice, for breakfast and for a snack. I had a large smoothie bowl, the very chocolate "Afrika" made of cacao, peanut butter, maca, cashew and many other nice things. It was delicious, very nutritious and beautifully plated. Their smoothies and raw cakes are also fabulous, I remember a raw donut that was as good as it was cute. They also served good coffee, I had my first "Skinny Long Black", kind of a bulletproof coffee but with coconut oil, and a "Taro latte" with its magic purple color. I wish I would have had more time to try more breakfasts and lunches: I heard their matcha pancakes (Gluten free & Vegan) and their toasts deserve the visit.
KYND community
Jl. Petitenget No.12X, Kerobokan Kelod, Kuta Utara
Opening hours: 6:00am-5:00pm, 7 days
Serve: Breakfast, Lunch, Snack, Smoothies and drinks
This might be one of the most famous plant based café in Bali, at least one of the most featured on the social media. You have inevitably already seen its so instagramable pink palm trees leaves painted wall and their customizable smoothie bowls. That was a reason enough for me to put KYND on my top list, and actually it was the first place I have visited. I went there for breakfast as they open very early, maybe the first café to open in the surrounding area, which is a very good news for the early birds like me. By the way you will mainly find fancy sport wearing girls grabbing their matcha before heading to the yoga. They have a large fully vegan menu in which every element looks delicious. We tried the smoothie bowls with customizable mantra, the waffles and smoothies, but my favorites were undoubtedly the Oreo Freakshake and the Choc Crunch. OMG. I am already dreaming of this freakshake, a milk shake made of coconut ice-cream, peanut butter, coconut whipped cream and Oreo pieces. Basically all the best things in the world combine in an outstanding mylkshake that reveals to be very light. They also have a selection of delicious raw cakes, and serve toast and bowls for lunch but I didn't have the time to test. A highly recommended place.
Mad Pops
Jl. Kayu Aya No.48, Seminyak, Kuta, Kabupaten Badung (other locations
Opening hours: 11:00am-10:00pm, 7 days
Ice-creams
Mad Pops is a 100% vegan ice-creamery, serving naturally flavored coconut gelato. You probably already have seen on Instagram photos of their extravagant ice-creams in front of their famous tiles wall. It is a lovely tiny place with a pretty reasonable and changing choice of ice-cream flavors. They have the big basics like chocolate, raspberry or vanilla, as well as more creative flavors like rainbow or Oreo. They also make delicious artisan popsicles that are stocked in many shop and coffee all around Bali. So don't worry if you cannot grab your ice-cream there, you can be sure to find them somewhere during your trip. My favorite one was the coconut and caramelized banana with chocolate granola, yes, GRANOLA! Can you imagine your best nice cream breakfast bowl in a popsicle hum?
Revolver Espresso
Jl. Kayu Aya Gang 51, Seminyak, Kuta, Seminyak, Kuta
Opening hours: 7:00am-11:00pm, 7 days
Serve: Coffee, Snacks, Light meals
I found Revolver during my pre-trip investigations, and directly put it on the top of my list. My boyfriend is a coffee lover and Revolver was said to serve the best coffee in Bali. I am not a heavy coffee drinker, but I enjoy it time to time and I am very interested in tasting various kinds of coffee and feeling the differences, just as for wine. The first thing about Revolver is the place itself, the café is located in a small street and there is nothing but a wooden door on a big painted wall and a guy guarding it. You feel just like in an old western – except that the guy happened to be very friendly, and the film continues when you enter: old school posters, graffitis, neons covering the walls. The atmosphere is amazing so as their coffee which is definitely the best. They have an origin blend and a local Balinese coffee that is delicious. They also serve cocktails and food -breakfasts, salads, toasts…, with several vegan options. A very nice place out of time.
La Laguna
Jalan Pantai Kayu Putih, Berawa, Canggu, Kuta Utara
Opening hours: 9:00am-00:00pm, 7 days
Beach bar and restaurant
This was definitely one of my favorite places in Bali. I have ended up there nearly every night while in Canggu to enjoy the sunset with a fresh health cocktail in the hand and the best French fries in the other. La Laguna is a Spanish inspired, boho-chic, gypsy beach bar located at the mouth of a river, giving a wonderful view on the beach and perfect for sunset -there is also a private access to the beach by a large wooden bridge that seems to come out a pirates film. The bar is situated in the middle of a wide garden. Everything is perfectly decorated in an authentic gipsy style that transports you in a mystical world. Everything is though to set the mood, from the vintage wooden gypsy caravans arranged all along the path, to the vintage lights and the dresses of the waitresses. The setting itself is a reason enough to come visiting that place. On top of that, they serve delicious cocktails and drinks and you should be able to find something to snack on. It is not a vegetarian restaurant but they have some vegan appetizer -special mention to the French fries, and lot of smoothies and healthy drinks. Everything you need to enjoy a great evening out of the time.
Kombuchi Brewing
Jalan Raya Batu Mejan No.73, 
Badung
Opening hours: 9:00am-5:00pm, 7 days
Kombucha brewery
 We found Kombuchi by accident, passing in front of on our way back from Echo Beach, and I just cannot keep me from stoping when I read "Freshly brewed kombucha" on their board. And omg, it would have been the biggest mistake in my life! Kombuchi is a tiny clear warehouse, opened on the outside, with half of the space occupied by big barrels of brewing kombucha. It is an awesome place! All the kombucha is handcrafted here, stocked in fridges and sell to you: shortest supply chain ever. And I can tell you that they have the best kombucha I have drunk in Bali. I mean, there a lot of kombucha brands in Bali and they are all different with there specificities, so it totally depends on your taste, if you prefer sweet or sour, spicy or classic. This one is pretty sweet and is perfect to drink as it during the day. They have about 6 flavors, and my winners were AppleBeet and Ginger (they also have Guava, Orange, Turmeric and Original, but all the flavors are not always available onsite). Really, if you love kombucha, go say hello!
Alive Whole Foods
Jalan Padang Linjong No. 12a, Canggu, Kuta Utara, Canggu
Opening hours: 8:00am-7:30pm, 7 days
Whole food organic store.
As its name suggests, Alive Whole Foods is an organic health store, pretty well furnished, where you can find everyday life products. They have fresh fruits and veggies, staple food like rice, grains and nuts, crackers, biscuits, drinks, as well as food supplements, cosmetics, and fresh local products like ice-cream, cakes and chocolates. It is a nice spot if you want to grab something to snack – like a bag of tortilla chips and a bottle of kombucha to enjoy with the sunset on Echo beach, just for example, or if you want to make your own meals.
Bali Buda
Jalan Banjar Anyar No. 24, Kerobokan, Mengwi, Kerobokan, Kuta  (they have other locations in Bali)
Opening hours: 7:00am-10:00pm, 7 days
Café & Health Food Store, also serves Breakfast, Lunch and Dinner.
Bali Buda is a health store chain with 3 locations in Bali (Badung, Kuta and Ubud). They have a wide selection of health food, cosmetics and daily products. They are all vegetarian, mainly plant based. Here you can find both raw and prepared products, perfect if you want to buy some food to cook your meals (kind of a local Whole Foods, just far smaller). They sell some local vegan products, like raw chocolates, cakes and kombucha. They also have a café service where they serve fresh cakes and pastries, breakfast, lunches and sandwiches.
Around Ubud
Kismet
Jl. Goutama Sel. No.27X, Ubud, Kabupaten Gianyar, Bali 80571
Opening hours: 9:00am-12:00pm, 7 days
Serve: Breakfast, Lunch, Salads, Sandwiches, Meals, Cocktails

Kismet was definitely one of my favorite address while in Bali for a fancy dinner. The restaurant is located in a pretty quiet corner of Ubud where you can escape the noise and excitement of the city the time of a meal (which is very pleasant). The restaurant is very well designed, with a strong asian influence, dark colors and red lights, which create a very cosy and sophisticated atmosphere. You immediately feel good and relaxed when you enter Kismet and it is even before tasting their amazing food. Even if it is not a vegetarian restaurant, they have (like most of Balinese restaurants) plenty of vegetarian and vegan options which are really good. They have something for any occasion, either you want a light lunch like a salad bowl or something more nourishing, like a big nasty burger. Particularly, they serve 4 generous Buddha bowls , which are all vegetarian that can be turned vegan also. I tried them all and they were fabulous! My favorite were the Asian with its kimchi and roasted nori, and the 666 south west with marinated pulled jackfruit, definitely a must! They also have vegan sandwiches, a jackfruit burger that looks to die for and lot of small plates for something lighter or to share. On top of that, the staff is lovely. Highly recommend.
Alchemy
Jalan Penestanan Kelod No.75, Sayan, Ubud, Kabupaten Gianyar
Opening hours: 7:00am-9:00pm, 7 days
Serve: Health store, All day Breakfast, Lunch, Salads, Sandwiches, Smoothies, Desserts
Alchemy is a unique blend of a café, restaurant, salad bar and organic shop in a large cool open setting. It is a very nice place to settle for a long time, to relax or work in a very serene atmosphere. Everything they serve is totally raw and vegan, including the pizzas, burger and chocolate. They have a big salad bar with a  large selection of varied ingredients, where you can build your own bowl, choosing your base, elements, toppings and dressing! They only use fresh and local products, leading to a generous salad bowl at a very affordable price. I very appreciated this simple and healthy option after weeks traveling and having big meals in other restaurants of Bali. They also serve good mains, like quiche, nori, pizza or raw cannellonis, a large selection of fresh pressed juices and smoothies, and amazing raw deserts. I took the bounty bar and peanut butter cups and it was so good! They also have a small health store that sells superfoods, nuts,  seeds, kombucha, supplements, fresh local produce and much more.
The Seeds of Life
Jalan Gautama No.2, Ubud, Gianyar, Kabupaten Gianyar
Opening hours: 8:00am-11:00pm, 7 days
Serve: Health store, Breakfast, Lunch, Salads, Sandwiches, Smoothies, Desserts
The Seeds of Life is a unique institution that combines a Raw café, a tonic bar and a Raw food & Yoga Academy, in the heart of Ubud. The café, which is fully raw and vegan, serves all day fresh organic juices, super food smoothies and delicious deserts. Most of the ingredients are organic and homegrown in the mountains of Ubud. The Seeds of Life is the embodiment of fresh healthy living food, and everything they serve is good for your body, your mind but also your tastebud! We took the dips platter with raw crackers and a selection of dips, with some large smoothies and raw treats. However they also serve special food like lasagnas, burgers, pizzas, burritos or soups, that all look delicious. They have a Raw Food Academy where they teach people the art of plant based raw cuisine and deliver a Raw Food Chef Certification. The restaurant is very well located, in a calm street of Ubud, and you can eat upstairs on a spacious very yogi terrace, barefoot, sitting on the ground.
Earth Café & Market
Puskesmas Ubud II, Desa, Gg. Damai, Sayan, Ubud
Opening hours: 8:00am-6:00pm, 7 days
Serve: Health store, Breakfast, Lunch, Salads, Sandwiches, Beverages, Cakes
Earth Café & Market is a huge health store coupled with an organic plant-based café. This is the biggest health store I have seen in Bali, which is very convenient if you are traveling for a long time and want to cook by yourself or find some health products. They have a very large range of food and beauty products. Here I bought some mosquito repellent, essential oils, fresh aloe to make after-sun mask and my new favorite face cream. The staff is very friendly and will give you good advises. They also have a large range of food, from basic products to superfoods and chocolates. They have a counter adjacent to the shop where they sell plenty of raw cakes and sweets that are delicious. Also they have a big café upstair, but unfortunately I didn't have the opportunity to test it. However, the menu looks awesome, load with natural and healthy meals, fully vegan, with tons of gluten free, wheat free and raw options. I think it really worth to give it a try and it is on my top list for the next time I'll visit Ubud.
Mudra Café
No.22, Jl. Goutama Sel., Ubud, Kabupaten Gianyar
Opening hours: 8:30am-9:30pm, Tuesday to Sunday
Serve: Breakfast, bowls, salad, wrap, smoothies, coffee
We went to Mudra café first for the place and then for the jackfruit smoothie bowl that we seen on the menu. Located just right The Seeds of Life, this little café strikes by its beautiful decoration, the green plants hanging above the bar and the pile of shoes left at its entrance. They serve various food, not necessarily vegan, but always fresh, high quality and locally grown. Their menu is pretty short compare to many balinese restaurants, but includes many vegan options, like their "Purple rain" a beet hummus served with purple sweet potato chips, the veggie wrap, or their eggplant & avocado Poké. We went for breakfast and only had their jackfruit smoothie bowl, which was huge and totally worth the stop! It was such a creative way to use this local fruit, I still have it on my todo list!
Kokolato
Jalan Goutama Selatan No. 22, Padangtegal, Ubud, Gianyar, Ubud, Kabupaten Gianyar
Opening hours: 11:00am-9:00pm, 7 days
Serve: Vegan ice-creams
If you are carving a vegan ice-cream made of good quality products, well you must go to Kokolato. This little shop is located in a very nice and pretty quiet street of Ubud. They only serve vegan coconut based ice-creams that come in a large range of amazing flavors like Smoked Vanilla, Moringa mint chips, Jamu or Black rice, and all that served in a vegan cone, please. The ice-cream base is made of coconut meat, aloe vera, coconut oil and Irish moss, which is a seaweed with strong emulsifier and stabilizer properties that give this silky smooth texture to their ice-cream. Also they only use non gmo, organic, gluten-free and locally sourced ingredients and add lot of superfoods to their preparations. The result is simply delicious.
Tukies
14, Jl. Raya Ubud, Ubud, Kabupaten Gianyar,
Opening hours: 9:00am-11:00pm, 7 days
Serve: Coconut ice-creams, coconut products, cakes,  smoothies
You will recognize Tukies by the big coconut drawn on their banner and the delicious smell of roasted coconut. Tukies is a small shop totally dedicated to the coconut, and this is the best idea ever when you see  how much coconuts are produced in Bali. All their products are homemade and based on coconut. Obviously, they serve delicious coconut ice-cream which comes in a single coconut flavor, but is simply amazing, and with coconut toppings like roasted coconut chips and coconut sugar. They also serve some cakes, that pair very well with a scoop of their ice-cream, smoothies and cocktails made of coconut ice-cream, and they avec boutique part where they sell products like homemade coconut butter or coconut oil. It is a very nice place if you want a good ice-cream locally produced with the best ingredients.
On the Gilis
Pituq Cafe
Jalan Ikan Duyung, Gili Trawangan
Opening hours: 3:00am-10:00pm, 7 days
Serve: Drinks, Breakfast, Brunch, Lunch
One of my biggest regret was probably not to had time enough to try more items on Pituq menu. This little café hidden in the middle of Gili Trawangan is a gem of plant based cuisine. They have a very large menu on which each item sounds delicious, and in fact it was! We went at lunch time and had the brunch menu composed of a juice, a smoothie bowl and a plate, and it was more than satisfying! I took a pumpkin spice smoothie bowl which was amazing, and kind of a breakfast burrito, and it was far more than what I could have eaten. But I felt obliged to try their famous cauliflower nuggets and I understood why it is their bestseller. So very good and healthy food in a lovely garden, what more?
Mowies Bar
200m west from the Harbour, on Jalan Pantai, Gili Air
Opening hours: 8:00am-9:00pm, 7 days
Serve: Breakfast, Lunch, Sandwiches, Dinners, Cocktails & Drinks
My favorite place on Gili Air to enjoy a fresh drink with a good meal with the feet in the sand during sunset. This beach bar is a very popular place on Gili Air where many people meet at the evening to chill and enjoy the sunset in a very relax vibe. You can either take a table or seat in their cozy big bean bags in front of the beach. They serve cocktails and good smoothies, but my preference is for their local brewed kombuchas with amazing flavors. You can partner with bites to share or a whole plates: they have a nice menu with delicious salads, sandwiches, toasts and more. My favorite was the Jackfruit Tacos, I took maybe 3 times, it is a must to try! Gili Air is a pretty calm and peaceful island compare to his sister Gili Trawangan, many bars and restaurants close early, so try to arrive before sunset to take the time to fully enjoy the place (and be sure to have a seat).
Coffee & Thyme
In front of the Harbour, at the Oceans 5 Dive Center, Gili Air
Opening hours: 7:00am-6:00pm, 7 days
Serve: Coffee, Breakfast, Lunch, Sandwiches
Coffee & Thyme is a cozy little coffee which saved our lives several times when on Gili Air. It is the first coffee to open on the island, so very useful for early birds searching for fuel after their morning workout or just looking for a nice place to contemplate the sunrise in paradise. Coffee & Thyme serves simple but good food, from pancakes to salads and wraps, as well as a very good coffee. It is not a vegan neither vegetarian restaurant but they have a selection of delicious vegan cakes. When I was here they had a choice of carrot cake, vanilla cake, banana bread and blondies – special mention for the blondie that was so good that I made a revisit back home, recipe here. They also serve seasonal smoothies with mango and avocado. To sum up, a nice place to grab a good cake while waiting for your boat.
Captain coconut
Jalan Sunset Gili Air
Opening hours: 8:00am-8:00pm, 7 days
Serve: Coffee, Drinks, Breakfast, Lunch
Captain coconut is an accommodation with a lovely café located in a beautiful peaceful garden. Their menu is really complete, from breakfast to lunch, with original and delicious recipes, using only whole ingredients. Some of the ingredients, like most of the greens, are even home grown in the little backyard. The café is vegetarian but the menu is designed to suit everybody needs: they have many vegan options as well as gluten free. Unfortunately, because of my short time on Gili Island, I went here only one time for breakfast, and obviously had the Salted Peanut Butter smoothie bowl. It was delicious and very nutritious – their bowls are huge! Definitely a nice place to test.
Pachamama
1Jalan Svea, Gili Indah, Gili Air
Opening hours: 10:00am-10:00pm, Monday to Saturday
Serve: Drinks, Breakfast, Lunch and Dinner, Sweets
What more can I say that the Pachamama was my favorite place on Gili Islands. It is a café adjoining a private vila that looks like a little oasis in the middle of nowhere. When you enter the café, you enter a world of coziness in a very well decorated backyard with plants and.. cats. Besides serving excellent juices and smoothies, the Pachamama brews its own delicious kombucha which comes in three flavors. Even if the café is not vegetarian, they have plenty vegan and gluten free options in their all organic menu, including their amazing bowls. I love this kind of bowls for lunch, with many elements beautifully prepared, like an explosion of spices and flavors. They also have beautiful large sharing plates with falafels or rice paper rolls. Also, the owner is very friendly and have nice tips if you are visiting the Gili Islands.
Good Earth Cafe
108 Jl Buddha Way, (H2O Yoga & Meditation Center), Gili Indah, Pemenang, Gili Air
Opening hours: 7:00am-5:00pm, 7 days
Serve: Drinks, Breakfast, Snack, Lunch
The Good Earth Cafe is adjoining to the H2O Yoga center, one of the best yoga studio on Gili Air. Actually, it is how I discovered this amazing little café, when heading to H2O for an early yoga session and I just cannot resist the temptation of a refreshing green smoothie. Their menu is vegetarian, with plenty of vegan, gluten free and raw options, and above all so healthy! Everything is homemade and locally produce, with a very low environmental impact. They serve delicious smoothies, hot and cold drinks, breakfast bowls, light lunches and homemade cake. I had the banana bread which is said to be their speciality and yes it is !! This gluten free rice flour banana bread was just so good! I did not try the lunches but they looked delicious and energizing, combining veggies and fruits, just like their Summer Couscous Salad with papaya and watermelon. So fresh!
On the Bukit
Bukit Café
Labuan Sait, Jl. Labuansait, Pecatu, Pecatu
Opening hours: 7:00am-10:00pm, 7 days
Serve: Breakfast, Lunch, Dinner

Bukit Café was on the top of my "to try" list as I have heard several time that this was one of the best restaurant in Bali. (Actually I heard that about many many restaurants here but this one sounded to particularly make a difference). Unfortunately, we had the occasion to go there only one night, so cannot taste a lot of items on their menu, but at least what I wanted the most: their epic charcoal bun vegan burger. It was a generous good fat burger your boy we LOVE, and I did so, but I cannot eat anything else after! It is not a vegetarian nor vegan restaurant, but they have a long changing vegan menu written on a big board at the entrance. They serve various dishes, often nourishing, like pancake, big breakfast plate, burger, toasts, but they also have some delicious bowls, chia pudding (I heard a lot of good things about) and raw cakes. The place is beautiful, very well decorated with a spacious outdoor area to enjoy the sun.
Suka Espresso
Jln Pantai Suluban, Pecatu, Kuta Sel., Kabupaten Badung
Opening hours: 8:00am-10:00pm, 7 days
Serve: Coffee, Breakfast, Lunch, Snack, Dinner
I discovered Such during our short stay on the Bukit as the lovely owner of our cabin told us that "they serve the best coffee in Uluwatu". My boyfriend being a true coffee lover, we just couldn't fail to taste that. First, the structure itself and decoration are beautiful: it is actually an old warung turned an  into a modern cafe with raw and noble materials. It is not a vegan nor vegetarian restaurant but they have several delicious vegan options on their menu. They serve basically simple food but upgraded and high quality.  I had some raw carrot cakes (they have a daily selection of vegan raw cakes), a Mexican breakfast plate with tortillas, guacamole, pico de Gallo, smoothies and indeed a very good coffee. We loved this cozy place, a very nice stop I recommend on your way back from Uluwatu Beach.
Nalu Bowls
Jl. Labuansait No.63, Pecatu, Kuta (they have other locations in Bali)
Opening hours: 7:30am-6:00pm, 7 days
Serve: Smoothie bowls
Who has never heard about the famous Nalu Bowls? They are said to be the first smoothie bowl shack catering in Bali, which is definitely no more the case today as basically every coffee or restaurant offers smoothies now. But this reputation was a reason enough to give it a try. The place is very nice and clean, with a fake grass ground and a cozy seating area. They have a selection of about 6 bowls on their menu, with different bases, from peanut butter to dragon fruit, and toppings. You can also add extra toppings, which is not optional for me, … well, toppings, guys! To sum up there smoothie bowls are good, fresh and nourishing but definitely not the best one I have eaten in Bali. But still a nice place to grab a breakfast.