Pancakes are for me the definition of comfort food, the indispensable of a cozy breakfast or brunch with family and friends. Think about this huge pancakes tower, topped with all the fresh fruits, berries, and a generous drizzle of maple syrup… so good! But, to my great surprise, I have always been really bad making pancakes, crepes and all these kind of pan cooked things. Basically, I often end with a too liquid or too thick batter, pancakes that stick to the pan. This is probably because when I do a recipe, I always try to change the proportions, turn it gluten free and vegan, which can deeply affect the final texture of the batter. But I wanted to end this pancake malediction and make a simple and healthy pancake recipe that is foolproof!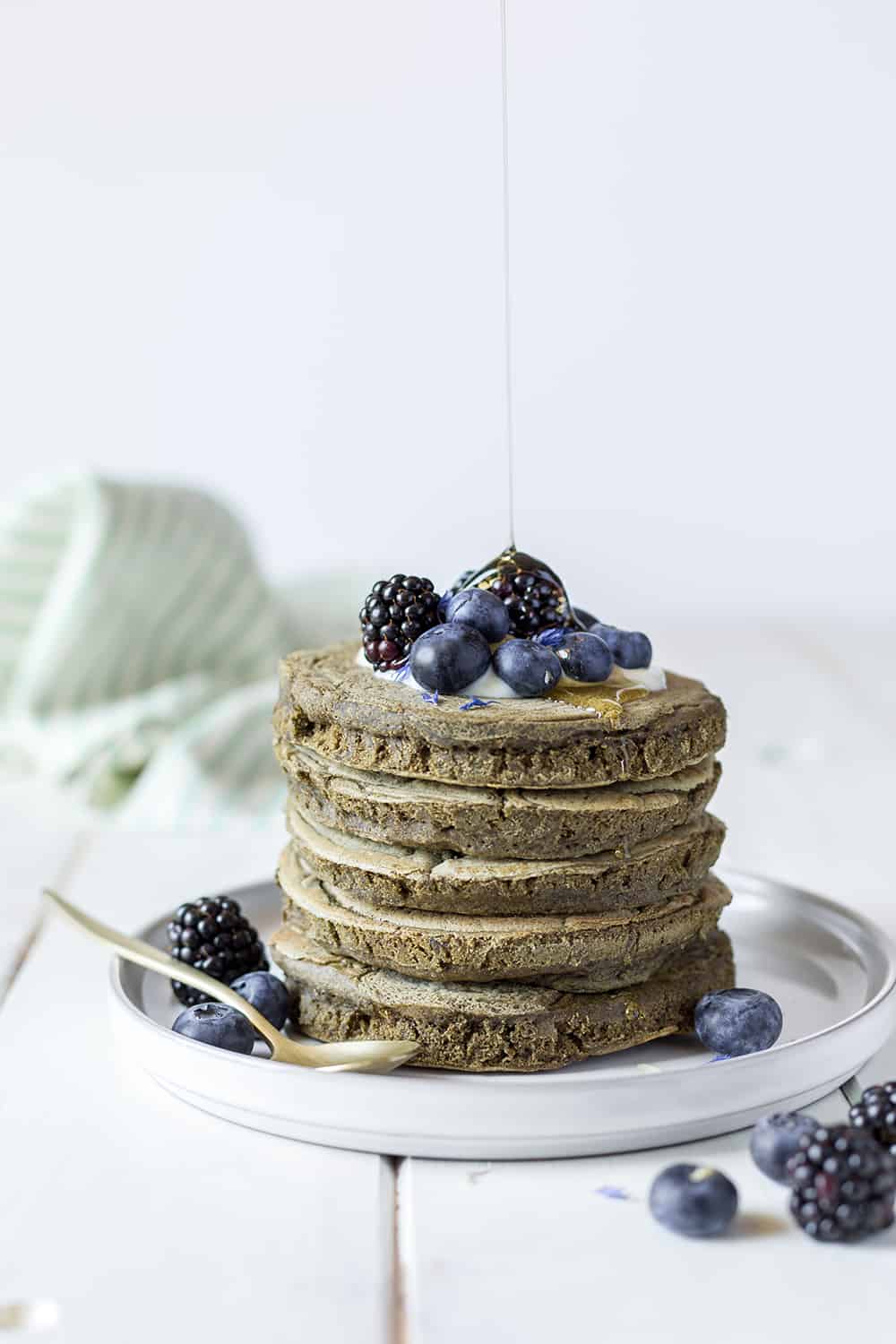 These pancakes are the best for me, because they are fluffy, soft, comforting, and very healthy. So that they are perfect for everyday breakfast! YAY, no need to wait for the weekend! I have used a mix of buckwheat and spelt flours, so they are basically lighter and easier to digest than white all purpose flour pancakes. But you can also make a full gluten-free version by substituting the spelt flour by any gluten-free flour mix. Also, they are totally sugar free! Because, don't get me wrong, the best thing about pancakes is toppings: fresh fruits, nut butters, maple syrup, coconut yogurt… what means that in all the cases you're going to add so sweetness to your pancakes. So finally no need to put more sugar in you batter!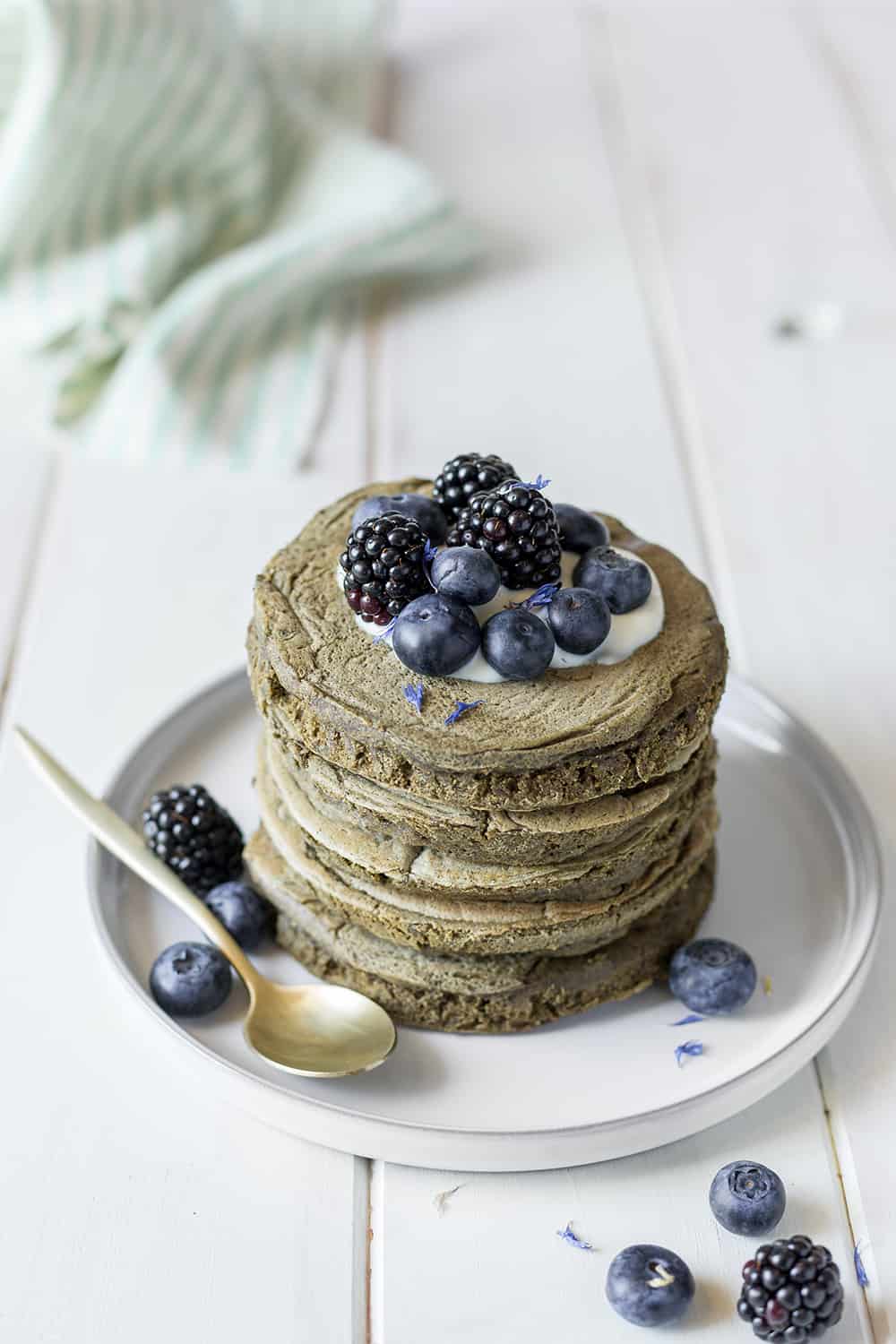 But what is even better with these sugar-free pancakes, is that they can also be used for savory recipes! Actually, I have eaten half batch for breakfast and kept the other half for lunch. I paired them with a coconut yogurt and preserved lemon sauce, stir-fry brocoli stems and pistachio dukkha, and it was delicious! The matcha flavor is very light in the pancakes and pair as well with sweet as with savory flavors. Obviously, if you want a natural pancake recipe you can omit the matcha, or replace by other spices like cinnamon or chocolate.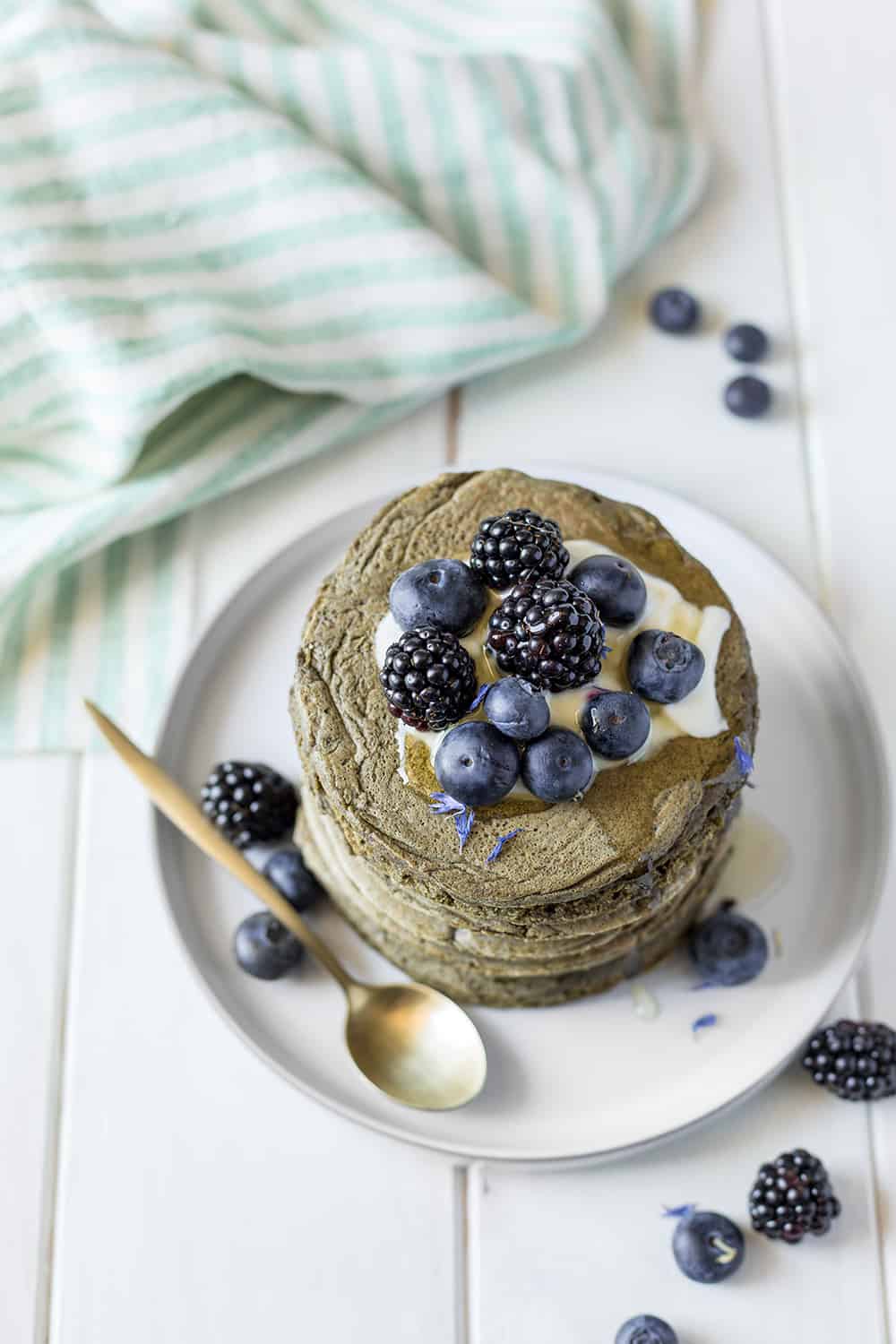 I hope these pancakes to be the new partners of your breakfasts, brunch and lunch! I would be very exciting to see your creations and amazing adaptations! Let me know in the comments, or tagging me on your photos on Instagram @alicepages.
Enjoy! xx
Alice
---
BUCKWHEAT MATCHA PANCAKES
Prep time: 5 minutes
Baking time: 15 minutes
Serves: about 6-8 pancakes
INGREDIENTS:
Dry ingredients:
– 1 cup white buckwheat flour
– 1 cup white spelt flour (or GF flour blend)
– 1 tbsp baking powder
– 1 tbsp matcha powder
– a pinch of salt
Wet ingredients:
– 2 flax eggs (2 tbsp flax meal + 5 tbsp water)
– 3/4 cup almond milk
– 1 tbsp grape seed oil (+ extra for the pan)
– 1 tsp vanilla extract
INSTRUCTIONS:
1. Prepare the flax egg by mixing 2 tbsp of flax meal with 5 tbsp of warm water and let sit 5 minutes to thicken.
2. Mix the buckwheat flour, spelt flour, baking powder, matcha and salt together in a large bowl.
3. In a separate bowl, mix the flax eggs, the almond milk, grape seed oil and vanilla extract.
4. Pour the liquid mixture into the dry ingredients and stir well using a spatula to combine. You should get a smooth and homogeneous texture.
5. Lightly coat a non-sticky skillet with extra oil on medium-high heat.
7. Pour a large scoop of the batter into the pan and cook for about 2-3 minutes. Then switch using a spatula and cook the other side 1 minute. You can use a round form to shape your pancakes and make them thick.
8. Serve with coconut yogurt, fresh fruits and maple syrup.
---
PANCAKES AU SARRASIN ET MATCHA
Temps de préparation: 5 minutes
Temps de cuisson: 15 minutes
Quantité: environ  6-8 pancakes
INGREDIENTS:
Ingredients secs:
– 1 cup de farine de sarrasin
– 1 cup de farine d'épeautre (ou mix de farine gluten-free)
– 1 c.à.s de poudre à lever
– 1 c.à.s de matcha en poudre
– une pincée de sel
Ingredients humides:
– 2 flax eggs (2 c.à.s graine de lin moulues + 5 c.à.s d'eau)
– 3/4 cup de lait d'amande
– 1 c.à.s d'huile neutre (+ extra pour la poêle)
– 1 c.à.c d'extrait de vanille
INSTRUCTIONS:
1. Préparer le flax egg en mélangeant 2 c.à.s de graines de lin moulues avec 5 c.à.s d'eau tiède. Mélanger et laisser reposer 5 minutes pour que le mélange épaississe.
2. Dans un grand bol, mélanger les farine, la poudre à lever, la poudre de matcha et le sel.
3. Dans un autre bol, mélanger les flax eggs, le lait d'amande, l'huile et l'extrait de vanille.
4. Verser la préparation liquide dans le bol sec et mélanger à l'aide du spatule. A ce stade, vous devez obtenir une pate lisse, homogène et assez liquide.
5. Graisser une poêle non adhérente avec un peu d'huile et chauffer à feu moyen.
7. Verser une généreuse louche de pate à pancake dans la poêle et laisser cuire 2 à 3 minutes. Retourner le pancake à l'aide d'une spatule, et cuire 1 minute. Vous pouvez utiliser un cercle ou un emporte pièce rond pour former les pancakes et créer de l'épaisseur.
8. Servir avec du yaourt de coco, des fruits frais et du sirop d'érable.