Breakfast, I love you so. You are the best moment of my day, my sweet fuel and my therapy. It is totally unthinkable for me to imagine starting a day without having a breakfast. I do not mean a huge feast everyday, but it is a privileged moment when I take time to take care of my self and to slowly wake up in good vibes. Cause the way I wake up and start my day oven influences the my mood for the rest of my day, it is very important to me to take that time and do not rushing to work out of bed with nothing in my belly. Basically, my weekday breakfasts are very simple, made of overnight porridge, soy yogurt and fruits, but with the weekend approaching, it totally changes and I can become very creative with it. I love to wake up very early and to take the time to prepare something for breakfast, in the peaceful morning, while the whole city seems to be still sleeping. I cannot explain why I love this feeling to be the first one got up and active, it makes me feel special and whole.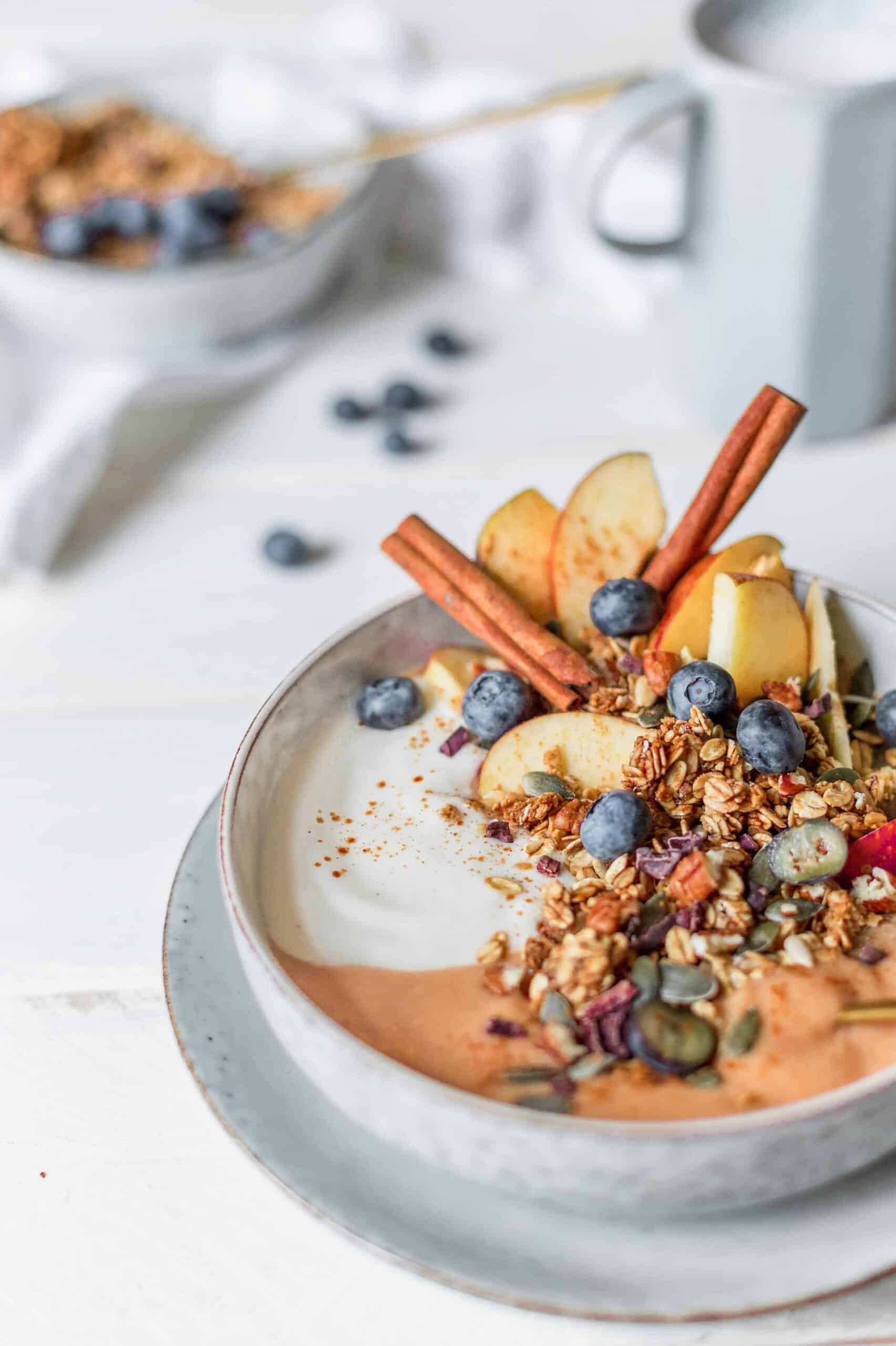 Anyway, for this breakfast I wanted to make something a little different from my regular smoothie bowls. I LOVE bananas a lot, but sometimes too much banana can make smoothies heavy and very sweet. So I am currently testing some banana alternatives, and I though carrot could be a fun idea (furthermore that I am currently in this carrot cake thing…). And here come this Carrot Cake Smoothie! Basically, I have replaced half the banana by steamed then frozen carrot, add tons of spices, and got the best breakfast bowl ever! Carrots give the smoothie a really pleasant, smooth and nourishing texture. I topped my bowl with a big scoop of coconut yogurt, sliced fresh apple and Dear Muesli Forest granola.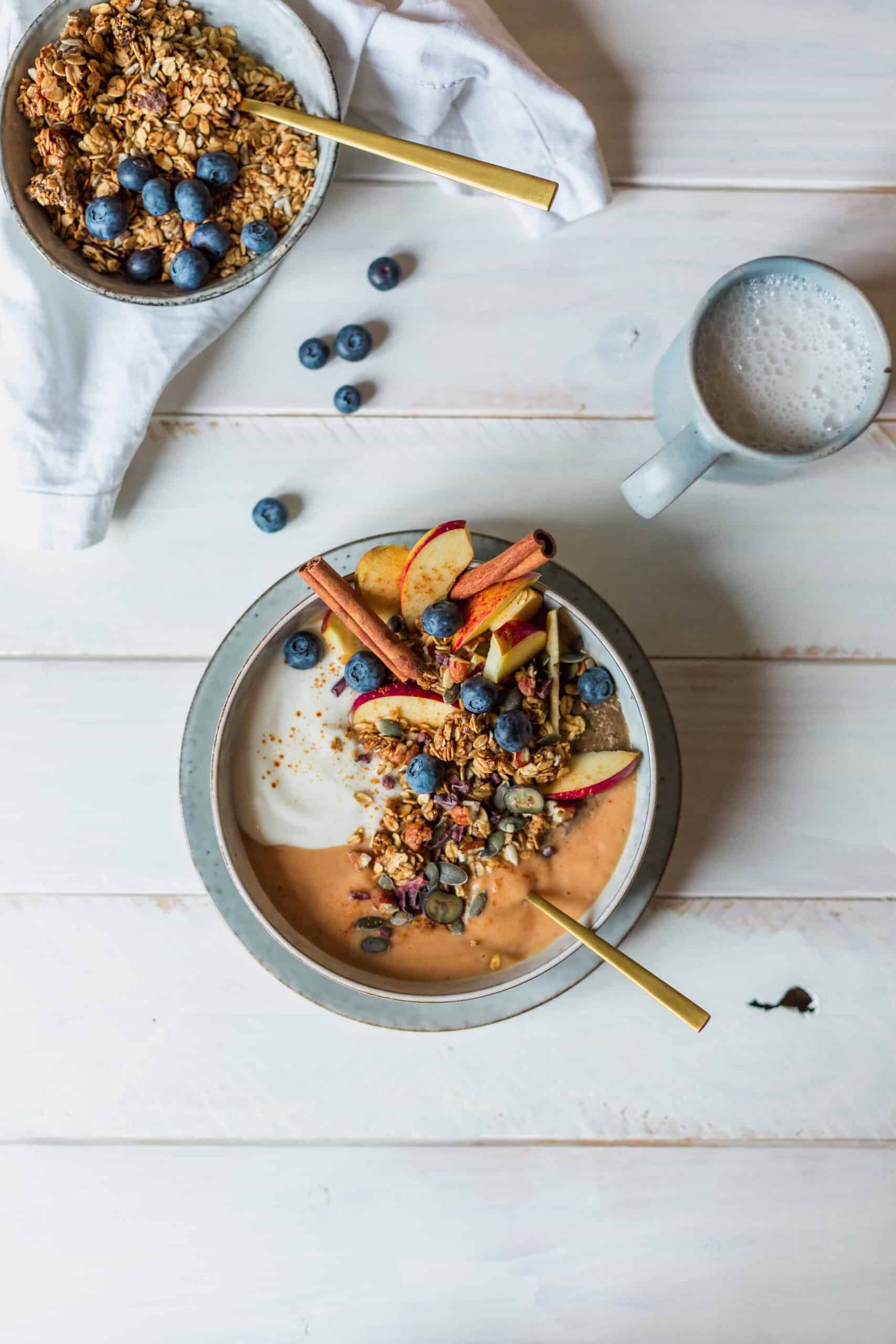 You guys DO have to taste it. And why not to play with and replace the carrot by another vegetable? Cauliflower, zucchini, cucumber … lets experiment! And let me know how it turned for you.
Alice.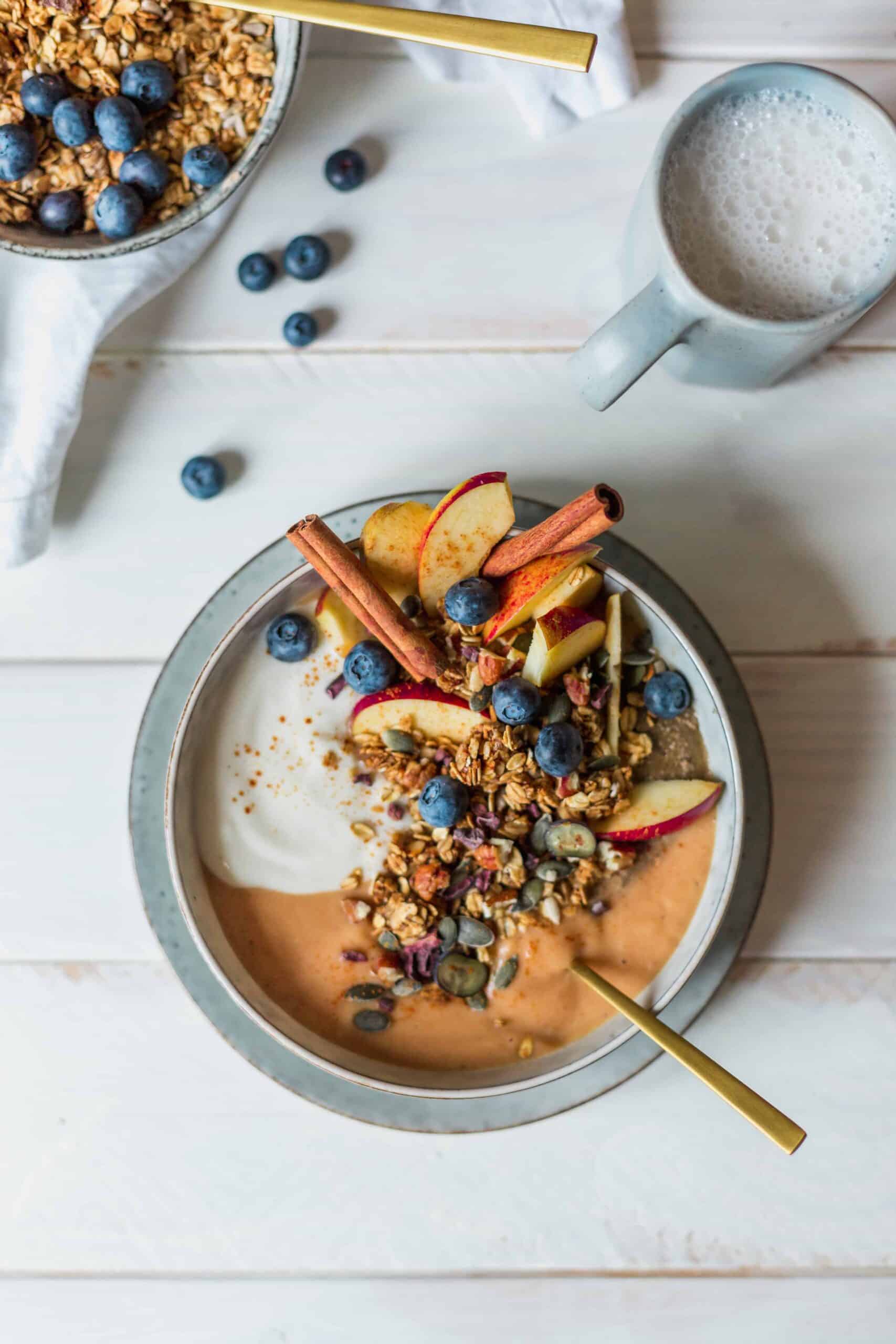 ---
CARROT CAKE SMOOTHIE
Prep time: 10 minutes
Serves: 2 serves
INGREDIENTS:
For the Smoothie:
– 1 frozen banana
– 1 cup steamed then frozen carrot
– 1 cup almond milk
– 1 tsp vanilla extract
– 1/4 tsp cinnamon
– 1/4 tsp cardamom
– pinch of nutmeg
INSTRUCTIONS:
Steam and froze the carrot and froze the banana overnight so that they will be ready to use for your breakfast.
Blend all the smoothie ingredients in a high speed blender until perfectly combined.
Serve the smoothie in a bowl with a scoop of coconut yogurt and top with your favorite elements: fresh fruits, seeds, nut butter and granola.