This raw broccoli bacon salad with a creamy cheesy sauce and mind blowing crispy rice bacon is perfect for any season. It comes together in less than 30 minutes for a delicious healthy salad or as a fresh side dish. Caution : this rice bacon is addictive.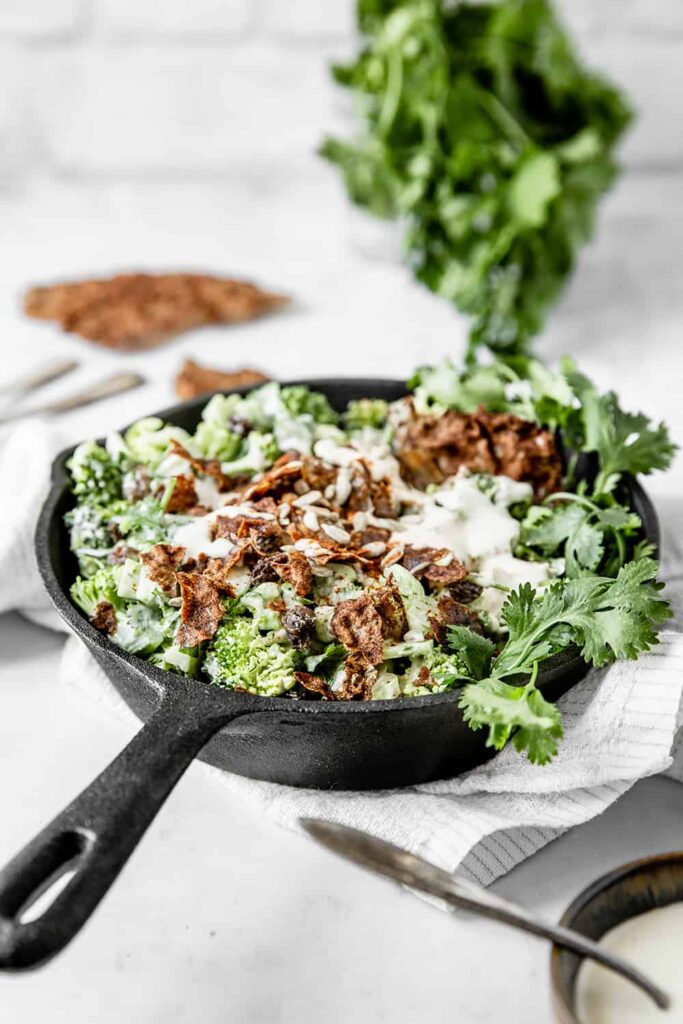 How to make crispy rice bacon
THIS is going to change your life FOREVER. I know bacon is one of the big deals when you are vegan. I would lie if I tell you that I don't like this crispy, smokey and fatty thing … everybody love bacon, amiright ? Bacon is such a delicious addition to many dishes, like burgers, sandwiches, nacho plates, breakfast plates and even salads. It's perfect to add a touch of smokiness, flavor and texture.
There are many ways to make plant based bacon, using coconut flakes, young coconut flesh, carrot ribbons, mushrooms or tempeh. But my favorite one is with rice paper, because it is so easy to make and ready in only 5 minutes! Express bacon when you need it. And the result is absolutely mind blowing : it's crispy and spicy but becomes slightly chewy when mixed with the sauce. Addictive.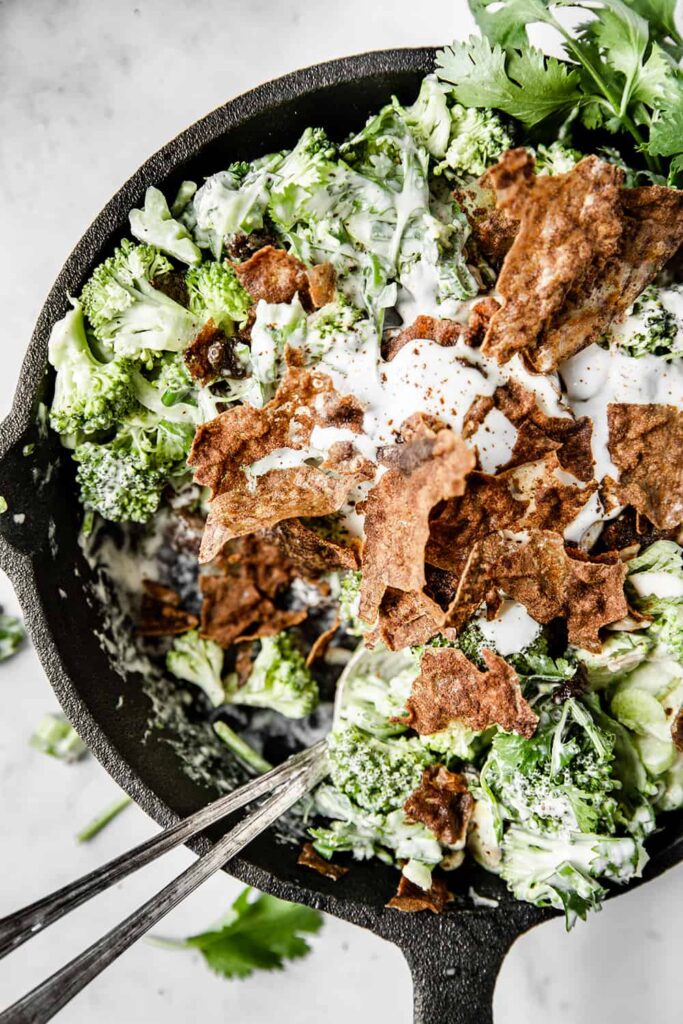 So how to make your rice paper bacon? There is nothing easier!
Start by brushing one sheet of rice paper with water to make it pliable and sticky. Then stack an other sheet of rice paper on top, with smooth sides facing each other. Gently brush off excess water with your fingers. The two sheets must be perfectly overlapped and stick to form one thicker sheet.
Then, prepare a marinade by mixing tamari, oil, nutritional yeast, spices and liquid smoke. Liquid smoke is optional here as it is not always easy to find depending on where you are living. But it adds an interesting smokey bacon flavor. If you can't find liquid smoke, try with smoked paprika powder or smokey sauce.
Lay the rice paper sheet flat on a baking tray lined with parchment paper and brush with marinade on each side until perfectly coated. Don't put too much or this will cause soggy and really chewy bacon.
At this step, you can either cut the rice paper sheet into large stripes using kitchen scissors : this option is great to add bacon into burgers, sandwiches or in a plate. Or you can bake the whole sheet and crumble on top of the broccoli bacon salad once baked.
Now place the tray in your preheated oven and bake for around 5-7 minutes. You'll need to keep a close eye on the bacon because it can burn really easily. The bacon will bubble and is ready when beautiful golden brown.
When the bacon is grilled, remove from oven, place on paper towels to absorb excess oil and allow to completely cool down. The bacon will dry and crisp up while cooling.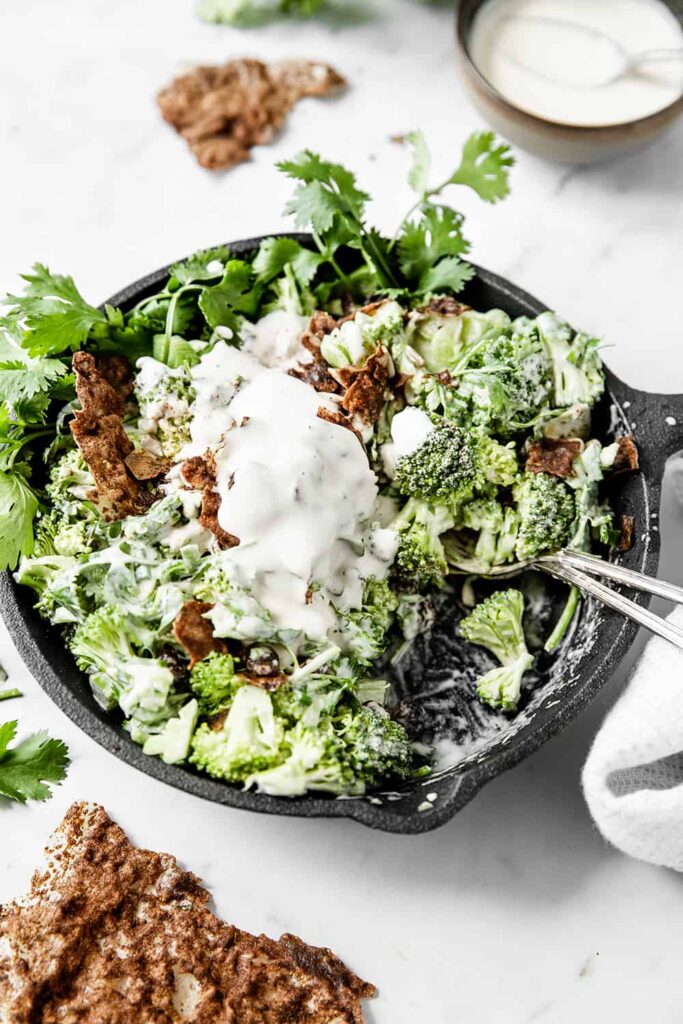 How to make a perfectly creamy cheesy sauce
The cheesy sauce is the heart of this broccoli bacon salad. It brings creaminess, mildness and comfort to the whole plate. We often hear that the dressing is the most important part of any dish, and I couldn't agree more. The sauce gives the character and overall flavor to a recipe, and a delicious balanced dressing can make all the difference.
This cheesy cashew sauce is one of my go-to recipes when I need a very creamy sauce ready in a few minutes. It's a great additional to pastas, rice, salads, on top of roasted veggies, tacos or burgers. I love to use cashews in sauces for a very rich and creamy texture.
For the best results, you must soak the cashews in water before using. That way, the cashews will swell with water and become very soft, perfect to get a smooth texture. To do so, simple soak the cashew in a large bowl of water and soak for at least 6 hours or overnight. Then, rinse the cashews under running water and drain. The cashews are now ready to be used in your preparations, like sauces, creams or raw desserts.
To make the cheesy sauce, all you have to do is mixing all the ingredients together in a high speed blender until perfectly creamy. This can take a couple of minutes depending on your blender. The nutritional yeast is very important to bring that cheesy flavor. You can find it in any organic or health grocery store. Always taste the sauce and adjust the seasoning to your preferences. Add more salt and yeast for a more cheesy flavor, or a touch of maple syrup if you love a sweet touch.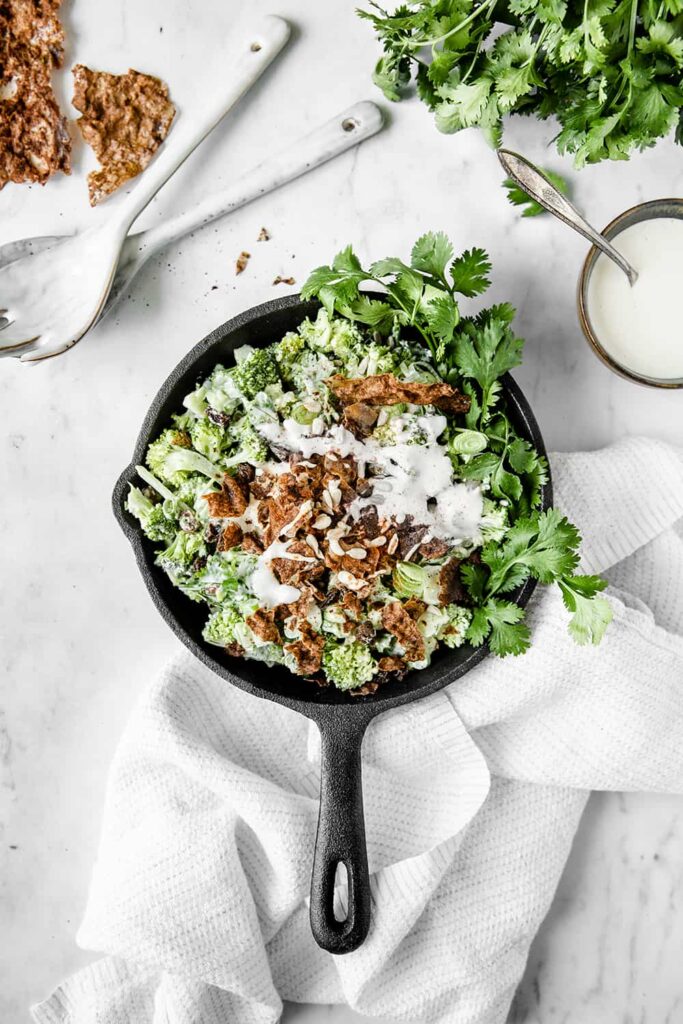 More savory dishes you will love to share this summer
I love to see your creations! Don't forget to tag me @alicepages on your photos on Instagram and give your feedback in the comments below if you make this recipe at home! Your opinion is my best reward.
Print Vegan Cheesy Broccoli Bacon Salad
Author:

Prep Time:

20 minutes

Cook Time:

5 minutes

Total Time:

25 minutes

Yield:

2

servings

1

x

Category:

main
---
Description
This raw broccoli salad with cheesy cashew cream and crispy rice bacon is perfect for a healthy main dish or delicious side. It's fresh and easy to prepare.
---
Crispy bacon
1 tbsp

tamari

1 tsp

sesame oil or olive oil

1 tsp

maple syrup

1 tsp

nutritional yeast

1/4 tsp

paprika powder

6

drops of liquid smoke (optional)

2

sheets of rice paper 
water
Cheesy sauce
1/2 cup

cashew, soaked in water for

6

hours or overnight

1/2 cup

unsweetened almond milk

2 tsp

lemon juice

1 tsp

apple cider vinegar

2 tsp

nutritional yeast

1/2 tsp

garlic powder

1/4 tsp

sea salt
Broccoli salad
1/2

broccoli head

1/2

bunch of fresh cilantro

1

green onion

1/2

red onion

2 tbsp

raisins

1 tbsp

sunflower seeds
salt and pepper
---
Instructions
Crispy bacon
Preheat the oven to 250 degrees F and line a baking tray with parchment paper.
Prepare a marinade by mixing the tamari, oil, maple syrup, nutritional yeast, paprika and liquid smoke.
Lay flat one of the rice paper sheets on the baking tray and brush the top face with water. Overlay the second rice paper sheet on top (they should form one thicker rice paper sheet). 
Brush the top face of the rice paper with the marinade, flip and brush the other face. Bake for 5 minutes until golden and bubbly.
Remove from the oven and allow to completely cool down. The rice paper will dry and become very crispy while cooling.
Cheesy sauce
Rinse and drain the cashews. Place in the bowl of a blender with all the remaining ingredients. Blend until perfectly smooth and creamy, with no chunks. Taste and adjust seasoning. Set aside.
Broccoli salad
Wash the broccoli and separate the florets into very small pieces using your hands or a knife. Either you can also finely chop the broccoli into thin slices or broccoli rice.
Wash and finely chop the coriander and green onion. Chop the red onion. 
Combine the broccoli, chopped coriander, green onion and red onion in a serving plate. Add the raisins, sunflower seeds, half of the cheesy sauce and roughly mix to incorporate. Sprinkle with salt and pepper.
Pour over the remaining cheesy sauce and garnish with crumbs of bacon. Enjoy fresh.
---
Notes
If you are short on time, you can soak the cashews in very hot water for 30 minutes to soften.
You can find nutritional yeast in any health or organic grocery store. It adds a cheesy flavor to all your dishes.
Keywords: salad, broccoli salad, main, bacon, cheesy sauce, green salad,
Recette version française
Print Salade crémeuse de brocoli et bacon de riz
Author:

Prep Time:

20 minutes

Cook Time:

5 minutes

Total Time:

25 minutes

Yield:

2

personnes

1

x

Category:

plat principal, entrée
---
Description
Cette salade de brocoli cru avec sa sauce fromagère crémeuse et son bacon végétal ultra croustillant est parfaite pour une entrée ou un plat principal facile et rapide à préparer.
---
Bacon de riz
1

c. à s. de sauce soja salée

1

 c. à c. d'huile de sésame ou d'olive

1

 c. à c. de sirop d'érable

1

 c. à c. de levure nutritionnelle 

1/4

 c. à c.  de paprika en poudre

6

gouttes de fumée liquide (optionnel)

2

feuilles de riz 
un peu d'eau
Sauce crémeuse
65 g

de noix de cajou trempées pendant 6h ou toutes la nuit

120

ml de lait d'amande nature

2

 c. à c. de jus de citron

1

 c. à c. de vinaigre de cidre

2

 c. à c. de levure nutritionnelle 

1/2

 c. à c. d'ail en poudre

1/4

 c. à c. de sel
Salade de brocoli 
1/2

tête de brocoli

1/2

bouquet de coriandre fraiche

1

oignon vert

1/2

oignon rouge
une poignée de raisins secs 

1

c. à s. s de graines de tournesol
sel, poivre
---
Instructions
Bacon de riz
Préchauffer le four à 180°C et chemiser une plaque de papier cuisson. 
Préparer la marinade en mélangeant la sauce soja, l'huile, le sirop d'érable, la levure, le paprika et la fumée liquide. 
Placer une feuille de riz à plat sur la plaque chemisée et badigeonner la face supérieure d'eau. Positionner la seconde feuille de riz juste au dessus et appuyer légèrement pour coller les deux feuilles et n'en former plus qu'une épaisse. 
A l'aide d'un pinceau, badigeonner la feuille de riz avec la marinade sur les deux faces. Enfourner pour 5 minutes jusqu'à ce qu'elle soit bien dorée. 
Retirer du four et laisser complètement refroidir. Le bacon de riz va sécher et durcir en refroidissant, et devenir très croustillant.
Sauce crémeuse
Rinser et essorer les noix de cajou. Les placer dans le bol d'un blender avec tous les autres ingrédients. Mixer jusqu'à obtenir une sauce parfaitement lisse et crémeuse, sans aucun morceau. Goûter et ajuster l'assaisonnement. 
Salade de brocoli
Laver le brocoli et à l'aide des mains ou d'un couteau séparer les fleurons en tout petits morceaux. Autrement, hacher en tranches ou très finement pour former une sorte de couscous.
Rinser la coriandre et l'oignon vert et les hacher finement. Emincer l'oignon rouge.
Mélanger le brocoli, la coriandre et les oignons hachés dans un grand plat. Ajouter les raisins secs, les graines de tournesol, la moitié de la sauce crémeuse, une pincée de poivre et de sel et mélanger le tout. 
Verser le restant de sauce au dessus et garnir de morceaux de bacon de riz. .
---
Notes
Si vous manquez de temps, vous pouvez faire tremper les noix de cajou 30 minutes dans de l'eau très chaude.
La levure nutritionnelle se trouve facilement dans la plupart des magasins spécialisés bio ou santé et apporte une saveur fromagère à tous vos plats.
Keywords: salade, brocoli, bacon, entrée, plat principal, salade verte, cru