Every week-end it is the same tune; I am so exciting about what I am going to cook during these two fabulous day that it keeps all my mind, even during the night and I can't sleep. How many times I woke up in the middle of the night wondering if I have made the right choice for the tomorrow morning breakfast? This can sound crazy, but I am such an organized person that I need to ensure everything is plan and clear, else I can feel very bad and stressed. I need to have the control on what I do, and sometimes a little change in my program can have a terrible impact on me… Especially when it comes to breakfast. It is without the shadow of a doubt my favorite meal as you can be so creative, have sweet or savory, muffins or smoothie… and bake granola! I love the smell of granola in the oven, it might be my favorite feeling, so much that I often choose my breakfast according to the granola I want to do. Even if I have pancakes or muffins, I always find a way to include granola in my breakfast (by adding a nice cream side for instance).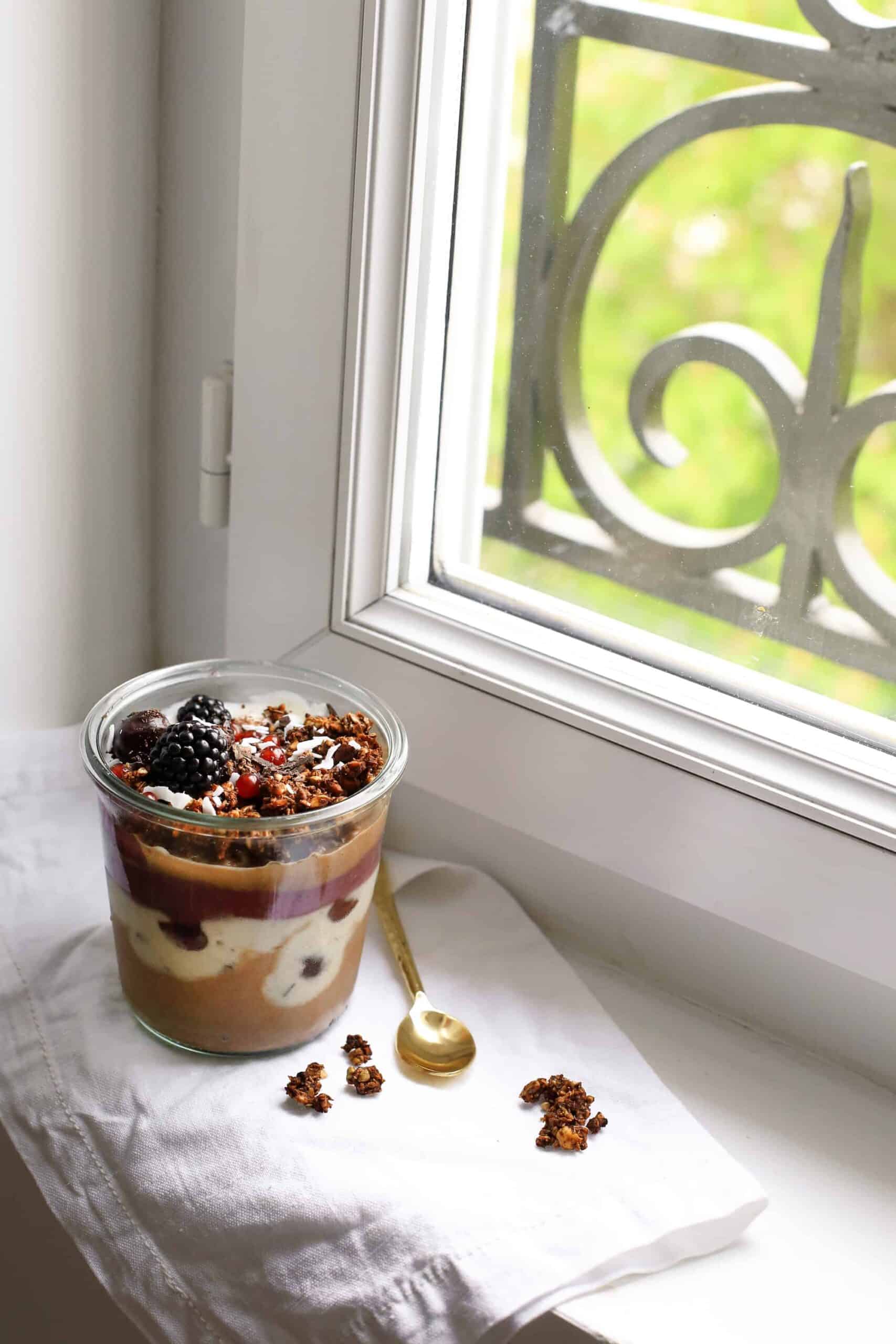 Today's granola is a simple nutty chocolate one, always without oil and refined sugar, so you can enjoy all your big batch without guilt. This time, I have added some dry mulberries on it, it brings a chewy and sweet texture not to mention all its benefits. This little white berry is full of vitamin B2 and iron, which makes it a very good food for sportspersons as it brings energy to boost your training. I also put buckwheat groats to bring crispiness. And always oil free and refined sugar free ( I used Medjool date to make a syrup as sweeter and to stick everything together).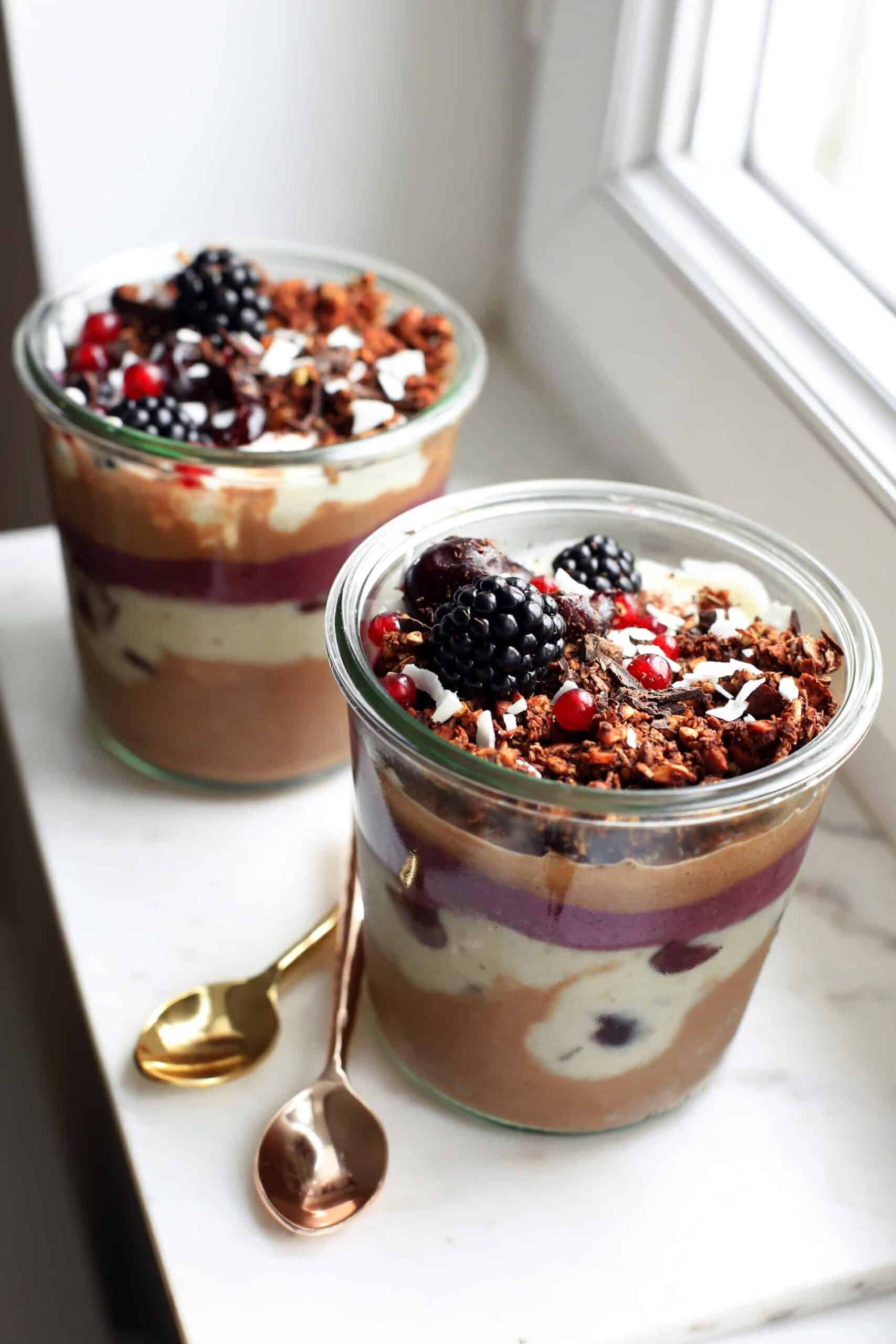 But my favorite layer in this smoothie was the vanilla and cherry nice cream. I love this combination, the frozen cherries slowly melting and fading away in the white vanilla cream, and the big dark chocolate chunks. Next time, I will try this same flavor but with a real ice cream rather than an instantaneous banana ice cream. It is true that the process is longer, all the more if you do not own ice cream maker as me, but the result is so creamy that it worth it.
I hope you will like this recipe. And do not forget to let me know if you try it !
Alice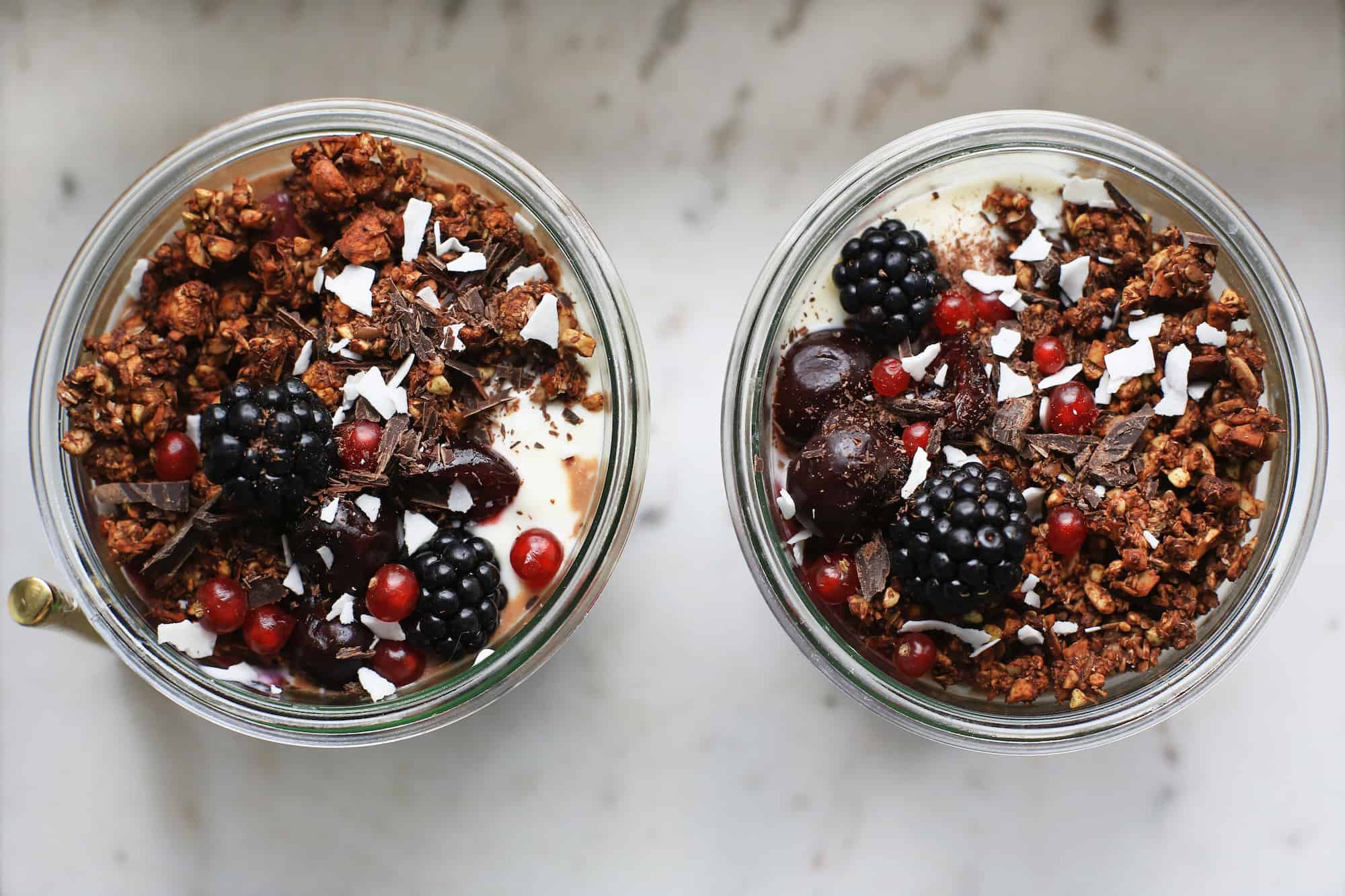 ---
CHERRY LAYER SMOOTHIE W/ CHOCOLATE GRANOLA
Prep time: 30 minutes
Cook time: 15 minutes
Total time: 45 minutes
Serves: 2
INGREDIENTS:
Granola :
– 10g sunflower seeds
– 10g buckwheat groats
– 15g chopped almonds
– 15g chopped cashews
– 10g puffed quinoa
– 10g shredded coconut
– 5g flax seeds + 5g ground flax seeds
– 5g mulberry
– 1 tsp raw cocoa powder
– 1 tsp cinnamon
– 1 tsp cardamom
– 1 tsp vanilla extract
– 1 pitted Medjool date
– 5 tbsp water
Smoothie :
Cherry sauce
– 90g frozen cherries
– 3 tbsp chia seeds
– 1 tsp almond extract
Cherry nice cream
– 2 frozen ripe bananas
– 5 frozen cherries
– 10g dark chocolate
Chocolate cauliflower nice cream
– 200g frozen cauliflower florets
– 200ml unsweetened almond milk
– 1 tbsp MySuperfood Muscle Power protein
– 1 tbsp raw cocoa powder
– 1 tbsp unsalted peanut butter
INSTRUCTIONS:
For the granola:
Preheat your oven at 150°C.
In a bowl, combine the sunflower seeds, buckwheat, puffed quinoa, chopped almonds, chopped cashews, shredded coconut, flax seeds (both seeds and grounded), mulberries, cacao powder and spices.
In a high speed blender, blend the date with the water and vanilla extract. You can add more date if you want the granola sweeter.
Add the wet mixture into the bowl and stir roughly with your hands until everything is well coated. You might obtain a very wet mixture for a granola, but don't worry about that, it will dry during baking.
Spread the mixture on a lined tray. Bake for 15 minutes, stirring time to time to avoid the granola to burn. Then, let cool completely until your granola becomes totally dry (it can take about 15-20 minutes).
For the smoothie:
Prepare the cherry sauce: in a sauce pan, bring 100ml of water to a boil. Add the frozen cherries and almond extract, stir well. Then reduce heat to medium, add the chia seeds and mix constantly in order to avoid chia seeds to clump. Let cook for about 5 minutes, then remove from heat and let completely cool down.
Prepare the chocolate nice cream: in a high speed blender, blend all the ingredients until you obtain a smooth texture. It can take about 5 minutes. Keep in fridge until plating.
Prepare the cherry nice cream: cut the frozen cherries in big pieces (halves and quarters) and chop the dark chocolate into big chunks. In a high speed blender, blend the frozen bananas until you get a smooth texture. Transfer in a bowl and add the cherries and chocolate chunks. Mix everything.
Assembly:
In a jar or a tall glass, make layers with the chocolate nice cream, the cherry nice cream and the cherry sauce. You can also add coconut yogurt if you like. Finish by topping with granola, fresh berries and more chocolate chunks.