I must say these lemon and poppy seed cookies are equally delicious as the classic chocolate chip ones. They have this dreamy soft and gooey texture in the center but are crisp on the edges. They're perfectly sweet with just the right amount of tang from the lemon. They are easy to make, gluten free and vegan!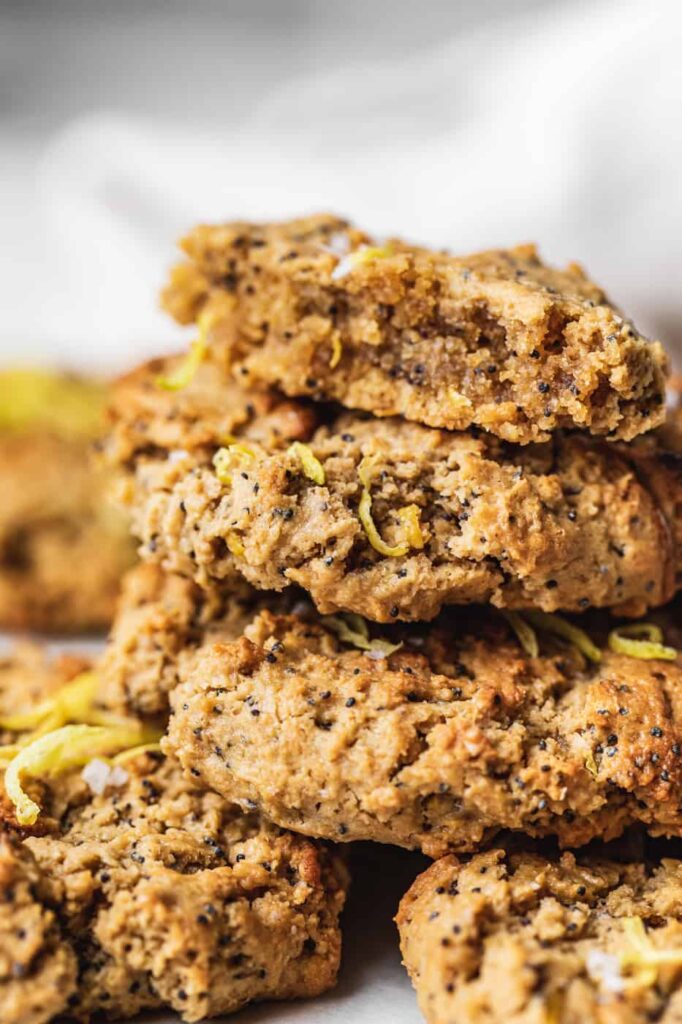 Why you need to make these lemon poppy seed cookies?
The story behind the cookies
Maybe you're wondering why to make lemon poppy seed cookies while you can have chocolate chips cookies? Well, I used to think the same before I went back to California this Summer. As usual when I'm traveling abroad, I was on a mission to taste as much delicious new food as possible.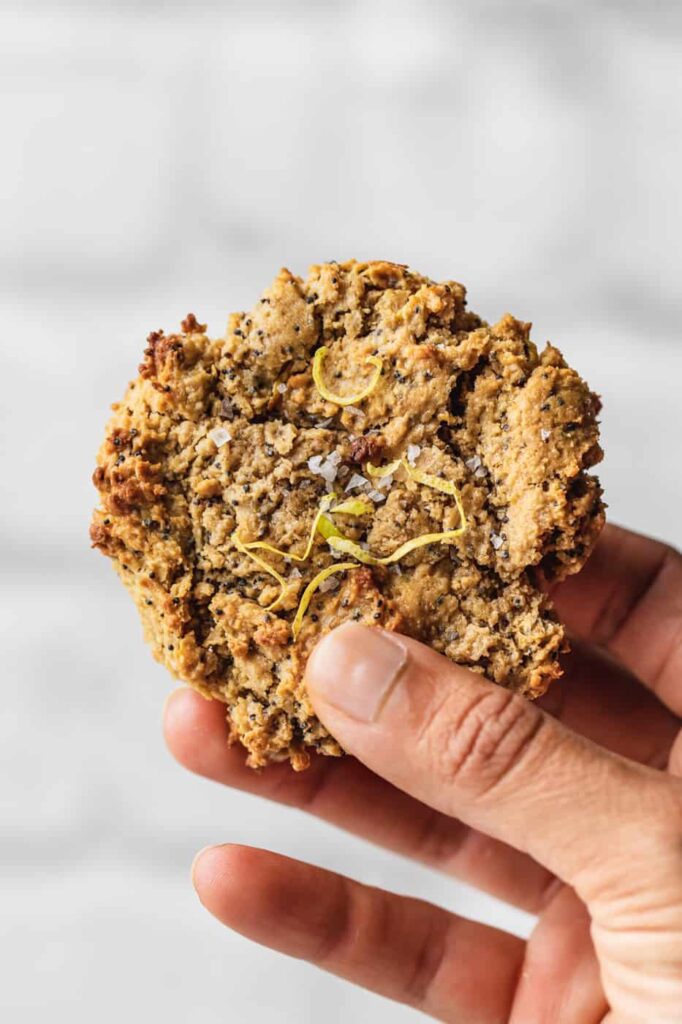 There was this brand of vegan cookies you can find in many stores, but also in most of national park visitor center and even in the middle of the desert. It's called Alternative Baking Company, and they're dedicated to provide vegan cookies that taste equally delicious as traditional baked goods. They have a range of 12 cookies flavors, and once having tasted the classic chocolate chip, peanut butter, double chocolate and snickerdoodle, I was a little reluctant to try the lemon poppyseed one. I mean, how a lemon cookie could be better than a peanut butter chocolate chop cookie? Well, I was totally wrong.
This lemon and poppy version turned to be incredible and my boyfriend's mission became to find them at every stop! Back home, he asked me to make the exact copy of this cookie. Light, fluffy, chewy and slightly crispy on the edges. Lightly sweet with a delightful fresh lemon flavor. After a few tests, here it is, my version of the chewy lemon poppy seed cookies!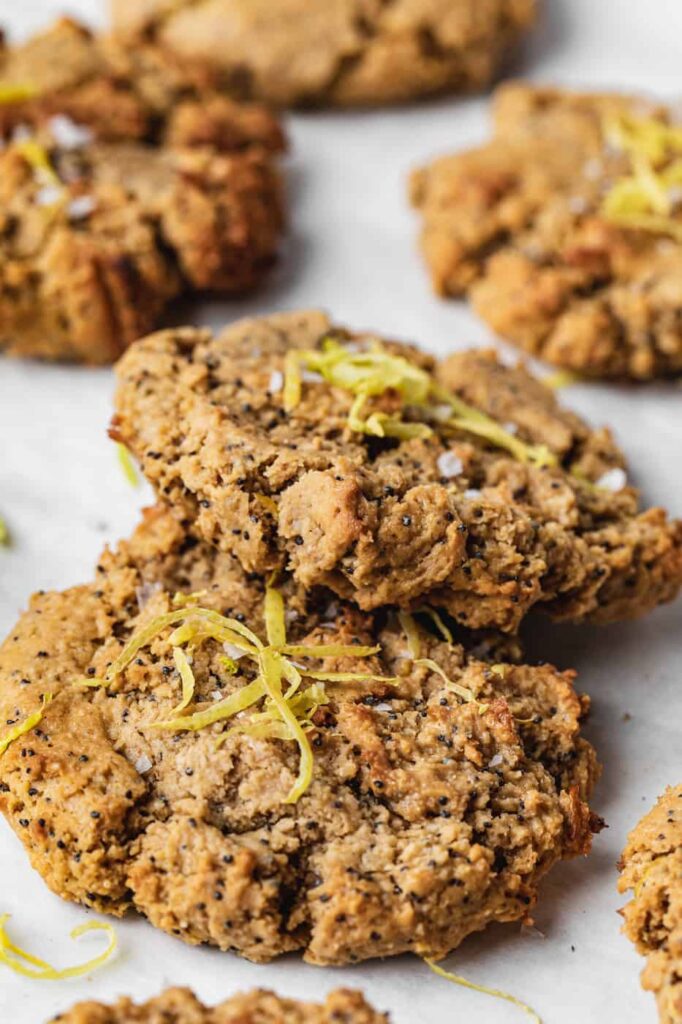 Why they are the best lemon poppy seed cookies
These are truly the perfect lemon poppy seed cookies. They're incredibly soft and melty on the inside and crispy on the outside. They have the right amount of lemon flavor from the juice and the zest, and are loaded with poppy seeds for a nice crunchiness. They're not over sweetened, but just enough to be luscious and loved by all!
But the reason why I love this recipe so much is because of how quick and easy they are to make! You basically just need to beat the ingredients separately, combine, chill, scoop, drop and bake. The most difficult part will be to leave the cookies to cool for a few minutes before to enjoy!
Another reason why you gonna love this recipe is that it's gluten free, dairy free and vegan. And when I say gluten free, I'm not referring to a store-bought gluten free mix, or a tricky combination of flours and gums and other weird ingredients. Just two simple flours you can find everywhere or even make at home!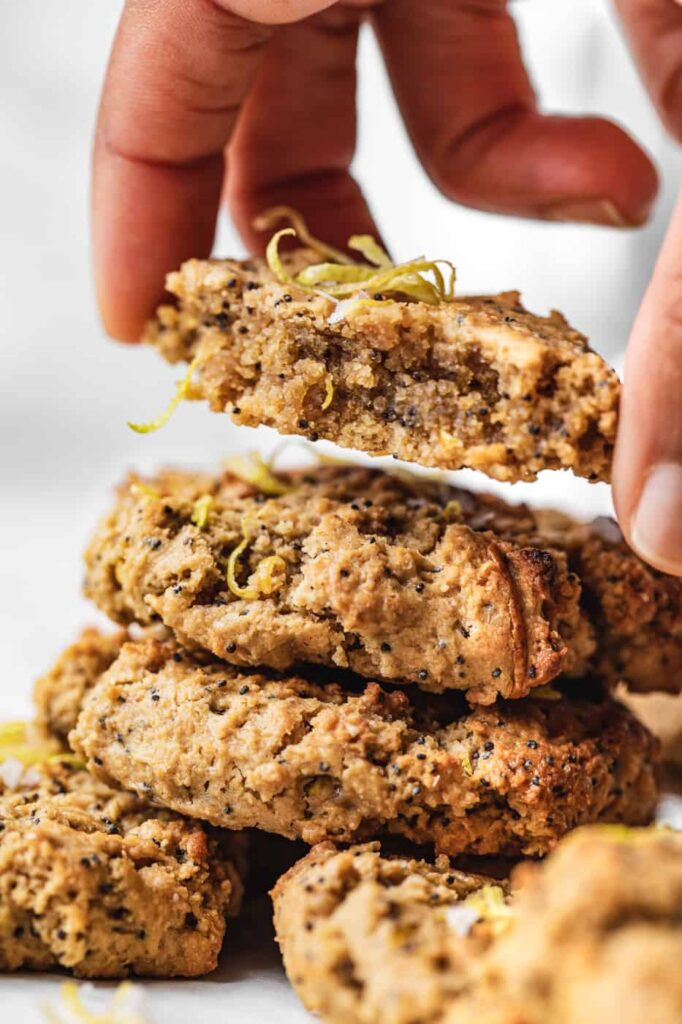 Ingredients for lemon poppy seed cookies
To make these chewy lemon poppy seed cookies you need:
Oat flour – Is a naturally gluten free flour made from oats. You can use store-bought oat flour or make your own by blending oats in a high speed blender until you get a very fine flour.
Almond flour – It's a flour made from branched almonds. Almond flour is different from almond meal and can't be substituted in the exact same portions.
Baking soda – The leaving agent that helps to rise the dough and make fluffy airy cookies.
Coconut oil – Using oil instead of butter gives the cookies a lighter texture. You can use deodorized coconut oil if you don't like the flavor of coconut.
Almond butter – It adds richness and creaminess. Use natural blanched almond butter and make sure there is no added ingredients like sugar or oil.
Brown sugar – We use a mix of brown sugar and coconut sugar in these cookies to get the perfect texture AND flavor!
Coconut sugar – Coconut sugar is my favorite powdered sugar option. It as a low glycemic index and a delicious caramel flavor.
Dairy free yogurt – You can use whatever variety of dairy-free yogurt, like soy, almond, oat or even coconut yogurt.
Lemon – We use both the juice and the zest of the lemon in this recipe. I recommend to first zest the lemon before you cut and juice it so you use the whole fruit!
Poppy seeds – Poppy seeds are obtained from the opium poppy flower. You can find poppy seeds in most grocery stores, often with the spices.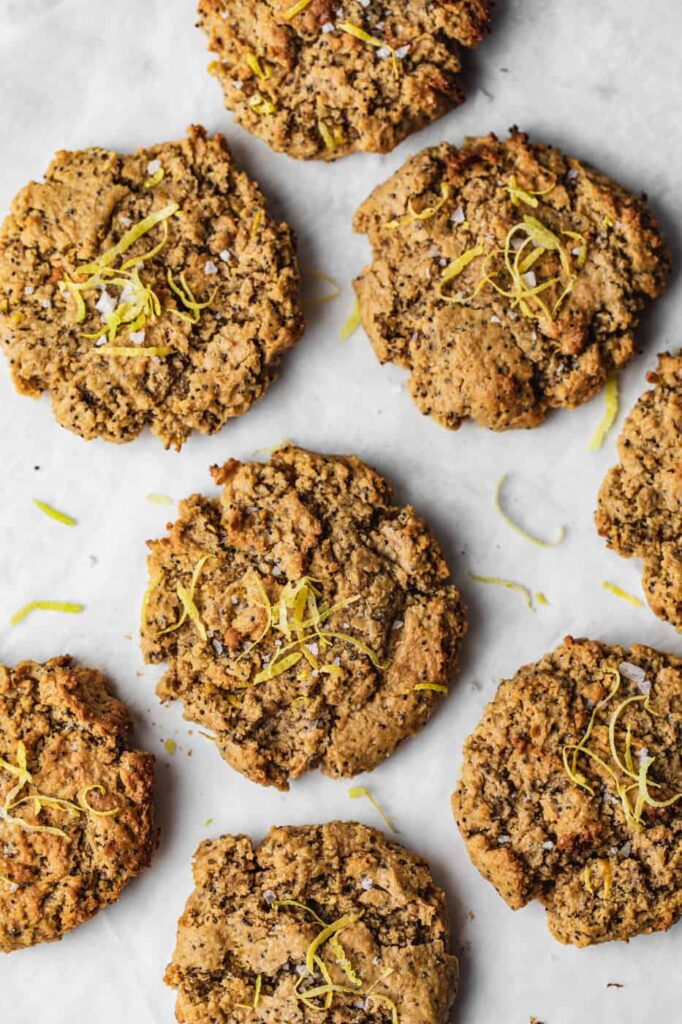 Ingredients substitutions
How can I replace the almond flour?
Almond flour is probably the trickiest ingredient to find. Whenever possible, I recommend swapping the almond flour for another nut-based flour, but it's also hard to find them. Another possibility is to substitute cassava or oat flour at a 1:1 ratio for almond flour. If you don't mind eating gluten, you can use all-purpose white flour as well in a 1:2 ratio of wheat flour to almond flour (1 cup almond flour, you'll need 1/2 cup of wheat flour).
How can I make these cookies nut free?
If you're allergic to nuts, good news as these cookies can be made nut free! For that, you can swap the almond flour for a nut free flour, like cassava, oat flour or even all-purpose flour. Also you'll have to replace the almond butter with a nut free butter like sunflower or tahini.
I don't like the taste of coconut, what can I use instead?
I know many people don't like the taste of coconut. To be honest you can't really taste the coconut in this recipe. But if you're really sensitive to coconut flavor, you can use deodorized coconut oil or substitute with vegan butter. Similarly coconut sugar actually doesn't taste like coconut, but you can also swap for granulated sugar.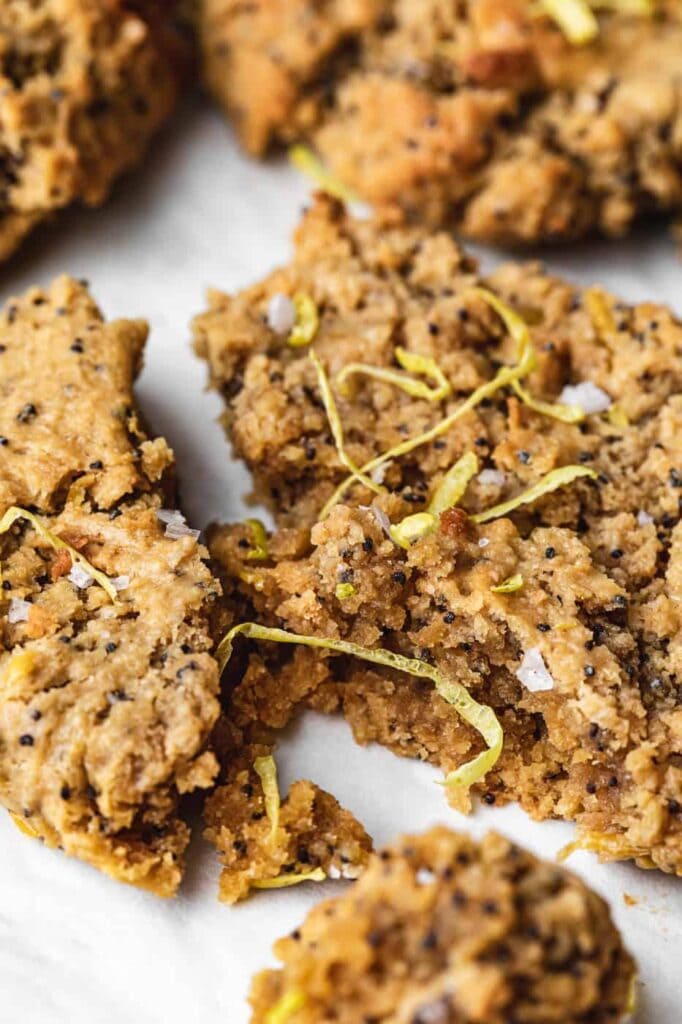 Tips for thick and chewy lemon poppy seed cookies
The best part with these cookies is they're thick and chewy in the middle. Here are some of my tips to bake the perfect cookies!
Properly measure the ingredients – That's true for most recipes in the world, and especially for cookies! Not being precise in the measurements is the major reason why a recipe fail. As far as possible I recommend to weight the ingredients with a kitchen scale. But if you prefer the cups, make sure to use them properly. For the flour and sugar, spoon it into your measuring cup and level if off with a flat edge.
Use a mix of 2 sugars – In this recipe I use both brown sugar and coconut sugar. The reason is that these two sugars have different characteristics that will affect both the texture and the flavor. Brown sugar is what gives the cookies a chewy texture, while the coconut sugar creates the crispy edges.
Don't over mix the dough – Once you've done the wet and the dry preparations separately, combine them and then stir just until a dough form. Stop immediately when you get a smooth and uniform dough. This is particularly true for cookies with regular flour. If you mix the dough for too long it become elastic and the cookies won't be that fluffy and chewy.
Make large cookies – Is that really a tip? I mean, everybody prefer a big cookie than a tiny one! Not only they're more delicious but large cookies bake better than smaller ones. Because they have a larger surface area, it takes much longer to the heat to go through the cookie and reach the center. Thanks to this temperature gradient, the edges of the cookies will bake quicker and become crispy and golden while the center stays soft and gooey.
Don't over bake – Last but not least, never over bake your cookies! It's true with this recipe but also any other cookies you'll make in your life! You always want to pull the cookies when they're golden brown on the edges but still soft in the center. The dough must even look a little underbaked and raw at heart but the cookies will continue to bake and dry outside of the oven. 12 minutes were great for me but the baking time can vary depending on your oven. I don't recommend to bake these cookies more than 13 minutes.
Never enough cookies? Enter a new world of possibilities with my VEGAN COOKIES EBOOK and its 20 exclusive and exciting cookies flavors.
For more of my favorite cookie recipes, check out my:
I love to see your creations! Make sure to tag me @alicepages on Instagram and give your feedback in the comments below if you make this recipe! Your opinion is my best reward and I can't wait to see your beautiful creations!
Print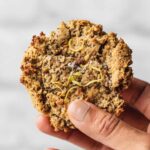 Chewy Lemon Poppy Seed Cookies
Author:

Prep Time:

10 minutes

Cook Time:

12 minutes

Total Time:

22 minutes

Yield:

9

cookies

1

x

Category:

Cookies

Method:

Oven

Cuisine:

American

Diet:

Gluten Free
---
Description
These are the perfect lemon poppy seed cookies! They are soft and gooey on the inside and crisp on the edges. They're perfectly sweet with just the right amount of lemon flavor. They're vegan and gluten free!
---
1

cup

(90 g) oat flour* see notes

3/4

cup

(60 g) almond flour

3/4 tsp

(

5 g

) baking soda

1/4 tsp

ground cardamom

1/4 tsp

salt

1/4

cup

(50 g) coconut oil, melted

1/4

cup

(60 g) almond butter

1/3

cup

(60 g) brown sugar

1/3

cup

(40 g) coconut sugar

1/4

cup

(40 g) dairy-free yogurt

2 tbsp

water

1 tbsp

lemon juice
Zest from

1

lemon

1 tbsp

(

10 g

) poppy seeds
---
Instructions
In a medium bowl, whisk together the oat flour, almond flour, baking soda, cardamom and salt.
In a large bowl, add the coconut oil, almond butter, brown sugar and coconut sugar. Beat with a whisk or an electric mixer until it becomes creamy, fluffy and smooth.
Add in the yogurt, water, lemon juice and lemon zest and stir until well combined.
Gradually add the dry ingredients in the wet ingredient while mixing to avoid clumps. Beat just until a dough forms. Don't over mix to ensure a chewy cookies.
Use a spoon to fold in the poppy seeds until evenly incorporated.
Cover the bowl with a foil and place in the fridge to chill for 30 minutes.
Preheat the oven to 350 degrees F (180°C) and line a baking tray with baking paper.
Use a medium cookie scoop or an ice cream spoon to scoop balls of the dough. Drop the dough on the baking tray, about 2 inches away. Leave as is and don't flatten for the moment.
Bake for 10-12 minutes, until the edges are just barely golden. Remove from the oven and lightly flatten the cookies wit the palm of your hands if they're too thick. Then leave to cool on the baking tray for 5 minutes before moving the cookies to a wire rack to finish cooling.
---
Notes
Oat flour: You can use store-bought oat flour or make your own by blending oats in a high speed blender until you get a very fine flour.
Texture: If you want the cookies to be thick and fluffy, I don't recommend flattening the balls of dough before baking. Just leave it drop right from the scoop and leave as is.
Baking time: Baking time can vary depending on your oven. 12 minutes was perfect with my oven, but you might need to bake them a little more or less. You want the edges to be slightly golden but the center should be very soft and almost appear a bit raw. In any case, don't over bake the cookies, they will dry and harden when the cool.
Keywords: cookies, lemon poppy seed cookies, chewy cookies, soft cookies, gluten free cookies, vegan cookies,
Recette version française
Print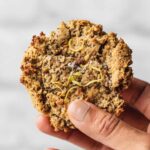 Cookies moelleux citron pavot
Author:

Prep Time:

10 minutes

Cook Time:

12 minutes

Total Time:

22 minutes

Yield:

9

cookies

1

x

Category:

Cookies

Method:

Four

Cuisine:

Américaine

Diet:

Gluten Free
---
Description
Ces cookies au citron et aux graines de pavot, vegan et sans gluten, sont très faciles à réaliser! Ils sont parfaitement moelleux à coeur et croustillants sur les bords.
---
90

g

de farine de flocons d'avoine* voir notes

60

g

de farine d'amandes

5

g

de levure chimique

1/2

cuil. à café de cardamome en poudre

1/2

cuil. à café de sel

50

g

d'huile de coco fondue

60

g

de purée d'amandes

60

g

de sucre cassonade

40

g

de sucre de coco

40

g

de yaourt végétal nature

30

ml

d'eau

2

cuil. à soupe de jus de citron
Le zeste d'un citron

10

g

de graines de pavot
---
Instructions
Dans un grand bol, mélanger la farine de flocons d'avoine, la farine d'amandes, la levure chimique, la cardamome et le sel.
Dans un grand saladier, mélanger l'huile de coco fondue, la purée d'amandes, la cassonade et le sucre de coco. Battre au fouet ou au mixeur électrique pour faire mousser le mélange, jusqu'à ce qu'il soit bien crémeux.
Ajouter le yaourt, l'eau, le jus et le zeste de citron et battre de nouveau pour les incorporer au mélange.
Verser progressivement le mélange d'ingrédients secs dans le saladier tout en remuant. Mélanger au fouet et arrêter dès qu'une pâte homogène se forme. Ne pas trop mélanger la pâte pour éviter qu'elle ne devienne élastique et que les cookies soient bien moelleux.
Incorporer les graines de pavot avec une spatule.
Couvrir le saladier et placer au réfrigérateur pendant 30 minutes.
Préchauffer le four à 180°C et chemiser une plaque de papier cuisson.
Prélever une boule de pâte à l'aide d'une cuillère à cookies ou une cuillère à glace, et déposer les boules sur la plaque en les espaçant de quelques centimètres. Ne pas aplatir les boules de pâte pour des cookies épais et moelleux.
Cuire pendant 10 à 12 minutes, jusqu'à ce que les cookies soient dorés sur les bords et encore bien mous au centre.
Retirer les cookies du four et les aplatir très légèrement avec la paume de la main s'ils sont trop épais. Laisser les cookies refroidir 5 minutes sur la plaque avant de les transférer sur une grille jusqu'à refroidissement complet.
---
Notes
Farine de flocons d'avoine: Vous pouvez soit utiliser une farine du commerce soit réaliser votre propre farine en mixant des flocons d'avoine au blender jusqu'à obtenir une poudre.
Texture: Pour des cookies épais et bien moelleux, je recommande de ne pas les aplatir avant cuisson. Si vous le désirez, vous pourrez toujours les aplatir à votre guise à la sortie du four.
Temps de cuisson: Le temps de cuisson peut varier en fonction du four utiliser. Pour moi, 12 minutes de cuisson ont été nécessaires pour des cookies bien dorés sur les bords et fondants à coeur. Je recommande de débuter avec 10 minutes de cuisson puis de prolonger de 2 à 3 minutes si nécessaire. Dans tous les cas, ne poussez pas la cuisson plus de 13 minutes ou les cookies vont être secs.
Keywords: cookies, cookies citron pavot, cookies moelleux, cookies épais, cookies sans gluten, cookies vegan