Wow, I can't believe summer is nearly there! We had a very hot week in Paris with temperature above 77F and I have spent the weekend wearing shorts and eating ice-creams, while I can remember that it was still snowing less than one month ago.
The weather is turning going mad and the transition was so brutal. But ok, I'm not going to complain about that as the early summer is one of my favourite time of the year, this moment when the days start to extend and it is still light when you finish your work day, when people are all smiling in the streets, when you can just go for an evening walk and seat in the grass waterfront to enjoy the peacefulness and the mildness of the last sunlights.
At this time, I basically spend the most time as possible outdoor, breathing the fresh air and perfecting my tan. I try to go out for a quick walk every time I finish a task, workout outside, make picnics for dinner. I love it so much and all these little simple things make me so happy.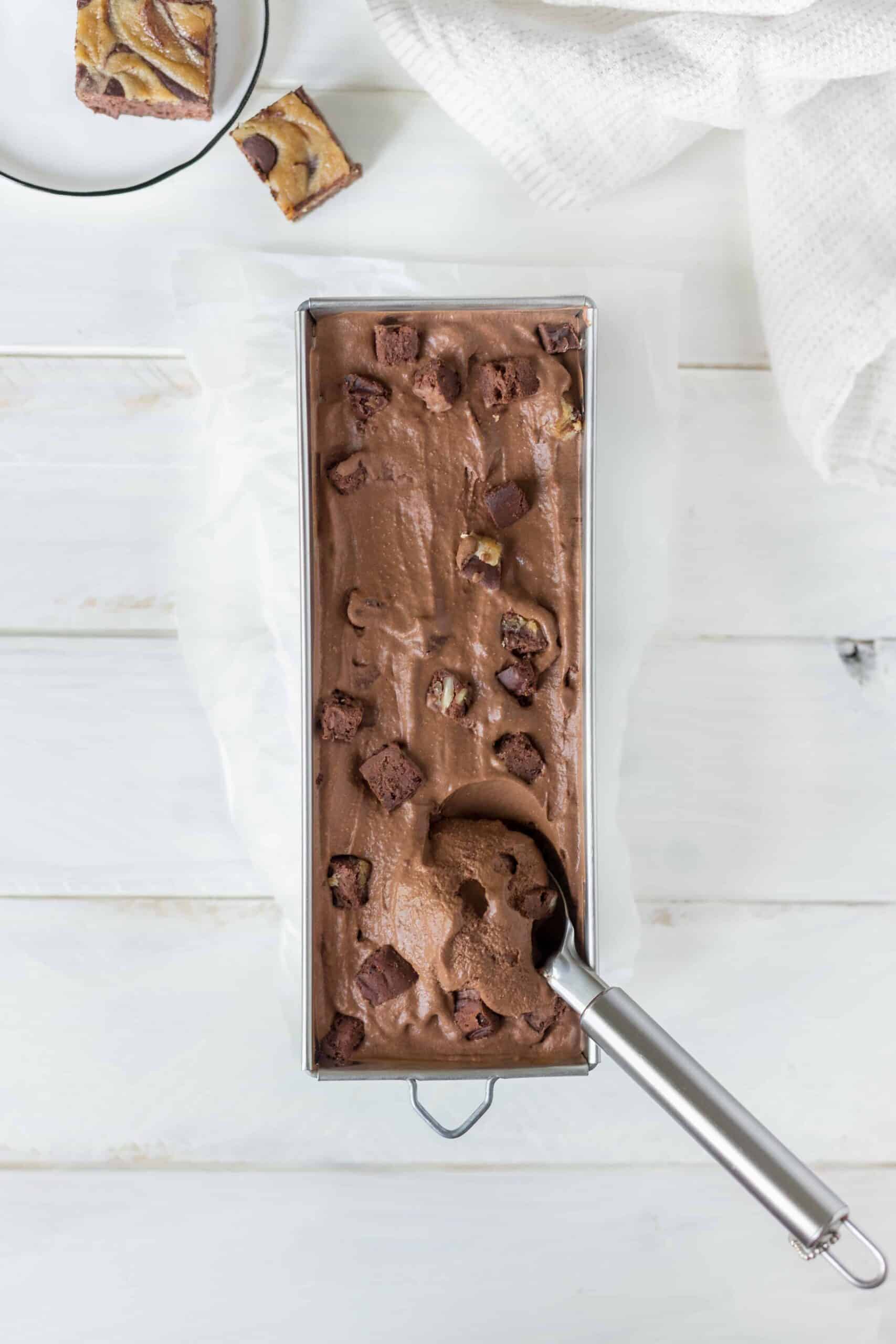 And not to mentioned the food! Summer makes me want to create vibrant and colourful meals, forget my oven for a little time and focus on freshness and raw food. I think about salads, cold soups, rolls, zucchini noodles, toasts and spreads, and a glass of cold kombucha -I am currently brewing my own, will share this experience with you later. 
I never tire of building delicious salad bowls for dinner, there are so versatile and creative, and very easy and quick to prepare than you can spend less time in your kitchen and use it to relax and enjoy the evening. My favourite thing is to have an half melon stuffed with various fruits, vegs and nuts, just like a bowl! So good and funny to prepare!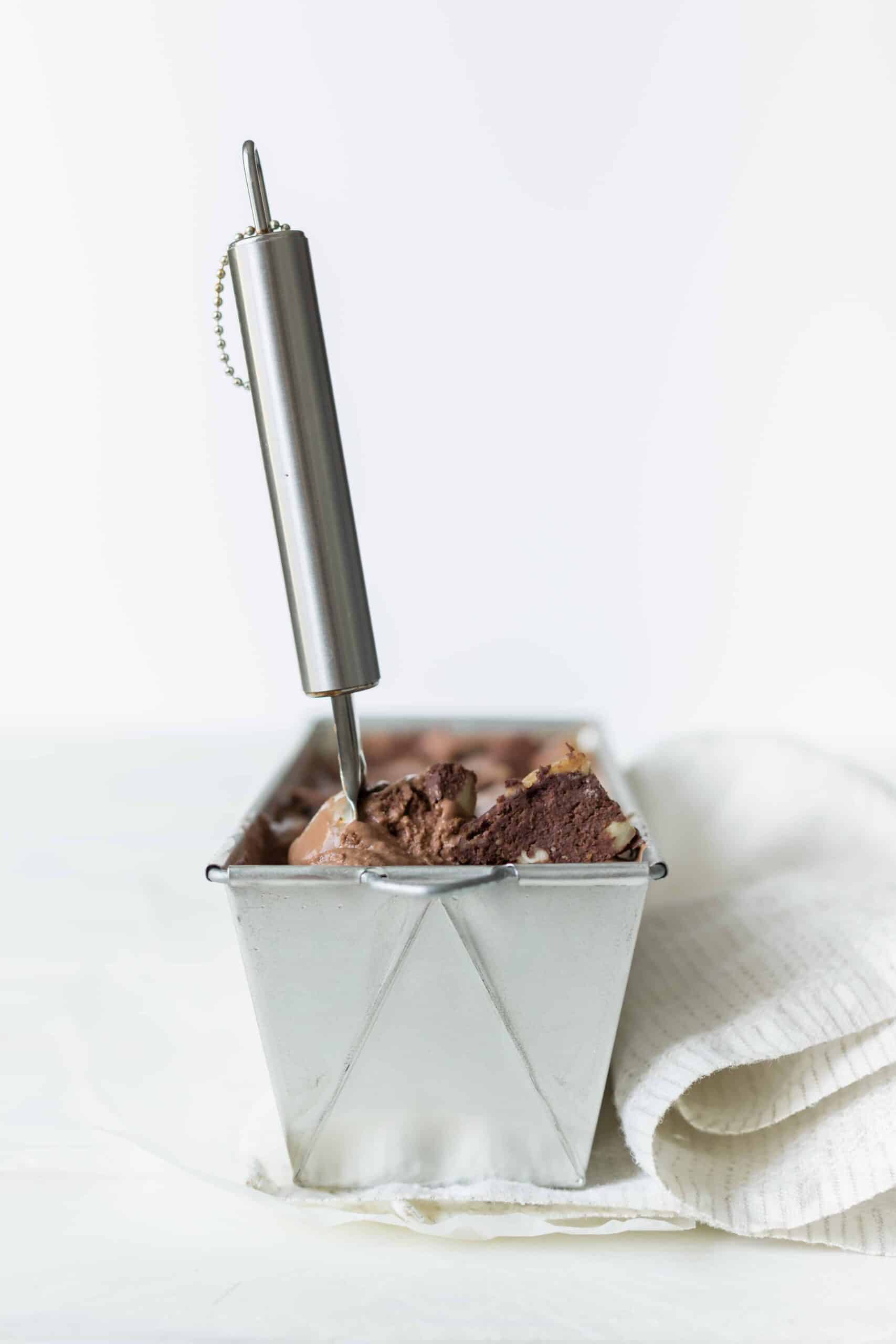 But I won't lie, the best overall thing about summer is ICE-CREAM! Even if I have taken the habit of making ice-cream all year round, there is nothing better than enjoying it in the street in a hot day -rather than under your blanket with a side of hot tea.
I have recently discovered many new Vegan ice-cream brands -Vegan Ben & Jerry have arrived in France Hooraaay, but also Professor Grunschnabel or Northern Bloc, that I was very inspired. And that's how I have made this amazing yet so simple chocolate brownie ice-cream!
Combines the best things in life: chocolate, coconut cream and peanut butter, and because there is nothing more satisfying than bumping into a bite of brownie/cookie dough or whatever in your scoop of ice-cream, I have put some PB brownie bites in – don't lie, I know you too are always fighting with your boyfriend/girlfriend/friend/little sister/cat to get the " well stuffed side of the pint".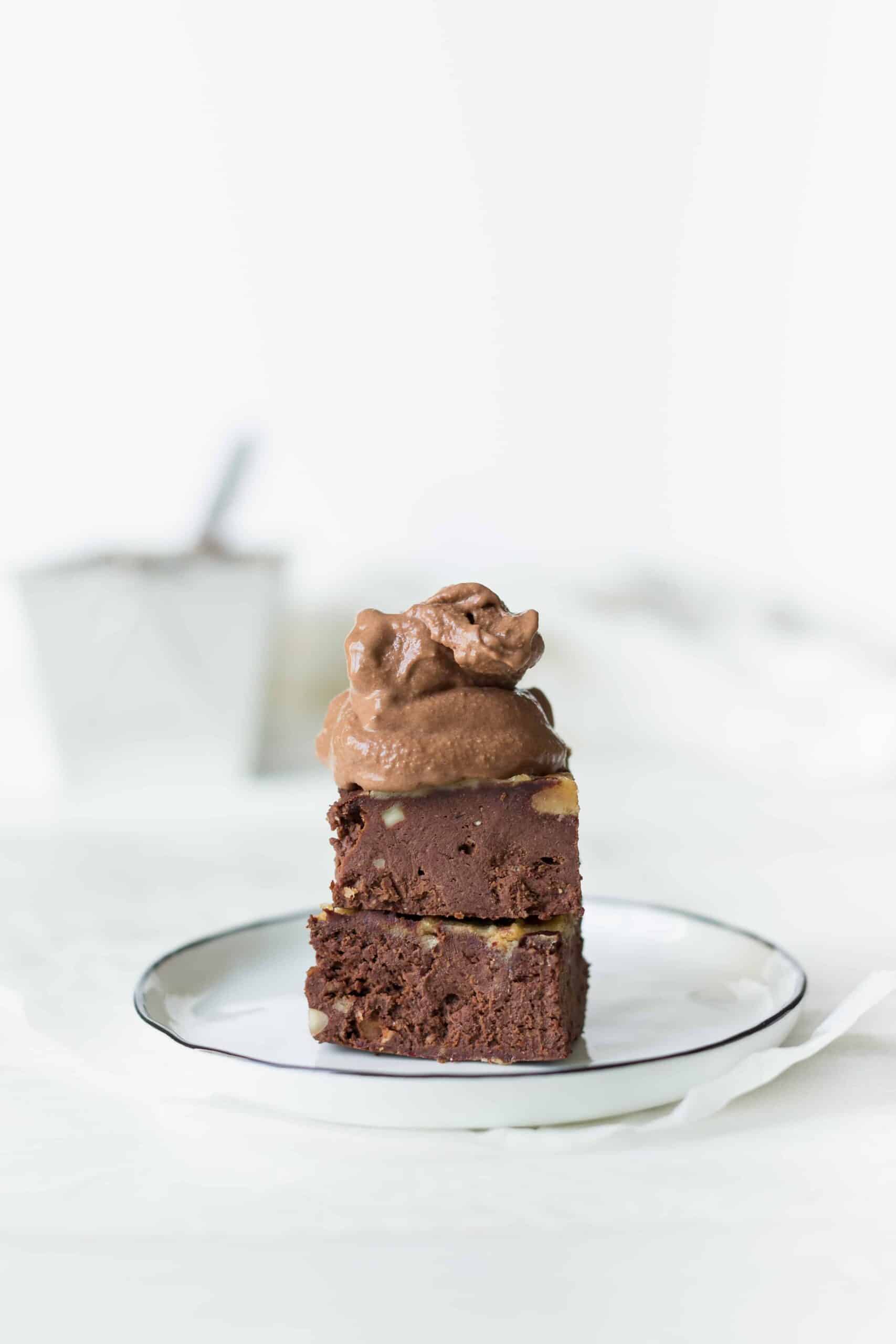 Anyway, this ice-cream is really simple to make, either if you have an ice-cream maker or not -it simply take more time, so be patient, except if you like melted ice-cream. I try to kept the recipe is simple as possible, using only few ingredients. It is also pretty healthy as there is no added sugar except from the natural sweetness of the dates and banana, and no bad fat, so that you can enjoy it in your brand new bikini without any guilt. You can also adapt the recipe and make for instance a neutral vanilla base and add cookie dough bites in, lets be creative!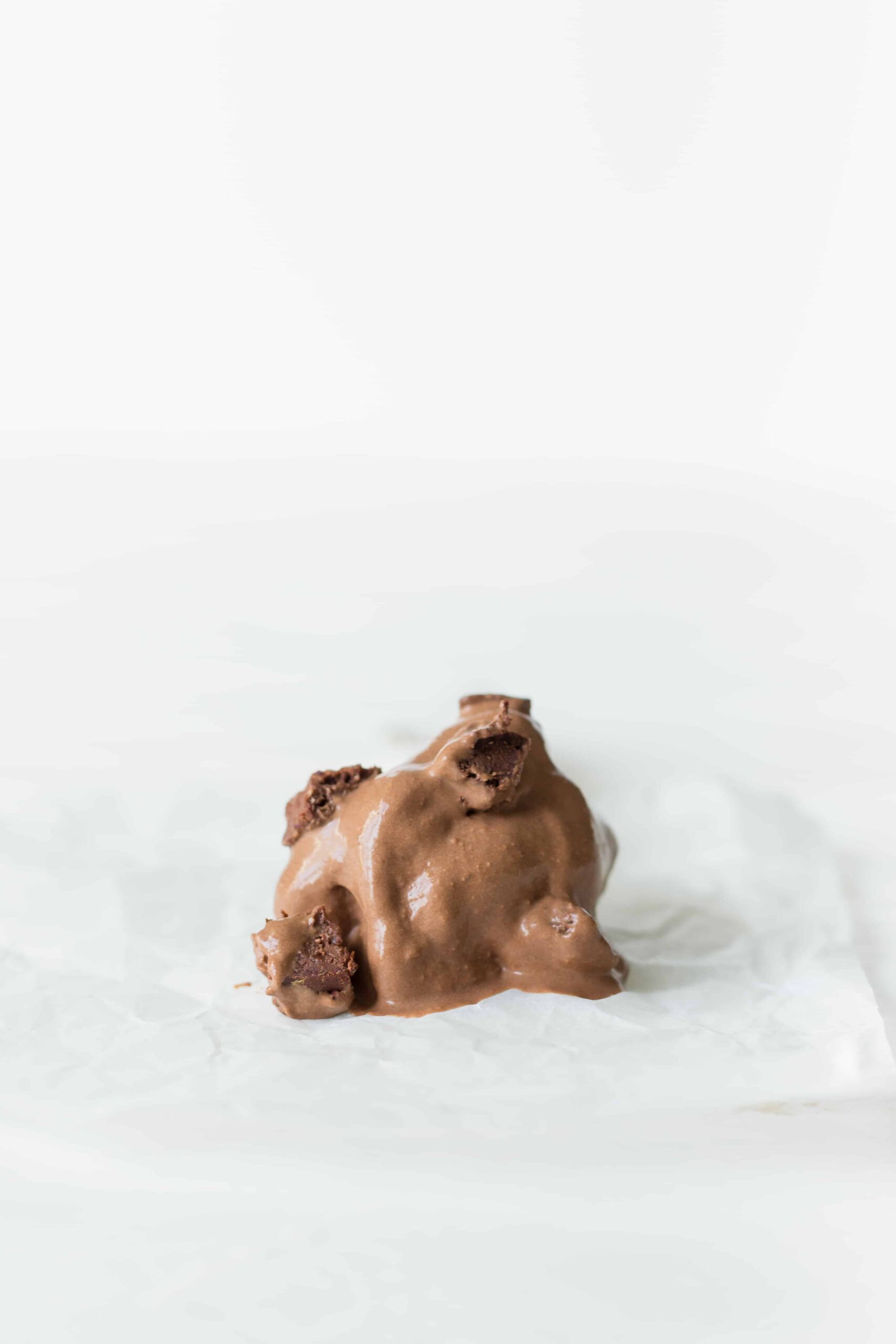 I hope you will like it and make this recipe your new summer buddy! Let me know in the comments if you like it or how it turned if you give it a try. I would be happy to read your feedbacks!
Print Peanut butter & brownie ice-cream
Author:

Prep Time:

15 minutes

Cook Time:

30 minutes / 4 hours

Total Time:

45 minute

Yield:

1 pint

of ice-cream

1

x

Category:

ice-cream, dessert
---
Description
Treat yourself with this creamy chocolate ice-cream and its generous chunks of peanut butter brownie. It's naturally sweetened with banana and dates for a no-guilt pleasure.
---
1/4 cup

cashew, soaked for at least 8 hours

2

frozen bananas

1

can of coconut cream 

3/4 cup

almond milk

3

Medjool dates

4 tbsp

cacao powder

1 tsp

vanilla extract

2 tbsp

arrow-root (optional)
a pinch of salt
About

4

Peanut Butter brownie bites
---
Instructions
1. Rinse and drain the soaked cashews. Combine the cashews, frozen bananas, coconut cream, almond milk, pitted dates, vanilla and salt in the bowl of a blender or food processor. Mix until perfectly smooth.
2. Add the cacao powder and arrow-root (optional, see notes) and mix again to incorporate.
3. With an ice-cream maker: pour the mixture in your ice-cream maker and proceed following the specific instructions, until the ice-cream is thick but still shapable. Then fold in the brownie cut in bite-size pieces. Pour the mixture in a container and place in freezer for about 1 hour to firm before serving.
Without ice-cream maker: spread the mixture in a large container and place in freezer. Every 30 minutes, remove the ice-cream from the freezer and stir using a fork to break the crystals that are forming, and return to freezer. When the mixture starts to thicken, fold in the brownie cut in bite-size pieces. Return to freezer and continue to stir every 30 minutes until ready (it can take about 3-4 hours).
---
Notes
I've used this Peanut Butter Brownie recipe
If the dates are very dry, soak them in hot water for about 30 minutes to soften before using.
For a very creamy texture, store the coconut cream can in fridge overnight and scoop only he thick part that has formed on top for the ice-cream.
The arrow-root will help to get a thick and creamy texture, but is totally optional.
Keywords: ice-cream, dessert, brownie, chocolate
Recette version française
Print Glace au brownie
Author:

Prep Time:

15 minutes

Cook Time:

30 minutes / 4 heures

Total Time:

45 minute

Yield:

1

bac de glace

1

x

Category:

glace, dessert,
---
Description
Une glace ultra crémeuse au chocolat avec des gros morceaux de brownie au beurre de cacahuète pour encore plus de gourmandise. Et tout ça sans sucre ajouté!
---
40g

de noix de cajou, trempées pendant au moins 8 heures

2

bananes congelées

1

boite de crème de coco entière

180

ml de lait d'amande

3

dattes Medjool

4

c.à.s poudre de cacao

1

c.à.c extrait de vanille

2

c.à.s arrow-root (optionnel)
une pincée de sel
Environ

4

morceaux de Brownie Peanut Butter
---
Instructions
Rinser abondamment et essorer les noix de cajou préalablement trempées dans de l'eau. Mélanger les noix de cajou, les bananes congelées, la crème de coco, le lait d'amande, les dattes dénoyautées, l'extrait de vanille et le sel dans le bol d'un blender ou d'un mixeur. Mixer jusqu'à l'obtention d'un mélange crémeux et complètement homogène.
Ajouter la poudre de cacao et l'arrow-root (optionnel, voir notes) puis mixer pour incorporer.
Avec une turbine à glace: verser le mélange dans la turbine à glace et suivre les instructions du constructeur. Quand le mélange commence à épaissir tout en étant encore malléable, verser dans un bac et incorporer le brownie coupé en petits morceaux. Placer la glace au congélateur pour 1 heure environ afin qu'elle se raffermisse.
Sans turbine à glace:  verser le mélange dans un bac et le placer au congélateur. Toutes les 30 minutes, sortir le bac et mélanger la glace à l'aide d'une fourchette pour briser les cristaux de glace qui se forment. Quand la glace commence à épaissir, incorporer le brownie coupé en petits morceaux. Remettre au congélateur et continuer à remuer toutes les 30 minutes jusqu'à obtenir la texture désirée. (Cela peut prendre entre 3 et 5h selon la température de votre congélateur).
---
Notes
J'ai utilisé cette recette de brownie au beurre de cacahuète.
Si les dates sont trop sèches, faites les tremper dans de l'eau chaude pendant 30 minutes environ pour les ramollir avant de les utiliser.
Pour une texture encore plus crémeuse, réservez la boite de crème de coco au réfrigérateur pendant la nuit : la crème va durcir et se séparer de l'eau. Vous n'aurez plus qu'à récupérer la partir solide qui se sera formée en haut de la boite.
L'arrow-root aide à épaissir la glace et lui donner une texture très crémeuse, mais il est optionnel.
Keywords: glace, dessert, chocolat, brownie