I am often asking myself what is my favorite dish, as I think it is something pretty interesting to know when you are in that food thing. It basically starts with a big chaos in my head: my "problem" is that I love many different kinds of cooking style, from Sunday afternoon comforting baking, to sophisticated cuisine cooking through everyday cooking. I don't want, – and I don't think it is necessary neither, to choose one specific cooking style and stick to it because I think there are so many amazing and interesting things to pick up in each and I am always curious to learn more and develop new skills. This is how I end up baking big dirty brownies while attending refined top level Plantlab courses… But anyway, lets come back to this favorite dish dilemma!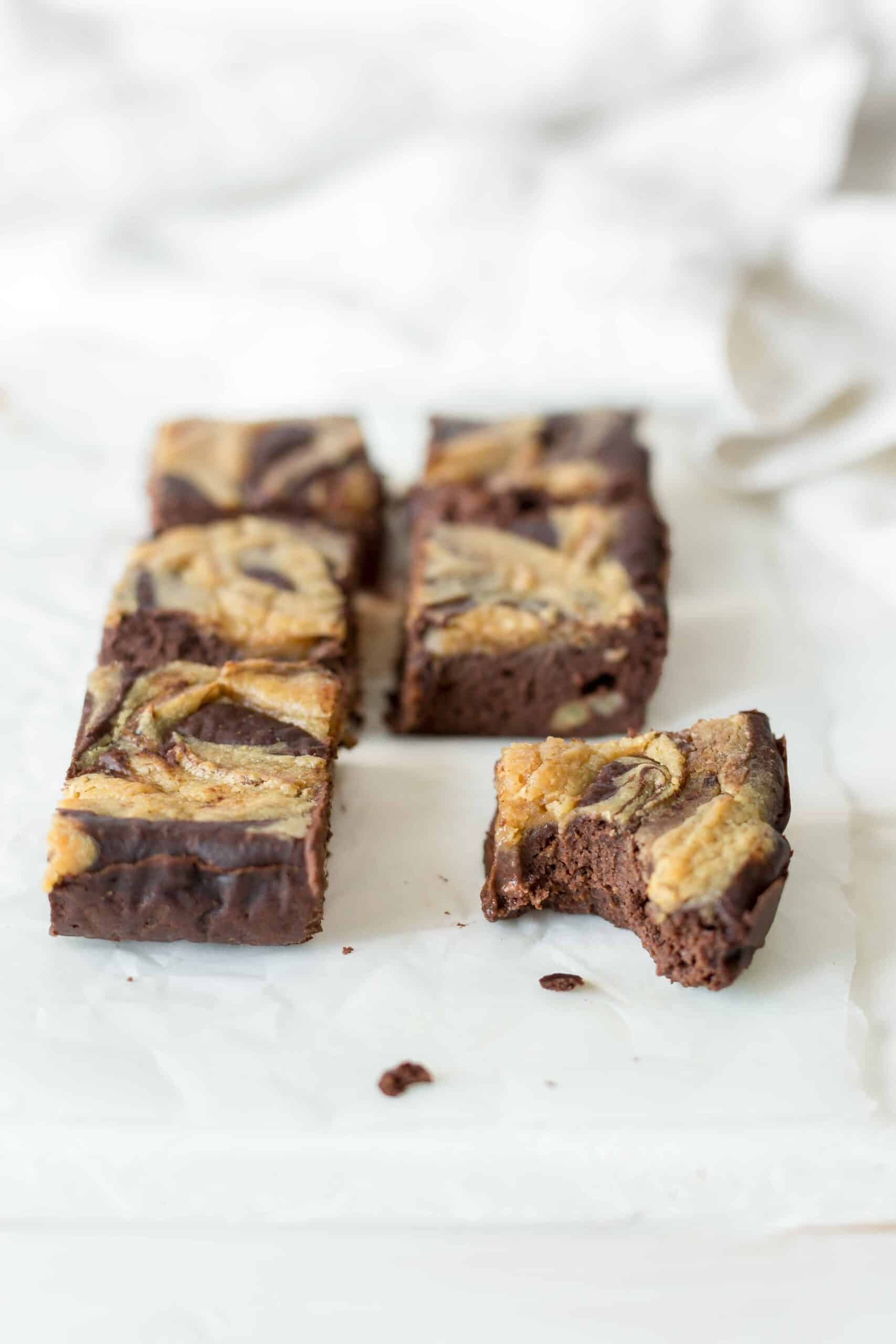 Whether it comes to savory or sweet food, I finally realized that my favorite dishes generally come from memories of my my early childhood, when my mother used to cook some simple but healthy and flavorful dishes for each meal. My main savory memory is that cheesy pasta gratin topped with pieces of crunchy toast and this creamy omelette stuffed with chives and oats. Even today, there is nothing that could make me happier than a good mac and cheese from time to time. About sweet, I have a lasting impression of my after school snacks while watching cartoons. My favorite one was, without the shadow of a doubt, this out of the world peanut butter toast. I loved it soooo much! Even if I think it was not the best one (the little blond boy brand ya know), it was my little weakness and I must say that things have not improved till today.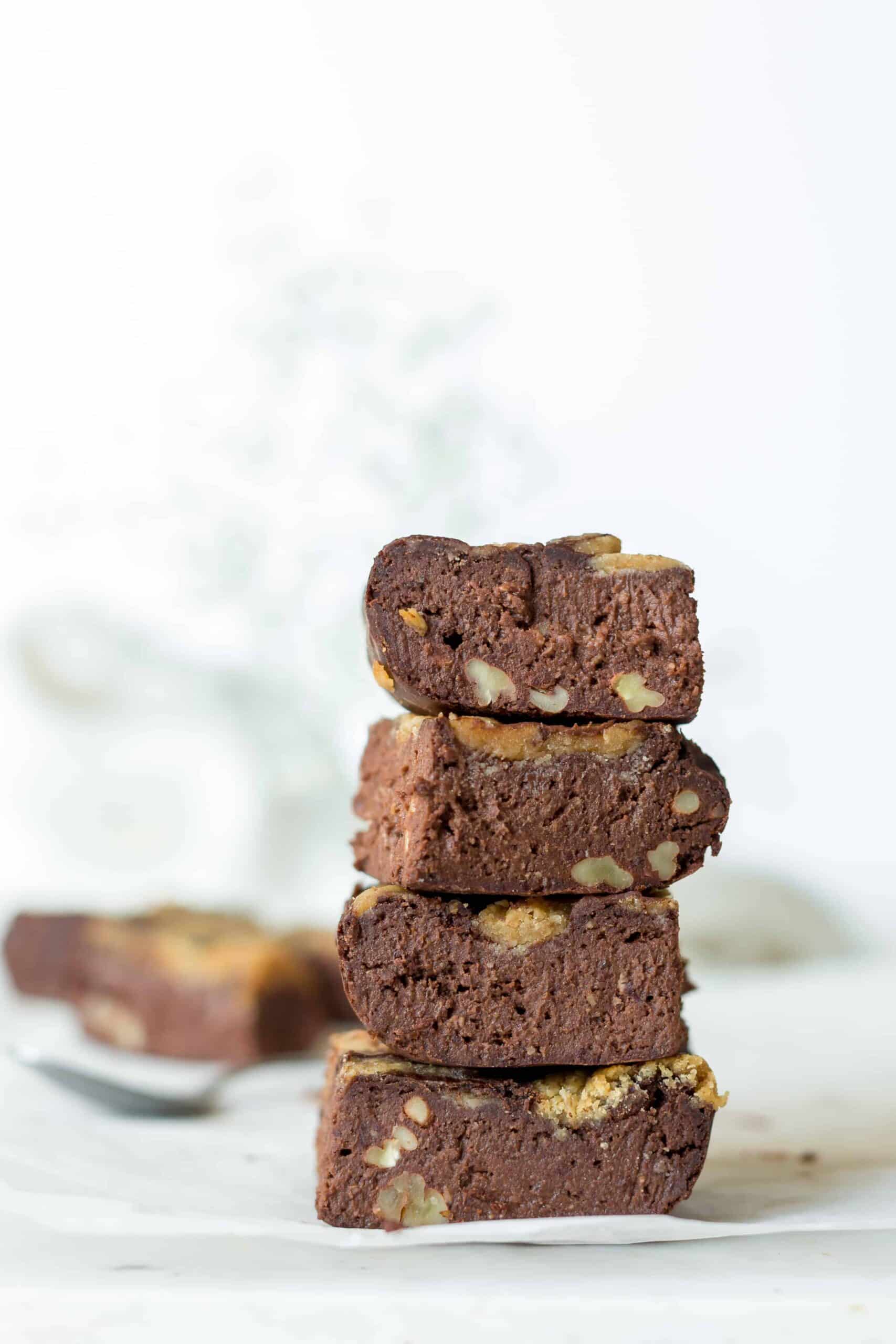 I am still a big fan of peanut butter and I try not to have a jar full time in my pantry because I know I am nearly unable to control myself with that! But, when Go Nuts propose me to become one of their products tester and ambassador… okay, I couldn't say no. Actually, I was so exciting and happy about this proposition as it was a brand I was following for a couple of time and really appreciate. Go Nuts is a young and dynamic French brand based in Lyon. They have a range of intelligent nut based products, basically peanut butter, almond butter and the most delicious peanut butter bars I've ever eaten. Their products are simply among the highest quality you can find in France: 100% natural, gluten free, sugar and oil free, organic and locally sourced. Their peanut butter is only peanuts, no oil or salt or sugar added, and this is basically everything I was looking for.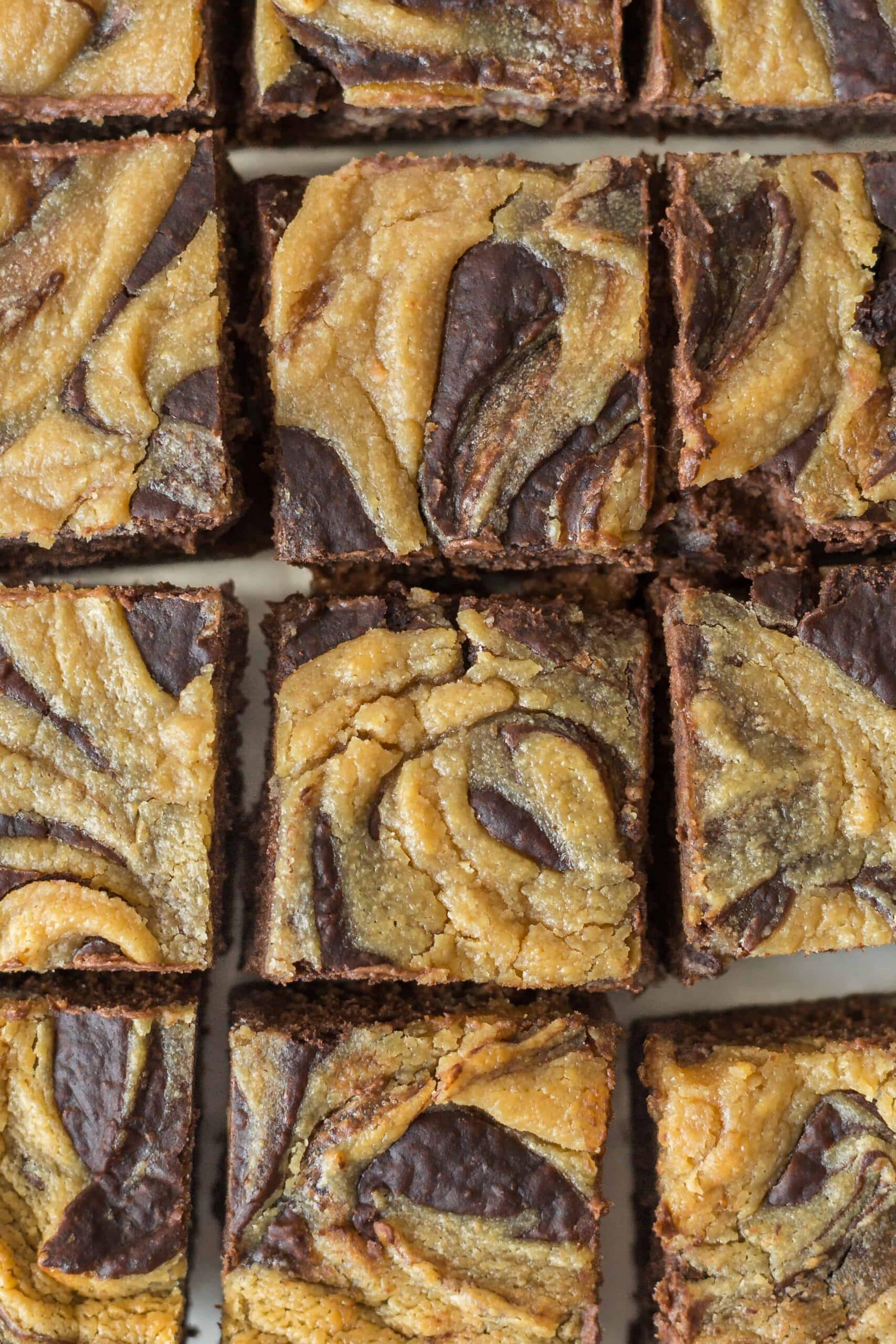 So, all that to warn you that you will probably note a tsunami of nut butter featured recipes. And to open that flow of deliciousness, I want to share with you this incredibly smooth and fudgy brownie. I tried to combine everything I have tested and seen about brownie lately to create a recipe that is consistent with my values, delicious but light and healthy so that you can eat the whole along the day and not only restrict yourself on a tiny slice. So I naturally came to black beans base, because it makes a smooth dough like texture and brings very interesting nutritional intakes for plant based sporty people. Apple sauce is also a good healthy alternative to add sweetness and texture to a cake. Finally, I wanted to keep it gluten free, cause even if I am not gluten intolerant, I try to minimize as far as possible my gluten consumption and wanted to keep this recipe accessible to everyone. Almond meal is a good option for gluten free baking as it is a fatty meal that will add a fluffy texture to your cakes. And to finish and give it a nice look, some peanut butter swirls on top.
I personally like this brownie very much as I know it is indulgent but good for me. I love the fudgy texture that makes it lighter than a regular dense brownie, and I hope you will like it too! Little tip: my favorite way to enjoy it is with an extra big scoop of peanut butter on top!
Have a beautiful week-end, full of love, baking and brownies.
Alice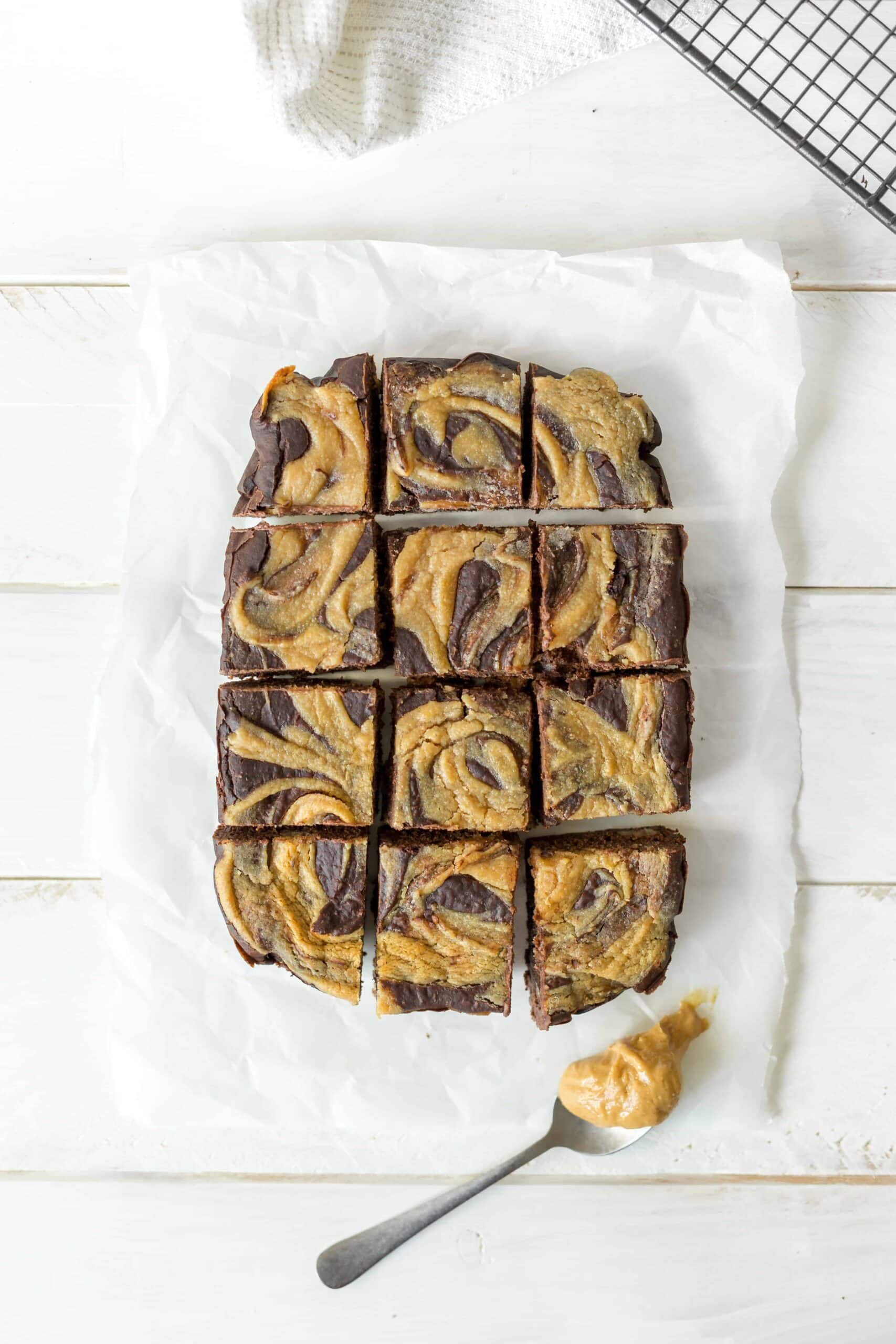 ---
FUDGY PEANUT BUTTER BROWNIE
Prep time: 15 minutes
Baking time:  30 minutes
Serves: 9-12 pieces

INGREDIENTS:
For the Brownie:
Dry ingredients:
– 1/3 cup almond meal
– 1/3 cup brown rice flour
– 1 tsp baking powder
– 1/3 cup cacao powder
– a pinch of salt
Wet ingredients:
– 1 flax egg (1 tbsp ground flaxseeds + 3 tbsp water)
– 1 can black beans (400g net / 250g soaked beans)
– 2 tbsp black beans soaking water
– 1/4 cup apple sauce
– 2 tbsp peanut butter
– 1/4 cup coconut oil
– 1/4 cup maple syrup
– 1 tsp vanilla extract
– 1/4 cup pecan
For the PB sauce:
– 1 tbsp peanut butter (I used Go Nuts peanut butter)
– 1 tbsp coconut oil
– 1 tbsp maple syrup
INSTRUCTIONS:
1. Preheat your oven at 350F (180°C) and line a brownie pan with baking paper.
2. Prepare the flax egg by mixing the ground flaxseeds and the water in a bowl. Stir well to combine and leave for about 5 minutes. The flax meal will absorb the liquid and thicken, forming a sticky egg like mixture.
3. In a large bowl, combine all the dry ingredients and mix well to combine. Set aside.
4. Blend the soaked black beans, black bean water and melted coconut oil in an high speed blender until perfectly smooth. Pour the mixture in a medium bowl. Add in the apple sauce, peanut butter, maple syrup and vanilla extract and stir well. Add the flax egg and stir again to well combine.
5. Pour the wet mixture in the dry ingredients, and mix using a spatula to combine the two preparations. Add the crushed pecan and mix again. The final texture should be smooth and pretty wet.
6. Prepare the peanut butter sauce. Mix the peanut butter, coconut oil and maple syrup in a bowl until combined.
7. Pour the brownie mixture in the prepared brownie pan and use a spatula to well spread the dough and flatten the top.
8. With a spoon, spread the peanut butter sauce on top of the brownie by drawing messy curves. Using the handle of a spoon or a stick, gently swirl the peanut butter sauce to form beautiful patterns.
9. Bake for 30 minutes. Please note that the brownie will be very soft and wet as soon as removed from the oven, and will firm up by cooling. This is how we are going to reach that fudgy doughy texture.
10. Once baked, remove from the oven and allow to cool down at room temperature for about 10 minutes. Then, pop the pan in freezer for about 20 minutes to allow the coconut oil to solidify and firm up the brownie.
11. Slice your brownie into 9-12 square pieces and enjoy.