Say hello to your new favorite breakfast! This quinoa porridge is the perfect alternative to your regular oatmeal. It's ridiculously easy and quick to prepare on the morning for a healthy and nourishing breakfast that will keep you full for hours. It's incredibly creamy and packed with proteins, fibers, minerals and naturally gluten free.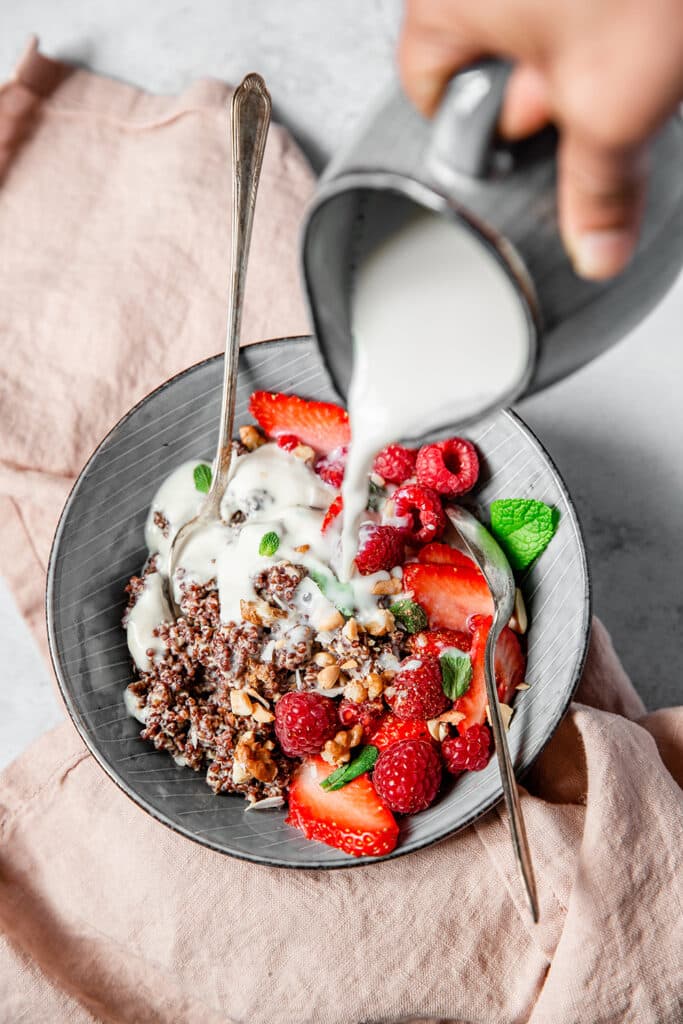 Why to eat quinoa on the morning
Porridges are part of my daily diet. I love to alternate between smoothie bowls and porridges when I'm craving something a little more filling and nourishing. Particularly during winter when I prefer something warm for breakfast, or for busy active days.
While regular oatmeals with rolled oats used to be my go-to, I've recently tried quinoa porridge and this was life changing. I used to eat quinoa in its savory version, for lunch and dinner, but never for breakfast. First, it was surprisingly delicious, but quinoa is the best thing you could give to your body to start the day. A couple of reasons why you should eat quinoa for breakfast :
Quinoa is very high in proteins. It's one of the rare food that contains all the 9 essential amino acids, which are are essential for the good function of our body. Thus, quinoa is said to be a "complete protein" food. Starting your day with an important protein source will supply your body with all the energy it needs.
Quinoa is rich in fibers. Both soluble and insoluble. Fibers ease digestion, help reduce blood sugar levels, lower cholesterol, increase fullness and help with weight loss.
Quinoa is naturally gluten free, so perfect for people who are gluten intolerant! In fact, even if oats are naturally gluten free, they can be contaminated during their process and transport.
Enough good reasons to try quinoa for breakfast, isn't it? Also make sure to use organic quinoa to keep all the benefits.
Note that I've used red quinoa in this recipe, but you can absolutely use white or black quinoa.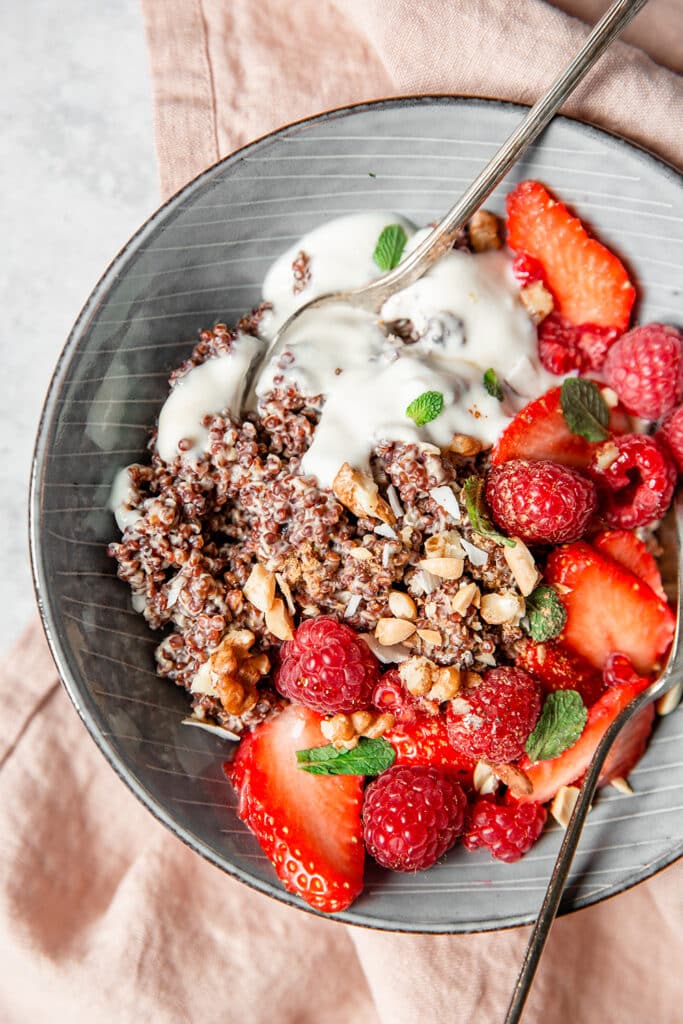 How to make the creamiest porridge
There is no doubt, all the secret of this recipe is in the cooking to get that perfect creamy texture. You want your quinoa to be very soft, nearly melting in mouth.
The usual quinoa to liquid ratio is 1 volume of quinoa for 1,7 volume of liquid. This is perfect when you if you want dry cooked quinoa to add to your meals. But to make it creamy, you have to increase the quantity of liquid, in the way of an oatmeal.
To do this, start by rinsing your dry quinoa under water to remove all the dust and tailings.
Then add all the liquids in a sauce pan with the salt and bring to a boil. Once boiling, add the quinoa, stir and quickly bring to a boil. Then reduce heat, cover and cook for 15 to 20 minutes until perfectly soft. Make sure to cook covered to keep all the moisture and make your quinoa soft and creamy.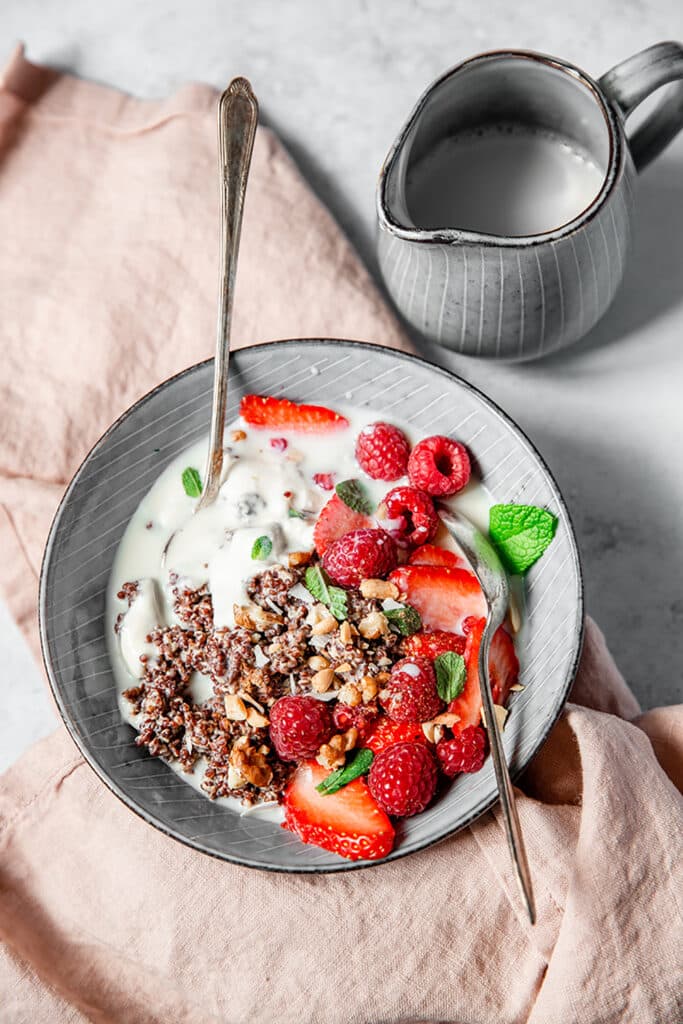 How to garnish your quinoa porridge
Now comes the best part : garnishing your yummy creamy porridge with all your favorite ingredients, for a delicious and nourishing breakfast! Here you can let your imagination run free.
I love to change my toppings according to my mood, my cravings (and what is actually in my fruit basket). But I found that quinoa porridge pairs very well with red berries, coconut yogurt and walnuts. You can also try with homemade apple sauce, cranberries and pecans for a very comforting version.
And to make your porridge even more creamy, add an extra splash of milk before serving.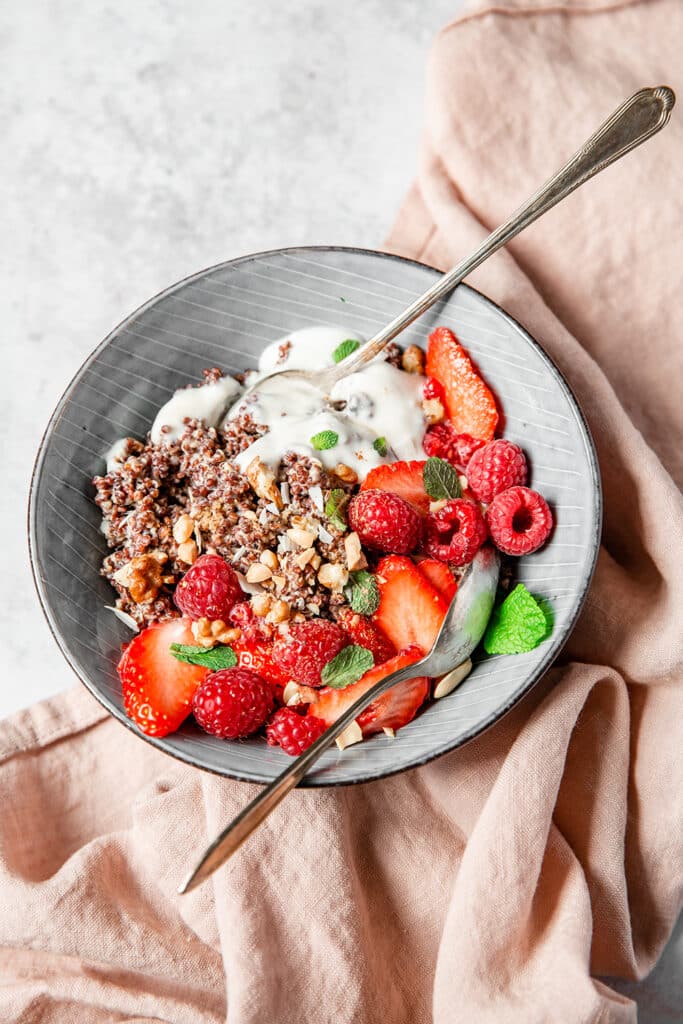 More of my favorite porridge & breakfast recipes
Print Creamy Quinoa porridge (gluten free)
Author:

Prep Time:

5 minutes

Cook Time:

20 minutes

Total Time:

25 minutes

Yield:

1

bol

1

x
---
Description
This creamy quinoa porridge is the perfect alternative to your regular oatmeal. It is naturally gluten free, rich in proteins and fibers, low in sugar and very easy to prepare on the morning.
---
Quinoa porridge
1/2 cup

dry quinoa (white, red or black)

3/4 cup

unsweetened almond milk

1/4 cup

coconut milk
a pinch of sea salt

2 tsp

maple syrup 

1/2 tsp

ground cinnamon

1 tsp

vanilla extract
Toppings
Extra plant based milk

1

scoop of coconut yogurt
Fresh berries mix
Crushed walnuts
---
Instructions
Rinse the quinoa under cold running water and strain.
Mix the almond milk, coconut milk and salt in a medium sauce pan. Cover with a tight lid and bring to a boil over medium high heat. 
Once boiling, add the quinoa, stir, cover and bring to a boil again. Then reduce heat to low and allow to cook covered for 15 to 20 minutes, until mostly all of the liquid has been absorbed and the quinoa is soft. 
Remove form heat and mix in maple syrup, cinnamon and vanilla.
Before serving, fluff it with a fork to separate the grains. Serve in a bowl with an extra milk, coconut yogurt, berries, crushed walnuts or any of your favorite toppings. 
---
Notes
For a totally sugar free version, omit maple syrup.
Make sure you are using organic quinoa and rinse it well before cooking.
In this recipe I've used red quinoa, however feel free to use any other variety : white and black quinoa also perfectly work here.
Keywords: porridge, quinoa, oatmeal, gluten free, breakfast
RECETTE VERSION FRANÇAISE