Is there anything better than freshly baked cookies? YES, freshly baked cookies that hide an irresistible pecan chocolate ganache. These gluten free pecan chocolate sandwich cookies are the ultimate healthy treat! Two delicious crisp cookies filled with a thick and rich nutty chocolate ganache. They are gluten free, refined sugar free, made of whole ingredients and very easy to prepare. So why do without it?
This post is sponsored by KORO, a European online shop that promotes healthy, high quality and sustainable products. For more information about the brand and its values, visit their website and enjoy 5% OFF everything on the FRENCH store using the code ALICE5.
Cette recette est sponsorisée par KORO, une boutique en ligne qui propose un large choix de produits sains, responsables et de haute qualité à prix juste. Pour découvrir la marque et ses merveilleux produits, rendez-vous sur leur boutique et profitez de 5% DE REDUCTION avec le code ALICE5.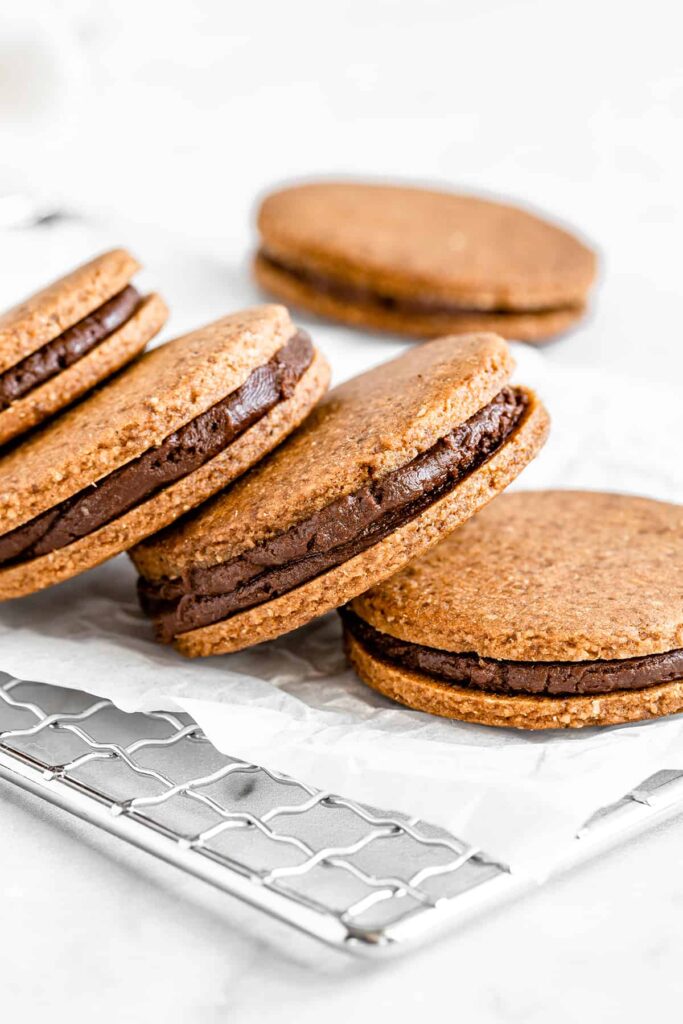 Gluten free cookies
These pecan chocolate sandwich cookies not only are super delicious, but they are healthy, gluten free and packed with whole ingredients.
To make them gluten free, I've replaced the regular all purpose flour by a mix of naturally gluten free flours. Even if you're not gluten intolerant, alternative flours are very interesting as they are often contain more nutrients and are easily digest.
Oat flour is simply obtained by blending rolled oats into a fine powder. It is one of the most popular and versatile gluten free flours. It can be used in many different recipes, from cakes to pancakes.
Brown rice flour is a made of ground whole grain brown rice and has a mild nutty flavor. Brown rice flour is very versatile and can also be used for thickening sauces because of its glutinous properties.
Chestnut flour is one of my favorite gluten free flour for Winter bakings. It is made from dry roasted chestnut and has a delicious nutty flavor. As it has a strong flavor, I recommend to use chestnut flour in combination with other softer flours.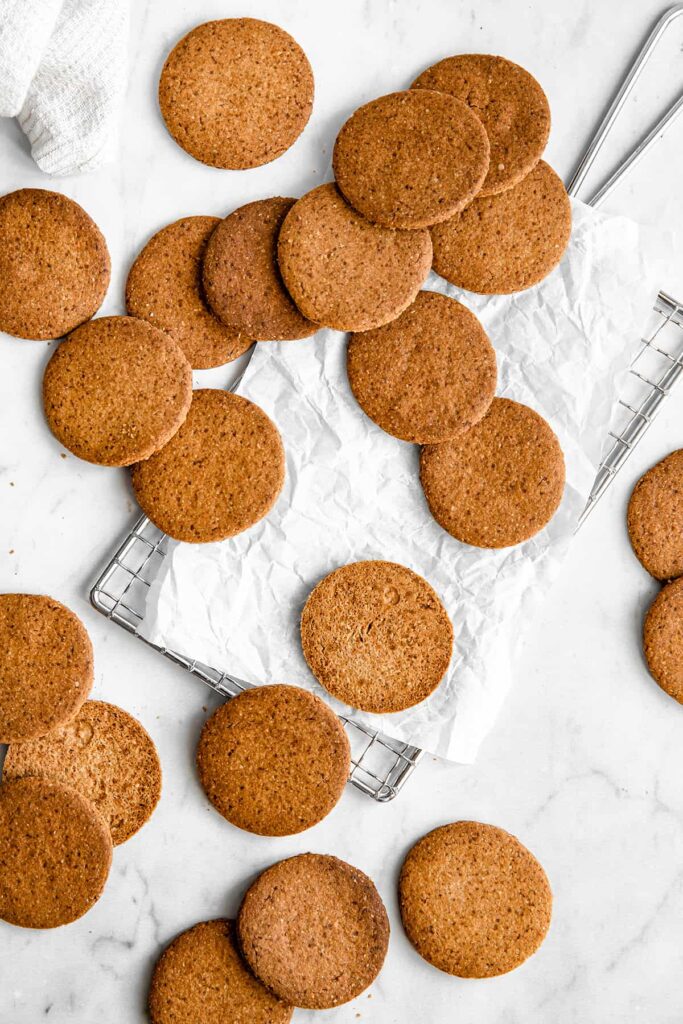 Quick and simple ganache
Once the cookies are chilling, it's time to prepare the ganache for your pecan chocolate sandwich cookies. A good chocolate ganache is a staple for all your baking recipes. It can be used to cover a cake, fill a pie, top cupcakes, make truffle or here to stuff cookies.
Preparing a vegan ganache is very simple. All you require is two ingredients for the basic version: dark chocolate and almond milk. The technic is exactly the same than for a regular ganache. The chopped chocolate and almond milk are heated in a gentle double-boiler until all the chocolate is melted. You just have to whisk and the ganache is ready.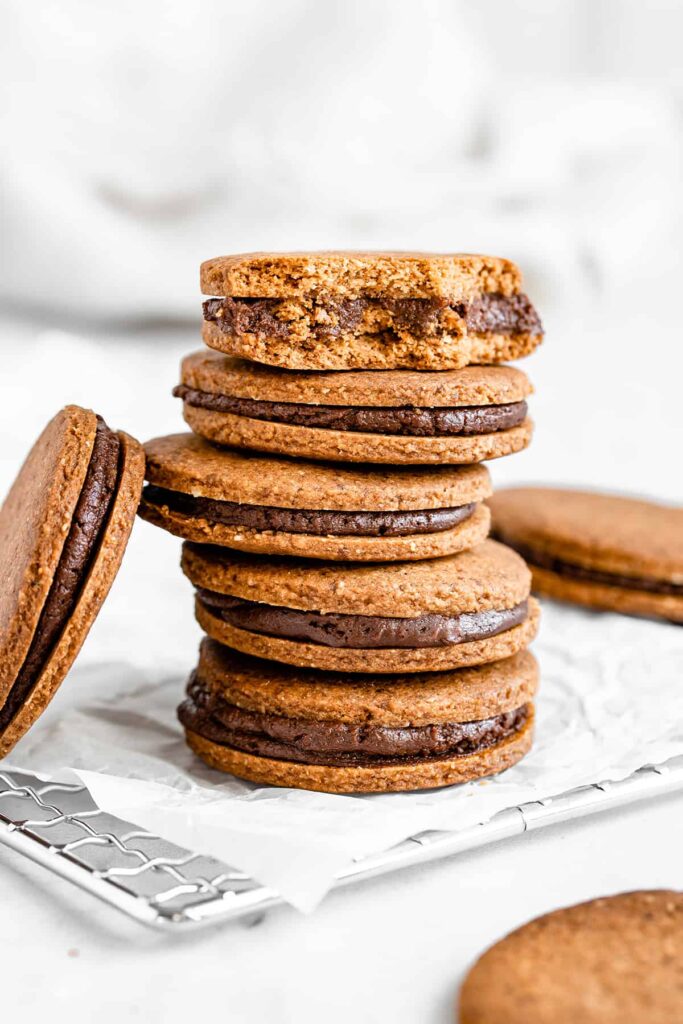 A few tips to realize a perfect ganache every time:
You can use any kind of chocolate to make a regular ganache. Usually bittersweet chocolate is used, but I found dark chocolate with a higher percentage (above 70%) works well too.
When you heat the chocolate in the double-boiler, make sure the water does not touch the bottom of the bowl. You don't need to boil the water, a gentle simmer is enough.
Once you combine the two ingredients, let them rest for a few minutes, so the chocolate melts completely before starting to whisk.
If your ganache seizes (becomes thick and loses its shine) you can recover it by actively whisking in a tablespoon of boiling water.
For this pecan chocolate sandwich cookies recipe, I have added pecan butter in the ganache at the end. It adds richness and a delicious nutty flavor to the ganache. You can also add different flavors in your ganache, like vanilla, cinnamon or other spices. Just make sure the ingredients are all at room temperature and mix them into the ganache at the very end.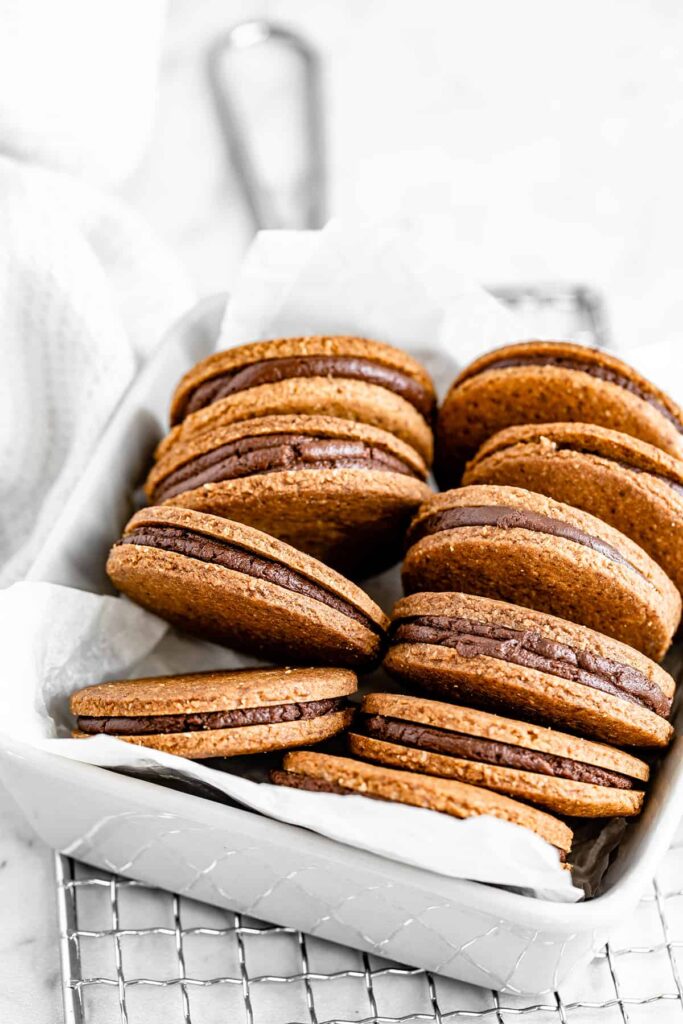 How to store your cookies
I strongly doubt it, but if you haven't already devoured all the batch, know that these cookies can be easily stored for up to 5 days, in an airtight container in fridge. And I have noticed that they are even better the day after.
If you love your cookies to be crisp, I recommend to store the cookies without the filling in an airtight container at room temperature on your counter top. The ganache can be left in the piping bag and stored in fridge. However, I recommend to make a fresh ganache to fill the cookies as the texture can be affected by the refrigerating. Anyways, let the ganache sit at room temperature for a bit before filling the cookies.
If you prefer your cookies soft and tender, you can store them already filled in an airtight container in fridge. Because of the moisture contained in the ganache, the cookies will become a little softer. Personally my favorite way to enjoy them 🙂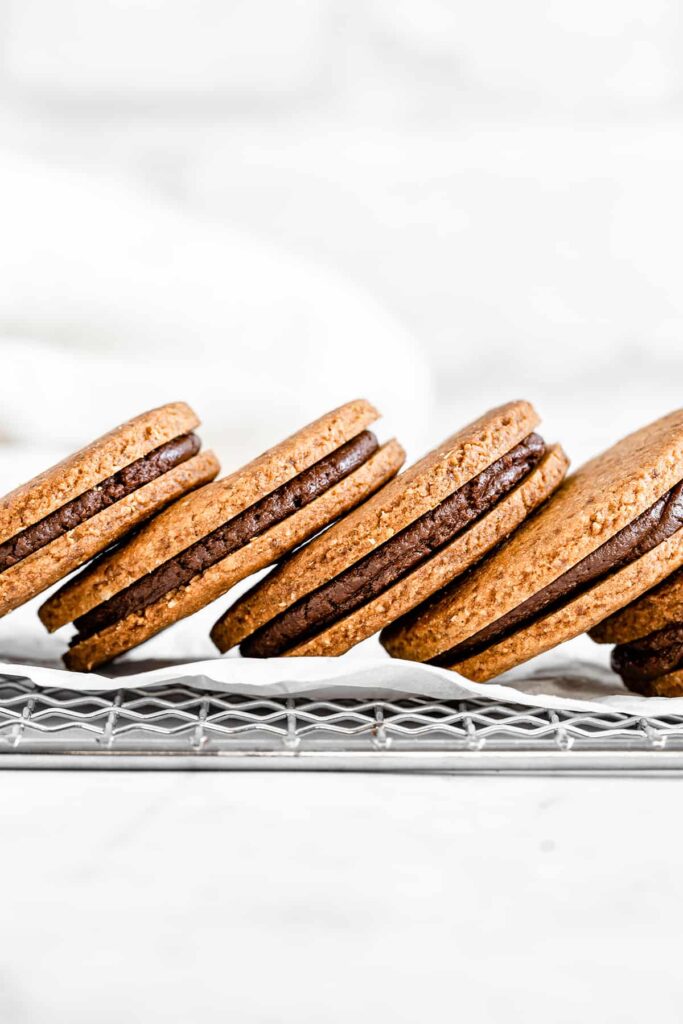 Cookies lovers, the following recipes may interest you
I love to see your creations! Don't forget to tag me @alicepages on your photos on Instagram and give your feedback in the comments below if you make this recipe at home! Your opinion is my best reward.
Print Gluten free Pecan Chocolate Sandwich Cookies
Author:

Prep Time:

20 minutes

Cook Time:

15 minutes

Total Time:

35 minutes

Yield:

12

sandwich cookies

1

x

Category:

Baked goods

Method:

Oven
---
Description
These crisp vegan and gluten free sandwich cookies are filled with a rich pecan and chocolate ganache. Perfect for a delicious snack or an indulgent dessert.
---
Cookies
1 cup

oat flour (make your own, see notes below)

1/2 cup

brown rice flour

1/4 cup

chestnut flour (can sub for more brown rice flour or all purpose flour)

1/4 cup

coconut sugar

1 tsp

baking powder

1/2 tsp

ground cardamom 
A pinch of salt

1/3 cup

melted coconut oil

1/4 cup

maple syrup

1 tsp

vanilla extract
Pecan chocolate Ganache filling
---
Instructions
Cookies
Preheat oven to 330°F, line a baking sheet with parchment paper and set aside.
In a large bowl, whisk together the oat flour, brown rice flour, chestnut flour, coconut sugar, baking powder, cardamom and salt.
In a separate bowl, combine the melted coconut oil with maple syrup and vanilla extract.
Pour the wet mixture into the dry ingredients and mix using a wooden spoon until well combined. Finish to mix the dough using your hands until perfectly combined and form a ball. The dough must be thick, a little wet but not too sticky.
Flatten the ball with your hands to form a disc, fold in plastic wrap and refrigerate for 20 minutes to harden.
Once the dough has chilled, remove from the fridge and place on a piece of parchment paper on a flat work surface. Cover with another parchment and using a rolling pin roll the dough to 1/5″ thick.
Cut out shapes in the dough with a 2″ diameter cookie cutter, cutting them as close to one another as possible to minimize waste.
Roll the scraps of dough into a ball and repeat the previous steps until all the dough is used.
Transfer the cookies on the lined baking sheet and bake for 13 – 15 minutes, or until the edges become golden brown.
Remove from the oven and directly transfer to a cooling rack. Let cool completely as the cookies will continue to dry and harden while they cool down.
Pecan chocolate Ganache filling
Roughly chop the dark chocolate and place in a glass or metal bowl together with the almond milk.
Place the bowl over a pan of water and bring the water to a low simmer. Make sure the water does not touch the bottom of the bowl. Continue to simmer for 2-3 minutes, or until all the chocolate has melted.
Take off the heat and whisk well the mixture. Mix in the pecan butter until perfectly combined.
Allow to cool down for a few minutes then transfer into a pipping bag and leave in the fridge for 15 minutes to firm. Let the ganache sit at room temperature for a bit before filling the cookies.
Assembly
Once the cookies have cooled and the ganache has chilled, pipe the pecan chocolate ganache onto a cookie, starting from the center of the cookie and drawing a spiral toward the edges. Sandwich with another cookie and gently press. Repeat with the remaining cookies.
Store in an airtight container for a few days.
---
Notes
You can make your own oat flour by blending rolled oats into a fine flour. If you're gluten intolerant, make sure you're using gluten-free certified oats. 
If your ganache seizes (becomes thick and loses its shine) you can recover it by actively whisking in a tablespoon of boiling water.
Keywords: cookies, sandwich cookies, chocolate ganache, dessert, gluten free
Recette version française
Print Biscuits sans gluten fourrés chocolat pecan
Author:

Prep Time:

20 minutes

Cook Time:

15 minutes

Total Time:

35 minutes

Yield:

12

biscuits fourrés

1

x

Category:

Biscuits

Cuisine:

Four
---
Description
Ces biscuits croquants sans gluten sont fourrés d'une délicieuse ganache au chocolat et noix de pecan. Ils sont parfaits pour un goûter sain et gourmand.
---
Biscuits
100 g

de farine de flocons d'avoine (voir les notes pour la méthode)

70 g

de farine de riz complet

25 g

de farine de châtaigne (peut être remplacée par de la farine de riz ou de blé complet)

50 g

de sucre de coco

1

c. à c. de levure chimique

1/2

 c. à c. de cardamome en poudre
Une pincée de sel

65 g

d'huile de coco fondue

70 g

de sirop d'érable

1

 c. à c. d'extrait de vanille
Ganache chocolat pecan
---
Instructions
Biscuits
Préchauffer le four à 165°C et chemiser une plaque de cuisson de papier sulfurisé.
Dans un grand saladier, mélanger la farine de flocons d'avoine, la farine de riz, la farine de châtaigne, le sucre de coco, la levure chimique, la cardamome et le sel.
Dans un petit bol à part, mélanger l'huile de coco fondue avec le sirop d'érable et la vanille.
Verser la préparation dans le saladier d'ingrédients secs et mélanger à l'aide d'une spatule en bois afin d'incorporer tous les ingrédients. Finir de bien mélanger la pâte à la main et former une boule lisse et uniforme. La pâte doit être épaisse, humide mais pas trop collante.
Aplatir la boule de pâte avec la paume de la main afin de former un disque. Filmer et placer au frais pour 20 minutes.
Une fois que le pâte a durci, retirer le film et placer le disque de pâte sur une feuille de papier sulfurisé sur un plan de travail. Couvrir avec une autre feuille de papier sulfurisé et abaisser la pâte avec un rouleau à patisserie jusqu'à obtenir une couche de 5mm d'épaisseur. 
Découper les cookies dans la pâte à l'aide d'un emporte-pièce de diamètre 5 cm environ.
Reformer une boule avec les chutes et répéter les étapes précédentes jusqu'à épuisement de la pâte.
Placer les cookies sur la plaque de cuisson chemisée et enfourner pour 12 à 15 minutes, jusqu'à ce que les bords des cookies commencent à brunir.
Retirer du four. Immédiatement placer les cookies sur une grille et les laisser complètement refroidir. Les cookies vont continuer à sécher et à durcir en refroidissant et devenir craquants.
Ganache chocolat pecan
Hacher grossièrement le chocolat et le placer dans un bol en verre ou en metal. Ajouter le lait d'amande.
Placer le bol au dessus d'une casserole remplie d'eau et faire frémir doucement l'eau. Laisser frémir pendant quelques minutes jusqu'à ce que le chocolat soit fondu. Attention à ce que le fond du bol ne soit pas en contact avec l'eau.
Retirer le bol et remuer. Ajouter la purée de noix de pecan et mélanger jusqu'à obtenir une ganache bien homogène.
Laisser refroidir quelques minutes à température ambiante. Puis transférer la ganache dans une poche à douille et placer au frais pour 15 minutes afin qu'elle s'affermisse.
Sortir la ganache du réfrigérateur 5 minutes avant de garnir les cookies.
Assemblage
Pocher la ganache en partant du centre d'un cookie et en dessinant une spirale vers l'extérieur afin de recouvrir toute la surface du cookie. Couvrir avec un autre cookie et appuyer légèrement pour répartir la ganache. Faire pareil avec tous les cookies.
Conserver les cookies dans un récipient hermétique à température ambiante.
---
Notes
Vous pouvez facilement réaliser votre farine d'avoine en mixant des flocons d'avoine jusqu'à obtenir une très fine poudre. Si vous êtes intolérant au gluten, assurez-vous d'utiliser des flocons d'avoine certifiés sans gluten.
Si la ganache tranche (devient épaisse et granuleuse), ajouter une cuillère à soupe d'eau bouillante et remuer activement pour lui redonner sa brillance.
Keywords: Biscuits, ganache, chocolat, sans gluten, goûter, dessert