These homemade Vegan Twix Bars are a healthier take on the classic candy bar. A rich, buttery shortbread biscuit layered with a gooey caramel, all coated with a creamy chocolate fudge ganache. The perfect balance of flavors and textures in every single bite. They are sweet, chocolatey, nutty, satisfying and have nothing to envy to their industrial counterpart. On top of that, these Twix Bars are very easy to make with only 9 ingredients, gluten-free and refined-sugar free!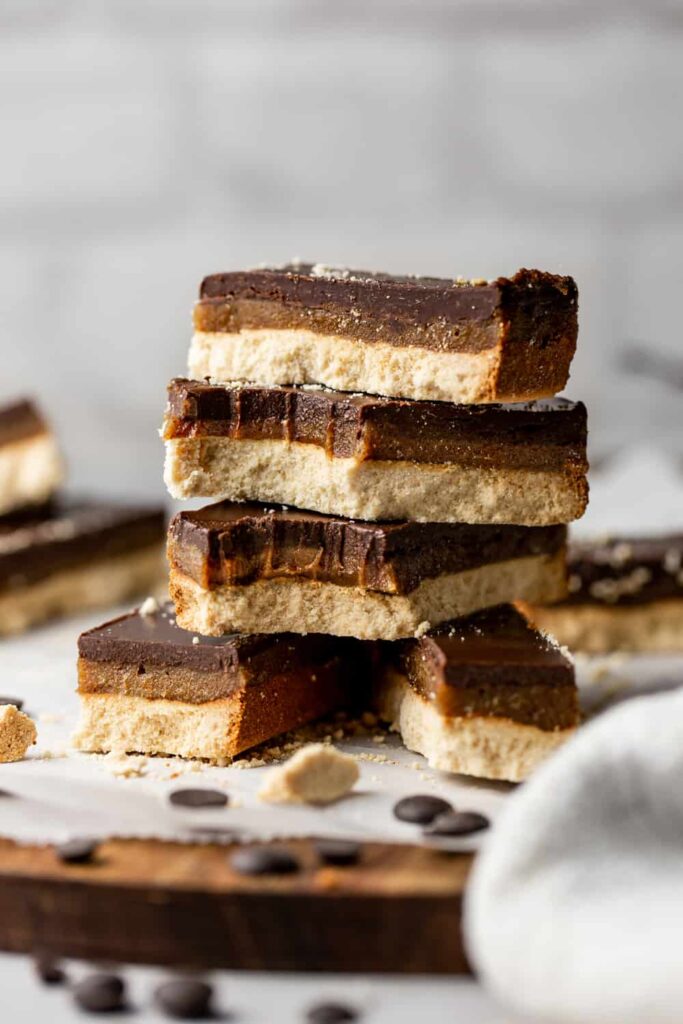 Healthy homemade vegan Twix Bars
Twix used to be my favorite candy bar. I mean, who can resist the combination of a shortbread biscuit, thick caramel and chocolate? So I absolutely had to share with you my own version of this classic bar.
As you might guess, these homemade Vegan Twix Bars are a healthier version. They are reduced in sugar and oil, but taste as delicious as a Twix bar, of not beyond good!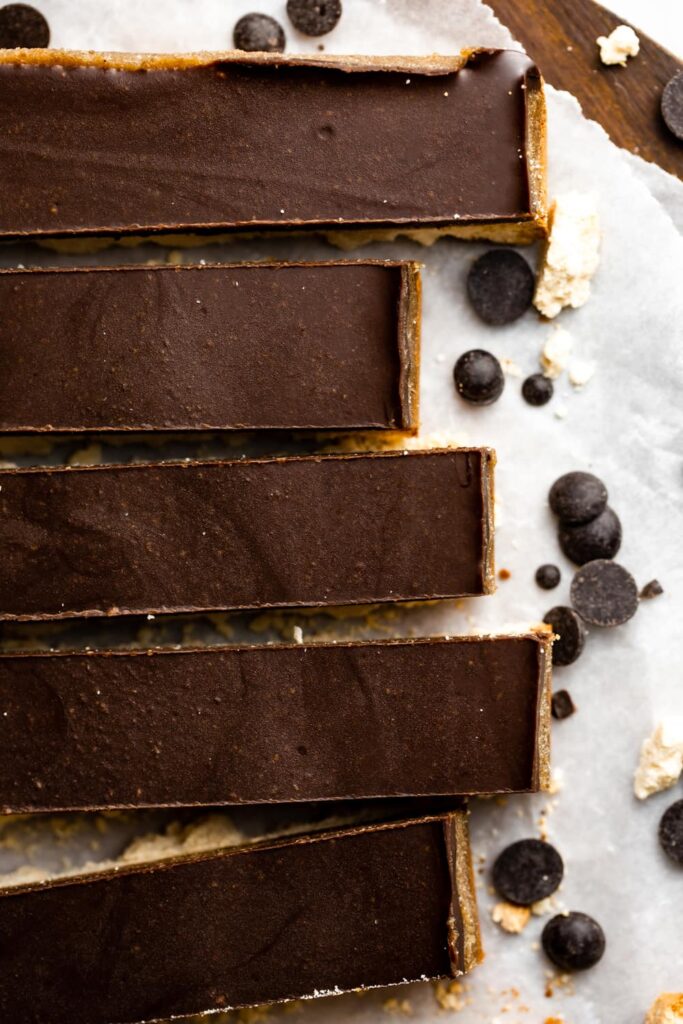 Why are these Twix Bars healthy?
They are made with only 9 simple natural ingredients. Coconut flour, tahini, dates, dark chocolate, maple syrup, coconut oil, coconut cream, vanilla and salt. Nothing to hide.
These Twix Bars are refined sugar free. We use maple syrup for the shortbread biscuit and dates naturally bring all the sweetness to the caramel.
Dairy free. We use coconut oil and coconut cream instead of butter and milk.
Packed with healthy fats. We use tahini -or any nut utter of your choice, as a natural source of good fat to bring richness, smoothness and texture to the preparations.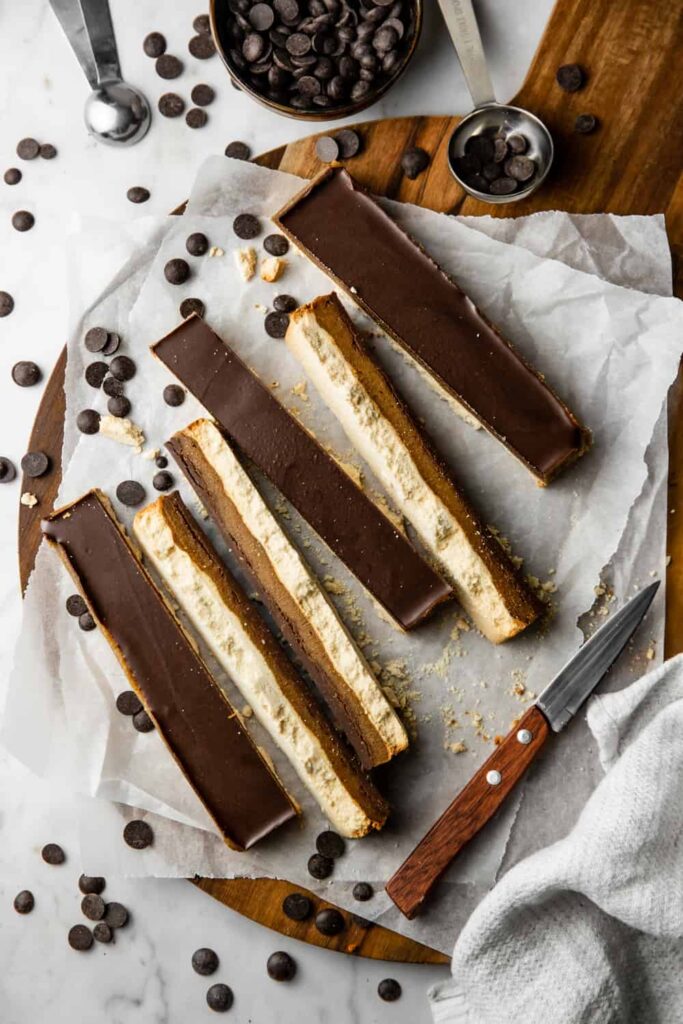 How to make easy vegan twix bars + substitutions
These vegan twix bars are very easy and quick to prepare at home. They are ready in about one and a half hour, but actually you'll only spend 30 minutes in the kitchen. All the rest is set time.
Make gluten free shortbread biscuit
Homemade twix bars have three layers, the first one is a rich and buttery shortbread biscuit. This is the most important element of the recipe, as it plays a major role in the holding of the bars and texture.
The biscuit is a very simple mix of coconut flour, coconut oil, maple syrup and a pinch of salt. I found the coconut flour to be the best gluten-free option to mimic the texture of a shortbread.
This twix bars recipe involved a lot of coconut ingredients in the different layers (coconut flour, oil and cream). I personally love coconut, but if you're worried about it tasting too much like coconut, you can use refined coconut oil.
While coconut flour is the best option to make the biscuit, you can substitute with almond flour. Because coconut flour is particularly absorbent, you will have to add about twice the quantity of almond flour to reach the right consistency. If making the substitution, adjust progressively the quantities of flour and wet ingredients until you get a crumbly dough.
Bake the shortbread biscuit for about 10-12 minutes, until it just starts to brown on the top and on the edges. Don't over bake it to keep this buttery aspect. If the crust might looks undercooked and still a little wet, it will continue to dry and harden when it cools down.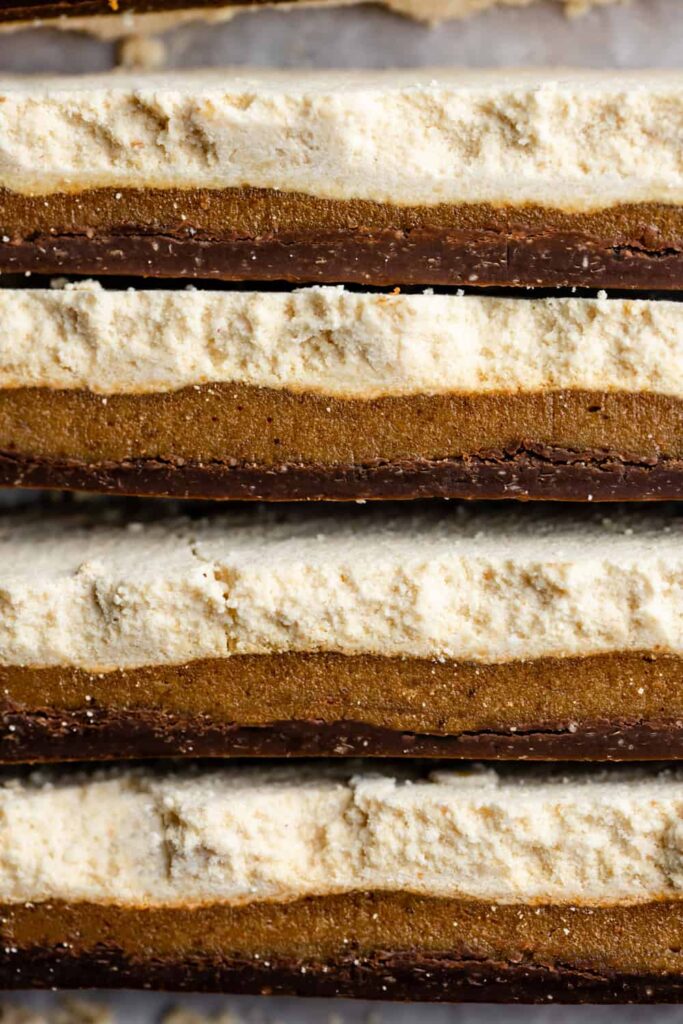 The best healthy gooey caramel filling
While the shortbread biscuit layer cooks, it's time to prepare the caramel filling. If you follow my recipes for a little time, you should have noticed that this is not the first time I'm making this caramel recipe – check my Caramel Hazelnut Cookie cups, the Brownie Slated Caramel Cookies or my magic Chocolate Carob Cake. In fact, I'm obsessed with it! It's my go-to recipe whenever I need a caramel. You can use it for frosting, filling or drizzling on pancakes.
This caramel is not your average caramel. I would say, it tastes just as delicious as caramel, but is much healthier. Indeed, this caramel is completely added sugar free and oil free! It is naturally sweetened by dates while the tahini and coconut cream bring enough healthy fat to make it creamy and gooey. Nature does wonderful things, isn't it?
This caramel is very easy to make. All you have to do is to blend all the ingredients until you get a creamy sauce. For the best results, I recommend to use medjool dates which are naturally very sweet, soft and juicy, and to use full-fat coconut cream. If your dates are very dry, soak them in hot water for 10 minutes to soften before using!
I love to use tahini in caramel because it add a very interesting taste that compliments perfectly with salted caramel flavors. However if you don't like the taste of sesame or don't have tahini at home, you can substitute with any other nut butter like almond, cashew, sunflower.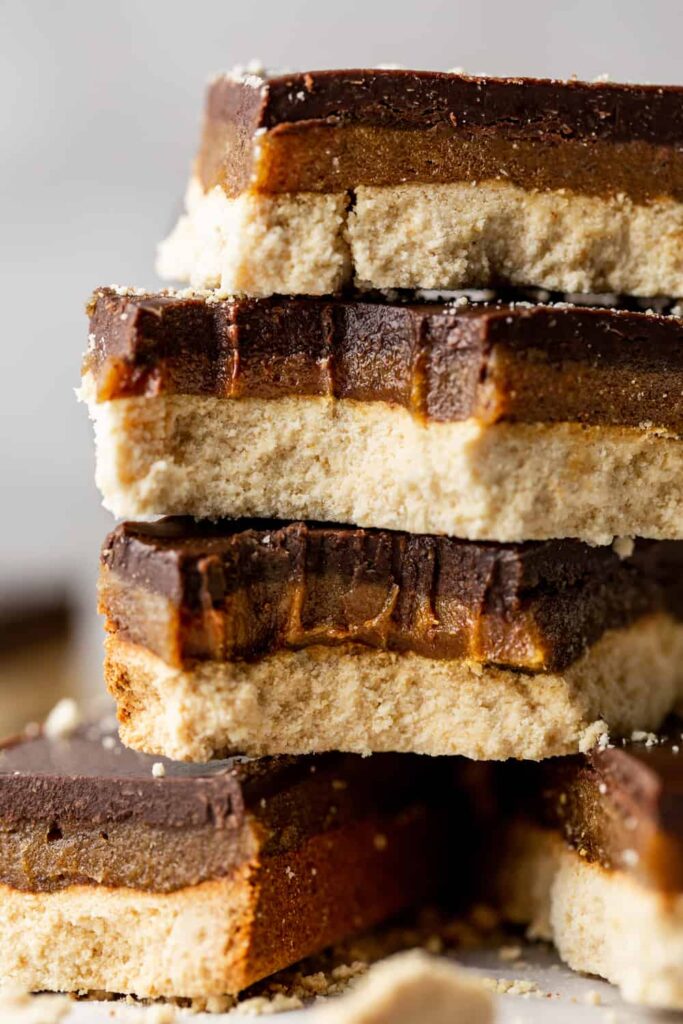 Creamy fudgy chocolate ganache
And now, cherry on the cake, or I should say chocolate ganache on the bars! Usually Twix bar are simply coated with chocolate. But here, I wanted to make it even more delicious by adding a layer of rich and creamy chocolate. This chocolate ganache is actually a "fail" from a previous recipe testing. It wasn't appropriate for this recipe but was so good that I knew I had to use it somewhere else. And here we are!
Chocolate ganache is actually very simple to make. It's melted dark chocolate blended with tahini -again. Tahini adds creaminess and smoothness to the chocolate for an irresistible fudgy texture. You can even use this recipe to make simple chocolate fudges.
As chocolate is the main ingredient, make sure to use a good quality dark one. Again if you're not a big fan of tahini or are worried about too much sesame flavors, replace tahini with almond butter.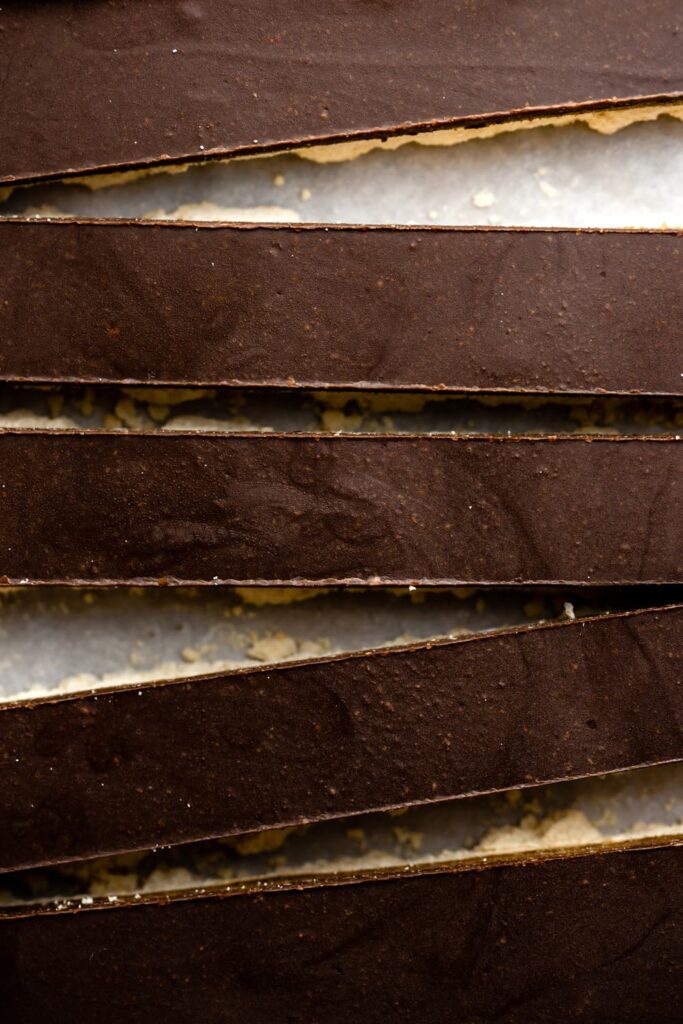 A few tips for success
You can either use a pan or a form to bake these Twix bars. Whatever you choose, I recommend to carefully line the bottom and the edges of the container with parchment paper. Allow the paper to come out beyond the edges to facilitate the demolding.
For a perfectly thick and creamy caramel filling, use full-fat coconut cream. You can place a can of coconut milk in fridge overnight and scoop only the thick layer of cream that forms on top. I also highly recommend to use medjool dates.
Don't rush! Make sure to allow enough time for each layer to cool and firm before adding the next one. This will ensure the caramel and chocolate to set up nicely into clean separate layers.
When cutting the bars, you can trim down the parts that are on the edges of the pan. This is purely for aesthetics to make them look more clean and even – and a really good reason to snack on the scraps!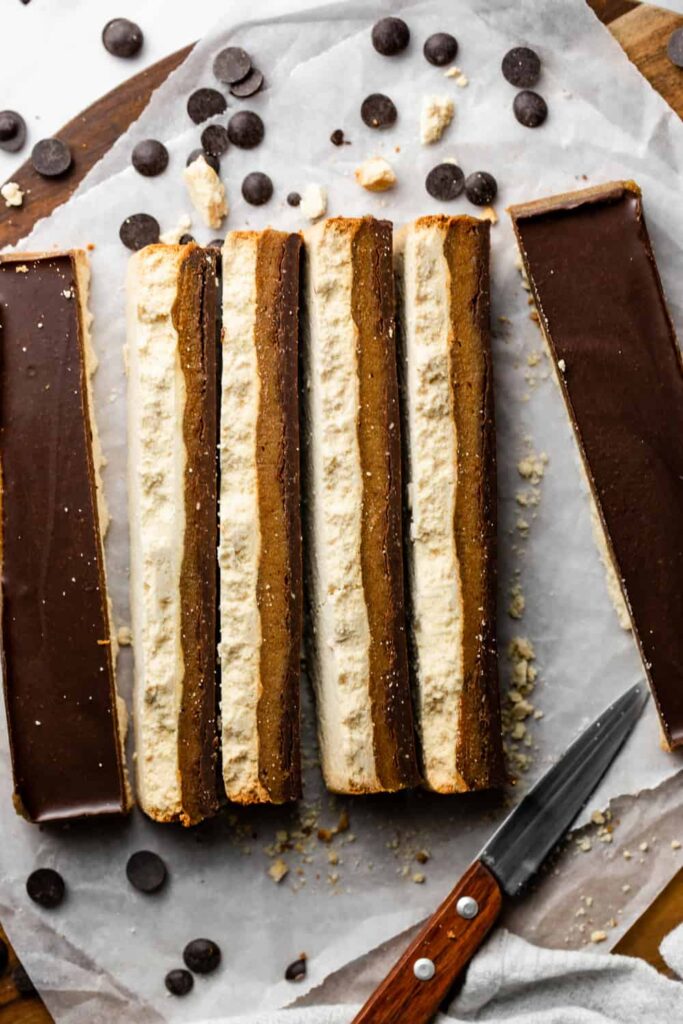 For more decadent homemade candy, check out these recipes
I love to see your creations! Don't forget to tag me @alicepages on your photos on Instagram and give your feedback in the comments below if you make this recipe at home! Your opinion is my best reward.
Print Healthy Vegan Twix bars
Author:

Prep Time:

20 minutes

Cook Time:

10 minutes

Total Time:

1 hour 30 minutes (set times included)

Yield:

12

bars

1

x

Category:

Dessert

Method:

Baking

Diet:

Gluten Free
---
Description
These homemade vegan Twix Bars are a healthier take on the classic bar. A buttery shortbread biscuit is layered with caramel, and coated with chocolate ganache. They are easy to make with only 9 ingredients, have no processed sugars, and are gluten-free!
---
shortbread biscuit
1 1/2 cup

coconut flour (

150 g

)

1/4 cup

melted coconut oil (

55 g

)

2 tbsp

maple syrup (

30 g

)

1 tsp

vanilla extract

1

pinch of salt
caramel filling
7

medjool dates, pitted (

125 g

)

2 tbsp

tahini (

45 g

)

2 tbsp

coconut cream (

50 g

)

1 tsp

vanilla extract

1

pinch of sea salt flakes
chocolate ganache
1/4 cup

tahini (

60 g

)

1/4 cup

vegan dark chocolate, chopped (

50 g

)

1 tsp

melted coconut oil (

10 g

)

1

pinch of sea salt flakes (optional)
---
Instructions
shortbread biscuit
Preheat the oven to 350 degrees F and line a 6×6 inch (16cm x 16cm) pan with parchment paper.
Mix together the melted coconut oil, maple syrup and vanilla in a small bowl. Add the coconut flour and salt to a medium bowl. Add the wet preparation and mix until all the ingredients are well combined and a dough forms. The dough is a little dry and crumbly but must hold when you press it between two fingers.
Press the dough onto the bottom of the pan and flatten the surface with your fingers or use a flat object like the bottom of a glass or a cup. Bake for 10-12 minutes or until lightly browned on top. Remove from the oven and let the biscuit cool completely in the pan.  
caramel filling
Pit and roughly chop the dates. Place all the ingredients into a high speed blender and blend until smooth and creamy. Depending on your blender, you might have to stop and scratch down the sides serval time during the process.
Pour the caramel filling over the biscuit and spread evenly with a spatula. Place in the freezer for about an hour or until the caramel is set before adding the last layer.
chocolate ganache 
Melt the chocolate and coconut oil in a double boiler or microwave until completely melted and smooth. Add the tahini and mix to combine.
Pour the chocolate ganache over the firmed caramel layer. Smooth evenly by gently tapping the edges of the pan and sprinkle with sea salt flakes if desired. Return to the freezer to let the chocolate set up, about 10 minutes.
Gently remove from the pan and cut into 12 bars. Store the bars in an airtight container in the freezer for up to 1 month.
---
Notes
These Twix bars keep very well in the freezer for up to 1 month or in the fridge for up to 2 weeks.
You can replace the tahini in the chocolate ganache and caramel filling with almond butter, cashew butter or even sunflower seed butter for a nut-free option.
You can replace the coconut flour with blanched almond flour and double the quantity. If you make the substitution, don't hesitate to slightly adjust the quantity of wet ingredients to get the right texture.
Keywords: Twix, Vegan Twix bar, vegan caramel, chocolate bar, biscuit, gluten free Twix,
Recette version française
Print Barres Twix vegan sans gluten
Author:

Prep Time:

20 minutes

Cook Time:

10 minutes

Total Time:

1 heure 30 minutes (avec temps de repos)

Yield:

12

barres

1

x

Category:

Dessert

Method:

Four

Diet:

Vegan
---
Description
Ces irrésistibles barres Twix maison sont une version plus saine mais tout aussi gourmande que l'originale! Elles sont très faciles à réaliser avec seulement 9 ingrédients, n'utilisent aucun sucre raffiné et sont sans gluten. Un plaisir sans faim!
---
Biscuit sablé
150 g

de farine de coco

55 g

d'huile de coco fondue

30 g

de sirop d'érable

1

c. à c. d'extrait de vanille

1

pincée de sel
Caramel
125 g

de dattes medjool dénoyautées (environ

7

dattes)

45 g

de tahin (purée de sésame)

50 g

de crème de coco

1

c. à c. d'extrait de vanille

1

pincée de fleur de sel
Ganache chocolat
60 g

de tahin (purée de sésame)

50 g

de chocolat noir, coupé en morceaux 

10 g

d'huile de coco fondue

1

pincée de fleur de sel (optionnel)
---
Instructions
Biscuit sablé
Préchauffer le four à 180°C et chemiser le fond et les bords d'un plat de dimensions environ 16cm x 16cm avec du papier sulfurisé. Laisser dépasser le papier cuisson des bords du plat pour faciliter le démoulage.
Dans un bol, mélanger l'huile de coco fondue, le sirop d'érable et l'extrait de vanille. Placer la farine de coco et le sel dans un saladier et verser le mélange liquide. Mélanger jusqu'à obtenir une pâte homogène. La pâte doit être un peu sableuse et friable, mais doit se tenir quand on la presse entre deux doigts.
Verser la pâte dans le plat et appuyer fermement du bout des doigts ou utiliser un objet plat comme le fond d'un verre pour former une couche uniforme bien compacte. Enfourner pendant 10 à 12 minutes, jusqu'à ce que le biscuit soit légèrement doré sur les bords. Retirer du four et laisser complètement refroidir dans le plat.
Caramel
Dénoyauter et hacher grossièrement les dattes. Placer tous les ingrédients dans un blender et mixer jusqu'à obtenir une sauce caramel parfaitement lisse et onctueuse. Si besoin, et autant de fois que nécessaire, stopper le blender et racler les bords pour ramener la matière vers les lames et faciliter le processus. 
Verser le caramel sur le biscuit refroidi et étaler en une couche uniforme. Placer au congélateur pendant environ 1 heure, ou jusqu'à ce que le caramel soit bien ferme au toucher.
Ganache chocolat
Faire fondre le chocolat et l'huile de coco au bain marie ou au micro-onde. Ajouter le tahin et mélanger pour obtenir une ganache lisse et onctueuse.
Verser la ganache sur le caramel et tapoter sur les bords du plat pour le répartir uniformémebt sur toute la surface. Saupoudrer de fleur de sel. Placer au congélateur pour 10 minutes pour que le chocolat durcisse.
Une fois que tout est pris, démouler et couper en une douzaine de barres ou en carrés. Conserver dans un récipient hermétique au frais.
---
Notes
Ces barres Twix vegan se conservent très bien pendant plus d'un mois au congélateur ou 2 semaines au réfrigérateur.
Vous pouvez remplacer le tahin du caramel et de la ganache chocolat par du beurre d'amande, du beurre de noix de cajou ou même du beurre de graine de tournesol.
Vous pouvez remplacer la farine de coco par de la farine d'amande en doublant la quantité. N'hésitez pas à ajuster légèrement les quantités d'ingrédients liquides pour obtenir la bonne texture.
Keywords: Twix vegan, barres twix vegan, barre chocolat vegan, twix sans gluten, caramel vegan,