Imagine you wake up on a lazy Sunday morning. It is cold outside there and you can see raindrops rolling off your window.. You are in a grumpy indecisive mood and cannot make up your mind if you want a nicecream, cookies or a spicy hot chocolate for breakfast.. Why not choose all of them? 
It is what happened in my mind this morning when I prepared this generous breakfast mug. I was definitely carving something comforting and full of flavors, with various textures and elements. A nice cream is always a good idea as it is quickly made, endlessly customizable and it taste never fails. But we have to admit that one of the best part of nice cream is all the fabulous toppings you can put on, and there are no rules for this game. So I finally decided to prepare separately all the elements I envied and to combine them in that jar. The result is delightful, exactly what I was looking for… except maybe the for quantities (I could have eaten 2 or 3 like this one if I have listened to my hungry belly).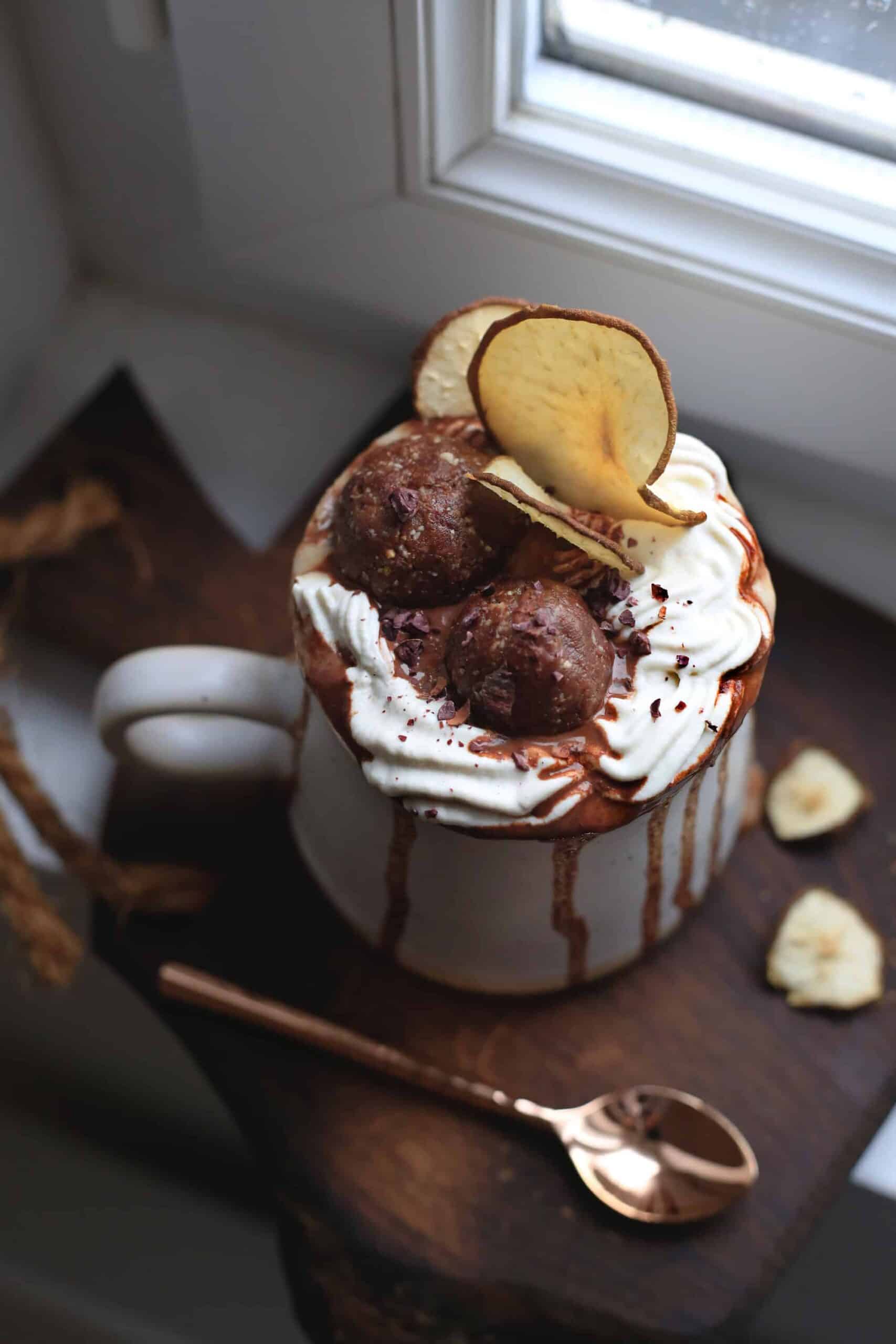 But let's get back to these elements. This jar is composed of a basic salted caramel nice cream, made from few ingredients you must always have in stock. This nice cream is dairy free and refined sugar free: I have added one single Medjool date for the caramel taste but even this is not necessary, your cream would be as good. I topped it with a cashew whipped cream: again it is very easy to prepare, you just have to ensure to put cashews soaking the day before (or at least 4-5 hours in hot water). And I finished my topping with a hot chocolate coulis, cacao nibs, raw pear crisps and some amazing raw cookie dough balls. The recipe for these latter are from Sam Murphy's new cook book, "Beautifully REAL FOOD" . She is my biggest inspiration and I do recommend you to have a look at her book or blog to discover a new word of healthy vegan junk food.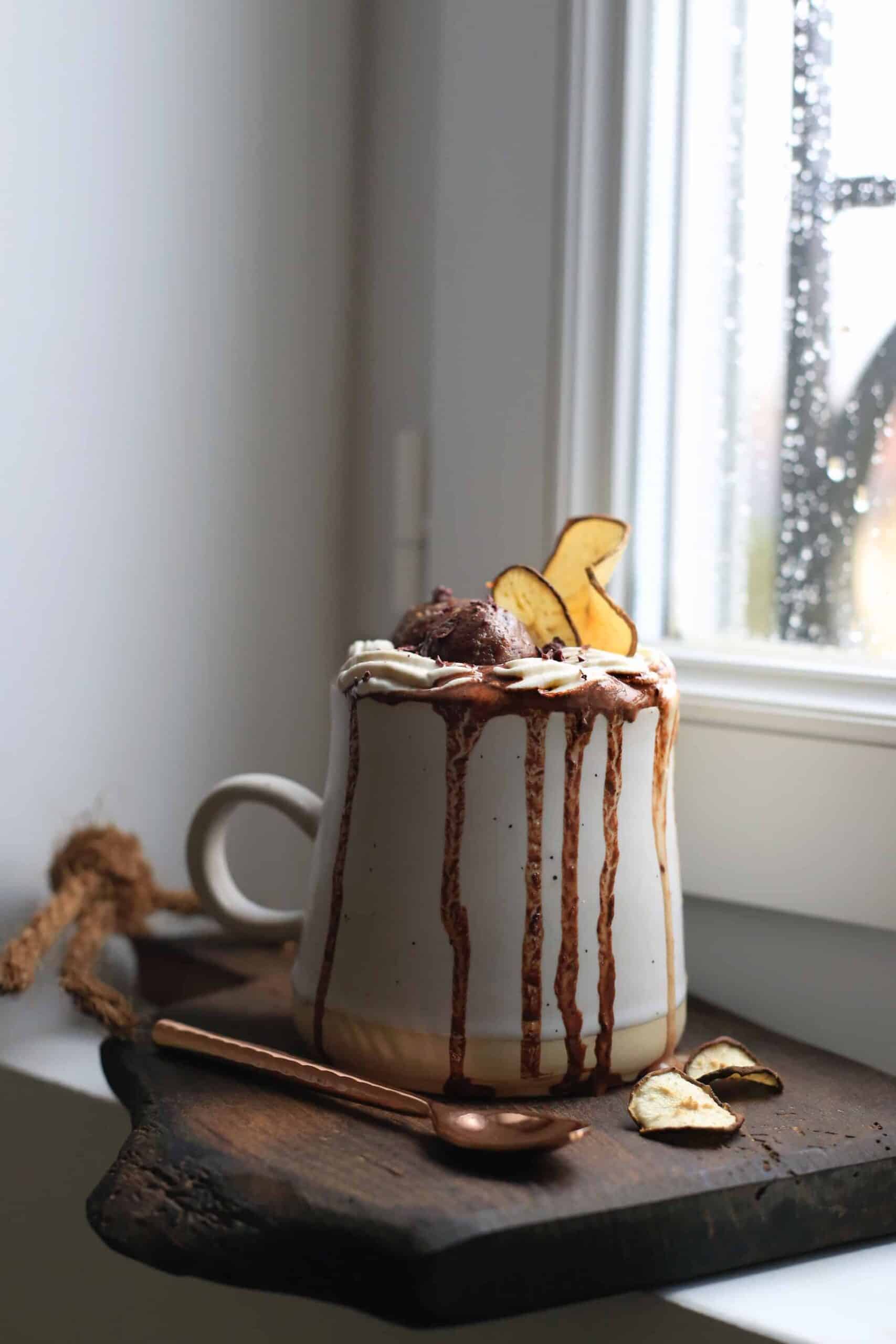 And if you are wondering, the jar is from Oliver Bonas shop. I have discover this brand while in Glasgow and I fell in love with their universe. They propose clothes, homeware, furnitures, books, cosmetics and more but always with a true coherence.  
I hope you will like this recipe and do not forget to let me know if you try it, in comments or on instagram.
Alice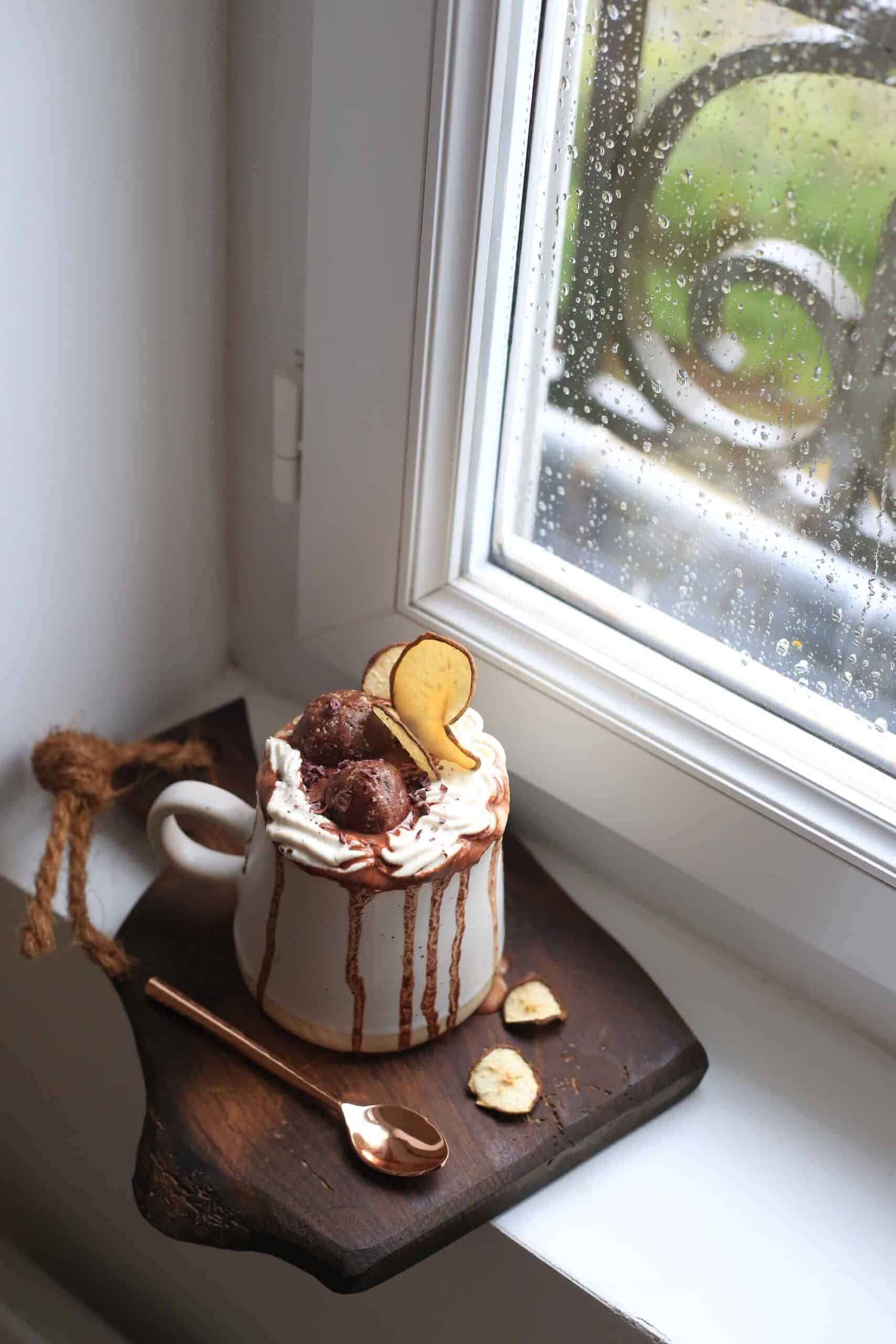 ---
SALTED CARAMEL NICECREAM MUG
Prep time:  10 hours dehydration / else 30 minutes
Cook time:  0 minutes
Total time:  30 minutes
Serves: 2
INGREDIENTS:
Salted caramel Nicecream:
– 2 big frozen ripe bananas
– 1/2 cup unsweetened almond milk
– 2 tbsp maca powder
– 1 tbsp vanilla extract
– 1 pitted Medjool date
– 1/2 tsp sea salt
Cashew whipped cream:
– 1 cup of raw cashews soaked overnight in water
– coconut milk
Raw pear crisps:
– 1 pear
– 1 tsp cinnamon
Chocolate sauce:
– 10g raw cocoa powder
– 3 tbsp water
Toppings:
– Raw cookie dough balls (Sam Murphy – So beautifully real recipe)
– Raw cacao nibs
– Cinnamon powder
INSTRUCTIONS:
Prepare the Pear Crisps:
The day before, slice a pear crosswise. Try to make thin regular slices of about 2mm (0.08 inches).
Place the slices on your drier tray, sprinkle some cinnamon powder and let dehydrate overnight at 39°C  for raw quality and keep all nutriments. (If you have less time allowed, increase the dehydration temperature).
Prepare the Cashew Cream:
The day before, put the raw cashew in water and let soak overnight.
On the morning, rinse well the soaked cashew with water.
Add a splash of coconut milk and blend in a high speed blender. Gradually add coconut milk while blending until you reach the desired texture for your cream.
Place the cream in a piping bag and let cool down in fridge while you prepare the other elements.
Prepare the Nicecream:
The day before, cut the ripe bananas into large chunks and put in freezer overnight.
Combine all the ingredients in the bowl of a high speed blender and blend until smooth (you might add some liquid to reach your dreamy texture).
Put in your fridge while you prepare the other elements.
Prepare the Chocolate Sauce:
Simply stir the raw cocoa powder in the hot water. Mix well to obtain chocolate sauce.
Assembly:
Assemble the different elements: put the nice cream in a jar or a bowl, spread the whipped cream on top using the piping bag, drizzle the chocolate sauce, top with the cookie balls, pear crisps, cacao nips and a pinch of cinnamon powder.