It is now 3 weeks I have left Bali and I still get it in my mind and in my skin (hello super sexy flip-flop tan). I have discovered tons of incredible and delicious dishes during this trip and as I am a very enthusiastic person, I have made an endless list of "Recipes to give a try when back" and I was totally convinced that "this time, I will start working on this as soon as back so that I will be able to offer a consistent and regular series of Bali inspired recipe, that gonna be so cool!". For once, I was not too far from what I said, I started out making some trials the next days, shooting them and writing the recipes, but then I was squeezed by the time with my new Plantlab courses and other projects. Not to mention that the weather was still wintery in France and did not inspire me to prepare fresh salads and tropical smoothies. But with the sun and heat coming back, here is the first recipe of the Bali Inspired series! You will be able to find all theses recipes by searching the tag "DreamOfBali" on my blog.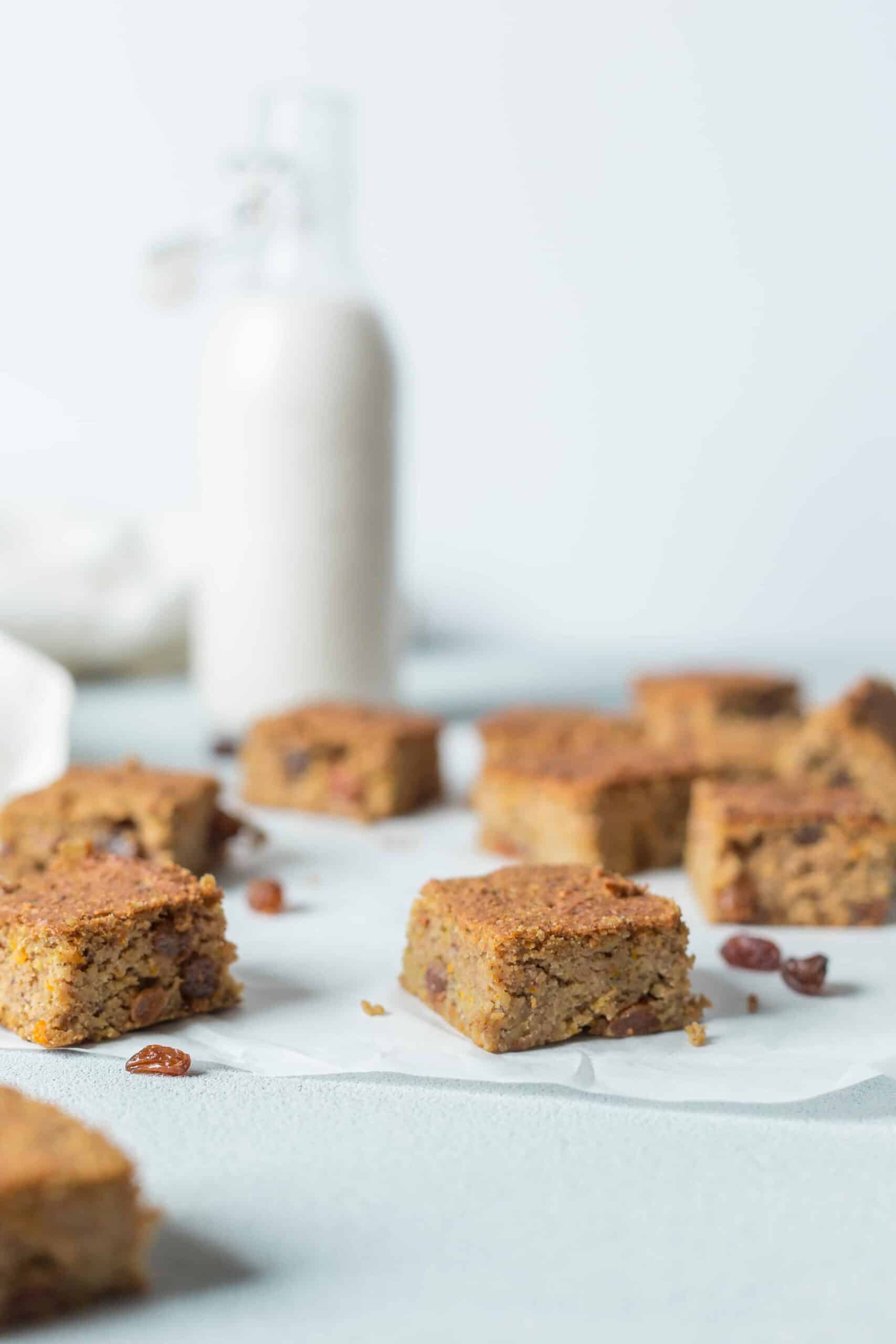 So start the party, here is a recipe of blondies you will definitely LOVE ! OK, you gonna tell me that Blondies are nothing but typical Bali food… I admit, but this is a recipe I have tasted in a lovely café Coffee&Thyme on Gili Air. It is not a vegan nor vegetarian café, but they make a delicious coffee and have a selection of about 4-5 different vegan cakes that are delicious! Nothing innovative or really sophisticated, but more classical grandma cakes made vegan, the kind of cakes you want to eat with your coffee early in the morning. During my stay, they had a carrot cake, a vanilla cake, a banana bread, and some delicious orange & raisins blondies. It was my very first time eating blondies (or maybe I did not know it was blondies the previous times) and I loved it so much! It was like a brownie, without the chocolate, but with a sweet and delicious orange flavor. A very simple cake but that raises plenty of good and warm feelings.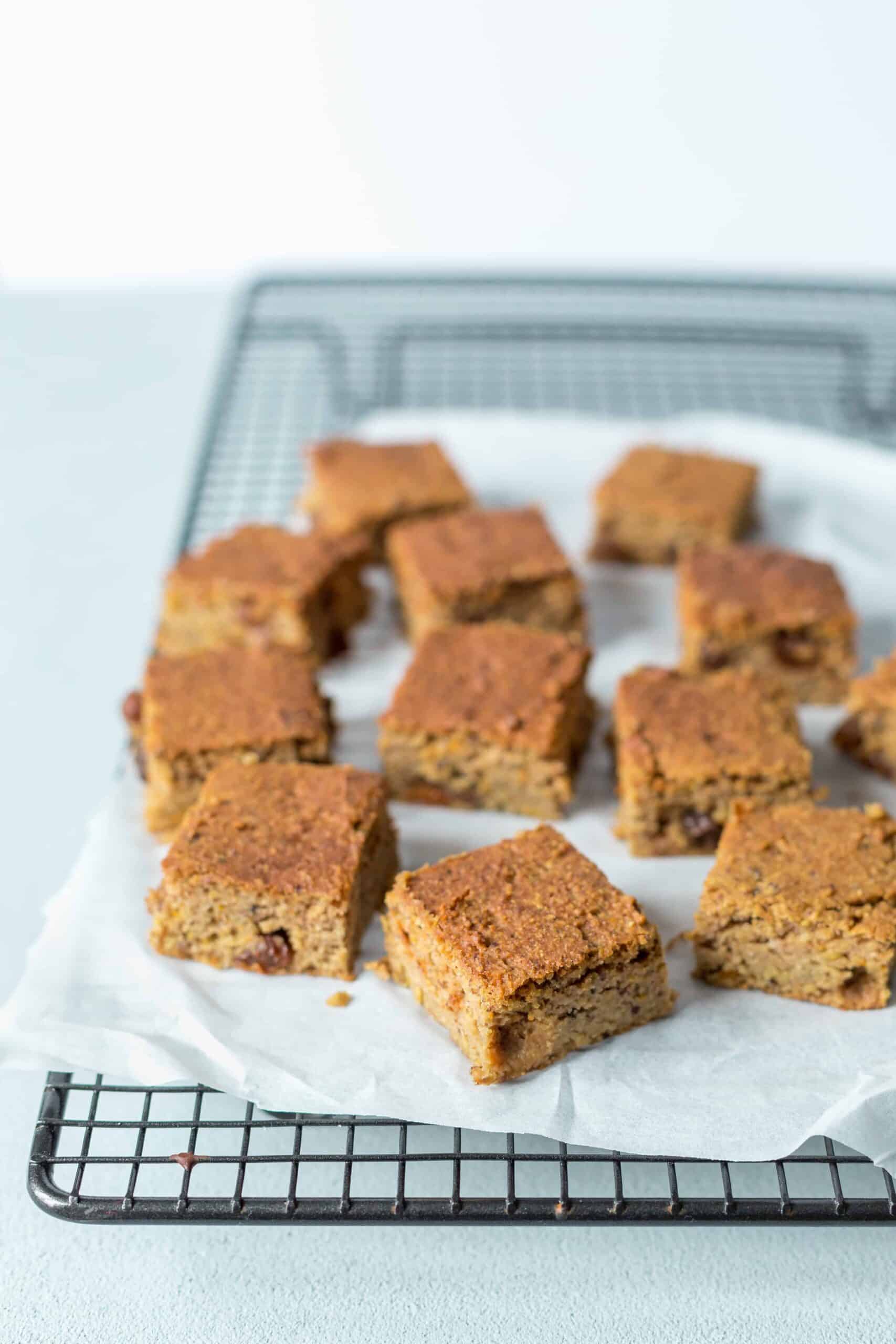 So back home, I think this was the most consistent recipe regarding the cold weather and I decided to give it a try first. In my memories, it had the taste and the texture of a brownie without the chocolate… so I started with my recipe of black bean brownie as a base, and replaced the black beans by white beans. I love the texture given by the beans, smooth and melting, while pretty light. The beans replace the eggs and fat in the recipe. I added almond butter and tahini for more creaminess and flavor, but they can be replaced by any other nut butter. As always, I tried to keep this recipe as healthy as possible, minimizing the sugar and fat, and still gluten free. I put some coconut syrup as sweetener but if you want a totally sugar free recipe you can omit it. The raisins already bring some sweetness, which can be enough if you are accustomed to low sugar food.
I made this blondie and cut it into small bite-sized squares and they lasted for all the week! They made the perfect little healthy treats to satisfy a sweet carving, as a snack or for dessert. And they were delicious! This combination of orange, raisins and spices always works and is perfect for both the heat of Bali and the still cool weather in France. The cake of all the situations! I am sure you will like it!
xxx
Alice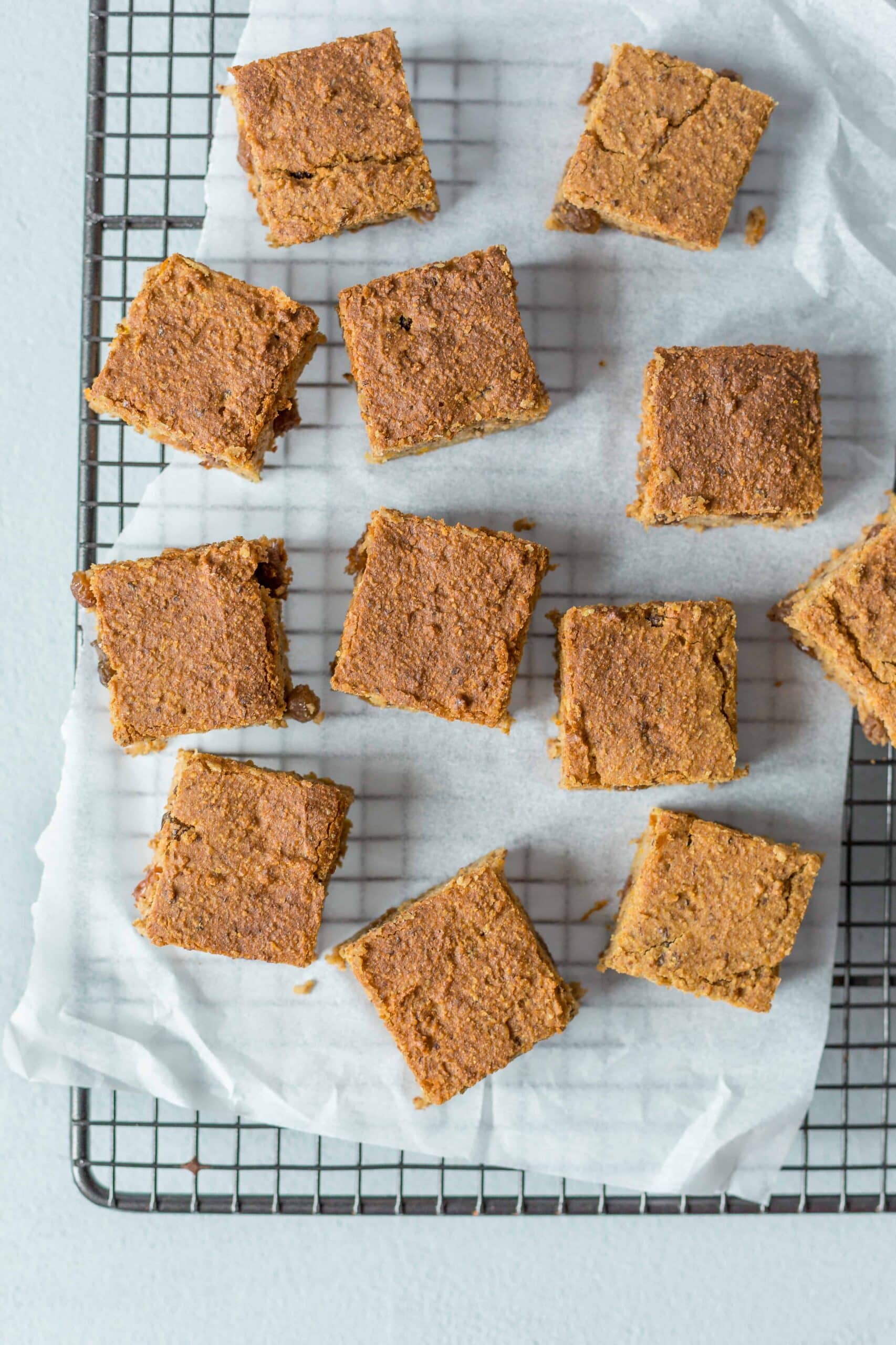 ---
ORANGE & RAISINS BLONDIES
Prep time: 20 minutes
Baking time: 23 minutes
Serves: 12 squares

INGREDIENTS:
Wet ingredients:
– 3/4 cup soaked canned white beans
– 1/4 cup almond butter
– 1/4 cup tahini
– 3 tbsp almond milk
– 1/4 cup coconut syrup (or maple syrup)
– 2 tsp vanilla extract
– 1 tbsp ground flaxseeds 
Dry ingredients :
– 1/4 cup coconut flour
– 1/2 cup oat flour
– 1/2 tsp baking powder
– 1/2 tsp baking soda
– a pinch of salt
– 1/4 cup dry sultana raisins
– zest of one organic orange
– 1/6 tsp cinnamon
– 1/6 tsp ginger
INSTRUCTIONS:
1. Preheat your oven to 350F (180C) and line a 9 inch square (or equivalent) baking dish with parchment paper.
2. Prepare the flax egg: in a medium bowl, mix the ground flaxseeds with 2 tbsp of water. Stir well and then set aside to allow the mixture to thicken.
3. Blend together the soaked white beans, the almond butter and the tahini in a high speed blender until perfectly smooth. Add the almond milk, coconut syrup and vanilla extract and blend again to combine.
4. Pour the wet mixture in the medium bowl with the flax egg and beat using a spatula until smooth.
5. In a large bowl, combine the coconut flour, oat flour, baking powder, baking soda, salt, cinnamon and ginger. Stir in the wet mixture and beat with a spatula until smooth. Then, fold in the raisins and orange zest and mix again.
6. Transfer to prepared baking dish and gently tap to pack. Bake in preheated oven for about 23 minutes, until golden and starts browning on the edges.
7. Remove from the oven and cool completely on a wire rack to allow to firm up. Then cut in squares using a sharp knife. You can store the blondie slices in an airtight container in the fridge – bring them back to room temperature 15 minutes before serving.