This strawberry rhubarb and celery crisp is the best way to enjoy the unique flavors of summer products in a light, comforting and very easy dessert! It has a gooey and luscious layer of juicy fresh fruits filling with a rich, thick and buttery oat crumble on top! It's the perfect balance of sweet, sour, smooth and crisp. It's vegan and gluten free. Bake in a dish or in a skillet and serve warm with a scoop of vanilla ice cream or make ahead and let cool to allow the flavors to enhance. It's up to you!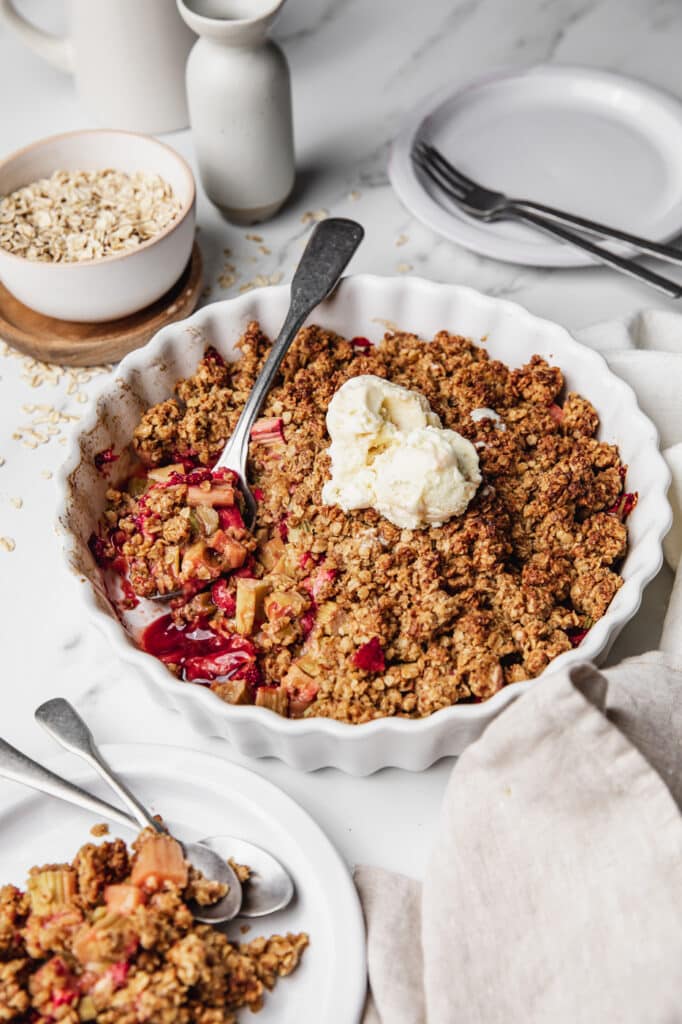 What is the difference between a fruit crisp and crumble?
First thing first, you might wonder what is the difference between a crumble and a crisp? To be honest I was naturally tempted to call it a crumble because it's the most common version in France and we're not very familiar with fruit crisp. Then I did a few searches to quickly realized I made a crisp without even knowing it!
Well, crumbles and crisps are very similar. They both are old-fashioned fruit desserts, that include a fruit filling and a buttery topping. Originally, the topping of a crisp would contain whole oats, while a crumble would not. So a crisp has this lightly crispy texture once baked (that's why it's called crisp), while the topping of a crumble is richer and smoother.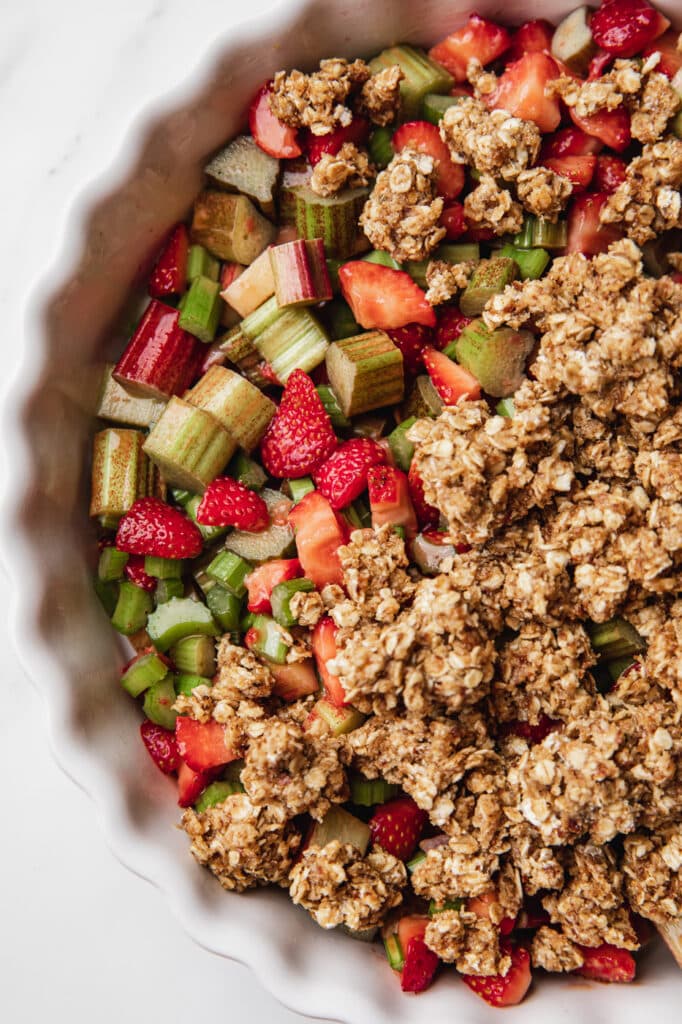 What makes it the best strawberry and rhubarb crisp?
Back to our recipe, let me tell you why this strawberry rhubarb crisp is so delicious, and what makes it different than any other fruit crumbles you've ever eaten! Crisps and crumbles have a special place in my heart (and probably most of yours). It's a classic recipe from the childhood, that is often linked to good memories in the kitchen. Just like the one from your grandma's, this one has everything you need in a very satisfying dessert.
First, the filling is a classic combination of fresh strawberries and rhubarb. No doubt that these two go very well together! The proportions can vary, but I think this ratio leads to a well balanced dessert. To this base, we're adding a special ingredient: celery! Celery stalks are pretty similar to rhubarb and as surprising as it may sound, they complement each other to perfection. Fresh celery is mild and strong at the same time, and as a special salty and bitter flavor. Adding celery in the crisp filling brings deepness and balance the sweetness of strawberries and sourness the rhubarb.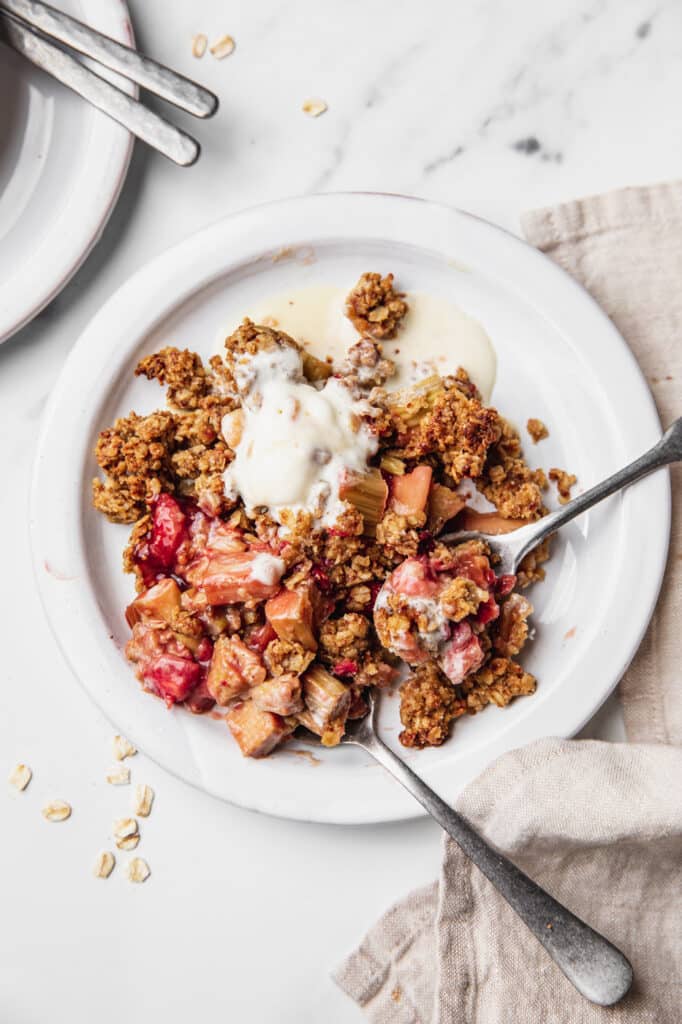 To finish, a little coconut sugar, lemon juice, vanilla and cornstarch are added to thicken the filling and help the dish to hold. There's nothing worse than a watery fruit crumble!
Last but not least, and definitely the best part of a crisp, the topping! It's SO GOOD I could eat it on its own. It's crisp, rich, buttery and so smooth in the mouth. The crisp topping is a very simple mix of oats, almond meal, sugar, spices and vegan butter that you can stir by hand directly in a bowl. It's naturally gluten free and refined sugar free. The crisp to filling ratio might seem important compare to other recipes but I promise it's perfect to have the right balance of flavors and textures.
Ingredients for strawberry rhubarb and celery crisp
This is a quick overview of the ingredients you'll need to make this strawberry rhubarb and celery crisp. You can refer to the last paragraph for variations and to the recipe card for measurements and complete cooking instruction. As always, it's very important to measure the ingredients, ideally with a scale.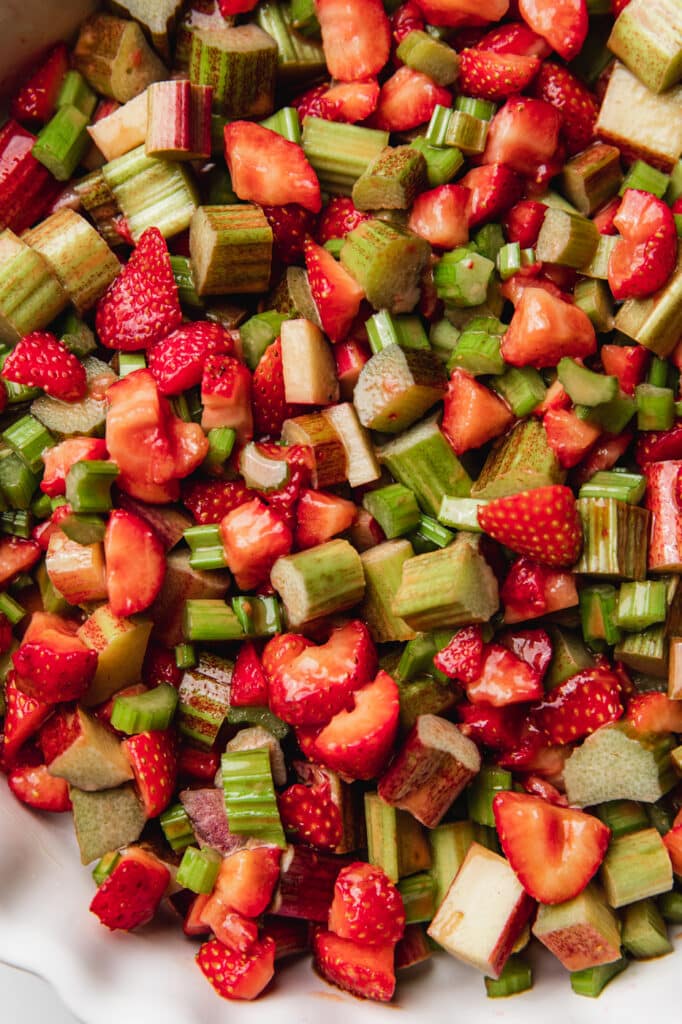 Ingredients for the filling
Strawberries – they are the main ingredient of the crisp. If possible use fresh and local strawberries for the best flavor, but if it's not the season frozen strawberries can also work. If using frozen strawberries, thaw them and drain excess water before and increase the cornstarch to 3 tablespoon as they will release more juice during the baking.
Rhubarb – like the strawberries, fresh rhubarb is the best during the summer. You'll have to wash the stalks and chop them into medium-small chunks. If the rhubarb is very stringy, you can peel the toughest parts. If you can't get it fresh, you can use frozen rhubarb.
Celery – you can easily find fresh celery stalks in the supermarkets. Wash and chop the stalk into small chunks, smaller than the rhubarb as it is crispier and won't bake as quickly.
Coconut sugar – is the only sweetener for both the filling and the crisp topping. Coconut sugar is my favorite granulated sugar because it's natural, unrefined and has a lower glycemic index.
Corn starch – helps to create a homogenous filling that thickens the entire dish. It's very important since the fruits will release a lot of juice as they cook.
Lemon juice – its acidity and flavors balances the sweetness of the fruits and brings out the rhubarb flavor. Ideally use freshly squeezed lemon juice.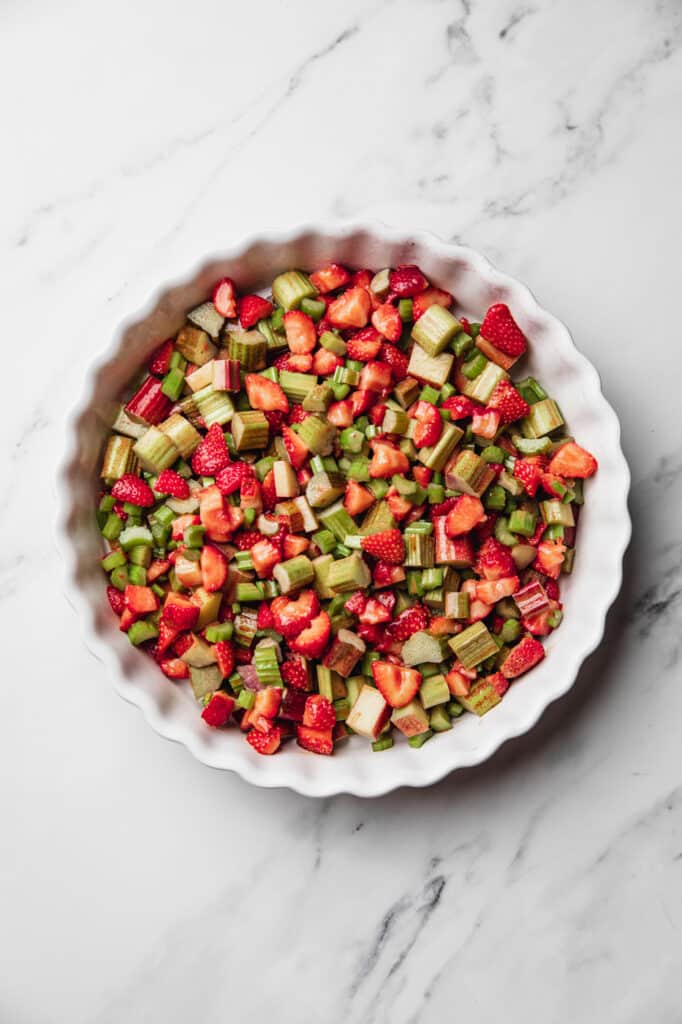 Ingrédients for the crumble topping
Oats – we use both entire oats and oat flour. The oat flour serves as a base for the topping instead of all-purpose flour, while the entire oats bring extra texture and toasty flavor. I like to use large rolled oats that have more texture. You can make oat flour by simply mixing oats in a blender.
Almond meal – makes the topping fluffier, lighter and even more delicious with its subtle nutty flavor.
Vegan butter – it gives this unique richness and brings the crisp topping together. You can find vegan butter in most supermarket and specialized stores. If possible choose a butter that doesn't contain palm oil. Make sure to keep it in the fridge until you use it so it stays solid.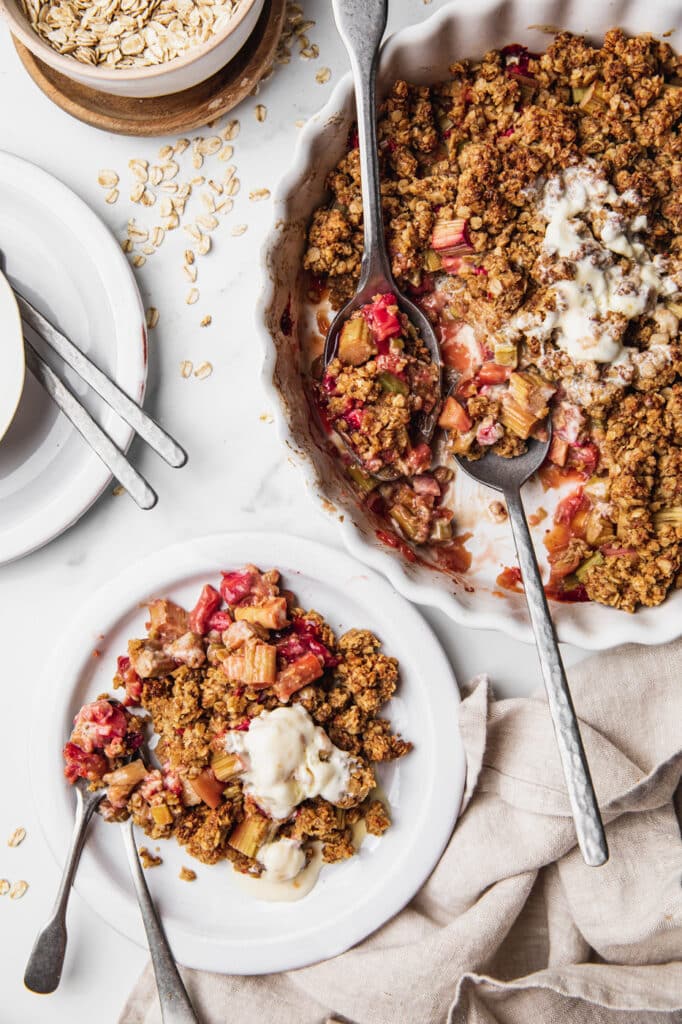 Tips for the best strawberry crisp recipe!
Strawberry rhubarb and celery crisps is a very simple dessert to make during the summer. It's a good alternative to pies as there is no crust so it's simpler to put together. The fruits filling and crumble topping are super quick to prepare separately, and after about 40 minutes of baking you're rewarded with a sweet, gooey, crisp and fruity dessert.
The step by step recipe is in the recipe card below, but here are a few additional tips to make the perfect crisp:
Use fresh, local and seasonal ingredients. As this recipe is very simple, the quality of the ingredients is the key for a flavorful dessert. If possible, I recommend to use fresh strawberries, rhubarb and celery, ideally produced locally. Fresh and local fruits are picked at perfect maturity which ensures the optimum flavors.
Make different cuts for each element. Don't slice the strawberries too thin, cut them in quarters or just half depending on their size. They will break down as they bake and you want to keep some texture. Chop the rhubarb into medium chunks and the celery stalks into smaller size as celery takes more time to bake. Also it ensures that the celery is evenly spread in the crumble.
Use the right baking dish. You can either use a classic baking dish or a cast iron skillet. It must have an adequate size so the layers of filling and topping have the right thickness. I you choose the cast iron, keep in mind that the crisp might bake a little faster.
Allow the crisp to cool before serving. This allows the filling to thicken and become smooth and luscious.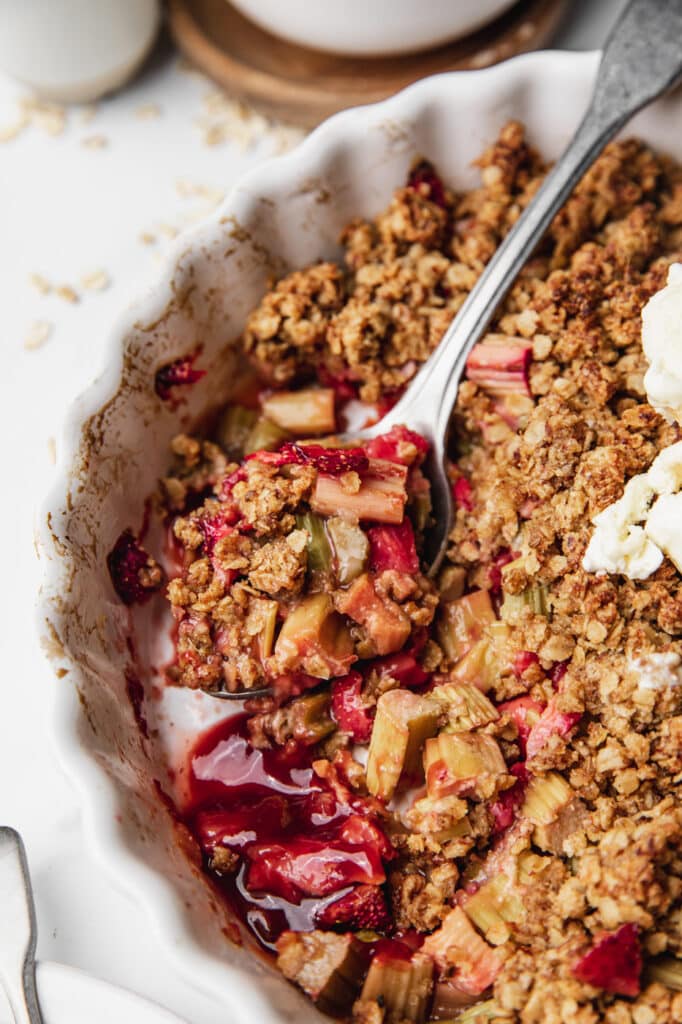 How to serve strawberry rhubarb and celery crisp
Honestly this strawberry crisp is as delicious warm or cold! You can either serve it warm after baking or leave it completely cool and enjoy at room temperature or cold the next day. Personally I love it when it's still a little warm, or the day after once the flavors are enhanced. I think it depends of the persons, but I would say the most common and satisfying way to serve this crisp is warm with a scoop of vanilla ice cream on top! It's so comforting.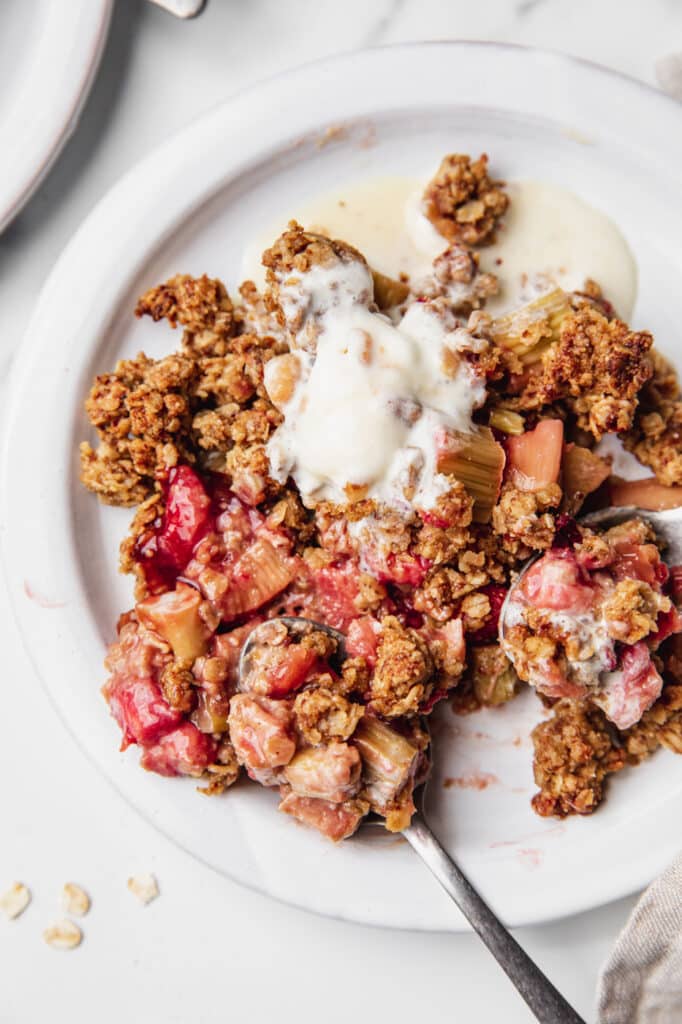 How to store the crisp
The good thing with this strawberry crisp is that it keeps very well for several days. First let the crisp completely cool to room temperature. Then you can leave it in the original baking dish and cover tightly with foil or plastic wrap. Make a few holes in the foil with a toothpick to prevent moisture to form and stay inside. Store in the refrigerator for 4 to 5 days.
Reheat
You can eat the strawberry rhubarb crisp cold (it's my favorite way to enjoy it) or warm. To reheat, remove the foil, then either place a portion of the crisp in an oven-safe plate or put the whole plate in the oven and warm for 15-20 minutes at 300F (150°C).
Make ahead
I found this strawberry rhubarb and celery crisp is even better the day after it's baked! So don't hesitate to make it in advance and then reheat right before serving or enjoy cold. It's a very good dessert to make ahead and then bring to a picnic or a party.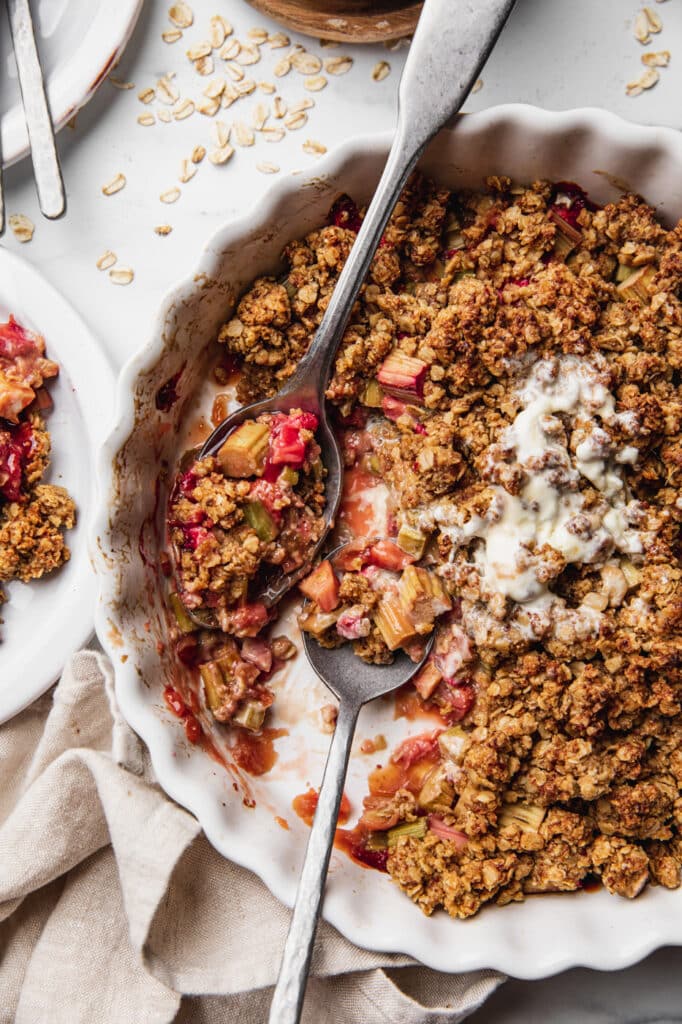 Recipe variations
It's not always easy to find fresh strawberries, rhubarb and celery depending on the countries and the seasons. If you can't find fresh ingredients, you can also use frozen ones. But I would even recommend to swap out the strawberries and rhubarb and use other fruits instead! Blueberries, raspberries, cherries, work perfectly instead of the strawberry. You can substitute the rhubarb with any tart fruit, like apples, pears, apricots or peaches. There are endless possibilities!
This strawberry rhubarb and celery crisps is naturally dairy and gluten free. But you can substitute the oats flour with all-purpose flour and the vegan butter with margarine or solid coconut oil. I didn't try, it might work but you'll have to adjust the quantities.
You can also try to add crushed nuts in the topping for extra crisp and flavor. Try walnuts, pecans or almonds, or even shredded coconut.
For more fresh and fruity desserts, check out my:
I love to see your creations! Don't forget to tag me @alicepages on your photos on Instagram and give your feedback in the comments below if you make this recipe at home! Your opinion is my best reward.
Print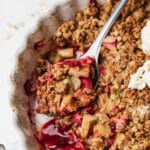 Strawberry Rhubarb and Celery Crisp (gluten-free)
Author:

Prep Time:

15 minutes

Cook Time:

40 minutes

Total Time:

55 minutes

Yield:

8

servings

1

x

Category:

Desserts

Method:

Oven

Diet:

Gluten Free
---
Description
This easy strawberry rhubarb and celery crisp is the best way to enjoy fresh summer fruits! It has a gooey filling of juicy fruits, topped with a generous and buttery layer of oat crumble! It's the perfect balance of sweet and sour, smooth and crisp, fresh and comforting.
---
For the fruits filling
250

g

fresh strawberries

200

g

fresh rhubarb

100

g

celery stalks

2 tbsp

coconut sugar *see notes for alternatives

2 tbsp

corn starch

1 tbsp

lemon juice

1 tsp

vanilla extract
For the crumble topping
1

cup

(85g) rolled oats, whole

1/3

(35g)

cup

oats flour *see nots for homemade

1/2

(50g)

cup

almond meal

1/3

(45g)

cup

coconut sugar

1 tsp

fennel seeds (optional)

1 tsp

ground cinnamon

1/2 tsp

ground cardamom

1

pinch of salt

100

g

vegan butter, cold
---
Instructions
Preheat the oven to 350F (180°C) and grease a baking dish with oil or vegan butter. I used a 9″ (22cm) round baking dish but you can also use other dimensions and adjust the quantities and baking times accordingly.
Wash the strawberries and cut them into quarters. Wash and slice the rhubarb into 1/2 inch (1,5c) chunks. Wash and slice the celery stalks into small 1/5 inch (5mm) chunks.
Place all the fruits in a large bowl, add the coconut sugar, corn starch, lemon juice and vanilla and toss to coat. Add the filling to your greased baking dish and spread it evenly. Set aside.
In another large mixing bowl, whisk together the whole oats, oats flour, almond, meal, sugar, fennel seeds, cinnamon, cardamom and salt.
Cut the cold butter into cubes, add to the dry ingredients and toss to coat. Then use your fingers to press and smooth the butter and incorporate with the dry ingredients. Stop when you get small lumps of butter and the mixture roughly holds together so there is no excess powder remaining.
Crumble on top of the fruits in an even layer, creating some clumps.
Bake for 35-40 minutes, until the top is golden brown and the fruits are soft. If the crumble browns too quickly, cover the dish with foil after about 20 minutes and continue to bake.
Let the crisp cool down for at least 20 minutes to allow the filling to thicken. Then top with vanilla ice cream and enjoy!
---
Notes
You can also use brown cane sugar or any granulated sugar of your choice.
Make your own oats flour by blending rolled oats until you get a fine powder.
Store the extra crisp in an airtight container in the refrigerator for up to 5 days. Enjoy cold or warm.
Keywords: Crumble, crisp, strawberry rhubarb crumble, fruits crisp, dessert, gluten-free
Recette version française
Print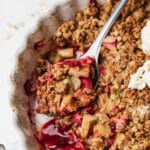 Crumble fraises rhubarbe et céleri (vegan et sans gluten)
Author:

Prep Time:

15 minutes

Cook Time:

40 minutes

Total Time:

55 minutes

Yield:

8

personnes

1

x

Category:

Desserts

Method:

Four

Diet:

Gluten Free
---
Description
Ce crumble est la meilleure façon de profiter des produits d'été, dans un dessert frais, savoureux et très gourmand. Il se compose d'une garniture crémeuse de fraises, rhubarbe et céleri, surmontée d'un irrésistible crumble au flocons d'avoine à la fois croustillant et fondant.
---
Pour la garniture
250

g

de fraises fraiches

200

g

de rhubarbe

100

g

de céleri branche

20

g

de sucre de coco *voir les notes

20

g

de fécule de maïs

1

cuil. à soupe de jus de citron

1

cuil. à café de vanille liquide
Pour le crumble
85

g

de flocons d'avoine entiers

35

g

de flocons d'avoine en poudre *voir les notes

50

g

de poudre d'amandes

45

g

de sucre de coco

1

cuil. à café de graines de fenouil (optionnel)

1

cuil. à café de cannelle en poudre

1/2

cuil. à café de cardamome en poudre

1

pincée de sel

100

g

de margarine végétale froide
---
Instructions
Préchauffer le four à 180°C et graisser un plat avec de la margarine. J'ai utilisé un plat rond de 22 cm de diamètre mais vous pouvez utiliser n'importe qu'elle autre forme et dimension en adaptant les quantités et le temps de cuisson en fonction.
Rincer et couper les fraises en quartiers. Laver, éplucher si besoin et couper la rhubarbe en tronçons de 1,5 cm. Laver et couper les branches de céleri en petits tronçons d'environ 5 mm.
Placer les fruits dans un grand saladier et ajouter le sucre, la fécule, le jus de citron et la vanille. Mélanger délicatement pour bien enrober les fruits. Répartir la garniture dans le plat. Réserver.
Dans un autre saladier, mélanger les flocons d'avoine entiers et en poudre, la poudre d'amandes, le sucre, les graines de fenouil, la cannelle, la cardamome et le sel.
Couper la margarine froide en cubes et mélanger avec les ingrédients secs pour les enrober grossièrement. Puis avec le bout des doigts, continuer de mélanger tout en travaillant et en malaxant la margarine pour qu'elle incorpore le reste des ingrédients. Arrêter quand la pâte se tient, avec de grosses pépites et qu'il ne reste quasiment plus de poudres.
Emietter le crumble au dessus des fruits en formant des amas.
Enfourner pendant 35 à 40 minutes, jusqu'à ce que le crumble soit doré et les fruits fondants. Si le dessus du crumble brunis trop rapidement, couvrir le plat avec une feuille de papier aluminum et prolonger la cuisson.
Retirer du four et laisser tiédir au moins 20 minutes pour permettre à la garniture de se raffermir. Déguster tiède ou froid, avec une boule de glace vanille.
---
Notes
Vous pouvez remplacer le sucre de coco par n'importe quel sucre en poudre.
Réalisez votre farine d'avoine en mixant des flocons d'avoine jusqu'à obtenir une poudre.
Le crumble se conserve jusqu'à 5 jours au réfrigérateur dans un récipient ou couvert hermétiquement.
Keywords: Crumble, crumble aux fruits, crumble aux fraises, dessert, sans gluten,