These vegan sheet pan caramel pumpkin cinnamon rolls would make the perfect comforting fall treat or breakfast. They're like a giant cinnamon roll to pull apart or dig the spoon in. They're incredibly soft, moist and fluffy, filled with a creamy pumpkin caramel and crispy pecans. With pumpkin in the dough AND the filling, these rolls are seriously loaded with delicious pumpkin flavor! On top of that, they're very easy to make, with only a few ingredients and simple steps. Your new favorite cinnamon rolls recipe!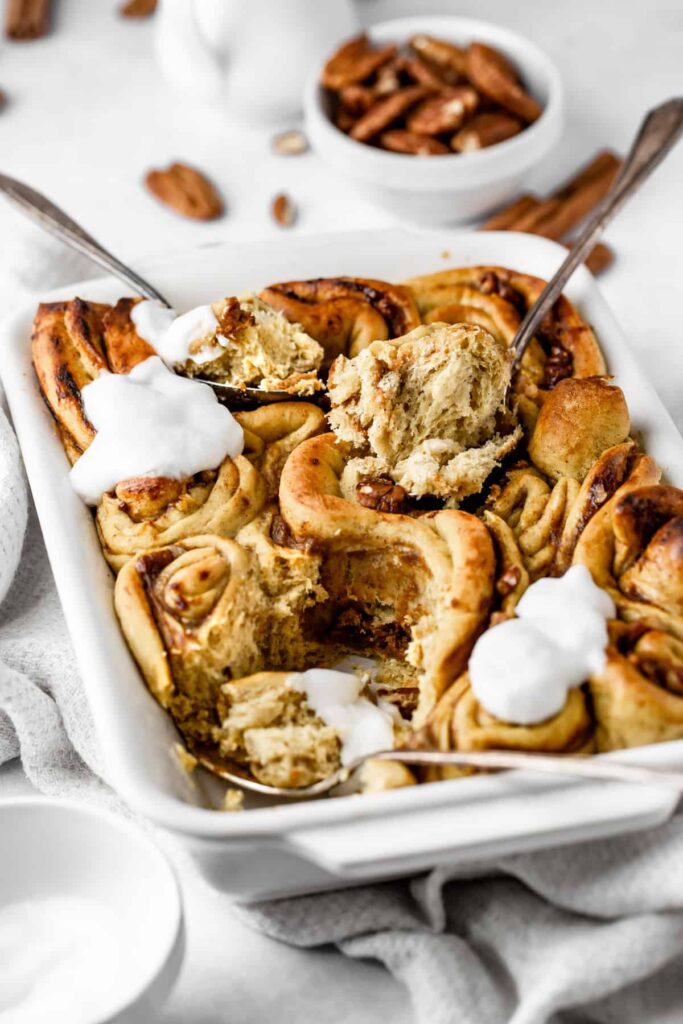 The best pumpkin cinnamon rolls
Cinnamon rolls is my absolute favorite treat, especially during fall and winter. What I love the most about them is their soft and fluffy texture, and this irresistible ooey-gooey center.
This sheet pan caramel pumpkin cinnamon rolls is literally like a huge cinnamon roll. As the rolls are baked in one block, there is no gap between them. This helps to keep moisture during the baking, and makes them so so fluffy and moist on the inside, and lightly golden and crispy on the edges.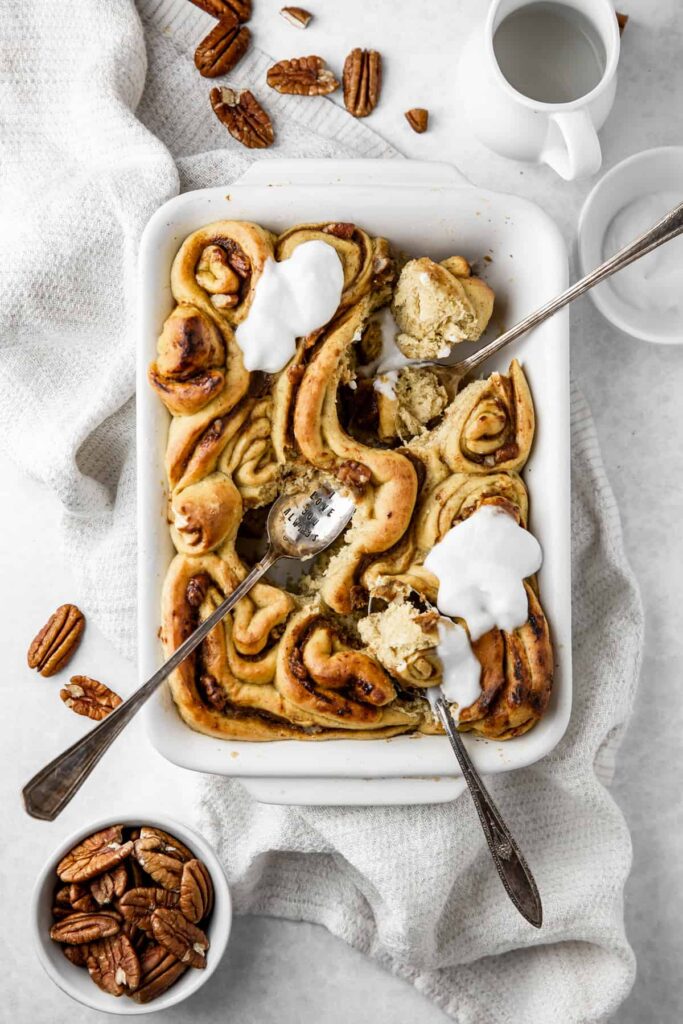 This recipe is adapted from my Fluffy Homemade Cinnamon Rolls recipe to which I then added pumpkin purée. I love to use pumpkin in recipes to bring flavor, a nice golden color and extra moisture. Adding pumpkin here is what creates that perfect soft and gooey texture.
What make these pumpkin cinnamon rolls even more delicious is their amazing pumpkin caramel filling. A smooth, spicy and sweet caramel made with only natural ingredients, no sugar, and pumpkin purée! Now you can really call them PUMPKIN cinnamon rolls.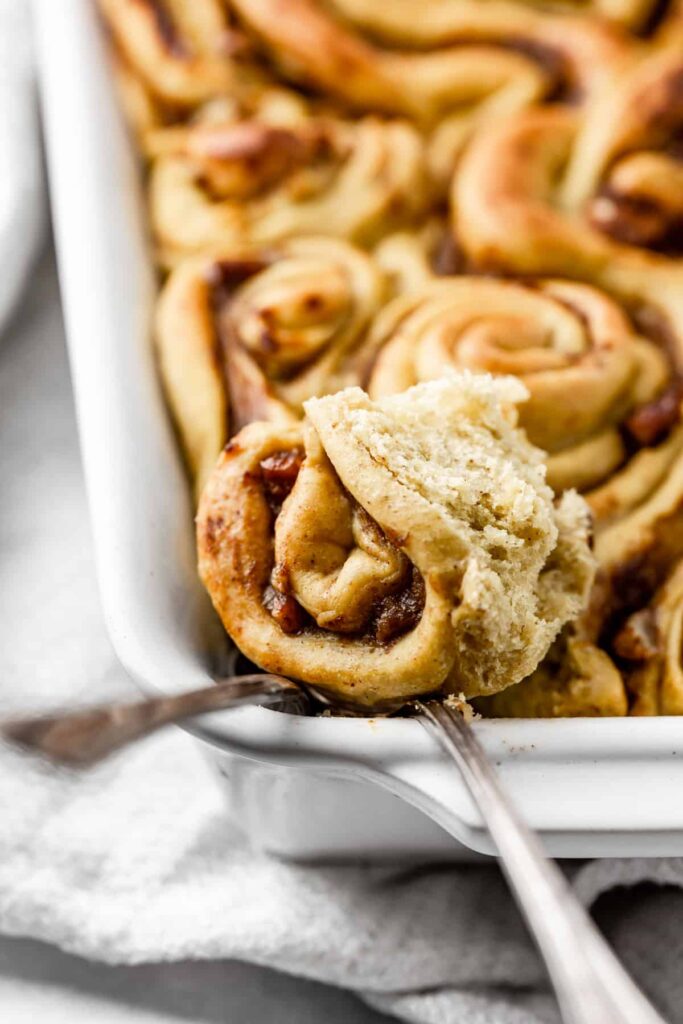 Tips to make the perfect pumpkin cinnamon rolls sheet pan
These pumpkin cinnamon rolls is a foolproof recipe. They only require a few simple ingredients, don't call for complex preparations, difficult steps and don't involve specific equipment. Basically everybody can make it. If it's your first time making cinnamon rolls at home, I recommend to read my Easy Vegan Cinnamon Rolls post. You'll find a lot of helpful information. Here are a few tips for making perfect rolls and get that moist and soft texture:
Understand the yeast – The first important factor to make airy and fluffy rolls is the yeast itself. Yeast is a living microscopic organism, very sensitive to the environment parameters, like temperature or humidity. You can use both fast-acting dry yeast or fresh yeast. The temperature of the liquid is very important. It must be warm enough to activate the yeast, but not too hot or it can kill the yeast. The perfect temperature is between 100°F and 110°F (37°C-43°C).
Knead enough – Kneading the dough thoroughly and long enough is a key factor to develop a soft and fluffy texture. The dough must be perfectly silky, smooth and not sticky at all. Kneading the dough helps the gluten to develop, which is important to get light and fluffy cinnamon rolls and to ensure an even rising. You can either knead the dough with a stand mixer (for about 5-8 minutes) with the dough hook attachment, or by hand (for around 10-12 minutes).
Rising at the right temperature – the dough has to rise twice, one after you've mixed the dough, and one after you've placed it in the pan. To ensure a good rising, cover the dough with a clean towel and place in warm place. Ideal rise temperatures are between 80°F and 90°F (26°C-32°C). The oven is an ideal place for this : heat the oven on the lowest temperature possible for one or two minutes, then turn it off.
Baking to perfection – you know the rolls sheet pan is ready when the surface is golden brown and the center of the swirls have puffed up. Don't over bake it as it will continue to dry a little as it cool, and you want the rolls to be soft and moist in the center.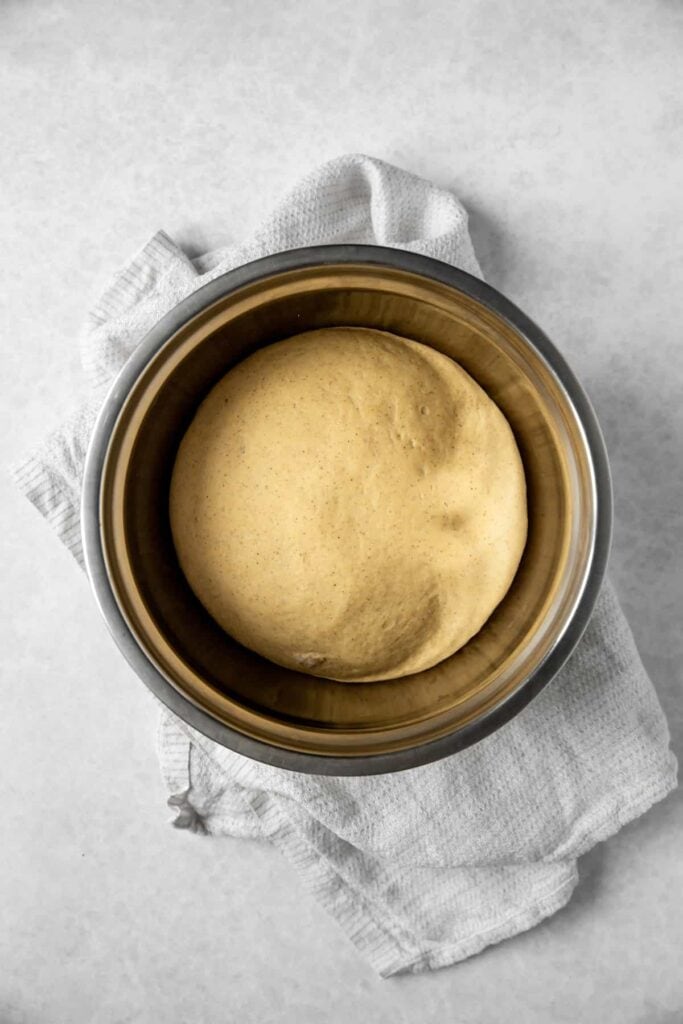 Make the pumpkin caramel filling
If these pumpkin cinnamon rolls are so good, it's because they are filled with a decadent smooth, thick and creamy pumpkin caramel. YES, pumpkin in the dough AND in the filling! The best part? It happens to be vegan, oil-free and added sugar-free! Healthy caramel sauce is a dream come true.
To make pumpkin caramel, all you need is dates, pumpkin purée, coconut milk and a few spices. Dates are a key ingredient in this recipe as they give the caramel its thick and creamy texture, and bring natural sweetness. I highly recommend to use medjool dates. Because they are very soft, juicy and naturally sweet, they work particularly well in this recipe. If you can't find medjool dates, any other varieties will work too. If they are dry, you can soak them in hot water for 20 minutes before using to soften.
For a very creamy caramel, use full-fat coconut cream or coconut milk with at least 85% coconut content. A great tip is to chill the can of coconut milk in fridge the night before. The coconut cream will separate from the water and form a thick layer on top of the can. Scoop it to use into your preparations.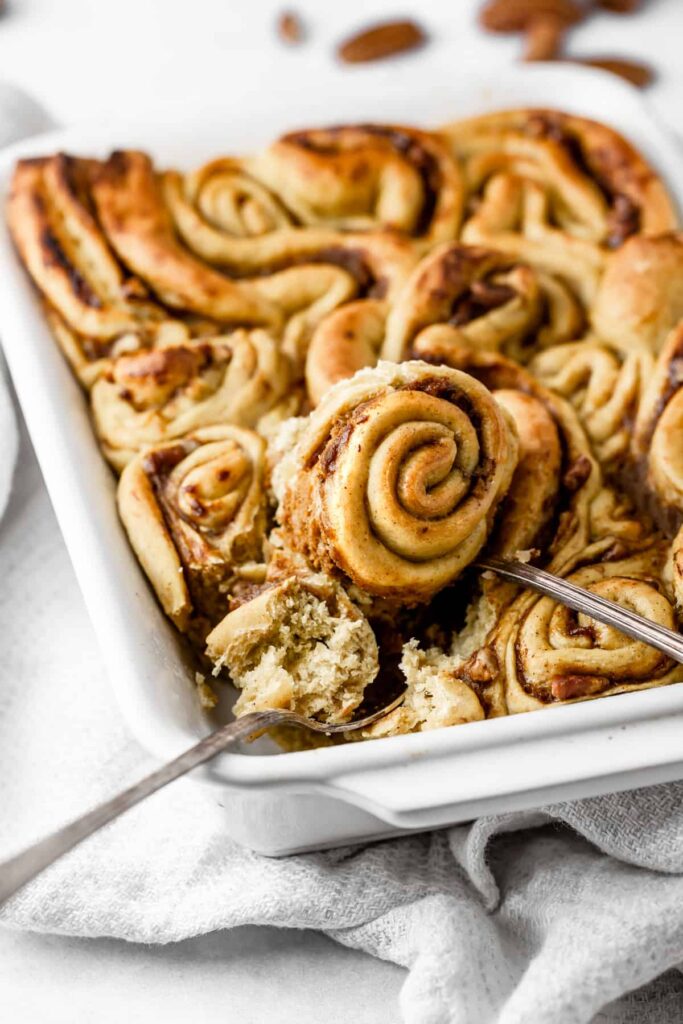 How to shape the swirls
I call them pumpkin cinnamon rolls, but they actuality are more like "pumpkin cinnamon swirls". Because why to make everything everything strict and complicated when you can simply let your artistic sense talk?
This pumpkin rolls sheet pan is very easy to assemble. Once you've filled and folded the dough in half, use a sharpened knife to cut about 0.8 inch wide stripes in the length-wise direction. Then comes the funny part.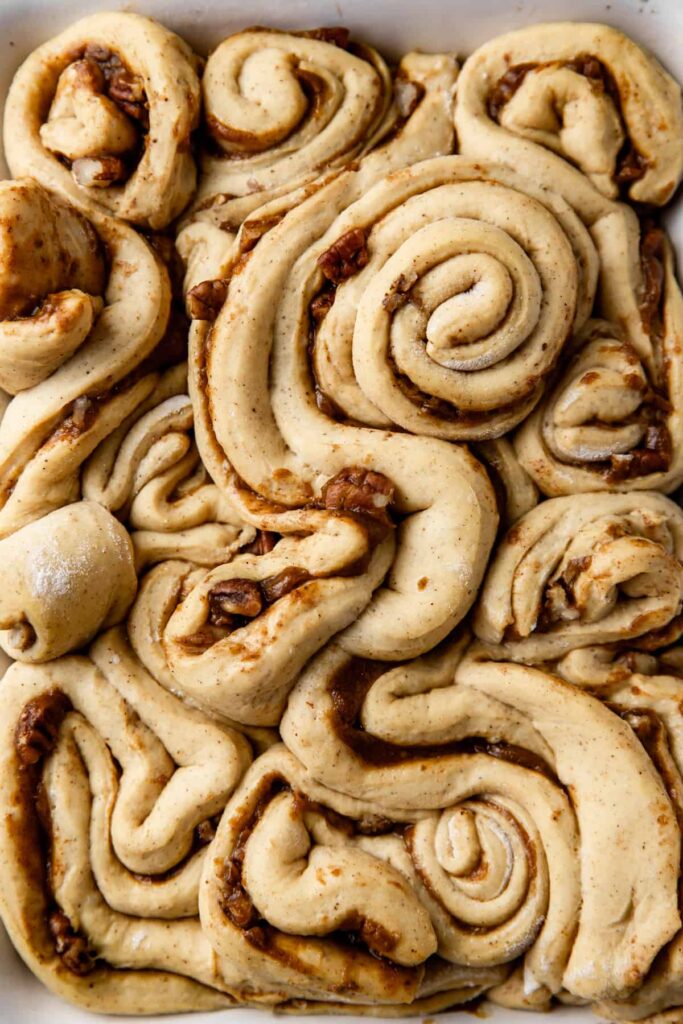 Grab a pan of dimensions about 8 x 5 inches. Actually you can use whatever shape you want for the pan: square, rectangle, oval … they all work. Just make sure the size of the pan is adapted to the quantity of dough. You must be able to fill the pan with the ribbons without tightening them too much. Grease the pan with a little oil to avoid the dough to stick too much.
Then, start to arrange the stripes of dough in the pan to form swirls and waves. Start to place a few stripes that go through the pan, then fill in the gaps with the remaining stripes. Don't worry if there are some little gaps between the stripes, the dough will continue to swell and fill them.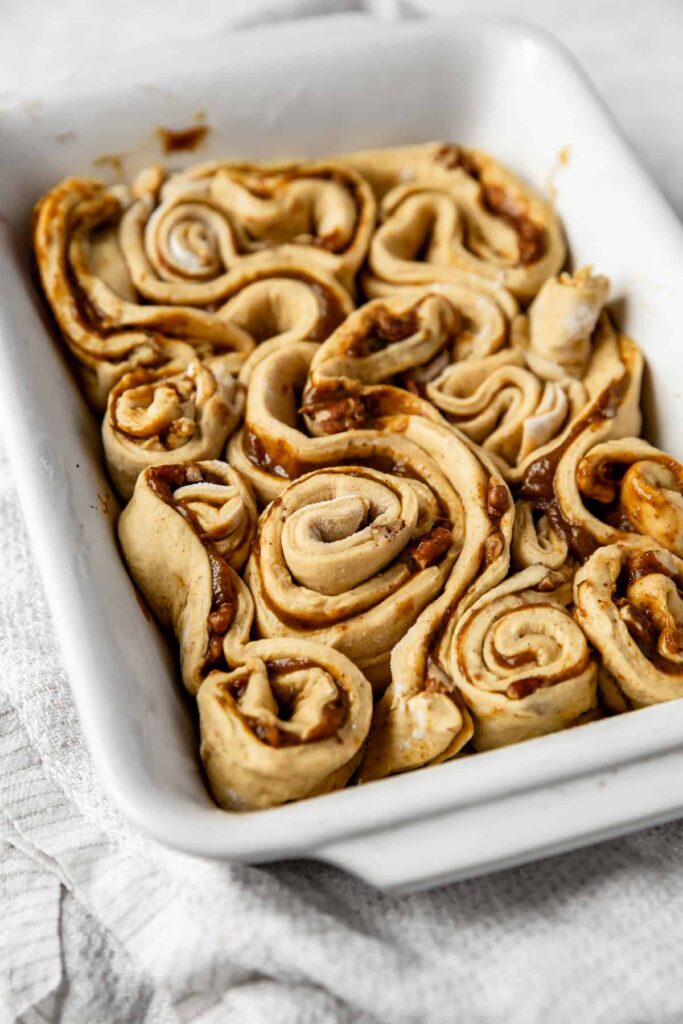 How to store pumpkin cinnamon rolls
Honestly, this sheet pan caramel pumpkin cinnamon rolls is so good I could eat the whole pan all to myself! When you start plunging your spoon into this dreamy pan of fluffiness, it is very hard to stop.
Pumpkin cinnamon rolls are the best enjoyed still warm, right out of the oven. They are incredibly soft, fluffy, melt in the mouth … in short they are perfect. Like most of the fluffy and airy bakings, these pumpkin cinnamon rolls will dry out pretty quickly on the edges. BUT as they are baked in one block, the center will stay moist and fluffy for a longer time than regular rolls! And we all know that the best part about a cinnamon roll is that gooey center!
If you plan to eat sheet pan caramel pumpkin cinnamon rolls the same day or the day after, simply cover the pan with a clean towel and let on let on your countertop. To keep it for longer, simply leave the rolls in the pan and wrap tightly with plastic wrap. This way they will keep for up to 2-3 days without drying too much.
Before eating, unwrap the pan and pop it in microwave for about 30 seconds to reheat and restore the softness.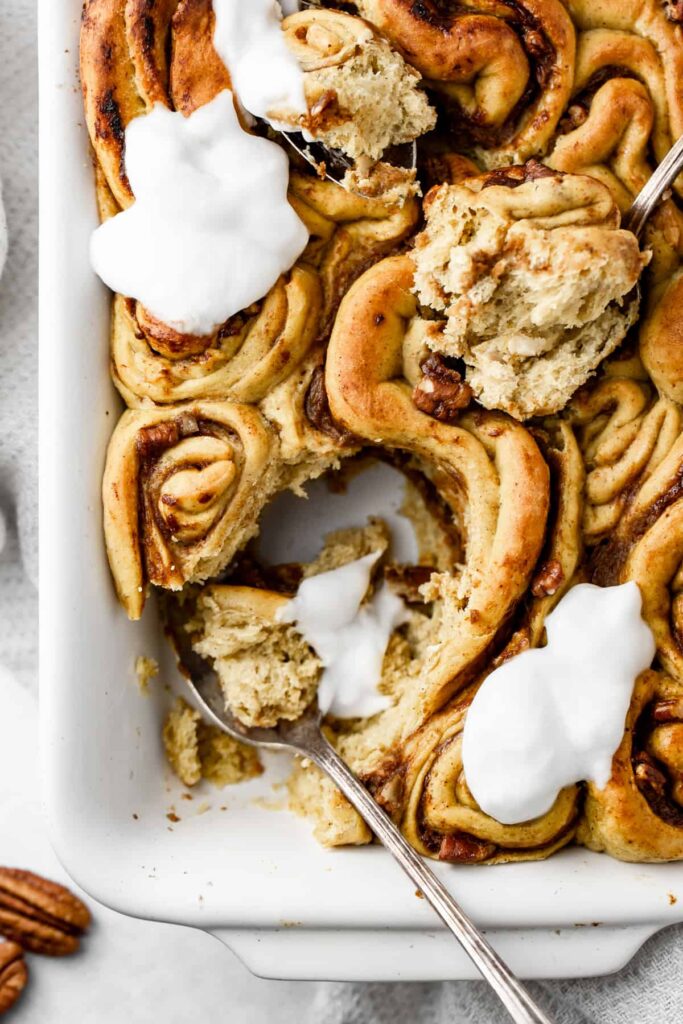 For more comforting baking recipes, check out my
I love to see your creations! Don't forget to tag me @alicepages on your photos on Instagram and give your feedback in the comments below if you make this recipe at home! Your opinion is my best reward.
Print Sheet pan caramel pumpkin cinnamon rolls
Author:

Prep Time:

1 hour 30 minutes

Cook Time:

25 minutes

Total Time:

1 hour 55 minutes

Yield:

6

servings

1

x

Method:

oven

Cuisine:

American

Diet:

Vegan
---
Description
Vegan Sheet pan Pumpkin Cinnamon Rolls with a creamy pumpkin caramel and pecans filling are the perfect comforting fall treat. They are incredibly soft and fluffy, easy to make with simple ingredients.
---
Dough
1/3 cup

+

1 tbsp

almond milk

1 tbsp

warm water

1/2 tsp

fast-acting dry yeast (or

12 g

fresh yeast)

2 cups

all-purpose flour (

260g

)

1 tbsp

coconut sugar (or cane sugar)

1/2 tsp

ground cinnamon

1/4 tsp

salt

1 tbsp

melted coconut oil

1/3 cup

pumpkin purée
Caramel pecan filling
4

soft dates (see notes)

1/4 cup

pumpkin purée

1 tbsp

+

1 tsp

full fat coconut milk

1 tsp

vanilla extract

1/2 tsp

ground cinnamon

1/4 tsp

ginger powder

1/8 tsp

ground nutmeg

1/8 tsp

ground clove

1/3 cup

chopped pecans
Glaze
1 tbsp

aquafaba (chickpea brine, optional)

1 tbsp

almond milk

1 tsp

maple syrup
---
Instructions
Dough
In a small bowl, mix together the almond milk and the hot water. Check the temperature: the mixture should be warm but not too hot, slightly under 100 degrees F (37°C) not to kill the yeast. If it's too hot whisk to cool.
Sprinkle the yeast evenly on the warm liquid and let activate for 2 minutes. Then stir until the yeast is completely dissolved in the liquid.
In the bowl of a stand mixer or a large mixing bowl, add the flour, sugar, cinnamon and salt, and mix to combine.
Pour in the milk and yeast mixture, together with the melted coconut oil and the pumpkin purée. If using a stand mixer, mix with the hook accessory until the dough is smooth, elastic and not sticky. This can take up to 5-8 minutes to get the right consistency. If you don't have a stand mixer, start mixing the dough with a spatula until combined. Then transfer the dough to a lightly floured surface and kneed for about 10 minutes until smooth.
Form a loose ball with the dough. Place it into a greased mixing bowl and cover with a clean towel. Set in a warm place to rise for about 1 hour, or until doubled in size.
Caramel filling
While the dough is rising, prepare the caramel filling. Pit and chop the dates (they must be very soft, see notes for recommendations). Place all the ingredients except from the pecans in a high-speed blender and mix until perfectly smooth and creamy. Pour the caramel into a bowl and leave to set in fridge.
Assembly
Once the dough has risen, turn out onto a floured surface. Roll out the dough into an even 28 cm x 28 cm square (if you have changed the quantities of the recipe, adapt the dimensions accordingly).
Pour the caramel on the dough and gently spread with a spatula to fully cover the surface. Evenly sprinkle the chopped pecans on top.
Fold the dough in half. Then, with a sharpened knife, cut 0.8 inch wide strips in the length-wise direction.
Grease a pan of dimensions about 8 x 5 inches. Arrange the strips of dough in the pan in order to shape beautiful abstract swirls and nearly completely fill the pan (the dough will continue to rise).
Cover with a towel and place in a warm place to rise for 30 minutes. Meanwhile, preheat the oven to 350 degrees F and prepare the glaze by mixing all the ingredients together. 
Once the oven is hot and the dough has risen, bake for 20 minutes. Then remove from the oven and brush with the glaze. Return to the oven and bake for another 3 to 5 minutes, or until golden brown. Remove from oven and allow to cool for a few minutes before serving. 
---
Notes
It's really important that the dates are vey soft to get a smooth and creamy caramel. I highly recommend to use medjool dates, a natural smooth, juicy and sweet variety. If you can't find medjool dates or if your dates are dry, soak them in hot water for 15 minutes before using to soften.
Keywords: rolls, buns, sheet pan rolls, pumpkin rolls, pumpkin, baking, dessert, snack
Recette version française
Print Roulés à la citrouille caramel et noix de pécan
Author:

Prep Time:

1 heure 30 minutes

Cook Time:

25 minutes

Total Time:

41 minute

Yield:

6

personnes

1

x

Method:

four

Cuisine:

Américaine

Diet:

Vegan
---
Description
Ces délicieux roulés cannelle vegan ultra moelleux sont garnis d'un onctueux caramel à la purée de citrouille et de noix de pécan croquantes. Ils sont très simples et rapides à réaliser, pour un petit-déjeuner ou un goûter réconfortant.
---
PÂTE À BUNS
90

ml de lait d'amande à température ambiante

15

ml d'eau chaude

4 g

de levure boulanger instantanée (ou

12 g

de levure fraiche)

260 g

de farine de blé type T55

15 g

de sucre de coco (ou sucre de canne brun)

1

c. à c. de cannelle en poudre

1/4

c. à c. de sel

20 g

d'huile de coco fondue

65 g

de purée de citrouille (ou de courge)
Caramel et garniture
4

dattes bien tendres (voir notes)

55 g

de purée de citrouille (ou de courge)

30 g

de crème de coco entière

1

c. à c. d'extrait de vanille

1/2

c. à c. de cannelle en poudre

1/4

c. à c. de gingembre en poudre

1

pincée de noix de muscade en poudre

1

pincée de clou de girofle en poudre

30 g

de noix de pécan hachées
Dorure
1

c. à s. d'aquafaba (eau de cuisson des pois-chiches), optionnel

2

c. à s. de lait d'amande

1

c. à s. de sirop d'érable
---
Instructions
PÂTE À BUNS
Mélanger le lait d'amande et l'eau chaude dans un petit bol. Vérifier la température du mélange: il doit être chaud mais pas brulant, légèrement en dessous de 37°C, pour activer la levure sans la tuer. Si le mélange est trop chaud, laisser refroidir quelques instants.
Saupoudrer la levure instantanée à la surface du mélange à bonne température et laisser activer pendant 2 minutes. Puis remuer afin de dissoudre complètement la levure dans le liquide.
Dans le bol d'un robot pâtissier ou dans un grand saladier, mélanger la farine, le sucre, la cannelle et le sel. 
Verser la préparation lait levure dans le mélange sec, ainsi que l'huile de coco fondue et la purée de courge. Si vous avez un robot pâtissier, pétrir avec l'accessoire crochet jusqu'à obtenir une pâte lisse, élastique et non-collante. Cela peut prendre jusqu'à 5 à 8 minutes pour obtenir la bonne texture. Si vous n'avez pas de robot pâtissier, commencer par mélanger la pâte avec une spatule pour incorporer grossièrement tous les ingrédients. Puis lorsqu'elle devient trop épaisse, transférer la pâte sur un plan de travail légèrement fariné et pétrir à la main pendant 10 minutes jusqu'à obtenir une pâte bien lisse.
Former une boule, la déposer dans un saladier huilé et recouvrir d'un torchon propre. Placer le saladier dans un endroit chaud et laisser la pâte gonfler pendant environ 1 heure, ou jusqu'à ce qu'elle ai doublé de volume.
Caramel
Pendant que la pâte lève, préparer le caramel. Dénoyauter et hacher grossièrement les dattes (elles doivent être bien tendres pour obtenir un caramel crémeux, voir mes recommendations en fin de recette). Placer tous les ingrédients à l'exception des noix de pécan dans un blender et mixer à pleine puissance jusqu'à obtenir un caramel lisse et onctueux. Verser le caramel dans un bol et réserver au frais.
Assemblage
Une fois que le pâte a doublé de volume, la déposer sur un plan de travail fariné. A l'aide d'un rouleau à patisserie, abaisser la pâte en un carré de dimension 28 cm x 28 cm (si vous avez modifié les quantités de la recette, adaptez les dimensions en fonction).
Verser le caramel sur la pâte et l'étaler à l'aide d'une spatule uniformément sur toute la surface. Garnir avec les noix de pécan hachées.
Plier la pâte en deux, caramel vers l'intérieur. Puis à l'aide d'un couteau aiguisé, découper des bandes de largeur 2 cm dans le sens de la longueur.
Graisser un plat de dimensions environ 20 x 13 cm. Disposer les bandes de pâte dans le plat de façon à former de jolis motifs abstraits, des spirales et des vagues. Ce n'est pas grave si il y a un peu de jeu entre les bandes de pâtes, elles vont continuer à gonfler par la suite.
Couvrir le plat avec un torchon propre et laisser gonfler dans un endroit chaud pendant 30 minutes. Pendant ce temps, préchauffer le four à 180°C et préparer la dorure en mélangeant tous les ingrédients.
Une fois que le four est chaud et que la pâte a gonflé, enfourner et cuire pendant 20 minutes. Puis retirer du four et badigeonner avec la dorure à l'aide d'un pinceau. Enfourner pour 3 à 5 minutes supplémentaires, jusqu'à ce que les roulés soient bien dorés. Retirer du four et laisser refroidir pendant quelques minutes avant de déguster.
---
Notes
Pour réaliser un caramel onctueux, il est important d'utiliser des dattes bien tendres. Je recommande d'utiliser des dattes de la variété medjool, tendres, juteuse et sucrées. A défaut ou si vos dattes sont sèches, faites les tremper dans de l'eau chaude pendant 15 minutes pour les attendrir avant de les utiliser. 
Keywords: Roulés, roulés citrouille, citrouille, gâteau, dessert, goûter