This Easy Lemon Blueberry Mug Cake is a quick fix to all your dessert and sweet treat cravings! It is light, fluffy and loaded with juicy blueberries and refreshing lemon flavors. This single serving Mug Cake is extremely simple to prepare and it is ready under three minutes. Perfect for those days when you're in a hurry – or too lazy to do the dishes. Just mix everything in a mug, bake in microwave and your healthy, low carb and so delicious snack is ready to be devoured!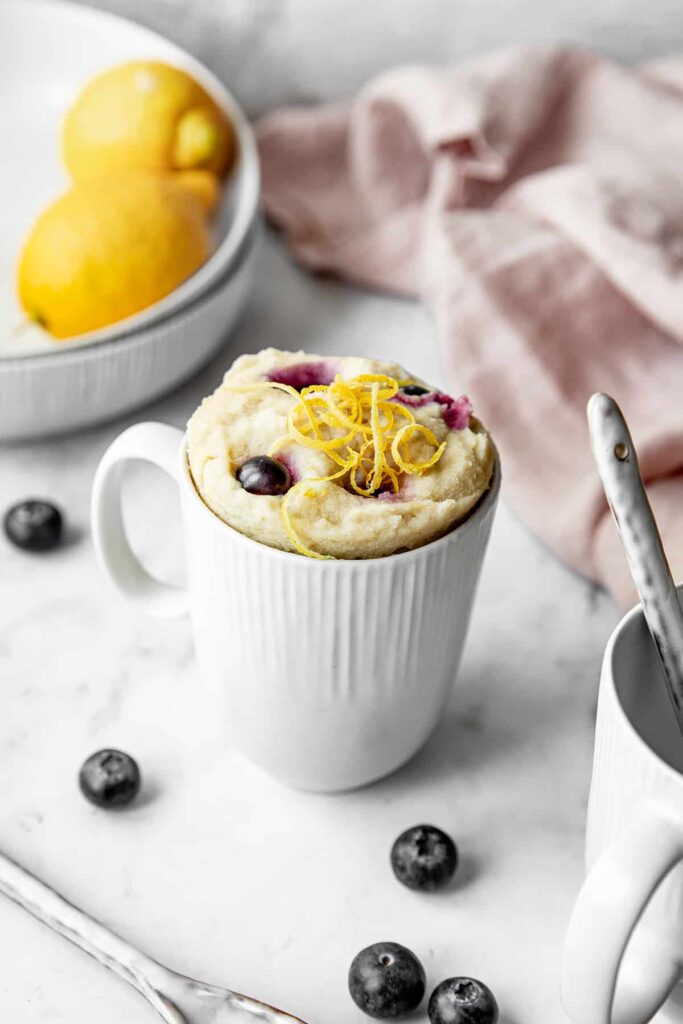 Why this lemon blueberry mug cake is your new favorite treat
You guys are apparently huge fans of mug cakes! The Peanut Butter Brownie mug cake recipe I've shared lately has been instantly propelled to the first rank! So many of you made the recipe and absolutely loved it that I understood I'll have to create more mug cake recipes to satisfy your urgent dessert cravings.
Then I immediately started to think about new mug cake flavors, and the first one that came to my mind is Lemon Blueberry. Beautiful and warm days are coming, so I though you would appreciate something a little light and fresh.
Lemon and blueberry is a classic combination that works so well! I love it in large cakes, banana bread or even smoothies, and I though it would be amazing in a single serving mug cake size. This is the perfect quick and healthy fix to your dessert cravings!
If you have loved my previous Brownie version, you will probably love this Lemon Blueberry Mug Cake too. These two recipes are pretty different, with different ingredients and texture. But as always, I made it has nutritious and delicious as possible. This plant-based mug cake is also gluten free, refined sugar free, oil free. Because guilt-free pleasures are the best!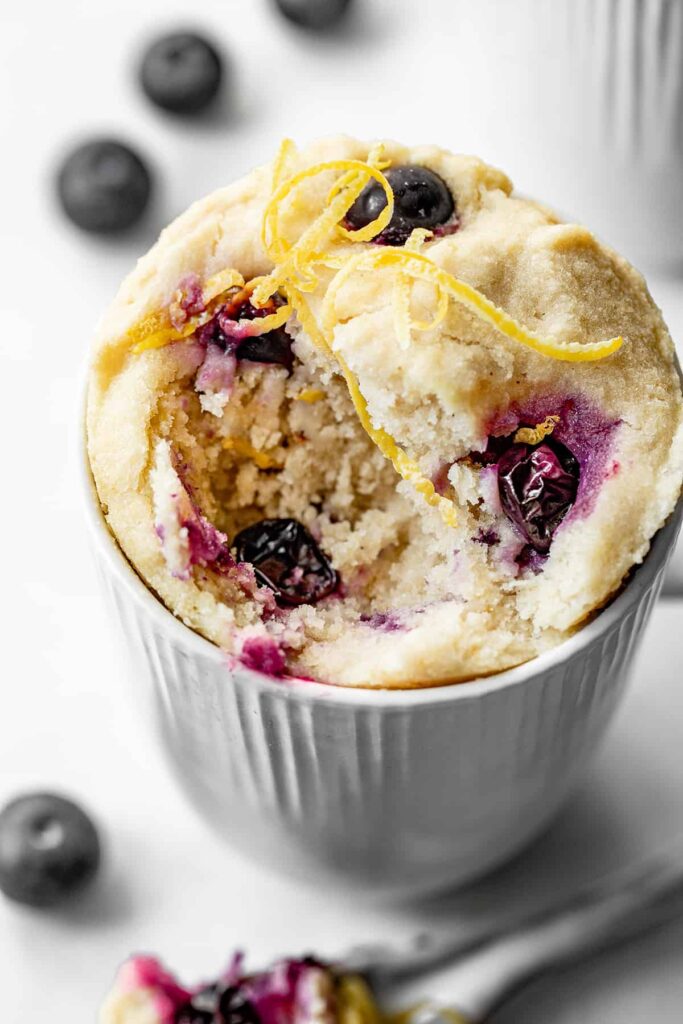 How to make and bake the perfect lemon blueberry mug cake
Seriously, this Lemon Blueberry Mug Cake is the EASIEST thing to makes ever! The most complicated step is probably to wait for it to slightly cool before devouring! That said, I would sum up by saying that all you have to do is to mix everything in a mug, bake in microwave and voilà. Let's get a little into details.
First step is to mix the dry ingredients together in a mug. So basically the rice flour and the baking powder. Stir to make sure the baking powder is well distributed. It ensures your mug cake will rise properly and you won't end up with lumps in your batter.
Then add the wet ingredients: apple sauce, almond butter, maple syrup, lemon juice, vanilla and lemon zest. Stir with a spoon or a fork until combined and you get a smooth cake-like batter. If you're not in a hurry, I recommend to first mix the wet ingredients in a separate bowl and then pour in the mug.
Fold in the blueberries and push them down into the batter with your fingers.
Microwave on high for 45 seconds to 2 minutes. Microwave time can vary depending on your microwave's power and the size of your mug. I recommend to start with 45 seconds, then check the consistency of the batter. If it's too wet and needs to be cooked a bit longer, proceed with 15-second increments until the surface is dry and the cake spongy.
Your Lemon Blueberry mug cake is ready! Just allow it to cool for one minutes before plunging your spoon and enjoying!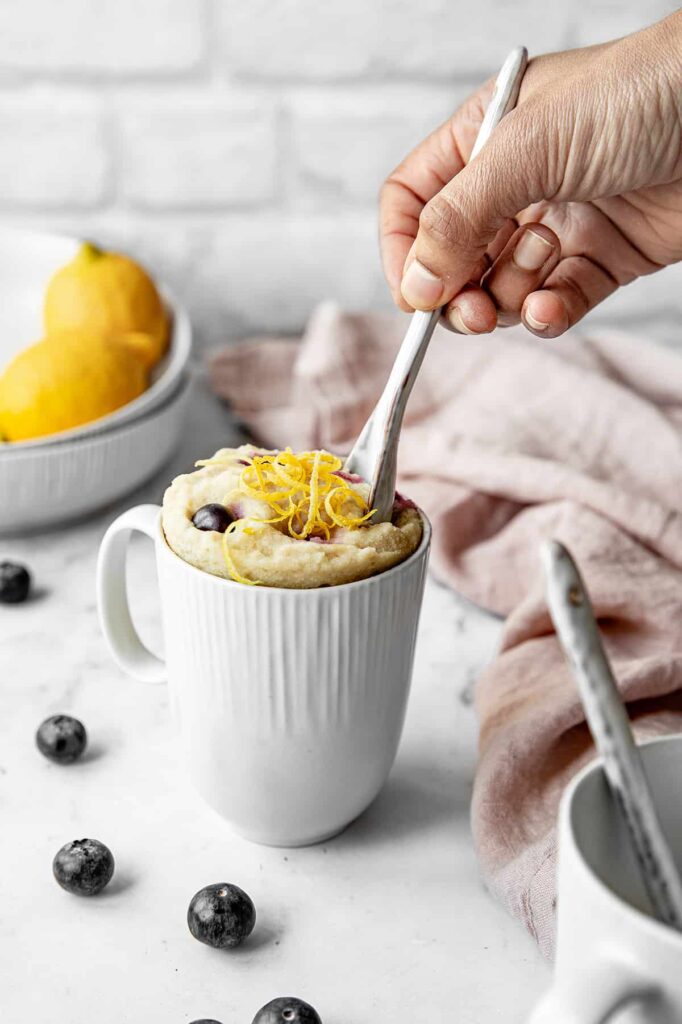 Tips and variations for this recipe
Ingredients
Rice flour is one of my favorite naturally gluten-free flours for cakes. It is simple to work with and you can easily find it in any groceries stores. I haven't try to substitute rice flour with an other flour, but I guess you can use a gluten-free baking flour mix or all-purpose flour too. However you'll have to adapt the quantity to get the right consistency.
Apple sauce brings moisture and sweetness in this recipe. Make sure you're using added-sugar free apple sauce. It's better if the apple sauce is very smooth, with no large-chunks. You can replace apple sauce with any other fruit sauce, like pear or quince.
Almond butter is important to add a little good fats. If you don't have almond butter on hands, you can use any nut or seed butter like cashew, peanut or sunflower seed to name a few. However, I found almond butter to be the best one as it is soft in flavors.
In this recipe, you can use both fresh or frozen blueberries. If you use frozen blueberries, just be sure they're completely thawed out. You can roll them into flour before fold in the batter to avoid any excess moisture to be released during the cooking. If you don't have access to blueberries, you can sub it for another fruit, like blackberries or raspberries.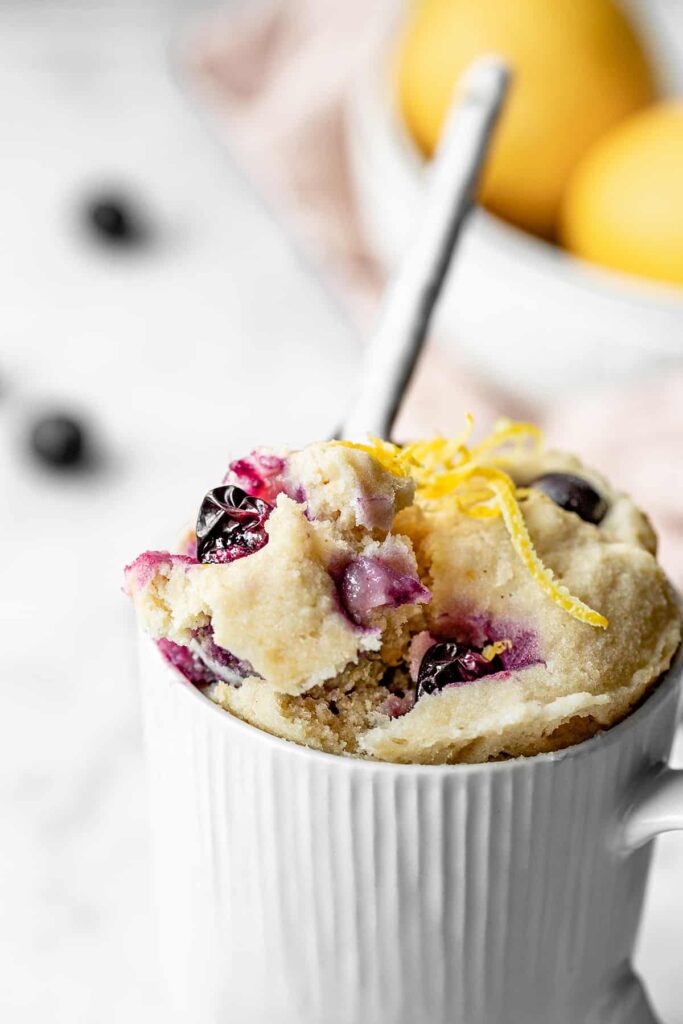 Equipment and baking
Make sure you are using a microwave-safe mug to make your Lemon Blueberry Mug cake! Also try to choose the size of your mug accordingly to the quantity of batter. This recipe is for a medium serving size. For a larger mug cake, multiply the quantities by two and make sure your mug is large enough. The batter will rise during the baking.
Instead of using an actual mug, you can also use a microwave-safe bowl. It will result in a lovely round bowl cake. Remove it from the bowl and serve in a plate with coconut yogurt, fresh fruits and a spoon of almond butter for a delicious and easy breakfast!
If you don't have a microwave or prefer a traditional oven method, good news they both work! If you use the oven, add the batter in a small mould (not necessarily a mug) and bake for 10-12 minutes at 350F, or until a toothpick comes out clean.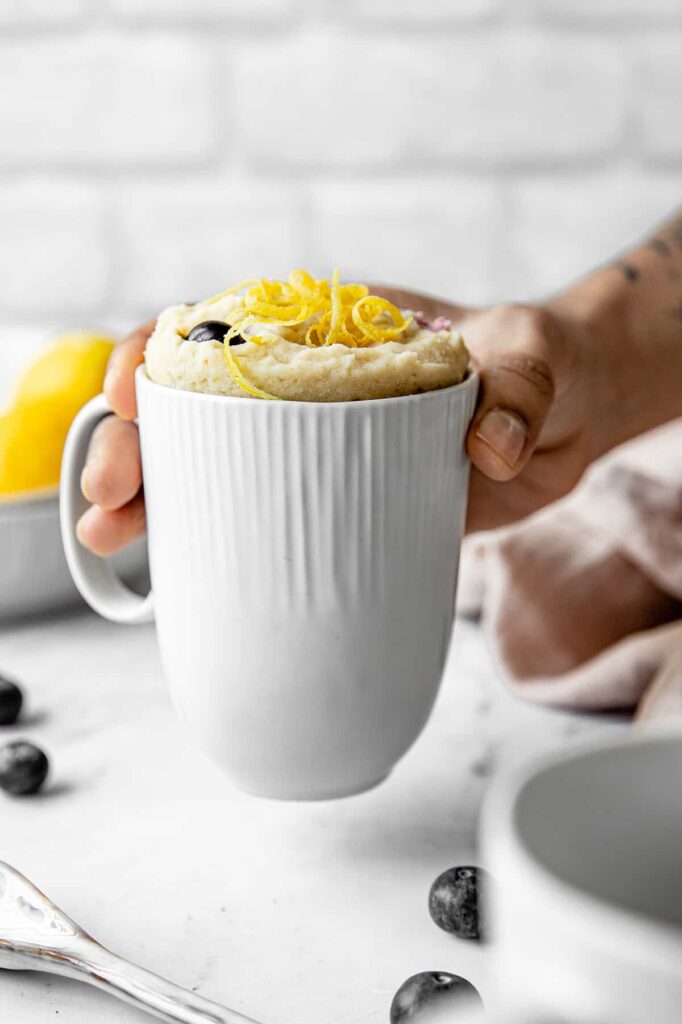 More simple single-serving treats you might love
I love to see your creations! Don't forget to tag me @alicepages on your photos on Instagram and give your feedback in the comments below if you make this recipe at home! Your opinion is my best reward.
Print Easy Gluten Free Lemon Blueberry Mug Cake
Author:

Prep Time:

2 minutes

Cook Time:

1 minute

Total Time:

3 minutes

Yield:

1

mug

1

x

Category:

Cake

Method:

Microwave
---
Description
This spongy Lemon and Blueberry mug cake is the perfect healthy snack on the go. Just mix everything in a mug and it's ready in one minute! It is gluten free, naturally sweetened by fruits and oil free.
---
3 tbsp

rice flour

1/4 tsp

baking powder

4 tbsp

unsweetened apple sauce

1 tbsp

almond butter

1 tbsp

maple syrup

1 tbsp

lemon juice

1 tsp

lemon zest

1 tsp

vanilla extract

6

blueberries, fresh or frozen
---
Instructions
Mix the rice flour and baking powder in a large microwave-safe mug.
Add the apple sauce, almond butter, maple syrup, lemon juice, lemon zest and vanilla and stir with a spoon until combined. The batter should be smooth, similar to a cake batter. Add the blueberries, and push them down into the batter. 
Microwave on high for 45-60 seconds. Then open the door and check the batter by gently pushing with your finger: the surface should be dry and the cake pretty spongy. If the batter is still too wet, microwave another 15 seconds and check again. Cook in 15-second intervals until it's just baked.
Remove from microwave and let cool down a few minutes before eating.
---
Notes
This recipe leads to a medium-large mug serving. For a smaller mug cake, feel free to divide the quantities and so to reduce the baking time.
Make sure to use a microwave-proof mug. The mug should be big enough to be three-quarters full with the raw dough as it will rise during the baking.
You can also bake your mug cake in a traditional oven, for 10-12 minutes at 350F, or until a toothpick comes out just clean. 
Keywords: Mug cake, mug, cake, lemon, blueberry, gluten free, snack, microwave
Recette version française
Print Mug Cake Citron Myrtilles sans gluten
Author:

Prep Time:

2 minutes

Cook Time:

1 minute

Total Time:

3 minutes

Yield:

1

mug

1

x

Category:

Gâteaux

Method:

Micro-ondes
---
Description
Ce Mug Cake ultra moelleux aux délicieuses saveurs de citron et myrtille est extrêmement facile à préparer et prêt en seulement 3 minutes! Il est naturellement sans gluten, sans sucres raffinés et sans huile. Un plaisir simple, zéro culpabilité. 
---
45 g

de farine de riz

1/2

c. à c. de levure chimique

100 g

de compote de pomme sans sucres ajoutés

25 g

de purée d'amande

10 g

de sirop d'érable

1

c. à s. de jus de citron
Le zest d'un demi citron

1

c. à c. d'extrait de vanille

6

myrtilles, fraiches ou congelées
---
Instructions
Mélanger la farine de riz et la levure chimique directement dans un mug allant au micro-onde.
Ajouter la compote de pomme, le beurre d'amande, le sirop d'érable, le jus de citron, le zest de citron et la vanille et remuer jusqu'à obtenir une pâte fluide, semblable à celle d'un gateau classique. Puis ajouter les myrtilles et les incorporer une à une dans la pâte.
Cuire au micro-ondes à pleine puissance pendant 60 secondes. Retirer le mug du micro-ondes et vérifier la cuisson en tapotant avec le doigt: le mug cake doit être moelleux mais assez sec en surface. Si la pâte est encore trop humide, cuire pour 15 secondes supplémentaires et vérifier de nouveau la texture. Continuer ainsi la cuisson, par intervals de 15 secondes, jusqu'à ce que la surface soit sèche. Attention à ne pas pousser la cuisson au-delà de 2 minutes pour ne pas qu'il soit trop sec.
Retirer du micro-ondes et laisser refroidir quelques minutes avant de déguster.
---
Notes
Cette recette est pour un mug de plutôt grande taille. Pour un plus petit mug cake, diviser les quantités par deux et réduire d'autant le temps de cuisson.
Assurez-vous d'utiliser un mug qui convient à la cuisson au micro-ondes. Le mug doit être suffisamment grand pour être rempli au 3/4 du mélange cru car la pâte va gonfler à la cuisson.
Vous pouvez également cuire le mug cake au four traditionnel, pendant 10 à 12 minutes à 180°C.
Keywords: mug, mug cake, gâteau, dessert, goûter, citron, myrtilles