This Low-Carb Cauliflower Porridge is a creative, grain-free and gluten-free twist on your traditional oatmeal. Not only does it is ultra-creamy, comforting and taste delicious, but it's an amazing way to add more veggies into your diet. And I promise you can't even tell there is cauliflower inside.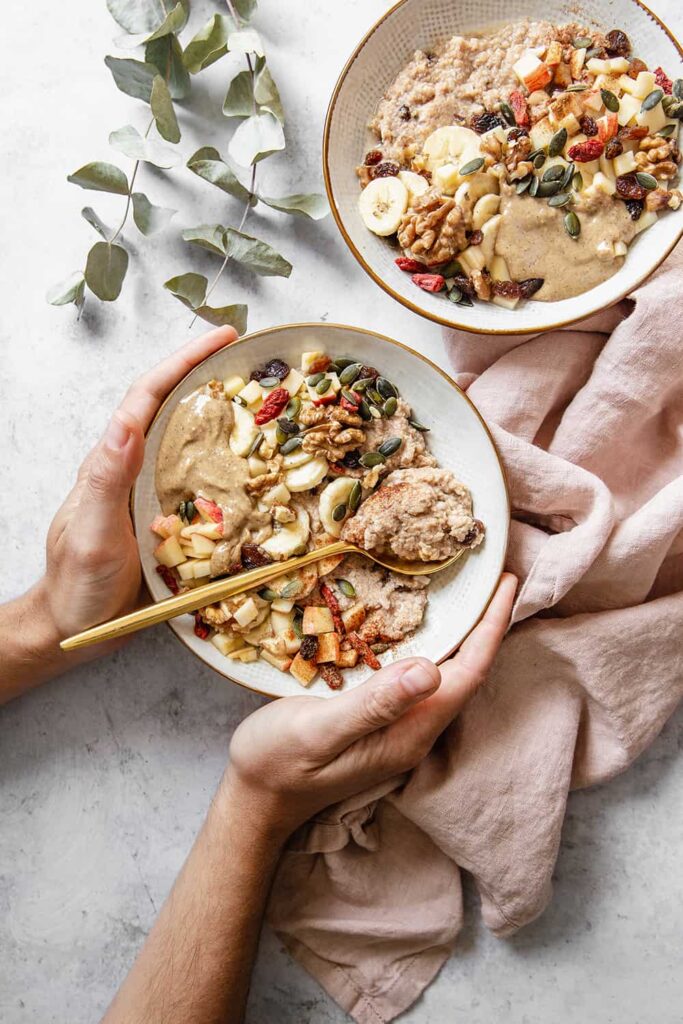 Why cauliflower porridge
Cauliflower is such a versatile vegetable and there is so much to do with it, in both savory and sweet recipes. This cauliflower porridge is a good example of the delicious sweet things you can prepare. It's an amazing option for those who have an intolerance or sensitivity to oats. You get all the comfort of a warm and creamy breakfast porridge, but grain-free, low-carb and with a veggie extra.
Cauliflower porridge is a funny and delicious way to add more veggies in your diet. And breakfast is the best way to start.
This porridge is naturally grain-free and gluten-free. Perfect for people with allergies, intolerances or just want to avoid it.
It's a low glycemic breakfast that helps to keep your blood sugar stable and avoid low energy levels and cravings during the morning.
This cauliflower porridge ticks all the boxes : it's vegan, paleo, keto, AIP, Whole30 compliant …
And if you're wondering : does this cauliflower porridge tastes like cauliflower? The answer is obviously NO! I love cauliflower taste but not in my breakfast. Cauliflower is a mild-tasting vegetable, especially once cooked. In this porridge, the flavor is totally masked by the other ingredients, especially spices.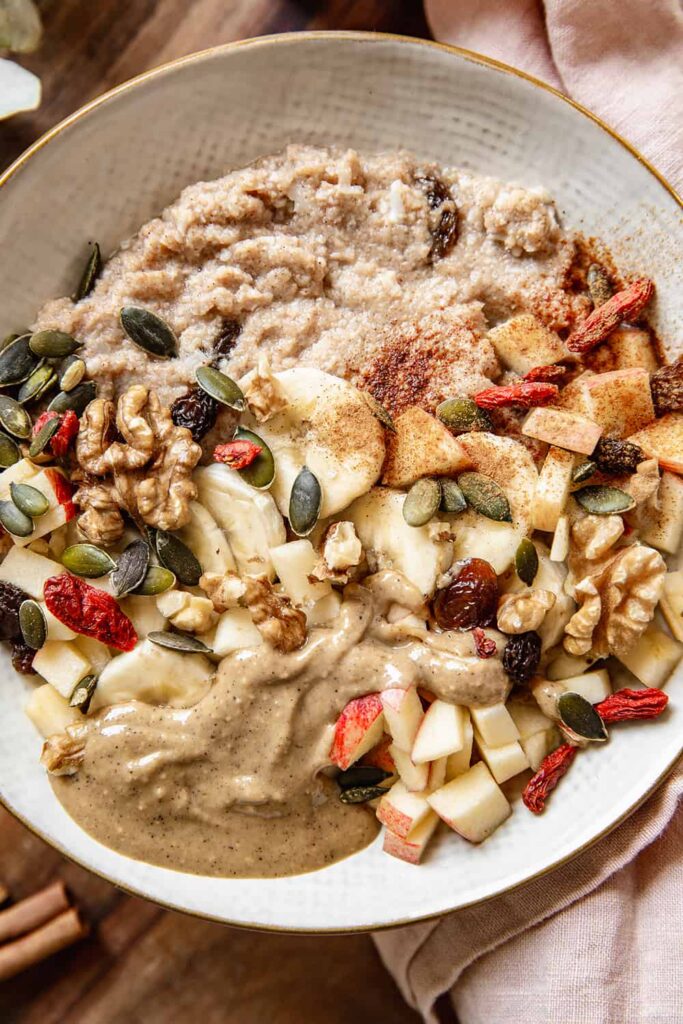 How to make cauliflower porridge
Making cauliflower oatmeal is just as easy as making regular oatmeal.
First thing first, you need to prepare cauliflower rice. There are two techniques for making cauliflower rice. You can either use a hand box grater with the medium-size holes or pulse the cauliflower in a food processor or a blender. With both techniques you're aiming for a rice-like consistency. If using a blender, don't over-mix the cauliflower : you want a grainy texture, not a puree.
An additional step is to press the cauliflower rice in a clean towel or layers of paper towel to remove excess water. This is optional but can strongly improved the texture of your porridge. I really recommend to do it.
Once you've riced the cauliflower, you can cook it as for a regular oatmeal. Transfer the cauliflower rice to a saucepan along with almond milk, sweetener and spices. You can also add flavorful goodies of your choice at this step, like cacao powder. Bring to a boil, then reduce to low heat and let simmer for about 10 minutes, until porridge has reached desired thickness and consistency.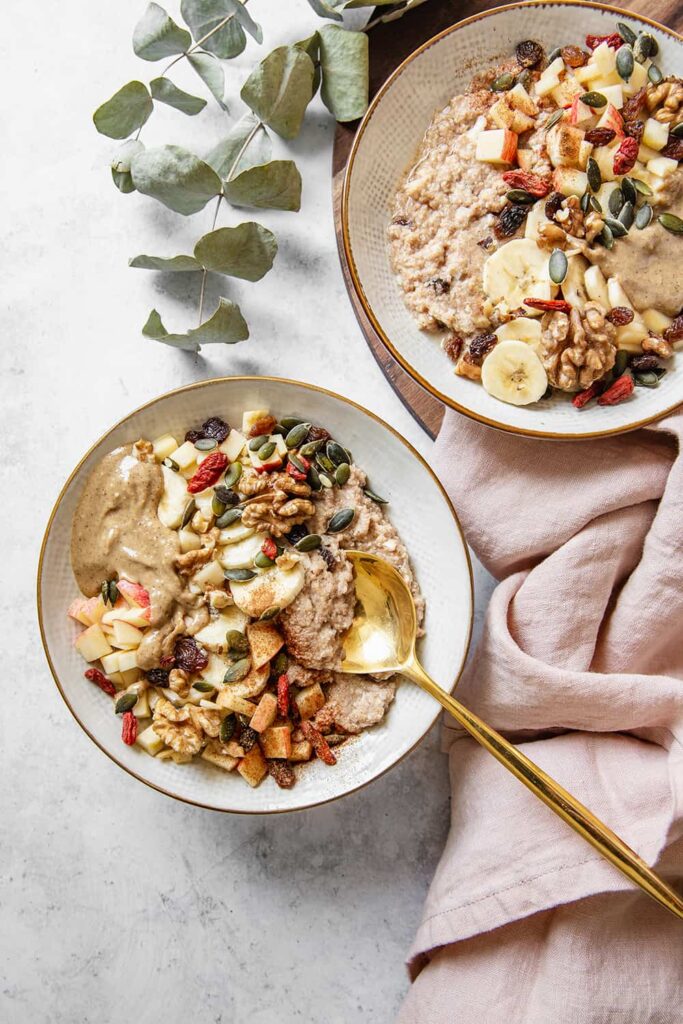 How to customize your cauliflower porridge
Your creativity is the only limit when it comes to porridge! This recipe is a good basis for a simple cauliflower porridge. Make sure you're starting with the right portions of cauliflower rice and plant based milk, then feel free to add any ingredients of your choice.
In this recipe, I used almond milk because it's a light and popular option. But you can absolutely use any plant based milk of your choice, like oat, cashew, soy or coconut to name a few. Full fat coconut milk will give an incredibly rich and creamy texture to your porridge.
For the sweetener, you can use maple syrup as mentioned in the recipe or any natural alternative, like agave, coconut syrup, date syrup or even stevia or erythritol. I also love to sweeten my porridges with a mashed banana for extra flavor and creaminess.
For a protein rich breakfast, add a scoop of plant based protein powder in your cauliflower porridge. You can also flavor it with cocoa powder, pumpkin spices, carob and fold in a handful nuts and seeds … there are tons of possibilities. I love to enjoy my cauliflower porridge with a spoon of coconut yogurt, fresh fruits, cacao nibs and more nuts.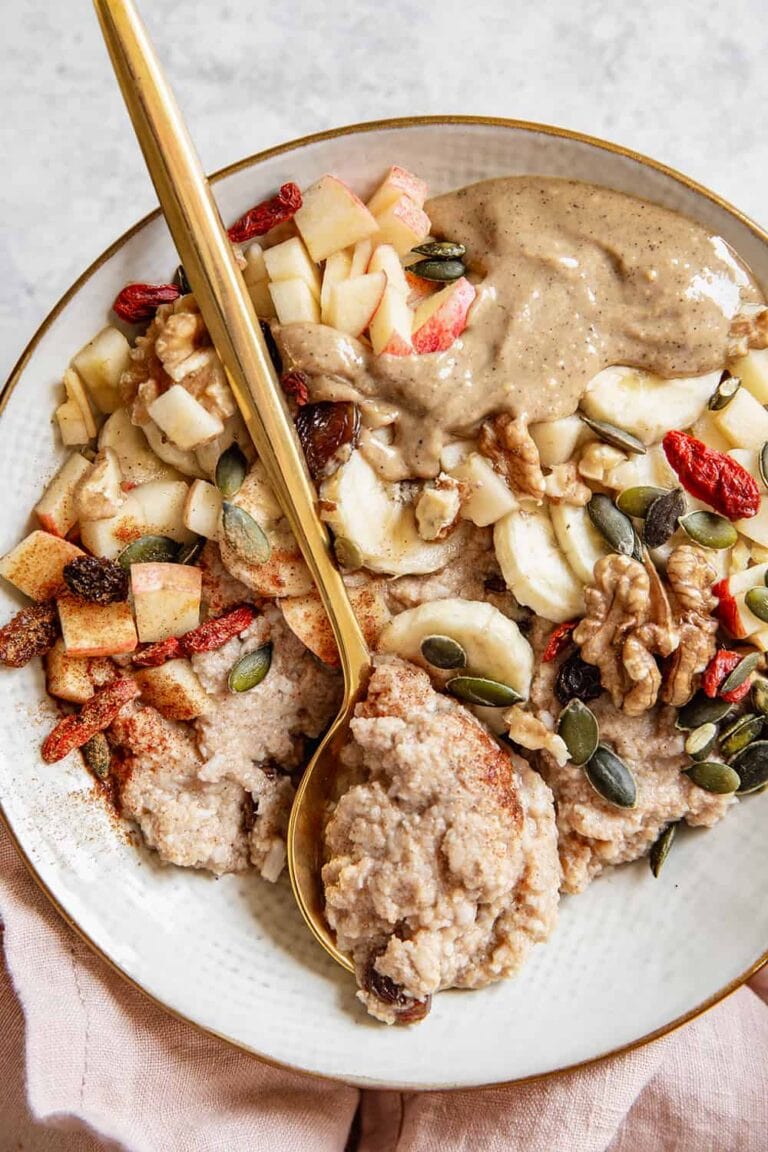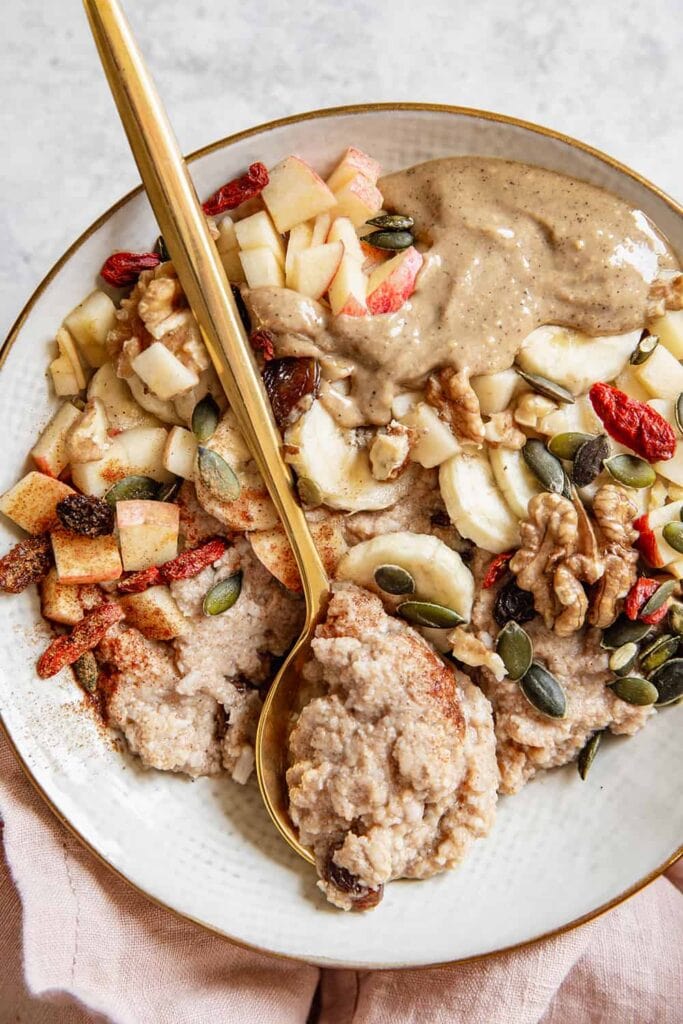 How long does cauliflower porridge last?
Cauliflower porridge is an amazing option if you're hurry on the morning. It saves well, and can be re-heated throughout the week for a delicious and healthy breakfast ready-to-eat.
Once cooked, store any cauliflower porridge leftovers in an airtight container into fridge for up to 4 days. Before using it, check its smell : if a strong and unpleasant sulfur smell has developed, the porridge is not good anymore.
Before using, add a portion of cauliflower porridge to a sauce pan with 1 tablespoon of milk and heat over medium low heat for about 3 minute until warmed. Serve in a bowl and top with your favorite toppings.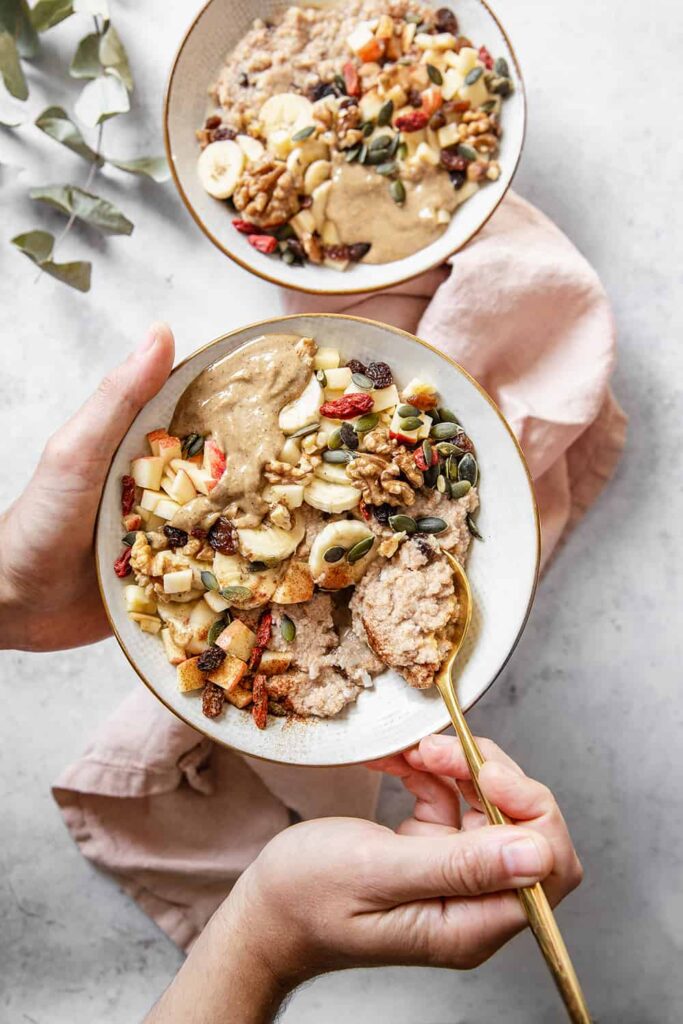 For more low-carb low-sugar breakfasts, check these recipes
I love to see your creations! Don't forget to tag me @alicepages on your photos on Instagram and give your feedback in the comments below if you make this recipe at home! Your opinion is my best reward.
Print Low-Carb Cauliflower Breakfast Porridge
Author:

Prep Time:

10 minutes

Cook Time:

10 minutes

Total Time:

20 minutes

Yield:

2

servings

1

x

Category:

breakfast
---
Description
This easy Cauliflower Porridge is a creative, grain-free twist on your traditional oatmeal. It is vegan, gluten-free, paleo and whole30 for a healthful way to start the day.
---
2 cups

raw cauliflower

1 1/4 cup

almond milk

2 tsp

maple syrup 

1 tsp

ground cinnamon

1 tsp

vanilla extract

2 tbsp

raisins

2 tbsp

chopped walnuts
---
Instructions
Wash and thoroughly dry cauliflower. Remove all the greens and the thick hard stem to keep only the florets. Separate the florets into smaller chunks.
To make the cauliflower rice :

If using a food processor, throw small pieces of cauliflower florets into a food processor or a high speed blender and pulse several times to break into rice-size pieces.
If using a box grater, cut the cauliflower into larger chunks and use the medium-sized holes of the box to grate into rice-size pieces.

Then transfer the cauliflower rice to a clean towel or layers of paper towel and press to remove any excess moisture.
Combine the cauliflower rice, almond milk, maple syrup, cinnamon and vanilla in a medium sauce pan over medium – high heat. Bring to a boil, then reduce heat to low and let simmer for 8 minutes, stirring occasionally, until the cauliflower is soft and fluffy. If too dry, add a little more almond milk.
Then add raisins and roughly chopped walnuts, stir to combine, and cook for 2 minutes more until all the liquid is absorbed. Taste and adjust the sweetness with maple syrup according your preferences.
Pour the cauliflower porridge into bowls and serve with desired toppings as fresh fruits, nuts or seeds.
---
Notes
You can use any plant based milk of your choice for this recipe. Full fat coconut milk leads to a delicious, rich and creamy porridge.
I intentionally kept this cauliflower porridge low in sugars, but if you prefer more sweetness, add an extra maple syrup or a mashed banana.
Cooked cauliflower saves well, and can be re-heated throughout the week. Store any leftovers in a sealed container in the fridge up to 4 days.
Keywords: breakfast, oatmeal, porridge, cauliflower porridge, low-carb, cauliflower rice
Recette version française
Print Porridge de chou-fleur faible en glucides
Author:

Prep Time:

10 minutes

Cook Time:

10 minutes

Total Time:

20 minutes

Yield:

2

portions

1

x

Category:

petit-déjeuner
---
Description
Ce porridge de chou-fleur est une délicieuse alternative saine au traditionnel porridge de flocons d'avoine. Il est vegan, sans grains, sans gluten et paleo, parfait pour commencer la journée du bon pied.
---
350 g

de chou-fleur cru

300

ml de lait d'amande

1

c. à s. de sirop d'érable

1

c. à c. de cannelle en poudre

1

c. à c. d'extrait de vanille

30 g

de raisins secs

20 g

de noix concassées
---
Instructions
Nettoyer et sécher le chou-fleur, puis retirer les feuilles vertes et toutes les tiges épaisses et dures pour ne garder que les fleurettes. Séparer les fleurettes en petits morceaux.
Pour préparer le riz de chou-fleur, deux options :

Avec un mixer ou un blender : placer les fleurettes de chou-fleur dans le bol du mixer ou du blender, et pulser plusieurs fois afin de briser les fleurettes en petits morceaux de la taille d'un grain de riz.
Avec une râpe manuelle : utiliser les trous de taille moyenne pour râper les fleurettes de chou-fleur.

Placer le riz de chou-fleur dans un torchon propre ou dans plusieurs épaisseurs de papier absorbant, et presser délicatement pour faire sortir toute l'eau.
Mélanger le riz de chou-fleur, le lait d'amande, le sirop d'érable, la cannelle et la vanille dans une petite casserole et faire chauffer à feu moyen – vif. Porter le mélange à ébullition, puis réduire à feu doux et laisser mijoter pendant 8 minutes en remuant de temps en temps.
Puis ajouter les raisins secs et les noix concassées, mélanger et cuire 2 minutes de plus, jusqu'à ce que tout le liquide soit absorbé et que le chou-fleur soit bien tendre. Si le mélange est trop sec, ajouter un peu de lait d'amande. Gouter, et ajuster la quantité en sirop d'érable en fonction de vos préférence.
Servir le porridge dans des bols et garnir des toppings de votre choix : fruits frais, noix, graines …
---
Notes
Vous pouvez utiliser n'importe quel lait végétal dans cette recette. Le lait de coco entier donne une texture particulièrement riche et crémeuse au porridge.
La recette proposée est intentionnellement faiblement sucrée. Si vous préférez un porridge plus sucré, augmenter la quantité de sirop d'érable ou ajouter une banane écrasée.
Le porridge de chou-fleur se conserve jusqu'à 4 jours au réfrigérateur dans un container hermétique. Avant de servir, le réchauffer simplement dans une casserole avec un petit peut de lait. 
Keywords: petit-déjeuner, porridge, oatmeal, chou-fleur, porridge de chou-fleur