Discover what I'm using everyday for my food photography! Either you're a novice or an advanced photographer, you will find useful tips to help you choose your equipment.
Let's answer one of the questions I get asked the most on Instagram : what camera and lens do you use for your photos ? In this article, I have listed all my own photography gear, and you will be surprised to see that it's pretty minimalist. Indeed, you don't need a tone of last generation super expensive equipment to start making beautiful pictures. Come follow me in the depths of my camera bag.
Just a little note before to start : many of the equipments listed below are professional and so can be expensive. This is my everyday work tool. If you're just starting food photography you don't need such a heavy equipment. So I've also added recommendations either if you are a very beginner or if you already are into it and want to upgrade.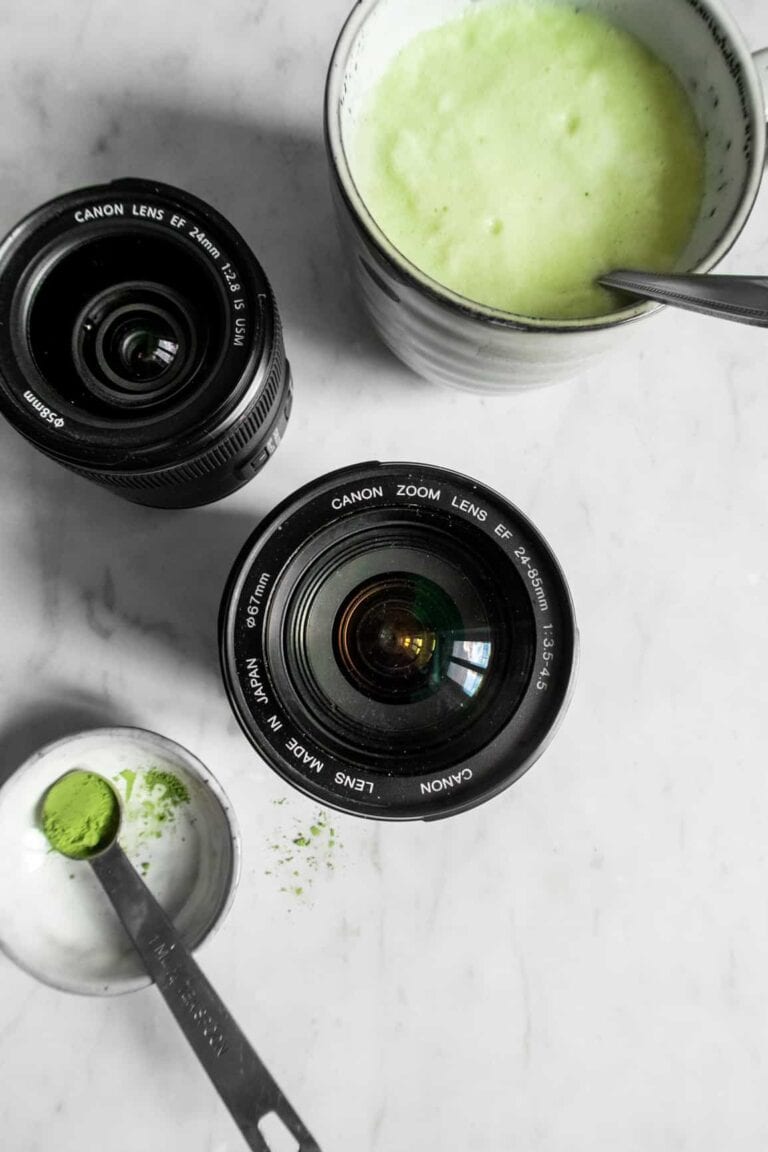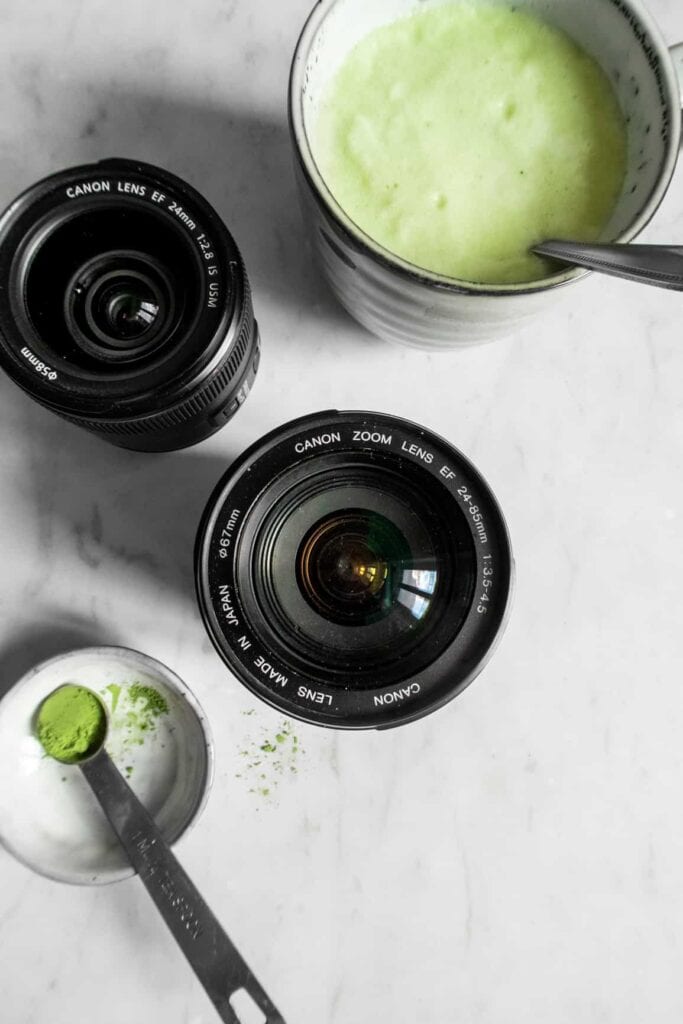 My camera : canon EOS 5D Mark III
I'm of the Canon team. After using a Canon 450D for years, followed by a Canon EOS 5D Mark I during my very beginnings in food photography, last year I upgraded to the Canon EOS 5D Mark III. And this was life changing. There was such a big gap between the first version and the Mark III that I instantly saw the difference and all improvements. I absolutely love this camera I cannot recommend it highly enough if you are serious in photography. This camera is handy, very reliable, shows very good performances, responsive and an optimized image sensor. It also features a good ISO sensitivity that allows me to shoot in any conditions of light. Despite its high price I've never regretted that purchase.
Buy the Canon EOS 5D Mark III
Technical specifications from Canon
Full review of the Canon EOS 5D Mark III
My recommendations
If you are a novice and just getting into photography :
The Canon EOS Rebel Digital SLR is made for you. I've personally never used this camera, but I heard a lot of amazing things about it. It's a good camera that will allow you getting into photography, familiarizing with all the fundamental settings and starting to make beautiful pictures. And without having to invest huge amounts of money. I recommend you to get the kit with the EF-S 18-55mm IS II lens for an easy start.
If you are already familiar with it and want to upgrade :
The Canon EOS 6D Mark II is a very good option for quality without breaking the bank. It's already a semi-pro DSLR camera with good performances, that is actually used by many professionals. Among other devices, it features a rotary screen which can be very useful in food photography. For this one, I don't recommend to buy a kit. Prefer to buy the body and a separate lens specific of your use.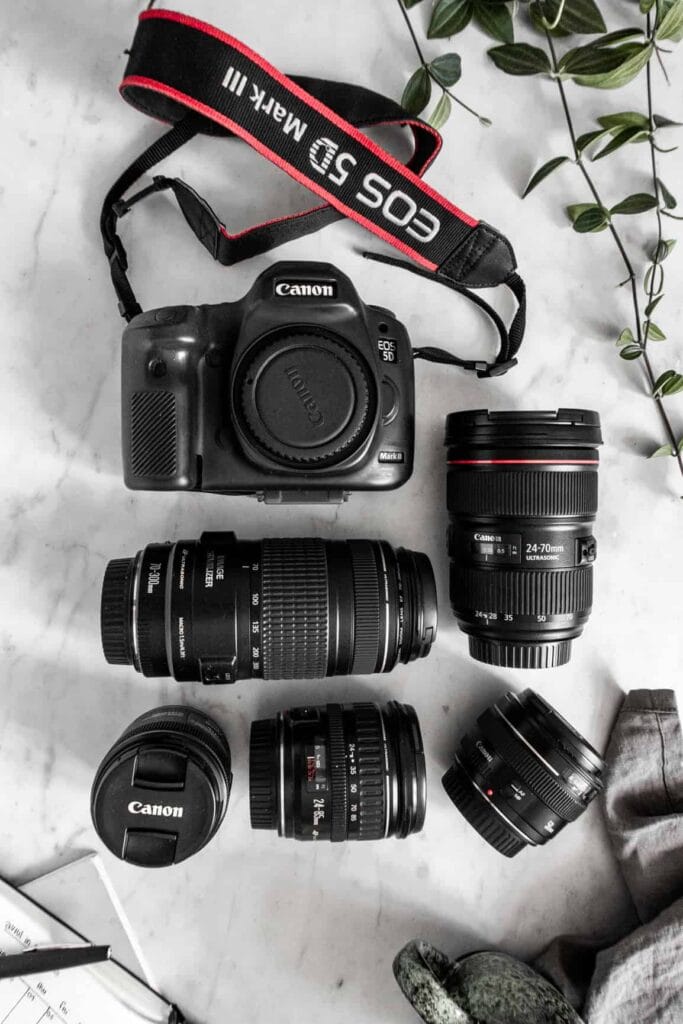 My fixed focal length lens : canon EF 50mm f/1.4 USM
This is the very first one lens I bought to pair with my old 5D Mark I, and I love it. It's the only lens I've used for almost a year when I started food photography, and I still use it time to time. Having a 50mm fixed focal length lens with a large aperture is a must in your camera bag. This lens is very light and compact, and shows amazing image quality, with fine grain and a beautiful cinematic style. It's also very polyvalent. I can use in studio, for restaurant photo shoots, portraits and travel photography.
This lens is perfect either if you are a novice or an advanced photographer. However, if you are looking to upgrade, I recommend you the Canon EF 50mm f/1.2 L USM, which is their "professional" version, but also much more expensive.
Buy the Canon EF 50mm f/1.4 USM
Full review of the Canon EF 50mm f/1.4 USM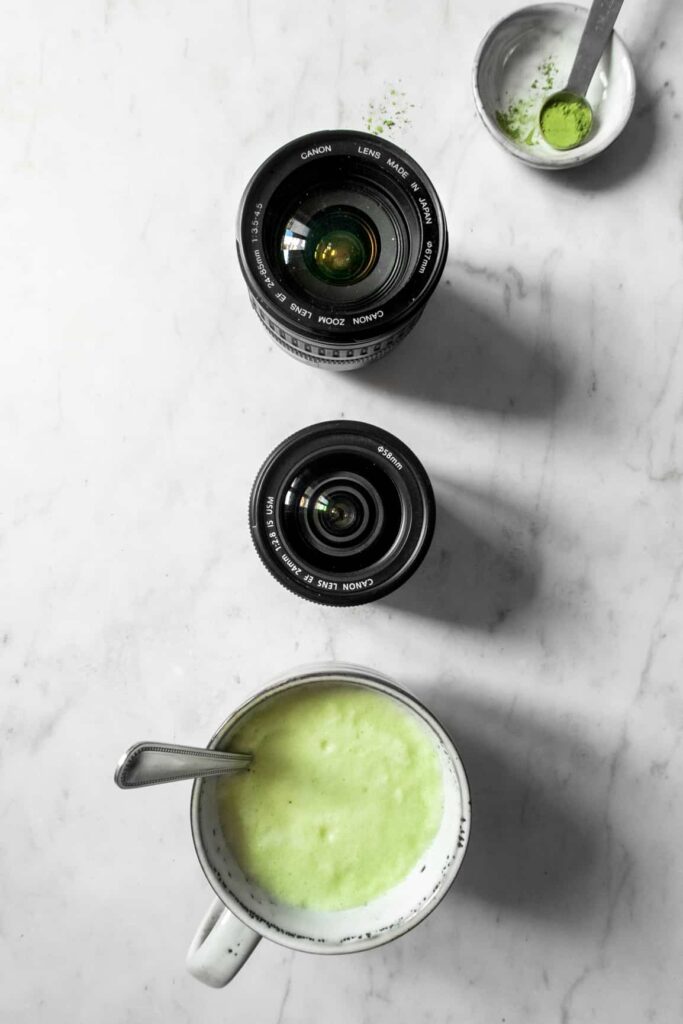 My zoom lens : canon EF 24-70mm f/2.8 II
If I had to only keep one lens, it would definitely be this one. I love it because of its adaptability and amazing quality. Because of its great focal range, this is the perfect all-in-one lens for food photographer, especially if shooting in a restaurant. The 50-70mm range is perfect to shoot food, either in a studio or in a restaurant. It allows you to get single-dish shots as well as close-ups. While the 24-50mm range is works great for wider shots like tablescapes or interior and landscape. This lens is really of great value, but also very expensive.
Buy the Canon EF 24-70mm f/2.8 II
Technical specifications from Canon
Full review of the Canon EF 24-70mm f/2.8 II
My recommendations
I'm conscious that the 24-70mm f/2.8 II is really expensive and I don't recommend it if you're a beginner or even not a professional. If you don't already have a zoom lens, the best option is to buy different prime lenses (fixed focal length lenses). They will provide you with the best performances for their specific focal length at a lower price. Some of my recommendations include :
Also if you buy a camera in a kit, it often comes with a 24-105mm lens. This can be a good option to start, but I really recommend to upgrade as soon as you feel more comfortable.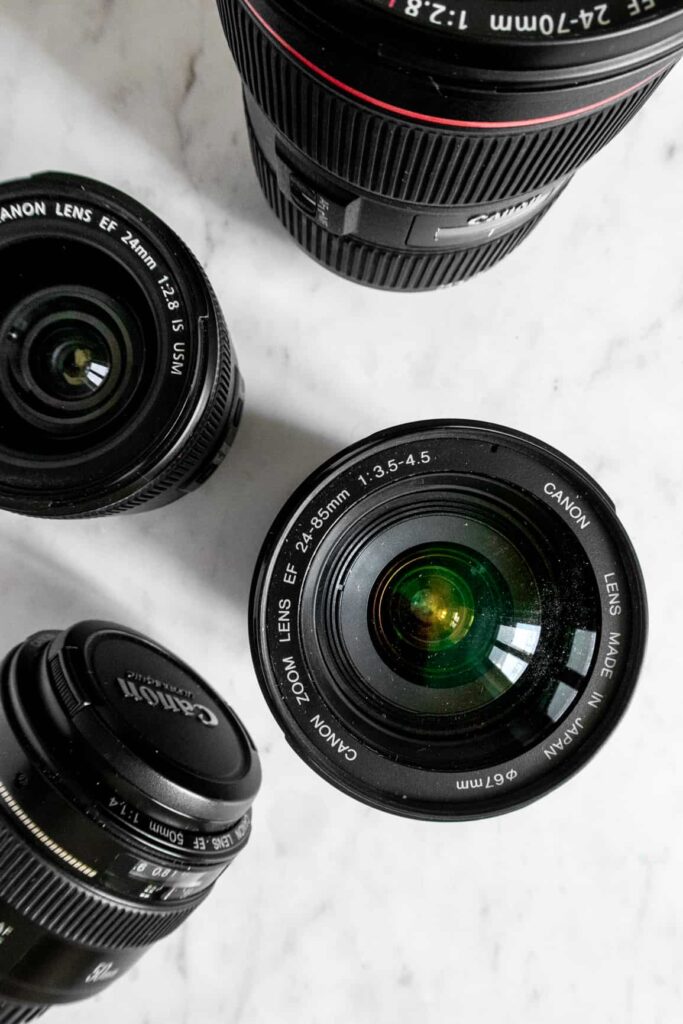 My tripod : Manfrotto MT055XPRO3 with 3-ways head
Having a good tripod is definitely a must for your food photography. It provides you stability and flexibility to get sharp and clear shots in low-light conditions. It's also a great solution to make actions shoots and use your hands when you're alone. I absolutely love my tripod because it is very reliable, robust enough to safely carry my camera + lens while being lightweight and compact. It also has a tilting column, very useful for overhead shots and tablescapes. The best price-quality ratio.
Buy the Manfrotto MT055XPRO3
Technical specifications from Manfrotto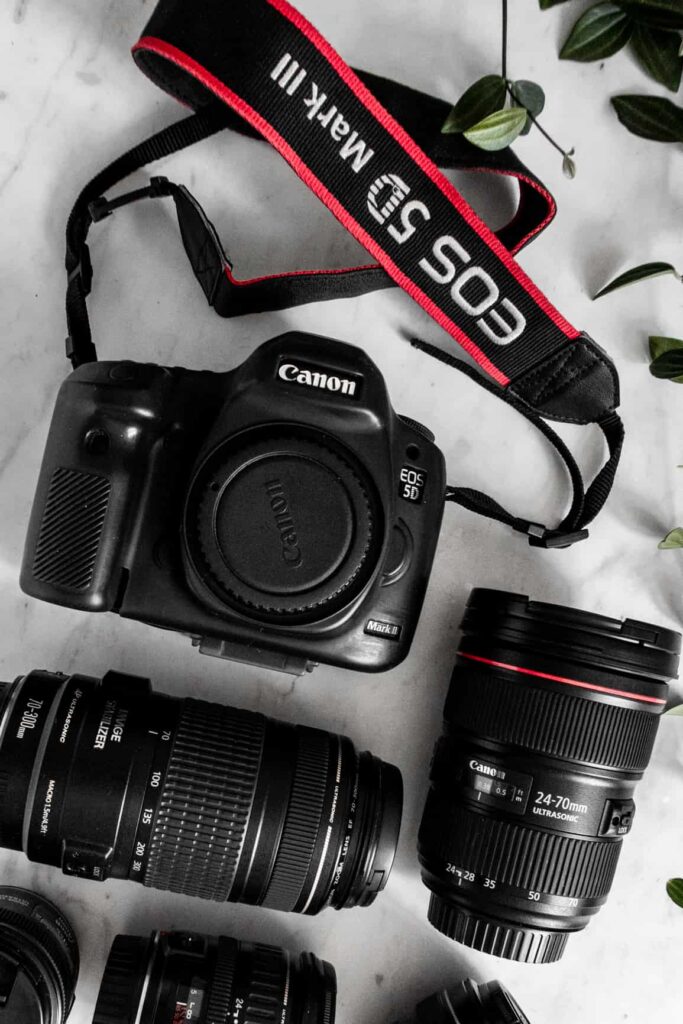 Additional gear
Light Diffuser – Having a light diffuser is very helpful when shooting on a sunny day and handle direct light. I don't have a proper light diffuser but I use a large sheet of white nylon I hang in front of my window. It gently softens the light for a more even lightening.
Softbox Lightening Kit – I always shoot with natural light as far as possible. But sometimes during dark winter days I have no other choice but using artificial light. I have a ESDII continuous lightening kit with two 800W softbox and use white boards to adapt. It is not the best but does the job for me, and the more I practice the best the results. It's also very handy for packshots. Buy the ESDII lightening kit.
Bouncing boards – Perfect to reflect the light and reduce harsh shadows. I'm using simple white boards I've found in a DIY store.
Thank you so much for reading that post, I hope it was useful. Don't hesitate to ask all you specific questions about camera and lens below in the comments, I would be very happy to answer you.