The best blondie – AKA no-chocolate brownie – recipe ever! Perfectly chewy and gooey inside, with crunchy pistachios and melt in your mouth roasted apricots. They are so rich and delicious you won't even believe they are gluten free and refined sugar free. Packed with whole ingredients, quick and easy to prepare, they are perfect for a healthy dessert or a nourishing mid-day snack that everybody will love.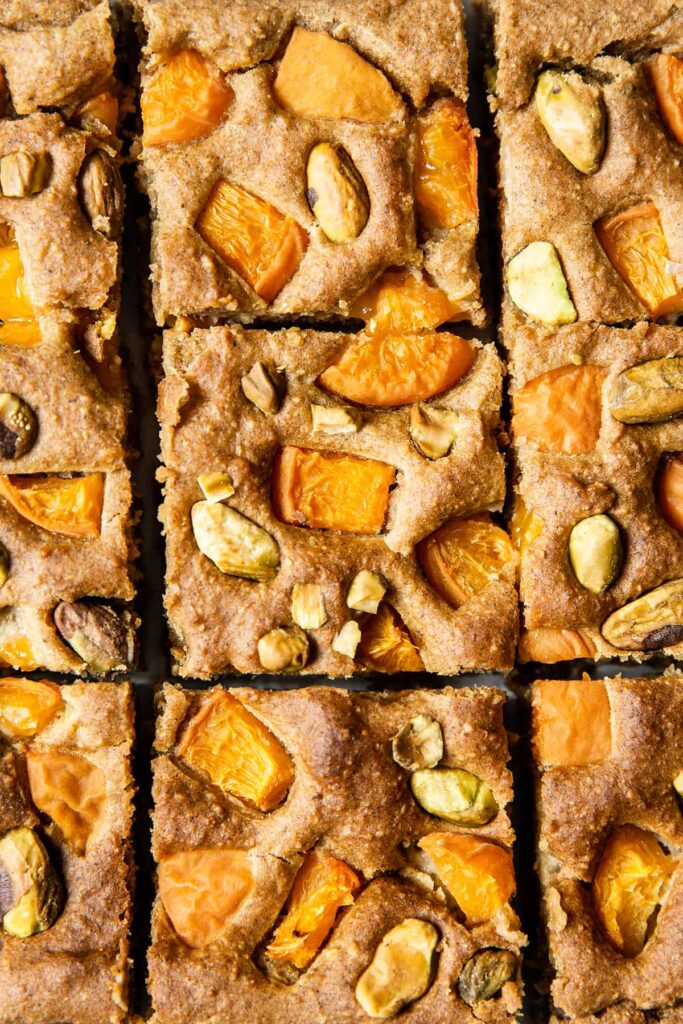 What is blondie ?
Blondie, also known as white chocolate brownie or blonde brownie, is basically a brownie without the chocolate. But let's be honest, blondie is a specific dessert and really desserve their own category.
Whereas brownies all depend on chocolate for their flavor, for blondies it's all about the brown sugar and the spices, giving the blondies their distinctive molasses flavor.
Blondie is a dessert bar characterized by a very rich, gooey and fudgy texture, nearly melting in your mouth. That makes this dessert particularly delicious and addictive. For extra texture and flavor, they often includes chopped nuts like walnuts or pecans, or even chocolate chips.
If you haven't try blondies yet, you absolutely have to start now!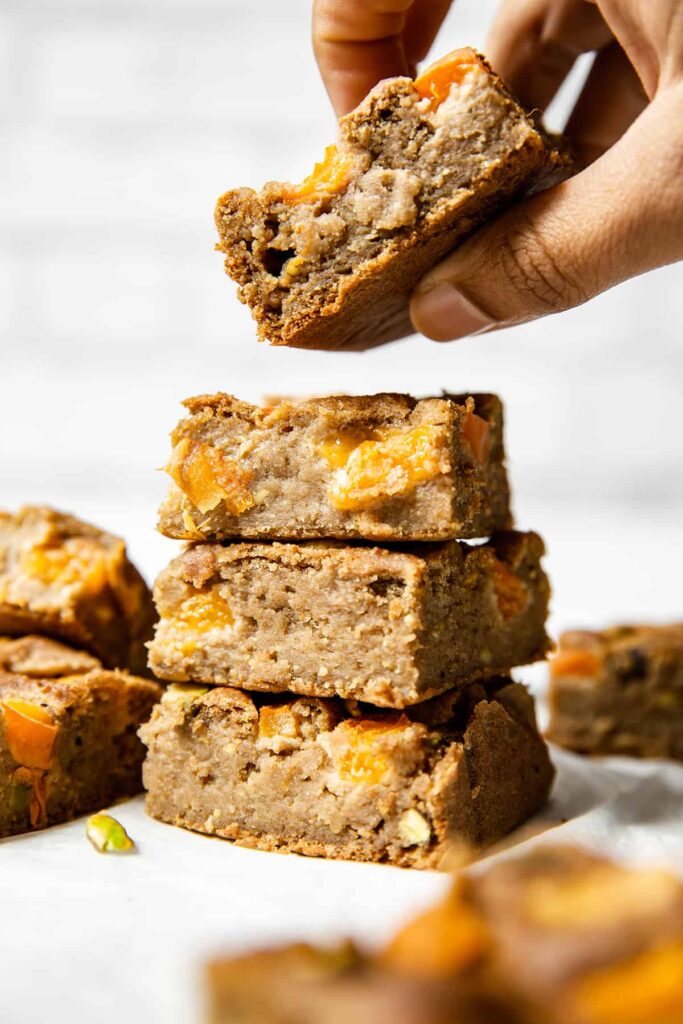 What makes these blondies so fudgy
I couldn't say enough how chewy and fudgy these blondies are! Honestly, the best way to believe me is to try the recipe. They have that perfect texture: nearly melting inside and just dry enough outside to allow everything to hold.
This is pretty challenging when baking vegan and gluten free. The gluten found in the flour and the eggs in "traditional" recipes act like binders, strengthen and lighten the dough, and give this rich chewy-gooey texture.
To make it possible in this vegan and gluten free version, I've made many little twists with surprising ingredients. First of all, regular flour has been substitute for oat flour and almond meal, which are both gluten free. Oat flour is very easy to make at home by grinding rolled oats. Since oat flour is pretty dry and adds flavor, adding almond meal brings a little fat and fluffiness to the blondies.
The other ingredient is the banana. Basically, they play the role of the egg and act like binders. Ripe bananas are a very common option in vegan cakes : it adds moisture, texture and sweetness. It's also a funny way to use your very ripe bananas, you know the ones with large brown dots on the skin you can't use for your smoothie bowls anymore.
Last but not least, my favorite secret ingredient : canned chickpeas! Please don't be afraid and continue reading that recipe, I promise you won't even taste them! Chickpeas are actually a great substitute for flour in dessert recipes and gives a thick and fudgy texture. More over, they are packed with proteins, fibers, folic acids and manganese, chickpeas for a smart nutritional addition.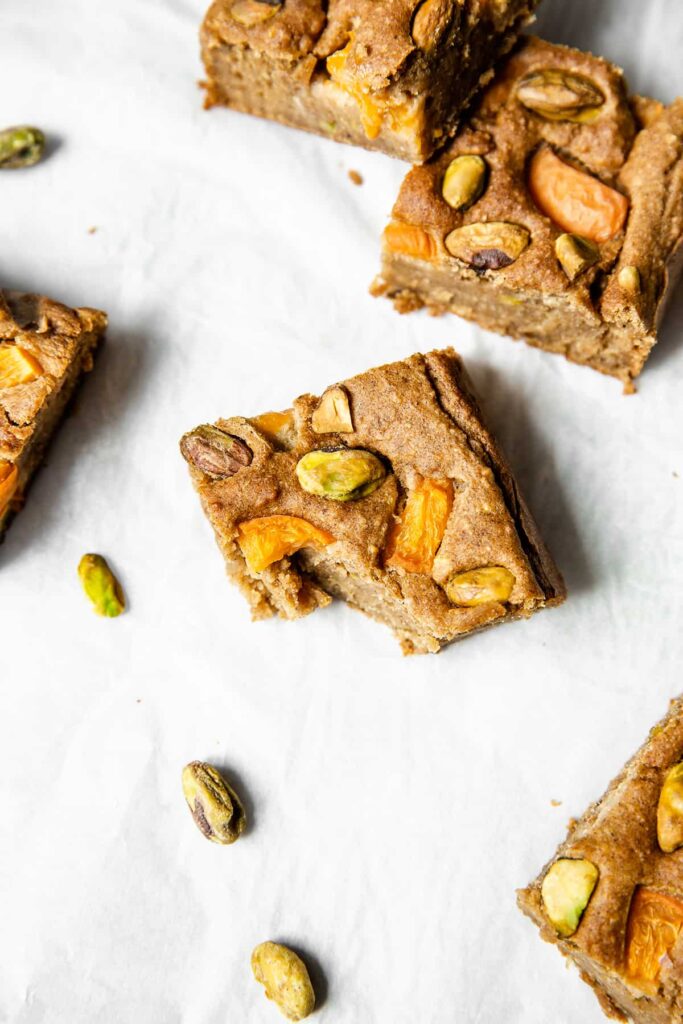 How to prepare the perfect blondies from scratch
If you follow me for a while, you know that I love my recipes to be as simple as possible. « The easier the recipe, the quicker in your belly » should be my mantra. And this one is particularly simple to prepare.
No fancy equipment required. All you need is a basic food processor. You can also use a high speed blender, but if you have the choice I recommend to use a food processor with S shape to avoid over-mixing the preparation. You can also prepare the batter by hand if you don't have any equipment or need a little arm workout. Just make sure the bananas and chickpeas are well puréed and the batter is smooth for that fudgey result.
To prepare the blondies :
Start by mixing the bananas with the chickpeas until you get a perfectly smooth purée. The riper the bananas, the creamier the preparation. This process can take a little time depending on the texture of the chickpeas. If necessary, and as many time as needed, stop the food processor and scratch down the sides of the bowl to gather all the mixture.
Once you get a smooth and uniform purée, add the melted coconut oil and vanilla extract. Quickly blend to incorporate the ingredients and emulsify the preparation. Don't blend too much as it can affect the texture of the batter.
Then add the flour, almond meal, sugar, spices and powders and mix again just to incorporate all the ingredients until you get a homogeneous batter. Once again, don't over blend at this stage.
Finally, incorporate the pistachios. You can either chop the pistachios by hand and simply stir in the preparation. Or you can put the whole pistachios in the batter and pulse a couple times to break them in smaller bites. I love this second option as it makes the process even easier.
Pour the batter into the lined baking pan. I really recommend to line the pan with baking paper: it will help a lot to remove the blondies. Garnish with diced apricots and gently push down to incorporate them into the batter.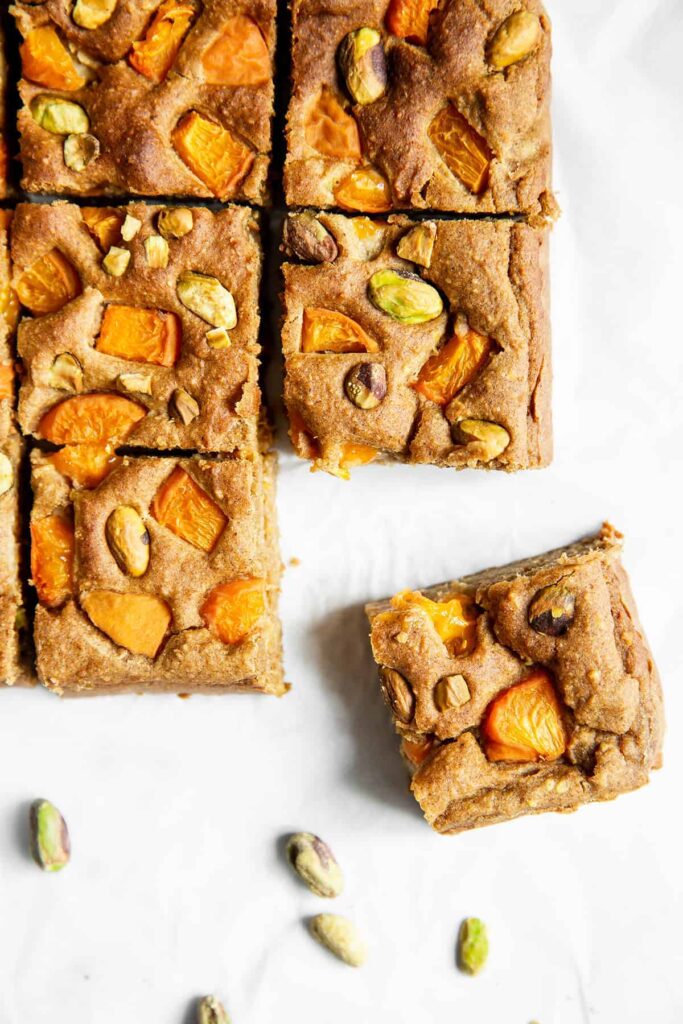 How to bake the blondies for a dreamy gooey texture
These blondies are very simple to bake. Normally, all you have to do is to bake for 30 minutes at 350F. However, I recommend to be careful during the last 10 minutes of the baking time. Depending on your oven, the blondies can become brown and burn very quickly. You want the surface of the blondies to be lightly golden but not too much in order to keep their moist texture.
Make sure to check the blondies at the end of the baking time. If the blondies start to burn, simply cover the pan with a piece of aluminum foil, making sure it's not in contact with the batter. The aluminum foil avoids the blondies to burn outside while they're still baking inside.
Once baked, remove the pan from the oven and allow to completely cool down. This step is very important. Just out of the oven, the batter can look a little under-cooked and soft, but it will continue to dry and firm while cooling. After around 20 minutes, check the inside of the blondies with the tip of the knife : if it goes out nearly dry, the blondies are ready to be removed from the pan and cut into squares.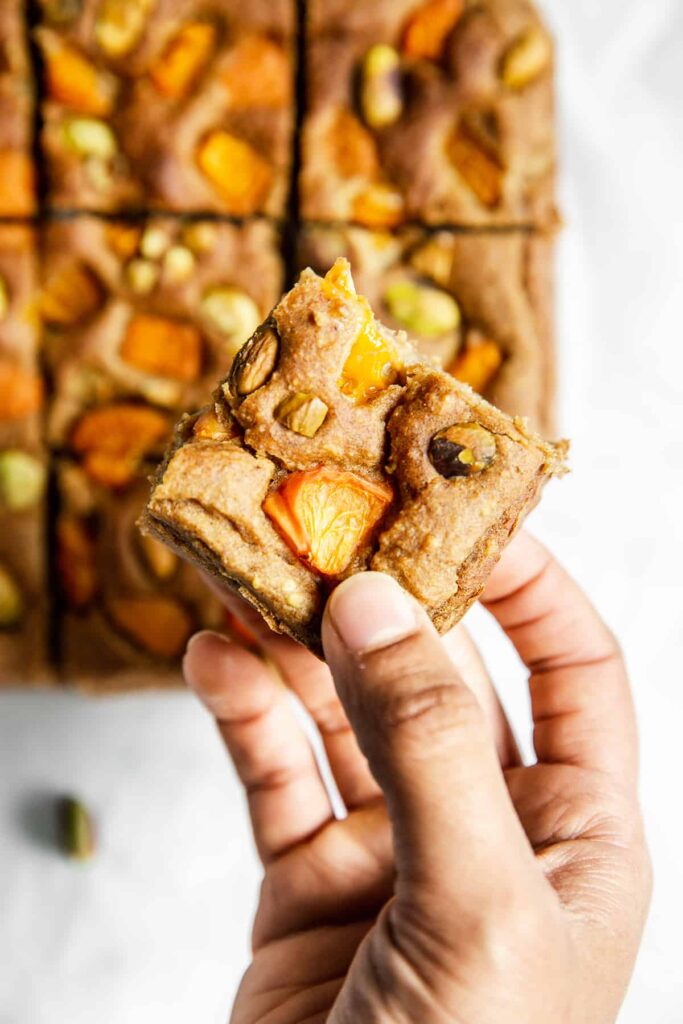 Want more delicious gluten-free desserts? Check the followings
Print Pistachio and apricot blondies GF
Author:

Prep Time:

10 minutes

Cook Time:

30 minutes

Total Time:

40 minutes

Yield:

9

servings

1

x

Category:

desserts, snack, gluten free
---
Description
The best vegan, gluten and refined sugar free pistachios and apricot blondies. They are super chewy and gooey, melting in your mouth. If you're looking for a healthy delicious dessert, this one is for you!
---
2

very ripe bananas

1 cup

of canned chickpeas, drained 

2 tbsp

melted coconut oil

1 tsp

vanilla extract

1 cup

oat flour

1/2 cup

almond meal

2 tbsp

coconut sugar

1/2 tsp

ground cinnamon 

1/2 tsp

baking powder

1/2 tsp

baking soda

1/4 tsp

salt

1/4 cup

pistachios

2

apricots
---
Instructions
Preheat the oven to 350°F and line an 8×8 inch baking pan with parchment paper.
Peel the bananas. Rinse and drain the chickpeas. Place the bananas and chickpeas in a mixer or a high speed blender, and mix until very smooth.
Add the melted coconut oil and vanilla extract and mix to combine.
Add the oat flour, coconut sugar, cinnamon, baking powder, baking soda, salt, and mix until perfectly combined. You should obtain a smooth and homogeneous dough.
Fold in the pistachios roughly chopped and then transfer the batter to the baking pan, spreading evenly.
Chop the apricots into small dices and arrange on top of the dough. Gently press down to incorporate.
Bake for 30 minutes until slightly golden on the top. Let completely cool down before cutting into squares : the blondies will continue to dry and firm up.
Store any leftovers in an airtight container on the countertop.
---
Notes
You can make oat flour by simply grinding rolled oats in a high speed blender. If necessary, make sure you are using certified gluten free oats.
Carefully watch the blondies while baking. If they start to brown on the surface, cover with a piece of aluminum foil and continue cooking.
Recette version française
Print Blondies abricot pistache sans gluten
Author:

Prep Time:

10 minutes

Cook Time:

30 minutes

Total Time:

40 minutes

Yield:

9

blondies

1

x

Category:

dessert, snack, sans gluten
---
Description
Les meilleurs blondies aux pistaches et à l'abricot. Tellement fondants et moelleux que vous ne devinerez jamais qu'ils sont vegan, sans gluten et sans sucre raffiné.
---
2

bananes très mures

150 g

de pois chiches en conserve égouttés  

2

c. à s. d'huile de coco fondue

1

c. à c. d'extrait de vanille

80 g

de farine de flocon d'avoine

50 g

d'amande en poudre

2

c. à s. de sucre de coco

1/2

c. à c. de cannelle en poudre

1

c. à c. de levure chimique

1

c. à c. de bicarbonate de soude
Une pincée de sel

20 g

de pistaches crues

2

abricots
---
Instructions
Préchauffer le four à 180°C et chemiser un plat carré de 20 cm de côté de papier cuisson. 
Eplucher les bananes. Rincer et égoutter les pois chiches. Placer les bananes et les pois chiches dans un mixeur ou un blender, et mixer jusqu'à obtenir une purée parfaitement lisse.
Ajouter l'huile de coco fondue et l'extrait de vanille et mixer pour les incorporer.
Ajouter la farine de flocons d'avoine, le sucre de coco, la cannelle, la levure chimique, le bicarbonate de soude et le sel. Mixer jusqu'à obtenir un mélange lisse et homogène. 
Incorporer les pistaches grossièrement hachées et verser la préparation dans le plat chemiser. Bien répartir et lisser la surface à l'aide d'une cuillère ou d'une spatule.
Couper les abricots en petits cubes et les disposer au dessus de la pâte. Appuyer doucement pour les enfoncer légèrement dans l'appareil.
Enfourner pendant 30 minutes jusqu'à ce que la surface soit légèrement dorée. Retirer du four et laisser refroidir complètement avant de découper en carrés.
Conserver les restes dans une boite hermétique à température ambiante.
---
Notes
Vous pouvez réaliser votre farine de flocons d'avoine simplement en mixant des flocons d'avoine dans un mixeur ou un blender. Si nécessaire, assurez-vous d'utiliser des flocons d'avoine certifiés sans gluten.
Surveillez les blondies pendant la cuisson. Si ils commencent à trop dorer en surface, recouvrir d'une feuille de papier aluminum et continuer la cuisson.