This Chocolate Hazelnut Granola is a crunchy chocolaty breakfast dream come true. It's literally like having crispy Nutella bites in your cereal bowl! Loaded with roasted hazelnuts, cocoa, gluten free grains and naturally sweetened, this delicious granola is rich in fibers for a nourishing and filling breakfast! It's also perfect for a healthy snack or sprinkle on baked fruits and ice-cream for a decadent, crunchy dessert.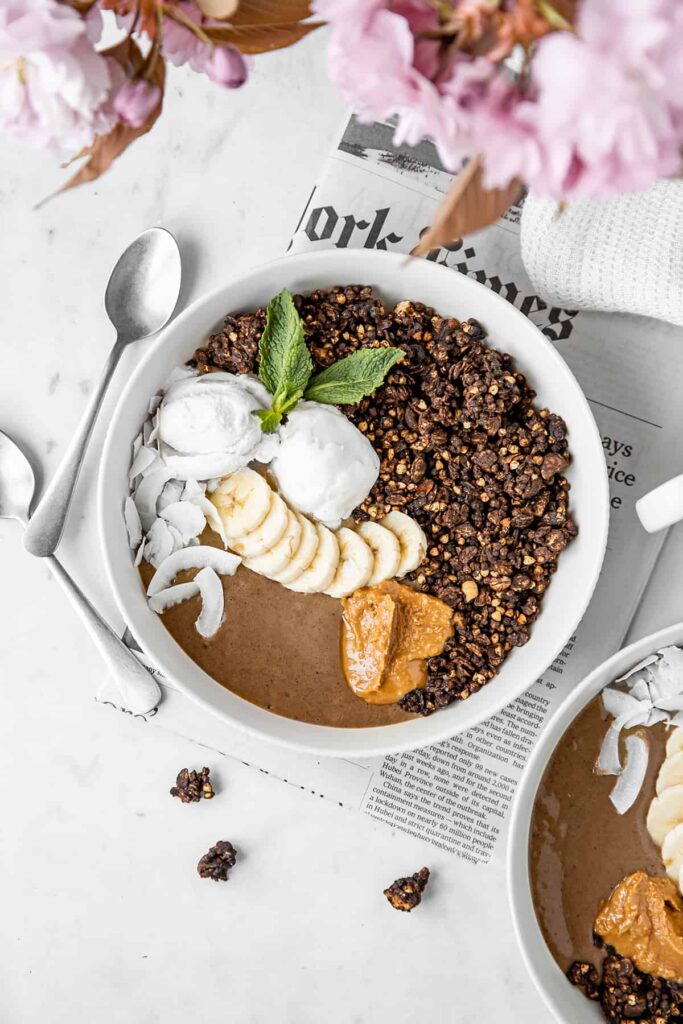 Healthy vegan Nutella chocolate hazelnut granola
Chocolate lovers, this granola is your ticket! Loaded with roasted hazelnuts, cocoa powder and delicious spices, this amazing Chocolate Hazelnut Granola tastes like your childhood favorite chocolate spread. This is a granola for indulgent weekend brunches, a granola for dumping by the handful into a bowl of ice cream, a granola for eating at midnight straight from the jar or even a granola for giving.
Sweet, nutty, rich, crunchy and healthy, this granola real checks all the boxes. It is made of simple natural ingredients, is gluten-free, refined sugar free and packed with fibers for a filling and nourishing breakfast. Like all my other granola recipes, this Nutella Chocolate Hazelnut Granola is very easy to prepare. Make it once and I promise you'll never come back to store bought granolas! Homemade granola is so much tastier, healthier, cheaper and nutritious that I can only recommend you to give it a try!
To make this Chocolate Hazelnut Granola, you need
Rolled oats, prefer old-fashioned rolled oats than instant. The difference between rolled and instant oats is simply how much the oat groat has been processed. Rolled oats look like large flat discs. Rolled oats hold their shape relatively well during cooking and are the best option to bring texture to granola. If you're gluten free, make sure to use certified gluten free oats.
Puffed quinoa in addition of rolled oats to add a little pop, crunchy texture and nutty, earthy flavor to granola. You can now find puffed quinoa in most health stores or online. Puffed quinoa can be substitute for any other puffed grain, like rice or amaranth.
Buckwheat groats are the hearty hulled seed of the buckwheat plant. Don't let its name fool you, buckwheat actually isn't related to wheat at all and is gluten free! Buckwheat is packed with vitamins, antioxidants, and proteins, and adds crunchiness to any preparation.
Hazelnuts are the key ingredient in this recipe for a delicious Nutella flavor. I strongly recommend to use roasted hazelnuts, in this granola but more generally in every recipe! Roasted hazelnuts are so much intense in flavor.
Cocoa powder because there is no Nutella without chocolate. When it comes to cocoa powder, there is a large range of products on the market, from very good ones to over-sweetened milk preparations. Use a good quality cocoa powder, preferably unsweetened.
Maple syrup acts as a binder and natural sweetener in this granola. You can substitute maple syrup for agave, but I personally prefer the subtle taste of maple in breakfast recipes.
Coconut oil brings a little fat for a golden, crispy and chunky granola. For an oil-free version, you can substitute coconut oil for liquid aquafaba.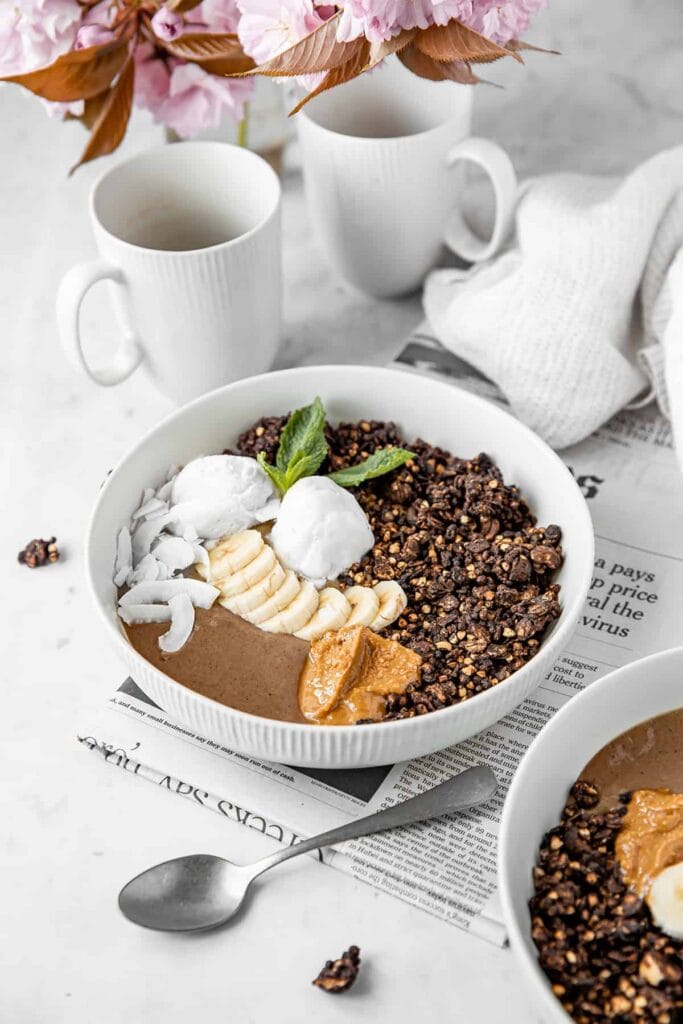 Pro tips to perfectly bake granola
On the blog you can already find many granola recipes. While they differs in flavors and add-ons, the technique is basically the same. Homemade granola is really easy to prepare. Once you've done it once or twice, you realize how simple it is and become confident to experiment with new variations.
However, while it's simple to make a good granola, it can be very tricky to get THE perfect granola! Like in any baked goods recipe, there are many factors to take into account to reach the right texture and flavor.
Here are some useful tips I've accumulated throughout my tests -and fails:
Make sure the wet ingredients thoroughly coat all pieces of dry ingredients. If necessary, use your hands to mix and massage the granola to make sure everything is perfectly coated. This is important to ensure an even baking, no burn and a crunchy granola.
Firmly press down the granola into the tray in an even layer. This allows all of the ingredients to stick together more, and helps to create large clusters. You can use a flat spatula or your finger tips. Depending on the size of your pan, you might have some gaps or holes in the layer. This is fine, just make sure any gaps are towards the center. Since the middle bakes slower than the edges, doing this will ensure extra even crisping.
Baking the granola at a low temperature for a long time helps to bake it evenly, at the center without burning. It can take between 25 to 40 minutes depending on the recipe. Be patient, I promise it worth the wait!
Don't over-bake your granola. Do not wait until the granola is really browned when pulling out of the oven. The granola is ready and perfectly baked when it becomes just golden-brown. Don't worry if the granola looks undercooked by touch, it will continue to crisp and harden as it cools. With granola you can't assess doneness based only on touch, you need to rely on time, color and scent.
If you want to add dry fruits (especially raisins, cranberries, goji berries, mulberries and any dry berries) or chocolate chips, add them after the granola is done baking, right out of the oven. If adding during the cooking process, they tend to quickly burn.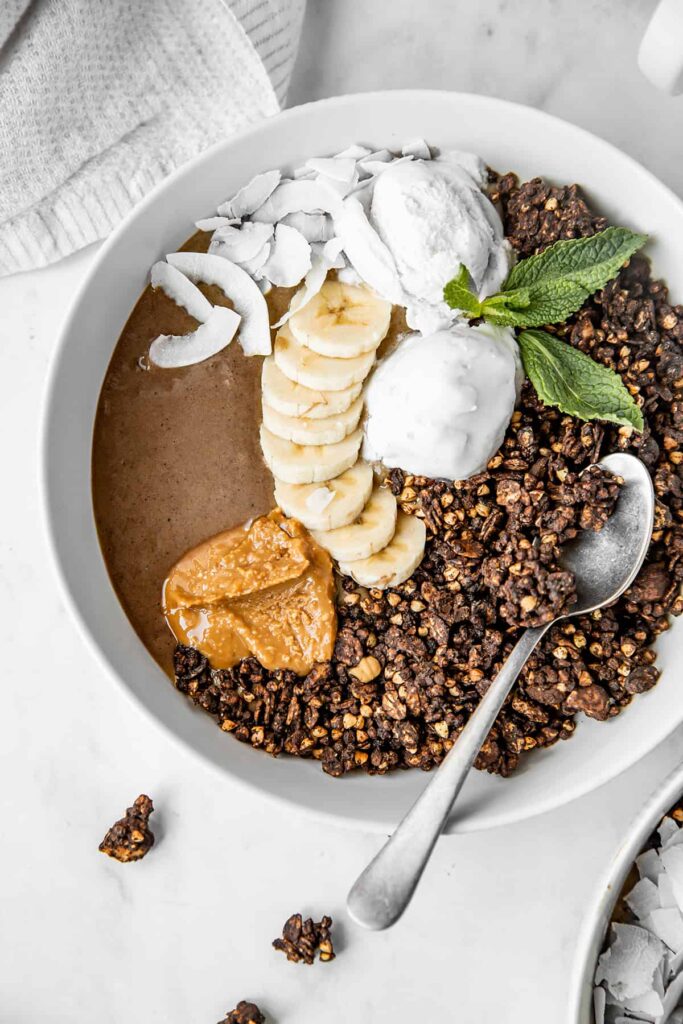 How to keep homemade granola
Granola is a great food for meal-prep! Making homemade granola is very easy but requires a little time if you want to do it properly. If you're lucky enough to have the time -and motivation, to make it everyday, well, go for it! Either, you can absolutely prepare a big batch of granola at one time and save it for your breakfast of the week.
When stored properly, granola stays very crunchy and tasty, as if straight out of the oven. The key factors to keep your granola crunchy and tasty for weeks are:
Make sure the granola has completely cooled down before breaking and storing! This is the most important point. Baked granola contains moisture that evaporates while the granola is cooling. If you store granola while it's still warm, the moisture released remains locked in the container and the granola becomes soft and won't keep for a long time.
Storing granola is similar to storing oats or other cereals. Place the granola in an airtight container like a big glass jar. Make sure the container is perfectly sealed. That's especially important avoid moisture to enter and keep the granola crunchy.
The best place to store granola is simply in your pantry in a dry place, away from light and heat.
Last but not least, you can freeze granola to keep it fresh longer. Place the granola to either an airtight container or a freezer bag sealed tightly and place in the freezer.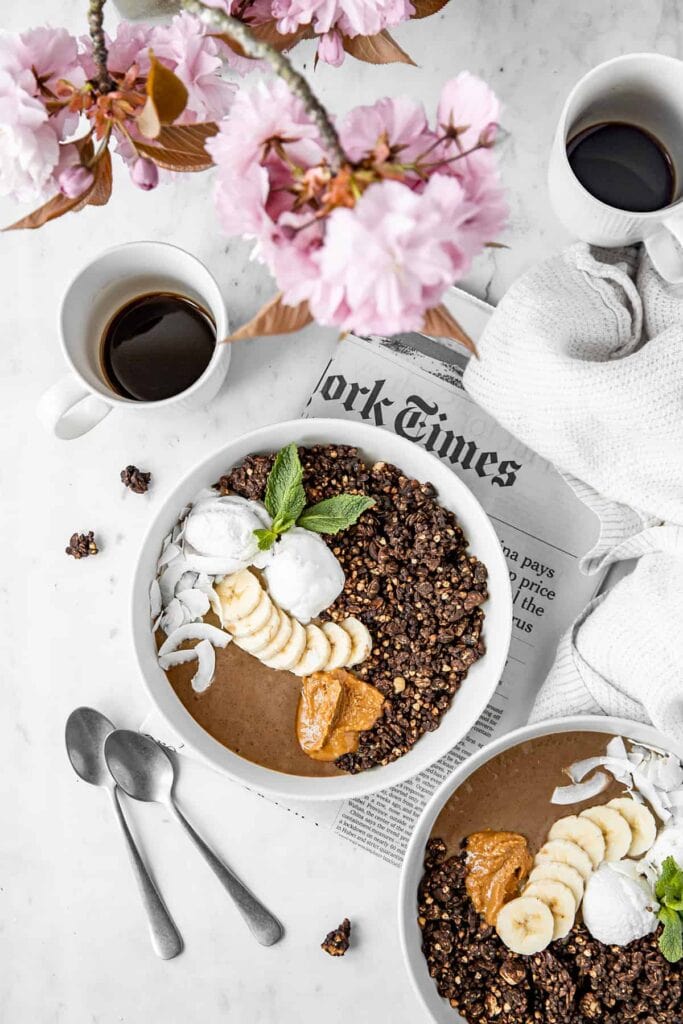 How to enjoy Nutella chocolate hazelnut granola
When you think about granola, you often think about smoothie bowl or yogurt. I would be lying if I said the contrary, and my favorite way to enjoy granola remains with fresh or baked fruits, a spoon of coconut yogurt and a drizzle of nut butter or homemade caramel sauce. This combo is actually my favorite thing on Earth.
However, there are so many other ways to enjoy granola in different forms and dishes, whether it is the start or complementing it. Some of my favorite options include:
Fruit crisps, I love to sprinkle granola on top of baked fruits for a quick version of fruit crisp. Also granola is often healthier than a regular buttery crumble preparation. With Nutella granola, I recommend berries, pear or even mango. Add a scoop of vanilla ice-cream and you have the perfect Summer dessert.
Cookies, yes, cookies. Try to fold some granola into the cookie dough to add texture and flavor.
To sprinkle onto baked goods, like muffins or bread. It makes a perfect crunchy topping, like a streusel. Add this Nutella Chocolate Hazelnut Granola on top of a banana bread or chocolate cake.
Raw bars, mix granola with maple, nut butter and chocolate chips, and freeze to make cereal bars. It's a perfect healthy and delicious snack to carry with you all along the day!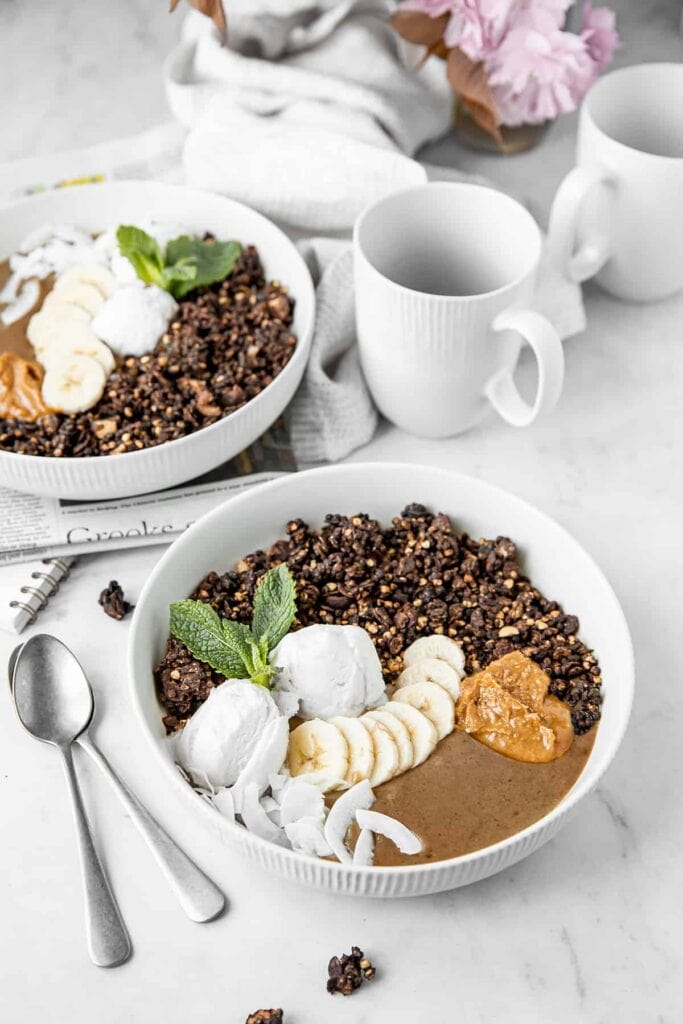 Possibilities are endless with granola! For more inspiration, check out these recipes:
I love to see your creations! Don't forget to tag me @alicepages on your photos on Instagram and give your feedback in the comments below if you make this recipe at home! Your opinion is my best reward
Print Nutella Chocolate Hazelnut Granola
Author:

Prep Time:

10 minutes

Cook Time:

25 minutes

Total Time:

35 minutes

Yield:

4

–

6

servings

1

x

Category:

breakfast

Method:

oven

Cuisine:

Vegan

Diet:

Gluten Free
---
Description
This vegan and gluten-free Chocolate Hazelnut Granola tastes like Nutella in a crunchy form. It is made of simple whole ingredients, easy to prepare for a healthy and nourishing chocolaty breakfast.
---
1 cup

rolled oats

1 cup

puffed quinoa (or puffed rice, amaranth  …)

1/4 cup

buckwheat groats

1/2 cup

roasted hazelnuts, roughly chopped

1/4 cup

unsweetened cocoa powder

1 tsp

ground cinnamon

1/2 tsp

ground cardamom

1

pinch of grated tonka bean (optional)

1

pinch of salt

1/4 cup

maple syrup

2 tbsp

melted coconut oil

2 tsp

vanilla extract 
---
Instructions
Preheat the oven to 330F and line a baking tray with baking paper.
In a large mixing bowl, combine oats, puffed quinoa, buckwheat, chopped hazelnuts, cocoa powder, cinnamon, cardamom, grated tonka and salt. Mix well.
Pour over maple syrup, melted coconut oil and vanilla. Using a wooden spoon, mix well until all pieces are evenly coated with the wet ingredients. Don't hesitate to use your hands to massage and form clumps. The mixture should be thick and a little sticky.
Transfer the granola out onto the prepared tray and use the black of a wooden spatula or your hands to spread and press it into a compact even layer. 
Bake for 15 minutes, then rotate the tray so that the side that was on the back of the oven is now toward the door, and bake another 10 minutes or until golden-brown. The granola is ready when smells good and it feels firm but not yet crisp to touch. The granola will continue to dry and become crisp as it cools.
Remove from the oven and immediately transfer to a cooling rack. Allow the granola to cool completely, for at least 45 minutes or 1 hour, until it's all dry and crispy. Then, break the granola into large clusters.
Enjoy immediately or store cool granola in an airtight container or a glass jar to keep it crunchy.
---
Notes
Store cool granola in an airtight container or a glass jar on the countertop to keep it crunchy. It can be kept for more than a month in a dry place away from light.
If you're gluten intolerant, make sure you are using certified gluten free rolled oats.
Puffed quinoa can be substituted with any other puffed grain, like rice, millet, buckwheat or amaranth.
Buckwheat groats can be omitted or substituted with seeds like sunflower seeds.
Maple syrup can be substituted with another liquid sweetener like agave.
Keywords: granola, muesli, breakfast, nutella, hazelnut, chocolate, cereals,
Recette version française
Print Granola Nutella Chocolat Noisette
Author:

Prep Time:

10 minutes

Cook Time:

15 minutes

Total Time:

25 minutes

Yield:

4

–

6

personnes

1

x

Category:

petit-déjeuner

Method:

four

Cuisine:

Vegan

Diet:

Gluten Free
---
Description
Ce granola croustillant façon Nutella fera le bonheur de tous les amoureux de chocolat! Ultra gourmand, simple et rapide à préparer à partir d'ingrédients naturels et sain, c'est LE petit-déjeuner parfait qui vous tiendra rassasié toute la matinée.
---
110 g

de flocons d'avoine

20 g

de quinoa soufflé (ou riz, amaranth soufflé …)

60 g

de sarrasin décortiqué 

60 g

de noisettes torréfiées concassées

40 g

de cacao en poudre non sucré

1

càc de cannelle moulue

1/2

càc de cardamome moulue

1

pincée de fève tonka râpée (optionnel)

1

pincée de sel

40 g

de sirop d'érable

30 g

d'huile de coco fondue

2

càc d'extrait de vanille liquide
---
Instructions
Préchauffer le four à 165°C et chemiser une plaque de cuisson de papier sulfurisé.
Dans un grand saladier, mélanger les flocons d'avoine, le quinoa soufflé, le sarrasin, les noisettes grossièrement concassées, le cacao en poudre, la cannelle, la cardamome, la fève tonka et le sel.
Dans un petit bol, mélanger le sirop d'érable, l'huile de coco liquide et la vanille. Verser la préparation liquide dans le saladier et mélanger avec une spatule en bois jusqu'à ce que tous les ingrédients soient bien enrobés. N'hésitez pas à utiliser vos mains pour mélanger! Le mélange obtenu doit être épais et légèrement collant.
Etaler le granola sur la plaque de cuisson et appuyer avec le dos d'une spatule ou le bout des doigts pour former une couche régulière et compacte. 
Enfourner pour 15 minutes, puis tourner la plaque de façon à ce que le côté qui était au fond du four se retrouve côté porte. Cuire 10 minutes supplémentaires, ou jusqu'à ce que le granola soit bien doré. Le granola est prêt lorsqu'il dégage une agréable odeur et qu'il est ferme au toucher. A ce stade le granola est encore un peu mou et humide et deviendra croustillant en refroidissant. 
Retirer la plaque du four et la déposer sur une grille de refroidissement. Laisser le granola refroidir pendant au moins 45 minutes ou 1 heure, jusqu'à ce qu'il soit complètement sec et croustillant. Casser le granola en morceaux de la taille désirée.
Servir immédiatement ou conserver le granola refroidi dans un récipient hermétique ou un bocal en verre pour conserver son croustillant.
---
Notes
Une fois le granola refroidis, il peut être conservé pendant 1 mois dans un bocal en verre hermétique dans un endroit sec à l'abris de la lumière.
Si vous êtes intolérant au gluten, assurez-vous d'utiliser des flocons d'avoine certifiés sans gluten. 
Vous pouvez remplacer le quinoa soufflé par du riz soufflé, du millet soufflé ou encore de l'amaranth soufflé.
Vous pouvez remplacer le sarrasin décortiqué par des graines de tournesol.
Vous pouvez remplacer le sirop d'érable par un autre sucrant liquide tel que le sirop d'agave.
Keywords: granola, muesli, petit-déjeuner, céréales, chocolat, noisette, nutella, sans gluten