These vegan gluten-free fluffy chocolate pancakes have cocoa powder and chocolate chunks in their batter for a double dose of chocolate! They are easy to make with only a few ingredients. Top with caramel sauce, pecan and more chocolate chips for an insanely delicious breakfast treat!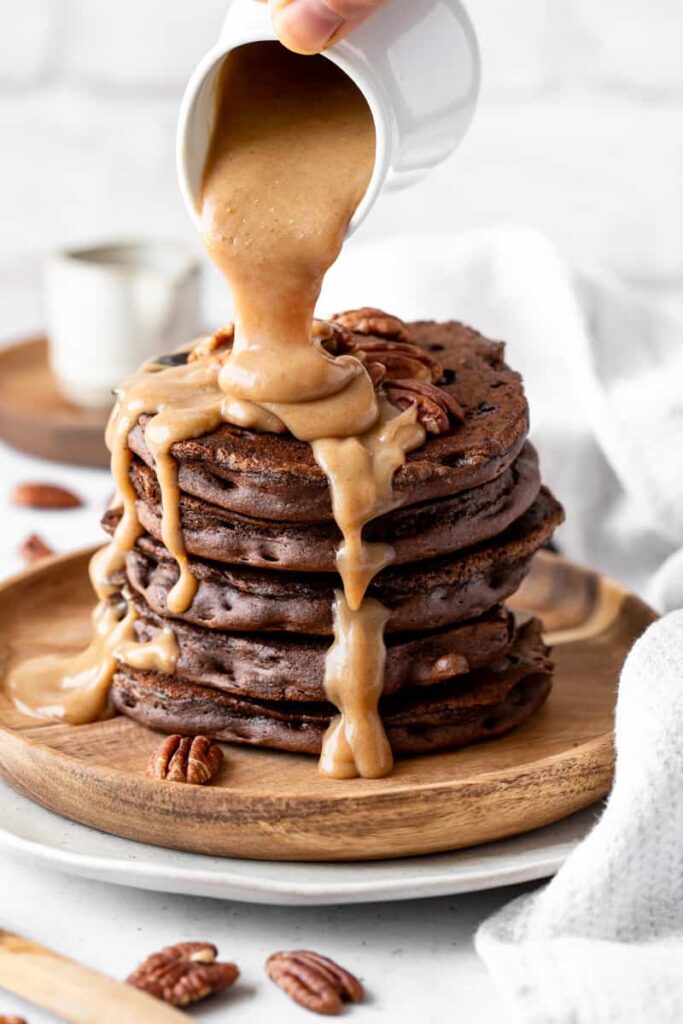 What's in gluten-free Double chocolate pancakes
These simple and delicious vegan, oil-free, gluten-free pancakes are really easy to make with just a handful of ingredients.
Buckwheat flour – Although it has wheat in its name, buckwheat is not related to wheat but is actually a grain! It is totally gluten-free and it is a very good alternative for all purpose flour in many recipes. Buckwheat has a delicious nutty flavor that works perfectly in these brownie chocolate pancakes.
Cocoa powder – Cocoa powder is the dry solid remains of fermented, dried, and roasted cacao beans. Basically, cocoa powder is the raw chocolate product, without any added fat, sugar, or milk. You can either use natural cocoa powder or Dutch process cocoa powder. In any case, make sure it's unsweetened. I found this article that explains the difference between natural and dutch process cocoa powder.
Coconut sugar – Coconut sugar is a good sweetener option as it is unrefined and has a nice caramel flavor. It can be substituted with dark cane sugar.
Baking powder – it is used in this recipe to give the pancakes this nice fluffy and airy texture. They will grow nice and tall while they're cooking.
Non-dairy yogurt – I used soy yogurt but you might also use almond yogurt or light coconut yogurt.
Almond butter – as these pancakes are gluten-free, almond butter helps to bind the batter and give the pancakes a smooth texture. You can sub almond butter for any other nut butter, like cashew, peanut or hazelnut.
Non-dairy milk – I used soy milk but you might sub for almond milk. Make sure it's unsweetened.
Dark chocolate – You can use either chopped dark chocolate or chocolate chips. I recommend large chocolate chunks for a very chocolatey melty result.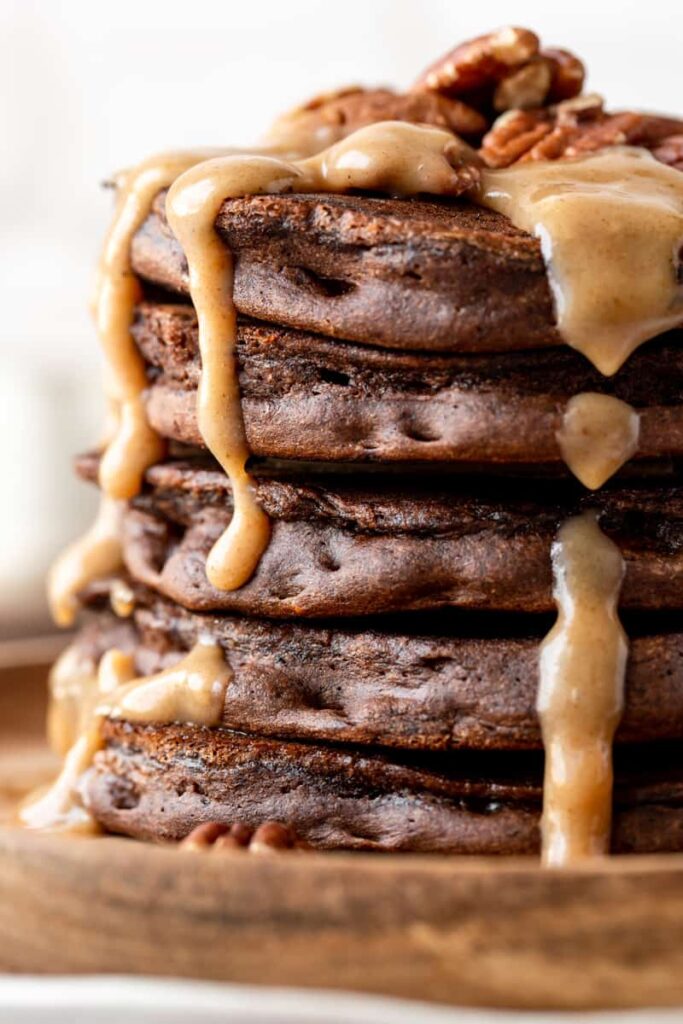 Tips for the best fluffy chocolate pancakes
Normally, if there is one major thing to remember when making pancakes, it's to not over-mix the batter! Indeed, over-mixing develops the gluten contained in regular flour which makes them chewy and dense. This is less important with these pancakes as they are made with buckwheat flour and so are gluten-free. However, do not over mix anyways for airy and fluffy pancakes.
Make sure the batter has the right consistency. It should be pretty thick so that it doesn't spread completely flat on the pan (contrary to French crepe batter), but thin enough to be poured. If you feel that the batter is too thin, add a few tablespoons more of flour and mix it. If it is too thick, add a little more milk. To avoid any issue, I recommend to use a scale to properly weight the ingredients and follow the metrics quantities.
Don't omit the chocolate chunks in the batter! They will get all rich, melty and gooey to make these the ultimate double chocolate brownie pancakes. I recommend to use roughly chopped dark chocolate or large chocolate chunks rather than small chocolate chips. If you're vegan, always check the ingredients list as many chocolate chips or bars contain milk products!
Cook your pancakes in a fully heated non-stick pan carefully greased with oil. You can use coconut oil, olive oil or baking spray. This will avoid the pancakes to stick to the pan and ensure an even baking.
This recipe is for medium size pancakes made with 1/4 cup of batter. This leads to thick and fluffy pancakes. Just scoop it up in the pan and gently arrange the batter with the back of a spoon to make a nice circle. Or if you prefer, you can cook the batter in a round form.
Enjoy these pancakes right after cooking, while still warm and fluffy. But if you have leftovers, you can store them in an airtight container in the refrigerator for up to 3 days, or freeze them. Quickly reheat them in a skillet or in the toaster before serving.
How to serve these chocolate pancakes – favorite toppings
Now that your double chocolate pancakes are ready, it's time to eat! These pancakes have a rich chocolate flavor that makes them so delicious on their own that you won't even need any topping! But a few toppings can definitely take them to the next level, adding texture and flavor.
There is no rules with the toppings. Usually, I would say be creative and go for what makes you happy. On my part, I love to drizzle some homemade date caramel sauce, add a spoon of plant-based yogurt and a handful of roasted pecan nuts. Nuts and caramel perfectly pair with chocolate and amplify the brownieness of these pancakes.
For the caramel sauce, I've used my go-to express caramel recipe. Make it by mixing 3 dates with 1/2 cup of coconut cream, 1 teaspoon of vanilla and a pinch of salt in a high speed blender until smooth. I guaranty this vegan and added sugar-free caramel sauce is simply irresistible!
Fresh fruits, maple syrup, banana, coconut chips, peanut butter or chocolate chips are also good options for a delicious healthy breakfast. But if you want to try something really insane, go for it with a scoop of dairy-free ice cream and chocolate sauce!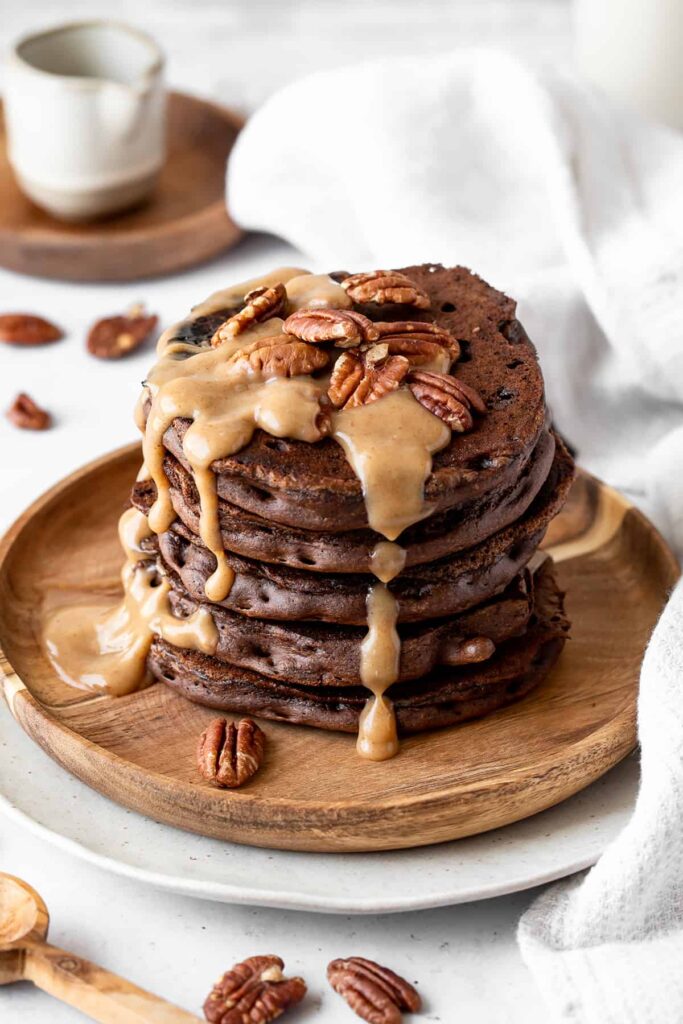 Want more pancake recipes?
Fluffy Vegan Sourdough Pancakes
Buckwheat Matcha Pancakes
Easy Oats Banana Pancakes (sugar-free & oil-free)
I love to see your creations! Don't forget to tag me @alicepages on your photos on Instagram and give your feedback in the comments below if you make this recipe at home! Your opinion is my best reward.
Print Fluffy Double Chocolate Pancakes
Author:

Prep Time:

10 minutes

Cook Time:

20 minutes

Total Time:

30 minutes

Yield:

10

pancakes

1

x

Category:

breakfast

Method:

Stovetop

Cuisine:

Gluten-Free

Diet:

Vegan
---
Description
Vegan Gluten-free Fluffy Double Chocolate Pancakes are the perfect delicious and decadent breakfast! They are easy to make with only a few wholesome ingredients.
---
1 1/4 cups

buckwheat flour (

145 g

)

3 tbsp

cocoa powder (

20 g

)

1 tbsp

coconut sugar (

12 g

)

1 tbsp

baking powder (

12 g

)

1/3 tsp

sea salt

2/3 cups

soy yogurt (

160 g

)

1/8 cup

almond butter (

30 g

)

1/2 cup

+ 1 tbsp soy milk – or other non-dairy milk(

140

ml)

1 tsp

vanilla extract 

1/3 cup

dark chocolate chopped – or chocolate chips (

60 g

)
coconut oil for cooking
---
Instructions
In a large bowl, whisk together the flour, cocoa powder, sugar, baking powder and salt.
To a separate mixing bowl, add soy yogurt and almond butter and whisk to combine. Then add non-dairy milk and vanilla extract and whisk.
Pour the wet ingredients to the dry ingredients and gently fold everything together. Then add the chocolate chunks and mix until well combined, but be careful not to over mix the batter or the pancakes won't be as fluffy! It should be thick but pourable. If too thin, add more buckwheat flour. If too thick, add a little non-dairy milk.
Heat a large pan over medium heat with a teaspoon of coconut oil. Once hot, scoop about 1/4 cup pancake batter onto the pan, spreading out to make a nice circle. Cook until bubbles form at the surface, then flip and cook for 1-2 minutes on the other side. Repeat with all the remaining batter.
Serve the pancakes warm with toppings of your choice.
---
Notes
These chocolate pancakes are best enjoyed warm right after baking. Cooled leftover pancakes stored in an airtight container will keep in the refrigerator up to 3 days. Quickly reheat the pancakes in the toaster before to enjoy.
For the vegan caramel sauce, refer to this recipe.
Keywords: Pancakes, Chocolate pancakes, vegan pancakes, breakfast, gluten-free
Recette version française
Print Pancakes moelleux au chocolat
Author:

Prep Time:

10 minutes

Cook Time:

20 minutes

Total Time:

30 minutes

Yield:

10

pancakes

1

x

Category:

petit-déjeuner

Method:

Poêle

Cuisine:

Sans gluten

Diet:

Vegan
---
Description
Ces Pancakes moelleux au chocolat vegan et sans-gluten sont parfaits pour un petit-déjeuner peu sucré, nourrissant et ultra gourmand! Ils sont faciles à préparer avec une poignée d'ingrédients naturels.
---
145 g

de farine de sarrasin

20 g

de cacao en poudre non sucré

15 g

de sucre de coco

12 g

de levure chimique

1/2

c. à c. de sel

160 g

de yaourt de soja nature

30 g

de purée d'amande

140

ml de lait de soja (ou autre lait végétal nature)

1

c. à c. d'extrait de vanille

60 g

de chocolat noir en morceaux ou pépites de chocolat
Huile de coco pour la cuisson
---
Instructions
Dans un grand saladier, mélanger la farine, le cacao en poudre, le sucre, la levure et le sel.
Dans un autre saladier, mélanger la yaourt et la purée d'amande pour obtenir une crème homogène. Puis ajouter le lait végétal et la vanille et mélanger.
Verser la préparation liquide dans le saladier d'ingrédients secs, et mélanger délicatement à la spatule. Ajouter le chocolat noir grossièrement concassé et remuer doucement pour juste incorporer les ingrédients. Attention à ne pas trop mélanger la pâte pour des pancakes aériens et moelleux! La pâte obtenue doit être assez épaisse mais facile à verser. Si elle est trop épaisse, ajouter un peu de lait. Si elle est trop fluide, ajouter un peu de farine.
Faire chauffer une poêle anti-adhésive sur feu moyen avec une cuillère d'huile de coco. Quand la poêle est chaude, verser une bonne cuillerée de pâte dans la poêle et l'arrondir délicatement avec le dos d'une cuillère. Laisser cuire jusqu'à ce que des bulles se forment en surface, puis retourner et cuire 2 minutes de l'autre côté. Répéter jusqu'à épuisement de la pâte.
Servir les pancakes tièdes avec la garniture de votre choix.
---
Notes
Il est recommandé de déguster ces pancakes immédiatement après cuisson, quand ils sont encore tendres et moelleux. Vous pourrez conserver les restes dans une boite hermétique au réfrigérateur pendant 3 jours. Réchauffez les pancakes à la poêle avant de servir.
Pour la sauce caramel vegan, rendez-vous sur cette recette.
Keywords: Pancakes, Pancakes chocolat, Petit-déjeuner, Brunch, Sans gluten, Vegan