My version of the BEST walnut chocolate chip cookies. An easy recipe made from scratch with only 9 simple ingredients, that just so happen to be vegan, gluten and oil free. No complicated steps, no chilling time. All you need is one bowl and after a few minutes you're rewarded with perfectly soft, chewy cookies studded with gooey chocolate chips and crunchy walnuts.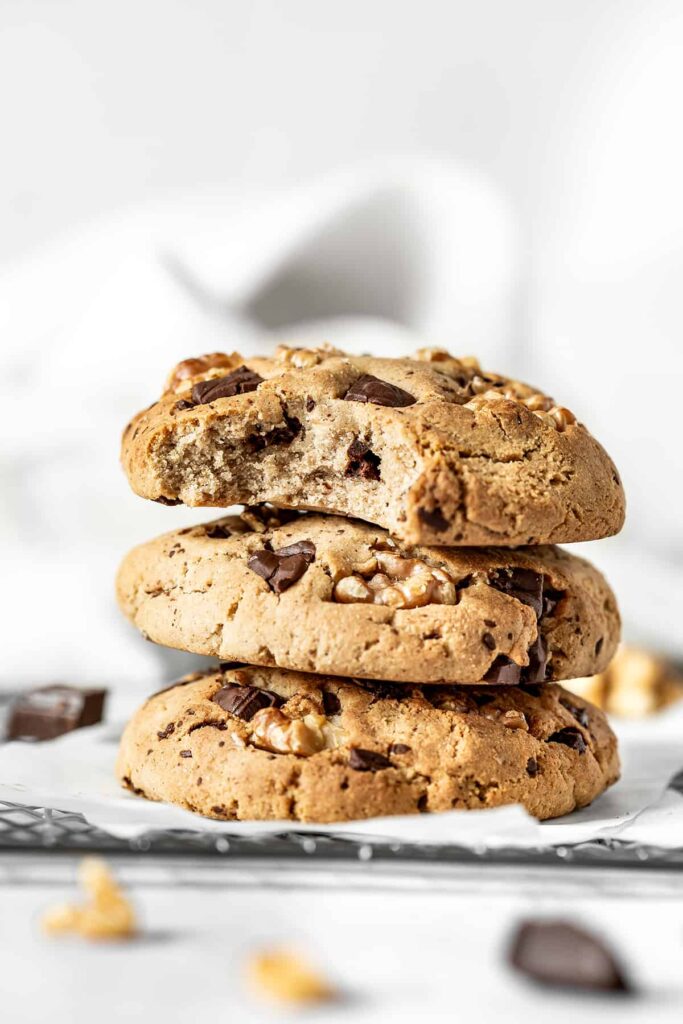 Gluten and oil-free walnut chocolate chip cookies
The other day, I was scrolling through my recipes index when I realized I don't have a basic chocolate chip cookie on the blog. I already had everything cookie, peanut butter cookie ice-cream, brownie cookies, chocolate pecan cookie bars, cookie dough cheesecake, no-bake brookie just to name a few. But no simple cookies. I know! It is unacceptable for the cookie lover that I am, and I absolutely had to fix that ASAP. So I put my apron and started my kitchen tests to get this perfect walnut chocolate chip cookies recipe.
After trying a few recipes of traditional cookies from different bakers, I quickly realized it wasn't in the line of my blog. Let us be clear, I LOVE a good buttery and sweet traditional cookie time to time. However my goal is more to share with you plant-based adaptations that are healthier without compromising on taste. Then I changed my strategy, and started looking for great ways to make the traditional walnut chocolate chip cookies a little healthier but still so delicious. This is how this recipe came to life.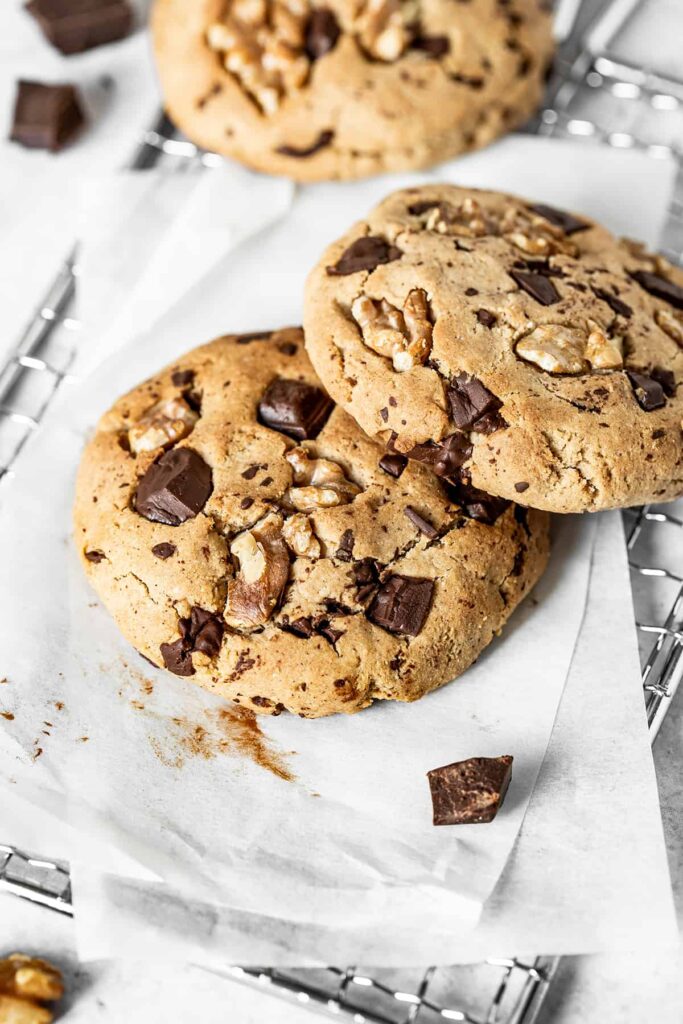 Aquafaba, the groundbreaking ingredient
Yes, aquafaba, again. If you've checked my latest recipes, you should noticed that I have a current obsession with aquafaba. Since I've first tried adding it in my granola to make Super Chunky Pecan Granola, I'm literally using it everywhere. Aquafaba refers to the brine from cooking and storing beans like chickpeas. In other words, it's the liquid from a can of chickpeas. Aquafaba acts as a biding agent and is an amazing substitute for eggs.
For more informations about this revolutionary ingredient, check my Salted Caramel Brownie Cookies article where I'm sharing with you the secrets of aquafaba.
So next time you're making hummus, don't throw that liquid gold in the sink. Keep it preciously in a glass jar in the fridge up to 3 – 4 days.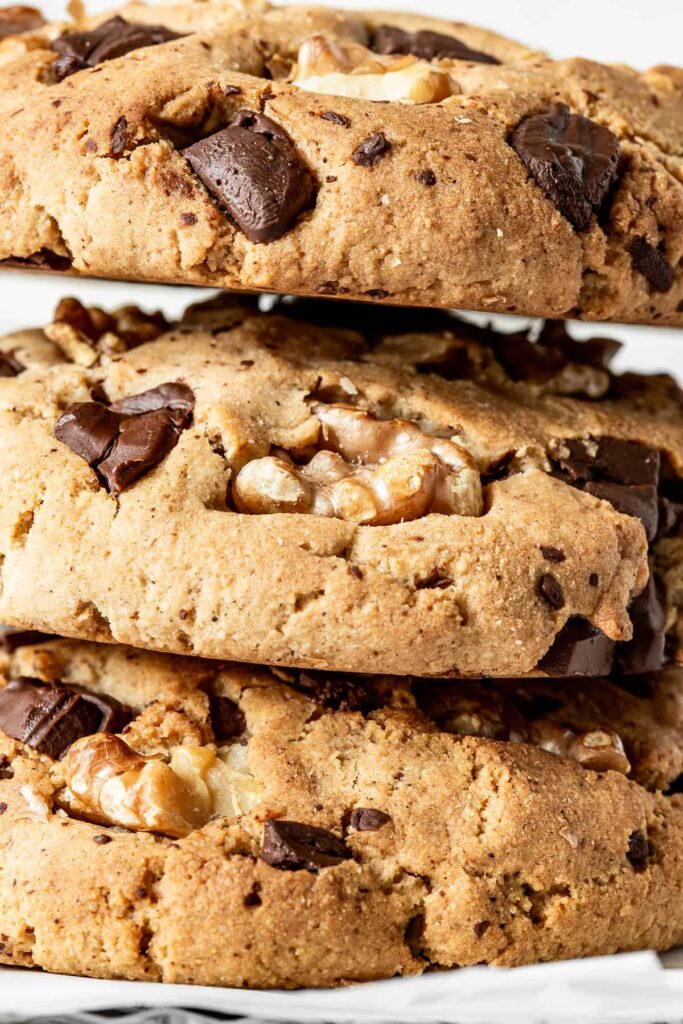 Gluten free cookies
Either you're gluten free, want to limit your consumption of gluten OR simply want to eat something delicious, these walnut chocolate chip cookies are for you.
To make this recipe gluten free, I've used my go to gluten-free mix of almond meal and brown rice flour. I first tried this combination on my 5-ingredient Almond Cookies, that becomes my favorite cookie recipe ever! They are perfectly soft and chewy, but still firm with a nice crispy layer on the outside.
Almond meal is amazing to add softness and fluffiness to all your preparations, cakes and cookies. Rice flour is my favorite gluten-free flour. It is easy to work with and has a neutral taste.
If you don't have almond meal, you can make your own at home by simply mixing whole almonds in a blender or a food processor until finely ground. If you're nut intolerant, you can replace almond meal by ground sunflower seeds following the same process. Lastly, you can just replace almond meal with all purpose flour 1:1 by weight but you probably won't have this soft texture.
You can replace the rice flour by oat flour in the same quantity. To make oat flour, simply blend rolled oats until finely ground.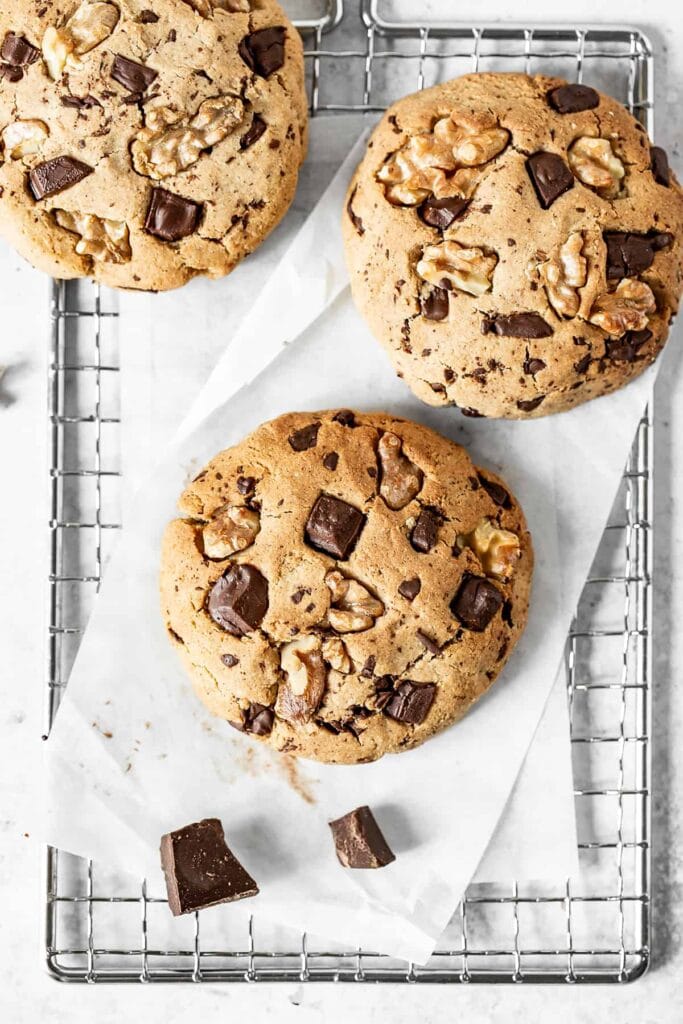 Walnut Chocolate Chip Cookie
For this basic cookie recipe, I opted for the classic walnut and chocolate chip combo. This simple combination of flavors works perfectly and is one of my favorite one. Chocolate chip is definitely a must for cookies to bring a yummy chocolaty and sweet touch. While the walnuts add crunchiness and a pleasant nutty flavor. You can use either chocolate chips or chocolate chunks for this recipe. I personally prefer large chocolate chunks. Make sure to use vegan dark chocolate, store-bought chocolate chips often have dairy.
I love my cookies to be generously and randomly stuffed, so that each bite is different. Feel free to adjust the quantity of chocolate chips and walnuts depending on your preferences. Also don't forget to save some to decorate your cookies before baking!
And if you're not a big fan of chocolate and/or walnuts, no worries. This recipe is totally customizable and I encourage you to experiment and create new amazing flavors! Some of my favorite cookie stuffings are macadamia, hazelnuts, pecan, dry cranberries, raisins, white chocolate, to name a few.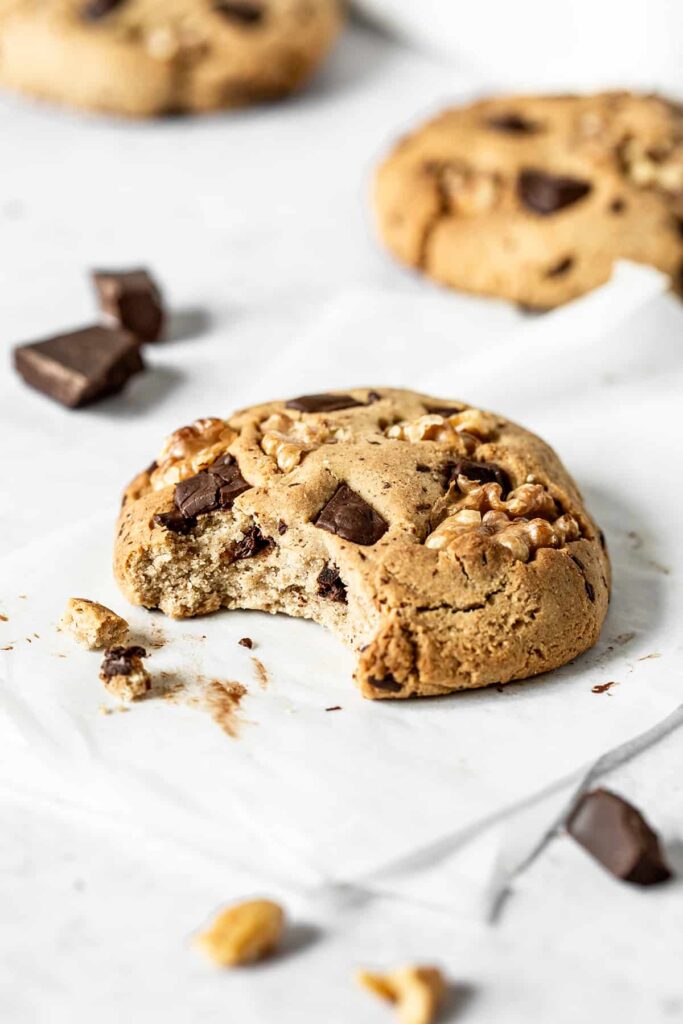 The world easiest cookies
If you're familiar with my recipes, you might know that I'm not a huge fan of long and complicated process when it comes to baking. I'm basically not a very good baker and I've always been totally scared by endless recipes. I'm not saying that these specific processes are useless, far from me this idea. But sometimes all you want is a super easy cookie recipe that comes together in a few minutes. And THIS is your recipe.
While most of the traditional cookie recipes ask for separated preparations, whisking the butter with the sugar, incorporate the dry ingredients, and last but not least, resting the dough before baking … these are NOT traditional cookies. All you need for these walnut chocolate chip cookies is to mix everything in a bowl and voilà! No process, no chill, just mix, bake and eat.
Tips to make the perfect walnut chocolate chip cookies
If you've already made my Salted Caramel Brownie Cookies -which is definitely a must to try, you'll notice that the process is identical. These two recipes are amazing if you're new to baking or need an easy, quick but super delicious cookie recipe. In this article, I'm sharing a few tips for making the perfect cookies. Here is a little reminder as well as extra advices:
Don't be shy to use your hands to mix the dough! This cookie dough is not like a traditional one. Well, it is vegan, refined sugar and oil free. This dough is crumbly first, then turns thicker as soon as you add the wet ingredients. To make sure all the ingredients are well combined, use your hands to massage the dough when it becomes too thick to be mixed with a spatula. Don't over mix the dough! Once all the ingredients are combined, it's done!
If you notice the dough is too dry or too wet, don't hesitate to adjust the quantities to get the right consistency: firm, semi-tacky but not too sticky. Add a little more rice flour if the dough is too wet and sticky. If it's too dry, add a little more aquafaba, one teaspoon at the time.
These cookies won't spread a lot during baking. That's why it is important to properly shape them before. Form balls by rolling the dough between your hands and gently flatten onto the baking tray to form round cookies. The flatter and thinner the cookies, the crispier they will be. If you prefer soft ans chewy cookies, don't flatten them too much.
Adapt the baking time to the size of your cookies. This recipe leads to 6 large cookies. For this size, a baking time between 12 to 15 minutes is great for cookies soft inside and crispy outside. For crispier cookies, you can increase the baking time to 18 minutes. As a general rule, I always recommend to under bake your cookies as they will continue to firm and dry while they cool down. If you prefer smaller cookies, reduce the baking time accordingly. Smaller cookies bake faster.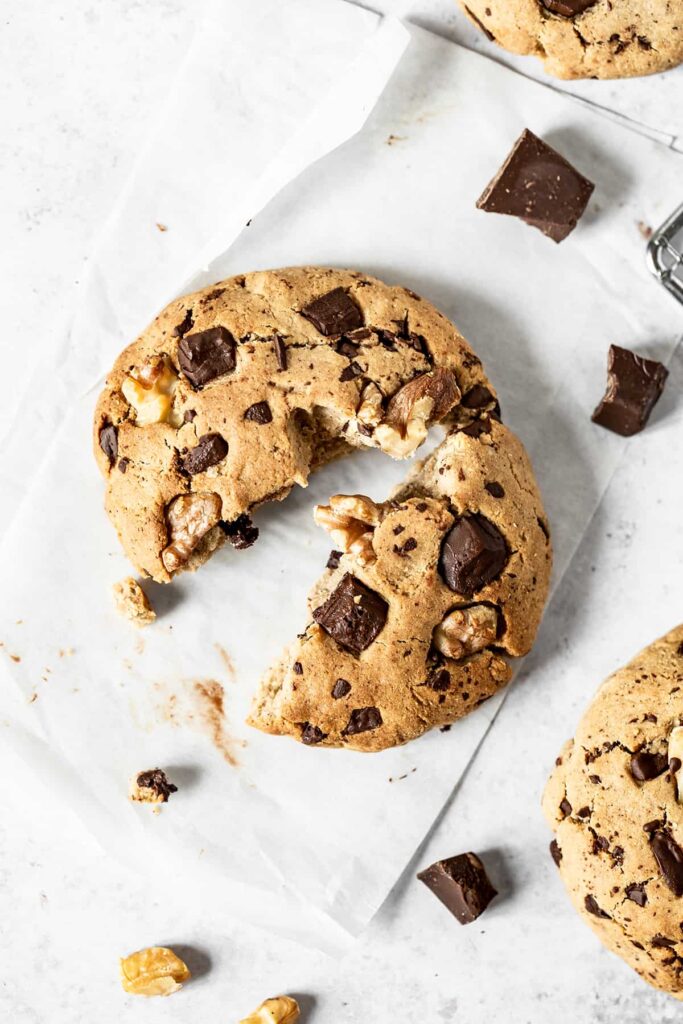 How to store walnut chocolate chip cookies
This standard recipe is for 6 large cookies or around 8 to 12 if you prefer smaller cookies. However, there is never too much cookies in my opinion, and I love to prepare a big batch to offer them or keep them for later. And one very good thing with these cookies is that they keep particularly well. While most of the cookies can quickly become mushy after baking, I've noticed that these ones stay perfectly crispy outside, even after a few days. This might be thanks to the aquafaba that helps them to stay dry and crispy.
The easiest way to store your cookies leftovers is in an airtight container, at room temperature, on your countertop up to 4 days -if you're strong enough to walk by the jar without eating them all. Make sure that the cookies are completely cooled before storing! This is very important to keep them crispy and healthy. If you store the cookies while still warm, they will release moisture, become mushy and won't keep for a long. I recommend to let them cool down onto a wire rack for at least 1 hour before storing.
If you want to keep them for more than 3 – 4 days, you can also freeze the baked cookies. They keep very well and make a perfect treat ready to eat when you're craving something sweet and delicious. To freeze them, place the baked and cooled cookies in a freezer bag, in a single layer, and freeze. These walnut chocolate chip cookies will keep up to 1 month in the freezer. To reheat the cookies, remove from the freezer bag and place in the oven at 350 degrees F until they're soft, or microwave for 2 minutes if you really can't wait.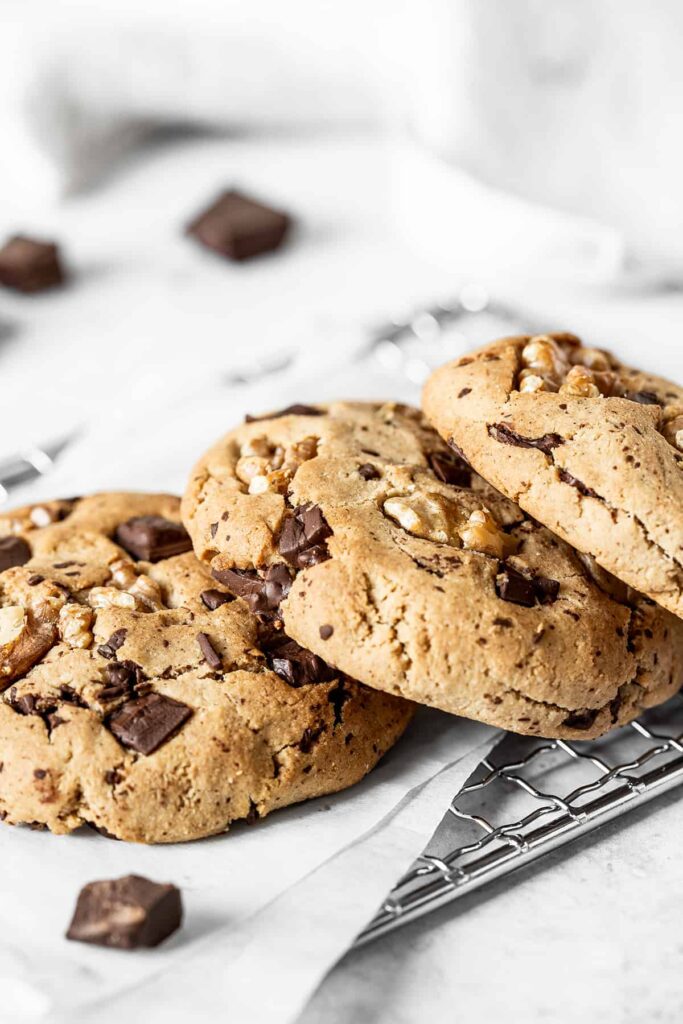 For more decadent cookie inspired desserts, check out these recipes :
I love to see your creations! Don't forget to tag me @alicepages on your photos on Instagram and give your feedback in the comments below if you make this recipe at home! Your opinion is my best reward.
Print Walnut Chocolate Chip Cookies GF & oil-free
Author:

Prep Time:

15 minutes

Cook Time:

15 minutes

Total Time:

30 minutes

Yield:

6

larges cookies

1

x

Category:

Cookies

Method:

Oven

Cuisine:

Gluten-free, Oil-free

Diet:

Vegan
---
Description
The best walnut chocolate chip cookies made with simple methods and only 9 ingredients, that just so happen to be vegan, gluten and oil free. They're perfectly soft & chewy, and studded with gooey chocolate chips and crunchy walnuts. 
---
2 cups

almond meal

1 1/2 cups

brown rice flour

2 tsp

baking powder

1/2 tsp

ground cinnamon

1/4 tsp

of salt

1/4 cup

maple syrup

1/4 cup

aquafaba (chickpea brine)

1 tsp

vanilla extract

1/2 cup

vegan dark chocolate chunks

1/2 cup

walnuts
---
Instructions
Preheat the oven to 350 degrees F and line a baking sheet with parchment paper.
In a large mixing bowl, stir together the almond meal, brown rice flour, baking powder, cinnamon and salt. 
In a separate bowl, mix the liquid aquafaba (no need to beat), maple syrup and vanilla. Pour the wet mixture into the dry ingredients and mix using a spatula, then with your hands, until you get a firm, semi-tacky dough. If the dough is too dry and crumbly, add a little more aquafaba, one teaspoon at the time, until you reach the right consistency.
Fold in the chocolate chunks and crushed walnuts and mix with a spatula until evenly dispersed throughout the batter. Save a few for the decoration.
Split the dough into 6 equal sized portions (for big cookies) and roll into a ball. Place the balls of dough on the prepared baking sheet, leaving about 2 inches between each. Gently press them down with the palm of your hand to flatten. Add some extra chocolate chunks and walnut on top.
Bake for 12-15 minutes or until the edges of the cookies are golden brown. Be careful not to burn. 
Remove from the oven and let the cookies cool on the baking tray for 5 minutes. Then carefully transfer onto a wire rack and let them cool down completely.
Store cooled cookies in an airtight container at room temperature for up to 4 days.
---
Notes
Aquafaba can be obtained either by cooking dry chickpeas from scratch or straight from a can of chickpeas. It doesn't need to be reduced or beaten for this recipe, simply add the liquid aquafaba to the preparation.
Aquafaba can be substituted with melted coconut oil in equal quantity.
Brown rice flour can be substituted with oat flour, all purpose flour or gluten free baking flour mix if needed. To make oat flour, mix oats into a blender until you get a very fine powder.
Keywords: Cookies, chocolate chips cookies, snack, treat, dessert, gluten-free, oil-free, aquafaba
Recette version française
Print Cookies Vegan sans gluten pépites de chocolat et noix
Author:

Prep Time:

15 minutes

Cook Time:

15 minutes

Total Time:

30 minutes

Yield:

6

gros cookies

1

x

Category:

Cookies

Method:

Four

Cuisine:

Sans gluten

Diet:

Vegan
---
Description
Ces cookies aux pépites de chocolat et aux noix sont très faciles et rapides à préparer à partir d'ingrédients simples et sains. Parfaitement moelleux à l'intérieur, croustillants à l'extérieur, et garnis de chocolat fondant et de gros morceaux de noix. Ils sont vegan, naturellement sans gluten et sans huile.
---
180 g

d'amande en poudre

180 g

de farine de riz complète

10 g

de levure chimique 

1

c. à c. de cannelle en poudre

1

pincée de sel

80 g

de sirop d'érable

70 g

d'aquafaba (eau de conservation des pois-chiches, voir notes)

1

c. à c. d'extrait de vanille 

40 g

de chocolat noir en morceaux 

40 g

de noix concassées
---
Instructions
Préchauffer le four à 180°C et chemiser une plaque de cuisson de papier sulfurisé.
Dans un grand saladier, mélanger la poudre d'amande, la farine de riz, la levure chimique, la cannelle et le sel. 
Dans un bol à part, mélanger l'aquafaba liquide (pas besoin de le battre), le sirop d'érable et la vanille. Verser la préparation dans les ingrédients secs et mélanger à l'aide d'une spatule puis directement avec les mains, jusqu'à obtenir une pâte épaisse et légèrement collante. Si la pâte est trop sèche et s'émiette, ajouter un peu d'aquafaba, une cuillère à la fois. 
Incorporer les morceaux de chocolat et les noix concassées de façon à bien les répartir dans la pâte. Garder un peu de chocolat et de noix de côté pour la décoration. 
Diviser la pâte en 6 portions de taille égale (pour de gros cookies) et former des boules en les roulant entre les mains.
Déposer les boules de pâte sur la plaque de cuisson en les espaçant de 4 centimètres. Appuyer délicatement sur les boules avec la paume de la main pour les aplatir. Décorer avec le reste de morceaux de chocolat et de noix.
Enfourner pour 12 à 15 minutes ou jusqu'à ce que les cookies soient bien dorés et gonflés. Surveiller les cookies en fin de cuisson pour ne pas qu'ils ne brulent. 
Retirer les cookies du four et laisser refroidir 5 minutes sur la plaque avant de les transférer sur une grille et de les laisser refroidir complètement.
Les cookies se conserveront jusqu'à 4 jours dans une boite hermétique à température ambiante.
---
Notes
L'aquafaba est le nom de la substance aqueuse dans laquelle ont été cuits ou conservés les pois-chiches. Vous pouvez l'obtenir en récupérant de l'eau de cuisson de vos des pois-chiches (à partir de pois-chiches secs) ou directement en ouvrant une boite de conserve de pois-chiches. 
L'aquafaba peut être remplacé par de l'huile de coco fondue en même quantité.
La farine de riz complète peut être remplacée par de la farine de blé, de la farine de flocons d'avoine ou un mélange de farine sans gluten si nécessaire. Pour réaliser sa propre farine de flocons d'avoine, mixer des flocons d'avoine jusqu'à obtenir une poudre fine.
Keywords: cookies, cookies chocolat, chocolat, biscuit, dessert, snack, sans gluten, sans huile, aquafaba