This pineapple coconut Island sheet cake is a one way ticket to the tropics. Inspired by my last trip to Bali, it is loaded with delicious tropical flavors and comes with a rich really coconut frosting and toasted coconut. This cake is perfect to enjoy with a cup of tea, for snack or a healthy dessert.
This post is sponsored by KORO, a European online shop that promotes healthy, high quality and sustainable products. For more information about the brand and its values, visit their website and enjoy 5% OFF everything using the code ALICE5.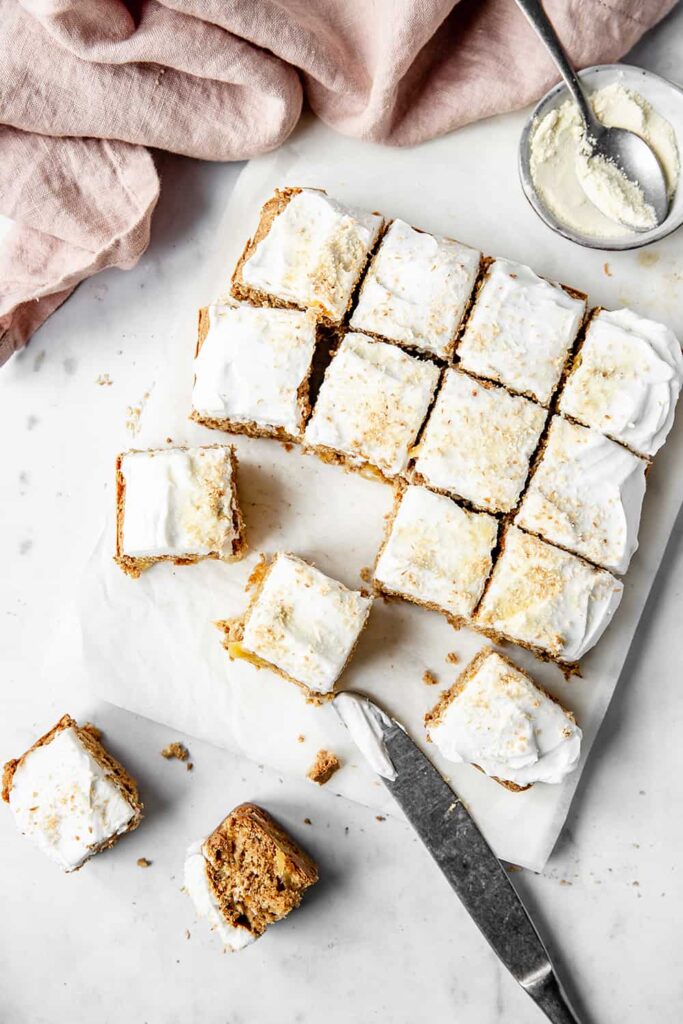 A healthy decadent cake
This pineapple coconut island sheet cake is inspired by my last trip in Bali. Bali is an amazing place for plant based food : they have delicious fresh tropical fruits and best quality coconuts. Btw if you're planning to visit Bali, don't miss my comprehensive Bali Food Guide with all my favorite adresses to eat vegan around the island, and my latest Top 5 Spots in Canggu post.
In particular, I had a delicious Aloha Cake at Shady Shake, with roasted pineapple. I really wanted to make my own version of Island Cake to share with you. I know your growing interest for healthier options, with less sugar and more nutritious ingredients. So I made this Island sheet cake as healthy as possible, but keeping it simple and not to the detriment of taste and texture.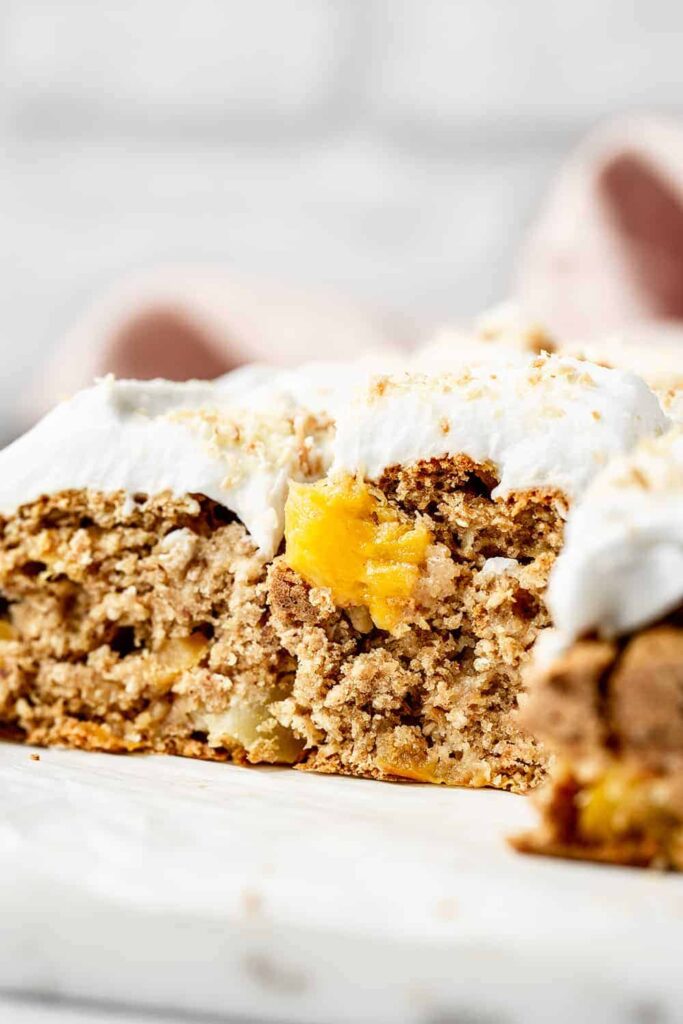 I've used white spelt flour instead of regular white flour. Spelt is an ancient whole grain. Ancient grains like spelt are claimed to be more nutritious than modern grains. They contain a huge amount of dietary fibers. Spelt is a type of wheat and so contains gluten. For a gluten-free version, you can substitute spelt flour for your favorite gluten-free flour mix.
This Island sheet cake is also very low in sugar compare to regular cakes. I've used a little coconut sugar. This sugar is derived from the coconut palm tree and is lower processed and more nutritious than processed sugar. This recipe doesn't call for a lot of added sugar as the canned pineapple and its juice already provide natural sweetness. Make sure you're using canned pineapple in natural pineapple juice rather than in syrup.
Finally, the coconut frosting is totally sugar free. I've used Erythritol which is a zero calorie sweetener. The taste is very similar to regular white sugar and it can be used in cold and hot cook preparations. Erythritol is very powerful, 70% more sweetness than white sugar, so a little goes a long way.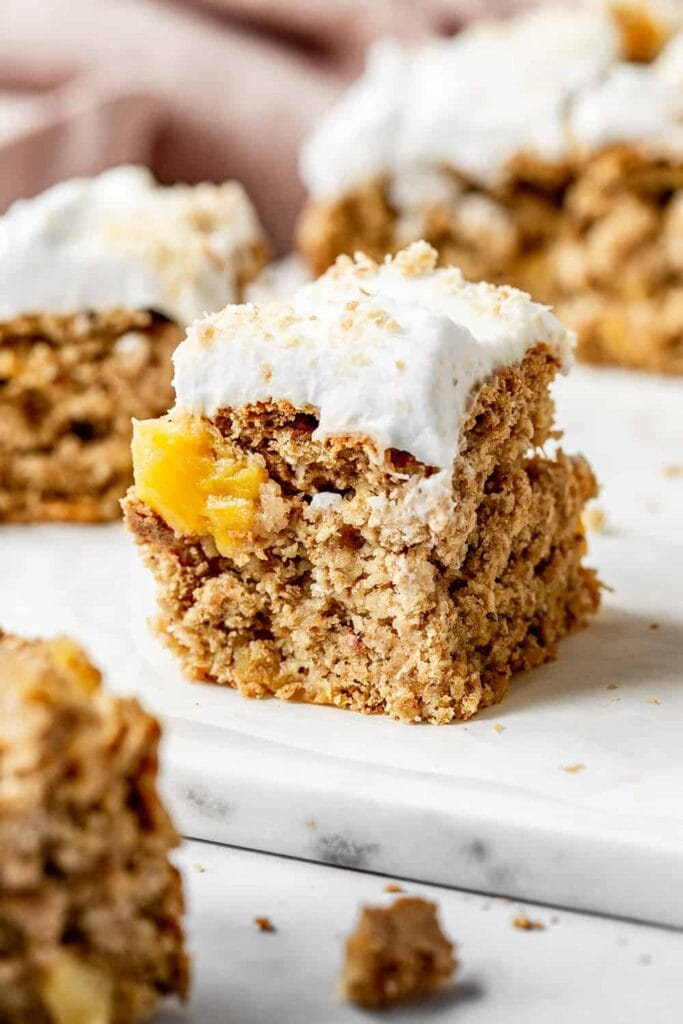 How to toast grated coconut
The first step of this pineapple coconut island sheet cake is to roast grated coconut. This process is amazing to enhance the flavors of the coconut and bring a delicious roasted smokey taste and smell.
Toasting coconut is easy and quick to do, but you have to be super careful during all the cooking time as grated coconut can burn very fast (and you don't want carbonized coconut in your cake, trust me).
Follow the following steps to perfectly toast your grated coco :
Heat a large non-sticky pan over medium – high heat, without any oil.
Once the pan is hot, add all the grated coconut and reduce heat to medium – low. Immediately start to stir using a spatula to prevent the coconut to burn and ensure an even toasting.
Adjust the heat : it should be high enough to toast the coconut, but not too fast.
Continue to cook for around 2 minutes, stirring constantly, until the grated coconut takes an even lightly brown color.
At this moment, turn off the heat, and continue to stir the coconut in the hot pan. The heat from the pan will continue and finish to roast the coconut off the heat.
Transfer to a bowl and allow to cool down.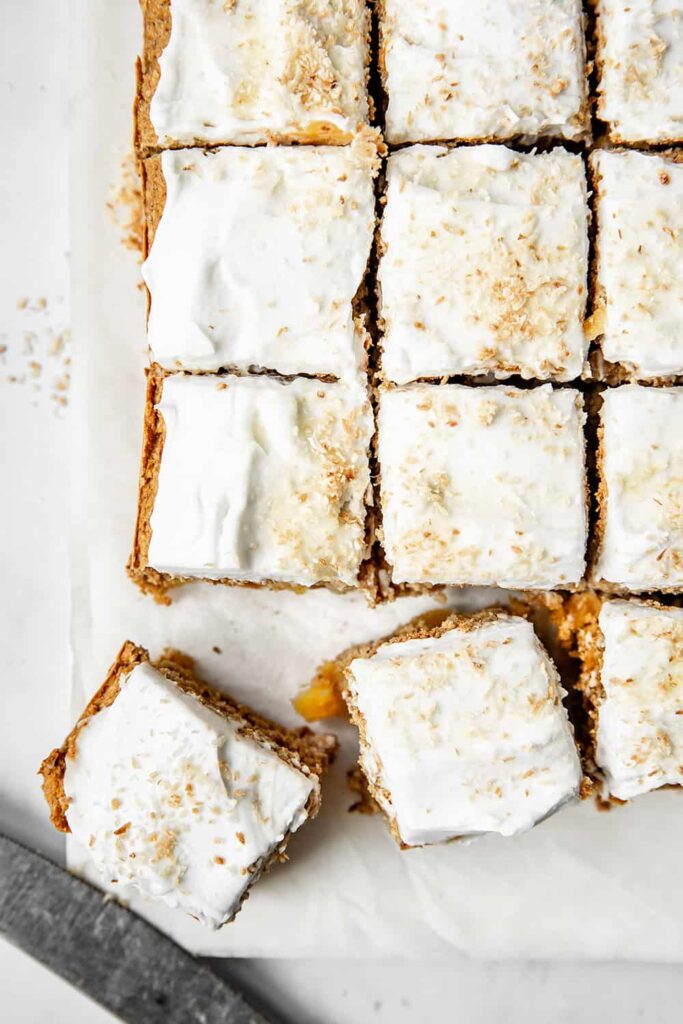 Creamy and thick 2-ingredients coconut frosting
This pineapple coconut Island sheet cake wouldn't be complete without its thick and creamy frosting. It adds a moist and rich texture, beautiful white color contrast and delicate coconut flavor.
I'm not a big fan of regular cake frostings, like buttercream ones, which are often very heavy and sweet. But this coconut cream frosting is totally different: it is light, smooth, naturally unsweetened and very easy to prepare with only 2 ingredients.
All you need to prepare this coconut frosting is a can of full fat coconut cream or coconut milk. As it is the only ingredient, the quality of this product is very important.
First, make sure you are using high quality coconut milk : full fat, with the highest percentage of coconut (at least 85%) and preferably organic. Full fat will give you a thick and creamy texture for a rich frosting that holds it shape. For an even thicker concistency, prefer coconut milk with natural thickeners like guar gum.
Then, put the whole closed can of coconut milk in fridge overnight or for at least 8 hours.
Once chilled, remove the can from the fridge. NEVER CHECK THE CAN OF COCONUT MILK AT ANY MOMENT! Carefully open the can, and using a spoon, gently scoop only the thick white layer that has formed on top. This is the coconut cream that has separated from the water staying at the bottom of the can.
Place the coconut cream in a large mixing bowl, preferably chilled in fridge beforehand.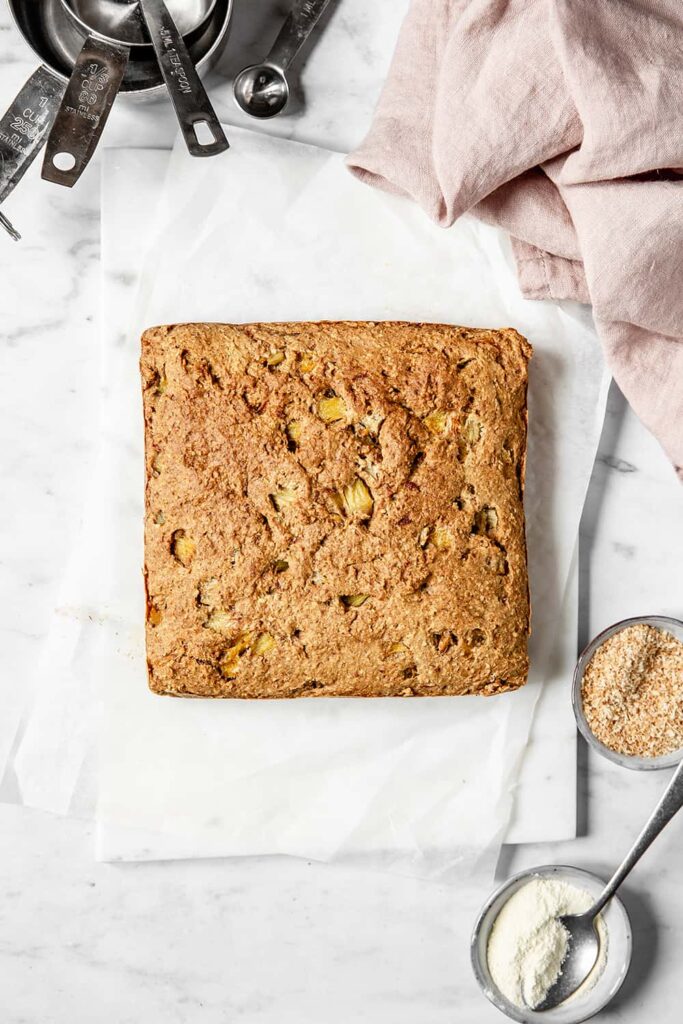 Then, you have two possibilities to prepare the frosting :
The easy one, which is possible if you have used a full fat high concentration coconut milk, resulting in a very thick coconut cream. Then you can simply add the sweetener (here I've used Erythritol but you can replace by regular white powder sugar) and whisk by hand to combine and fluff up.
Or if your coconut cream isn't thick enough to be spread on the cake and hold, or for a chantilly like texture, you can whisk the coconut cream and the sweetener with a hand mixer or food processor until fluffy.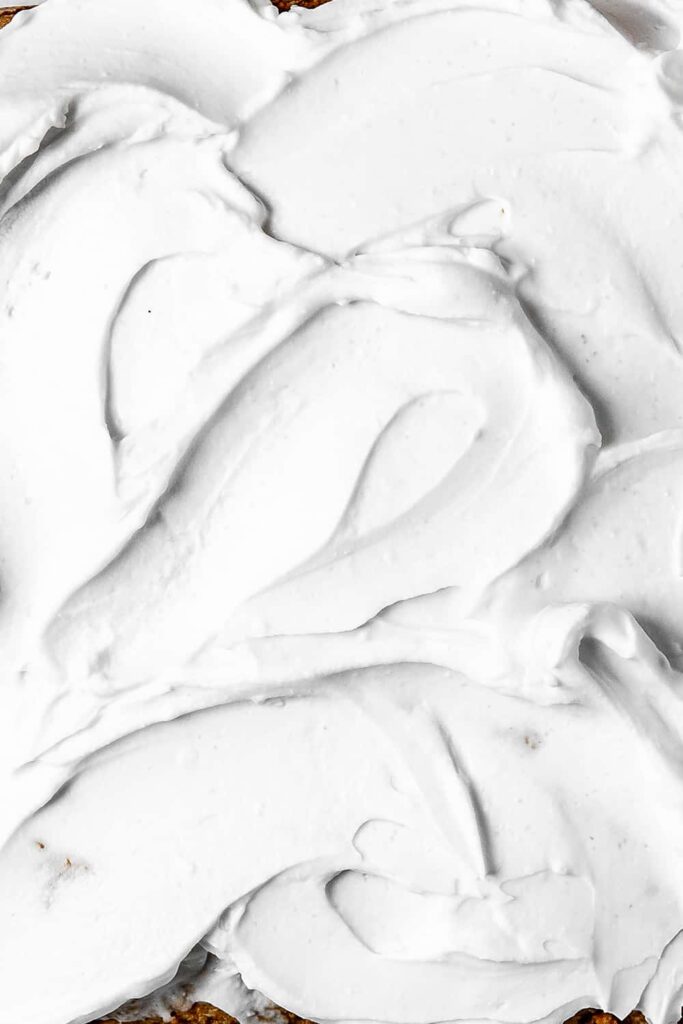 For more healthy cake recipes :
I love to see your creations! Don't forget to tag me @alicepages on your photos on Instagram and give your feedback in the comments below if you make this recipe at home! Your opinion is my best reward.
Print Pineapple Coconut Island Sheet Cake
Author:

Prep Time:

20 minutes

Cook Time:

35 minutes

Total Time:

55 minutes

Yield:

9

servings

1

x

Category:

baking sweets
---
Description
A healthy pineapple and coconut cake loaded with delicious tropical flavors. It's topped with a rich creamy coconut frosting and toasted coconut.
---
Island Cake
1 cup

KORO grated coconut

2 tbsp

ground flax seeds

1 1/2 cup

white spelt flour (or regular white flour)

1/4 cup

coconut sugar

2 tsp

baking powder

1/2 tsp

baking soda

1 tsp

ground ginger
a pinch of salt

1/4 cup

pineapple juice reserved from the can

1/4 cup

melted coconut oil

2 tsp

vanilla extract

1 cup

crushed pineapple from can
Coconut cream frosting
1 cup

of coconut cream, from full fat coconut can stored in fridge overnight

1 tbsp

KORO erythritol (or other sweetener of your choice) 
Toppings
---
Instructions
Island cake
Start by toasting the coconut. Heat a large pan over medium – high heat. When the pan is hot, add the grated coconut. Reduce to medium heat and toast for about 2 minutes, stirring constantly with a spatula to avoid to burn and allow an even toasting. The coconut are ready when beautifully golden and fragrant. Remove from heat and set aside.
Preheat the oven to 350 degrees F and line a 8×8 inch baking pan with parchment paper.
Mix the ground flax seeds with 3 tablespoons of water. Stir and set aside for 5 minutes to thicken.
In a large bowl, combine the flour, toasted coconut, coconut sugar, baking powder, baking soda, ginger and salt. Keep 2 tablespoons of toasted coconut for topping.
In a separate bowl, mix the pineapple juice with coconut oil and vanilla. Add the thickened flax mixture.
Pour the wet preparation into the dry ingredients and mix until combined. Add the crushed pineapple and roughly mix to incorporate.
Poor the batter into the prepared pan and smooth the surface. Bake for 30-35 minutes until a toothpick comes out clean and the cake is dry and brown on top.
Remove from oven and allow to completely cool down.
Coconut cream frosting
Open the can of coconut that has chilled in fridge overnight and scoop out the thick layer of cream that has formed on top. Place in a mixing bowl and add the erythritol or sweetener of your choice.
Whisk by hand to combine and fluff up the cream.
Assembly
When the cake has cool down, remove from the pan and place in a serving plate.
Plop all of the coconut frosting into the center of the cake and use a spatula to spread it even, making swooping motions.
Sprinkle with toasted coconut and freeze-dried pineapple powder.
Cut in squares and serve immediately or store in fridge in an airtight container.
---
Notes
You can use fresh pineapple instead of canned. Make sure the pineapple is well ripe and crush into small bites before folding into the batter.
If using canned pineapple, prefer pineapple in natural juice rather than syrup.
Keywords: cake, sheet cake, island cake, pineapple, coconut,
Recette version française
Print Gâteau à l'ananas et noix de coco
Author:

Prep Time:

20 minutes

Cook Time:

35 minutes

Total Time:

55 minutes

Yield:

9

parts

1

x

Category:

gâteaux
---
Description
Ce délicieux gâteau à l'ananas et à la noix de coco vous fera voyager sous les tropiques. Il est surmonté d'un glaçage onctueux à la crème de coco et de noix de coco toastée.
---
Gâteau
80 g

de noix de coco râpée KORO

15 g

de graines de lin moulues

150 g

de farine d'épeautre (ou farine blanche)

30 g

de sucre de coco

2

c.à c. de levure chimique

1

c. à c. de bicarbonate de soude

1

 c. à c. de gingembre en poudre
une pincée de sel

60

ml de jus d'ananas, récupéré de la conserve

30 g

d'huile de coco fondue

2

c. à c. d'extrait de vanille liquide

180 g

d'ananas concassé en conserve 
Glaçage à la coco
200 g

de crème de coco épaisse, récupérée d'une boite de lait de coco entier placé au réfrigérateur une nuit

1

c. à s. d'erythritol KORO (ou autre sucrant de votre choix)
Garniture
---
Instructions
Gâteau
Faire chauffer une grande poêlée à feu vif. Une fois chaude, ajouter la noix de coco râpée. Réduire à feu moyen et faire toaster pendant 2 minutes en remuant constamment à l'aide d'une spatule pour éviter qu'elle ne brule et assurer une coloration uniforme. La noix de coco est bien toastée lorsqu'elle devient légèrement brune et libère un délicieux parfum. Retirer du feu et réserver.
Préchauffer le four à 180°C et chemiser un plat carré de 15 cm de côté avec du papier cuisson.
Mélanger les graines de lin moulues avec 3 cuillères à soupe d'eau. Remuer et laisser reposer pendant 5 minutes afin que le mélange épaississe.
Dans un grand saladier, mélanger la farine, la noix de coco toastée, le sucre de coco, la levure chimique, le bicarbonate de soude et le sel. Réserver une cuillère à soupe de noix de coco toastée pour la décoration.
Dans un bol à part, mélanger le jus d'ananas avec l'huile de coco fondue et la vanille. Ajouter le mélange de graines de lin épaissi.
Verser la préparation liquide dans le bol d'ingrédients secs et mélanger jusqu'à obtenir une pâte homogène. Incorporer l'ananas concassé et mélanger.
Verser l'appareil à gâteau dans le moule et lisser la surface. Enfourner pour 30-35 minutes jusqu'à ce que le gâteau soit doré et paraisse sec en surface. Vérifier la cuisson en insérant la pointe d'un couteau : si elle ressort sèche, le gâteau est cuit.
Sortir du four et laisser refroidir complètement.
Glaçage à la coco
Ouvrir la boite de lait de coco préalablement placée au réfrigérateur pendant toute une nuit, et récupérer uniquement la couche de crème épaisse qui s'est formée en haut. La placer dans un bol et ajouter l'erythritol ou le sucrant de votre choix.
Fouetter rapidement à la main pour mélanger et aérer la crème.
Assemblage
Une fois le gâteau refroidi, le retirer du moule et le placer dans un plat à service.
Verser le glaçage coco au centre du gâteau et l'étaler à l'aide d'une spatule en formant de grands mouvements souples.
Saupoudrer d'un peux de noix de coco toastée et de poudre d'ananas lyophilisé.
Découper en 9 parts carrées égales et servir immédiatement ou réserver au réfrigérateur.
---
Notes
Vous pouvez parfaitement utiliser de l'ananas frais pour cette recette. Assurez-vous qu'il soit bien mûr et concassé avant de l'incorporer dans la pâte à gâteau.
Si vous utilisez de l'ananas en conserve, préférez de l'ananas dans son jus naturel plutôt que de l'ananas en sirop, beaucoup plus sucré.
Keywords: gâteau, ananas, noix de coco, tropical