Inspired from the traditional cake, these Black Forest Brownies are perfectly fudgy and chewy, with chunks of cherries and chocolate chips studded throughout a brownie dough, and a layer of cashew cream. Delicious and indulgent, they also happen to be vegan, gluten, oil and added sugar free, for the ultimate healthy but decadent dessert.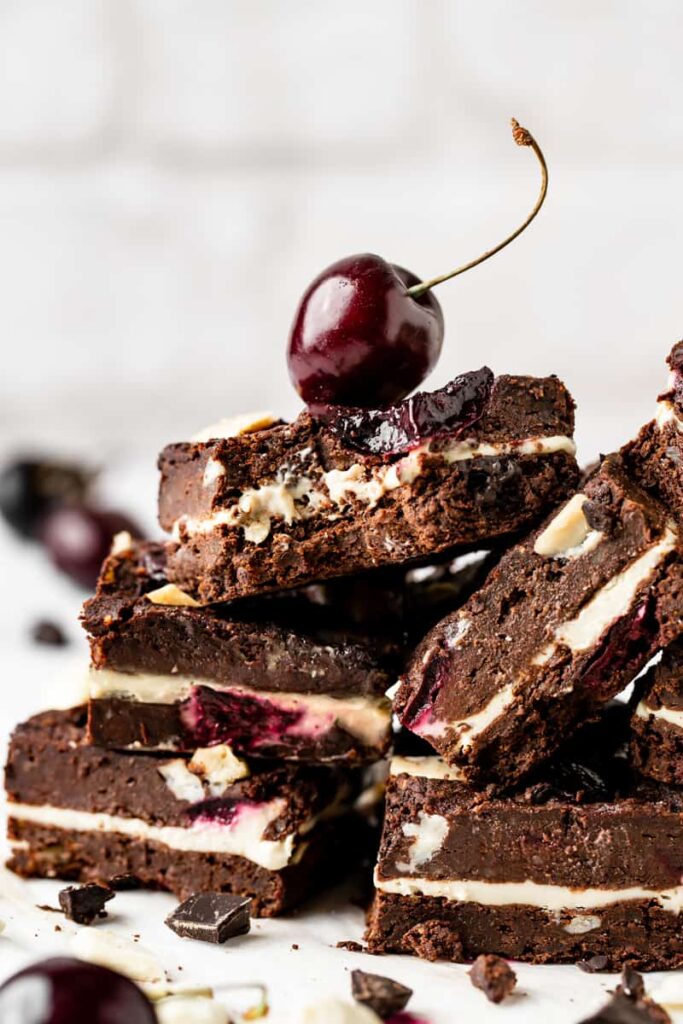 The secret of healthy and delicious Vegan Black Forest Brownies
What is Black Forest ?
Black Forest cake is a chocolate sponge cake with a rich cherry and cream filling, inspired by a traditional German dessert, the "Black Forest Cherry-torte". There are different school of thoughts for the name, some they it's derived from the tart cherries liquor, a speciality of the region of the Black Forest mountain in southwestern Germany.
Typically, Black Forest cake consists of several layers of chocolate sponge cake sandwiched with whipped cream and cherries. It is decorated with additional whipped cream, cherries in liquor, and chocolate shavings. So no need to specify this is NOT the kind of light dessert you want to eat after a diner.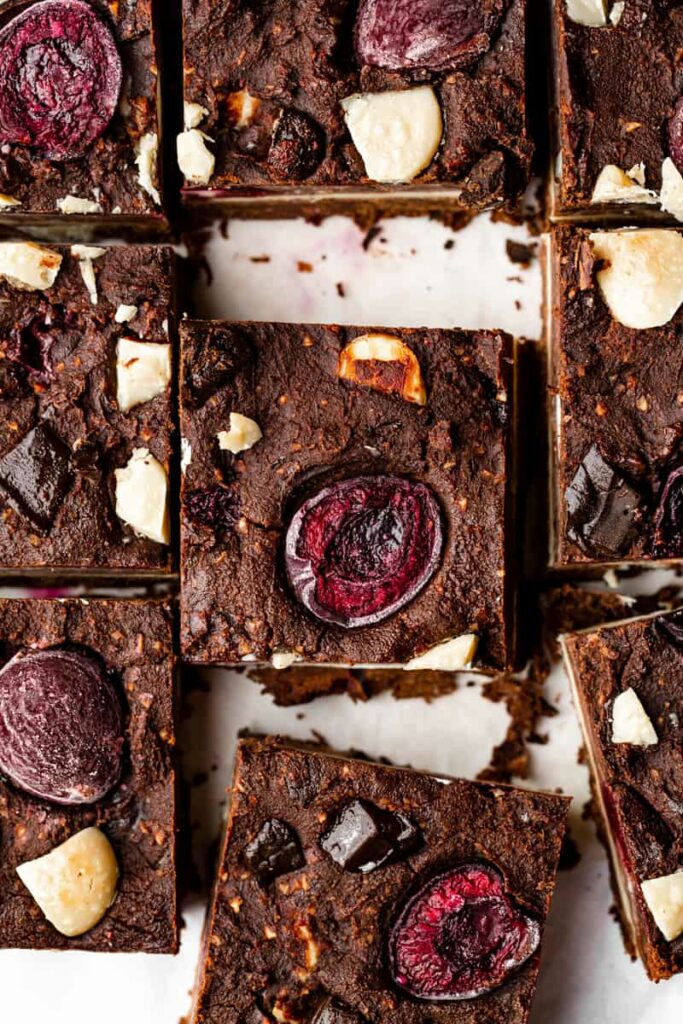 The secret ingredient in Black Forest Brownies
These Black Forest Brownies are the result of two ideas. The first one was to create a recipe that pairs chocolate and cherries because these flavors combine wonderfully. Then, I recently tried a black bean and hazelnut cake and I though the combination of these two ingredients works perfectly. So here it is, the Black Forest Brownie!
Using black beans in a chocolate brownie is not a revolution. It's actually something very common, especially in plant-based, health and fitness oriented food. Beside one of my first recipe was these Peanut Butter Brownies made with black beans! Black beans reduced in a purée add an interesting smooth, creamy and wet texture to cakes preparations. It easily replaces a part of the oil and liquid. Also, beans have a tons of health benefits. They are rich in antioxydants, fibers and proteins, and a low glycemic index.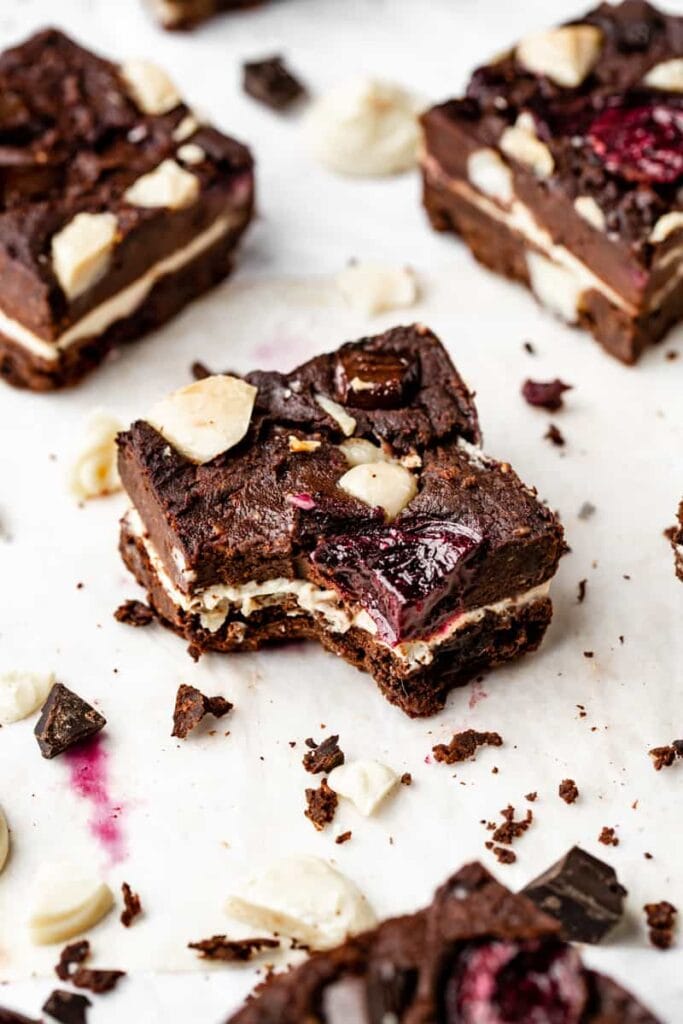 Gluten, oil and sugar free Brownies
These Black Forest Brownies are a delicious version of their German Cake counterpart, but vegan and much much much healthier. The idea was to create a dessert that is rich, scrumptious, satisfying, but still light and healthy so you want to enjoy it after diner – and even take a second serving!
This recipe happens to be vegan, naturally gluten free, oil free and added sugar free! All that not at the expense of taste and enjoyment, which are always my first priorities!
Blanched flour used in traditional brownies is replaced by oat flour and hazelnut meal for a delicious nutty flavor and a very chewy texture. Puréed black beans act as a binder and hazelnut butter naturally contains healthy fats. Dates reduced in a paste and added to the preparation bring the right quantity of natural sweetness and a pleasant caramel flavor.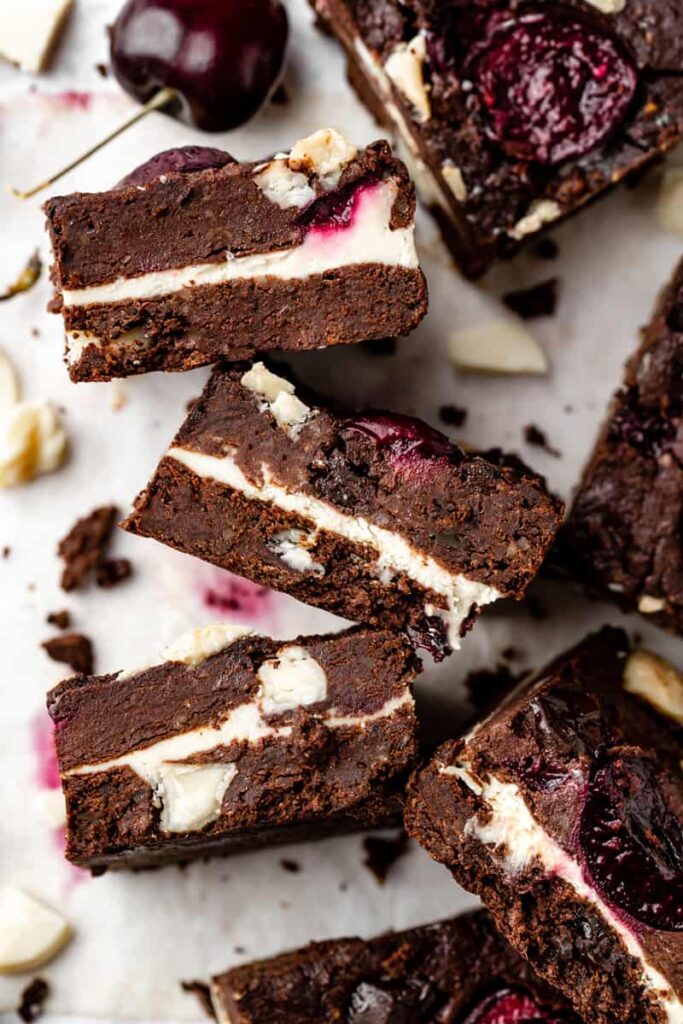 Tips for making Black Forest brownies
I recommend to use Medjool dates to make the brownies. This variety is naturally very soft, juicy and sweet, with a delicious caramel flavor. Whatever variety of date you use, soak them in hot water for about 10 minutes to soften before using. This will make them easier to mix and reach a smooth texture of the dough.
You can use a blender or a food processor to make the brownie dough. If you have a high speed blender, I recommend to use it to get a very smooth and homogeneous texture of the dough. It can take a little time to get the right consistency depending of the power of your blender. If you don't, you can absolutely use a food processor as well, it will just take a little more time.
If necessary, and as many time as you need during the process, stop the blender and scratch the walls of the bowl with a spatula to push the mixture down the blades.
For soft and chewy brownies, use finely ground oat flour. If necessary, grind the oats or oat flour in a high speed blender until you get a fine powder.
Don't over mix the brownie dough once you've added the cherries to avoid to break them and keep big chunks. If using frozen cherries or if they're very juicy, coat them in starch before adding to the dough.
Use a 8×8 inch baking pan, or something with a roughly equivalent surface. If you use a smaller or larger pan, make sur to adjust the quantities accordingly. Else, your brownies will be too thick or too thin.
For a super soft cream, soak the cashews in boiled water for at least 20 minutes(or more if you can) to soften. Preferably use a high speed blender to mix the cream.
Make sure the brownies have completely cooled before spreading the cream and assembling. If the cream is too soft and runny, chill in the fridge for about 30 minutes to firm before using.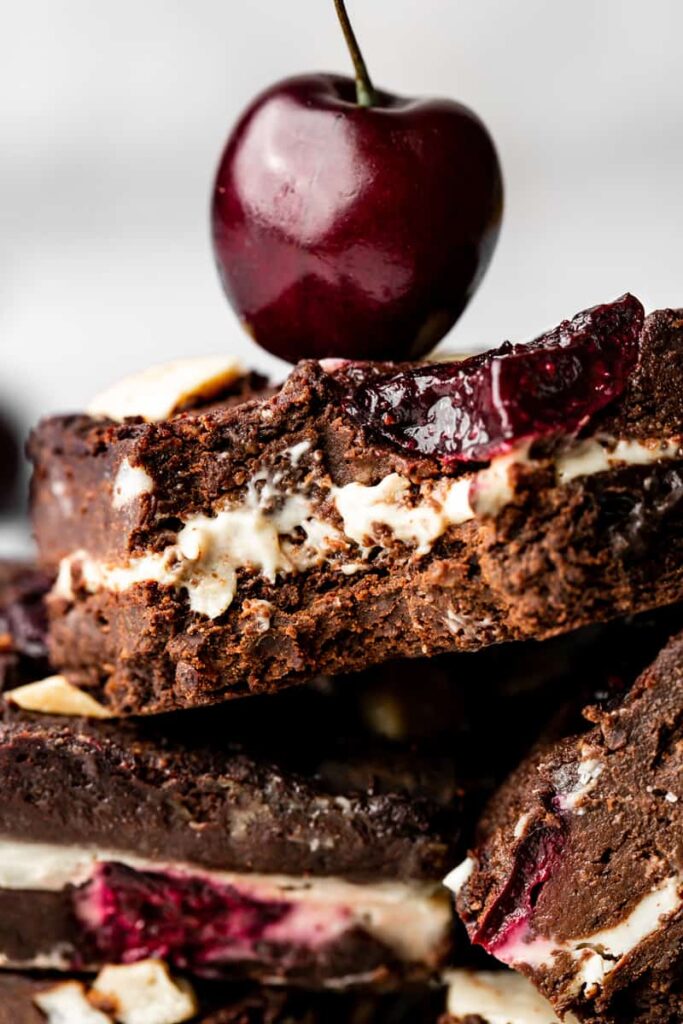 Ingredients substitutions
This Black Forest Brownies recipe only requires simple and natural ingredients you can easily find in any supermarket or at the health store. Here are a few substitutions or variations you can make to the recipe. I didn't try these variations thus can't complete ensure the result. So always be aware and critical when making changes, and don't hesitate to make little adjustments in quantities to get the right consistencies.
Dates – I recommend to use soft and juicy medjool dates, but any other variety works too.
Hazelnut butter – You can replace hazelnut butter with any other nut butter, like almond, cashew, peanut or even tahini that pairs well with the chocolate flavor. But hazelnut is the best flavor association in this recipe.
Oat flour – Make your own oat flour at home by grinding whole oats in a high speed blender until you get a fine powder.
Hazelnut meal – You can buy hazelnut meal or make your own by blending hazelnuts in a blender of food processor until you get fine grains. For even more flavors, roast the hazelnuts in pan or oven before grinding.
Cocoa powder – Use either unsweetened Dutch cocoa powder or raw cocoa powder.
Cherries – Both fresh and frozen cherries work in this recipe. If using frozen cherries, coat them in starch before adding to the dough.
Chocolate chips – You can use either chocolate chips or chocolate chunks. I personally prefer large chunks.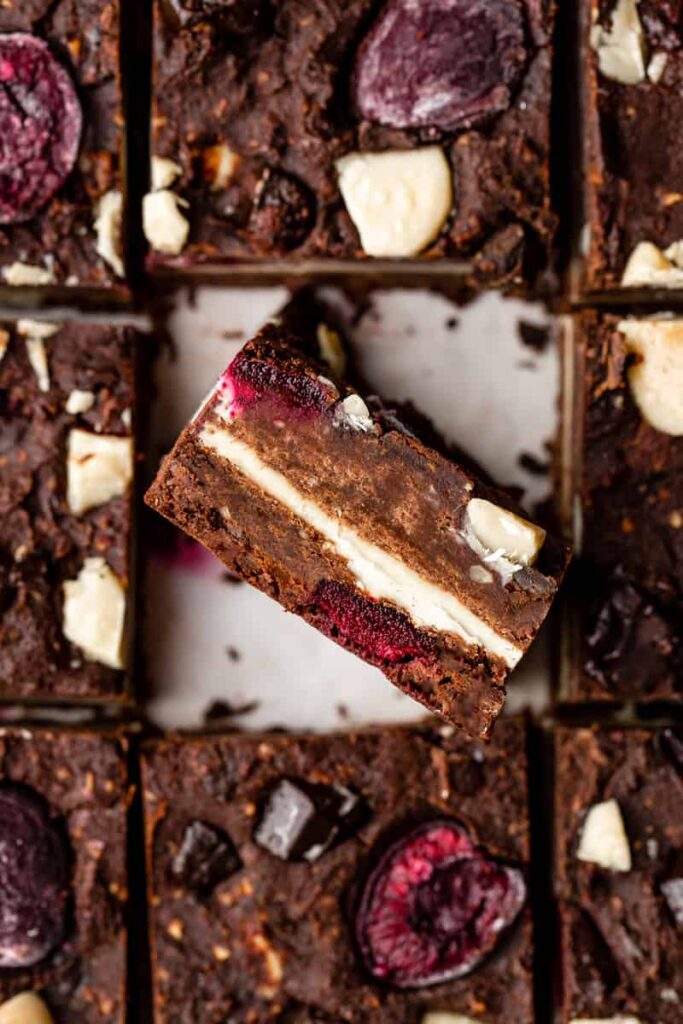 Express version of Black Forest Brownies recipe
The original idea of this recipe was a black bean and cherry brownie. So first time I tested it, I made a simple black bean brownie with cherries and chocolate chunks. The result turned out to be exactly what I was looking for: soft, chewy and rich brownie, made with only wholesome and healthy ingredients. But thinking twice, there was something missing to make it even more decadent, and properly call it "Black Forest" brownies … CREAM! So I kept the brownie recipe, made two sheets, and add a layer of smooth cashew cream between them. And that was it! The layer of cream adds the perfect touch of sweetness, creaminess and richness to balance the chocolate brownie.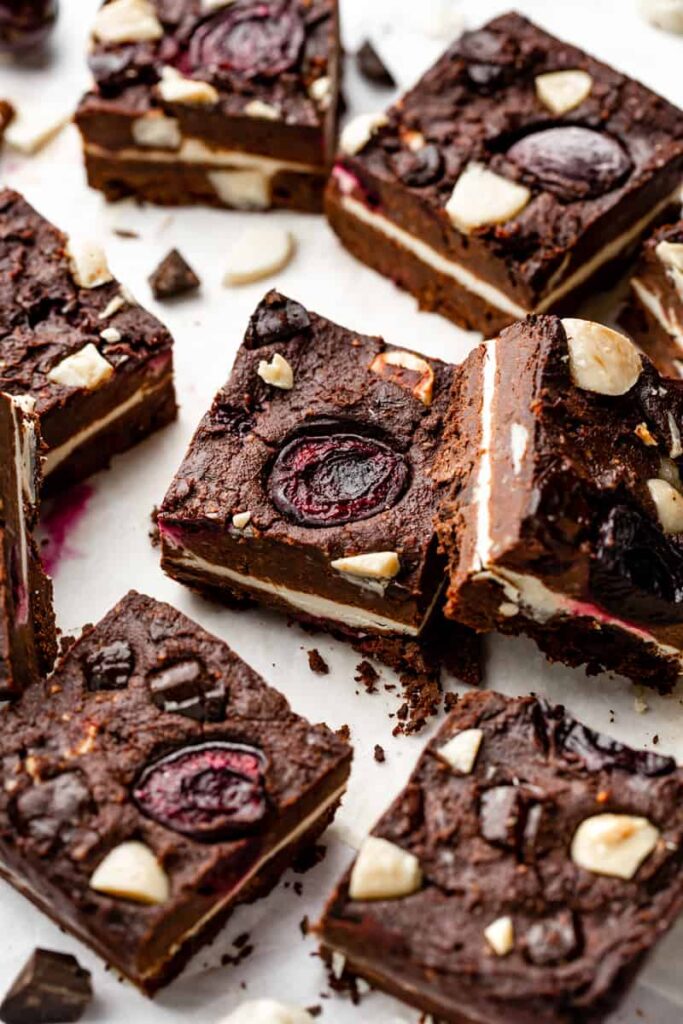 While this recipe is very simple, it can take a little time because the brownies need to completely cool and the cream to chill in fridge before assembling. If you have the time, I really recommend to follow the recipe, respect the chilling time – it's very important, and make the cream.
However, if you're in a rush and just want a brownie, which also happens to be easier to store and carry, you can make only the brownie. Simply reduce the quantities by a third for a 8×8 inch pan, or use a slightly larger pan. Then follow the recipe steps from 1 to 8.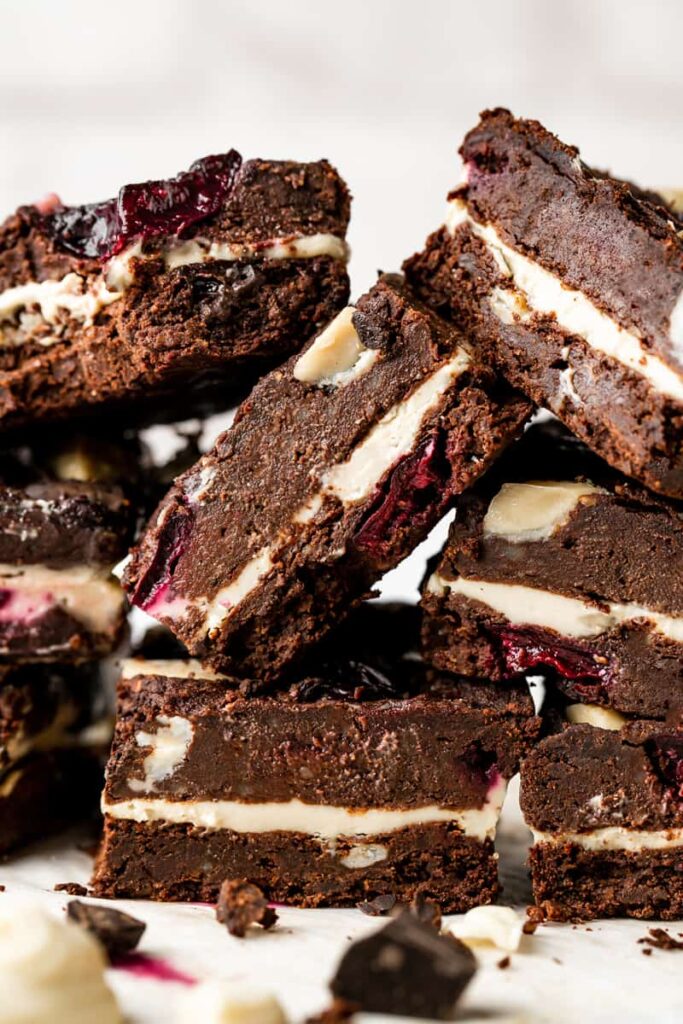 Chocolate lovers, you might also want to check these delicious recipes!
I love to see your creations! Don't forget to tag me @alicepages on your photos on Instagram and give your feedback in the comments below if you make this recipe at home! Your opinion is my best reward.
Print Black forest brownies
Author:

Prep Time:

30 minutes

Cooling Time:

30 minutes

Cook Time:

18 minutes

Total Time:

1 hour 18 minutes

Yield:

9

bars

1

x

Category:

Desserts

Method:

traditional oven

Cuisine:

American

Diet:

Vegan
---
Description
These Black Forest Brownies are the perfect healthy but decadent dessert. Intensely fudgy and rich in chocolate flavors, with chunks of fresh cherries and a layer of cashew cream. So rich and delicious you can't say they're vegan, gluten, oil and added sugar free!
---
Brownies
150 g

 black beans, canned and rinsed

120 g

dates (about

6

dates st

one

removed)

50 g

hazelnut butter

70

ml of water

2 tsp

vanilla extract

20 g

oat flour

30 g

hazelnut meal

50 g

cocoa powder unsweetened

3/4 tsp

baking soda

1/4 tsp

salt

120 g

fresh or frozen cherries

40 g

white chocolate chips

40 g

dark chocolate chips
Cream layer
110 g

cashews

60

ml coconut cream

2 tbsp

maple syrup

1 tbsp

melted coconut oil

1 tsp

lemon juice
---
Instructions
Preheat the oven to 350 degrees F (180°C) and line

two

8×8 inch baking pan with parchment paper.
Soak the dates in hot water for 10 minutes, or until they are very soft. Rinse and drain the beans.
Place the beans, soaked pitted dates, hazelnut butter, water and vanilla in a blender or a food processor, and mix until a thick paste forms. If necessary, and as many time as needed, stop the blender and scratch the walls of the bowl with a spatula to push the mixture down the blades. 
Add the oat flour, hazelnut meal, cocoa powder, baking soda and salt to a large mixing bowl.
Pour the wet bean mixture to the dry ingredients and mix with a spatula until you get a thick, smooth and slightly sticky dough. 
Halve and pit the cherries. Add half of the cherries, white chocolate chips and dark chocolate chips to the preparation and gently mix to roughly combine. Don't overmix to avoid to break the cherries.
Distribute the brownie dough equally in the two baking pan, spread into an even layer and smooth the surface. Add the remaining cherries and chocolate chips on top and gently press to incorporate.
Bake for 18 minutes, until the top of the brownie is just dry to touch. Remove from the oven and allow to cool at room temperature for a few minutes. Then remove the brownies from the pans and transfer on a cooling rack to completely cool them down.
Meanwhile, prepare the cream. Soak the cashews in boiled water for 20 minutes to soften them. Rinse and drain. Place the cashews, coconut cream, maple, melted coconut oil and lemon juice to a high speed blender and mix until you reach a perfectly smooth consistency. Transfer the cream to a container and place in fridge to firm while the brownies are cooling.
Once the brownies have cooled, spread the cream on one brownie, then place the second one on top. Optional: If the cream is too soft and the brownies don't hold, place in fridge for 30 minutes to firm.
Cut the brownie into square before to enjoy. Store leftovers in an airtight container in the fridge for up to 2 days.
---
Notes
See post for an option without the cream layer.
Alternatively you can soak the cashews in water at room temperature for 4 hours.
Leftover brownies can be stored in an airtight container in the fridge for up to 2 days, but they are better enjoyed the same day.
Keywords: Black Forest brownies, brownies, chocolate brownies, chocolate, desserts, gluten free
Recette version française
Print Brownies forêt noire
Author:

Prep Time:

30 minutes

Cooling Time:

30 minutes

Cook Time:

18 minutes

Total Time:

1 hour 18 minutes

Yield:

9

parts

1

x

Category:

Desserts

Method:

Four

Cuisine:

Américaine

Diet:

Vegan
---
Description
Ces brownies façon Forêt Noire sont une revisite beaucoup plus légère mais tout aussi gourmande du traditionnel dessert Allemand. Ils sont ultra fondants, riches en chocolat, avec de gros morceaux de cerise et une crème onctueuse. Naturellement vegan, sans gluten, sans huile et sans sucre ajouté!
---
Brownies
150 g

de haricots rouges cuits et égouttés

120 g

de dattes dénoyautées (environ

6

grosses dattes)

50 g

de purée de noisette

70

ml d'eau

1

cuillère à c. de vanille

20 g

de farine de flocons d'avoine

30 g

de poudre de noisettes

50 g

de poudre de cacao

1

 cuillère à c. de levure chimique

1

pincée de sel

120 g

de cerises

40 g

de pépites de chocolat noir

40 g

de pépites de chocolat blanc
Crème
110 g

de noix de cajou

60

ml de crème de coco

20 g

de sirop d'érable

15 g

d'huile de coco fondue

1

cuillère à c. de jus de citron
---
Instructions
Préchauffer le four à 180°C et chemiser

deux

plats d'environ 20 cm de côté avec du papier cuisson.
Faire tremper les dattes dans de l'eau chaude pendant 10 minutes jusqu'à ce qu'elles soient fondantes. Egoutter et rincer soigneusement les haricots rouges cuits.
Placer les haricots, les dattes dénoyautées, la purée de noisette, l'eau et la vanille dans un blender ou un robot mixeur. Mixer jusqu'à obtenir une pâte dense homogène. Si besoin, et autant de fois que nécessaire, éteignez le mixeur et grattez les bords du bol avec une spatule pour ramener le mélange vers les lames et faciliter le mixage.
Mélanger la farine, la poudre de noisette, la poudre de cacao, la levure chimique et sel dans un saladier. 
Verser la préparation aux haricots dans les ingrédients et mélanger jusqu'à obtenir une pâte lisse, homogène, légèrement collante.
Couper les cerises en deux et retirer le noyau. Ajouter la moitié des cerises et des pépites de chocolat dans la pâte, et mélanger délicatement pour les intégrer grossièrement sans trop écraser les cerises.
Répartir la pâte dans les deux plats et étaler en une couche bien régulière. Ajouter le restant de cerises et de pépites de chocolat au dessus et appuyer délicatement pour les faire adhérer à la pâte.
Enfourner pendant 18 minutes, jusqu'à ce que les brownies soient secs au toucher. Retirer du four et laisser refroidir quelques minutes. Puis retirer délicatement les brownies des plats et les placer sur une grille afin qu'ils refroidissent complètement.
Pendant ce temps, préparer la crème. Faire tremper les noix de cajou dans de l'eau très chaude pendant 20 minutes afin de les attendrir. Rincer, égoutter les noix de cajou et les placer dans un blender avec la crème de coco, le sirop d'érable, l'huile de coco fondue et le jus de citron. Mixer jusqu'à obtenir une crème lisse et onctueuse. Placer la crème dans un récipient au réfrigérateur pour qu'elle se raffermisse le temps que les brownies refroidissent.
Quand les brownies ont bien refroidi, étaler la crème sur un des brownie puis déposer le second au dessus. Optionnel: si la crème n'est pas assez ferme et coule, placer l'ensemble au frais pendant environ 30 minutes.
Couper le brownie en parts et déguster. Conserver les brownies au réfrigérateur dans un récipient hermétique pendant 2 jours.
---
Notes
Rendez-vous dans le corps de l'article pour une option rapide sans crème.
Vous pouvez au choix faire tremper les noix de cajou dans de l'eau à température ambiante pendant 4 heures.
Les brownies se conserveront au frais pendant 2 jours mais ils sont meilleurs dégustés le jour même/
Keywords: Brownies forêt noire, brownies, chocolat, brownies au chocolat, dessert, sans gluten