This nutty date and orange crunchy granola is like nothing you have tasted before! Flavored with subtle aromas of roasted hazelnut and orange, packed with fibers and naturally sweetened by dates, it is perfect for a healthy and nourishing breakfast. Try to sprinkle on top of your bowls, pancakes, or even savory toasts, soups and salad for an extra crispiness.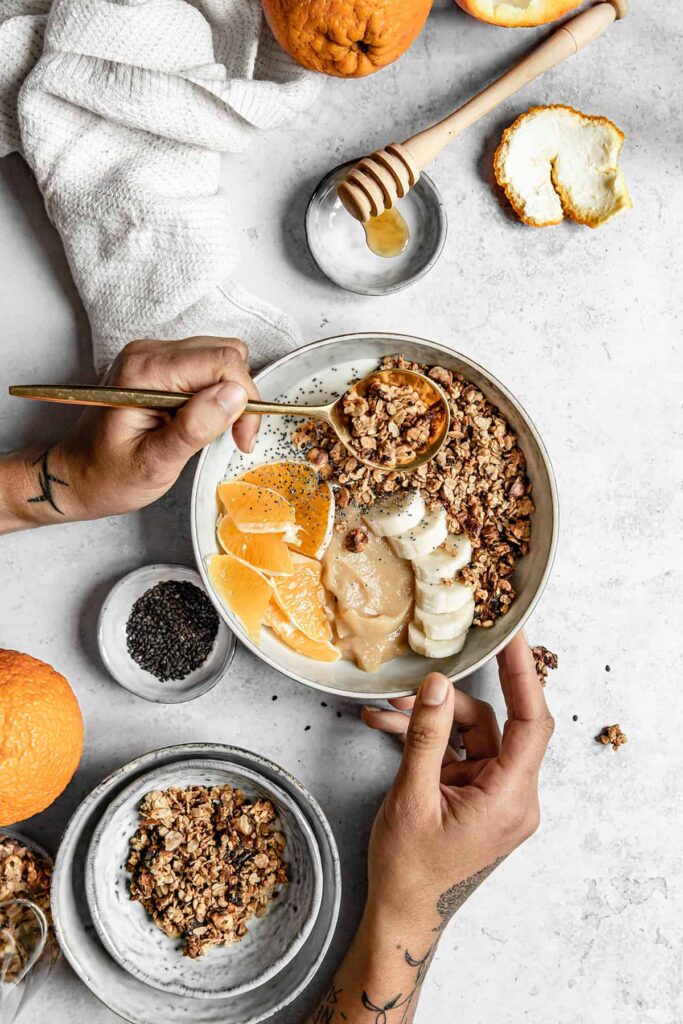 What's inside this tasty crunchy granola
Sometimes the simple things are the best and granola is not an exception. This nutty date and orange crunchy granola is very easy to prepare and is ready in less than 30 minutes. All you need is a few simple ingredients you probably already have in your kitchen and no specific equipment.
But while this recipe is simple, I recommend to use the best quality ingredients to make the most of the flavors and texture.
Oats are the base of most granola recipes. Oats bring texture and all the fibers that help to keep full and to regulate blood sugar level. You can use either big or small rolled oats for this recipe while I personally prefer small ones -or a mix. If you're gluten intolerant, make sure to use GF certified oats. While oats are naturally gluten free, they can be contaminated during the process and storage.
Rice flakes are used in this recipe in addition of oats. They are more crunchy than oats and add a nice texture to the granola. If you can't find rice flakes, simply add more oats or any other flakes of your choice (quinoa, spelt, bean …)
Apple sauce is perfect to bind everything together and add natural sweetness. Make sure to use unsweetened apple sauce, without additive or preservatives. You can also make your own apple sauce, it's easy and delicious!
Roasted hazelnuts give that delicious overall flavor to the granola. Always roast your hazelnuts before adding to your preparations to enhance their flavor and make them crunchy. You can easily roast hazelnuts in oven or in a dry pan.
Orange zest brings that special touch of freshness. Adding citrus zests to your preparations, sweet or savory, is a nice way to make the flavors pop. Make sure to use organic orange!
Dates pitted and roughly chopped add natural sweetness and chewiness to the granola. You can use any variety of date while the medjool still remains my favorite -so soft and sweet!
Salt is a very important ingredient in granola recipes. Always add a pinch of sea salt to enhance and balance the flavors. You can even add sea salt flakes in chocolatey granolas, so good.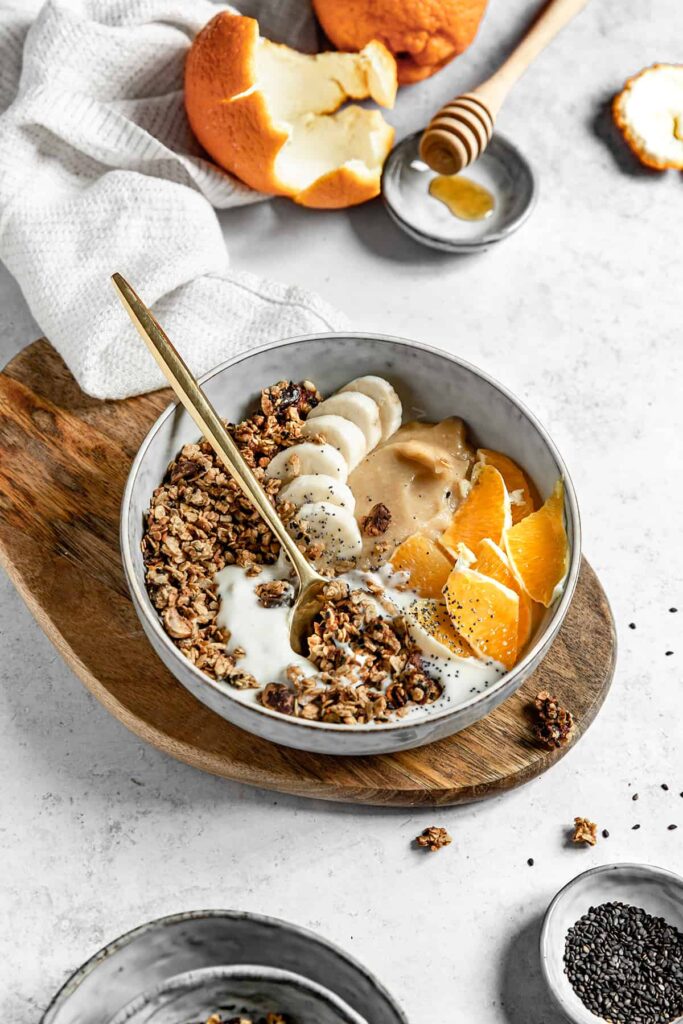 How to keep your granola crunchy
The good thing with granola is that you can bake a big batch and have a delicious breakfast ready to be consumed.
When stored properly, the granola stays very crunchy, tasty and can be kept for up to a month – while personally I've never been able to keep a jar of granola in my kitchen more than 3 days.
Here are some tips for storing your granola and keep it crunchy.
Make sure your granola has completely cooled down before storing! Please, this is SO important. Because of the apple sauce and maple syrup, this granola contains moisture that is released during the baking. As it cools down, the moisture evaporates and the granola becomes dry and crunchy.
Storing granola is similar to storing oats or other cereals. Place the granola in an airtight container like a big glass jar. Make sure the container is perfectly sealed. That's especially important avoid moisture to enter and keep the granola crunchy.
The best place to store granola is simply in your pantry kitchen. Make sure the area is dry and away from sources of heat. Fridge is not the best option as it is very moist and full of other food odors. Moisture is the worst enemy of granola.
Last but not least, you can freeze granola to keep it fresh for longer. Store your granola to either an airtight container or a freezer bag sealed tightly and place in the freezer.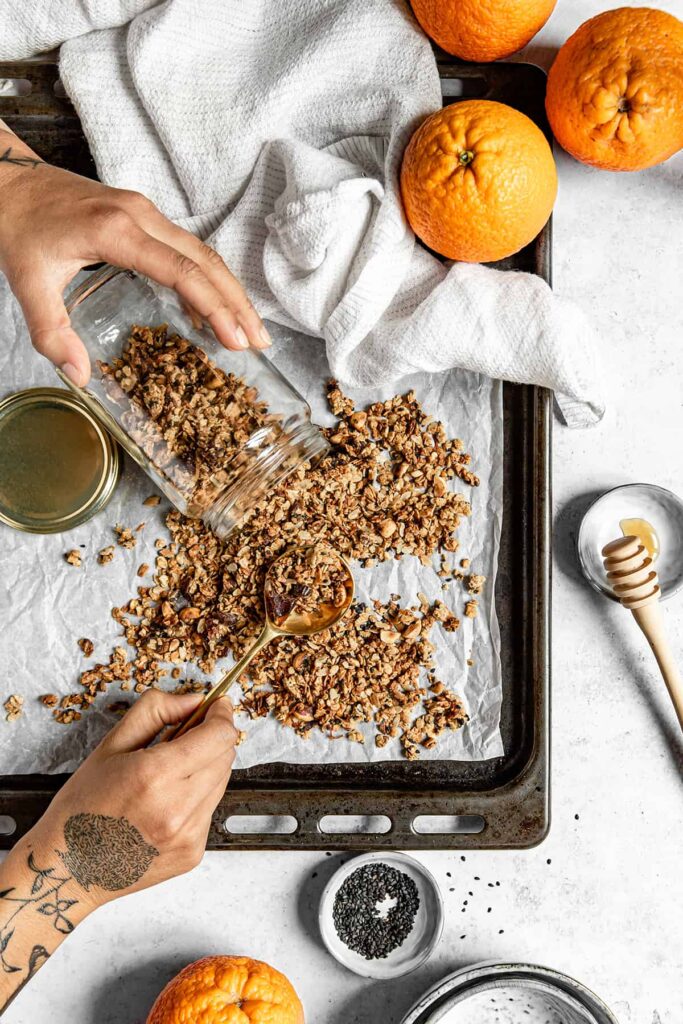 How to consume this crunchy granola
This is a good question. As a serious granola addict, I could honestly eat granola all day and every day. While granola is usually associated to breakfast, there are many other creative ways to use it in various preparations for all the occasions.
Breakfast is obviously the number one and most common moment of the day to consume granola. Because this granola is nutty date and orange crunchy granola is packed with fibers and low in sugar, it keeps you full and provides all the energy you need to survive a busy morning. For breakfast, during summer, I love to sprinkle granola on top of my smoothie bowls to add crunchiness and flavors. During winter, try to add a little granola on your oatmeal.
Granola is also perfect as a healthy snack or dessert. You can prepare a little bowl with plain plant-based yogurt, fresh berries, a sprinkle of cinnamon and a handful of granola. Add a spoon of peanut butter for extra healthy fats -and because it's so good.
Try also to sprinkle your granola over a plate of fresh fruits with a spoon of coconut yogurt, or on top of all your toasts, pancakes and more.
For the more adventurous, you can even add granola in savory preparations. This nutty date and orange crunchy granola is particularly adapted as it is not too sweet and packed with strong flavors. It can add a delicious sweet touch and texture on top of soups, hummus, roasted veggies or simply sprinkled on a salad.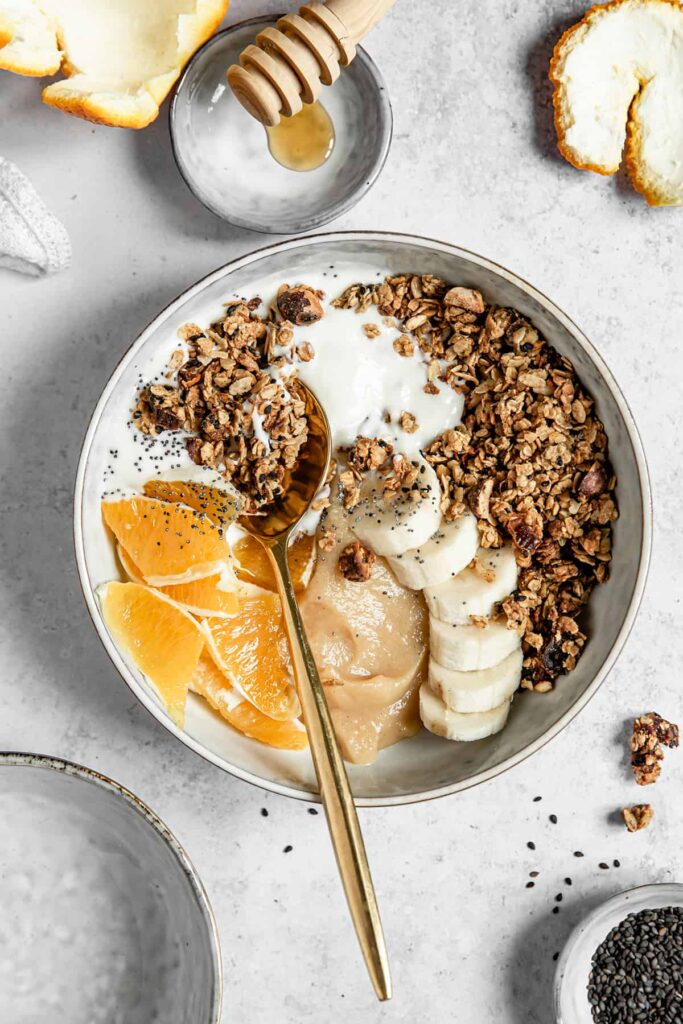 For more healthy and delicious breakfast ideas, check out these recipes:
I love to see your creations! Don't forget to tag me @alicepages on your photos on Instagram and give your feedback in the comments below if you make this recipe at home! Your opinion is my best reward
Print Nutty Date and Orange crunchy granola
Author:

Prep Time:

10 minutes

Cook Time:

25 minutes

Total Time:

35 minutes

Category:

4 servings

Method:

Oven

Cuisine:

Breakfast
---
Description
This simple crunchy granola is packed with subtle flavors of hazelnut and orange for a nourishing, healthy and tasty breakfast. Perfect with a spoon of yogurt and fresh fruits.
---
1 cups

rolled oats

1/2 cup

rice flakes (or replace with more oats, see Notes)

2 tsp

melted coconut oil

2 tbsp

maple syrup

2 tsp

vanilla extract

2 tbsp

apple sauce

1/2 tsp

ground ginger
a pinch of salt

1 tbsp

black sesame seeds

1/4 cup

roasted hazelnuts
zest from

half an

orange

4

dates pitted and chopped 
---
Instructions
Preheat the oven to 345F and line a baking tray with baking paper.
Mix the rolled oats and the rice flakes in a large mixing bowl.
In a separate medium bowl, melt the coconut oil with the maple syrup and vanilla extract. Stir until you get a homogeneous mixture.
Pour the coconut maple mixture in the dry ingredients and mix using a wooden spatula until everything is well coated. Then add the apple sauce, ground ginger and salt, and stir to spread. The mixture should be crumbly and a little wet.
Finally mix in the black sesame seeds, crushed hazelnuts, orange zest, the dates pitted and roughly chopped and mix to incorporate all the ingredients.
Spread out the granola on the baking tray in an even layer. Try to form an even rectangle in the center of the sheet but don't over pack the granola. 
Bake for 15 minutes, then gently flip the granola and bake for 10 minutes more until crispy and golden.
Remove from the oven, give a last good stir and allow to completely cool down before serving or storing.
---
Notes
Once cold, store the granola in a glass jar or an airtight container on the countertop. It can be kept for more than a month in a dry place away from light.
If you're gluten intolerant, make sure you are using certified gluten free rolled oats.
You can replace the rice flakes with more oats or any flakes of your choice (quinoa, spelt, …). Rice flakes add crunchiness and texture to the granola.
Keywords: granola, cereals, breakfast, gluten free, muesli, nutty, orange, date, healthy
Recette version française
Print Granola croustillant noisette datte et orange
Author:

Prep Time:

10 minutes

Cook Time:

25 minutes

Total Time:

35 minutes

Yield:

4

portions

1

x

Category:

Petit-déjeuner

Method:

Four
---
Description
Ce savoureux granola croustillant aux subtiles parfums de noisette et d'orange vous apportera de l'énergie et de la gourmandise dès le petit-déjeuner. Il est parfait accompagné d'un yaourt et de fruits frais.
---
90g

de flocons d'avoine

50g

de flocons de riz

25g

d'huile de coco fondue

40g

de sirop d'érable

2

 c. à c. d'extrait de vanille

50g

de compote de pomme

1

 c. à c. de gingembre en poudre

1

pincée de sel

15g

de graines de sésame noir

30g

de noisettes torréfiées
le zest d'une demie orange

4

dattes dénoyautées et hachées
---
Instructions
Préchauffer le four à 175°C et chemiser une plaque cuisson de papier sulfurisé.
Dans un grand saladier, mélanger les flocons d'avoine et les flocons de riz.
Dans un bol à part, faire fondre l'huile de coco avec le sirop d'érable et l'extrait de vanille et mélanger.
Verser cette préparation dans le saladier d'ingrédients secs et mélanger à l'aide d'une spatule. Puis ajouter la compote de pomme, le gingembre en poudre et le sel et mélanger  jusqu'à ce que les flocons soient bien enrobés. Le mélange doit être effritable et légèrement humide.
Finalement incorporer les graines de sésame noir, les noisettes concassées, le zest d'orange et les dattes grossièrement hachées.
Etaler le granola au centre de la plaque de cuisson en une couche régulière, sans trop tasser.
Enfourner pour 15 minutes, puis retourner délicatement le granola avant d'enfourner pour 10 minutes supplémentaires.
Quand le granola est joliment doré, retirer du four, mélanger une dernière fois avant de le laisser refroidir complètement avant de déguster. Il va continuer à sécher et devenir croustillant en refroidissant.
---
Notes
Une fois le granola refroidis, il peut être conservé pendant 1 mois dans un bocal en verre hermétique dans un endroit sec à l'abris de la lumière.
Si vous êtes intolérant au gluten, assurez-vous d'utiliser des flocons d'avoine certifiés sans gluten. 
Vous pouvez remplacer les flocons de riz par des flocons d'avoine ou n'importe quelle variété de votre choix (quinoa, sarrasin, …). Les flocons de riz apportent du croustillant au granola.
Keywords: granola, muesli, céréales, petit-déjeuner, sans gluten,