This quick and easy granola takes only a few minutes and 8 simple ingredients to toast in a skillet before it's ready to eat! It's super crunchy, slightly caramelized and packed with delicious nutty flavors. Enjoy with yogurt or sprinkle on to your smoothie bowls for a healthy, fiber-rich, gluten free and oil free breakfast.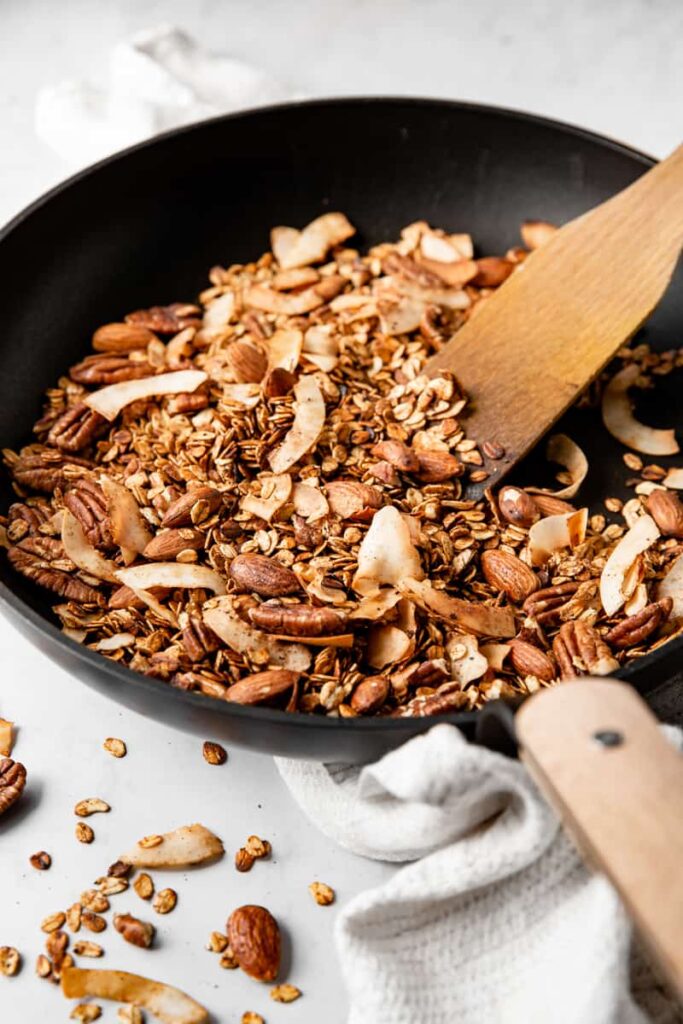 Express Nutty Skillet Granola
Don't get me wrong, I love to take the time to bake my granola on Sunday morning. But guys, seriously, this skillet granola is about to change your life and your breakfast routine!
Oven baked granola is amazing by taste and texture, but it takes some time to prepare, bake and cool. This nutty skillet granola is basically an express version of regular granola! It is cooked directly in a skillet on the stove and is ready under 10 minutes! Yes, only 10 minutes and you can enjoy a delicious, sweet and crunchy golden granola for breakfast. Plus, it requires a few ingredients.
This skillet granola recipe is perfect for the busy mornings or if you don't have an oven. But to be honest, it's so good and easy to prepare that it might replace my regular oven baked granola!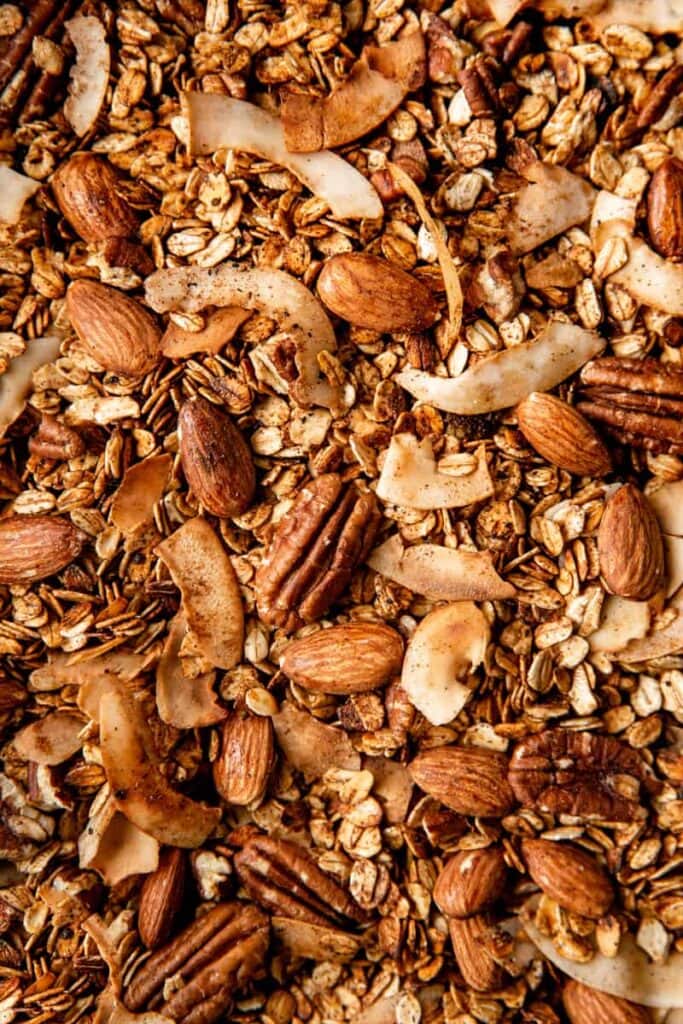 How to choose the right oats
Oats is the basic ingredient for this skillet granola. It's an amazing food, rich in fibers, protein, vitamins and minerals and low in fat. Oats are very popular for breakfast because they high level of fibers help to keep full for hours. Plus, oats offer endless versatility and can be turned into oatmeal, muesli or granola for a healthy and hearty breakfast.
You've probably already noticed that there are different types of oats, of different size and shapes. While they all come from the same cereal grain, all types of oats will require different cooking times and won't give the same texture. Thus, choosing the right type of oats depending on what you're preparing is important to ensure that you get the taste and texture you want.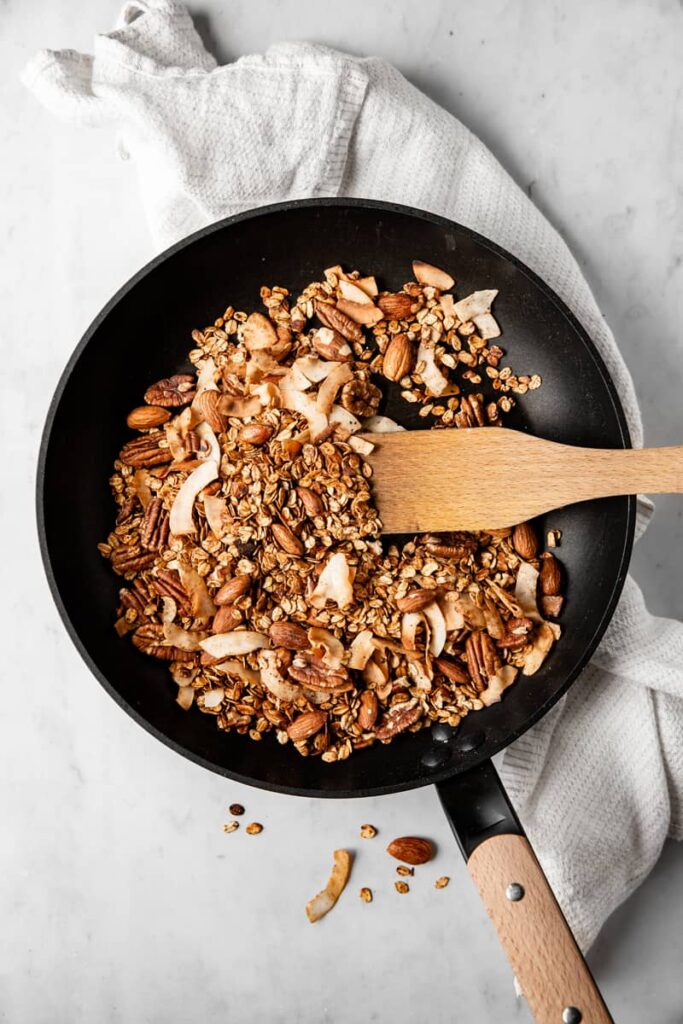 Rolled oats vs Quick or Instant oats
The two most common types of oats you can find in the grocery store are Rolled Oats and Instant Oats.
Rolled oats, or old-fashioned oats, are oat groats that have gone through a light steaming and flattening process. They can be rolled differently depending on how they are intended to be cooked. Rolled oats appear as flakes of different size. They are a good option to use in bakings, like cookies and cakes, or in granolas as they add a nice texture.
Quick oats, or quick-cooking oats, have been cut into pieces, partially cooked by steaming and then rolled even thinner than old-fashioned oats, to decrease cooking time. They will not have as much texture as the rolled oats or steel-cut but will cook more quickly. They are perfect for creamy oatmeals and porridges ready under a few minutes. While quick oats are quick, there is an other type of oats, instant oats, that are intended to be even quicker.
For this skillet granola, I love to use large oat flakes. They make the granola very crispy and with a thicker texture. However, all types of rolled oats can, of course, be used to prepare this granola the exact same way! It just gonna slightly change the texture.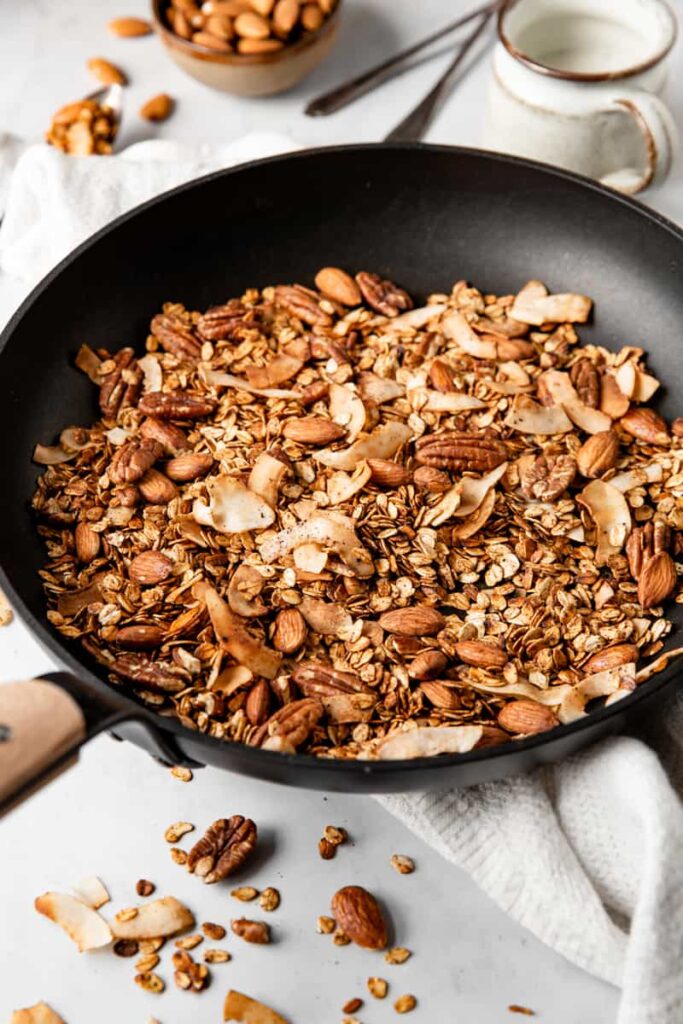 Customize this Skillet granola
This skillet granola is a good basic nutty granola recipe you can easily customize depending on your preferences and what you have in your kitchen board! Don't hesitate to remove, substitute or add any ingredients you like. You will be amazed of the result!
Stir in your favorite nuts, seeds, grains or dried fruits if you'd like. Cashews, sunflower seeds, pumpkin seeds, flax seeds, chia seeds, raisins, dry cranberries, dry mango, cacao powder, ginger … and the list goes on and on! Really, the options are endless. If you add dry fruits, just make sure to stir in at the very end, just after you've removed skillet from heat.
Don't like coconut? Simply remove it. Don't have pecans? Just replace with cashew, walnuts or any nuts you want.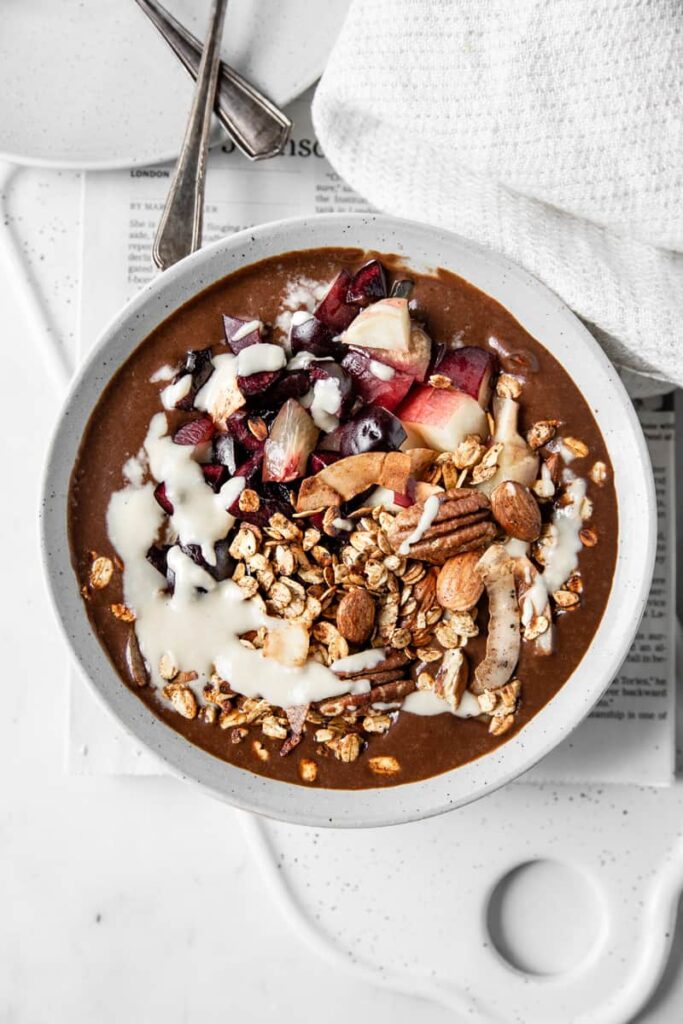 A healthy and nourishing breakfast
Not only this nutty skillet granola tastes amazing, but it's also good for your body and infinitely healthier than anything you can buy at the store! While store bought cereals often contain a lot of added sugar and low quality fats, this granola is only slightly sweetened with pure maple syrup and is completely oil-free!
As a bonus, it contains healthy fats from the nuts and is packed with fibers from oats, that help to keep you full and energized all morning. No more cravings in the middle of your day!
I recommend to prepare a large quantity of this granola and store in a glass jar or an airtight container. Keep it on your countertop for up to 1 week and have your breakfast ready for the busy mornings.
This skillet granola is so good I can honestly eat directly from the jar with a spoon! But it's even better to add on to your breakfast bowls for an extra crunchiness and flavor. I love to enjoy this granola simply with coconut yogurt, fresh fruits and a dollop of nut butter. It's also amazing sprinkled on a smoothie bowl, or just on fruits for a quick, simple but seriously delicious snack.
You may also enjoy these delicious granola recipes:
I love to see your creations! Don't forget to tag me @alicepages #earlybrawdrecipes on Instagram, and give your feedback in the comments below if you make this recipe at home! Your opinion is my best reward.
Print Quick Nutty Skillet Granola
Author:

Prep Time:

2 minutes

Cook Time:

10 minutes

Total Time:

12 minutes

Yield:

4

servings

1

x

Category:

breakfast

Method:

stove

Diet:

Gluten Free
---
Description
Only 8 simple ingredients and a few minutes to make this easy, delicious and crispy nutty granola directly in a skillet! Enjoy with yogurt and fresh fruits or sprinkle on to your smoothie bowls for a healthy fiber-rich breakfast. Gluten free and oil free.
---
1 cup

of large oats flake or regular rolled oats

1/4 cup

whole almonds

1/4 cup

pecans

1/4 cup

shredded coconut

2 tbsp

maple syrup

1 tsp

vanilla extract

1/2 tsp

ground cinnamon

1/8 tsp

ground nutmeg

1

pinch of salt flakes
---
Instructions
In a large nonstick skillet, toast oats over medium heat for 2 minutes until golden brown and fragrant.
In the same skillet, add almonds and pecans, and cook for 3 minutes more until the nuts are toasted and golden brown, stirring often.
Reduce to low-medium heat and add shredded coconut, cinnamon, nutmeg and salt flakes. Cook for another 1 minute, stirring constantly to avoid the coconut to burn.
Add maple syrup and vanilla extract and use a wooden spoon to stir and evenly coat the dry ingredients. Continue moving the oat mixture around for about 2-3 minute until the liquid has evaporated and it turns golden brown and smells fragrant.
Remove from heat and spread the granola on to a baking sheet or a large flat plate to cool. Push the granola to a compact even layer in the center of the sheet if you want it to dry in clumps and get granola clusters. If you prefer a runny granola, stir every 2 minutes or so to make sure the granola doesn't stick together. Allow to completely cool down for at least 10 minutes, until the granola is dry and crunchy.
Once cool, break up into large clumps and store in an airtight container for up to 1 week.
---
Keywords: granola, nutty granola, skillet granola, stovetop granola, breakfast, muesli, cereals
Recette version française
Print Granola rapide et facile à la poêle
Author:

Prep Time:

2 minutes

Cook Time:

10 minutes

Total Time:

12 minutes

Yield:

4

portions

1

x

Category:

petit-déjeuner

Method:

Poêle

Diet:

Gluten Free
---
Description
Ce granola croustillant aux noix ne nécessite que quelques ingrédients et est prêt en moins de 10 minutes à la poêle. Facile et rapide à préparer, il est parfait accompagné de yaourt, de fruits ou d'un smoothie pour un petit-déjeuner sain et gourmand. Sans gluten et sans huile.
---
120 g

de flocons d'avoine gros

40 g

d'amandes entières

40 g

de noix de pécan

15 g

de noix de coco râpée

30 g

de sirop d'érable

1

càc d'extrait de vanille

1/2

càc de cannelle en poudre

1

pincée de noix de muscade en poudre

1

pincée de fleur de sel
---
Instructions
Verser les flocons d'avoine dans une grand poêle et les torréfier à sec sur feu moyen-vif pendant 2 minutes jusqu'à ce qu'ils soient légèrement dorés.
Ajouter les amandes et les noix de pécan et faire toaster 3 minutes de plus en remuant très souvent afin qu'ils dorent uniformément.
Puis réduire à feu doux et ajouter la noix de coco, la cannelle, la muscade et le sel. Laisser cuire 1 minute en remuant constamment pour éviter que la noix de coco ne brule.
Verser le sirop d'érable et l'extrait de vanille et remuer à l'aide d'une spatule en bois pour bien enrober tous les ingrédients. Laisser cuire pendant 2 à 3 minutes tout en remuant, jusqu'à ce que le liquide se soit évaporé et que le mélange soit doré et légèrement caramélisé.
Retirer du feu et étaler le granola sur une plaque ou un grand plat. Pour de grosses pépites de granola, bien tasser la mixture en une couche compacte et uniforme et laisser complètement refroidir sans plus toucher. Pour des petits grains de granola, remuer fréquemment pendant tout le temps de refroidissement afin de casser les gros morceaux. Dans les deux cas, laisser complètement refroidir pendant au moins 10 minutes ou jusqu'à ce que le granola soit bien sec et croustillant.
Conserver le granola dans un bocal en verre ou un récipient hermétique jusqu'à 1 semaine à température ambiante.
---
Keywords: Granola, granola express, granola à la poêle, granola aux noix, petit-déjeuner, muesli, céréales