Bring some sunshine in your mornings with this crunchy tropical peanut granola. It is loaded with sweet tropical fruits, peanuts and coconut. It is naturally gluten-free, low in sugar and packed with fibers for a perfect healthy and nourishing breakfast. A new favorite in my kitchen!
This post is sponsored by KORO, a European online shop that promotes healthy, high quality and sustainable products. For more information about the brand and its values, visit their website and enjoy 5% OFF everything on the FRENCH store using the code ALICE5.
Cette recette est sponsorisée par KORO, une boutique en ligne qui propose un large choix de produits sains, responsables et de haute qualité à prix juste. Pour découvrir la marque et ses merveilleux produits, rendez-vous sur leur boutique et profitez de 5% DE REDUCTION avec le code ALICE5.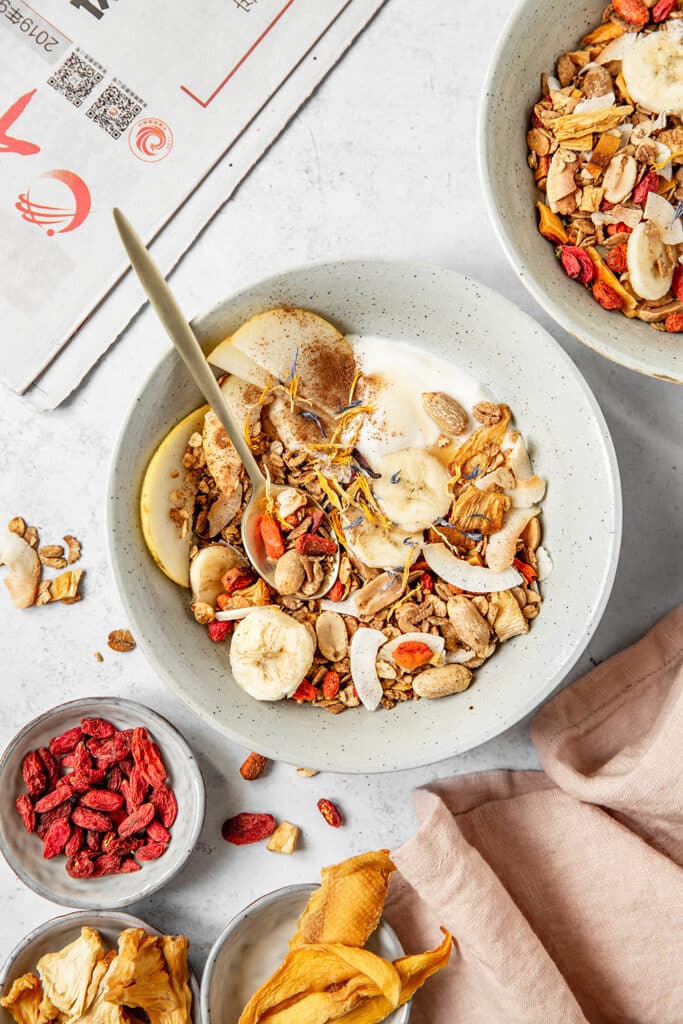 What is in this tropical peanut granola?
Breakfast is a major meal of the day that can bring you a lot of energy to help you go through your morning. Thus, it is important to make sure your breakfast is well balanced, packed with good quality nutrients, fibers, proteins and low in refined sugar to avoid picks in your blood sugar, thus mid-morning cravings (you know what I'm talking about).
To make this tropical peanut granola, I used only whole ingredients from the high quality European brand KORO. Using whole mainly unprocessed ingredients guarantees you the best level of nutrients availability.
Let's have a look at what is inside this delicious granola :
Rolled oats are a staple in my kitchen. These whole-grains are very popular in healthy plant-based lifestyle as they are incredibly nutritious. Oats are a great source of fibers that regulate blood sugar and are packed with vitamins, minerals and antioxidants. They also contain more protein than most other grains with 17 grams for 100 grams of oats. They make the perfect base ingredients for breakfast and can be used in oatmeal overnight porridge, granola, cake … I also love to blend them to make gluten-free flour.
Peanuts are also commonly consumed in a plant-based diet. They are packed with healthy fats (mostly mono- and polyunsaturated fatty acids), low in carbs and are an exceptionally good source of protein. When tou buy peanuts, favor raw or toasted unsalted peanuts.
Coconut butter While most people are familiar with coconut oil, coconut butter isn't as well-known. The two products look and smell similar, but each has different characteristics. Coconut oil is made by cold-pressing oil from coconut meat while coconut butter is made by pureeing coconut meat. Coconut butter is arguably the peanut butter of the tropics. So while coconut oil is made entirely of fat, coconut butter contains more nutrients including fibers.
Tropical fruits are definitely my favorite. Not only they taste delicious and add a sweet touch of sunshine in your preparations, but they are also loaded up on vitamin C, fibers and antioxidants.
Goji berries are little red berries originated from ancient China. They are known for their health benefits including immune system boost, weight loss aid and blood sugar regulation. In fact, goji berries contain all eight essential amino acids, vitamins, fibers and antioxidants. I love to add them as a topping for my breakfast bowls and salads.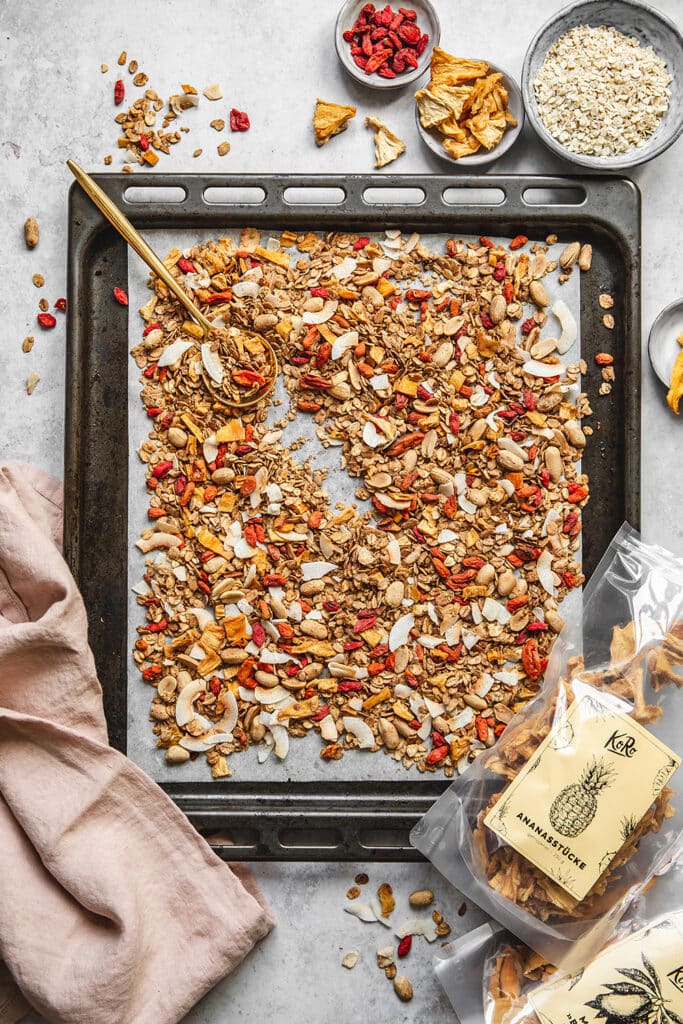 How to choose your dry fruits
Dry fruits can be amazing for a mid-day healthy snack or to add in all your preparations. They are very handy to carry with you, bring a nice touch of sweetness and texture to your recipes without adding moisture.
However, it is important to properly choose your dry fruits to get all their benefits. When you buy dry fruits (mango, pineapple, papaya, apple, raisins, cranberries …) always check the composition. Most of the time, manufacturers add oil and sugar to help the drying process. Choose slowly dried fruits, without additive, coloring or added sugar.
Another interesting way to add dry fruits in your preparations is to use lyophilized fruits. They are basically fruits from which all the water has been removed. Lyophilized fruits are less soft and chewy than dry fruits but still tasty.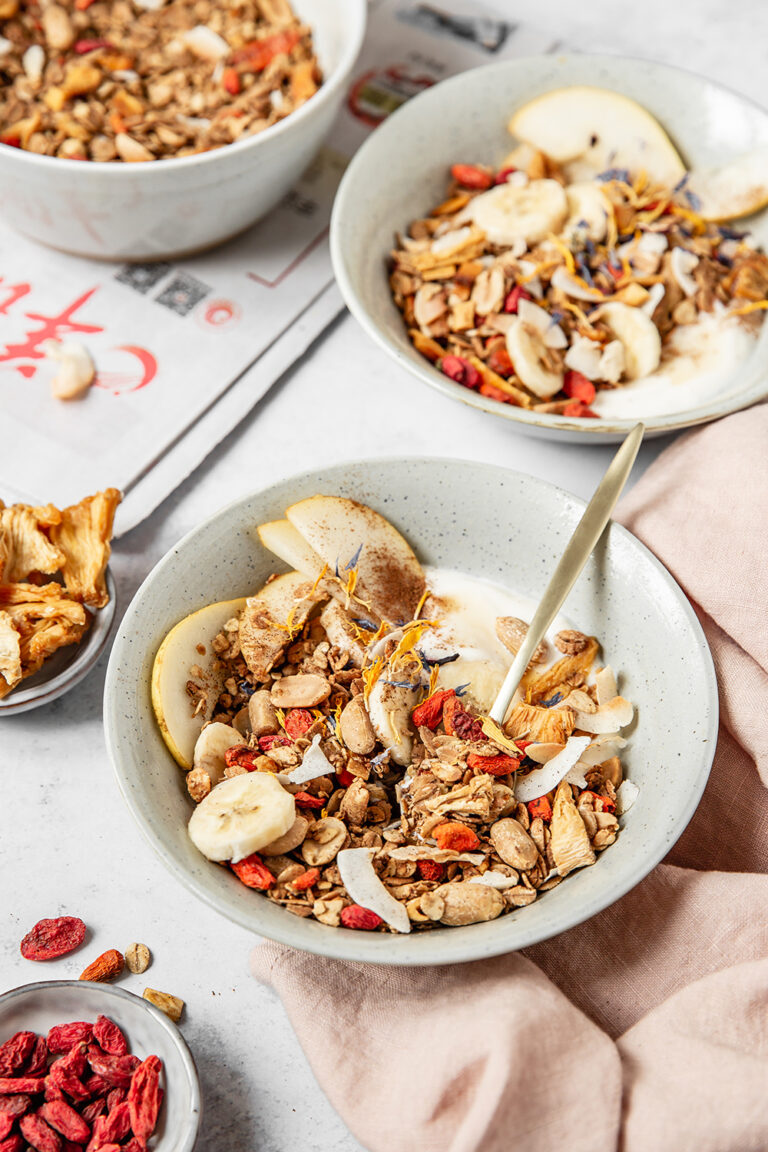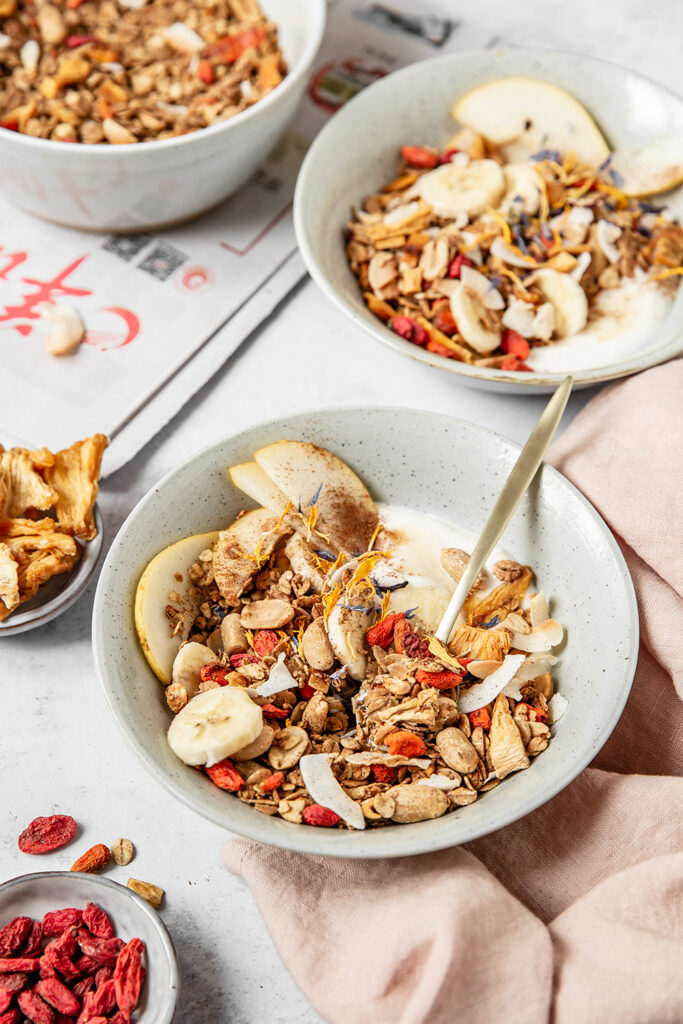 How to perfectly bake your granola
When it comes to bake your granola, everyone has his little secret tips and preferences. The way you bake your granola will significantly affect the final result, texture and flavor of the product. I love my granola to be crunchy and with big chunks.
Here are some of my tips to perfectly bake your tropical peanut granola :
Always bake your granola at low temperature for a longer time. I promise it worth the wait. That way, you avoid the granola to burn and ensure an even perfect baking. Your granola will be baked in heart, beautifully golden and very crunchy.
Don't over pack the granola on the baking tray. Form an even layer in the middle of the tray. You can also use your fingers to spread the granola and form big chunks if you like it. When you stir the granola half through the baking time, do it gently not to break the clusters.
Add all the dry fruits and sensitive nuts a few minutes before the end of the baking time. They can be very reactive to heat and burn if you mix them directly inside the granola. 2 or 3 minutes at the end are enough to slightly toast them and liberate their flavors. For some particular fruits like goji and raisins as well as for chocolate chips, I even recommend to add them oat of the oven, right after the baking. Else they can inflate and burn during baking and take a very unpleasant taste.
Always allow your granola to completely cool down before eating or storing! At least 15 minutes. The granola will continue to dry and harden while cooling for a very crunchy result.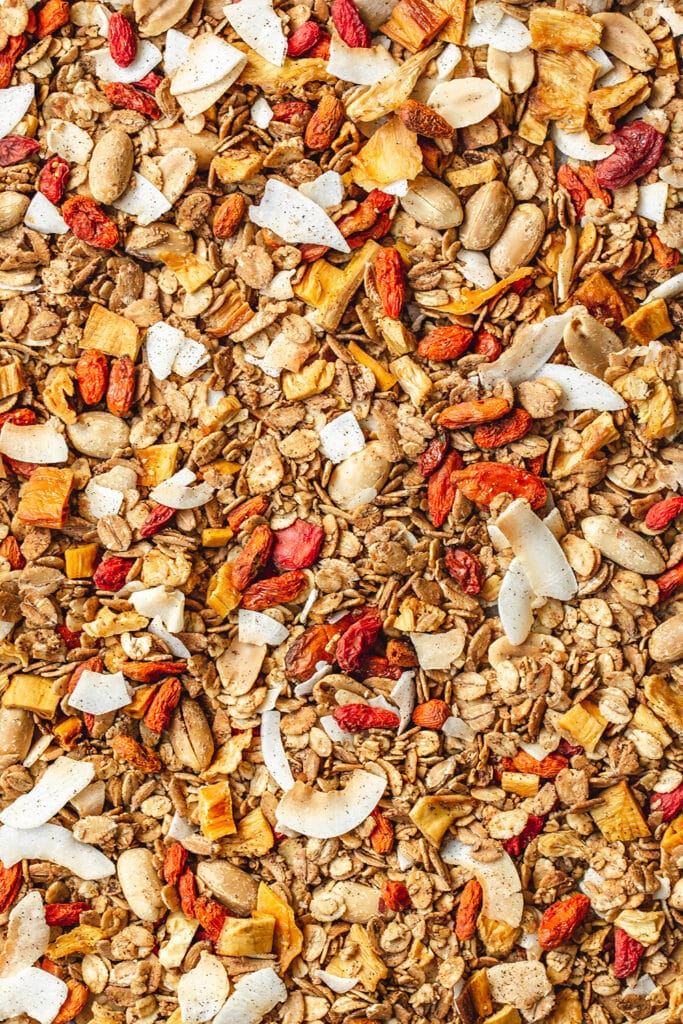 For more healthy and delicious granola, check these recipes :
I love to see your creations! Don't forget to tag me @alicepages on your photos on Instagram and give your feedback in the comments below if you make this recipe at home! Your opinion is my best reward.
Print Tropical peanut granola
Author:

Prep Time:

10 minutes

Cook Time:

30 minutes

Total Time:

40 minutes

Yield:

6

servings

1

x

Category:

breakfast
---
Description
This crunchy granola is packed with tropical fruits, peanuts and coconut. It is loaded with fibers and low in sugar, perfect for a healthy and nourishing breakfast.
---
2 cups

rolled oats

1/2 cup

raw or toasted unsalted peanuts

1 tsp

ground cinnamon
a pinch of salt

1 tbsp

maple syrup

2 tbsp

coconut butter (can be replaced by melted coconut oil)

1 tsp

vanilla extract

1/4 cup

chopped dry mango

1/4 cup

chopped dry pineapple 

1/3 cup

coconut chips

1/4 cup

 goji berries
---
Instructions
Preheat the oven to 325F and line a baking tray with baking paper.
Mix the rolled oats, peanuts, cinnamon and salt in a large mixing bowl.
In a separate medium bowl, melt the coconut butter with the maple syrup and vanilla extract. Stir until you get a homogeneous mixture.
Pour the coconut butter and maple mixture in the dry ingredients and mix using a wooden spatula until everything is well coated. The mixture should be crumbly and a sticky.
Spread out the granola mixture evenly on the baking tray. You can use your fingers to form big chunks. Don't over pack the granola. 
Bake for 25 minutes, stirring once half through, until crispy and golden.
Finally add the chopped dry mango, pineapple and coconut chips, give a quick stir and bake for 3 minutes until the coconut chips are just slightly golden.
Remove from the oven and immediately add the goji berries. Give a last good stir and allow to completely cool down before serving or storing.
---
Notes
Once cooled, store the granola in a glass jar or an airtight container. It can be kept for more than a month in a dry place away from light.
If you're gluten intolerant, make sure you are using certified gluten free rolled oats.
Keywords: granola, cereals, breakfast, tropical, goji, pineapple, mango, coconut, gluten free
Recette version française
Print Granola tropical aux cacahuètes
Author:

Prep Time:

10 minutes

Cook Time:

30 minutes

Total Time:

40 minutes

Yield:

6

portions

1

x

Category:

petit-déjeuner
---
Description
Ce délicieux granola aux fruits tropicaux, à la cacahuète et à la noix de coco est riche en fibres et pauvre en sucre, pour un petit-déjeuner sain et nourrissant.
---
200g

de flocons d'avoine

70g

de cacahuètes crues ou grillées sans sel

1

c. à c. de cannelle moulue
Une pincée de sel

25g

de sirop d'érable

30g

de purée de noix de coco (ou d'huile de coco fondue)

1

c. à c. d'extrait de vanille

25g

de mangue séchée finement hachée

25g

d'ananas séché finement haché

25g

de chips de coco

25g

de baies de goji
---
Instructions
Préchauffer le four à 165°C et chemiser une plaque cuisson de papier sulfurisé.
Dans un grand saladier, mélanger les flocons d'avoine, les cacahuètes, la cannelle et le sel.
Dans un bol à part, faire fondre la purée de noix de coco avec le sirop d'érable et l'extrait de vanille. Mélanger afin d'obtenir une pâte fluide et homogène.
Verser cette préparation dans le saladier d'ingrédients secs et mélanger à l'aide d'une spatule jusqu'à ce que les flocons d'avoine soient bien enrobés. Le mélange doit être effritable et légèrement collant.
Etaler le mélange sur la plaque de cuisson en une couche homogène sans trop tasser. Vous pouvez utiliser vos doigts pour émietter le granola et former de grosses pépites.
Enfourner pour 25 minutes, en remuant en milieu de cuisson. Le granola doit être doré et sec en surface.
Puis retirer la plaque du four et ajouter l'ananas et la mangue séchés coupés en petits morceaux et les chips de noix de coco. Mélanger rapidement et enfourner pour 3 minutes supplémentaires. Dès que les chips de noix de coco commencent à brunir, arrêter la cuisson et retirer du four.
Ajouter immédiatement les baies de goji et mélanger une dernière fois avant de laisser refroidir complètement. 
---
Notes
Une fois le granola refroidis, il peut être conservé pendant 1 mois dans un bocal en verre hermétique dans un endroit sec à l'abris de la lumière.
Si vous êtes intolérant au gluten, assurez-vous d'utiliser des flocons d'avoine certifiés sans gluten. 
Keywords: granola, muesli, petit-déjeuner, ananas, mangue, coco, sans gluten, céréales