Treat yourself with this cozy vegan gingerbread latte at home! It's rich, creamy, flavored with holiday spices and peanut butter, naturally dairy-free and lightly sweetened with date! Ready in a few minutes, very easy to make with simple ingredients, it's the perfect for a warming morning drink or a delicious afternoon treat.
Cette recette est sponsorisée par KORO, une boutique en ligne qui propose un large choix de produits sains, responsables et de haute qualité à prix juste. Pour découvrir la marque et ses merveilleux produits, rendez-vous sur leur boutique et profitez de 5% DE REDUCTION avec le code ALICE5.
This post is sponsored by KORO, a European online shop that promotes healthy, high quality and sustainable products. For more information about the brand and its values, visit their website and enjoy 5% OFF everything on the FRENCH store using the code ALICE5.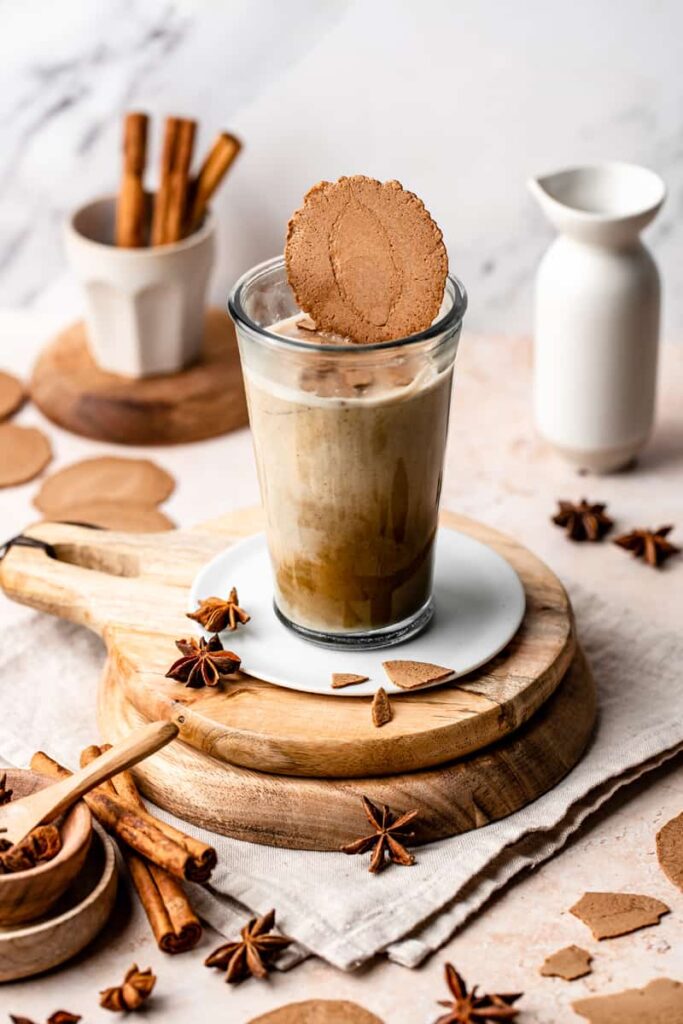 Ingredients for Peanut butter gingerbread latte
If I had to describe this vegan gingerbread latte in one world, it would be COZY. It's creamy, warm, sweet, loaded with holiday spices, exactly what you need on a cold winter day. It's very quick and easy to prepare with just a few pantry ingredients, and made frothy thanks to a blender! You don't need any specific equipment to make this delicious latte, so you can stay all cozy and warm and enjoy your favorite drink at home!
This gingerbread latte is naturally dairy free and refined sugar free. So I would say it's a healthier version of any gingerbread latte you can find in coffee shops. In fact, these lattes are often made with a flavored syrup, and end up to be sugar bombs! They are often very sweet, heavy, and better for the tastebuds than they are for the health.
In this healthy version of gingerbread latte, there is no syrup but only whole natural ingredients! We use a blend of spices to flavor the latte, dry date to sweeten it, and peanut butter for a delicious nutty flavor and richness. That's it! Nothing weird or whose ingredients you cannot pronounce.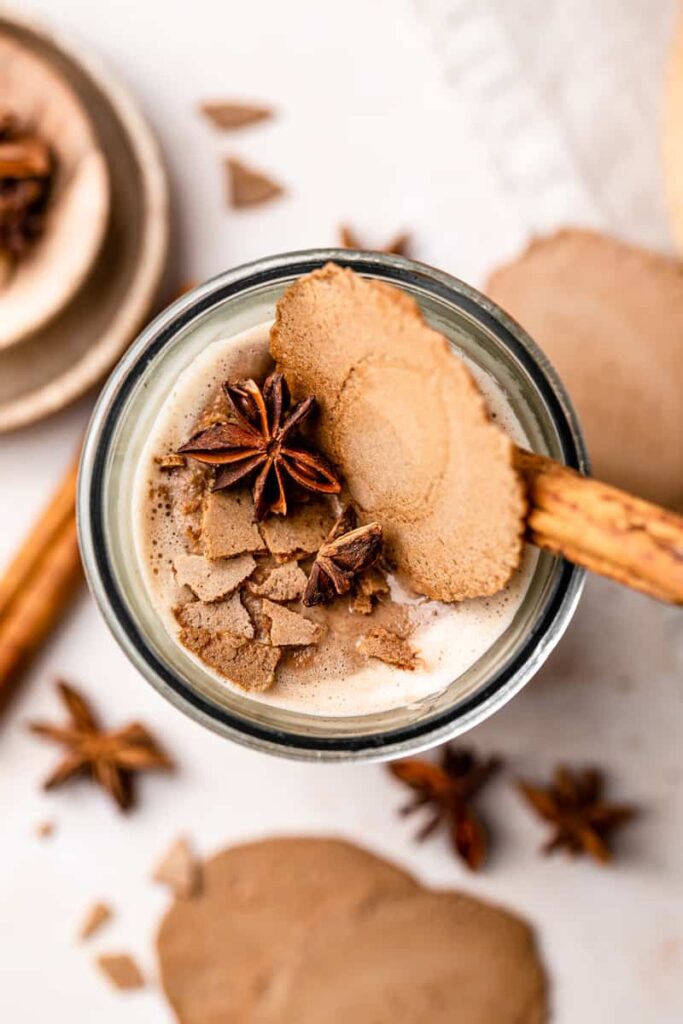 Spice blend for gingerbread latte
To flavor this vegan gingerbread latte, we use a simple blend of ground cinnamon, cardamom, nutmeg and clove. These are the basic spices used to make gingerbread cookies. You can make your own blend by mixing individual spices in the quantities as indicated in the recipe. Or you can use a store-bought gingerbread spices blend. You can also add or omit any spices depending on your preferences or what you have in your kitchen boards. Also feel free to adjust the quantity of spices in your latte to suit your taste.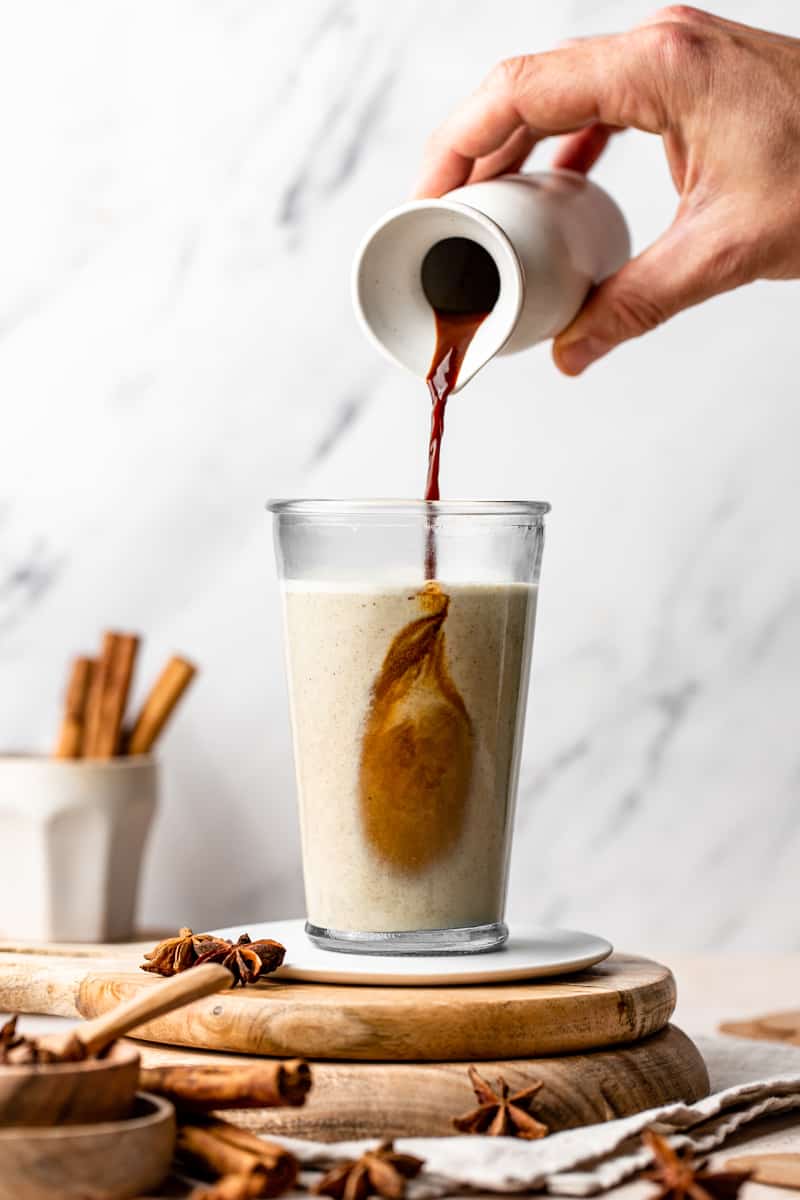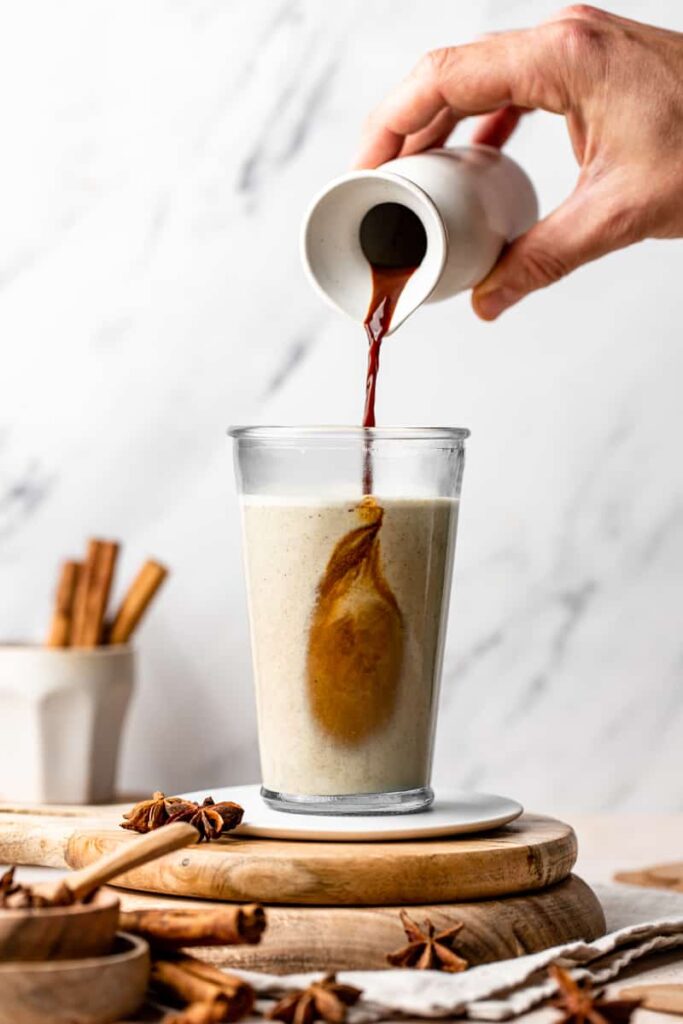 Peanut butter gingerbread latte
Okay, this might sounds a little weird at first, but I promise adding peanut butter in your coffee latte is the best idea ever! If you've never done it before, just try it and I'm sure you will not do without it anymore. Peanut butter surprisingly goes well with coffee. It also brings creaminess to the milk as well as a delicious nutty flavor. This is the secret ingredient that takes this simple latte to the next level! But not all the peanut butters were made equals. For the best results, I recommend to use a natural peanut butter made with only peanuts (no oil or sweetener added). I personally love this smooth organic peanut butter from KoRo.
If you're allergic to peanuts, don't like the flavor or just don't have peanut butter at home, you can substitute with any other nut butter. Almond, cashew, hazelnut or even sunflower seed butter for a nut-free version will work too.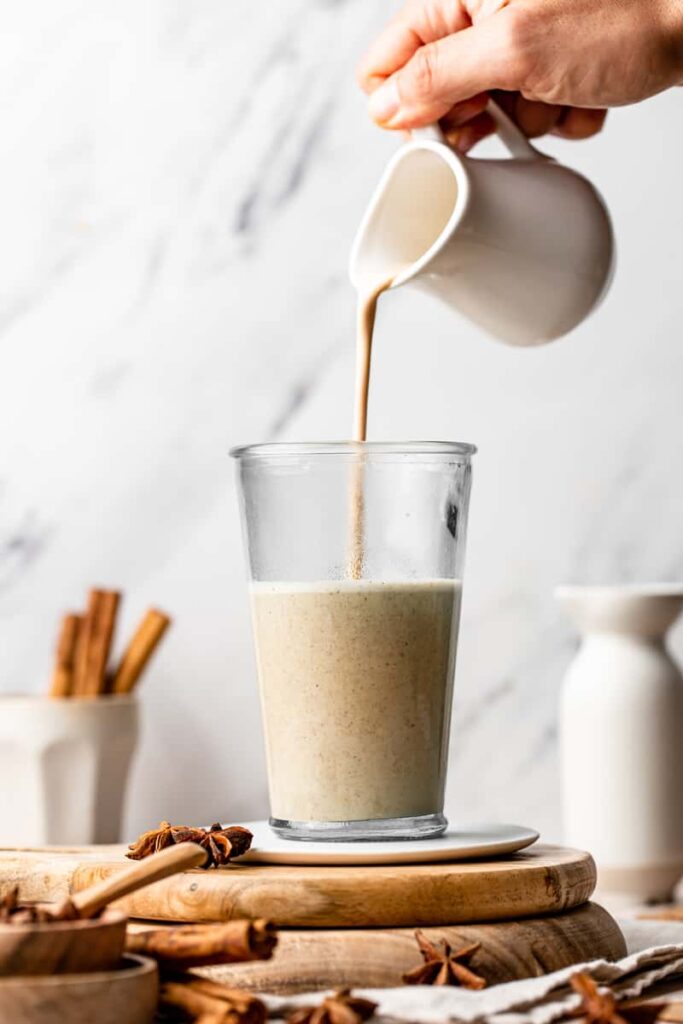 Coffee for peanut butter vegan gingerbread latte
First thing to make vegan gingerbread latte is to brew a coffee. You can prepare the coffee using whatever method you prefer, and depending on how strong you want your latte. For a very smooth latte, you can prepare a filter coffee using a French press or a drip. For a stronger latte and if you like the flavor of coffee, I recommend to make an espresso. You can prepare a single shot or a double espresso, again depending on your preferences! And if you don't like coffee, you can replace with your favorite coffee substitute, chicory or herbal tea.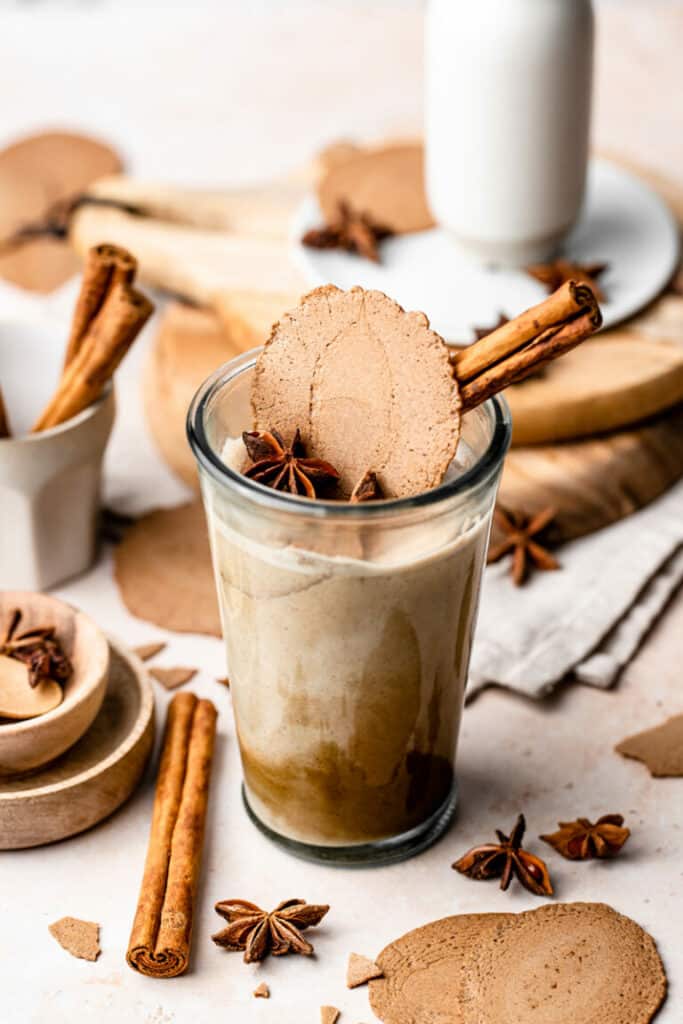 What is the best non-dairy milk for latte?
I tried a LOT of dairy-free milks to find which one better suits my coffee! I made my own milk with different kind of nuts, tried some combinations of different milks, added sweetener or fats to see how it affects the texture of the milk, tried many store-bought ones … After all my investigations, I found that the best non-dairy milk for coffee drinks is oat milk. It has a pretty light cereal taste that perfectly pairs with coffee to enhance the flavor of coffee without hiding it. Oat milk foams well and creates an airy and stable milk foam. You can easily find oat milk in any grocery stores or specialized health stores. Some brands also have a barista version of their oat milk that is especially elaborated to make a nice foam. I love this one from KoRo.
While oat milk is my personal favorite choice for coffee drink, any other non-dairy milk will work in this gingerbread latte recipe. You can use almond milk, cashew milk, soy milk or even coconut or rice if you prefer.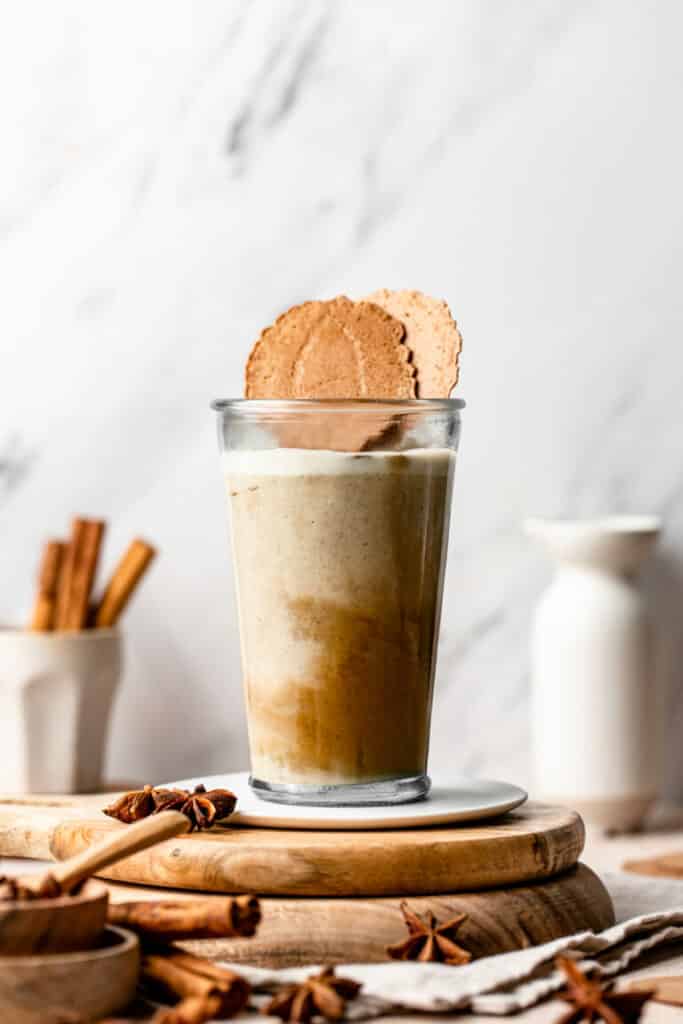 For more healthy and nourishing beverages and smoothies, check out these:
I love to see your creations! Don't forget to tag me @alicepages on your photos on Instagram and give your feedback in the comments below if you make this recipe at home! Your opinion is my best reward.
Print Peanut Butter Gingerbread Latte
Author:

Prep Time:

10 minutes

Total Time:

10 minutes

Yield:

1

large latte

1

x

Category:

Beverages

Cuisine:

American

Diet:

Vegan
---
Description
This rich and creamy gingerbread latte flavored with winter spices and peanut butter is very easy to make for a cozy holiday drink at home! It is dairy free, naturally sweetened with date, and made with a few simple ingredients.
---
---
Instructions
Brew coffee, add to a small jug and set aside.
Add non-dairy milk, peanut butter, roughly chopped pitted date, cinnamon, ginger, cardamom, nutmeg and clove in a blender. Blend on high speed for 1 minute until smooth, foamy and there are no more chunks.
Pour the milk in a small pot and heat until steaming but not boiling. You can also use the steam wand of your espresso machine to froth the milk.
Add the milk froth in a mug, then pour the brewed coffee. Add some gingerbread cookies and sprinkle a pinch of cinnamon on top for garnish. Enjoy warm.
---
Notes
Add 2 shots of espresso coffee for a stronger latte. For a soft one, stick to 1 shot of espresso.
Feel free to adjust the quantity of spices to suit your taste.
For more sweetness, add 1 teaspoon of maple syrup to the milk.
Keywords: Latte, gingerbread latte, coffee latte, gingerbread coffee latte, milk, gingerbread, drink, hot drink, beverages, coffee
Recette version française
Print Latte cacahuète gingerbread (café latte aux épices)
Author:

Prep Time:

10 minutes

Total Time:

10 minutes

Yield:

1

grand latte

1

x

Category:

Boissons

Diet:

Vegan
---
Description
Ce latte maison aux épices gingerbread et au beurre de cacahuète est idéal pour un instant gourmand et réconfortant à tout moment de la journée. Il est très facile à préparer, sans lactose et naturellement sucré.
---
220

ml de lait végétal non sucré (avoine, amande, soja …)

25 g

de beurre de cacahuète nature

1/2

cuillère à c. de cannelle en poudre

1/4

cuillère à c. de gingembre en poudre

1/4

cuillère à c. de cardamome en poudre

1

pincée de noix de muscade en poudre

1

pincée de clou de girofle en poudre

1

espresso simple ou double
Gaufrettes à la cannelle pour la décoration
---
Instructions
Préparer un espresso dans un petit pot selon la méthode de votre choix.
Mélanger le lait végétal, le beurre de cacahuète, la datte dénoyautée et hachée, la cannelle, le gingembre, la cardamome, la muscade et le clou de girofle dans un blender. Mixer à pleine puissance pendant au moins 1 minute ou jusqu'à ce que le lait soit mousseux et qu'il n'y a plus de morceaux.
Option 1: Verser le lait dans une petite casserole et faire chauffer à feu doux, sans le faire bouillir.
Option 2: Pour une mousse de lait plus épaisse, utiliser une buse à vapeur ou un mousseur à lait.
Verser le lait chaud ou la mousse de lait dans une tasse puis ajouter l'espresso. Décorer avec des gaufrettes à la cannelle, des morceaux de biscuits ou de la cannelle en poudre.
---
Notes
Utilisez un espresso simple pour un latte doux. Pour un latte plus puissant, préparez un double espresso.
N'hésitez pas à ajuster la quantité d'épices selon vos préférences.
Pour un latte un peu plus sucré, ajoutez une cuillère de sirop d'érable dans le lait chaud.
Keywords: Latte, café, café latte, cappuccino, lait végétal, boisson, boisson chaude, cacahuète